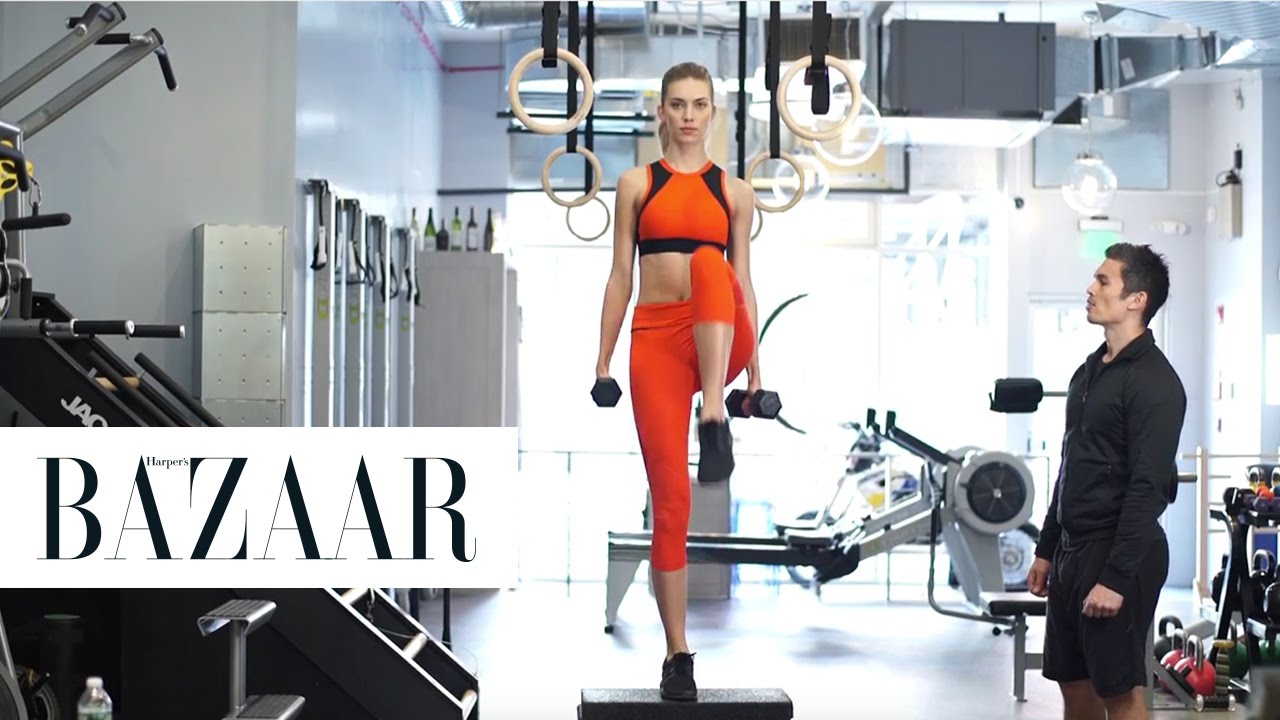 When you are working out, you want to work out for the longest period of time that you can to burn as many calories as you possibly can. The average person burns between 200-400 calories an hour. However, what if I told you, you can actually burn 400 calories in as little as 20 minutes.
You read that correctly in as little as 20 minutes you can burn the same amount of calories if you were to conduct an hour long workout. The key to this is doing the proper exercises. That will get your blood flowing and get your body burning the most amount of calories possible. If you are actively into fitness, you know the latest trend is using kettlebells to get the job done.
Kettlebells are an excellent form of exercise as they combine cardio and weight lifting into one exercise routine. The hardest part of doing an exercise routine with kettlebells is figuring out which kettlebell size works best for you. Once you have figured out what size kettlebell works best for you. You are ready to go. Here are 7 moves to help you burn 400 calories in 20 minutes.
7.

Turkish Get Up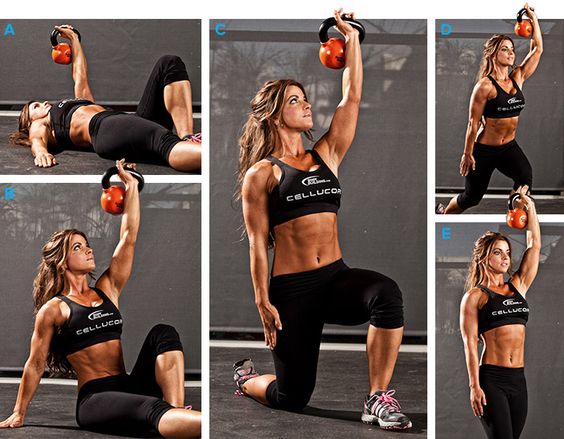 If you want to define your arms while getting a great overall workout this is perfect for you the Turkish get up will make your arms sore. But it will get the job done and give you defined arms in no time.  When you are working out repetition is key so you want to do 6-8 reps of 10 on each arms switching sides on every rep.
6.

Kettlebell Squat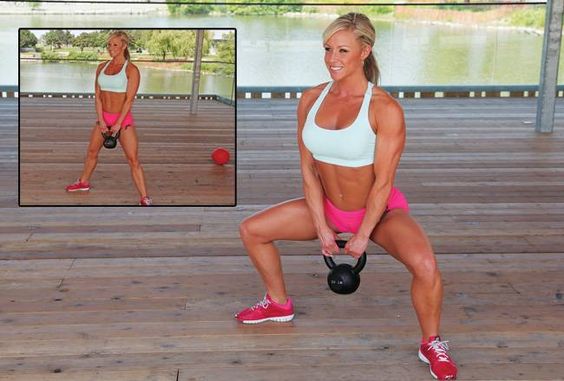 Let's face it we were not all born with a Kim Kardashian behind. However, we can all work on our glutes and make them look their very best. That is when this Kettlebell squat will come in handy. Although, you can do this workout with a dumbbell a kettlebell will challenge more muscle groups and help with your balance. You want to do 2 reps of 20-25 squats
5.

Kettlebell Windmill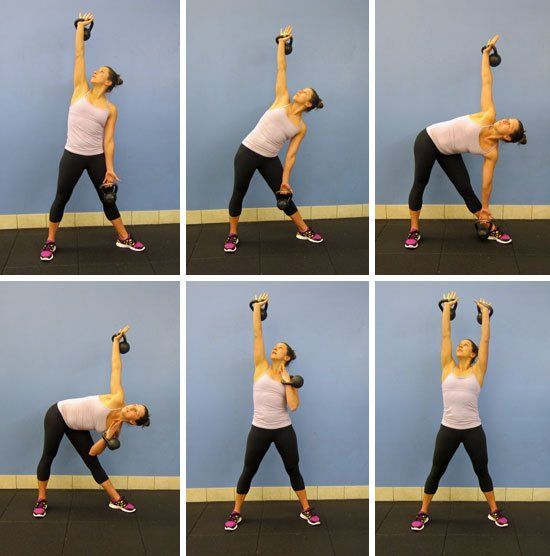 This workout is a killer and trust me you will hate yourself for doing it but it does wonders when it comes to shrinking your waistline. It is a double kettlebell movement that will help you tone all over your body while giving you a very intense workout. This move will focus on your obliques and torso to give you a smaller waist in no time. Complete 2 reps of 10 of the best results.
4.

Kettlebell Russian Twist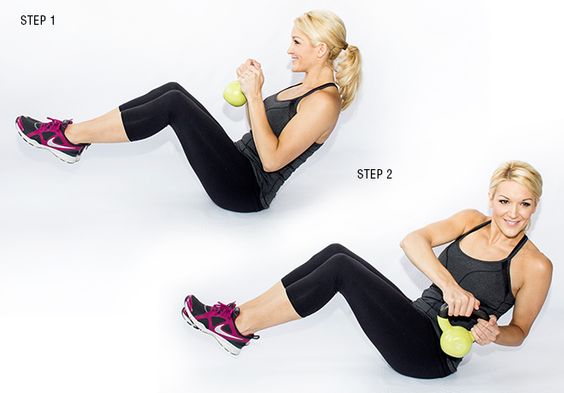 Bid farewell to sit ups and crunches. This ab workout burns twice the calories that both crunches and sit ups do. So you might want to take advantage of this one. With one kettlebell, you will be able to get the job done. You will be burning calories while obtaining your waist back into shape. Complete 5 reps of 10 for optimum results.
3.

Kettlebell Deadlifts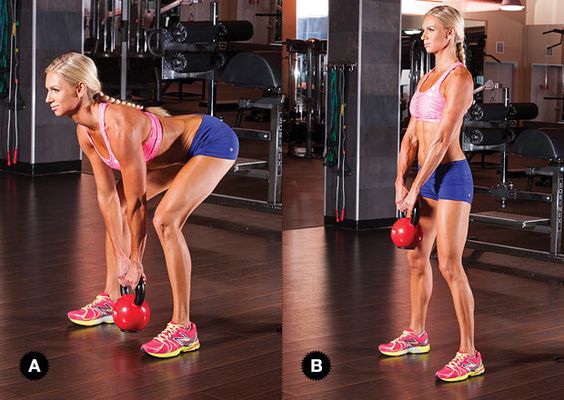 The good part about this exercise is it will not only correct your posture but it will also give your butt a lift. It may not be the easiest kettlebell exercise to do but it is one that your body will thank you for. Not only will your posture improve over time but your butt will get a rounder appearance as well. This is because your glutes activated at the same time that your torso does as well. Complete 4 reps of 10.
2.

Kettlebell Squat and Swing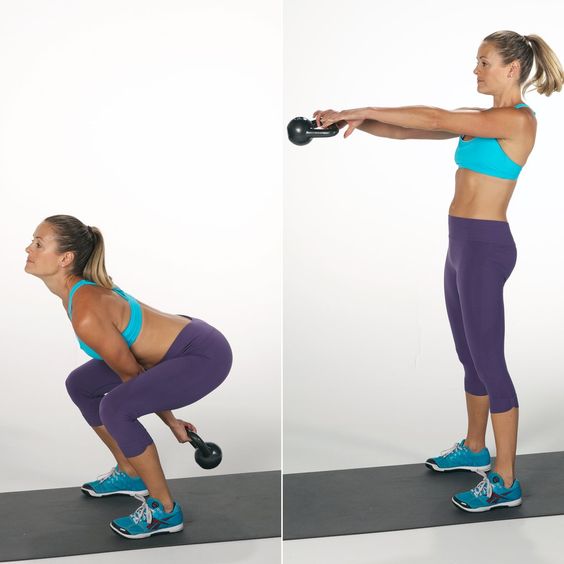 When you think of a kettlebell workout this exercise move maybe the very first move you think about it is one of the best moves to do. It tones your arms, back, shoulders all while working your obliques. It is the ultimate exercise to target your upper body and get the best workout possible. With this exercise make sure you keep a strong grip on the ball as you will be making explosive swings when you come up from the squat. Complete 5 reps of 15.
1.

Kettlebell Basic 5 move Workout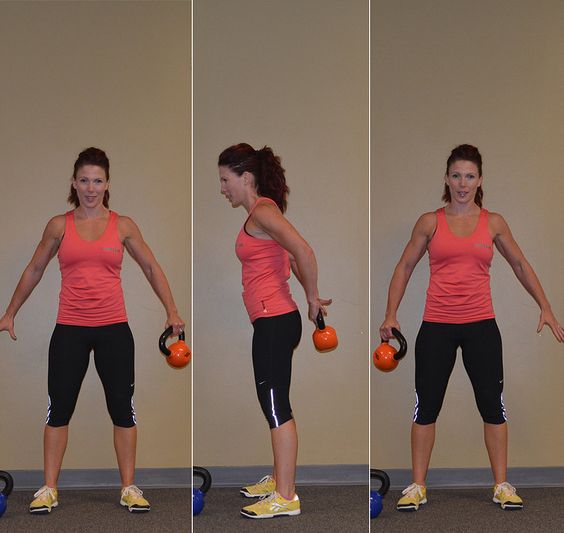 If you wish to obtain a full body workout this is the move for you. This 5 move workout will workout your entire body combining cardio and weight training all at the same time. You will get the right amount of exercise that will increase your heart rate and make you break a sweat.
Nonetheless, when you workout you want to break a sweat to get your blood flowing throughout your body. You can always increase the number of reps as you become stronger so focus on your form first. When you are working out with a kettlebell you want to ensure you are doing the exercises properly to achieve the best results.
This may take some time for this reason starting with smaller size kettlebells may be the best way to go. You may also want to try out a DVD to show you proper positioning. Let us know in the comments below which kettlebell workout is your favorite and why.