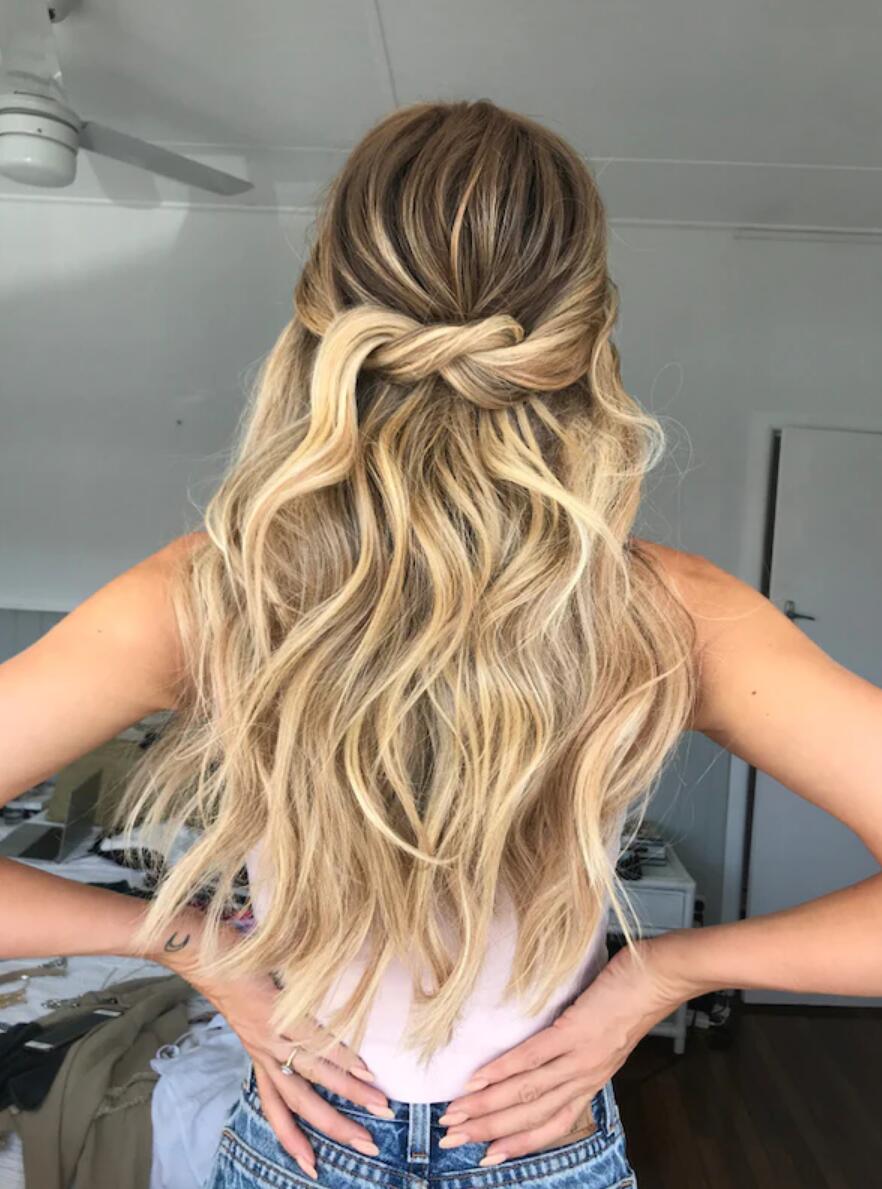 When it comes to everyday hairstyles, you should aim at styles that are easy to replicate and look good on you. Ideally, everyday hairstyles shouldn't take forever – you will want your hair done quickly.
Here are the best hairstyles that you can recreate with the aid of human hair extensions. If you're not ready to commit and would like to be able to switch from one look to another, make sure that you always use good-quality clip-in hair extensions for your hair. This way, you will be able to seamlessly blend them in with your natural tresses, not mentioning they will last longer than synthetic hair..
Also, if this is your first time using hair extensions, you might go through a bit of a struggle finding extensions to match your natural hair. This is specifically true if your hair is already dyed or is multi-tonal. But don't worry: hair extensions specialists such as Cliphair offer a free color match for their customers and potential customers.
Source: Pinterest
Fluffy & Bouncy
For this first hairstyle, you will want to leave a small section of your natural hair at the bottom while securing the top hair with a clip. Next, you will want to focus on the small section at the bottom and start to back-comb the roots.
Subsequently, use a hairspray to secure your hair. Use your clip-in hair extensions and fold the clip over to create a double-weft clip (for the extra volume boost). Attach the hair extensions to the bottom section of your hair.
Repeat the process for the upper section of your hair. Once you are done, you will want to fake a section from the side of your and back-comb this section. Use hairspray and use one clip of hair extensions on this side. Repeat the process on the other side of your hair.
As the final result, you will have a cute hairstyle ready!
Source: Pinterest
Low Bun
Who doesn't love to wear hair extensions in a low ponytail? The exciting thing about wearing hair extensions in low ponytails is that one doesn't have to clip in any hair extensions past their ear level – thus, you can save a lot of time and effort.
Another great thing is that you don't have to worry about blending in hair extensions with your natural hair in the top part of your hair. So, you can easily omit the wefts above your ears and prevent any bulges that can be caused by wearing too many hair clippings.
The same technique is applied for creating a low bun – all you need to do is to clip in a few wefts until you get to your ear level. Next, tie your hair into a low ponytail and create the perfect bun. This way, your hair will look natural, while the bun will look lush and pretty from the added length and thickness of your hair extensions.
Source: Pinterest
Fishtail Braid
Using the same strategy as above, you can create low braids. All you need to do is to attach your hair extensions – again – no higher than your ears. Proceed to braid the loose hair into any braid of your choice.
For instance, you can use your hair extensions if you want to make a voluminous fishtail braid. Make sure to loop the ends of your hair and extensions into a knot. This way, one can never tell that you have hair extensions in your hair.
Source: Pinterest