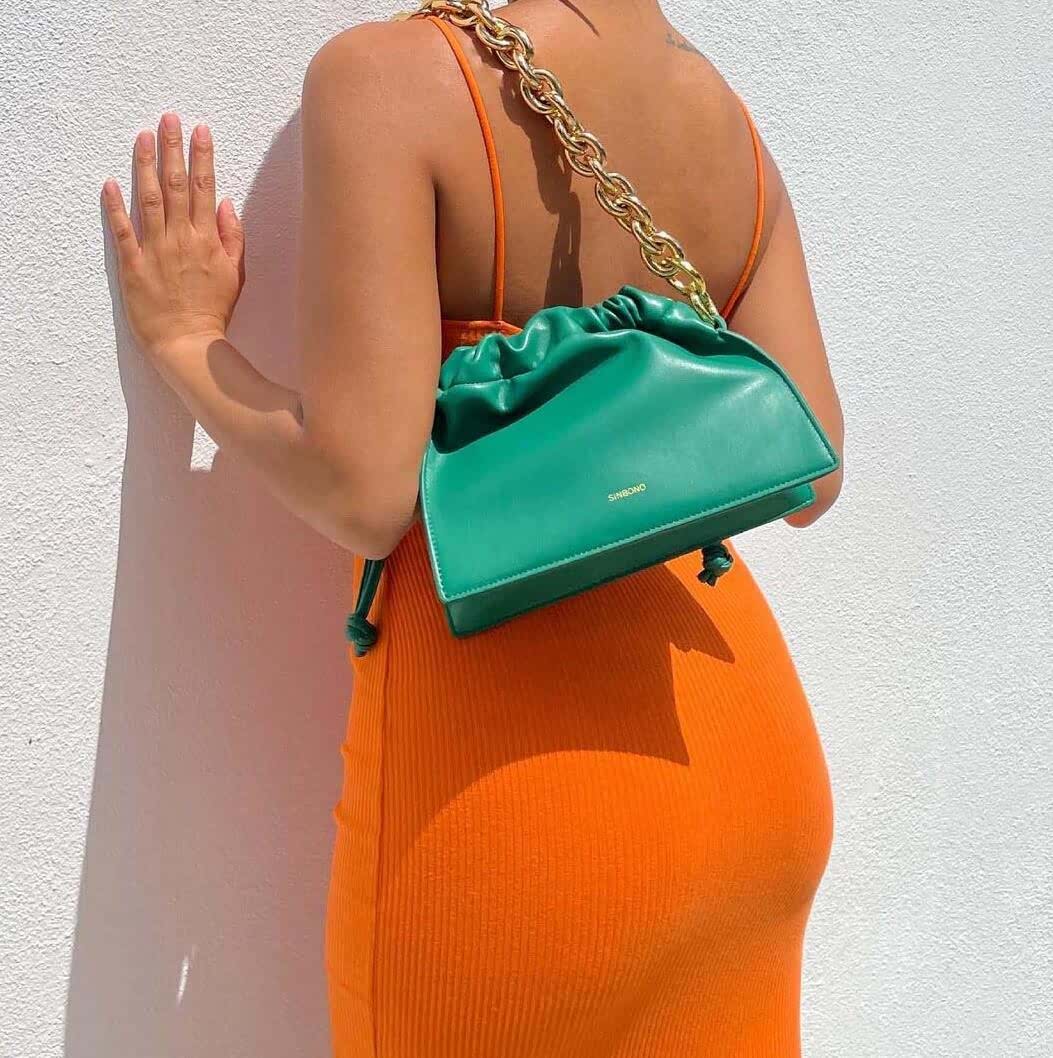 Vegan handbag is a fairly new term used to describe contemporary bags made of strictly cruelty-free materials and manufactured in sustainable, ethical methods.
The traditional leather-tanning industry, which produced bags and footwear from animal-skin leather for thousands of years, has recently undergone a complete revolution.
And innovative, plant-based, 'leathers' plus polyurethane materials are taking over.
Best new vegan leather materials
If you're not completely up-to-date with the various new vegan materials, the main ones are:
Apple leather
Pineapple leaves
Cork
Cactus leather
Mushroom leather
Synthetic micro-fibers like Ultra-suede and Ultra-leather
Poly-urethane (PU)
PVC (not recommended)
You might feel a bit dubious about the new materials, but you shouldn't. They are being used to make beautifully designed, durable bags for every season, occasion and fashion trend.
And one of the top benefits of not using animal-leather, apart from it being cruelty-free, is that vegan handbags are so much lighter in weight and much cheaper to buy!
And this selection of the 19 Top Vegan Handbags for this year shows that vegan materials produce excellent, affordable, elegant and luxurious bags you'll love!
1. Top Vegan-leather City Bag
1.6.1 Grey Taupe from Alexandra K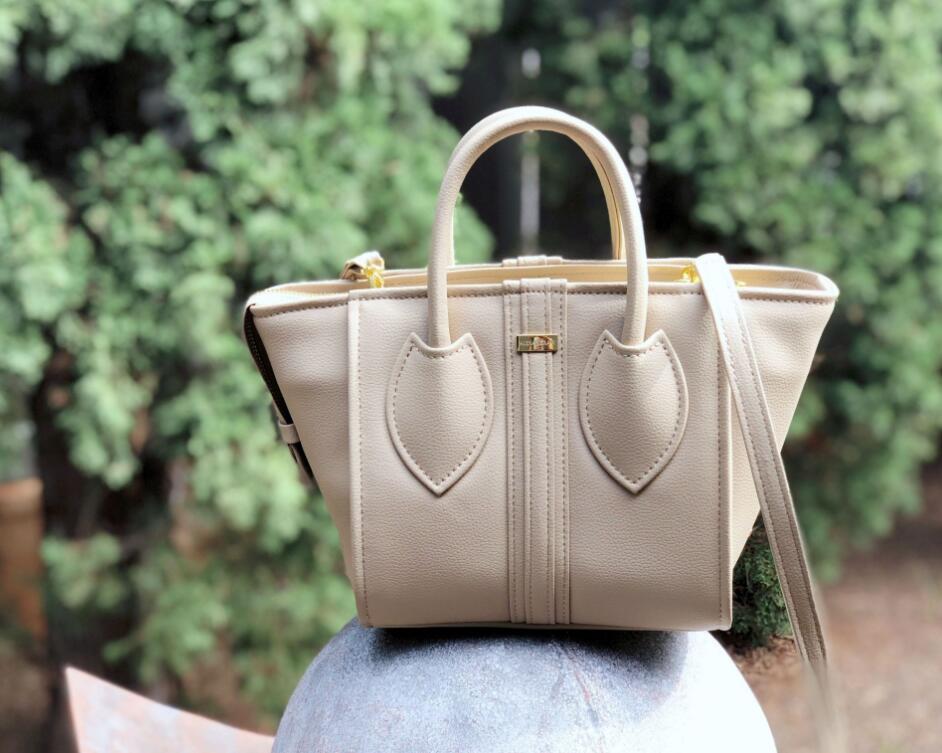 RECOMMENDED FOR: One of the few brands that offers vegan handbags with a unique number plus an eco-friendly vegan certificate
Buy from Alexandra K online
This fashionable city-wear vegan-handbag is large and practical enough for daily use.
Made from re-cycled PU material, this maxi-bag has a front pendant featuring the trendy Alexandra K logo.
This stylish bag is offered in neutral colors to match with your whole wardrobe and has a lovely lining that feels like buttery-soft leather.
There are two inside pockets, space for a laptop and A4 notebooks, and three separate compartments, of which is a zip-up.
And there's a magnetic closer, plus a detachable shoulder strap.
2. Top Large Vegan Backpack
Nyla Backpack – Large – from Pixie Mood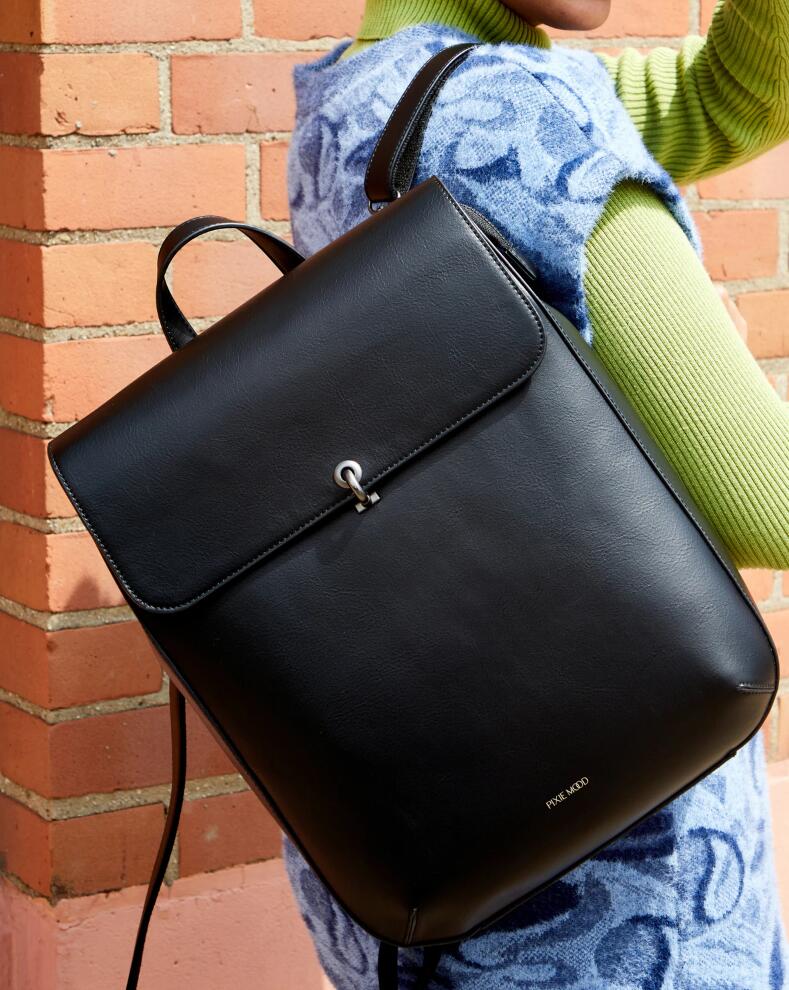 RECOMMENDED FOR: Chic vegan handbags for stylish, busy students and mothers with a contemporary, trend-setting fashion look
Buy from Amazon
Pixie Mood is a Canadian brand, which has had tremendous success with the Alicia Tote II bag and now offers the Nyla vegan backpack for its huge client-base.
And apart from that, it has also introduced an appealing, textured vegan-leather which is featured in this year's collections.
The smart, minimalist Nyla backpack is spacious enough to be a stylish and practical everyday backpack or shoulder bag.
3. Best Top-handle Vegan-leather Bag
The Fae Top-handle from JW PEI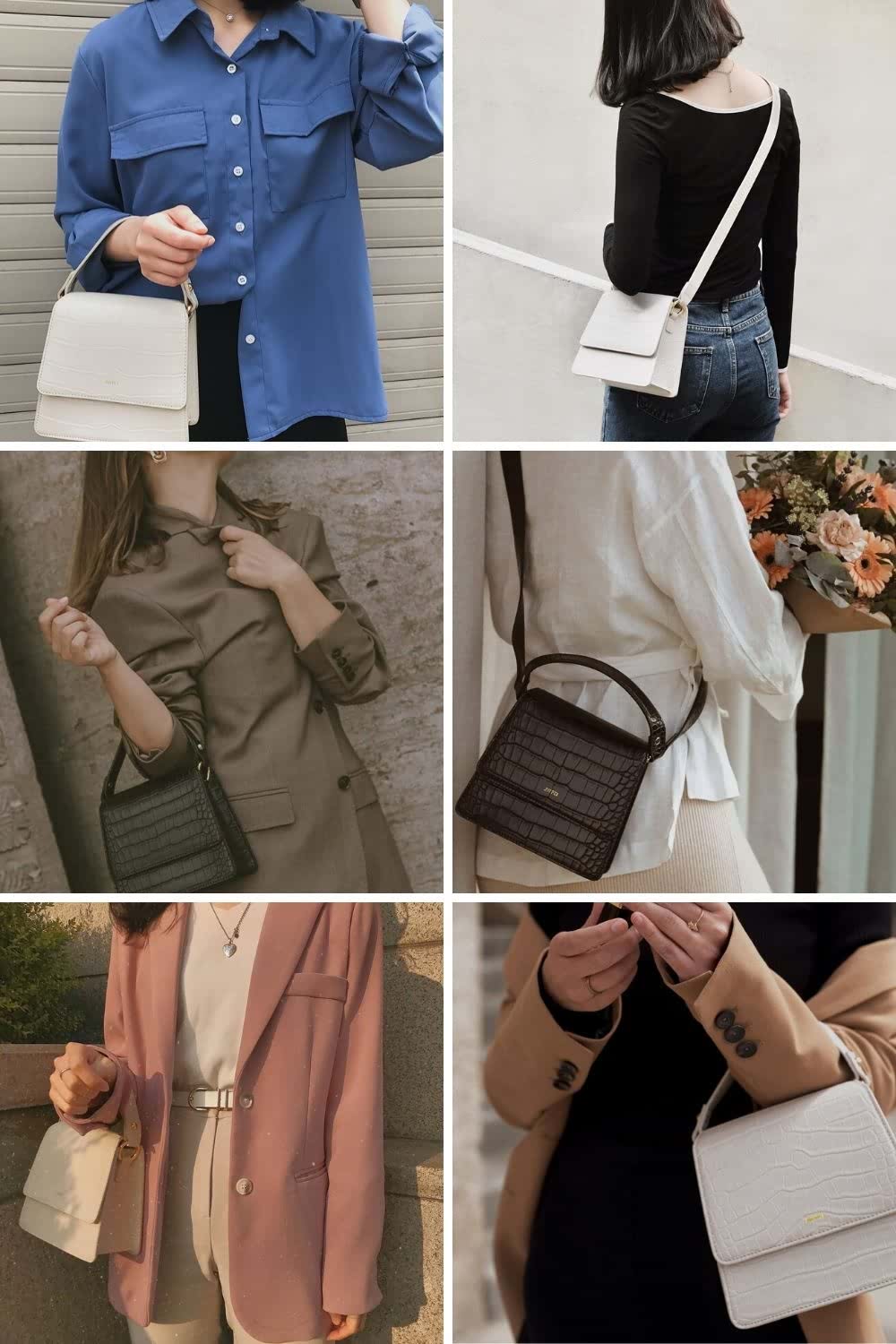 Buy from JW PEI online

RECOMMENDED FOR: High-quality, patent-leather style vegan handbags at affordable prices
This brand's bags look similar to those made by Matt & Nat in their simple styles, but excel in the vegan, 'aged-leather' look, which has an attractive patina.
Based in Los Angeles, California, JW PEI offers impressive, minimalist vegan-handbags made out of quality polyurethane resin and super-fine microfiber.
The lining is made from 100% re-cycled plastic bottles and these bags are on a par with far more expensive handbags from Stella McCartney.
4. Best Textured Vegan-leather Backpack
Autumn Textured Front Backpack from Jeane & Jax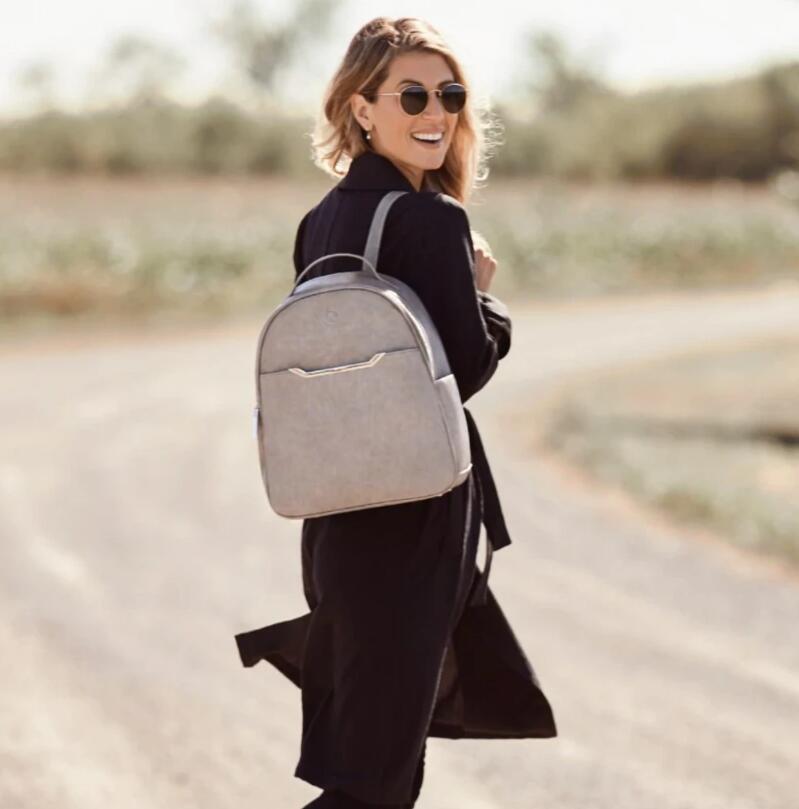 RECOMMENDED FOR: Bags like the Autumn, with plenty of pockets, pouches and slots to keep everything organized during a weekend trip
Buy from Jeane & Jax
Jeane & Jax is based in Quebec, Canada and produces luxury vegan handbags and wallets from ethical materials. This brand takes its inspiration from Montreal's artistic and multi-cultural community.
This is a PETA-approved brand that also works hard to ensure all employees have a healthy, fair and safe working environment.
And the attractively textured, unisex, Autumn bag has full, zip closure for security and an adjustable cross-body strap.
There's a magnetic snap-fastener, a front pocket, a zipped back-pocket and a special, inside phone pouch in this smart and useful vegan bag.
5. Top Vegan Shoulder-bag
Rotunda Handbag from Gunas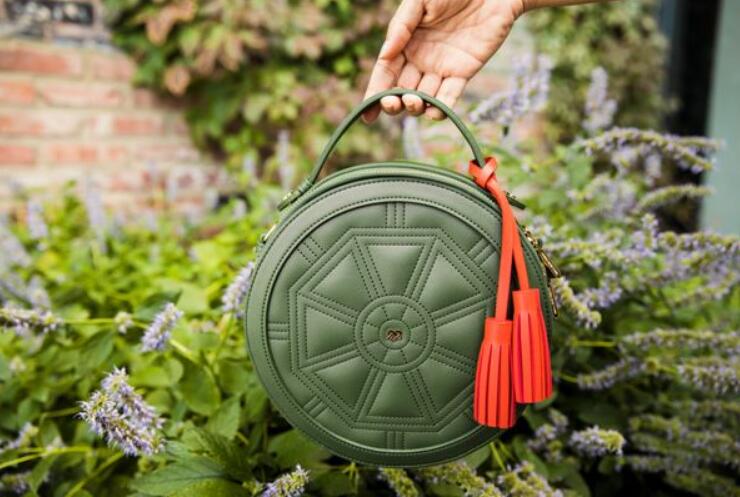 RECOMMENDED FOR: Unique styles and fabulous colors for vegan handbags suitable for special events
Buy from Gunas online
Based in New York, Gunas is one of the first totally vegan labels in the world, producing vegan bags from both cruelty-free and PVC-free material.
And to do this they use innovative materials like re-cycled nylons, cork, coated canvas, up-cycled polyester, rubber and a synthetic, ultra-microfiber fabric material called, 'ultra-suede'.
Gunas designs are unique and imaginative, like the Rotunda handbag, which was inspired by Capitol architectural structure in Washington and the Pantheon in Rome.
6. Best Everyday Use Vegan Tote-Bag
Moenn Marcelline Tote bag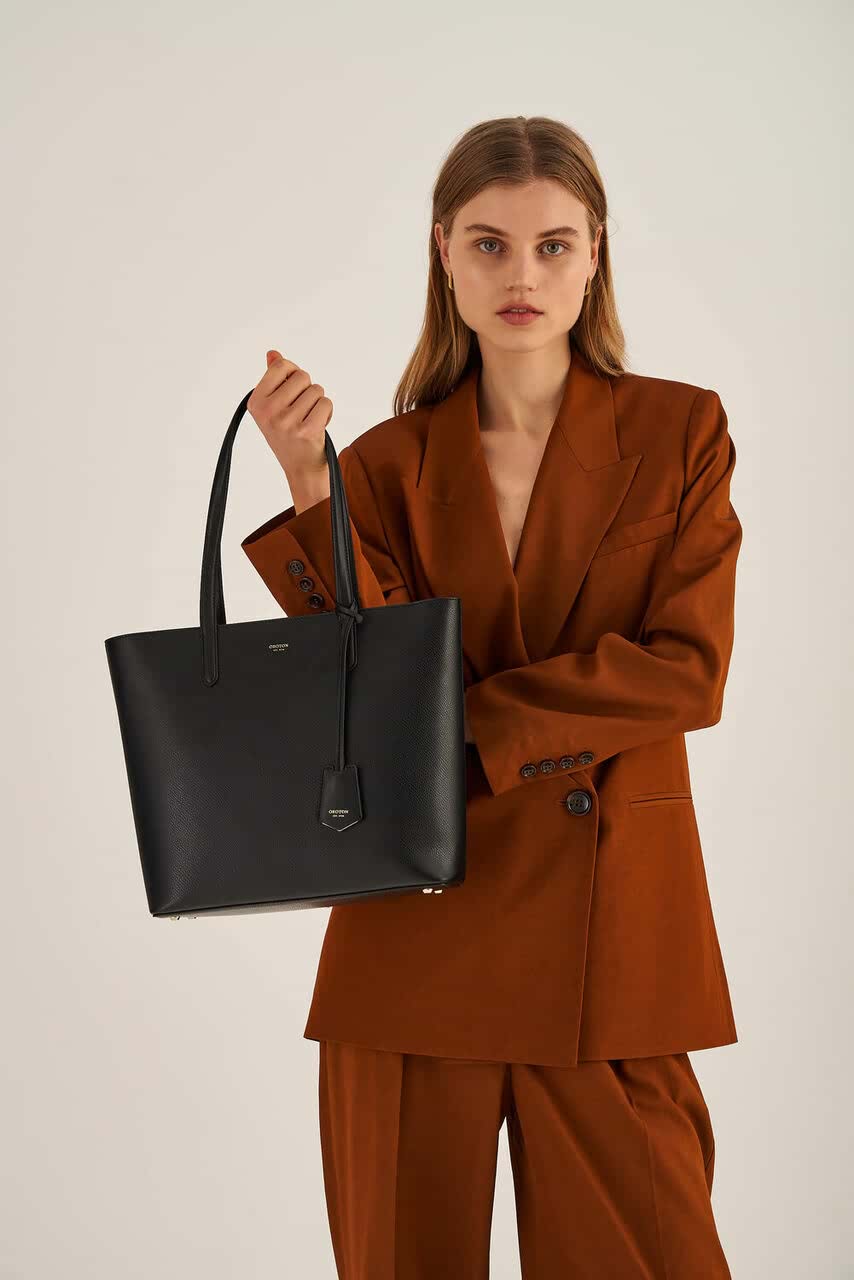 RECOMMENDED FOR: Unique vegan tote-bags that are stylish and practical for all purposes from office to gym and shopping
Buy from Moenn online
This oversized, vegan tote is beautiful as well as useful and will do sturdy service for travelling, beach days and city life.
It's a hand-made vegan bag with a modern, minimalist look from the stylish Marcelline Collection, decorated with a natty, gold-colored metal logo.
This attractive tote-bag has a removable mini-pocket in matching vegan-leather so you can easily locate your personal items in a second.
7. Best Budget Vegan-leather Bag
Faux-leather Large Hobo Bag from Realer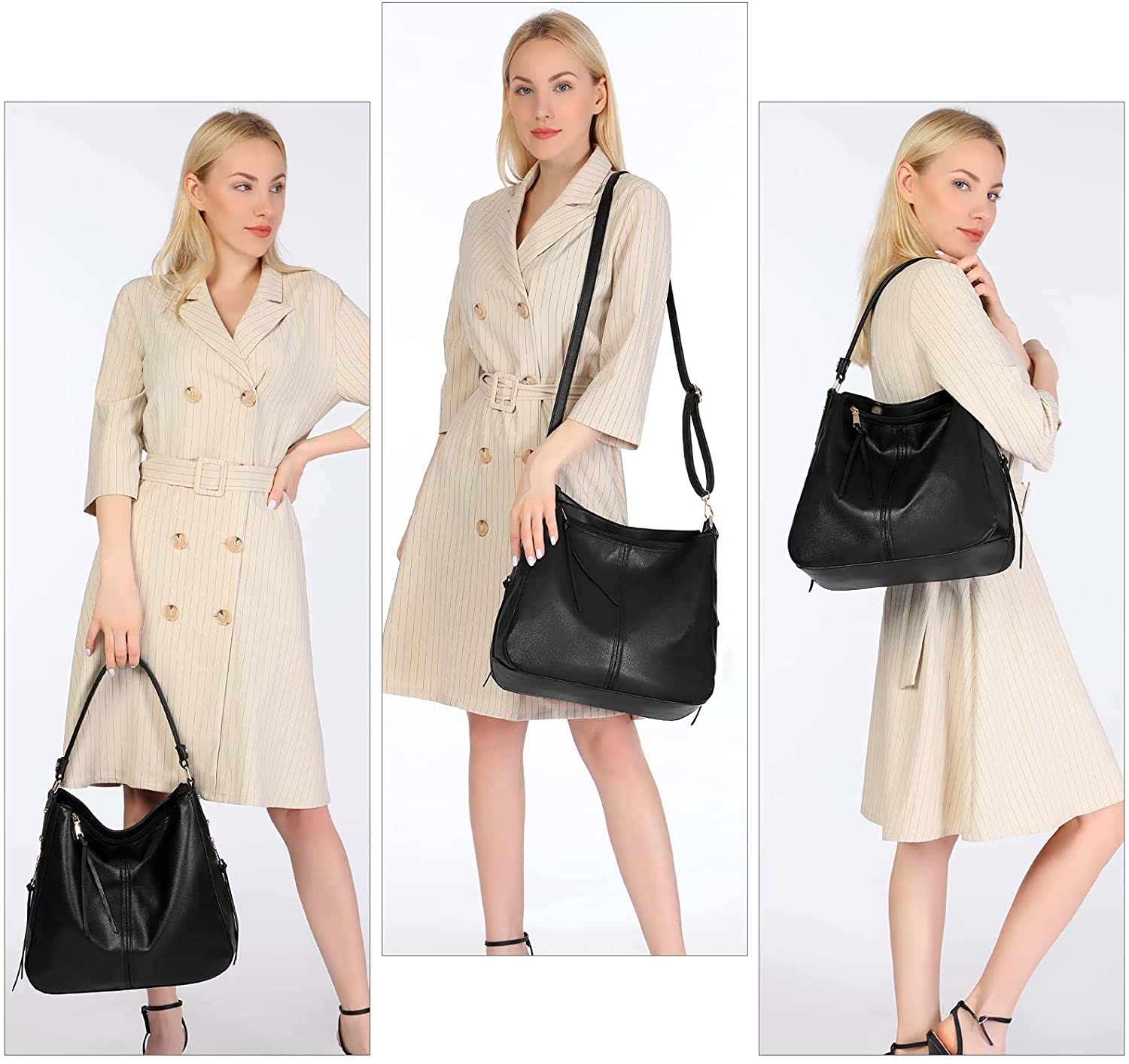 RECOMMENDED FOR: Elegant and stylish bags for economical prices
Buy from Amazon online
This classic, Realer Hobo style vegan handbag is elegant, soft to the touch and made from durable vegan leather.
The surface is treated to be lightly waterproof, and resistant to scratches or fading from exposure to UV sunlight. The no-cracking, polyester/cotton-fabric lining is strong but soft.
And with luxurious gold-colored fasteners and links, the overall look is elegant and trendy. In 28 gorgeous colors, this is a low-priced vegan handbag that's currently a solid best-seller for Amazon's international customer-base!
8. Top Luxury Vegan Handbag
Falabella Mini Tote-Bag from Stella McCartney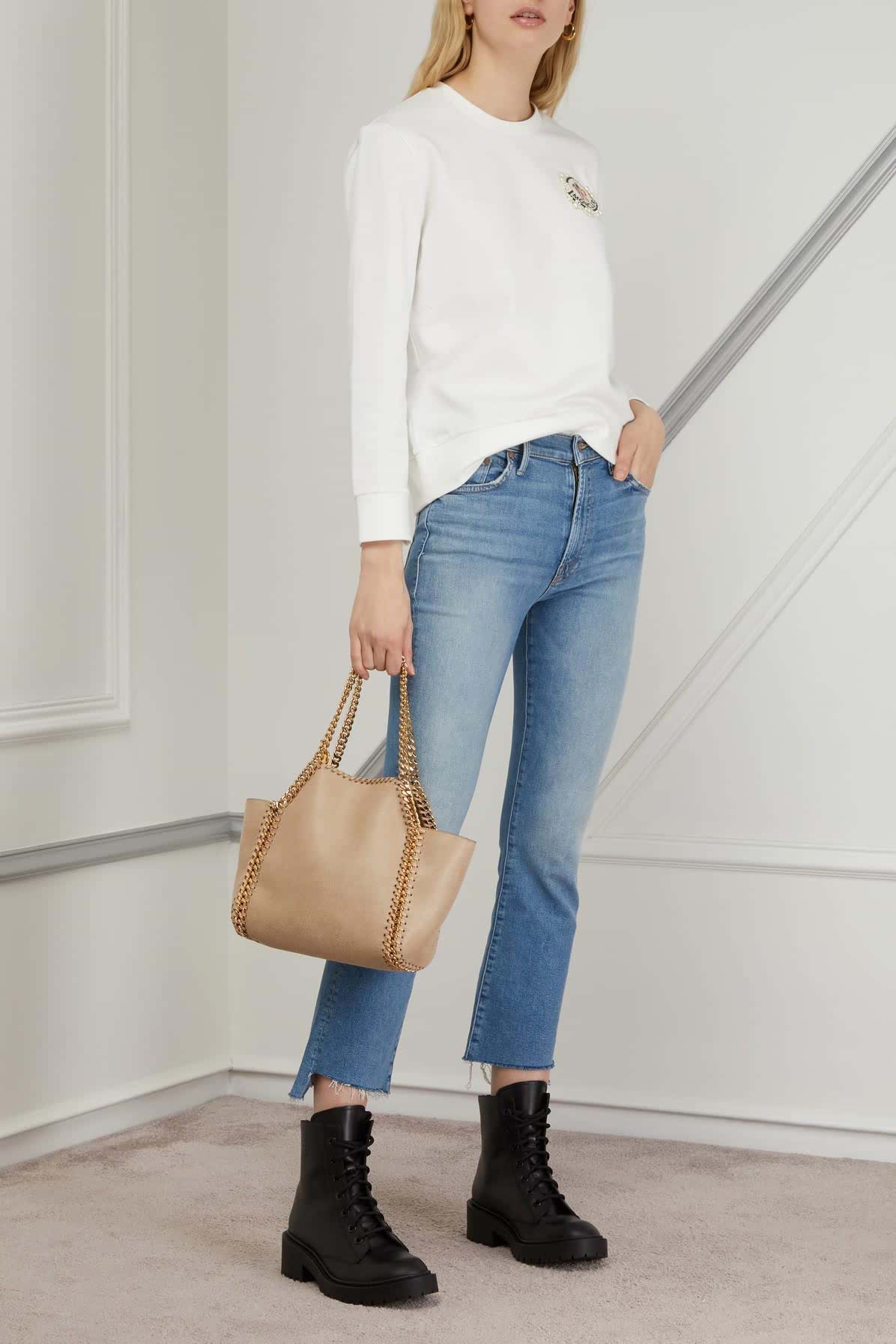 RECOMMENDED FOR: The top-quality, luxury vegan handbags currently on the market
Buy from Farfetch online
Stella McCartney is renowned for her high-end fashion couture, footwear, accessories and vegan-leather handbags that has always been strictly cruelty-free.
This label is all about producing an appealing mix of luxury and sustainable fashion items.
The Falabella mini tote-bag is an eye-catching design that features super-trendy, steel chains which will be a major part of high-fashion this year.
This bag is made in limited numbers in Italy, from the Stella McCartney own-brand vegan-leather, so buy early to avoid disappointment!
9. Top Vegan-leather Laptop Backpack
On-Track-Pack Laptop & Tablet Backpack from Kenneth Cole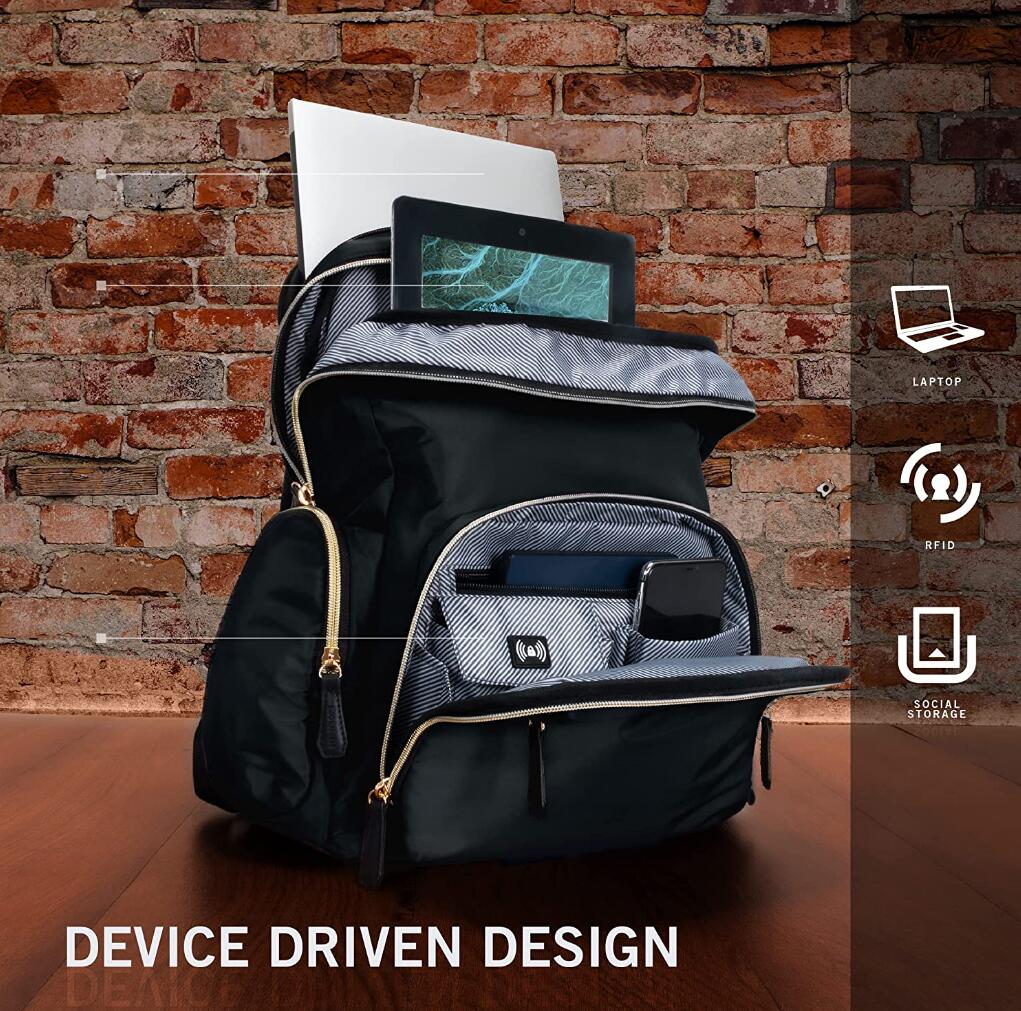 RECOMMENDED FOR: Fantastic vegan bag full of the latest technology, including Bluetooth, RFID, portable charging facility and lots more
Buy from Amazon online
This is an affordable, multi-faceted vegan-leather backpack with anti-theft, RFID technology that can house a 15.6" laptop easily.
RFID is a Radio-Frequency Identification system which blocks radio-waves to prevent thieves reading your debit/credit cards and some passport details.
Inside, the backpack has a large compartment for big items, two open, slip-in pockets and a meshed zip-up pocket. It's stylish, fully-lined, tear-resistant and durable.
10. Best Puffy Vegan-leather Backpack
Blink Backpack – Urban Originals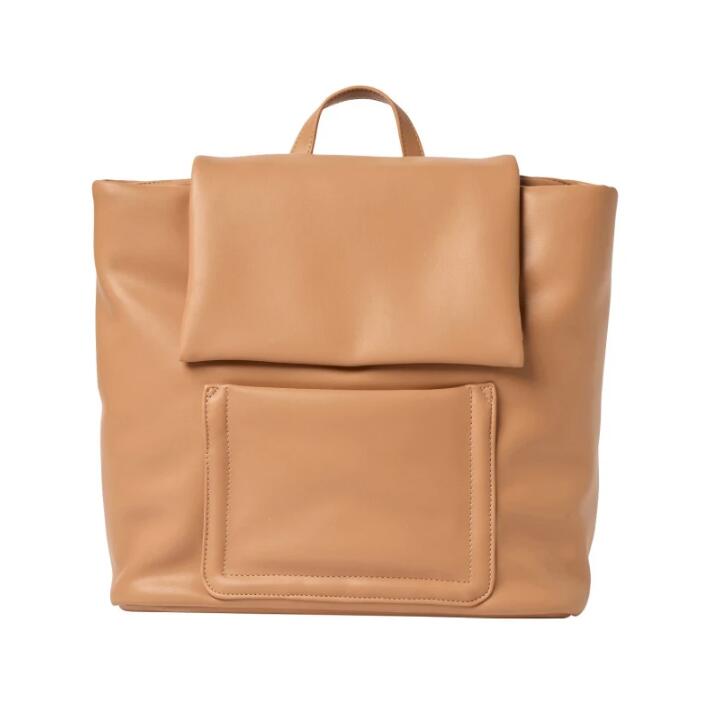 RECOMMENDED FOR: Combating the animal-leather industry by offering smart and practical vegan handbags
Buy from Anthropologie online
Urban Originals is highly-ethical Australian business, which focuses on veganism and helping to create a cleaner, healthier planet.
This label offers fashionable handbags, cross-body bags, totes and backpacks, all made from modern, vegan materials under Fair Trade conditions.
UO's bags are manufactured using bio-based polyamides and vegan-leather made from re-cycled PET bottles, with organic cotton lining.
The Blink Backpack has an additional short handle and a convertible strap, allowing it to be work as a backpack or cross-body style.
The straps are adjustable, and the closing flap has a magnetic fastener. With a front, padded, slip-pocket and a zip-up back pocket, you'll find a secure place for all your important items.
11. Best Vegan Tote Bag
Demi Black Vegan Winged Tote-Bag from LaBante – London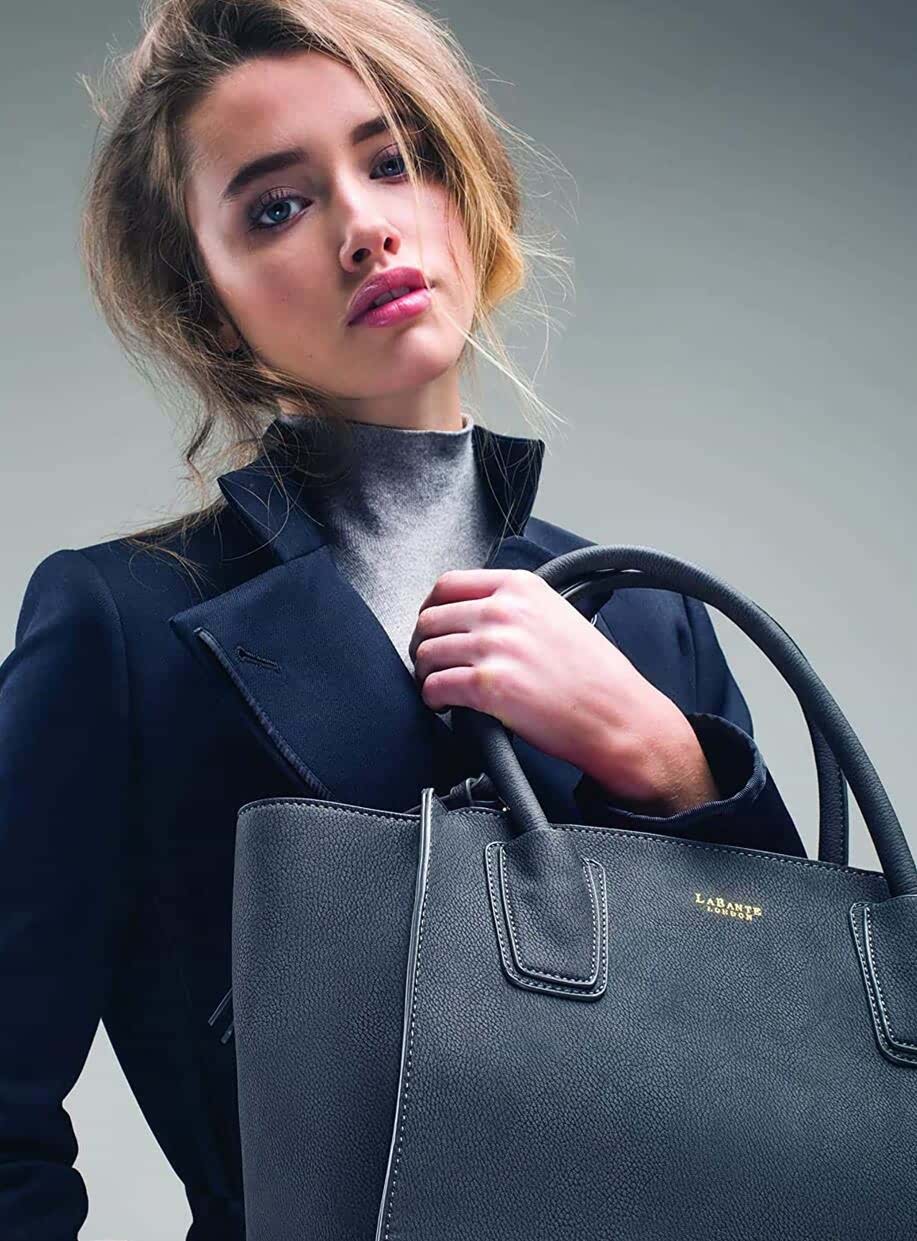 RECOMMENDED FOR: Affordable selection of vegan handbags in high-end/designer styles
Buy from LaBante, House of Fraser, Amazon and many online retailers
LaBante London is an English designer brand, which began in 2009, and produces fabulous vegan-leather bags.
This label offers excellent variety of vegan backpacks, cross-body, clutch- and tote-bags in natural shades and attractive quilted, surface textures.
The impressive Demi handbag is a designer, winged style with attractive gold-colored hardware on the base and the brand logo on the top.
And this style is big enough to take a 13" laptop, plus other accessories in the 3 zip-up compartments inside.
12. Best Vegan-leather Diaper-bag
Convertible Classic Diaper Backpack from Freshly-Picked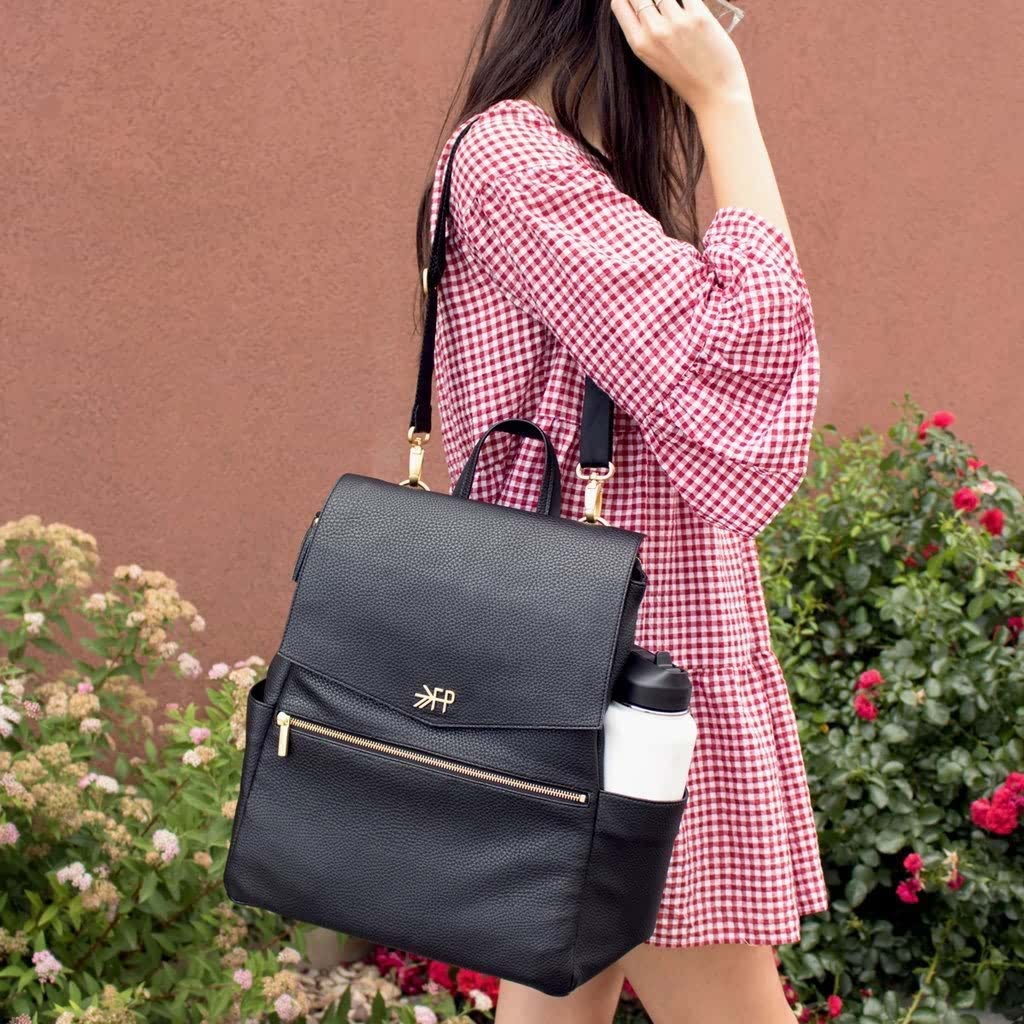 RECOMMENDED FOR: Hand-made vegan diaper-backpacks made in Utah from best-quality, organic vegan leather material and nylon.
Buy from Amazon online
Freshly Picked is based in Utah and this design was inspired after focus-group meetings were carried out across the country to ensure it fits all requirements.
The Convertible Classic Diaper Backpack has 10 useful pockets and a generously-sized middle compartment for larger items and is designed to take everything you need for your baby.
As a highly spacious diaper bag, this fashionable-looking backpack is easy to use and durable.
And the magnetic, front-flap and easy-grab top handle, plus an 'electronics sleeve', you can also use this as a handbag, cross-body bag or backpack for a laptop of other items.
13. Best Designer Vegan-leather Bag
Cassiopeia White Bag from Mashu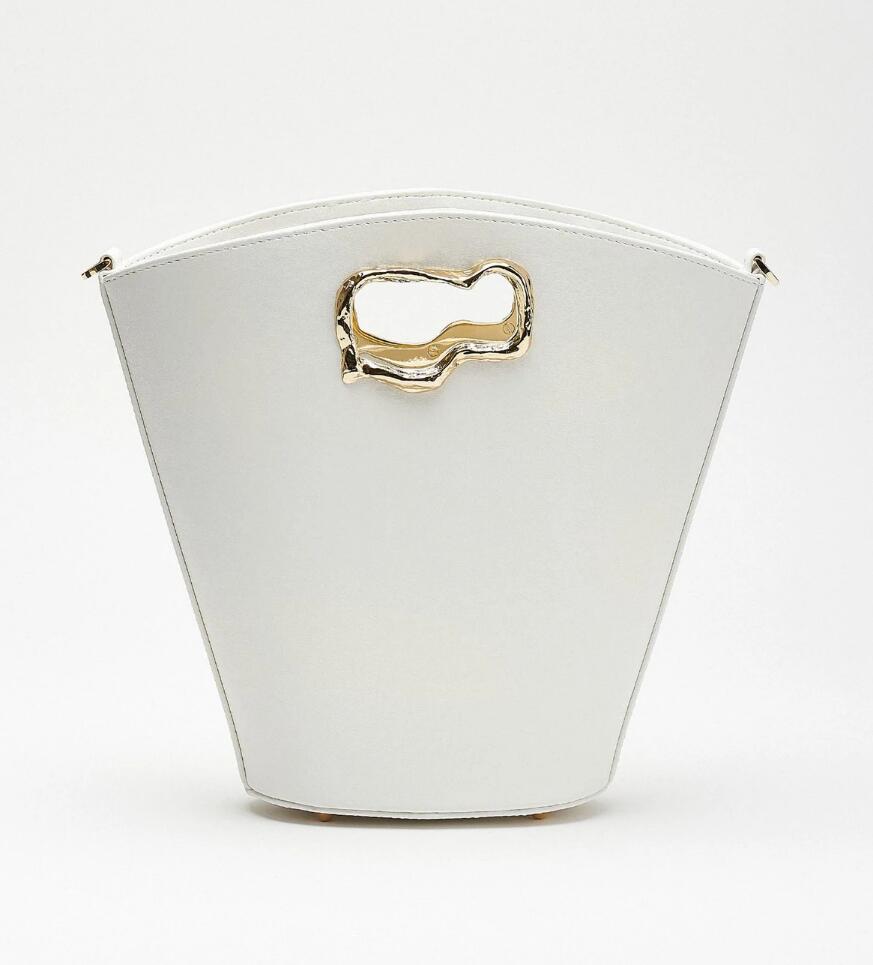 RECOMMENDED FOR: Fun, chic and elegant new handbag shapes made with superb craftsmanship
Buy from Mashu online
The Mashu brand is famous for its wonderful blend of London design and Greek hand-made quality.
It produces amazing, Art Deco handbags with brilliantly styled inspiration from ancient architecture.
Made from Mashu's own 'Desserto', cactus-leather material, Cassiopeia is just one of this label's exclusive and highly contemporary designer bags.
With details in gold-plated brass, this is a gorgeous vegan bag inspired by nature's asymmetric shapes.
14. Best Vegan Post-Bag
Large Post-Bag from Elvis & Kresse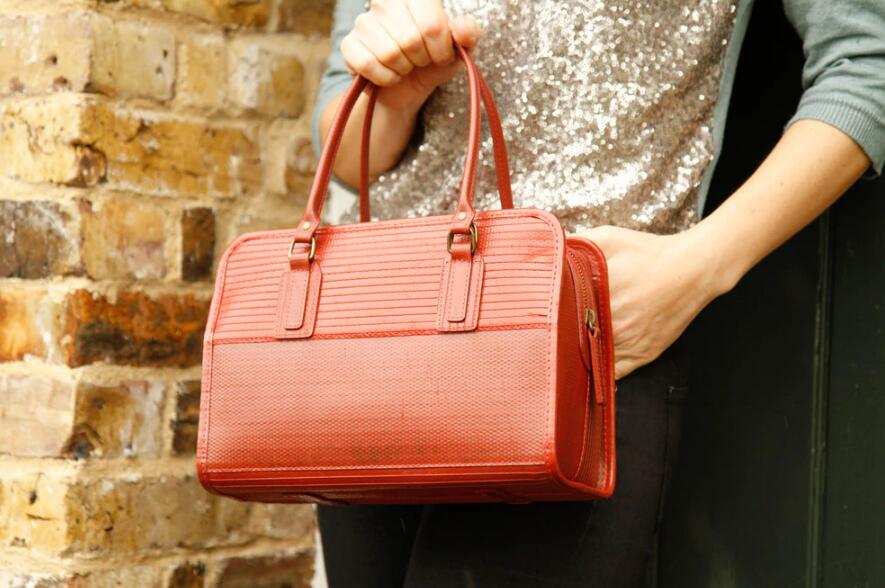 RECOMMENDED FOR: Luxury handbags bags and accessories made from innovative vegan materials and recycled leather waste
Buy from Elvis & Kresse online
E & K began in 2015, as an English vegan-leather brand offering high-end handbags and accessories.
And in 2017, the label began an inspired collaboration with Burberry aimed at solving the huge, global problem of leather waste.
This saw at least 120 tonnes of leather off-cuts diverted from the Burberry waste-dump to the Elvis & Kresse handbag workshops.
In addition to this, the E & K Large Post-Bag is made from authentic, redundant fire-hose material. This is waste from fire-hoses that last approx. 25 years on the fire-fighting front-line.
The superior Large Post-Bag is included in The Fire Hose Collection, and has a spacious interior with two poacher pockets, and a zip-up pocket. The lining is made from soft, re-claimed parachute silk.
This gorgeous red-brown bag can be a hand-, shoulder- or cross-body bag.
15. Best Vintage Vegan-leather Briefcase
Briefcase Laptop Bag for Women from Ecosusi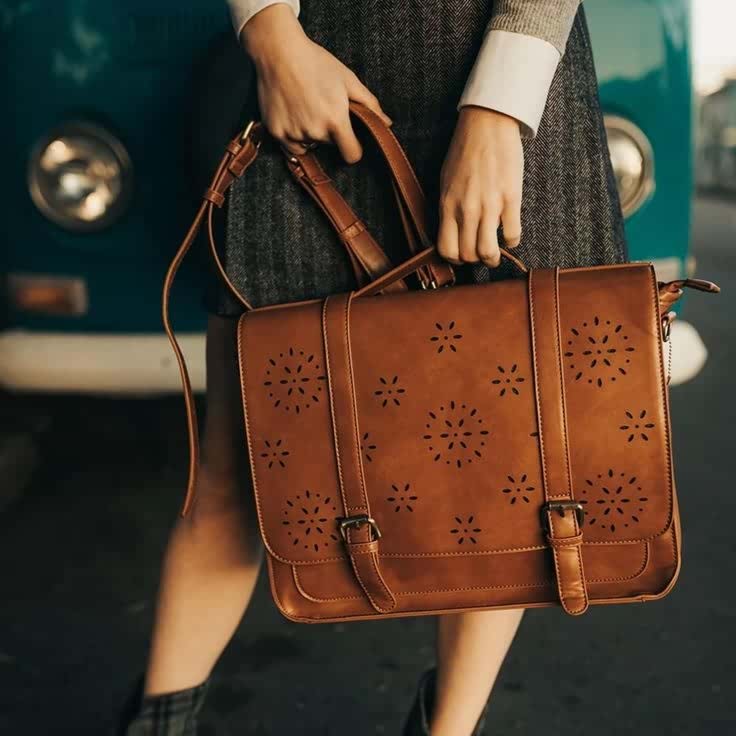 RECOMMENDED FOR: An excellent vegan brand for anyone seeking 1950's vintage-style vegan handbags and footwear
Buy from Amazon
Ecosusi was started in 2015 and their strength is top-quality, vegan bags for business and school.
The 1950's style often emphasizes femininity and this cute vegan briefcase, decorated with a stylish bow, is perfect for a trendy, vintage look.
This 14.8" x 10.6" x 4" laptop messenger bag is great for carrying a laptop and several A4 size notebooks.
The spacious interior has several, different-sized pockets to keep you well-organized and efficient.
16. Best Cross/Shoulder Vegan Handbag
Hamilton Cross-body Signet Mud Beige by Angela Roi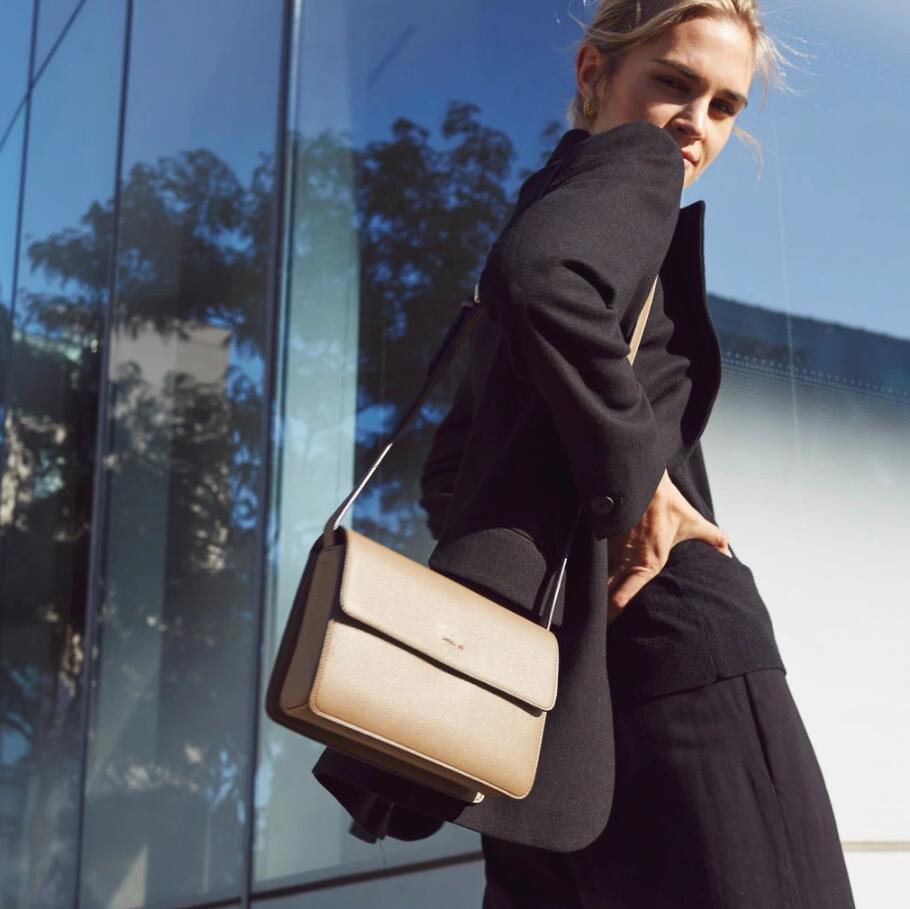 RECOMMENDED FOR: Producing excellent and popular, cross-body vegan bags.
Buy from Angela Roi online
Angela Roi's cross-body bags are best-sellers, made from PU leather and elegantly finished with satin-gold hardware.
Calling this bag, Hamilton, after a famous US president is not over-the-top, but a fair reflection of its superb quality!
The bag has a minimalist rectangular style with accordion-pockets that expand to accommodate all your necessities.
The Hamilton's lining and internal pockets are made from the softest vegan-suede and feature three open pockets, two inside slip-pockets and a secure front-flap fastener.
With an adjustable strap, this is a highly desirable and stylish vegan handbag.
17. Top Cross-body Vegan Bag
Hollywood Hills Cross-body Bag by Jill Milan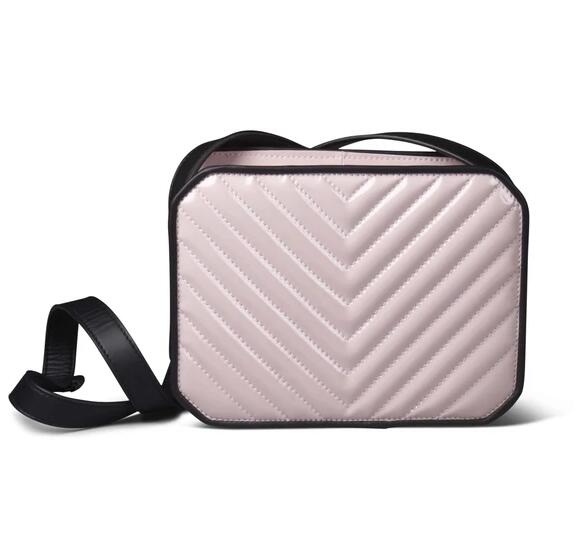 RECOMMENDED FOR: A globally popular vegan brand supplying luxury handbags to many A-list celebs
Buy from Jill Milan online
The Jill Milan brand is one of the best known labels around the world for selling the luxury handbags worn by 'red carpet' celebs at film premieres and special events like the Oscars.
You may already have seen JM handbags on the arms of actors such as Kerry Washington, Eva Longoria and Anne Hathaway and a host of international, rich and famous women.
The Hollywood Hills bag is a beautiful, minimalist, cross-body handbag with a rectangular design softened by the rounded edges and chevron texture.
It's made from high-quality, Italian vegan patent-leather and is light to carry, but has plenty of room for daytime or evening essentials.
And it has attractive, palladium-coated, brass hardware and an adjustable shoulder-strap.
18. Most Stylish Vegan Handbag
Drawstring Handbag from Sinbono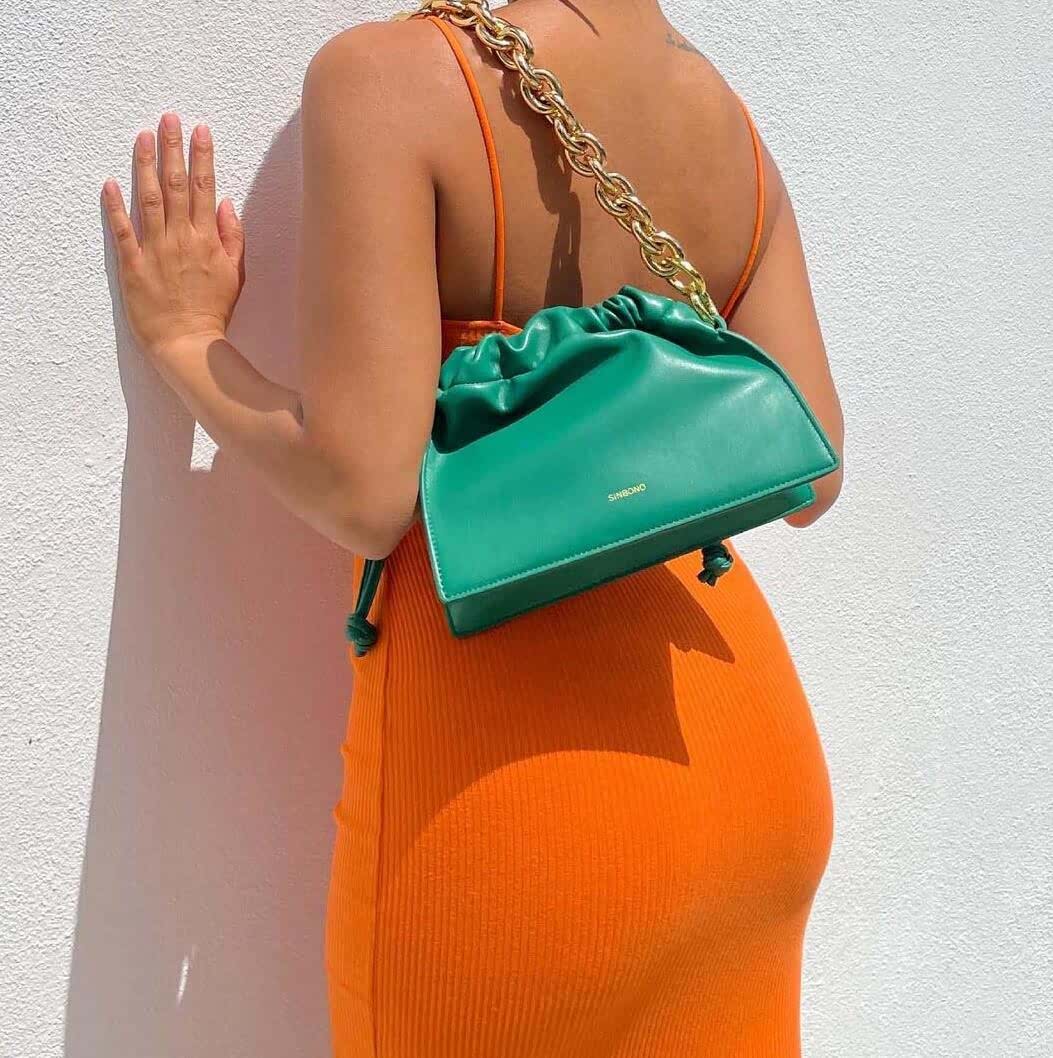 RECOMMENDED FOR: Sinbono is a trusted PETA-approved handbag label known for style and sustainability
Buy from Sinbono online
Full of New York style and innovation, Sinbono offers beautiful, classic designer handbags made of re-cycled bottles and re-claimed fruit skins!
So it's no surprise this brand is a leading label in the vegan fashion accessory industry.
And as you can see from the Drawstring Handbag, it offers fresh and unique styles to complement contemporary fashion clothes.
The Drawstring Handbag is eye-catching for its new look, butter-soft to the touch and spacious enough to hold plenty of personal items in a fashionable way.
You don't need to use a wallet, as the bag has two inside pockets. And you can also remove the scrunchie handle and use the bag as a clutch.
19. Best Vegan-leather Travel-bag
Lacie Weekender-bag from Sole Society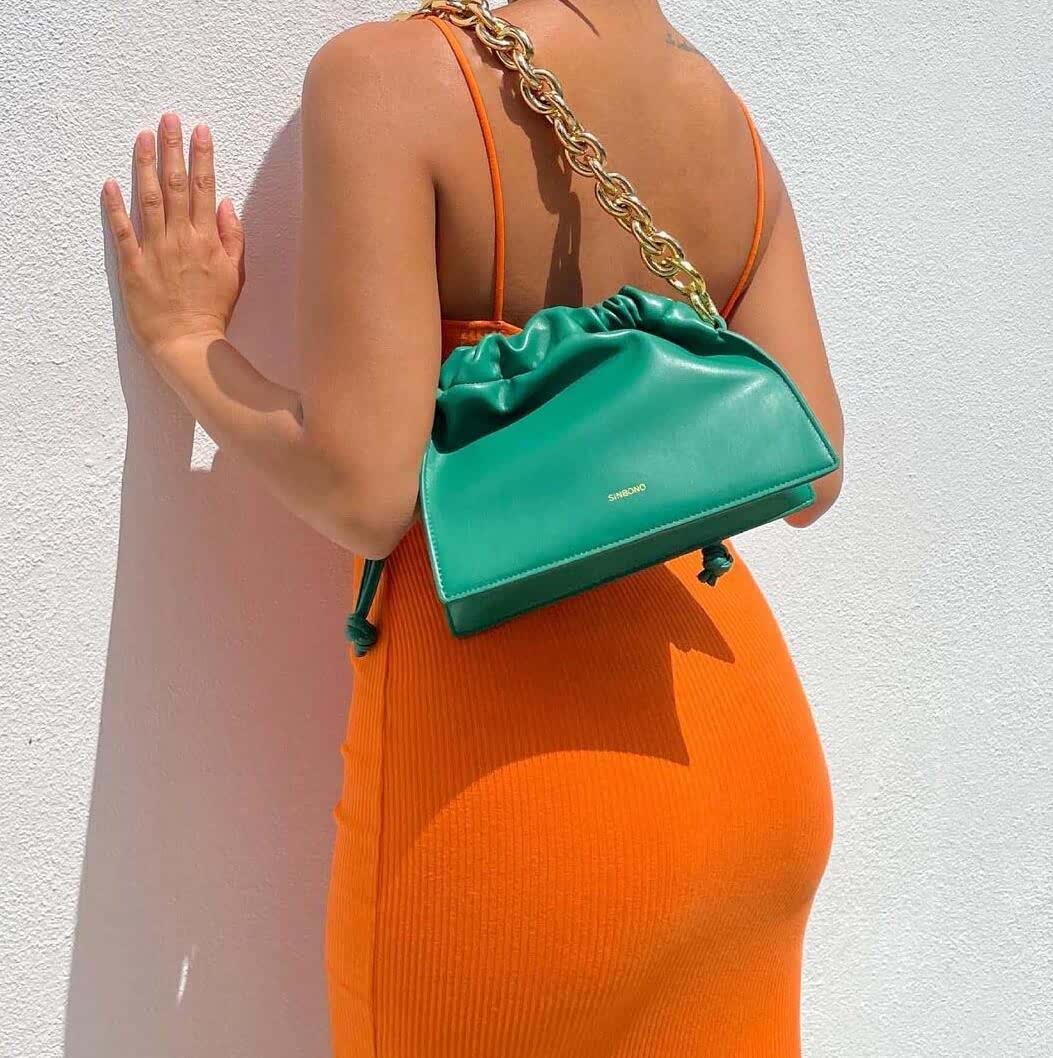 RECOMMENDED FOR: Super-stylish, vegan-leather weekend-bags for easy travel
Buy from DSW online
Sole Society is a brand based in California, which focuses on vegan-leather handbags, accessories and footwear.
Their weekend-bags have an attractive, upscale appearance, but the prices are economical in comparison with other stylish labels.
The generously-sized, vegan tote bag, Lacie, is available in a range of natural colors including charcoal, slate and tan.
FAQ's on Vegan Handbags
1. What exactly is vegan leather?
Vegan-leather is a blanket phrase used to describe all of the new material that is being used to replace animal-leather.
All vegan-leather types are plant-based or synthetic fibers, including wood, kelp seaweed, cork, rubber, bark-cloth, apple, pineapple, mushroom and organic or re-cycled cotton.
And as the fashion-market for vegan-leather rapidly expands, more and more eco-friendly materials are being developed.
2. Are PVC and PU (polyurethane) good alternatives to animal-leather?
Up until recently, the most usual type of non-animal material used in handbags has been PU (polyurethane) and PVC (polyvinyl chloride).
And whilst no-one is claiming that PU is a long-term alternative to animal-leather, it can be re-cycled and its production causes less harm to the environment than PVC.
However, PVC is not a good alternative for use in the fashion industry, because it is known that during the production process toxic, un-recyclable chemicals like dioxides are created.
And to help phase-out eco-damaging chemicals, we recommend that everyone avoids buying handbags made from PVC material.
3. Which is trendiest – vegan-leather or animal-leather handbags?
Animal-skins have been the main material for handbags for thousands of years, and expensive leather goods have been a high-status, fashion item for many years.
Until the last few years, any other leather-look material was looked down on as 'cheap and inferior'.
However, in light of our greater empathy with the suffering of animals and the desperate need to develop less wasteful production processes within the fashion industry, there's been a revolution.
'Leather-look' bags and shoes became better quality!
And as new methods managed to replicate the authentic look and feel of, 'genuine leather', faux-leather and now vegan-leather items became acceptable – and then desirable – alternatives.
The majority of new and traditional handbag and footwear brands have largely switched over to vegan- and faux-leather materials.
And now, the tables have turned, to make using a vegan handbag a chic and stylish way to support eco-friendly, cruelty-free and sustainable fashion.
For myself, I can say that I appreciated the fact that heavy, expensive leather briefcases and handbags were phased out as our care for animals came to the fore.
And now there are so many alternatives, I would never even think of buying animal-leather footwear or bags.
And I'm delighted that vegan-leather handbags are finally taking their rightful place in the world of fashion!
Your Comments
I hope you've found some appealing new vegan handbag ideas here and have a moment or two to share your opinions on the quality, look, feel, style and durability of vegan bags:
Which of these vegan handbags is your favorite?
Do you have mostly vegan or mostly animal-leather bags right now?
What are your favorite vegan handbag brands?
What do you think about the differences between vegan handbags and animal-leather bags?
Do you support one over the other and if so, what are your main reasons?
Thank you! Your opinions and fashion experience helps make the HerStyleCode Community so useful!