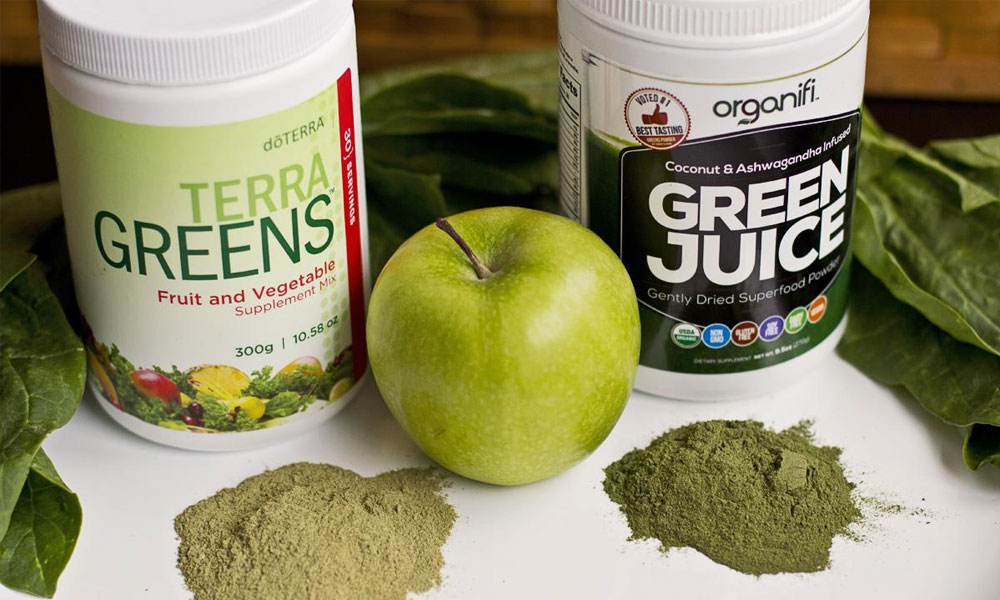 Review of Organifi Green Juice – USDA Organic Vegan Greens Powder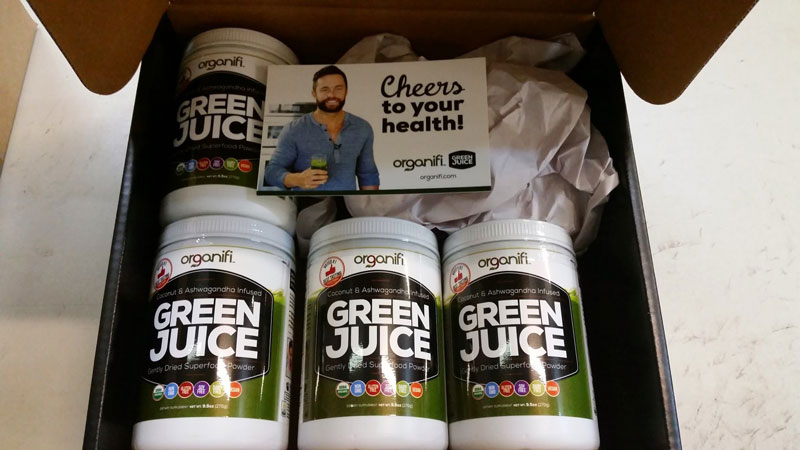 Superfoods and Juicing
When you think of a healthy lifestyle, a balanced diet is likely one of the first things to come to mind. Recent studies show that the diet you maintain plays a much larger role in weight loss than exercise (although an active lifestyle is still very important). Unfortunately, the overarching Holy Grail of a balanced diet is not always as simple as it seems.
Depending on what you want to achieve in terms of health and wellness, creating an effective diet can be extremely complicated and frustrating. Health conscious people are always looking for new and improved ways to get the nutrients they need and fulfilling but not exceeding their caloric needs in order to meet their specific fitness goals.
This continuous desire for foods and supplements that make your diet better has led to the recent increase in the popularity of superfoods. Superfoods is an umbrella term that refers to a wide range of foods that are very rich in essential nutrients and therefore help you easily consume the nutrients you need on a daily basis while keeping your calorie intake low. These foods are renowned for their various health benefits and are an integral part of the everyday diet of many health-conscious individuals. There are many different ways to consume superfoods.
Of course, one method is to simply eat them like any other food. However, many people choose to juice their superfoods instead. Juicing superfoods combines multiple nutrient-dense foods into one fresh, raw, healthy drink. The finished product of juicing is an ideal source of nutrition, but the process it takes to produce it is a tedious, messy, expensive, and inconvenient chore that many people just can't fit into their daily schedule.
Since regularly juicing superfoods from scratch is unrealistic for a large number of people, many companies have capitalized on the discrepancy between people who want to consume superfood nutrients but aren't able to juice the foods themselves by creating pre-made or powdered "green juices". Different green juices contain different ingredients, but they're all designed primarily to help you quickly get all the daily nutrients you need in a more convenient way.
Important Ingredients
Organifi Green Juice is a popular water-soluble powdered superfood that allows you to make your own green juice drinks quickly and conveniently. Instead of wasting your morning juicing fresh ingredients, you can mix your own daily green juice drink within seconds from the comfort of your own kitchen using Organifi powder. Just mix one scoop of the powder into a glass of water, mix it up, and get ready to drink.
Organifi is an all-natural product that is vegan, organic, and produced entirely without soy, GMO ingredients, or gluten. The powder is made from a specially-formulated blend of nutrient-rich foods, including more than ten different superfoods that collectively provide you with nine to ten grams of superfoods in every serving of Organifi.
The main active ingredients within Organifi include beets, chlorella, lemon, moringa, mint, matcha green tea,  turmeric, spirulina, wheatgrass, coconut water, and ashwagandha. All of these ingredients are chosen specifically for their varied and significant nutritional benefits. They combine to create a drink with a broad range of mental and physical health benefits.
Organifi advertises six primary health benefits of its powdered juice: increased mental clarity, general improved health, rejuvenated skin, detoxification of the body, boosted immunity, and reduced stress.
Mint eases mild day-to-day pains and acts as a sleep aid. Spirulina provides plant protein that increases daily energy and strength. Matcha green tea includes antioxidants that reduce stress, regulate hormones, and reduce appetite. Ashwagandha is also a powerful stress reliever and also aids in removing toxins from the body. Lemon helps boost the immune system and stabilize blood-sugar levels. These benefits are only some of the positive effects of Organifi's active ingredients. Everything included within the powder comes with its own unique nutrients that add to the nutritional value of Organifi as a whole.
Flavor
Many powdered health drinks, including protein powders and alternative green juice powders, have a strange taste or texture that causes many people to be wary of them or even avoid them altogether. Unlike most other nutrition powders, Organifi Green Juice does not include of the artificial sweeteners that give these other powders their strong off-sweet flavor that is unbearable for many people. Instead, it relies on its natural ingredients like mint, matcha green tea, and lemon to give the powder its subtle, minty, refreshing flavor.
Organifi also dissolves very easily and completely in most liquids, especially water, so you don't have to worry about ending up with the awful gritty and grainy texture many other powders have.
Nutritional Deficits
In terms of numerical nutrition, Organifi falls slightly flat. One serving of the powder contains only twenty-five calories, which means you don't have to worry about disrupting your caloric intake by adding it to your daily diet. It also includes only four grams of carbs and one gram of sugar, so it definitely won't offset your diet with added undesirable nutrients that most health-conscious people work hard to keep to a minimum in the foods they consume.
That being said, Organifi doesn't do much to help you reach your standard daily nutrition goals either. It includes only two grams of protein, three percent of your calcium recommended daily value (DV), eleven percent of your iron DV, and fourteen percent of your dietary fiber DV. It also doesn't contain any added probiotics or enzymes that some other green drinks include.
Organifi is made entirely from superfoods, which keeps its ingredients list at a healthy, trustworthy minimum free of additives but doesn't leave much room for added ingredients that could add to its nutritional value. While the health benefits of the ingredients within Organifi make the drink worth your money, you can't rely on the powder to fulfill all of your daily nutrition.
You have to consciously consume other foods throughout the day that help you reach your goals for protein, calcium, iron, etc.
Price Consideration
One component of Organifi that causes hesitation in some potential customers is its price. One bottle of the powder lasts thirty days with daily use of the recommended amount for one serving and costs about $60. While sixty bucks seems like a heavy price to pay for a small jar of powder every month, the cost of Organifi really isn't outrageous in the world of juicing.
Supporting your daily juicing habit at home is very expensive; it requires you to buy your own juicer (which can cost upwards of several hundred dollars) as well as raw superfoods (which can be quite costly to buy fresh) to juice every week.
Relative to the cost and inconvenience of at-home juicing, a recurring monthly cost of $60 for daily instant green juice is not exorbitant. Plus, Organifi is available with multiple financing options that make it . You can purchase one bottle for $60, three bottles for under $50 each, or six bottles for a little more than $40 per bottle.
Return Policy and Guarantees
It is not uncommon for companies to enact strict and limiting return policies on food items, including powdered nutrition. The return policy maintained by Organifi Green Juice makes purchasing it completely risk-free.
Under the rules of their policy, you can return the powder at any time within thirty days of buying it. Since each jar of Organifi is a thirty-day supply, that means you can potentially use the powder for almost a full month before deciding if you want to return it. This lenient return policy allows customers to give the powder a fair try for a significant period of time to determine whether they like its effects.
Organifi accepts returns and issues refunds for their product regardless of why you decide to return it; they even advertise their ready willingness to take back the powder when a customer doesn't like its flavor.
It's Worth It
All things considered, Organifi Green Juice is an excellent green juice drink choice for both people who are first getting started with superfoods and juicing and seasoned juicers who are tired of at-home raw juicing or want to switch up their pre-made juice. The smooth, subtle flavor and ultimate convenience of Organifi makes consuming green juice on a daily basis easy and pleasant.
The ingredients the powder includes are clear; there are no hidden unnatural additives. Although it doesn't contain supplementary nutrients in the form of probiotics or enzymes, Organifi provides you with a drink that is most similar to one you would make from scratch using raw, whole ingredients. Its price does seem high among other similar products available, but a little powder goes a long way; one jar will last you at least a month.
Convenient, superfood-dense, and cost- effective, Organifi Green Juice is definitely a leading powdered green juice on the health food market.