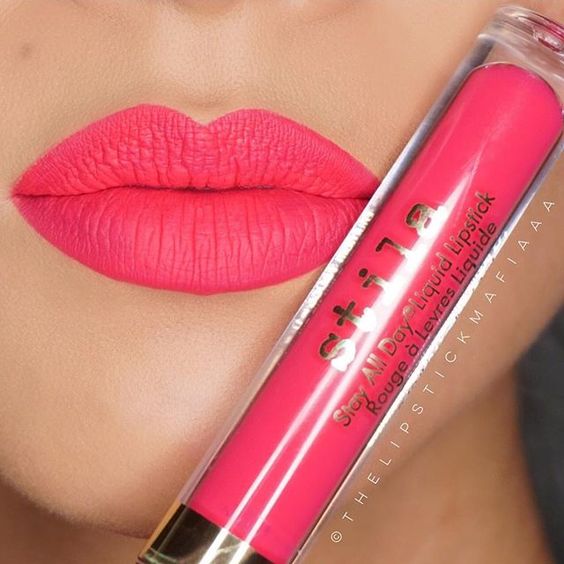 90% of lipsticks on the mainstream makeup market make big promises to last all day long, but very few of them actually live up to their claims. There are few things more frustrating than looking in the mirror at lunchtime only to see that half your lipstick has already faded and flaked off your lips. Your lips are a focal point of your face.
So how do you figure out which brands to believe and which ones to ignore? Don't let the lies of some lipsticks discourage you from taking a chance on the formulas that actually live up to their performance promises. Trying out every lipstick in Sephora is a tiring–not to mention pricey–solution. Start with these lipsticks, which have proved themselves as reliable long-wearing lipsticks based on their pigmentation, smooth finish, and non-drying formulas that really do last as long as they say they will.
1. Stila Stay All Day Liquid Lipstick
Stila Stay All Day Liquid Lipstick is a versatile, long-lasting formula that comes in 18 shades of red, pink, and purple and is available in three different finishes: matte, satin, and shimmer.
This lipstick packs a ton of rich pigment into its lightweight formula for a bold finish that doesn't feel thick or flake away throughout the day. Its infusions of vitamin E and avocado oil  effortlessly hydrate and moisturize your lips. Its long-wearing formula lasts up to 12 hours without fading or flaking, and it feels comfortable on your lips all day long.
2. Kat Von D Everlasting Liquid Lipstick
Kat Von D specializes in full coverage, long-wearing makeup. Their Everlasting Liquid  Lipstick definitely lives up to the brand's reputation. Liquid lipsticks with a matte finish tend to be extremely drying for your lips. This lipstick's infusions of vitamin E and sunflower seed deliver smooth matte coverage that nourishes and hydrates your lips. Its formula is creamy but lightweight. It is easy to apply for even coverage with just one coat.
Everlasting Liquid Lipstick is fairly affordable in terms of higher-end makeup makeup: it retails for about $20. It is available in 42 different shades with an expansive range that includes virtually any color you can imagine–from nude pink to smoky gray to bright purple to neon turquoise. Plus, this lipstick is also cruelty-free and made with 100% vegan ingredients.
3. NYX Cosmetics Soft Matte Lip Cream
NYX Cosmetics Soft Matte Lip Cream is a smooth, gentle, hydrating formula that is impressively long-wearing. It costs only about $7 and comes in more than 20 different classic shades that range from light nude to dark purple.
The ultra-creamy, whipped formula of this lip cream blends smoothly into your lips, delivering rich, even pigment with a single layer. It dries with a matte finish, but never feels flaky or tight on your lips. Its texture is soft and velvety–even when it is fully dry–to lock moisture into your lips all day long. As an added bonus, this lipstick doesn't have the strong unpleasant scent that plagues so many other liquid lipstick formulas.