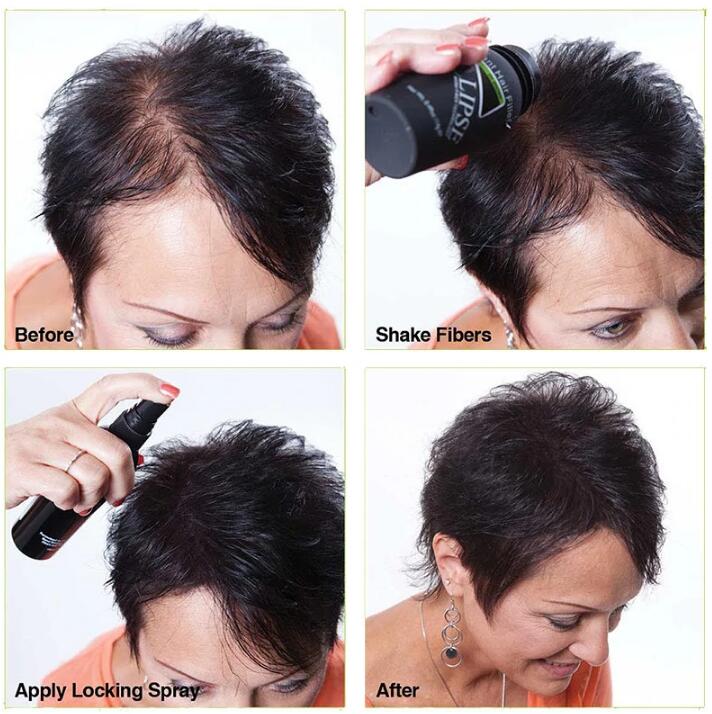 Ever heard of a hair filler? Let's talk about how this little gem of a product is not only useful to cover thinning spots, but it's also great for covering root growth and concealing gray. The perfect trick for those times you just can't get to the salon to touch up your color. Eclipse Instant Hair Filler is a great option as it not only does all this, but unlike similar products it also adds volume to your hair. We'd call that a win, win, win, win.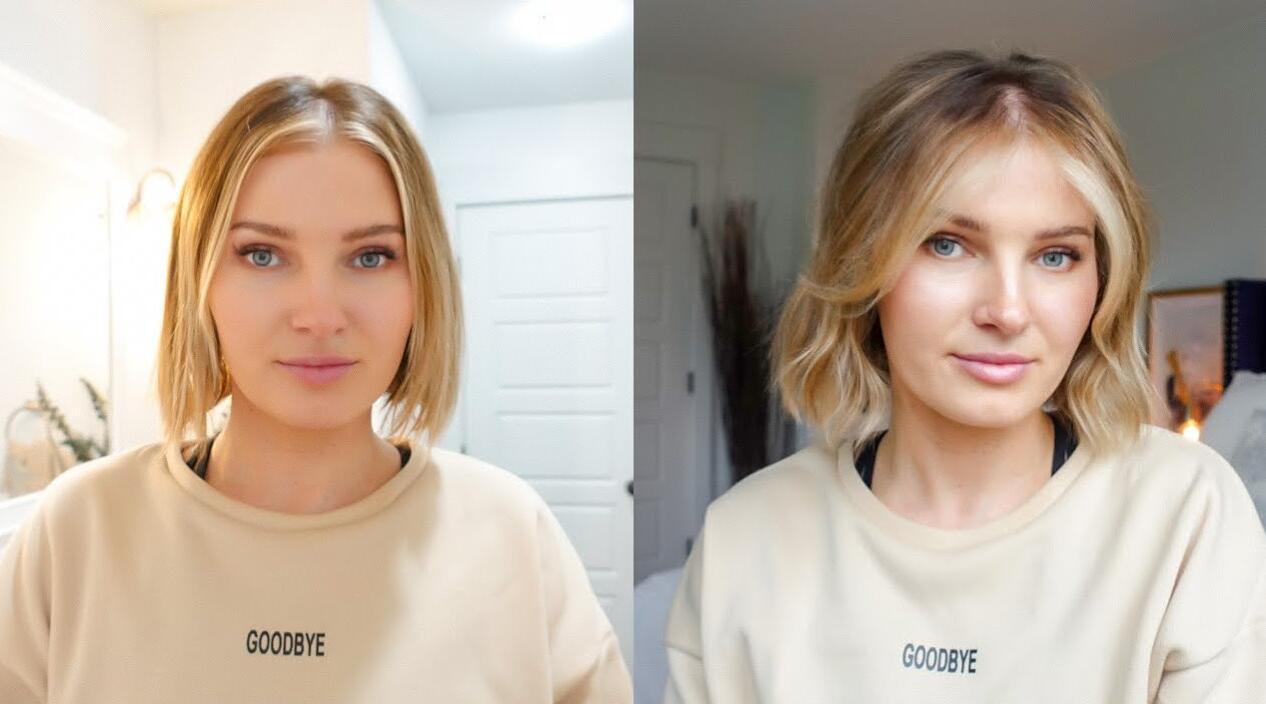 So, how does it work? Fiber technology is used to create the appearance of a thicker, fuller head of hair instantly. To apply, simply shake the fiber over the areas you want to cover. In seconds, thousands of tiny hair fibers bond with your natural hair, concealing your problem areas. Once satisfied with the results, finish with Eclipse Fiber Locking Spray to lock in the fibers for a natural looking thicker, fuller head of hair until the next time you shampoo.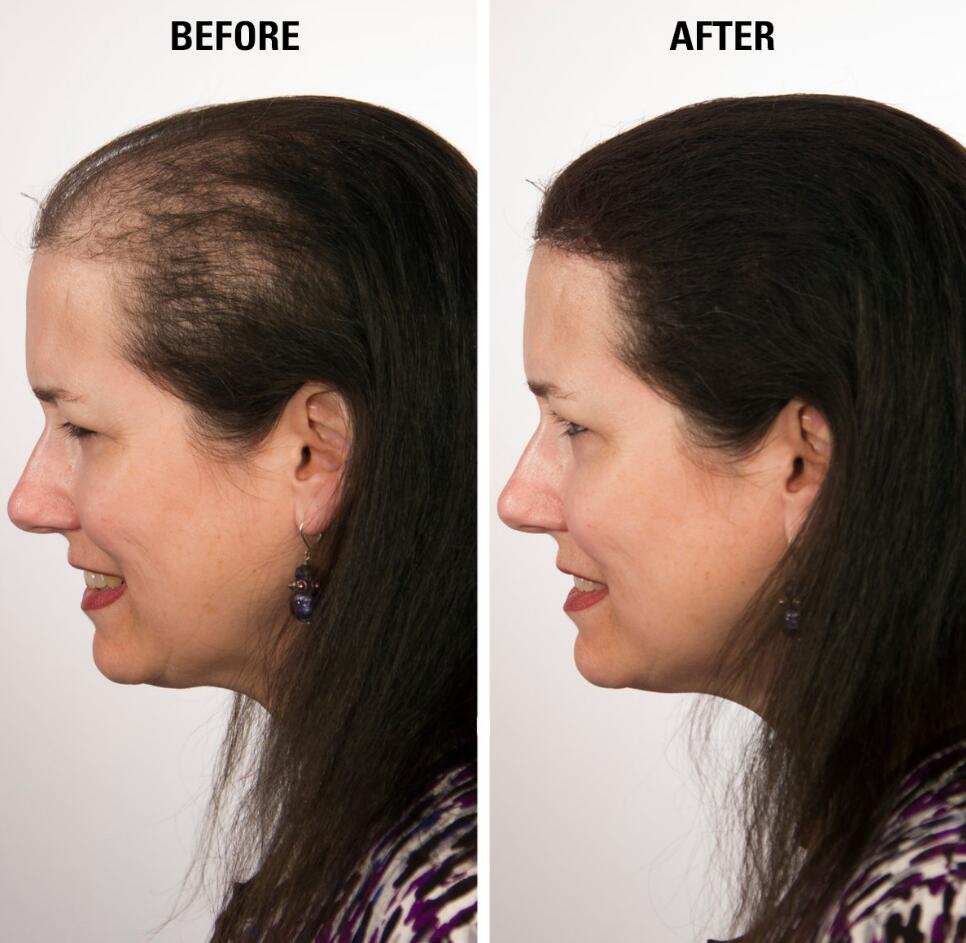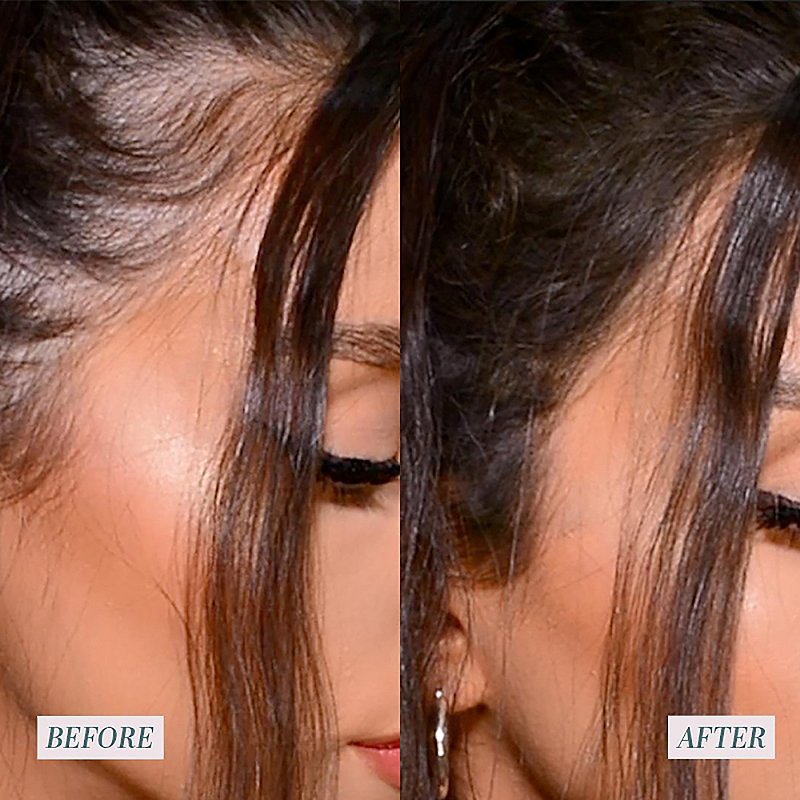 Hair blogger, NATALIE, took Eclipse for a spin, and here's what she found:
How do you wear your hair on an average day?
I famously rock straight hair and bangs. My hair inspiration is Zooey Deschanel! I use a flat iron almost daily (yikes), but use a heat protectant and shine serum to make my hair less damaged.
When did you start to notice your hair thinning?
I've always had thin and fine hair, but I had extreme postpartum hair loss this past year. I would pull out globs and globs of hair in the shower. I honestly had 2-3 bald spots in my hair, and it truly took a toll on my self-esteem. I had to get rid of my famous bangs (because my hair was SO thin). It's almost as if my bangs wilted away into thin air!
How do you style your hair for fun events? (i.e. date night, concerts, weddings, etc.)
I love tossing my hair up for a fun date night! I might even throw in a side braid or something simple, yet stylish.
How long have you been dealing with thinning hair?
I've been dealing with thinning hair for about a year now. My son turned one in September, but my hair hasn't fully recovered and returned to normal.
What prompted you to try Eclipse?
I've been on the search for ANY products that will help with thinning hair. I loved the idea of using the color fiber to make my hair look fuller. I'll admit I was a bit skeptical about trying the product because I've never used anything like this before.
What Eclipse products did you try?
I tried the Dark Brown Hair Fiber Color powder and spray.
What did you think of the products you tried?
One word: awe-some!I absolutely love the Eclipse Hair Fiber Color combination. The smell is incredible, and the powder comes out at the perfect speed. We've all used the salt shaker once or twice and been completely discouraged when a dash of salt turns into a gallon of salt! I didn't have that experience with Eclipse. I had good control over how quickly the product came out – my hair didn't ever feel heavy after using the products.
Did you see a difference in your hair once you started using the Eclipse product(s)?
Yes – I saw results immediately, actually! Even my photographer (aka my husband) noticed the results right away. Once I turned around and let the spray dry, he came back in the room and said, "Oh wow- you can really tell a difference! The color really looks more filled in on the top of your head!"
I was also pleasantly surprised with how well the fiber hair color matched my actual hair color. Don't let the fear of color matching discourage you from trying this product.
Have you felt more confident since using the product?
Yes- absolutely! Thinning hair is a huge confidence sucker – it's very discouraging when you can't wear your hair a certain way because of balding and thinning hair. Within just a few uses of this product, I've felt much more confident.
Would you recommend Eclipse to your friends with thinning hair?
Yes, I actually already have recommended this product to some of my close friends and family members who are dealing with thinning hair.
Did you think the products you tried were easy to use?
Yes – super easy and quick. You'll find it incredibly easy to incorporate these two products into your everyday routine. The fiber color will last from the time you apply it to your next shower.
Would you continue to use these products on your hair?
Yes! Absolutely – I'm so happy with these products. They are definitely part of my daily hair care routine.