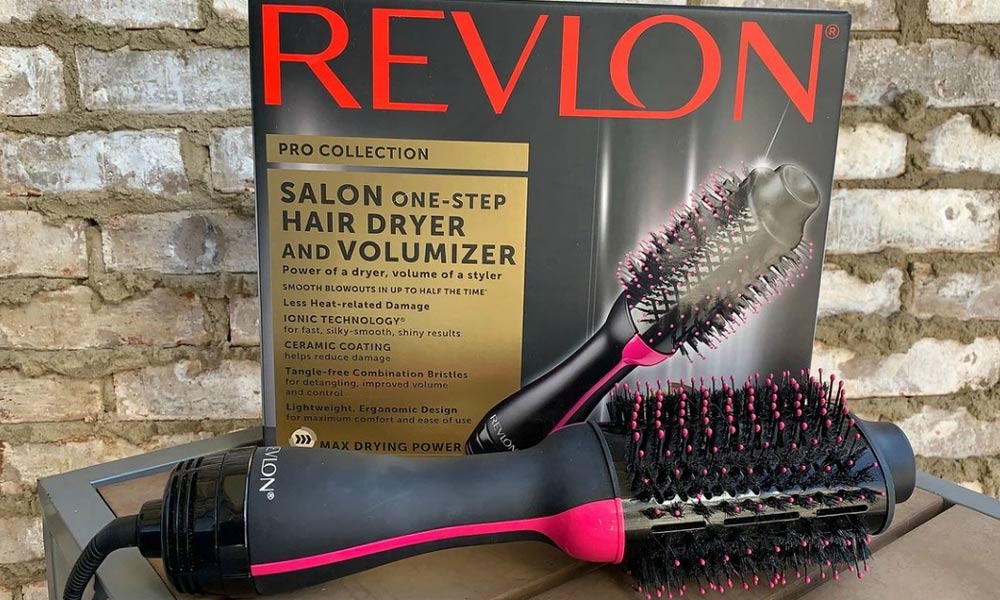 Read the following Revlon One-Step Hair Dryer & Volumizer Hot Air Brush review before you buy this product.
I've never understood how women can bear the shoulder-pain of trying to use a hair-brush and separate hair-dryer to style their hair! I did try it a few times many years ago, but I just couldn't take the pain. And every time I managed to style a small section, it would then be completely ruined by a chance jet of air caused by my aching hair-dryer hand! So a combination of pain, tangled wires, and wild, frizzy hair meant I skipped that phase in the evolution of home hairstyling completely.
But long hair came into fashion and different hair textures needed better tools for home styling, unless you had an hour or so to spare every morning. And big arm muscles! Casual styles became more fashionable, possibly because the home blow-dry was impossible for most women to do themselves. And who wants to pay a fortune for a salon blow-dry, that rarely lasts more than one day – whatever your stylist says!? I have never heard a famous woman say that one 'blow-out' appointment is all she needs per week – have you?
Rely on Revlon Hair Dryer And Volumizer Hot Air Brush
The Revlon One-Step Hair Dryer & Volumizer is the answer to every hair-styling problem you can think of. And it's the most popular and affordable hair tool for achieving a professional-looking hair-style at home every day of the year! Better still, you don't need any training to learn how to use it. And you don't have to find time out of your busy day to go to a salon!
User-friendly
The swivel cord stops all of those frustrating problems of electric cable wrapped around your wrist. And you don't need to keep stopping and re-positioning the brush, so it really does only take a few minutes to get a completely smooth and healthy-looking blow-dry!
Three 'pass' system
Just lightly section your towel-dried hair with hair-grips. Then wrap hair sections, one at a time, around the brush-dryer and brush it through your hair 3 times. This is all it takes to create shiny, straight, dry hair – yes, even on thick frizzy hair! And if you want waves, just leave a hair-section wrapped fully around the dryer for a few seconds, and then switch off the heat to let the wave cool down and set.
Glossy hair without 'product'
Many women have absolutely ruined the condition of their hair with straightening irons.  And others have just managed to maintain a bit of shine by using a ridiculously wide range of over-priced styling products. You shouldn't need to protect your hair from over-heated hair-styling equipment.
The Revlon One-Step Hair Dryer & Volumizer uses negative ions to ensure your hair is always calm, conditioned, frizz-less and glossy. And you don't need expensive blow-dry protectors and regular deep conditioning treatments. So it pays for itself in savings on costly hair products within a few weeks. And goes on saving you money forever!
How it works
What makes this new dryer so quick and efficient is the even distribution of hot air that comes through air-vent channels. These air-vents are an integral part of the brush design. And I just brush it through my hair to get drying and straightening, smoothing or waving all in one to three sweeps with the brush. It really is simple and a very clever design!
No tangles
When I use my Revlon dryer I love how the bristles have been designed to stop your hair getting tangled. They are a clever combination of firm, boar bristles and nylon bristles that have ball-tips. Ball-tipped bristles mean you never scratch your scalp while using the dryer to get a close grip for a volumized shape and 'root lift'. Personally, I need a lot of help to get enough volume on my hair, so this feature is particularly valuable for me!
How I get fast styling
I towel-dry my hair, as recommended by Revlon. But try not to rub your hair roughly with a towel as it roughens up the cuticles and makes it difficult to get a smooth style. I wrap my head in a soft towel and just leave that to absorb the moisture for a few minutes, while I put on my make-up or get dressed. Then when my hair is no longer wet, I start drying it by sections. My hair is long and curly and I used to need a lot of time and expensive hairstyle products to get a smooth style. But now – I only ever need 8 – 10 minutes at most to get it gorgeously smooth and straight with lots of volume!
Economic benefits
I've got a drawer-ful of styling tools, have you? I've got everything from big rollers, to bendy and heated rollers, to curling tongs, hot air curling tongs and so on. You can't try them out in the store, so the only way is to buy and try at home. And that builds up to a lot of wasted money over the years. But with the Revlon One Step Hair Dryer the word-of-mouth effect of thousands of happy users has made it incredibly popular – and kept the price down to a sensible level – without Revlon needing to spend lots of money on ads! And that's your guarantee that it's effective and incredibly versatile for all types of hair.
So if you can't afford to waste your money on expensive blow-dry styling, take the simple option and do it yourself beautifully at home with the smart girl's friend, The Revlon One-Step Hair Dryer & Volumizer! It's the nation's sweetheart!