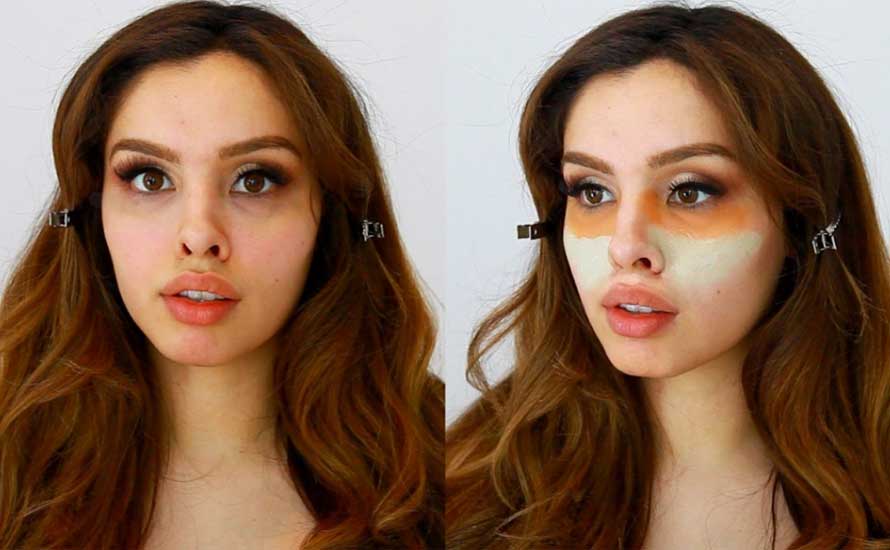 Most beauty lovers incorporate foundation, concealer, and even contour into their daily skin makeup routine. However, many women don't give a second thought to using color correcting makeup. Color correcting makeup is designed to treat uneven skin tones. An uneven skin tones can include dull areas, dark circles, redness, and any other shade differences and imperfections within your skin color. To color correct your skin, you use makeup in colors like green, lavender, yellow, and pink to counterbalance visible unevenness in your skin tone.
Color correction is a little scary at first. Rubbing green or lavender makeup onto your skin and hoping it will turn out looking normal seems daunting, and rightfully so. However, color correction can transform your skin and eliminate the visibility of skin problems you've struggled with throughout your entire life. Once you've tried it, it can easily become a vital part of your daily makeup routine.
1. Determine Your Correction Needs
Picking color correcting makeup shades is more complicated than finding a new shade of foundation or concealer. When buying other makeup, all you have to do is find a color that matches your skin tone. However, with color correcting makeup, you need to find colors that counteract the problematic shades in your natural skin tone. Therefore, one of the most confusing things about getting started with color correcting makeup is determining which shades you need to solve your personal skin problems.
If you have redness in your skin, choose green concealer to counterbalance the red pigment. To correct blue or purple shadows, use peach, pink, orange, or yellow concealer. Remedy dull or yellow undertones with lavender concealer.
2. Apply Foundation First
It might be tempting to apply your color correcting makeup before you put on the rest of your skin makeup so that you're able to cover up any green or pink-tinged spots with your flesh-toned foundation and concealer. However, if you apply your color correcting makeup well, you shouldn't have to worry about covering it up.
In fact, it is better to apply foundation and concealer before you whip out your color correction palette. This technique creates a base for your color correcting makeup and ensures that it won't absorb too deeply into your skin. Plus, it helps you use less color correcting concealer and achieve the same results. If you ever see discoloration in your skin from your color correcting makeup, pat powder over the spot to instantly fix your mistake.
3. Remember That a Little Goes a Long Way
When it comes to color correcting makeup, a little bit of product goes a long way on your skin. One of the most common and major mistakes beginners make with color correction is applying too much product and ending up with frustrating discoloration.
Use your fingers or a damp Beautyblender to apply your color correcting makeup. Use a very small amount of product and use your finger or sponge to pat, not rub, it into your skin. This technique helps you achieve the correcting results you want with a natural finish without using an excessive amount of product.
4. Get the Right Shade
If you have medium-toned skin, you wouldn't use the same shade of standard concealer as a woman with very fair skin. The same rule of thumb goes for color correcting makeup. The shades of color correcting makeup you use should correspond with your natural skin tone.
For example, use pale pink concealer to camouflage blue shadows if you have pale skin. Use peach or yellow concealer for the same problem on medium-toned skin and try orange or pink concealer for dark skin.
5. Stay Away From Powders
Using powder formulas of color correcting makeup can easily give your skin a chalky finish. Stick with cream or liquid formulas instead. These formulas add moisture to your skin and give it a hydrated and natural finish.
6. Mix With Moisturizer

Color correcting makeup isn't just for isolated spots on your skin. If you have redness or dullness around your entire face, you can use color correcting makeup to remedy these full-face tone imperfections as well.
All you have to do is blend a small amount of moisturizer or primer with your color correcting makeup. Use a makeup sponge to stipple the mixture onto your skin when you would normally apply your standard primer or moisturizer. This technique color corrects your skin and leaves it with a subtle and natural-looking finish.
7. Blend Colors
Feel free to blend different shades of color correcting makeup together if there are areas of your skin that require more than one type of correction. Blend the two shades together or apply them one on top of the other. Just make sure to compensate for your use of multiple colors by using a smaller amount of each shade.
Color correction is a transformative makeup technique. It allows you to easily mask a wide variety of blemishes and imperfections within your skin. Use this post to learn helpful tips for successful color creation and become a pro with your palette in no time.