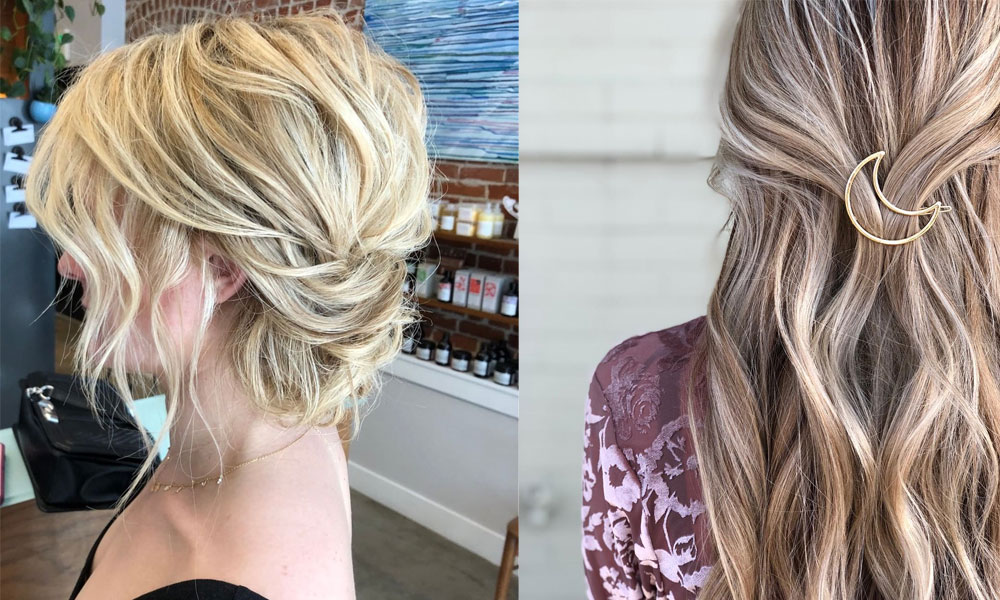 It can be tough to know how to style your hair in the summer. Whether you have a cropped bob or long locks down to your waist, styling your hair in a way that keeps you cool and looks fun and summery during the warmer months of the year can be quite a challenge.
These hairstyles for women are designed specifically for the summer months. These glamorous styles all have their own fun and summery vibe to keep your looks lighthearted. You'll find a wide variety of hairstyles for summer in this post.
From bright pink curls to natural-looking half-up half-down balayage, the hairstyles in this post are designed for a range of shorter, longer, and in-between hairstyles. Keep reading to get inspiration for this upcoming summer from these trendy summer hairstyles for women.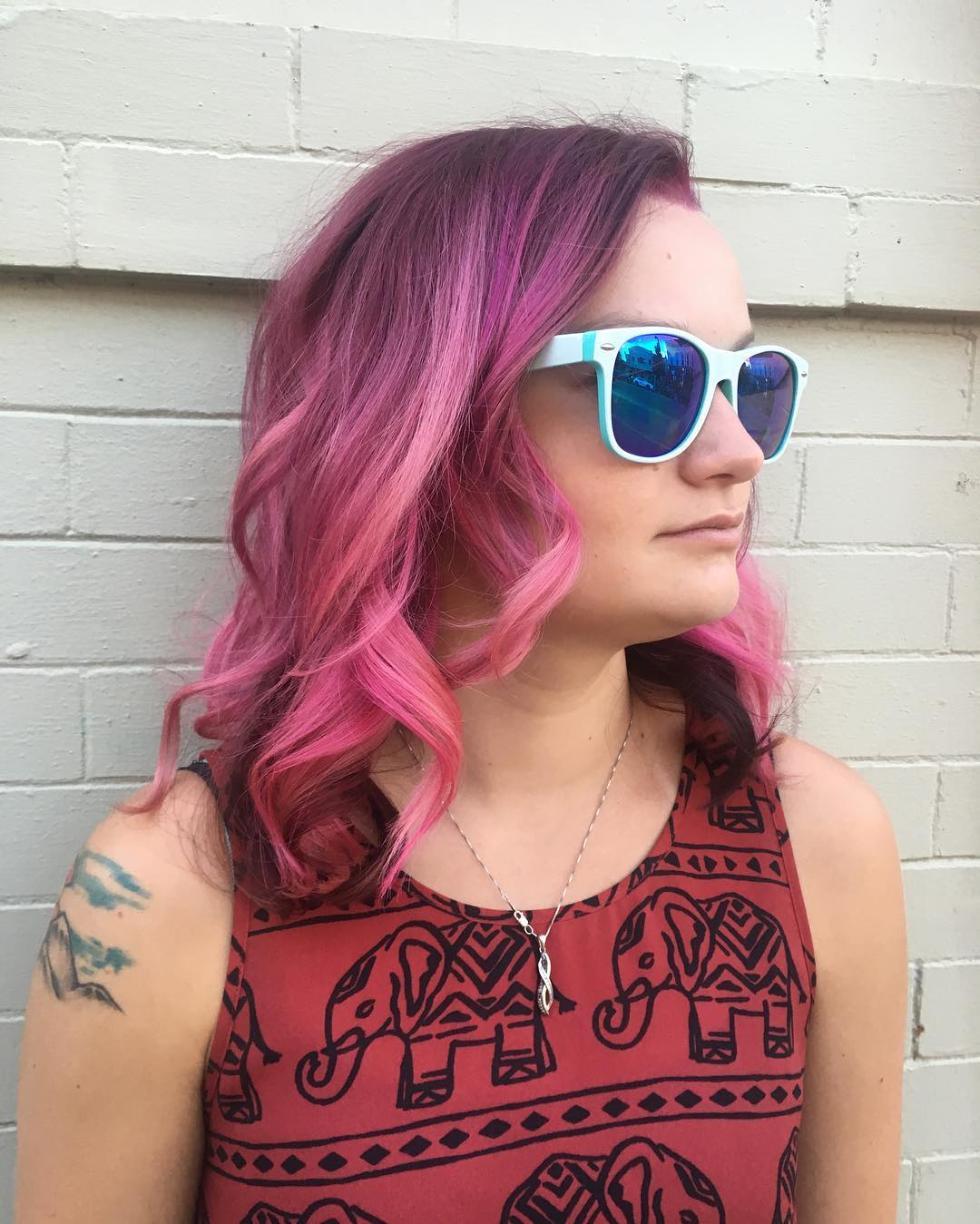 Fantasy colors are fun to try out in the summer. The sun is out, the kids are out of school, and it's time to let your hair down–maybe literally.
This medium-length bright pink hairstyle shows how simultaneously fun and classy fantasy colors can be. It blends together a range of bright pink shades to give this look a multi-dimensional finish. It starts out with rich, deep pink roots that blend seamlessly into lighter shades of fuchsia and hot pink closer to the ends. The deep pink roots of this hairstyle give this look a more natural finish and help extend the amount of time you can wait between root touchup appointments at the salon.
If you're struggling to keep your fantasy hair color as bright as the sun outside, remember to always wash your hair in cold water and use a color-safe shampoo an conditioner to prevent your bright color from fading too quickly out of your hair. You should also try to avoid shampooing your hair too frequently, as excessive washing can definitely shorten the lifespan of your hair color–especially if your color is particularly bright. And here are more shoulder length hairstyles for you to choose from.
2. Cute Half-Up Half-Down Long Curly Brunette and Blonde Balayage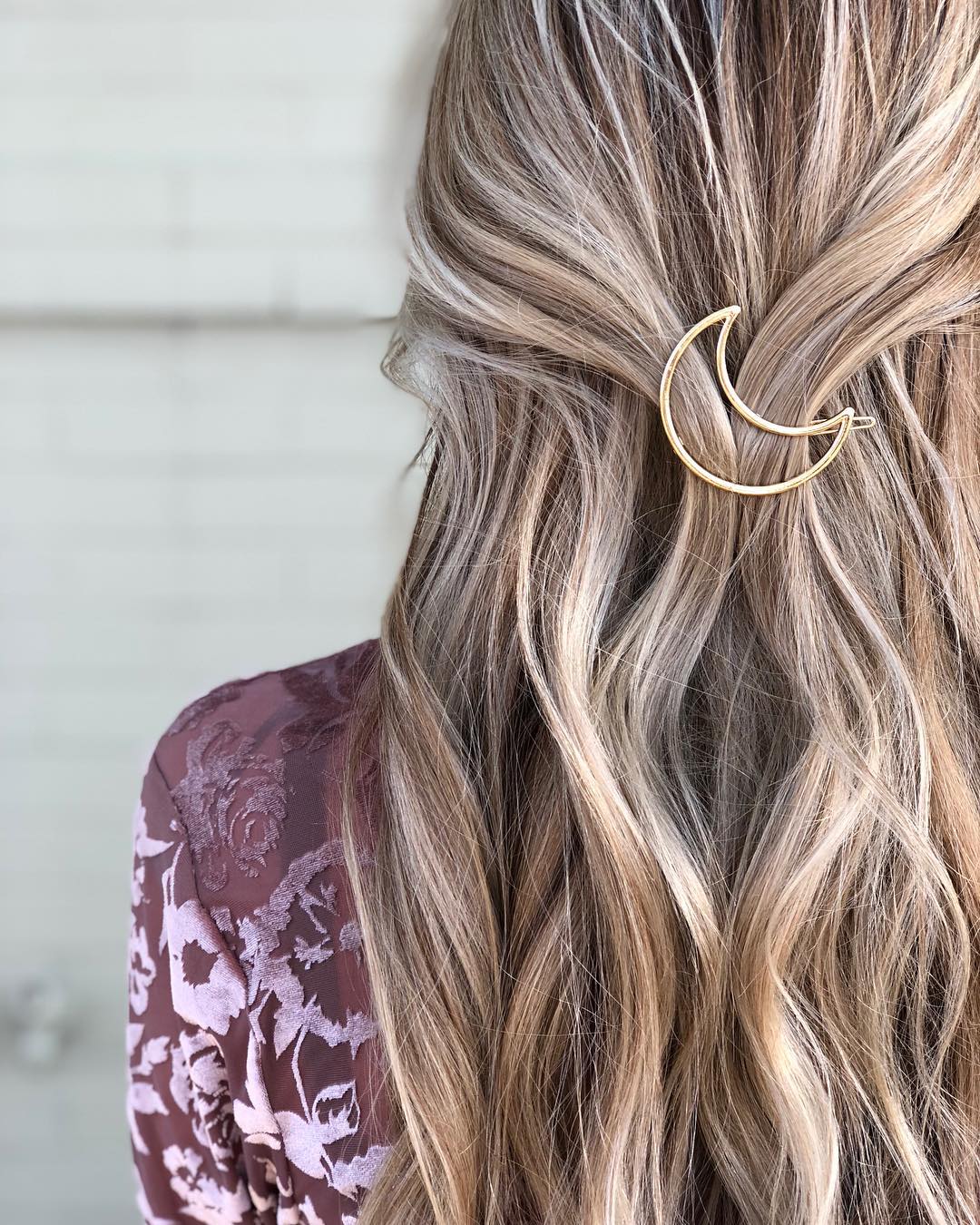 Half-up half-down styles are ideal for women with medium-length and longer hairstyles in the summer. In fact, half-up half-down hairstyles like the one you see above are glamorous, sophisticated, elegant, and super easy to style yourself.
Brunette and blonde balayage adds a multi-dimensional finish to this voluminous half-up half-down hairstyle. A golden moon-shaped hairclip gives this look an eye-catching focal point and blends in seamlessly with the curly style of this haircut.
3. Half-Up Half-Down Brunette and Blonde Balayage with Tied Back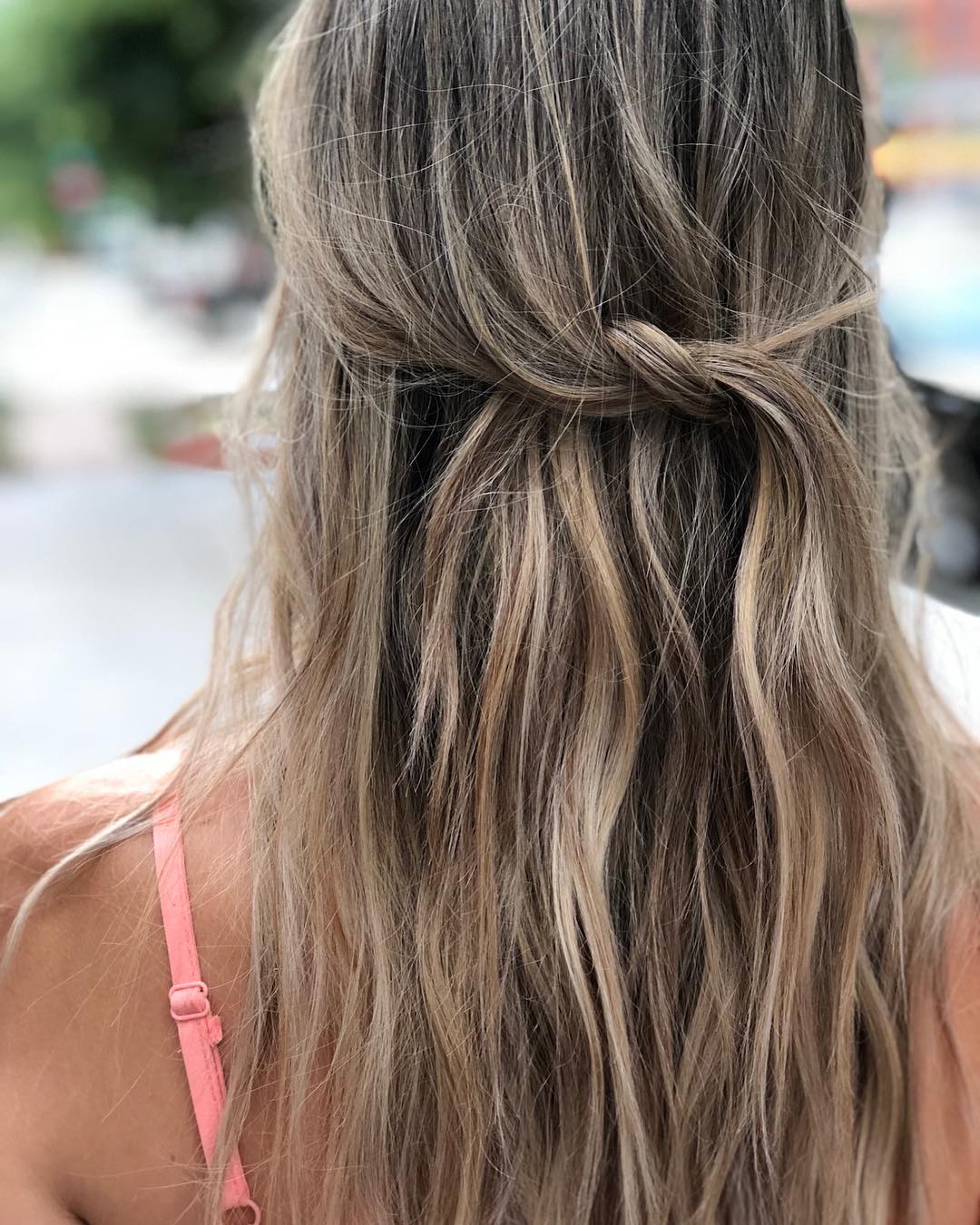 Here's another casual half-up half-down hairstyle that is gorgeous and almost impossibly easy to style on your own. It only takes a few minutes to style your hair into the half-up half-down style you see above.
Just separate out two narrow sections of hair from either side of your head. Tie them together in the back, and add plenty of clips to secure this quirky tied-back half-up half-down hairstyle that's perfect for keeping your hair out of your face on the hottest summer days.
4. Light Brunette to Light Blonde Ombré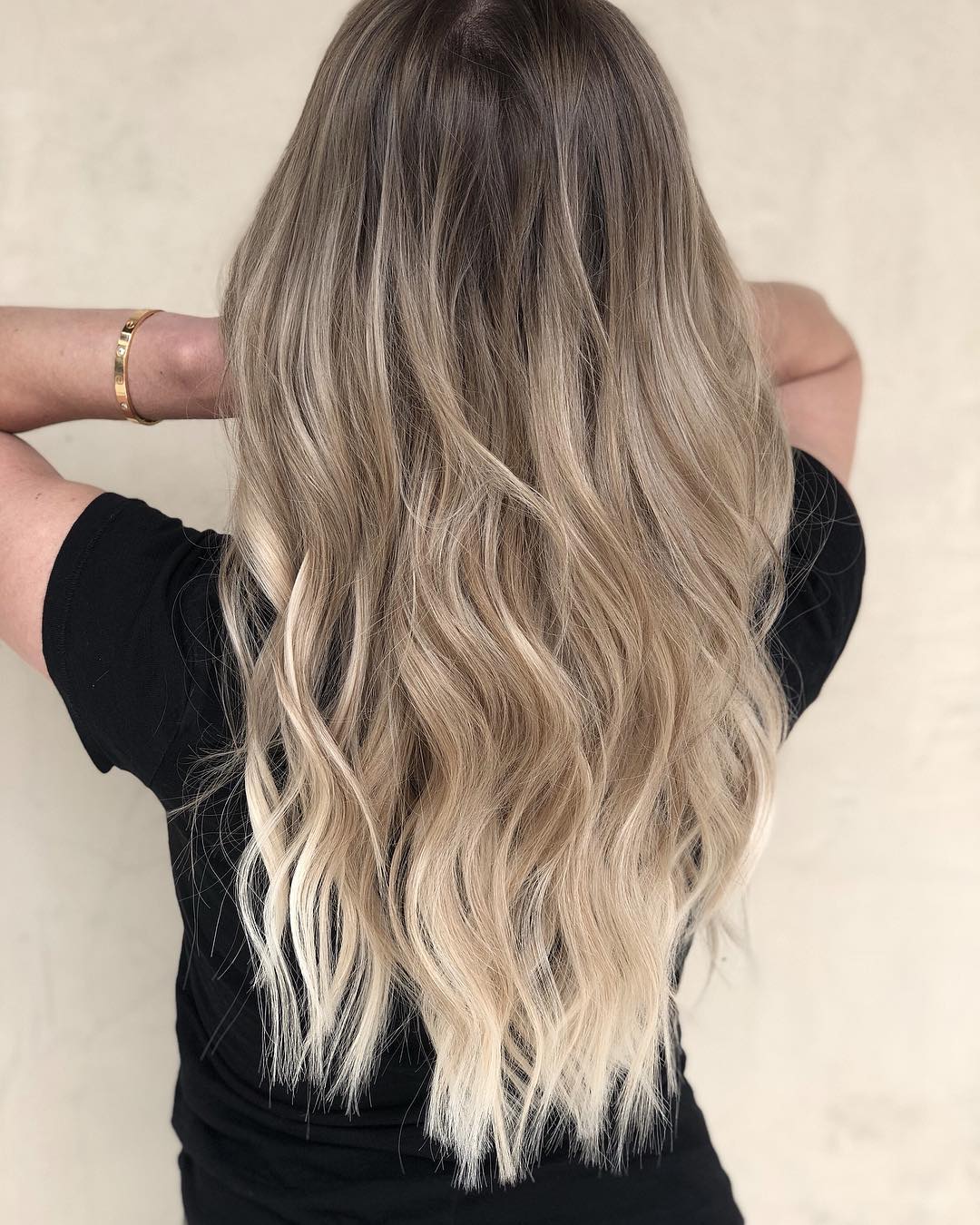 Like a cascading waterfall, this light brunette to light blonde ombré look is bright and refreshing during the summer months.
It starts with light brunette roots and gradually fades into a gradient of blonde that ends with platinum blonde ends. This hairstyle is low-maintenance, especially for women whose natural hair color is dirty blonde or light brown. You don't have to go into the salon for root touchups very often if your roots are already natural.
This ombré style also gives you the best of both worlds. It looks completely natural, but it also gives your hair a bright, stand-out finish with luminous, high-shine light blonde ends.
5. Low-Maintenance Low Bun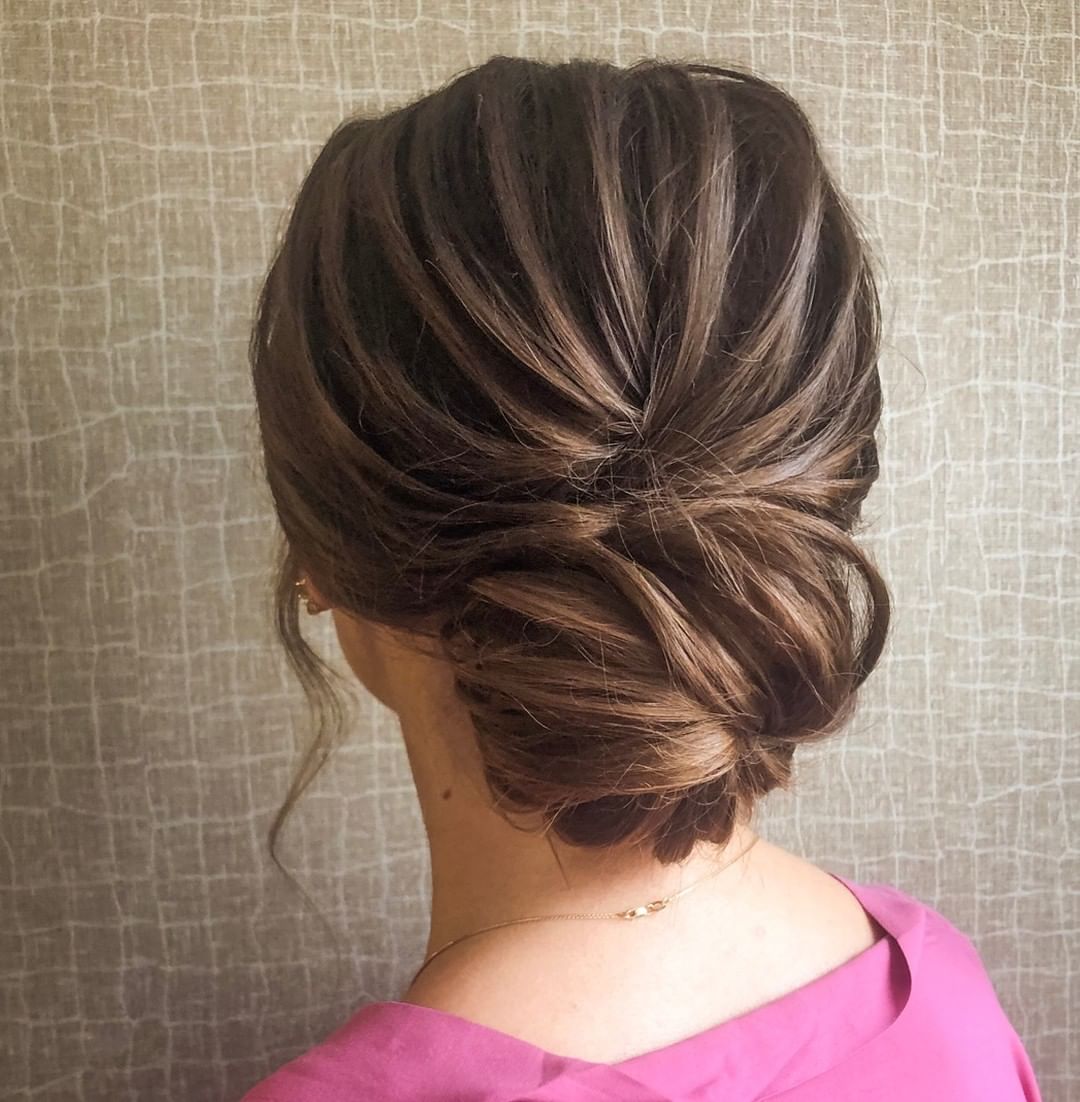 A low-maintenance low bun like this one is a perfect style for any hot summer day. This low bun is perfect for women with medium to long hair who want to keep their hair out of their face.
This elegant low bun is easy to style in just a few minutes yourself. All you need is a hair band or two, a lot of bobby pins, and a fine-toothed comb for teasing and adding volume to this low bun.
This low-maintenance low bun is ideal for a summer day at the office or a casual lunch date. In fact, it's ideal for any outing during the warmer months of the year when you want to look put-together without actually putting too much time or effort into styling your hair.
6. Pulled-Back Hairstyle for Short Hair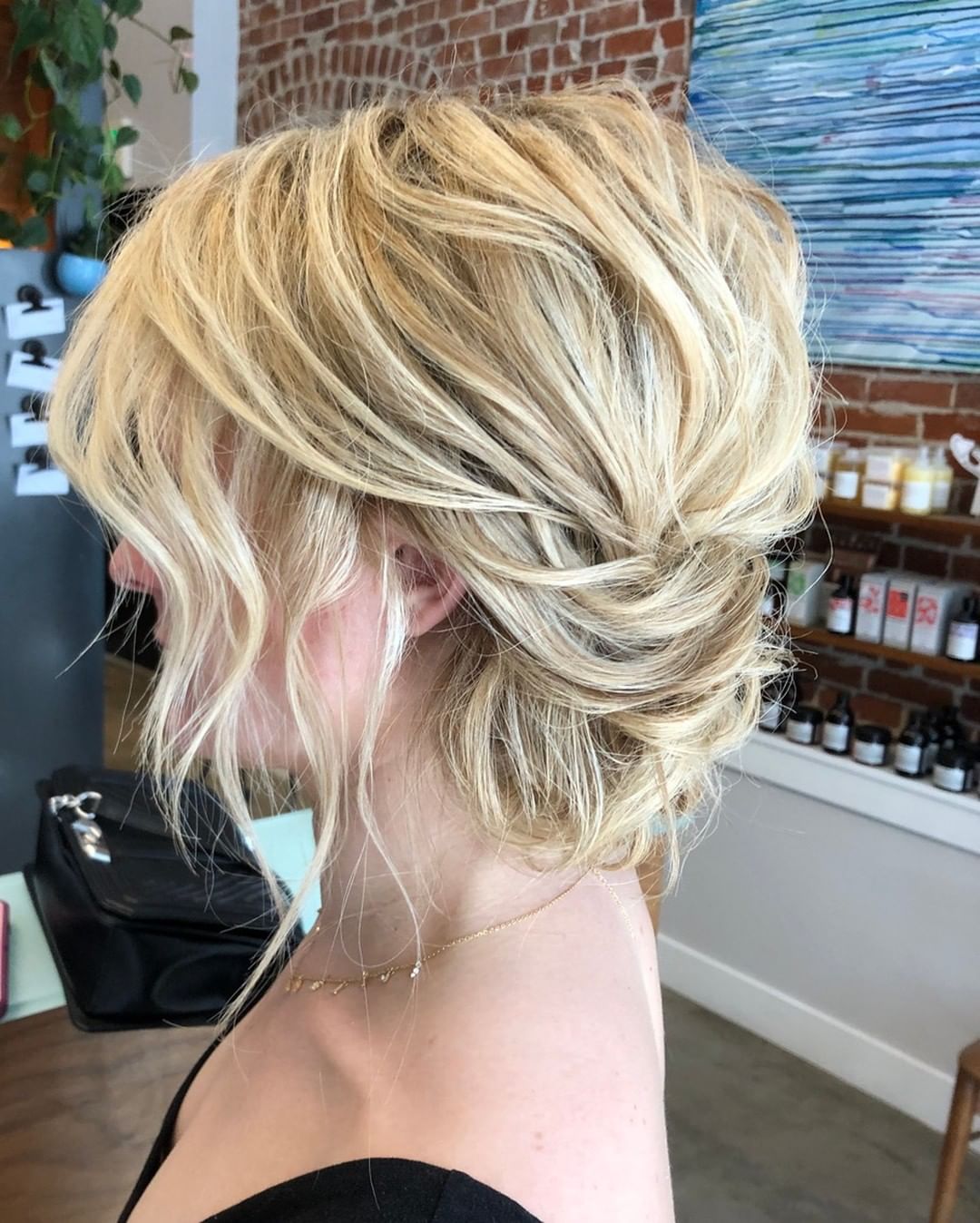 Dealing with short hair can be a major challenge during the hot summer months. If you're not able to pull back your hair into a ponytail, it can be hard to keep your hair out of your face. This is especially frustrating on warmer days when all you want to do is stay cool.
This pulled-back hairstyle for short hair demonstrates how women with shorter hair can take advantage of more creative solutions to keep their hair out of their eyes. With a lot of bobby pins and a little patience, you can easily create this elegant, intricate pulled-back style for your own short-to-medium-length hair.
Styles: elle.b Salon
Address: 2931 W 25th Ave #102, Denver, CO 80211
Phone: (720) 708-2867