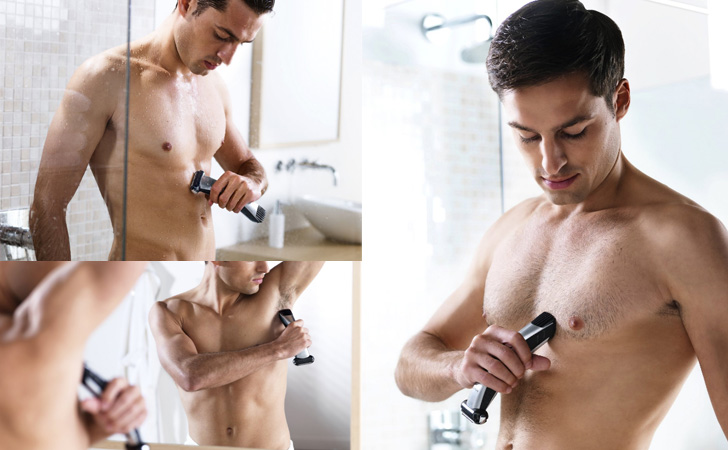 Body hair is natural, but it can be an annoyance that many men and women alike want to eliminate in several areas. There are many techniques you can use to get rid of your unwanted body hair, including shaving, waxing, threading, chemical hair removers, laser treatments, and more. Using a body shaver to quickly and effortlessly remove the hair you don't want is one of the best ways to get rid of your body hair.
If you're interested in investing in a body shaver to eliminate your unwanted hair, keep reading the following body shavers reviews to learn more about the top rated body shavers available.
10. Remington Lithium Head to Toe Body Groomer
This body shaver from Remington is a high-powered device that runs on lithium in order to save energy and increase efficiency. The shaver includes a charge stand that allows you to easily recharge its battery on your bathroom counter between uses.
The shaver includes four different attachment heads of various sizes. These attachment heads are designed specifically for different purposes, such as to shave your ears or provide detail trimming.
9. Philips Norelco Bodygroom Series 1100 Body Trimmer
If you have very sensitive skin that is easily irritated by many hair removal techniques, try out this body shaver from Phillip Norelco. It is designed specifically for use on sensitive skin and includes integrated skin protector guards that are incorporated into the head of the razor to prevent irritation and ensure gentle shaving.
The shaver features a bi-directional trimming technique that efficiently cuts hair in both directions. You can use this durable, water-resistant trimmer anywhere, including the shower. It includes a special shower cord to ensure safe use, storage, and cleaning in the shower.
8. Braun Cruzer 6 Body Shaver
This body shaver from Braun combines the wet shaving technology with the power of an electric body trimmer to provide you with a best-of-both-worlds incomparable shaving experience. You can use the special combination mode incorporated within this shaver to trim and shave your hair at the same time.
The body shaver offers an extremely smooth shave that won't irritate your skin. Plus, it includes three different trimming combs that you can easily switch in and out. These trimming combs are designed to cut your hair to different lengths, depending on what you prefer. One of the combs is also specifically designed to shave sensitive skin extra gently.
7. Remington All-in-1 Lithium Powered Grooming Kit
This complete grooming kit from Lithium runs on lithium to ensure high-powered, efficient shaving in all areas. The grooming kit includes a top-quality body shaver, multiple attachments, multiple combs, and a storage pouch in order to provide you with everything you need to eliminate unwanted hair all over your body.
The multiple attachments included within the grooming kit are designed for linear, foil, and nose and ear shaving. The three combs are constructed to trim your hair to different lengths depending on your preferences. Plus, the complimentary storage pouch allows you to take your shaving necessities with you wherever you go.
6. back shavers – baKblade "BIGMOUTH" Do-It-Yourself Back Hair Shaver
Back hair can be one of the most difficult areas of hair to shave at home by yourself. Your back is extremely challenging to reach, so it can be hard to evenly and efficiently shave hair off of it without ending up with uneven patches or a crick in your neck.
This DIY back hair body shaver allows you to quickly and effortlessly shave hair off of your back without frustration. It includes an incorporated safety blade that prevents irritation and nicks while you shave; the blade is extra wide at four inches across to help you shave larger areas more quickly. The shaver is also constructed with a lightweight design and an extendable handle in order to offer you a more comfortable and ergonomic shaving experience.
5. MANGROOMER Ultimate Pro Back Shaver
This back shaver from MANGROOMER is a professional-grade shaver that allows you to shave the hair off of your back with the efficiency of a salon from the comfort and convenience of your own home.
The shaver's special, innovative foldable design allows you to easily reach even the most difficult areas of your back in order to efficiently and evenly remove all unwanted hair without a struggle. It also features a Power Burst button that instantly provides you with increased power in order to remove the thickest and coarsest hair from your back.
4. The best body shavers for men – Philips Norelco Bodygroom Dual-Sided Shaver and Trimmer
This combination shaver and trimmer body shaver includes a trimmer on one side and a shaver on the other in order to provide you with a comfortable, non-irritating, one of a kind shaving experience. It features a 3D pivoting shaving head that twists and turns in order to fit the unique curves and contours of your body and eliminate hair effortlessly in any area.
The trimmer side of this body shaver includes rounded blades and combs that combat against any scratching, nicks, or skin irritation. As a added bonus, you can use this shaver and trimmer in the shower, thanks to its innovative, water resistant design. Also this is a great body shaver for balls.
3. Gillette Fusion Proglide Styler 3-In-1 Men's Body Groomer With Beard Trimmer
There's no need for multiple trimmers, razors, and shavers to use on different parts of your body with this all-in-one body groomer from Gillette Fusion. This body shaver has a special included beard trimmer in order to allow you to groom the hair on your face as well as eliminate unwanted hair from the rest of your body using just one device.
The body shaver set includes the trimmer itself, three combs, a rechargeable battery, and a countertop organizer for easy storage. The three included combs allow you to trim your body hair to different lengths depending on your preferences.
2. TRYM II Rechargeable Modern Hair Clipper Kit
This versatile body shaver is designed to trim your hair, mustache, beard, and any other unwanted hair on your body. It includes a strong, high-powered blade that can evenly and efficiently chop hair to your desired length without irritating your skin. Plus, this shaver's battery is extremely strong in order to ensure a long battery life.
The body shaver includes four trimming attachments that allow you to cut your hair to different lengths on various areas of your body. It also comes with a cleaning brush and oil for added convenience.
1.

Philips Norelco Multigroom Series 3100
This body shaver from Phillip Norelco is one of the most versatile body shavers on the market. It includes fiver different attachments to allow you to evenly shave different areas of your body to your preferred length. The shaver also includes eighteen separate length settings for added versatility.
Rechargeable and resistant to water, the shaver is easy and convenient to use. You can use it wet or dry, which means you can store it on your countertop, in the shower, or wherever is most convenient for you and your shaving schedule.
Body shavers can help you get rid of your body hair without irritating your skin or taking up too much of your time. Before you buy a body shaver, use the list in this post to discover some of the best body shavers that are high-quality and easy to use.