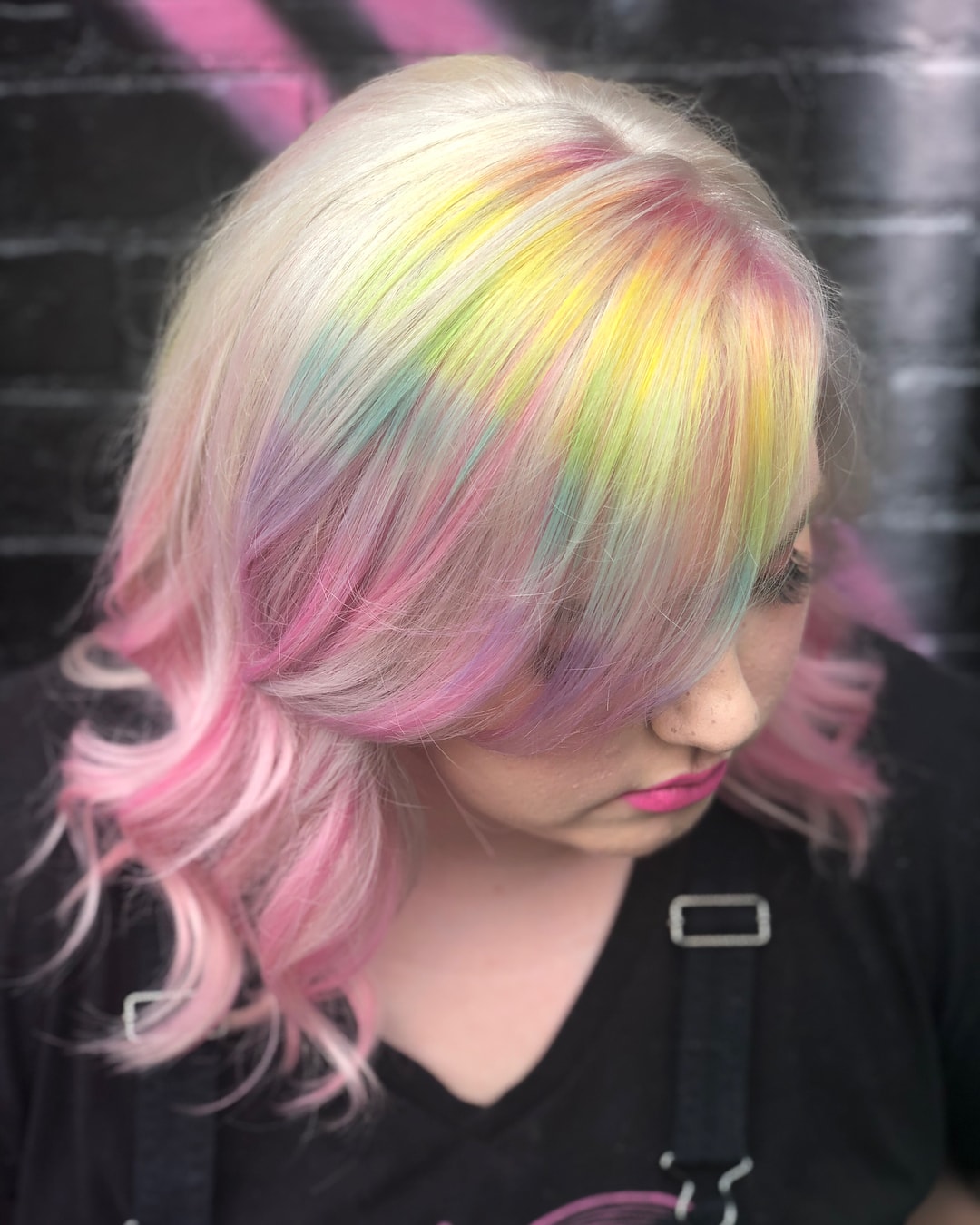 If you're an extrovert who loves show your creative side through your hair design, these fantasy hair color ideas are especially for you! Originally inspired by The Simpsons and anime cartoons, fantasy hair colors have become one of the most popular looks in international hair salons. And like all high fashion hairdo's, rainbow hair color has moved from being a niche look, to be one of the fastest-growing new trends this year!
Edgy Hair Color ideas for women
1. Blue & green balayage – steep bob color ideas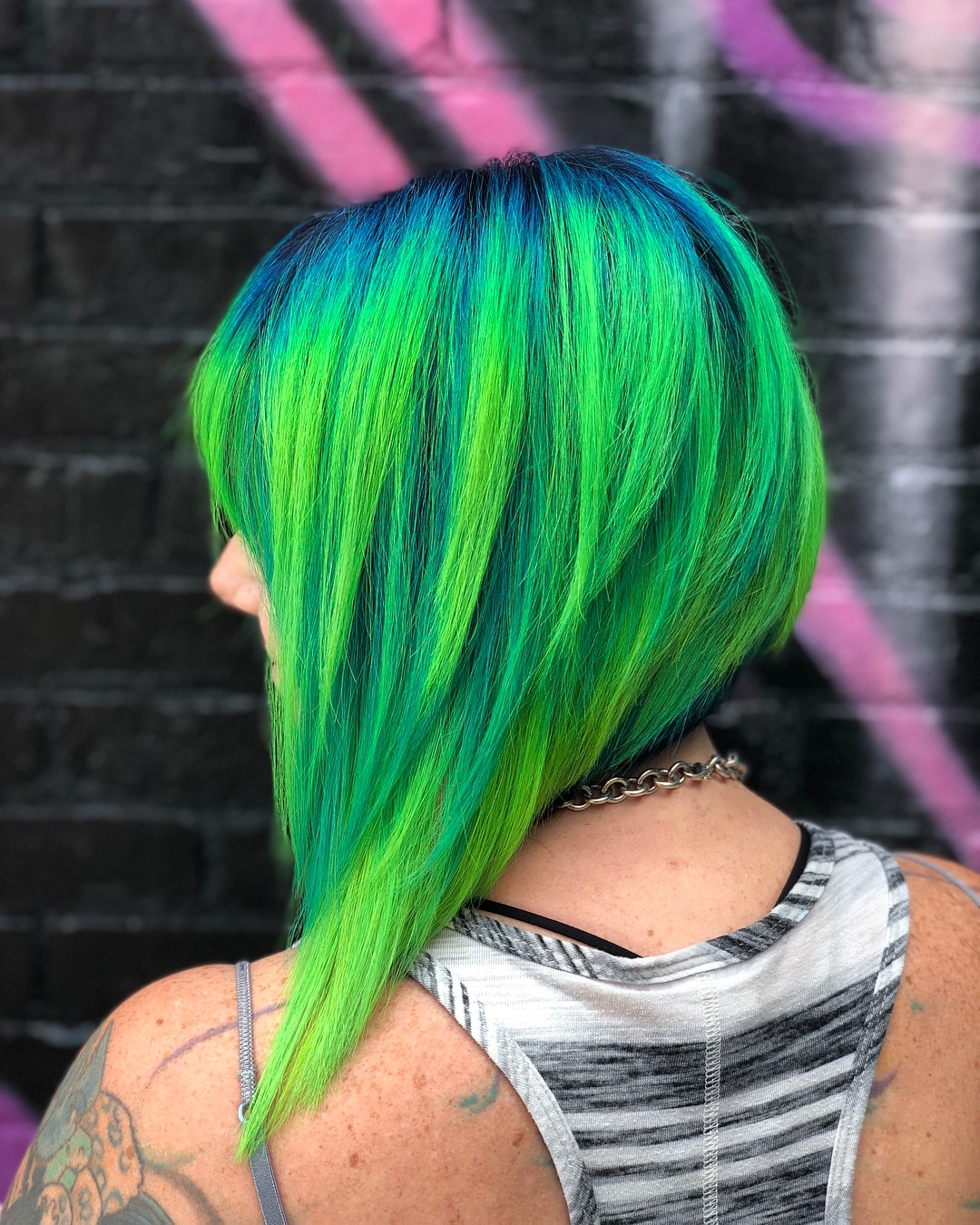 This ultra-steep bob is a dramatic cut in itself and super-trendy. But the edgy color design really moves it into a whole new category! It's a perfectly executed color scheme chosen to harmonise with the model's tattoos. So the royal blue roots transition to rich, sea-green medium layers. And to finish the 3-D effect, lime-green balayage brings the look into vivid focus! This haircut is suitable for thick hair and uses sliced layers to create fabulous texture and movement.
2. Electric blue & gray with purple – balayage color ideas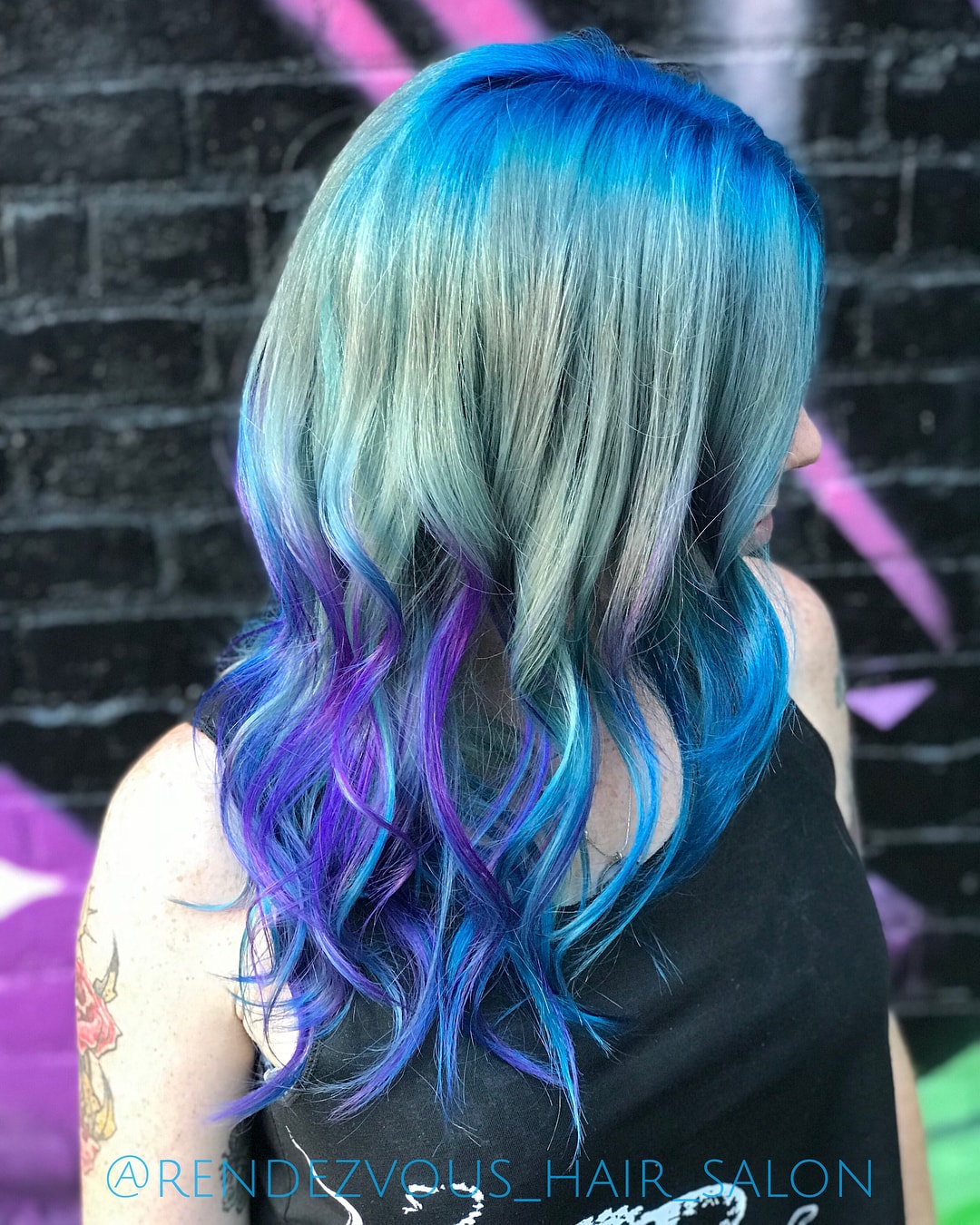 These trendy shades of blue, gray and purple are also highlighted by a few fine, white balayage touches. The defined, tousled waves create an 'undone' look that increases volume on fine and medium hair types. Electric blue roots gently transition to soft, blue-gray in the smooth, middle section. And there's a style and color contrast from lip level to the tapered tips. The overall result is a fabulous, art-student vibe that will turn heads wherever you go!
3. Rainbow mix on long bob – hair color idea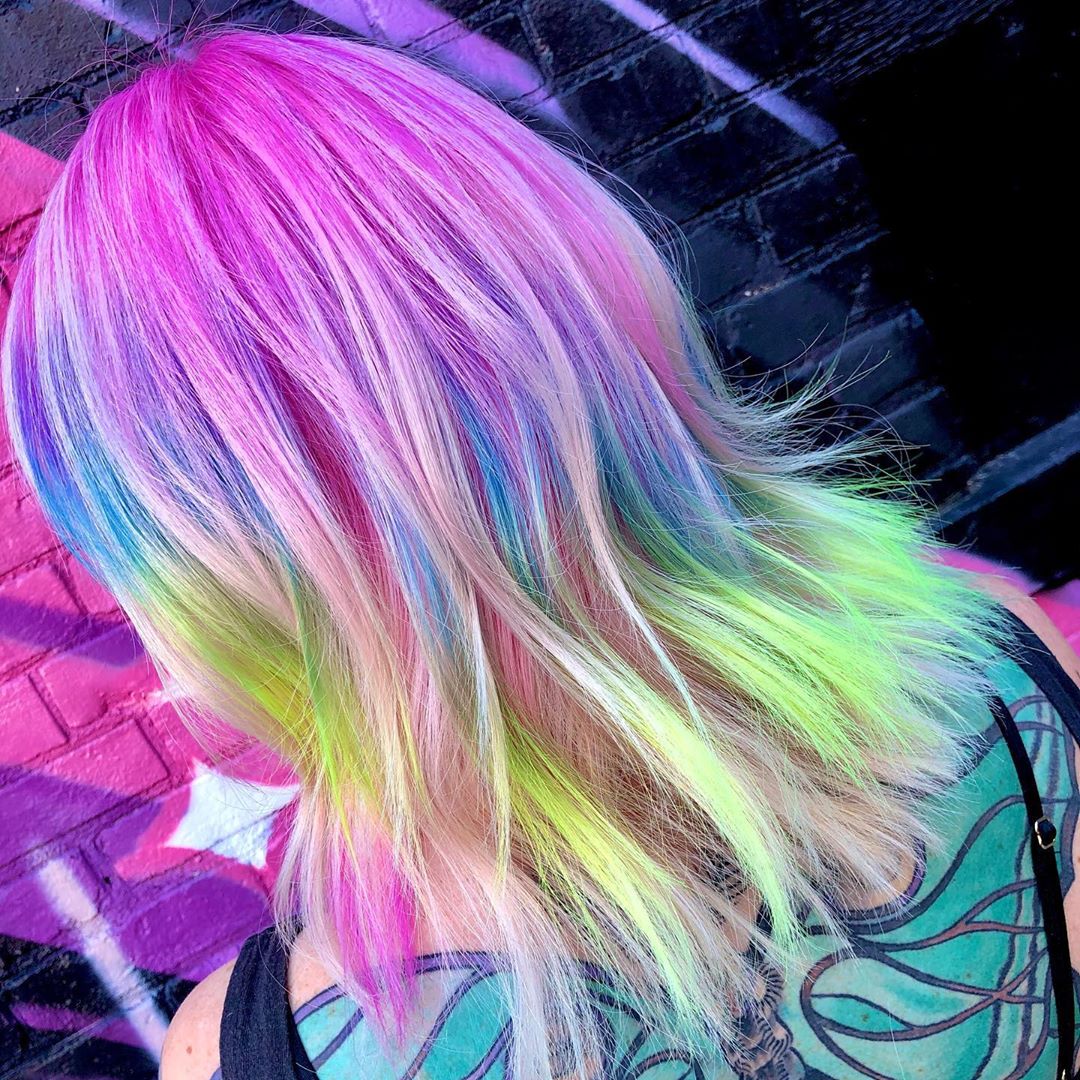 Cool blue, pink and green balayage combine to create a fiesta of color on this long bob hairstyle! This is definitely a bright and happy color design that will lift the spirits of all around you. Remember that you need to get an expert colorist to advise you on the best colors for your skin tone. Cool colors like these suit skin with cool or neutral undertones. And make sure your rainbow hair color idea also matches up with your tattoos. This model has a beautiful butterfly-wing tattoo over her back in cool turquoise and purple tones.
4. Romantic rose-gold & pink on warm blonde – hair color ideas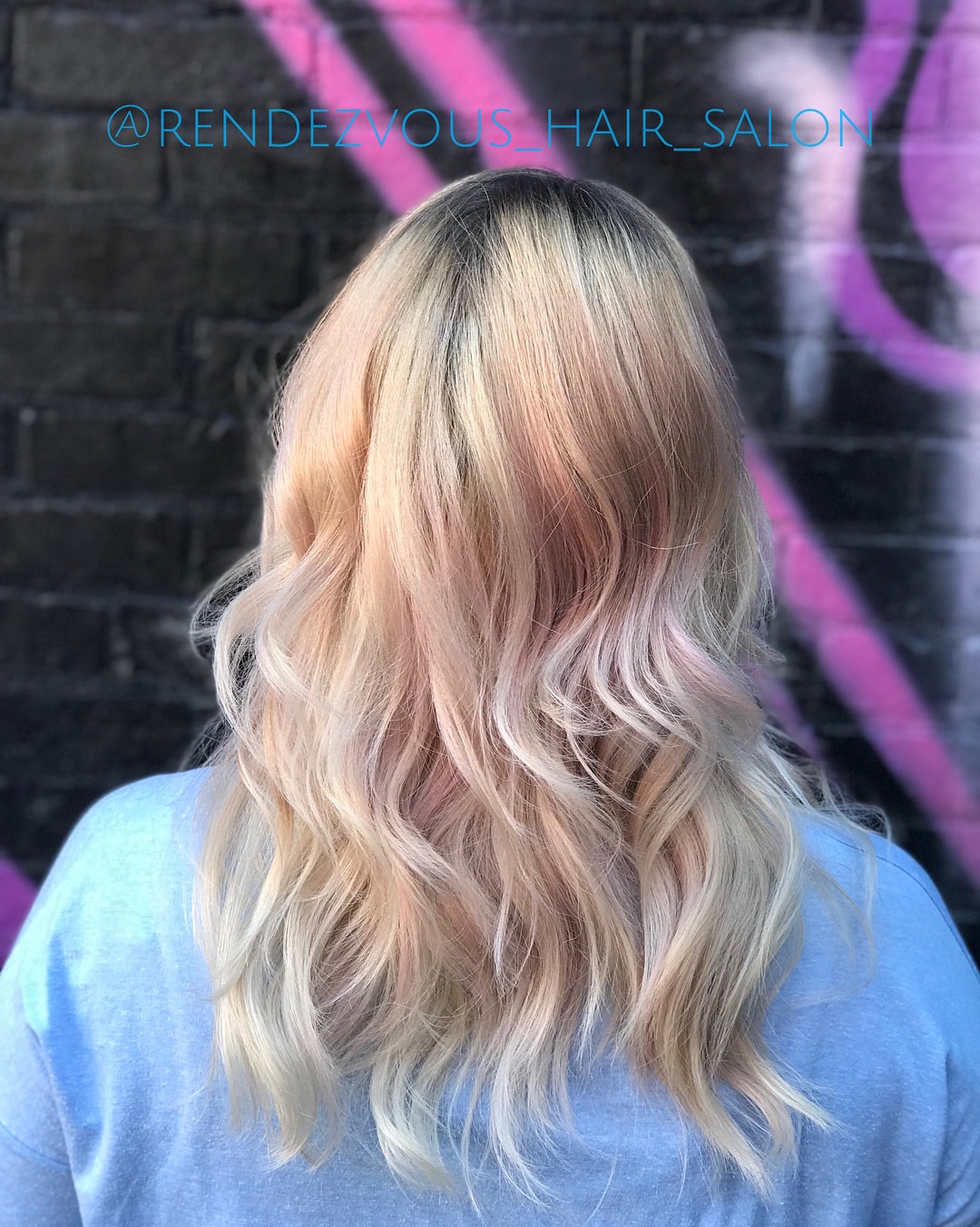 Although pink is a cool color, the use of light honey blonde shades adds warmth to this gorgeous hair color design. Delicately applied balayage gives soft bands of color from the dark roots to contrasting white-blonde textured tips. In between there's a delightful rose-gold section around the head, which soften the facial features. Long layers with flipped tips create added volume. And the 3-D effect on separated, tousled waves adds a thickening effect to fine to medium hair types!
5. Pretty pink and pearly-white blonde hair color design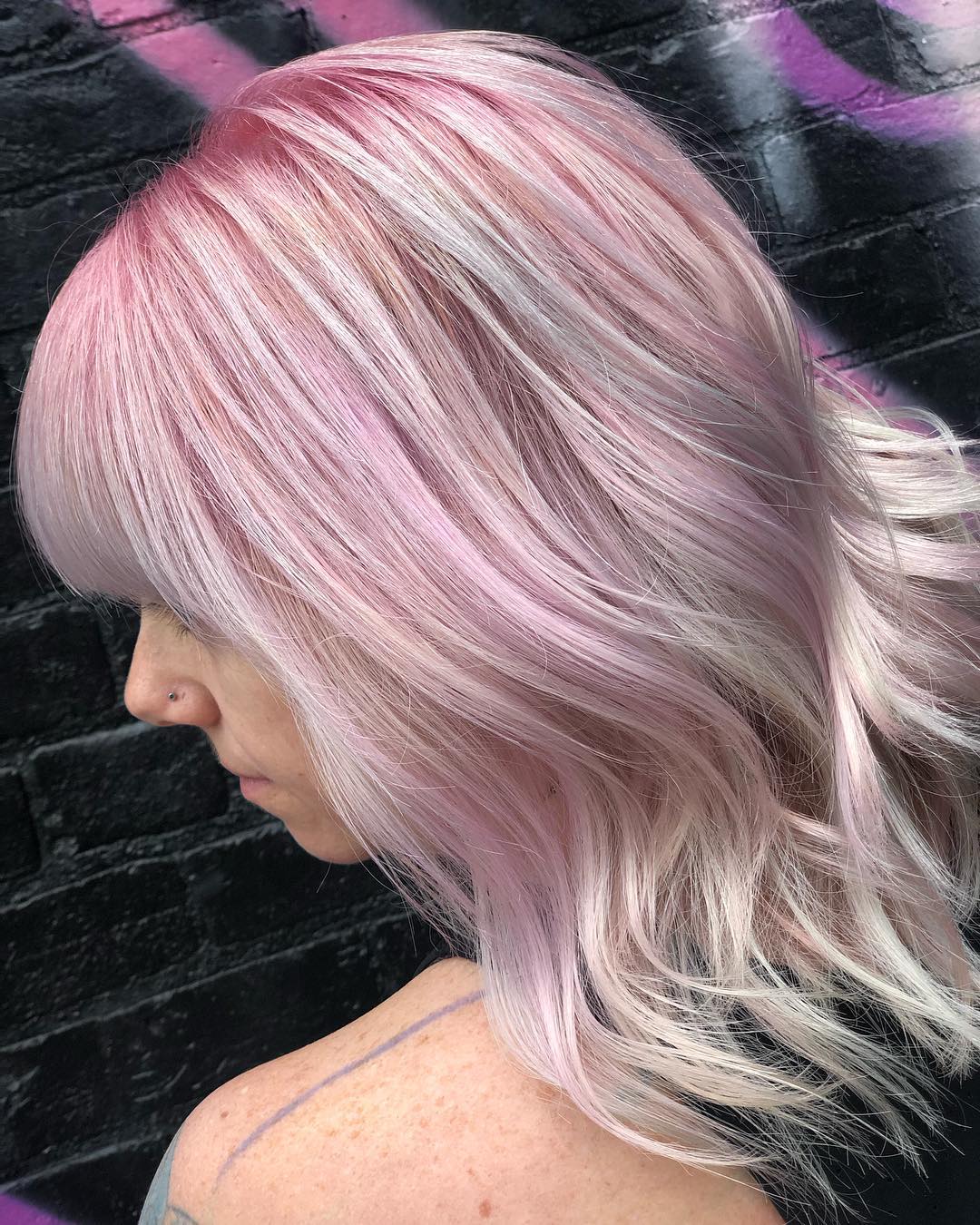 Limiting your hair color to just two main pastel colors creates a romantic, high fashion look. So this pastel pink and pearl-white fantasy hairstyle is perfect for creating a softer vibe. Whether you wear it to a party, on a summer holiday, for a special date or dancing the night away, you can be sure of an attractive image. Keeping the roots pink is a clever way of suggesting that the color is completely natural. And you can almost believe that the only added balayage color is the gleaming, vertical pearl highlights!
6. Cool pastels with white-blonde balayage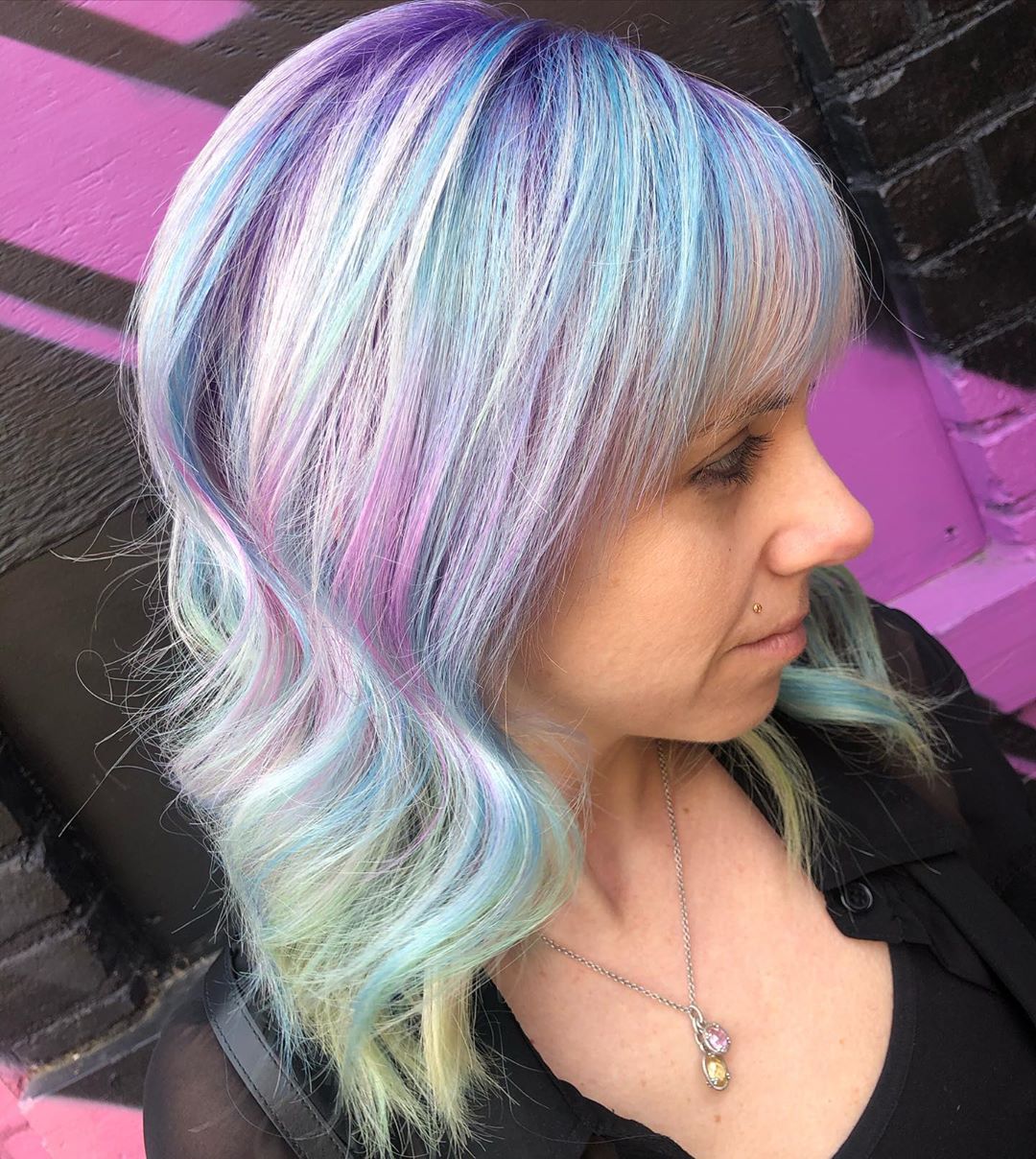 Adding pastel balayage to your favorite blonde hair color is a fantastic way to update your image. We love pastel purple roots that suggest purple is your natural hair color. You really need fair or natural blonde hair to achieve this level of white blonde. Otherwise, you can damage darker hair trying to lighten it too many tones. But for fair-haired gals, it's an exciting new look that will grab attention wherever you go. And if you match your hair carefully with your wardrobe and jewellery, like this model, the results can be spectacular!
7. Braided blonde hair with turquoise, pink and lavender balayage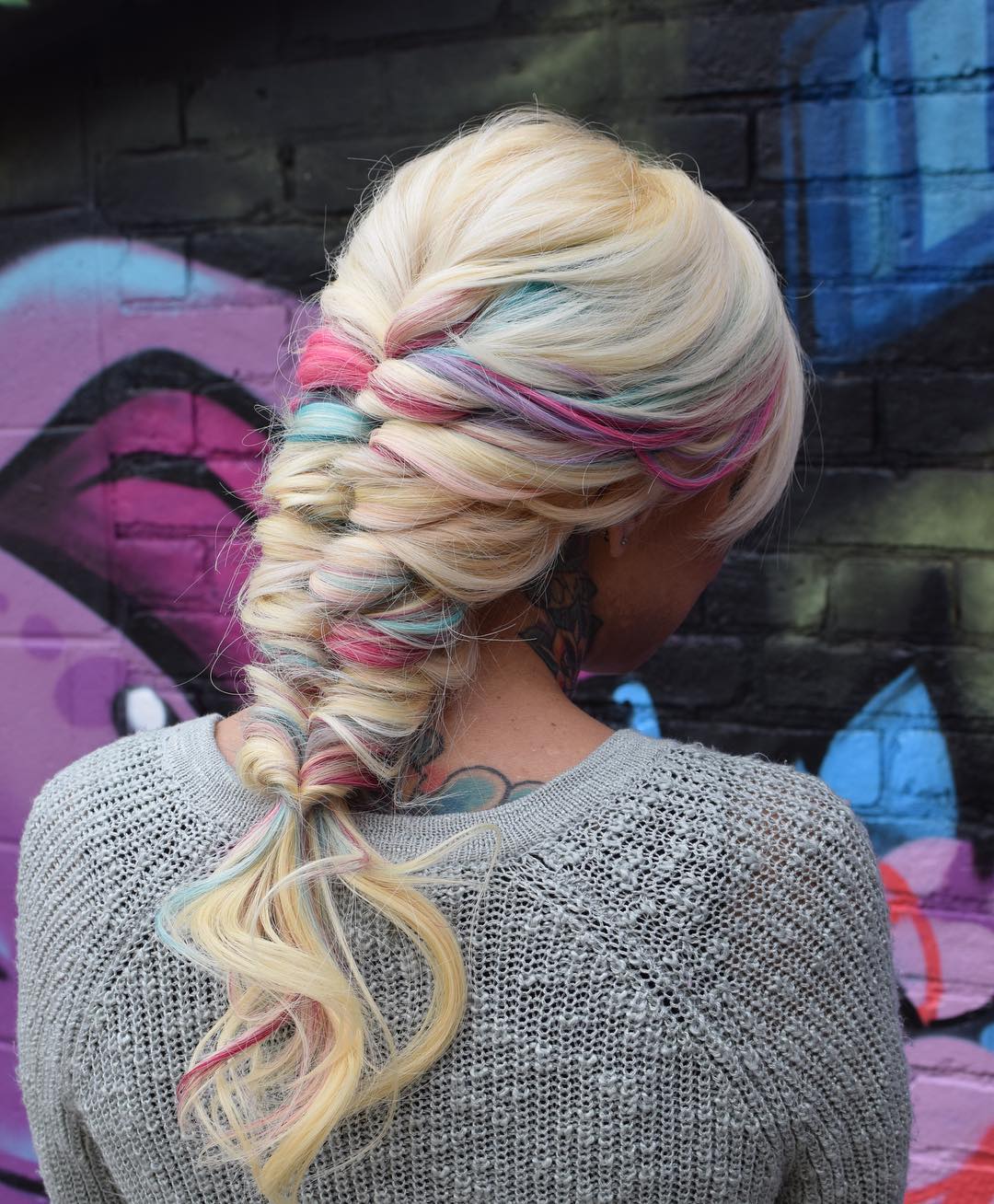 And this is the added bonus you get with a long, balayaged hairstyle! When you braid your hair, the colors mix and match to create fantastic color patterns. The soft blonde shade is almost buttery at the roots. And the unusual pink, turquoise and lavender balayage is done in sections, ranging from fine to broad highlights. This whole look must have taken hours of painstaking work by a talented colorist/stylist. But the final effect is gorgeously original, casual and super-attractive!
8. Lime neon lights effect on long blue hairstyle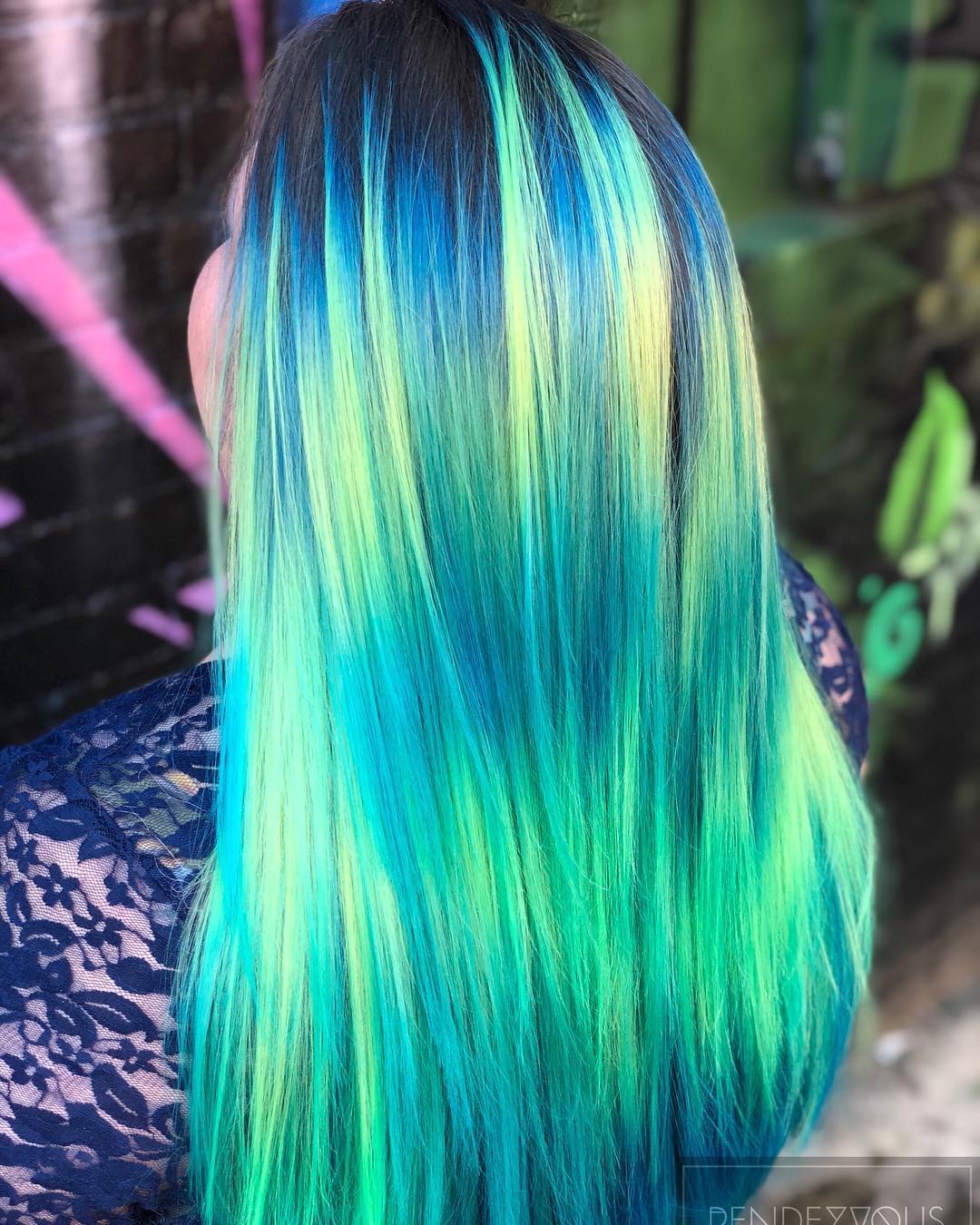 As a change from the ordinary ombré or balayage color decoration, try this unusual new look. Coffee brown roots give way to flashes of royal blue, which goes lighter and then deeper as the lines of color progress. So you have horizontal bands of color. But the outstanding color feature is the way that the colorist has applied lime-green balayage. The effect mimics neon-green lighting – shining on, and reflecting off the hair, in spectacular bands of color!
9. Dainty pastels on pearl-blonde wavy hairstyle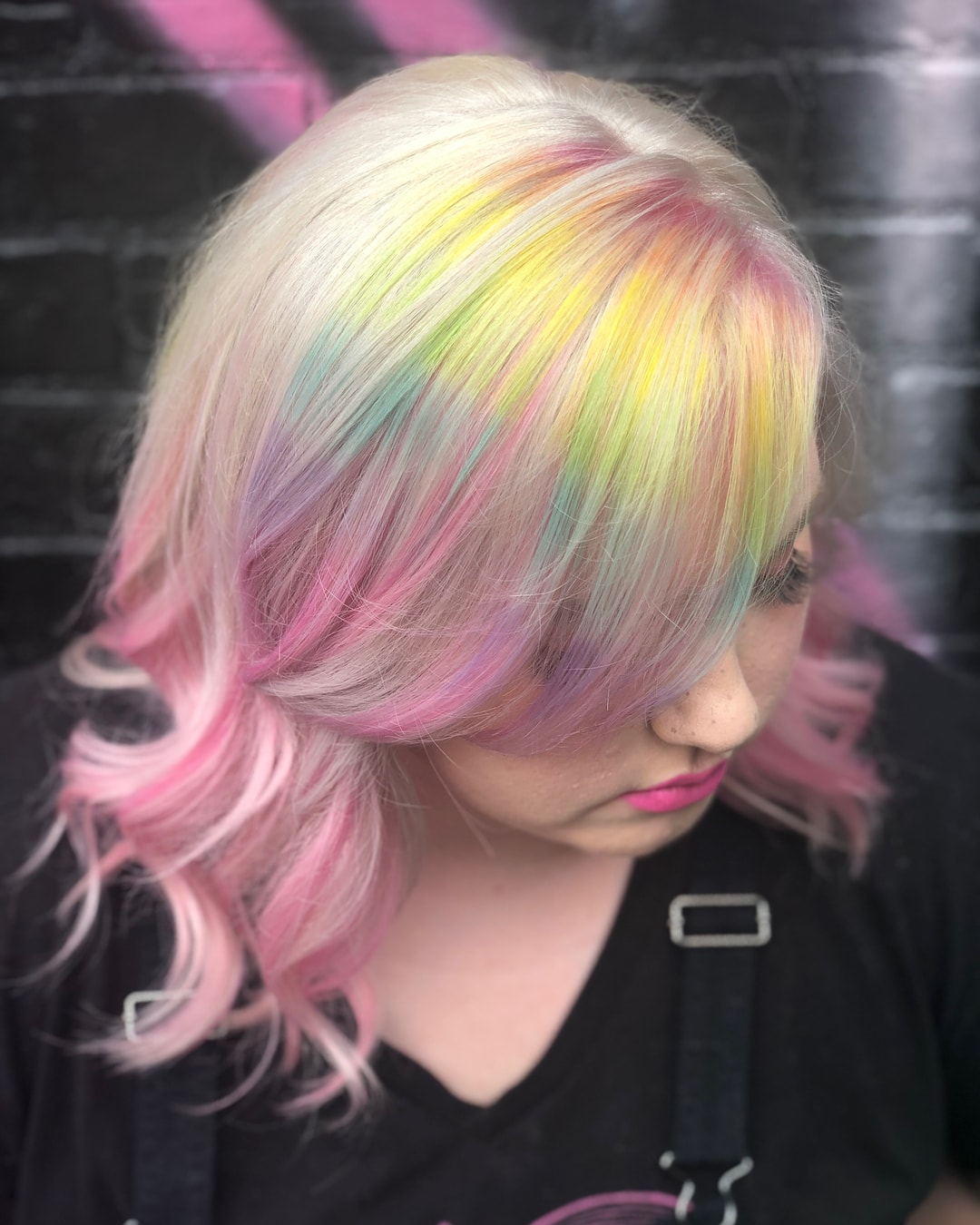 Adding a bright touch of Canary yellow to this ultra-cute hair color design, lifts it up to be almost a 'work of art'! It emphasises the fact that colorists and stylists are true artists, just working in the medium of hair instead of paint and canvas. From pink roots, this super-attractive hair color moves through orange, to yellow, green, turquoise, lavender and back to candy-floss pink. The main color design is located on the top side of an asymmetrical side part hairdo. And this multi-color long fringe effortlessly draws attention to the model's eyes and matching pink lips!
Greet the new season with a fabulous, lively hair color design and show the world your excellent fashion credentials!