The bob hairstyles come in a variety of styles, lengths, and textures, making them suitable for almost every face shape and hair type. With its rich history, versatility, and undeniable allure, the bob haircut has captured the hearts of women across generations. From the roaring twenties to the modern era, this classic cut continues to make a statement, proving that it is here to stay.
In this article, we will delve into the enchanting world of bob hairstyles, exploring the various styles, lengths, and textures that can cater to different hair types and face shapes. Whether you're seeking a chic, low-maintenance look, a bold statement, or a timeless elegance, we've got you covered. So, let's embark on a journey to find the perfect bob hairstyle that suits your unique personality and style!
If you're planning a trip to the hairdressers' and need some super-trendy inspiration, take a look at these fabulous new short bob hairstyles with highlights!
Here is a table listing various bob hairstyles for women:
| No. | Bob Hairstyle | Description |
| --- | --- | --- |
| 1 | Classic Bob | A timeless style featuring hair cut straight around the head, usually at chin or ear length. |
| 2 | Angled Bob | A versatile style with hair cut shorter at the back and gradually longer towards the front, creating an angle. |
| 3 | A-Line Bob | Similar to an angled bob, but with a more dramatic difference in length between the front and back. |
| 4 | Layered Bob | A bob with added layers to create movement, texture, and volume. |
| 5 | Graduated Bob | Also known as an inverted bob, features stacked layers at the back to create a rounded shape and volume. |
| 6 | Asymmetrical Bob | A modern style with one side longer than the other, creating an uneven, edgy look. |
| 7 | Chin-Length Bob | A bob cut that falls right at the chin, accentuating facial features and jawlines. |
| 8 | Long Bob (Lob) | A longer version of the classic bob, typically falling between chin and shoulder length. |
| 9 | Textured Bob | A bob with added texture and movement, usually achieved through razored or point-cutting techniques. |
| 10 | Blunt Bob | A bob featuring a blunt, straight-across cut at the ends, creating a strong, precise line. |
| 11 | French Bob | A short bob with a fringe, inspired by classic French hairstyles. |
| 12 | Wavy Bob | A bob with soft, natural waves or curls, creating a romantic and feminine look. |
| 13 | Shaggy Bob | A bob with a messy, tousled appearance, featuring layers and texture for a carefree, effortless look. |
| 14 | Curly Bob | A bob specifically designed for curly hair, showcasing the hair's natural texture and curl pattern. |
| 15 | Stacked Bob | A bob with stacked layers at the back, creating a rounded, voluminous shape. Similar to a graduated bob. |
| 16 | Choppy Bob | A bob featuring irregular, choppy layers throughout the hair for added texture and interest. |
| 17 | Sleek Bob | A straight, smooth bob with minimal layers, creating a polished and sophisticated appearance. |
| 18 | Bob with Bangs | A bob paired with a fringe or bangs, which can be straight, side-swept, or even curtain bangs. |
| 19 | Inverted Bob | Another term for a graduated bob, with stacked layers at the back and longer lengths towards the front. |
| 20 | Buzzed Bob | A bold, edgy bob featuring a buzzed or shaved undercut on one or both sides of the head. |
These bob hairstyles offer a wide range of options for different hair types, face shapes, and personal styles. Experiment with various cuts to find the perfect bob hairstyle that suits you best.
Why the bob haircuts are so hot these days?
The bob hairstyle is hot these days for several reasons:
Versatility: Bobs come in a variety of styles, lengths, and textures, making them suitable for almost every face shape and hair type. This versatility allows women to choose a bob that suits their personal style and preferences.

Low Maintenance: Bobs are generally easy to maintain and style, requiring less time and effort compared to longer hairstyles. This makes them a popular choice for busy women who want a chic look without spending too much time on their hair.

Timeless Appeal: The bob has been a classic hairstyle for decades, with its popularity spanning across generations. Its timeless appeal ensures that it never goes out of style, making it a reliable and fashionable choice.

Celebrity Influence: Many celebrities and fashion icons have sported bob hairstyles in recent years, which has contributed to their popularity. When influential figures embrace a particular hairstyle, it often becomes a trend that people want to follow.

Edgy and Feminine: Bobs can be both edgy and feminine, depending on the specific style and how they are worn. This balance between boldness and elegance makes them an attractive option for many women.

Flattering for Different Ages: Bobs are suitable for women of all ages, as they can be tailored to enhance specific facial features and create a flattering, youthful appearance.

Easy to Change: Bobs are ideal for those who like to change their hairstyle frequently, as they can be easily transitioned into different styles and lengths. This adaptability keeps the hairstyle fresh and exciting.

Emphasis on Facial Features: Bobs draw attention to the face and can accentuate one's facial features, such as the eyes, cheekbones, or jawline. This focus on the face can make a woman appear more confident and stylish.
The bob hairstyle is hot these days due to its versatility, low maintenance, timeless appeal, celebrity influence, and its ability to be both edgy and feminine. Its adaptability and flattering nature make it a popular choice among women of all ages and personal styles.
Chin-length bobs suit everyone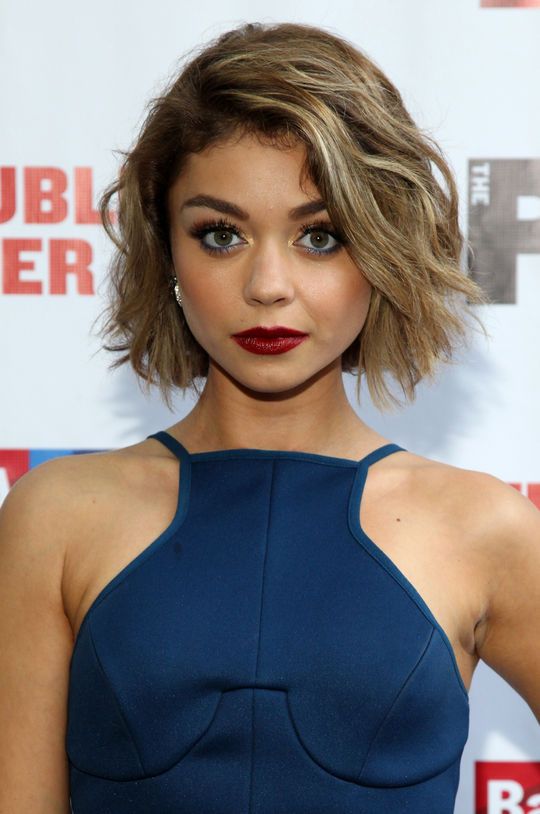 Thick hair is perfect for creating sliced layer short bob hairstyles that bring out the best in your hair type. Try smooth curved short bob hairstyles that are cut to curve into the chin. Sliced layering is perfect for thinning out coarse, thick hair and with some clever layering at the ends this style will fall into place after washing.
The classic bob cut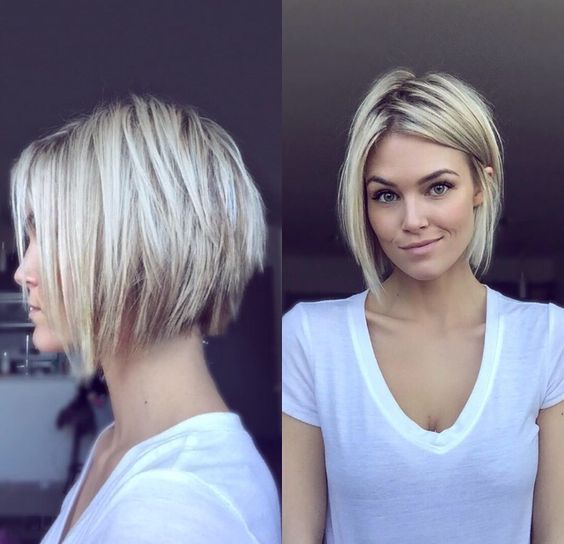 On straight bob hairstyles you have the perfect blank canvas to paint on some stunning highlighting tones. Try dark coffee mocha brown with auburn-orange vertical highlights for a colour that enhances the smooth shape of short bob hairstyles and warms up pale winter complexions beautifully!
Frizz-free short bob hairstyles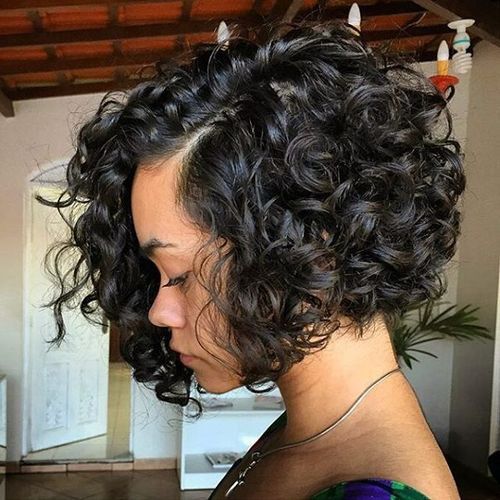 If you have coarse naturally curly hair, try snappy geometric short bob hairstyles, which are also a very trendy look this year. Again, if you ask for sliced layers this will help curly hair to be less frizzy and give smoother and well-defined crisp curls or waves!
Wear your new look with sophisticated no-fringe sleekness or add a trendy straight-across fringe!
Blonde short bob hairstyles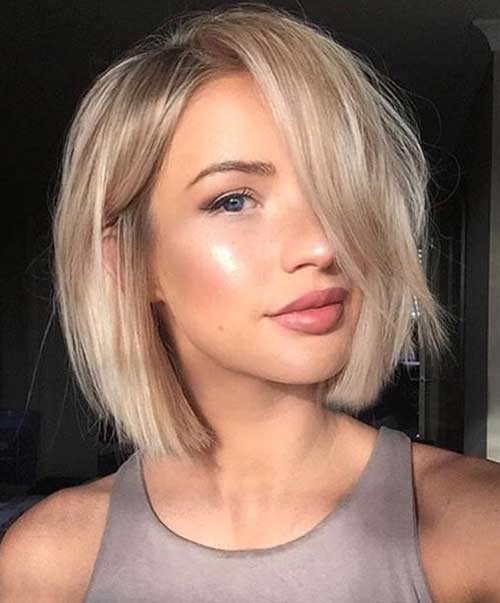 On fine blonde hair, the blunt-cut short bob hairstyles are a great way to add volume. Ask for a stacked-back cut that graduates down to frame the chin at the front and choose a parting that suits your face shape.
The center parting is supposed to be the trendiest look, but it only suits women who have an oval face. Consult your stylist on the best place to put your parting as this can really make a difference in balancing out your face-shape!
Straight or wavy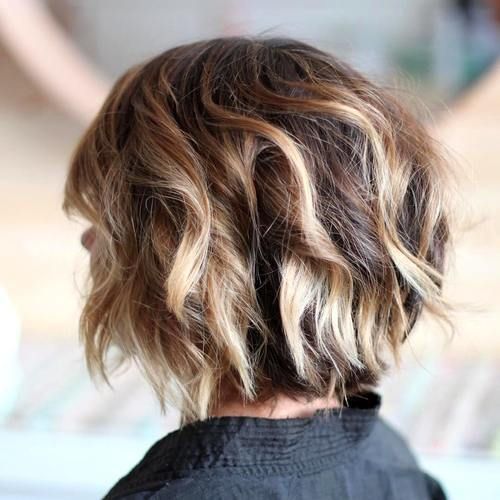 Off-centre or side partings are just as contemporary and this style can also be worn straight or curly. One fine hair, I would always recommend some twisty waves or curls as it's an excellent way to add volume!
Honey-blonde is a great shade for winter as it's warm and softens the face and highlights in rose-gold, butterscotch or caramel will provide a lovely feminine finish to this fabulous short bob hairstyle!
Asymmetrical and symmetrical short bob hairstyles are both trendy right now and the range of highlight techniques for this season is wider than ever before!
So why not browse our up-to-the-minute Inspiration Gallery of the trendiest short bob hairstyles and find your Favorited new look now!
Brown Ombre Shaggy Bob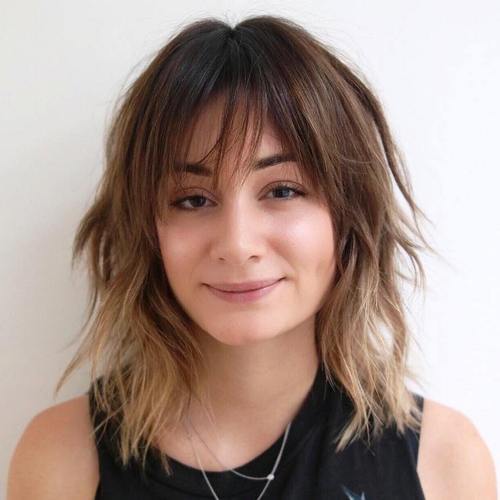 This adorable lady has simply beautiful hair – don't you agree? Starting from a dark brown and blending into a beautiful blonde at the tip thanks to a trendy ombre transition, this lady's wonderful hair is full of choppy and shaggy layers throughout, creating this textured and voluminous finish. She's loosely flicked the ends out for this overall style.
Black and Blonde Tousled Crop – shoulder length ombre bob hairstyle for women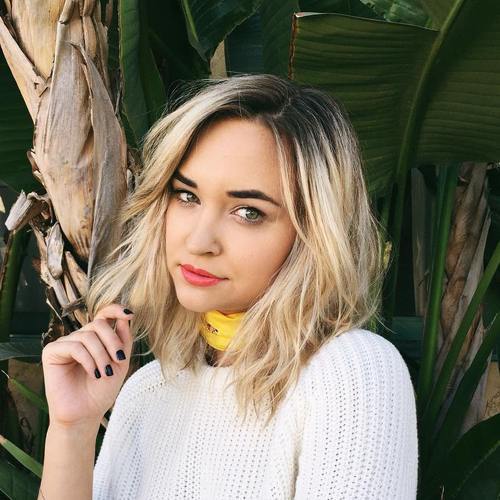 This absolutely stunning bob hairstyle is so on trend – adopting the shaggy style just perfectly! Her shoulder length bob is black at the root, but blends quickly into a beautiful blonde shade throughout the rest of the hair. The hair has been curled for a gorgeous finish, creating this remarkable and tousled style that we just cannot get enough of.
Trendy hair color idea for short to medium hair – Black to Silver Graduated Bob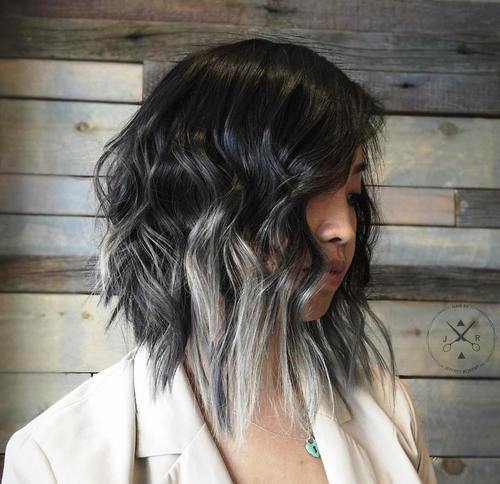 This ever so stylish lady has the most gorgeous hair – it's dramatic, daring and simple to die for! Working a graduated line, shorter from the back and longer at the front, this lady has added tight curls throughout the bob for this amazing silhouette. The hair is a deep and glossy black which has an ombre blend to a silver shade at the tip – amazing!
Brown Bob with Red Highlights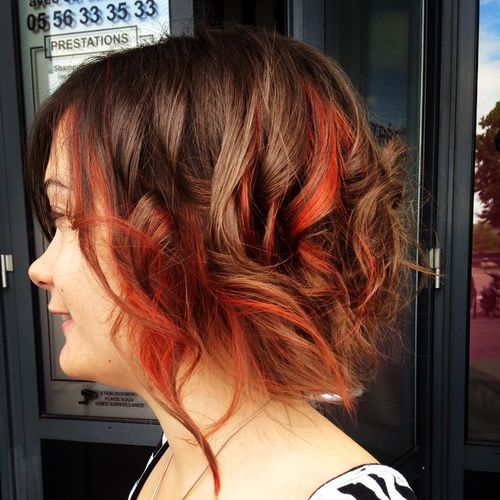 This gorgeous brown bob is finished around jaw level, with slightly longer strands which fall towards the front of the head and frame the face perfectly. The hair is a dark brown at the root, and is finished with bright red highlights throughout. The colour transition is showed off thanks to these gorgeous ringlets throughout, creating a wonderful shaggy finish.
Tousled Mid Length Bob – trendy bob haircut for women with medium hair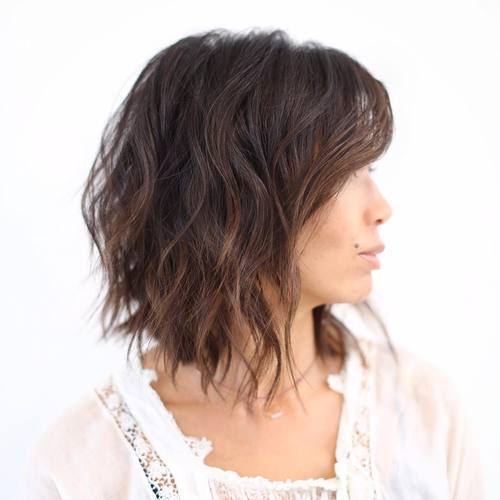 This beautiful brown mid length bob is an absolutely gorgeous cut that we just can't get enough of! With a stunning rich brown root finished with a subtle ombre lighter brown at the ends, this amazing cut simply commands attention. We adore the soft curl and tousled finish this stylish lady has gone for, with a beautiful fringe that frames her face.
Classic short straight bob cut with bright color – Ginger to Pink Sleek Ombre Bob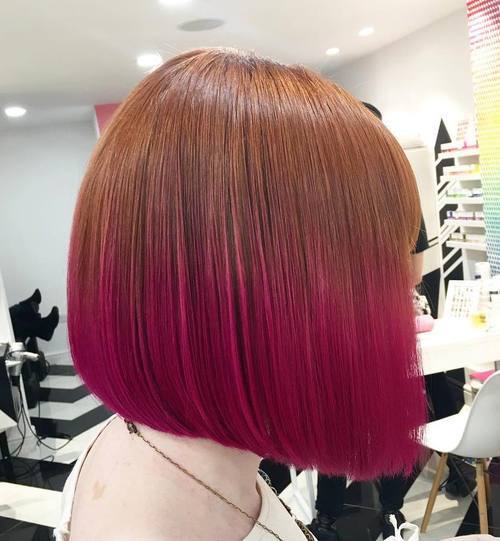 This wonderful, sleek and glossy bob has stolen our hearts – we just adore the vibrant ombre blend from ginger to hot pink! As if the colour transition weren't quite enough, this lady has opted for a super stylish and straight bob with a lightly graduated line going from back to front, finished with a fringe which frames the face to perfection.
Loosely Tousled Ombre Bob Hairstyle for Short Hair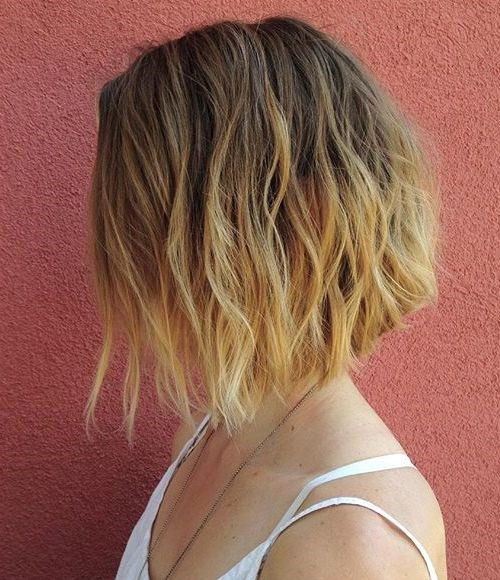 We're starting our gallery of curly bobs strong with this gorgeous graduated bob which falls longer at the front around the jaw line and works its way to a shorter layer at the back of the head. The hair blends from a stunning light brown shade to a gorgeous caramel blonde through a balayage blend, and has been loosely tousled for effect.
Beautiful Blonde Barrel Curls – side view of soft wavy curly bob hairstyle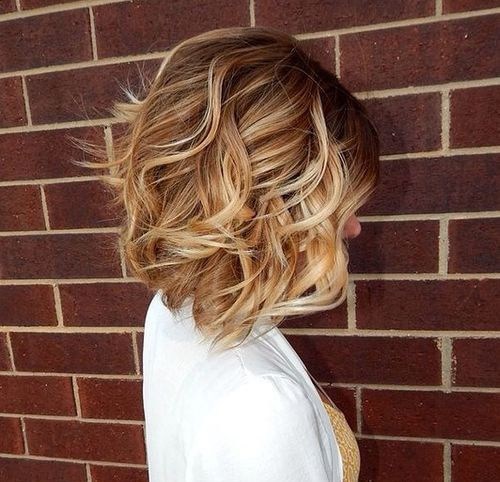 This absolutely breathtaking blonde bob has stolen our hearts! It falls an inch or so below the jaw, and is finished in a couple of different beautiful blonde shades! From a dark and glossy caramel shade to a gorgeous and vibrant bleached blonde, this look combines them all! She's worked beautiful bouncy barrel curls throughout for a finish to die for.
Balayage Loose Waves – layered balayage lob hairstyle (long bob hairstyle )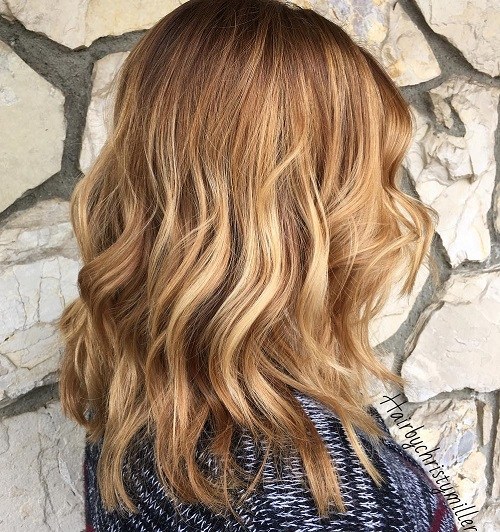 This lady has opted for an equally beautiful yet slightly longer bob, with the ends just brushing the ends of her shoulders and finished with lots of lovely shorter layers throughout. The colour is a deep and dark shade of caramel at the root, blending to a lovely lighter blonde at the tips, and the loose waves throughout show off the transition perfectly.
And here is another cute long bob hairstyle you may love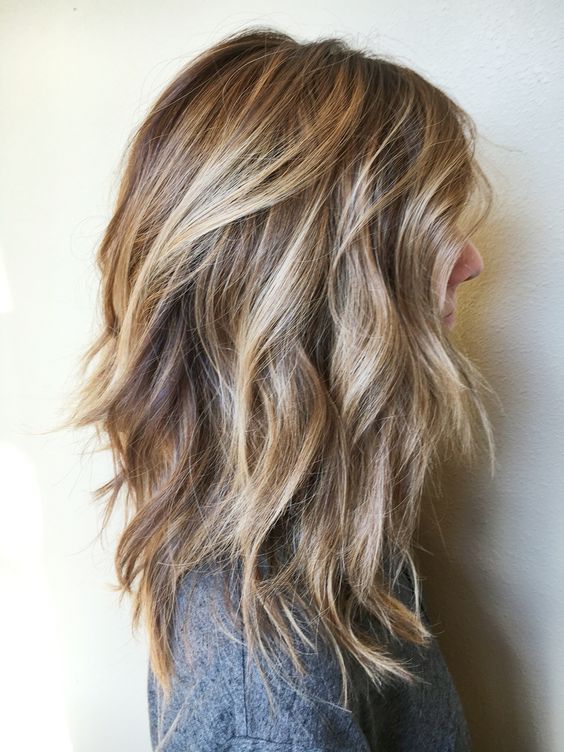 Layered Ombre Graduated Wavy Bob hairstyle for women – Bob Hairstyles 2018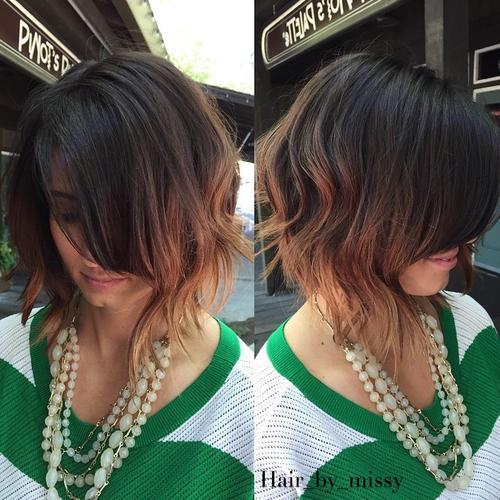 A graduated bob is one of our favourite wavy bob styles, starting with a shorter level at the back and graduating the length to lovely longer strands around the front, which frame the face. This lady has opted for a gorgeous long side fringe to finish her look off which we adore. The balayage blend from dark to light brown is perfect when accompanied by these loose waves.
Glossy Brown Curled Bob – Simple easy daily hairstyle for short hair – chic bob cut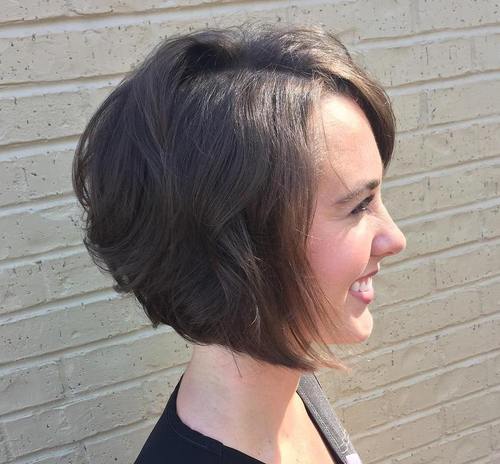 This gorgeous brown bob is finished an inch or so below the jaw line, in an ever so slightly graduated line from the back of the head to the front. Finished with a side parting which creates a loose sweeping fringe effect, this gorgeous lady has added loose curls throughout the hair to create a wonderful bouncy finish which we simply adore.
Bright Blue Choppy Bob: Bob Hair color ideas – the bright blue!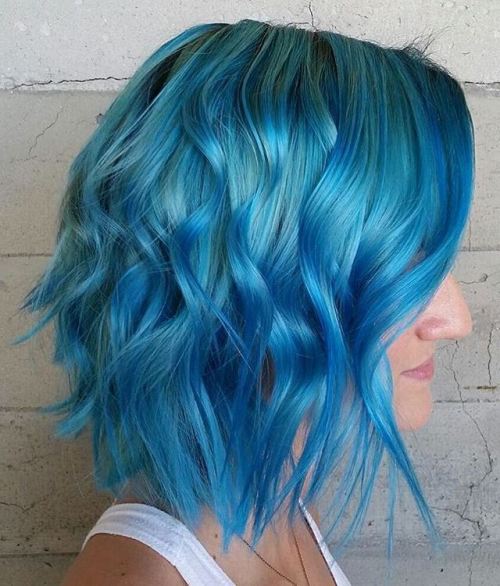 If you're looking for a total hair transformation then let this incredible lady inspire you with her brilliant blue choppy bob. Not only has she gone for a stunning crop full of beautiful and choppy layers throughout the hair, but she's gone for a vibrant blue colour all over to perfectly accentuate the cut! We love her loose curls too – ideal for a night out.
Copper Curly Crop – layered balayage bob hairstyle for thick hair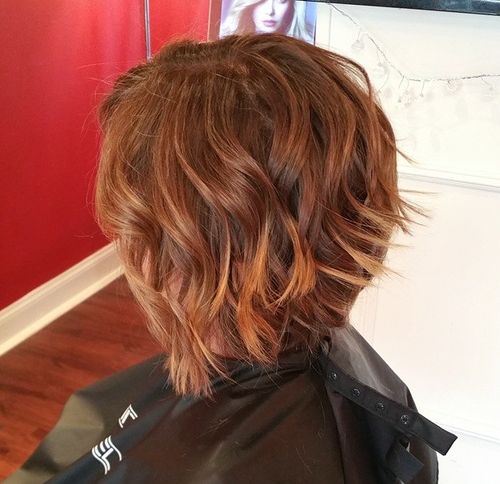 Easy daily hair ideas for short hair – This copper curly crop is absolutely gorgeous! It's fashionable and striking – and who could want more than that? With a slightly longer cut, the longest strands of hair start from shoulder length and finish below the ears, and this lady has curled her fiery locks to create a beautiful bounce throughout the hair that is simply to die for.
Strawberry Blonde Bouncy Bob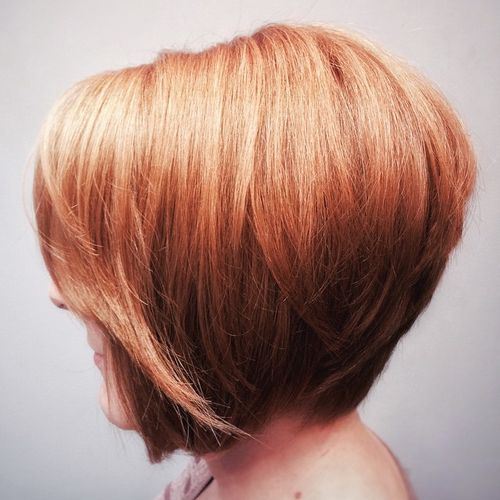 If you're looking for a bob that is easy to maintain but simply full of bounce and body, then this inverted bob is exactly what you're looking for! With a longer layer at the bottom working towards shorter layers at the top of the hair, this creates a gorgeous and curved style which looks fantastic when straight. This is finished with a stunning fringe to frame the face.
The dark blunt bob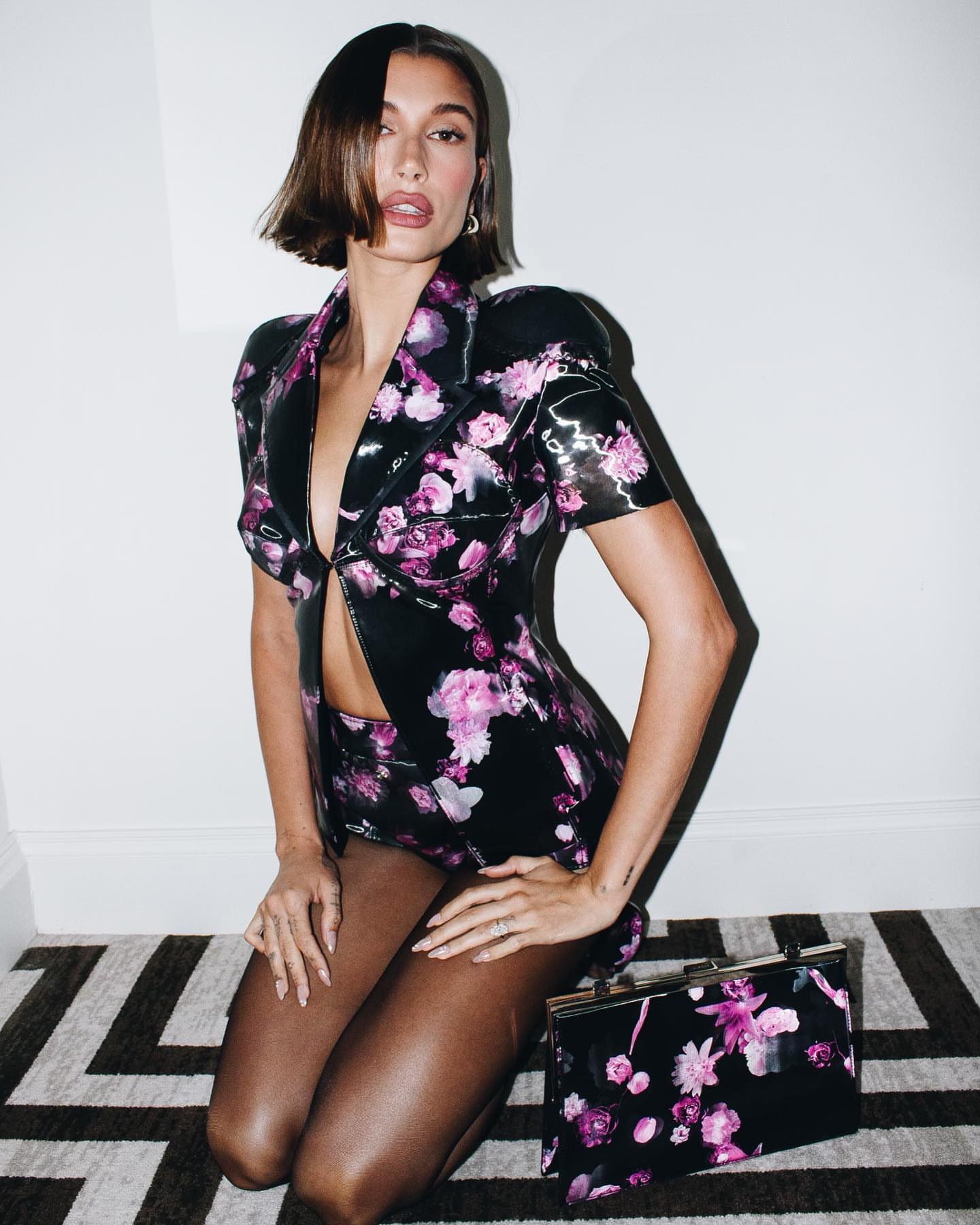 Renowned fashion model Hailey Baldwin recently unveiled her latest look on Instagram, where she's seen sporting a striking short blunt bob, a chic change that has definitely turned heads. The new hairstyle encapsulates her knack for staying on top of the latest trends, the short length and blunt cut adding an edge to her overall style.
Hailey Baldwin's fashion-forward ensemble features pieces from Coperni's Spring 2023 Ready-To-Wear Collection. Notably, she's wearing Look 12, a daringly stylish outfit that further asserts her status as a trendsetter. The ensemble's cutting-edge design and attention to detail make it an exquisite example of Coperni's ability to create pieces that are both contemporary and timeless.
One of the standout pieces Hailey donned is a Mini Holographic Floral Lady Bag, retailing for $960.00. This statement accessory adds a futuristic touch with its shimmering holographic design, while the floral pattern softens the look, making it a perfect blend of edgy and feminine.
Adding to the avant-garde feel of the outfit, Hailey also chose to pair it with Holographic Logo Mules, priced at $561.00. The shoes, matching the bag's holographic aesthetic, create a cohesive, eye-catching look that effortlessly combines glamour with a touch of whimsy.
To complete her outfit, she wears a pair of Commando The Essential Sheer Control Tights, available for $38.00. These tights provide a subtle sheen and smooth fit, adding a layer of sophistication and class to the ensemble.
Overall, Hailey Baldwin's Instagram post showcases her impeccable sense of style. Her pairing of a short blunt bob with pieces from Coperni's Spring 2023 collection, along with her selection of accessories, is a testament to her understanding of contemporary fashion trends. This look proves yet again why she is one of today's leading style icons.