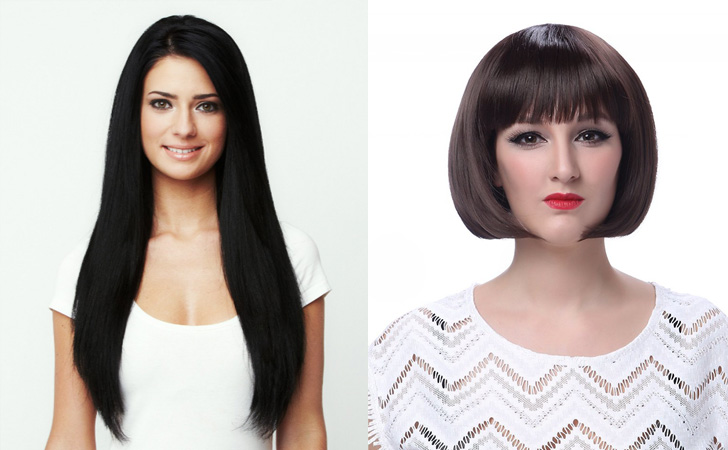 Are you a curly-haired beauty who wants to experience the simplicity of pin-straight hair without expensive and semi-permanent salon treatments? Or do you have wavy or fluffy hair that you don't want to put in the effort to straighten every morning? You can achieve straight hair effortlessly with a straight wig. The hair on straight wigs remains perfectly straight even in harsh, humid weather, allowing you to maintain flawless straight hair all day long. If you're interested in investing in a straight wig, keep reading to discover the top ten best straight wigs available for purchase.
10. Sensationnel Empress Synthetic Custom Lace Front Edge Wig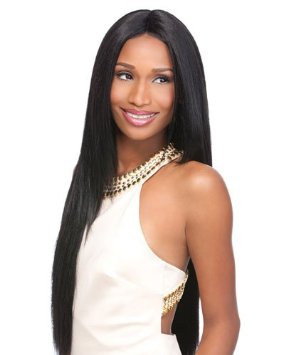 This gorgeous black long straight wig is designed to look completely natural, especially on women with darker skin tones. It is crafted from one hundred percent synthetic fibers that look glossy with a lustrous, shiny finish and feel soft and natural to the touch like real hair.
The long wig is totally customizable depending on your styling preferences. It is resistant to heat, so you can style it with a flat iron or curling iron if you want to spice up your pin-straight look. Plus, you can part in any way you want to match your natural part line or even try out something new to switch things up.
9. MapofBeauty Natural Synthetic Short Straight Wig with Bangs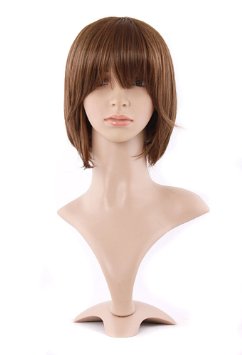 If you're looking for a shorter straight hairstyle, try this straight, bob-style wig from MapofBeauty. It is a natural, light brown color that works with any skin tone. Plus, despite its straight style, it includes some layers and feathering in order to create a more natural, less severe appearance.
The short wig is made from one hundred percent synthetic fibers. The fibers are high temperature and can withstand high heat to make any styling you want to do effortless. As an added bonus, the wig is completely adjustable in order to fit the unique size and shape of your head easily.
8.

HDE Women's Long Wavy Curly Natural Color Hairstyle Glamour Fashion Costume Wig – straighten wigs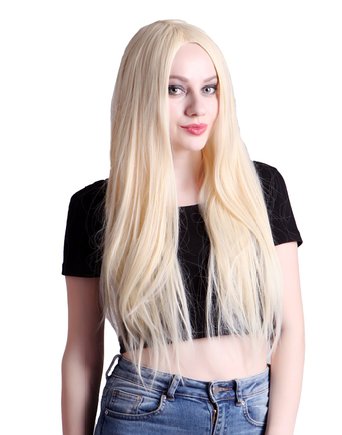 This long, straight, bright blonde wig is absolutely stunning. It is twenty-four inches long and falls midway down your back below your breasts for a captivating, mermaid-like appearance.
Crafted from soft and durable synthetic fibers, this wig has a lustrous shiny finish and feels smooth and totally real. If the wig gets dirty or loses some of its glossiness, you can restore it to its original quality by washing it in cold water using a mild shampoo formula.
7. OneDor 10″ Short Straight Flapper Bob Heat- Friendly short bob Wig with bangs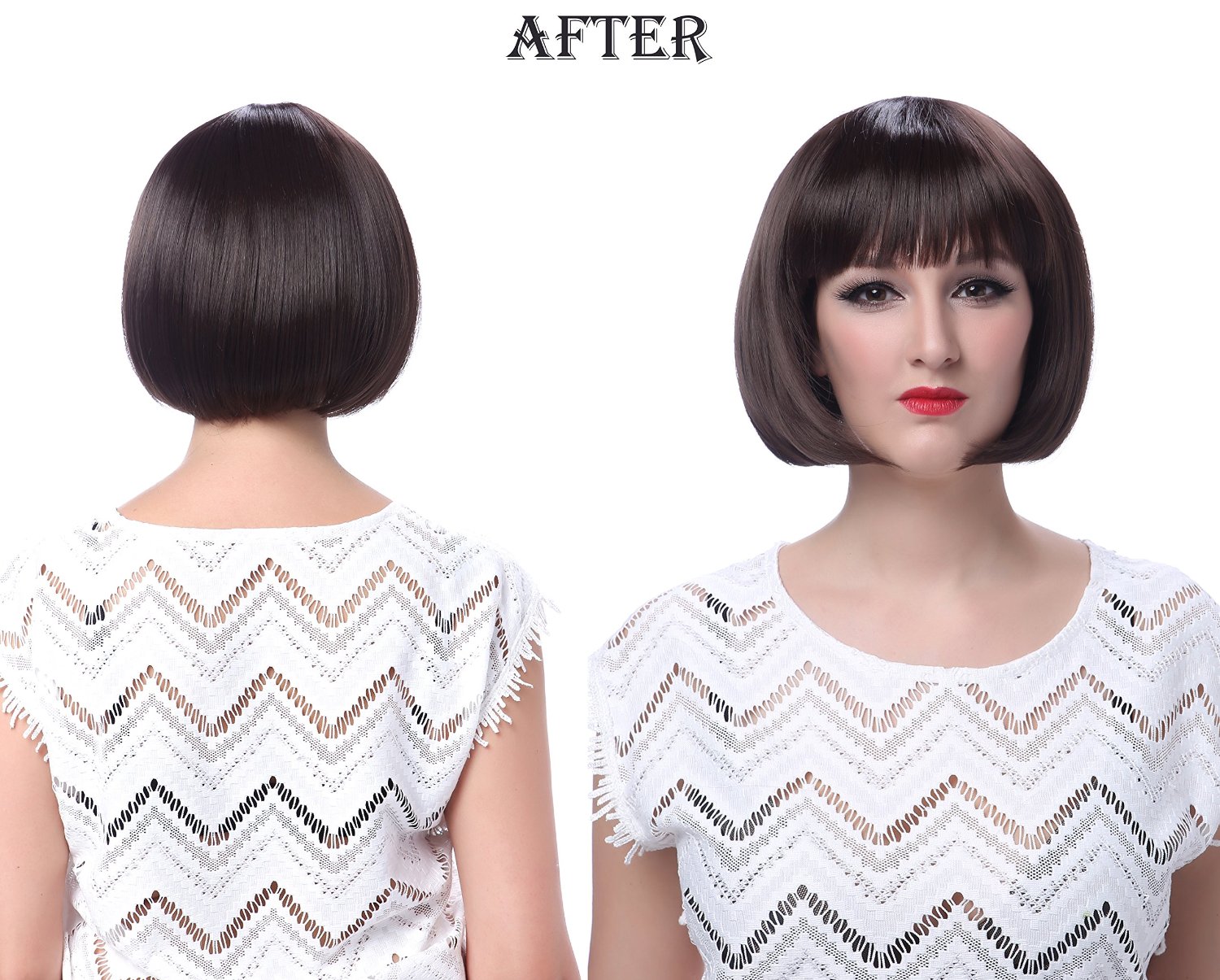 Do you want to have some fun and get a little crazy with your straight wig? Try this bright blue, bob-style straight wig from Onedor. It is sure to stand out as a whimsical, adventurous fashion statement at any costume party or special event.
The wig has a special centering design that keeps it in perfect place on your head all day long without slipping. It is crafted from one hundred percent synthetic fibers that are soft and durable and can be washed easily with gentle shampoo and cold water.
6. Ebingoo Long Straight Black Root Ombré Grey Lace Front Wig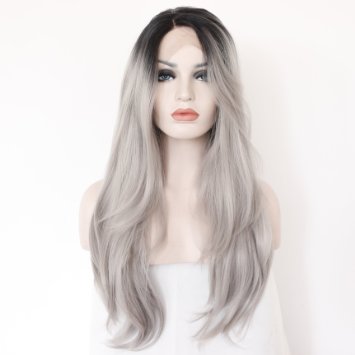 This long, straight ombre wig features a gorgeous ombré fade from black to gray. The captivating, two-toned design of this wig is trendy and looks fabulous on anyone. It is made from synthetic fibers that give it a very natural, smooth finish that feels soft. Plus, the fibers are heat-friendly and can be styled using heated tools.
The wig fits comfortably and securely on any head with its adjustable band that does not require any pins or tape. Its wig cap is a lace front cap that is breathable and feels natural on your scalp without causing irritation.
5. K'ryssma Fashion Ombré Blonde Glueless Lace Front Wig – silky straight wigs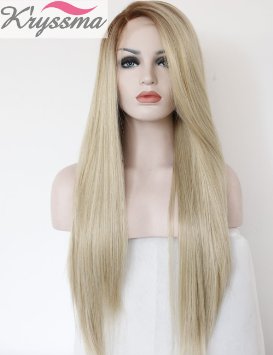 This gorgeous, two-toned blonde straight wig is a great choice for women who want to wear a blonde wig but are afraid that they'll look phony or unnatural. The two-toned design of this wig, which features a darker blonde at the roots that fades into a brighter bleached color, allows it to look natural and realistic like real human hair.
The wig is made from synthetic fibers that are durable, long-lasting, and resistant to heat up to three hundred twenty degrees Fahrenheit. Plus, the fibers look natural and maintain a glossy shine like real, healthy hair.
4. DAOTS 28″ Wig Long Heat Resistant Big Wavy Hair Women Cosplay Wig with bangs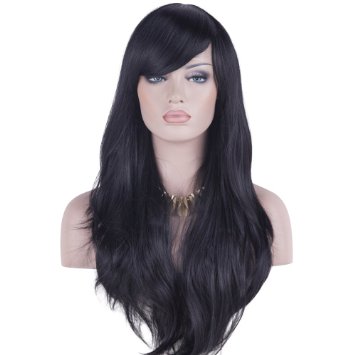 This long, black straight wig includes side-swept bangs that add a point of interest and extra trendy style to the wig. It feels soft when you touch it and stays smooth with a lustrous shine all day long and throughout consistent, continuous wear.
The synthetic fibers of the wig are very durable and this wig can last an extremely long time without losing its shine, straight style, or original quality. The wig features a top-quality rose net that is easily adjustable to fit any head without sliding off or feeling too tight.
3. LOUISE MAELYS 31″ 80cm Orange Red Long Straight Wig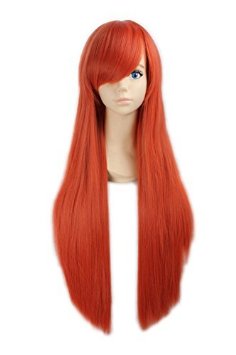 This wig from LOUISE MAELYS allows you to enjoy perfect straight, red hair. It is extremely long with a length of thirty-one inches and stretches almost to the base of your back. While designed specifically for use at costume parties or for roleplaying, the red color and simple style of this long wig makes it suitable for everyday wear to work or the store.
Crafted from one hundred percent synthetic fibers, the wig feels soft, looks smooth, and always stays in place. It is heat-friendly and can be styled using a blow dryer, flat iron, curling rod, or any other heated styling tool without sustaining damage.
2. eNilecor Straight Short Hair Bob Wig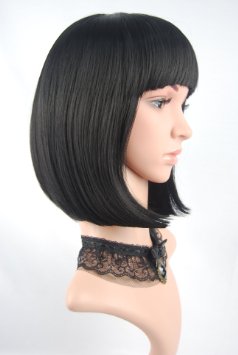 This defined, short bob hairstyle wig gives you beautiful straight hair in a style reminiscent of glamorous movie stars from the twentieth century. Designed for consistent use over a long period of time, the wig is made from synthetic fibers that are very durable with a natural look and feel.
The wig includes an adjustable net-cap that stretches easily over heads of most sizes and shapes. This cap is extremely breathable and feels comfortable and secure on your head without making you feel itchy or as though your scalp is being smothered. Plus, the wig and its cap can be washed in mild soap and cold water to clean and restore it to its original condition.
1. MelodySusie Dark Brown Straight Wig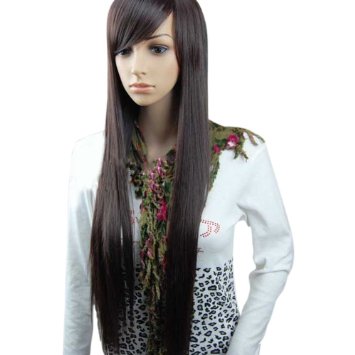 This wig from MelodySusie is a classic straight wig in a dark brown color that looks very natural when paired with most skin tones. It is made from special, top-quality synthetic fiber that is imported from South Korea to ensure quality and durability.
In order to make sure that the wig fits a wide variety of different head sizes and shapes, it is easily adjustable for a comfortable fit. You can use the two built-in adjustment straps inside the wig to fit it securely onto your head.
Straight wigs can help you achieve flawless, pin-straight hair for a party, special occasion, or just for everyday use. Use the list in this post to learn more about some of the best straight wigs on the market before you buy to ensure that you end up with a top-quality, long-lasting and natural-looking wig.