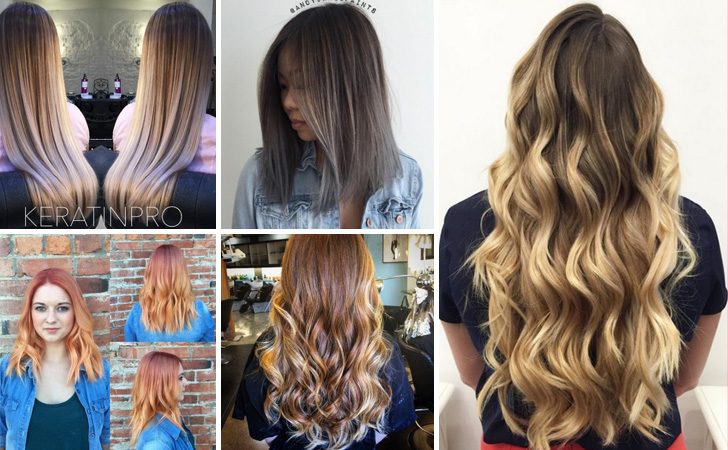 The Ombre style has been the hot hair trend for the past 12 months or so, and as we hit this season again – it's most certainly here to stay. From catwalks to high streets everywhere, the ombre look is still going strong – and it's certainly not difficult to see why. This stunning style is flatter for all hair colours, styles, cuts and hair types – which is exactly what we hope to prove with this blog post full to the brim of inspiration. So no matter what colour, style or shape your hair is – give ombre a try; you won't regret it!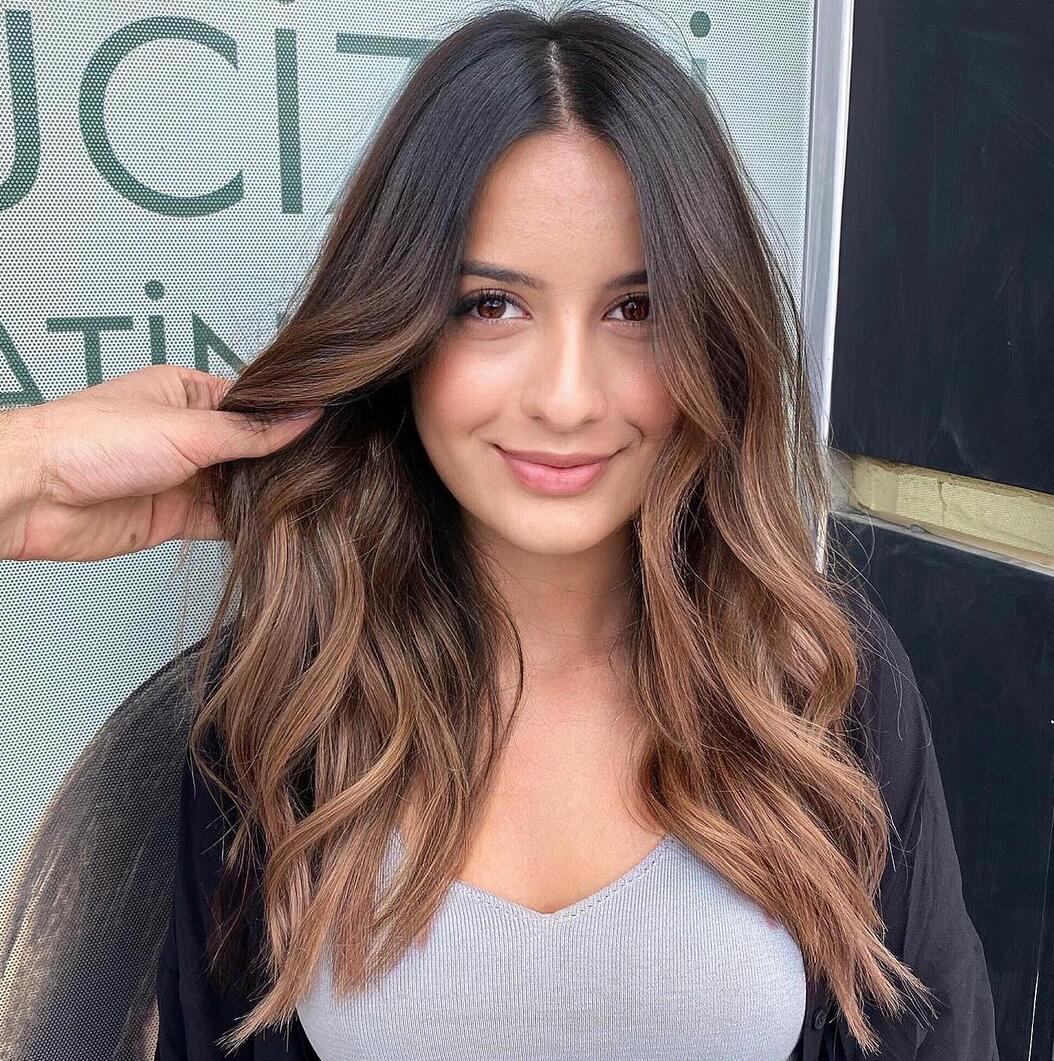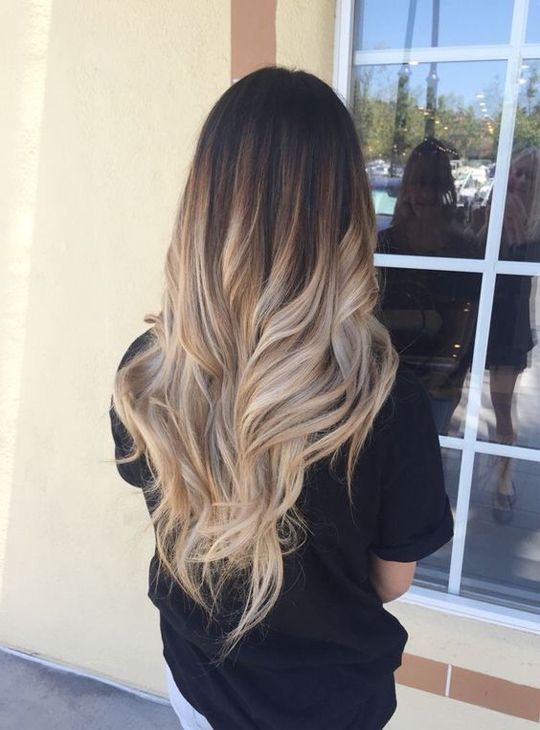 Long, Sleek and Subtle Hair for Girls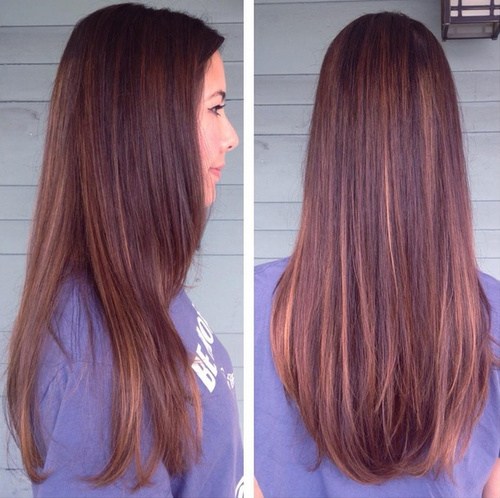 Ombre is an incredible technique which blends colours together effortlessly to create a truly stunning finish – and we just love what this lady has done with her beautiful red-toned brown locks. Her hair is effortlessly straight and sleek, and the subtle light brown ombre blend that touches the ends of her hair really lifts the colour and creates a beautiful style.
Brown to Grey Ombre for Teenagers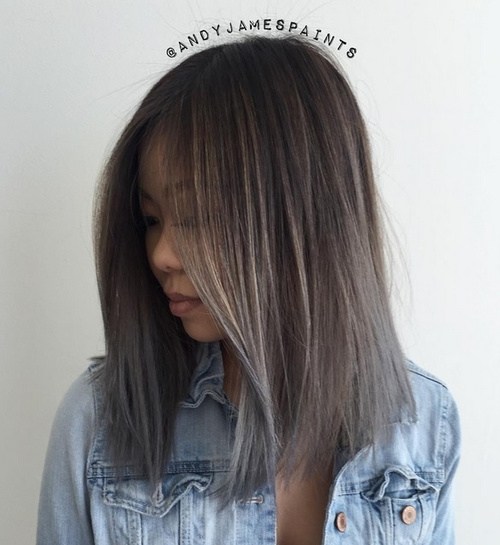 This absolutely gorgeous haircut is a combination of two trends in one – gorgeous grey hair which is rocking the catwalk this season, and of course, our favourite – the ombre. This look goes from a beautiful rich brown to a light grey at the ends and it completely works – especially on this straight, shoulder length style!
Gorgeous Light Effect Ombre for Long Sleek Hair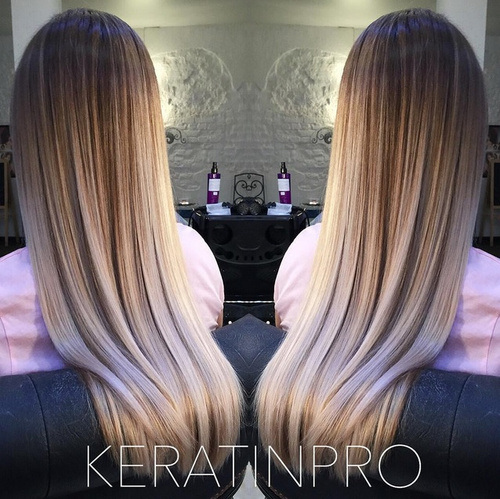 The best part about the ombre technique is that it adds such natural light to your hair – as is proved perfectly with this stunning style. This gorgeous hair has so many different tones of blonde in it that it resembles the glint an object gets when it hits the light. Starting with a darker root and transitioning to a gorgeous honey blonde with a subtle flash of blue – we love this unique look.
Honey to Bleached Blonde Ombre Hair for Spring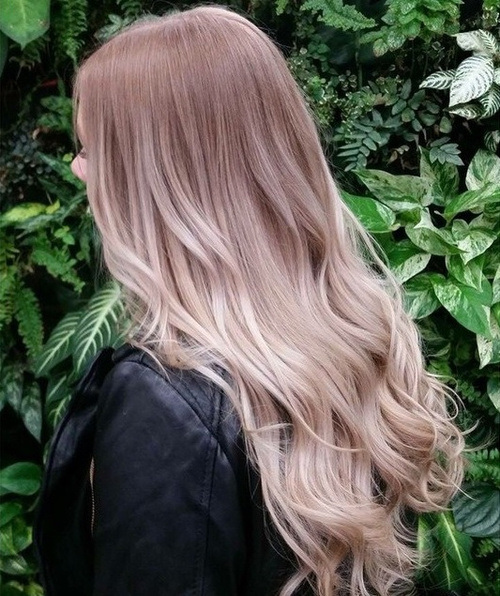 This simply stunning blonde on blonde hair do looks absolutely gorgeous on this stylish lady, we're sure you'll agree. Her long curls start from a warm honey toned blonde and finish with a beautiful light bleached blonde at the ends in a stunning ombre transition. The loose curls accentuate this beautiful style, which would look just as good when straight.
Classic Brown to Blonde Ombre for Medium Length Hair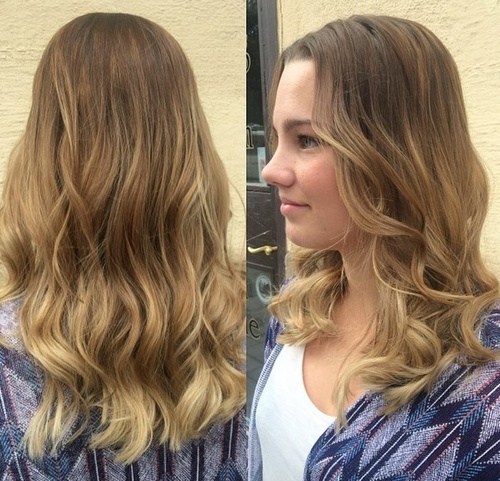 This classic brown to blonde ombre is a simple yet effective ombre style that looks simply remarkable. From a gorgeous and rich chocolate brown transitioning into a beautiful blonde at the tips. This stylish lady has finished her look with loose, beachy waves which have highlighted the stunning colouring to perfection, we're sure you agree.
Girls' Long, Soft Ombre Curls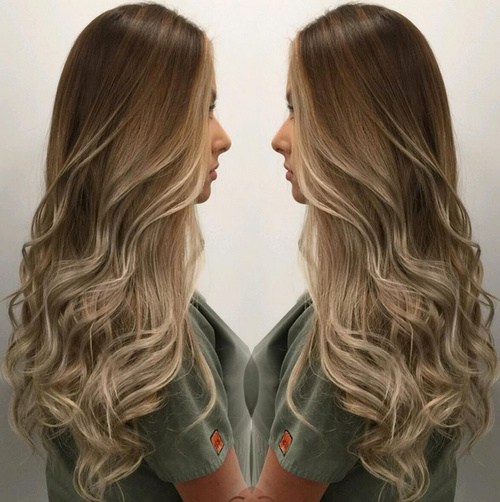 This beautiful and long hair style is simply stunning – especially with the gorgeous brown to blonde ombre look on top. This gorgeous girl has gone for long, sleek layers so that the hair falls in beautiful waves cascading down her back, showing off the stunning colour transition at play from a warm brown to a bright blonde at the tip.
Super Subtle Blonde Ombre for Fine Hair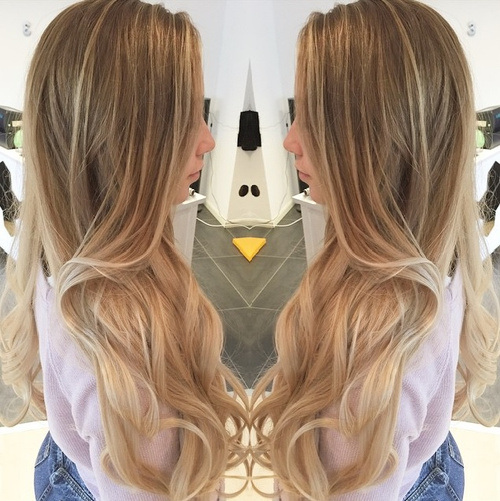 This striking and beautiful long blonde hair reminds us of Rapunzel – it's golden, long and oh so gorgeous! Finished with subtle loose curls which fall softly around this lovely lady's back, the style really shows off the gorgeous ombre style at work here. From an ash blonde at the top to a light and bright, vibrant bleach blonde at the ends.
Dark Brown to Light Brown Curls – Ombre Hairstyles for Dark Hair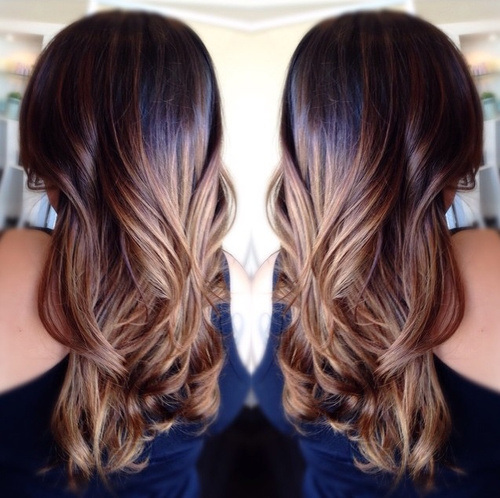 We've featured lots of blonde ombre looks in this post so far, but the incredibly versatile ombre style looks equally as special on brown hair – as this gorgeous picture proves. This lady has a beautiful and dark brown root which transitions into a stunning light brown at the ends of the hair, adding a caramel tone and lift to this look.
High Blonde Ombre Hair for Thick Hair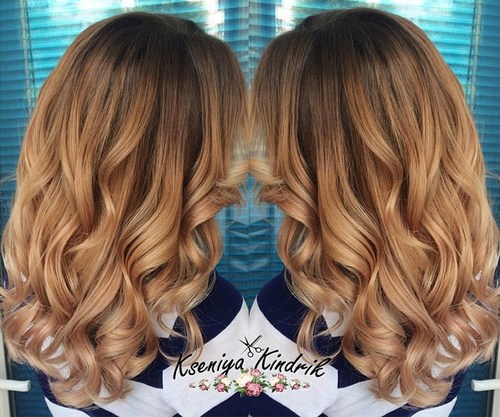 Ombre styles traditionally start from the centre of the hair or even lower and closer to the ends, but this gorgeous look has a darker blonde/brown root that transitions into a much light blonde, but the ombre look starts from quite high at the crown of the head – and we absolutely love this different take! Looks amazing either curly or straight.
Natural Looking Blonde Ombre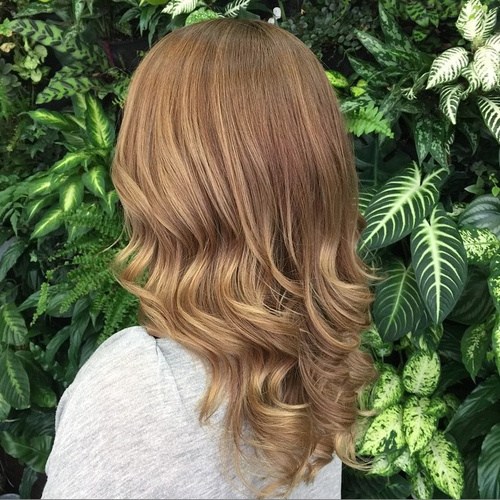 Ombre doesn't always have to be a bold transition from one colour to the next, and as this lovely lady proves – a subtle ombre look can sometimes be just as effective! This lady has gone for a subtle lightening of the ends that looks natural and gorgeous – brought to life by her stunning barrel curls that fall around her shoulders. We love this look!
Rich Brown to Honey Blonde Ombre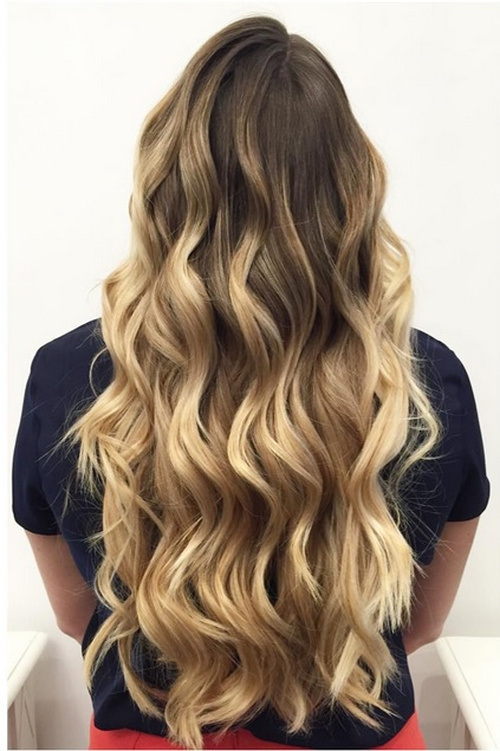 This is another ombre look that starts quite high on the hair, and we absolutely love the finished product. Going from a gorgeous warm brown to a beautiful honey  blonde, these wonderful big curls fall down her back and look just gorgeous. We'd love to see this amazing hair straight too – the colour transition is really something, don't you think?
Glossy and Glamorous Blonde Ombre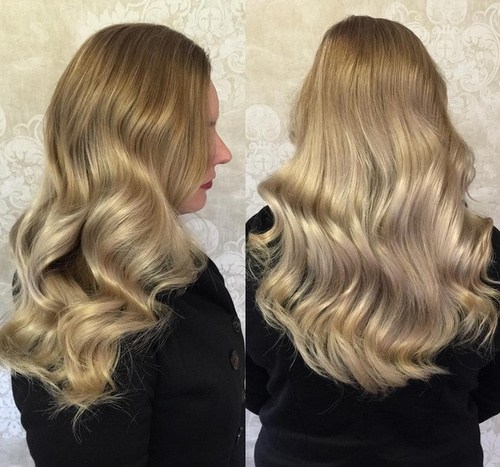 This glossy blonde ombre look resembles a classic Hollywood glamour and makes us wonder if blondes really do have more fun! This warm blonde falls perfectly into a light and bright, bleached finish in big barrel waves that look absolutely incredible – perfect for attending a wedding or a fantastic party. This ombre look is subtle but so effective.
Red Toned Brown to Copper Ombre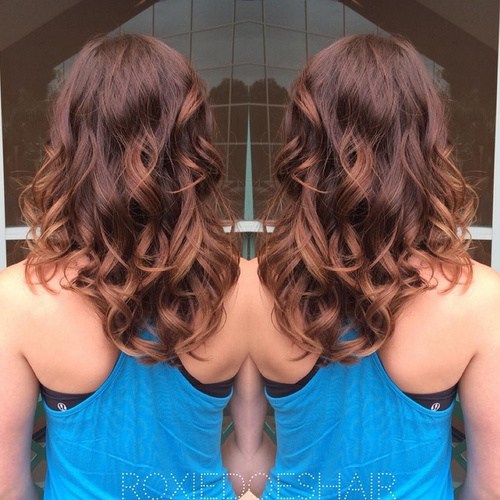 This gorgeous red toned brown hair is finished perfectly with a copper ombre look at the ends, which really adds a beautiful finish and lift to this already unique hair colour. We love the auburn finish of this ombre style which is accentuated perfectly with the bouncy ringlets this lady has gone for. A unique and fabulous colour combination!
Gorgeous Blonde Spectrum Ombre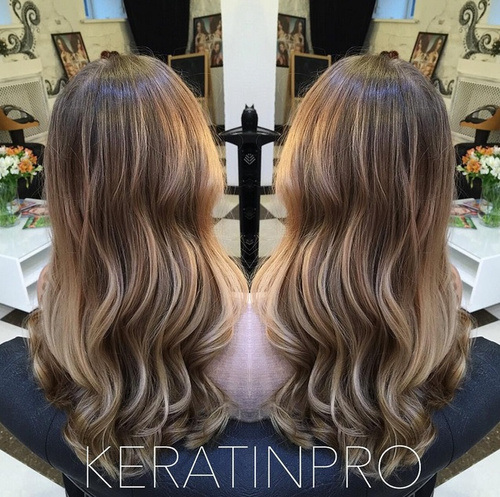 This incredible hairstyle comprises of so many simply stunning blonde tones to create a rainbow spectrum of blonde hues in a gorgeous ombre style. This look is finished with big, loose curls which gently highlights the gorgeous range of different colours at work on this soft and long hair. We think this style would look incredible straight too!
Gorgeous Blonde Ombre on the Sides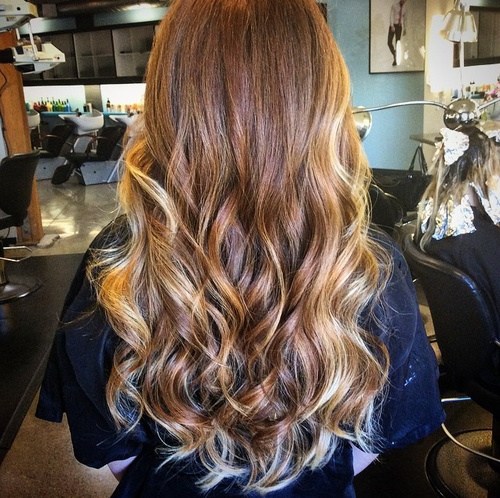 This absolutely sublime hair style proves that you don't need to ombre all of your hair to have an amazing finished product. This lady starts with a beautiful copper toned brown at the top of the hair, and on both the right and the left hand sides of her hair she's gone for a gorgeous blonde ombre effect that subtly highlights and lifts the hair.
Light Brown to Caramel Blonde Ombre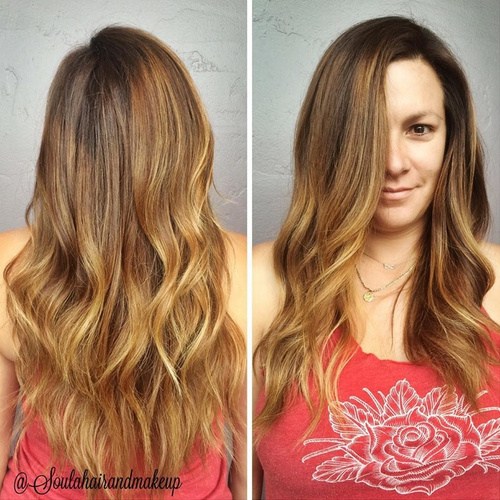 This light brown to caramel blonde ombre look is the perfect summer style which looks beach ready in an instant! Starting with a stunning, rich blonde at the top and transitioning to gorgeous caramel blonde waves which fall around the face, this look would be just as effective either curly or straight, up or down!
Cool Ice Blonde to Warm Light Blonde Ombre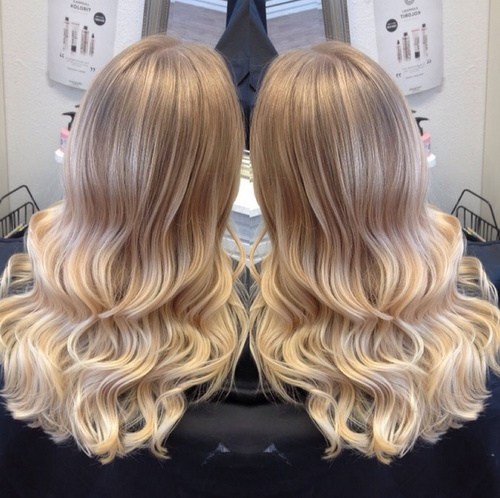 Another subtle ombre that is almost easy to miss, but the overall finish is absolutely beautiful. Going from a stunning cool toned ash blonde to a gorgeous warm bleach blonde at the tips. This style stars with a straight and sleek look at the top and finishes with a beautiful curl around the ends to showcase the change in colour, which we just love!
Super Long and Super Sleek Blonde Ombre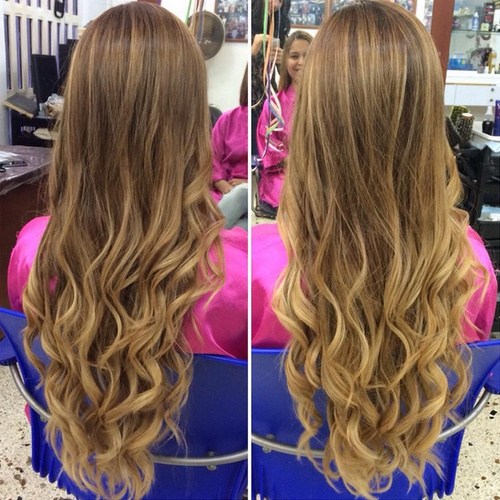 This amazing and incredibly long hair is so healthy, so gorgeous and so on trend with a fabulous ombre finish! Going from a dark and dirty blonde tone at the top to a lovely, light caramel colour at the ends, this ombre look makes this hair look sun-kissed and beautiful. We love the ringlets added to highlight the beautiful lighter blonde ends!
Chocolate to Caramel Curly Ringlets & Ombre for Long Wavy Hair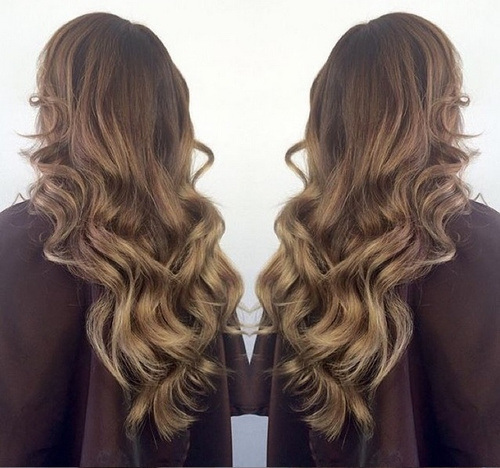 This chocolate to caramel ombre is giving us serious hair envy – we absolutely love this stunning style! From a beautiful and rich brown all around the parting, and switching to a gorgeous soft caramel, this look is natural and lightened. This lady has gone for beautiful soft curls all along the bottom of the hair and we just adore it.
Auburn to Ginger Ombre – Ombre Hair for Shoulder Length Hair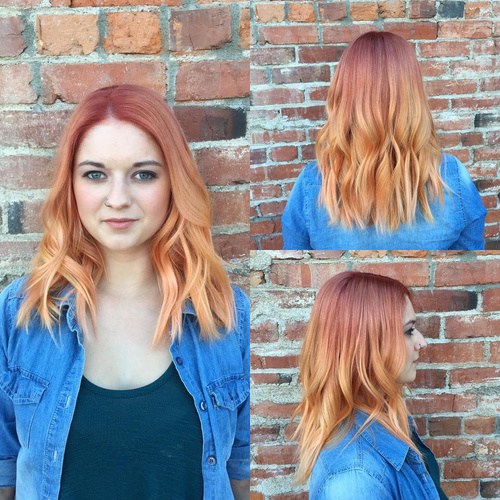 All hair colours suit ombre – especially a gorgeous auburn tone like this one! It goes from a rich copper colour to a bright ginger look on the tips – it looks fiery and fabulous, which we just can't get enough of! This lady's gone for a vibrant curl to highlight the flame colours of her hair – but we think a straight and sleek style would look just as good.
We hope that this post has encouraged you to go for a stunning ombre colour scheme with your next hair cut – no matter what colour your hair is! The subtle transition from one colour to the next is just gorgeous and looks absolutely perfect for the summer. Make sure to subscribe our site for plenty more hair inspiration!