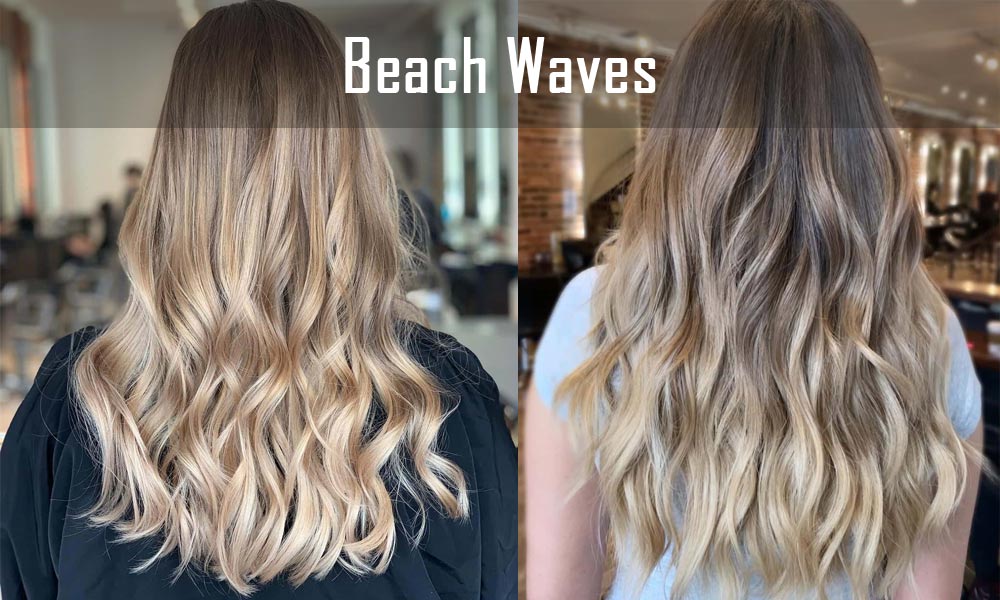 The sun is in the sky, salt is in the air, and beach waves are in style for summer. Beach waves are a classic, low-maintenance hairstyle that is almost universally flattering for a wide range of face shapes and hair colors, types, and lengths. The timeless beach waves style has been a top trend in the world of women's hair and fashion for the past several years. It's popular year-round but gains more popularity around summertime when more women feel inspired to rock a beachy hair look.
If you have naturally wavy or curly hair, you might only need a few spritzes of a sea salt texturizing spray to achieve beach waves. You can scrunch your waves with sea salt spray to enhance them. If your hair is naturally straight, flat, or lacking volume, your tresses might need a little help from a heated styling tool. Either way, beach waves are an easy DIY hairstyle that is ultra-flattering for almost any woman. These wavy hairstyles will bring the perfect cheerful, summery vibe to your look. Plus, styling these ultra-low-maintenance hairstyles will save you a ton of time and energy in your morning routine.
1. Long Wavy Cool Blonde Hair with Rose Gold Highlights
This gorgeous, can't-look-away long wavy hair look blends together shades of cool blonde and rose gold accent highlights with a seamless finish. Both rose gold and cool blonde are currently top trending shades in the world of women's hair and fashion, so this gorgeous and elegant long wavy hair look is doubly trendy.
Its rose gold highlights add warmth to this hair look and blends in seamlessly with its all-over cool blonde shade for a balanced, streamlined finish. This long wavy cool blonde hair look is almost universally flattering and looks great on women with both cool and warm undertones in their skin.
2. Long Wavy Platinum Blonde Hair with Shadow Root
Platinum hair is tough to pull off, but a shadow root like the one you see in the picture above can give a bottle-blonde hair look a more natural finishing touch.
This beautiful platinum blonde hair look features a deep brunette shadow root that fades into brighter blonde ends with a luminous finish that looks balanced and natural.
3. Long Wavy Brunette to Auburn Ombré
This long wavy hair look fades from a deep brown-black shade of brunette on top to fiery auburn ends that give this style a bright, luminous finishing touch.
Warm auburn ends and a wavy style help balance out this hair look and give it a flattering, multi-dimensional finish.
4. Long Wavy Blonde and Brunette Balayage
Blending together lighter shades of blonde and brunette with subtle results, this long wavy hair look appears effortlessly natural.
Bright blonde ends give this brunette and blonde balayage hair look a luminous finishing touch. A deeper brunette shadow root adds a natural-looking finish to this hair look.
5. Long Wavy Brunette and Honey Blonde Balayage
This long wavy hair look features a brunette base with subtle honey blonde highlights. These honey blonde highlights brighten up this brunette hair look.
Gentle, loose beach waves give this hair look an effortless relaxed, lighthearted finished style that is perfect for summer.
6. Long Wavy Bright Blonde Hair with Shadow Root
This bright blonde hair look turns heads with its shiny, multi-dimensional finish without looking unnatural.
A darker brunette shadow root gives this long wavy bright blonde hair look a more natural-looking finishing touch. Brighter blonde ends warm up this hair look, making it perfect for the warmer summer months.
7. Long Wavy Strawberry Blonde Hair
Strawberry blonde is an eye-catching color that turns heads no matter what. The gorgeous strawberry blonde style you see in the picture above is no exception.
This beautiful long wavy hair look blends together strawberry blonde shades with brighter blonde highlights for a gorgeous, elegant, luminous finish for your hair.
8. Long Wavy Brunette Hair with Honey Blonde Highlights
Blonde accents can brighten up your hair without causing too much damage to your fragile tresses.
If you want to brighten up your hair look without damaging your hair, check out this long wavy brunette hair look with honey blonde highlights. It features an all-over natural rich brunette base and shadow root with seamlessly blended honey blonde highlights that add a brighter finish to this long wavy hair look.
9. Wavy Cool Brunette A-Line Bob with Highlights
Beach waves aren't just for super long hair. You can rock beach waves even with shorter, cropped layers.
This wavy A-line bob blends together a brunette base with gorgeous cool blonde highlights for a bright, seamless finish. Its angled layers follow your jawline to flatter your facial features and give your hair look bolder, edgier style.
10. Long Wavy Natural Blonde Hair
This gorgeous long wavy hair look is perfect for natural blondes. However, it's also great for women who want to pull off blonde hair without looking like a bottle blonde.
It features dirty blonde layers that subtly fade into brighter blonde ends for a natural-looking finished style.
Styles: PATRICK EVAN SALON
Address: 55 Grant Ave. level 4 San Francisco Ca. 94108
Phone: 415.421.1111