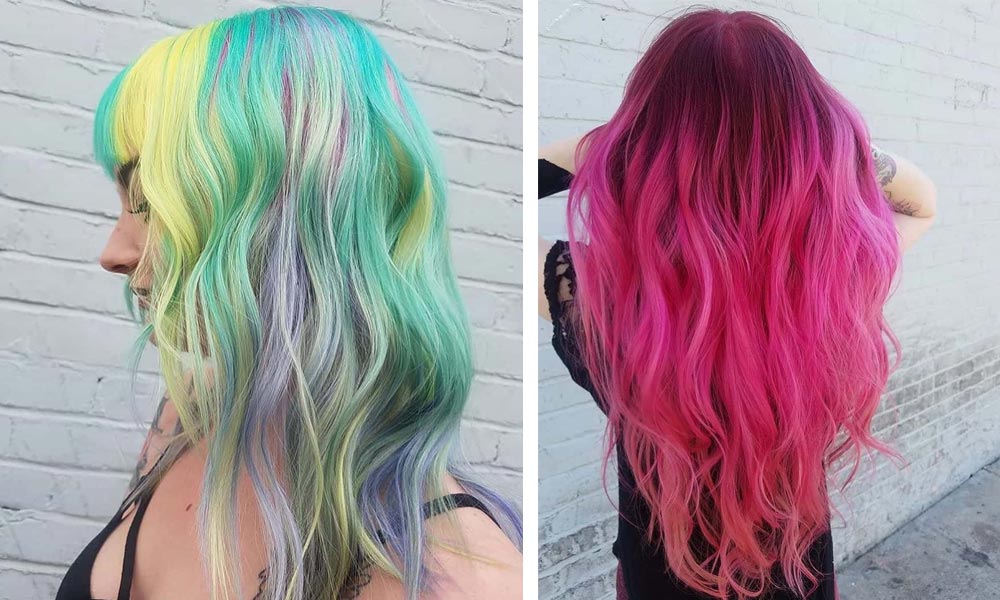 Almost every woman has wanted to try out a bright, fantasy hair color at one point or another during her life. Wearing a bright color on your head all the time might seem like a daunting idea, but dying your hair a bright color can actually help increase your confidence in yourself and your own sense of style. Plus, bright hair colors don't always have to be permanent. They're just fun to try out at least once in your life.
If you're considering having some want and dying your hair a bright color, here are some really cool bright hair color ideas for women to give you some inspiration. These hair color ideas are trendy, unique, and are sure to brighten up your hair and your life.
1. Bright Purple Balayage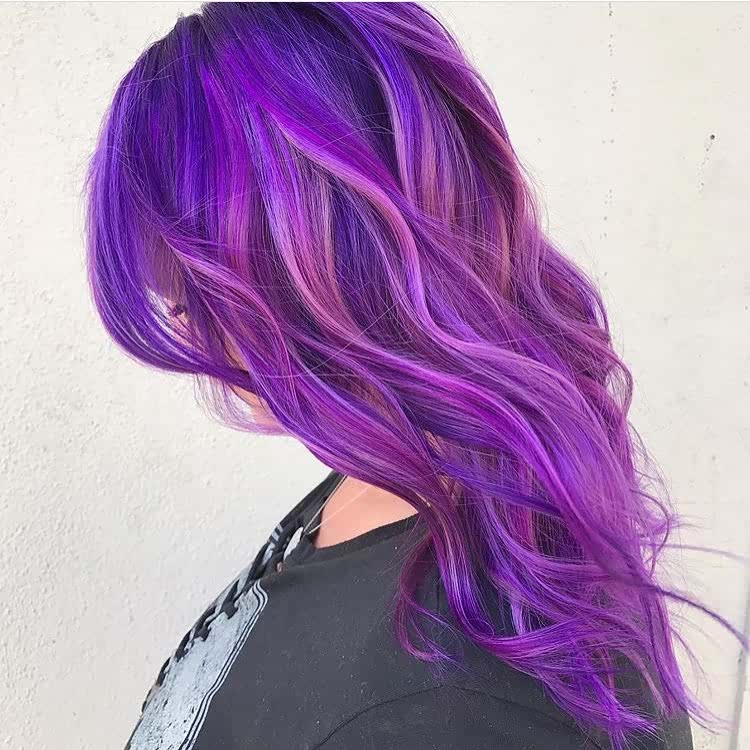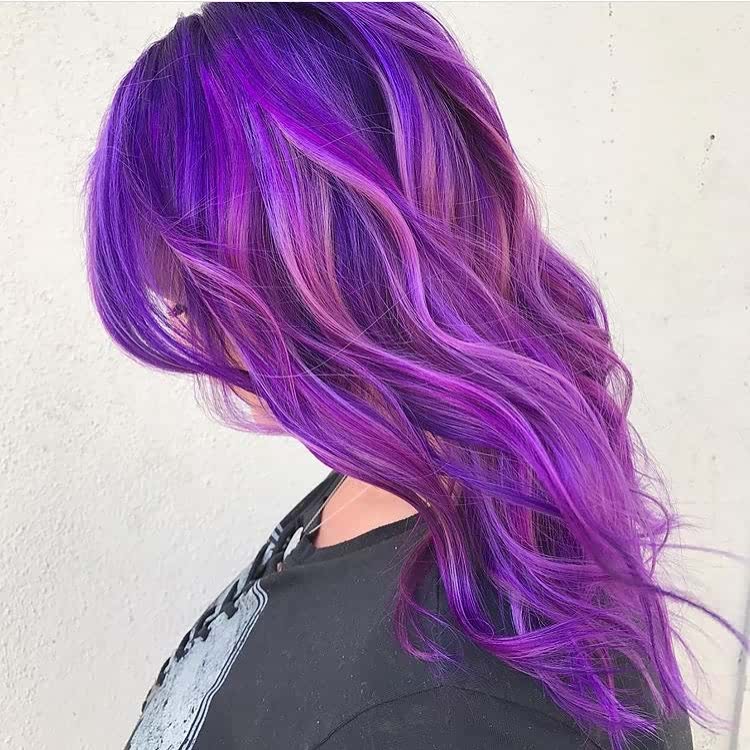 This beautiful bright purple balayage look blends together several shades of bright purple with a seamless finish.
Lighter purple highlights brighten up this look, while deeper purple layers give it structure and dimension.
2. Cool-Toned Rainbow Layers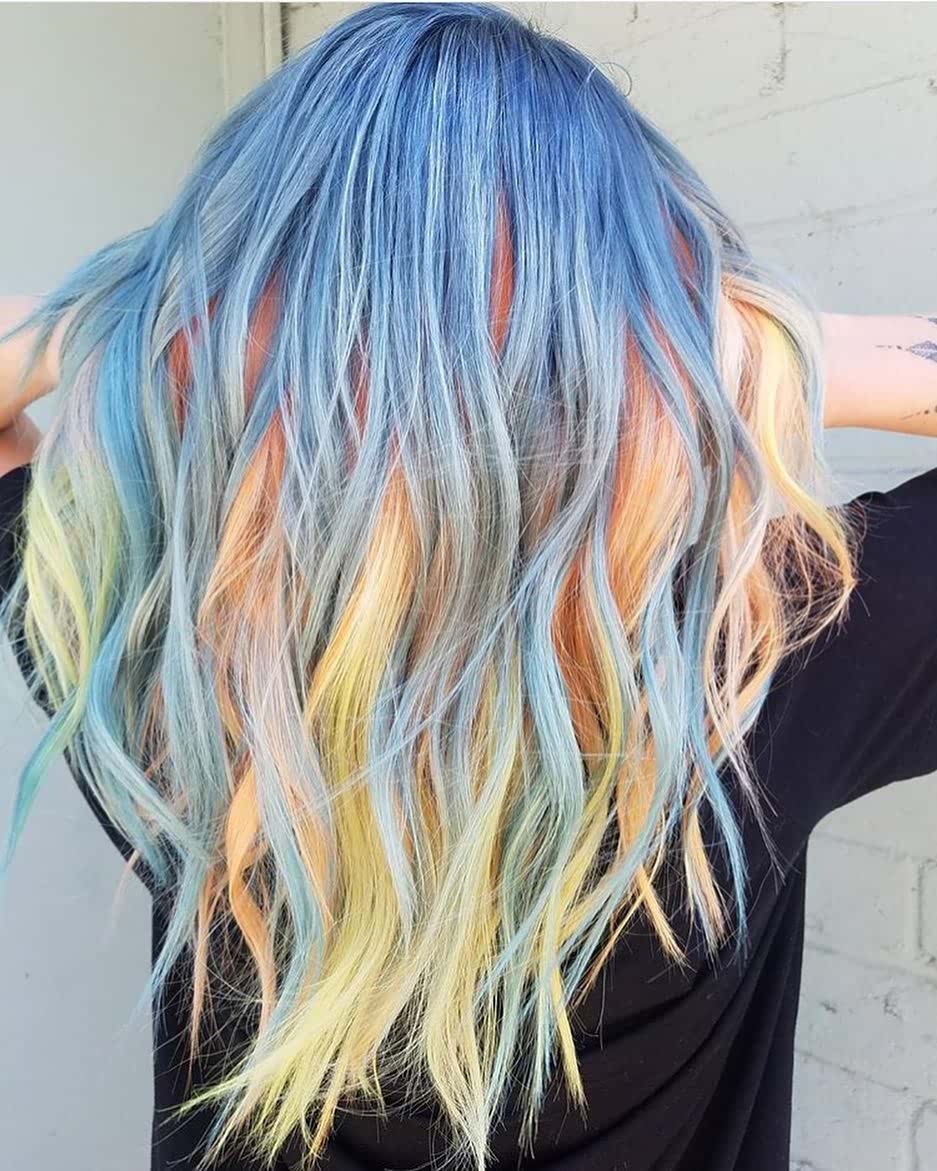 This gorgeous hair look puts a twist on classic rainbow colors.
It blends together bright blue, orange, peach, yellow, and shades of gray to create a gorgeous cool-toned multi-dimensional hairstyle that is truly one-of-a-kind.
3. All-Over Electric Yellow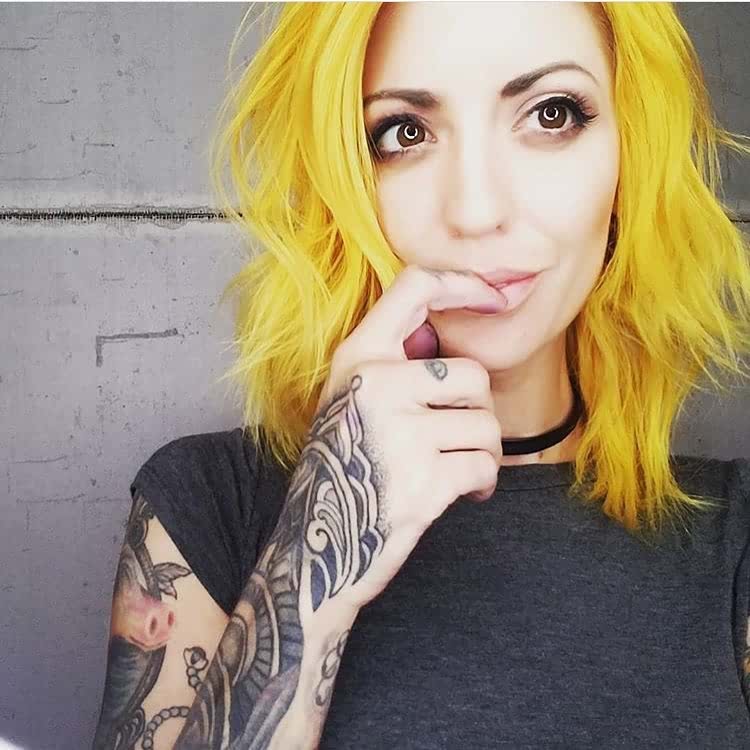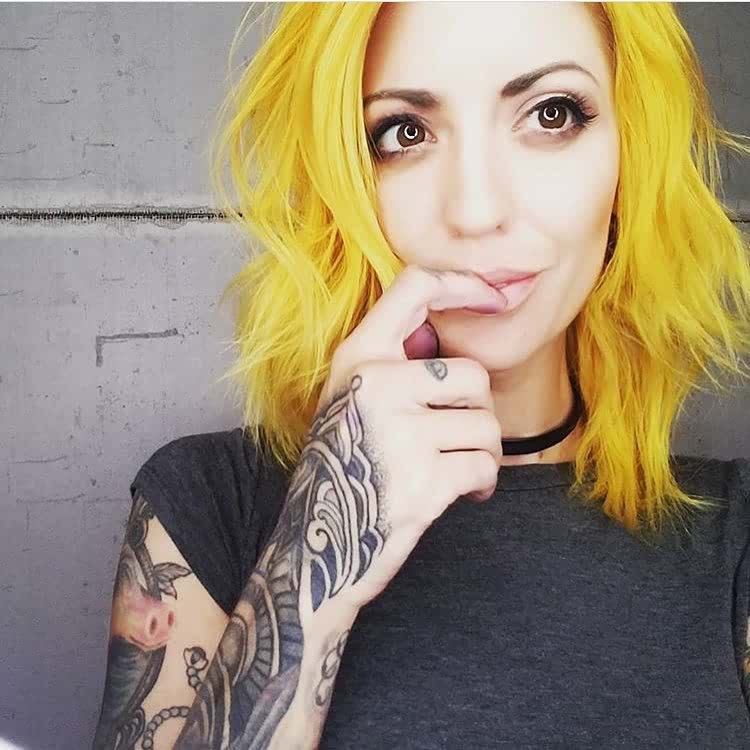 Bright yellow is a somewhat unusual color for women's hair. Most women choose other fantasy colors like pink, purple, and even blue before they go for yellow or green.
With that being said, there is no reason why bright yellow should be an unpopular color for women's hair. As you can see from the picture above, this bright yellow look is gorgeous, flattering, and adds a bold, undeniable finish to any look.
4. Hot Pink Ombré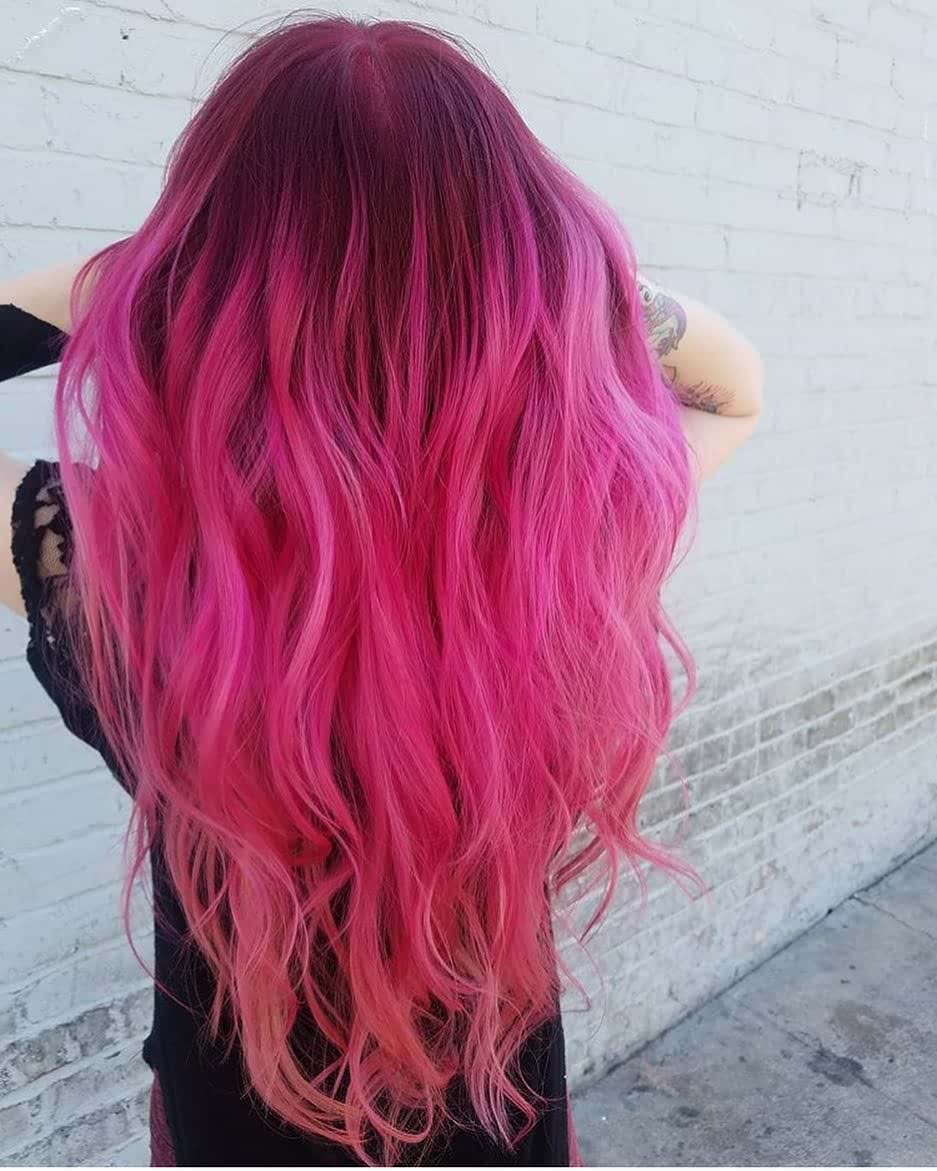 This beautiful, hot pink ombré is perfect for longer hairstyles, although it can accommodate shorter styles as well.
It starts with deep dusty pink-brunette roots that brighten into hot pink and rich fuchsia layers that cascade down your back with a seamless finish.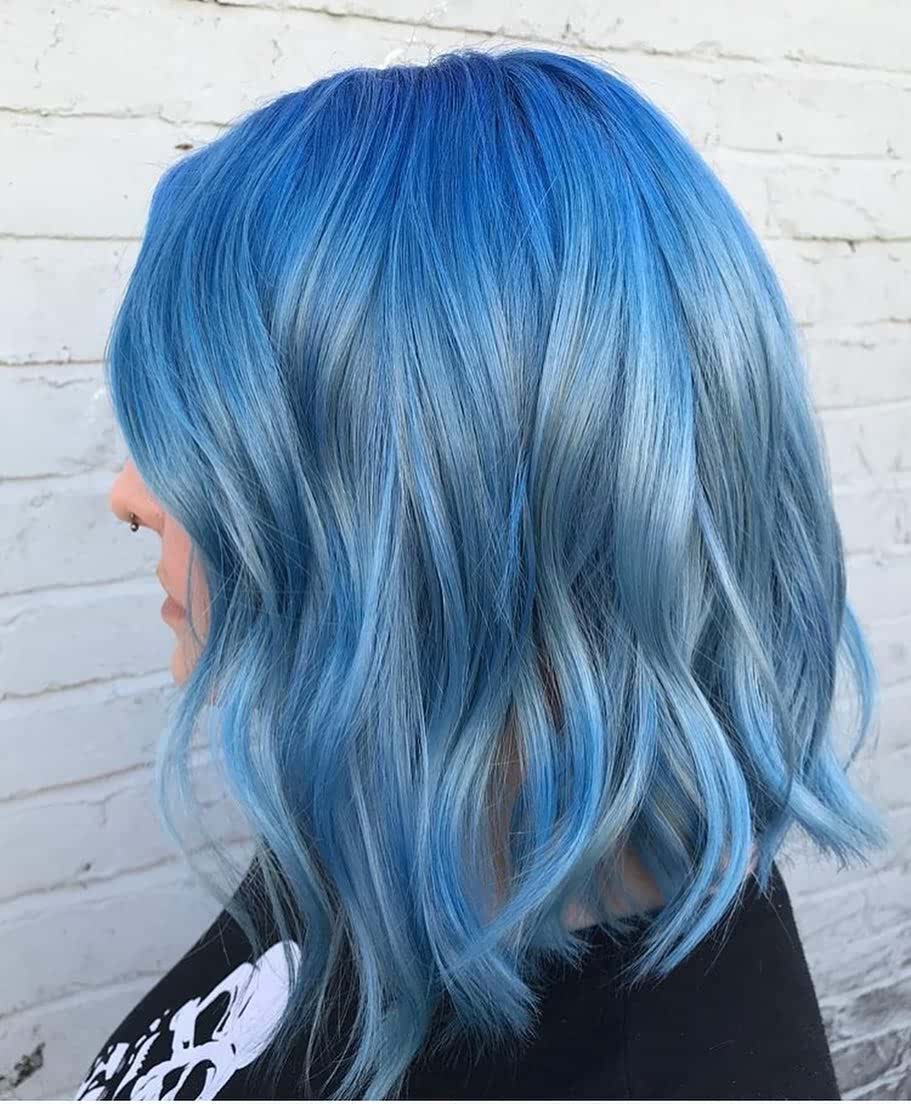 Current trends in the world of women's hair and fashion are focusing on cool-toned shades, which makes now the perfect time to try out this gorgeous cool blue balayage for yourself.
This cool-toned blue balayage look blends together multiple shades of cool-toned blue to create a bright, bold, and flattering shoulder-length look that won't wash you out. If you love this style, here are more cute bob haircuts.
6. Green, Yellow, and Purple Layers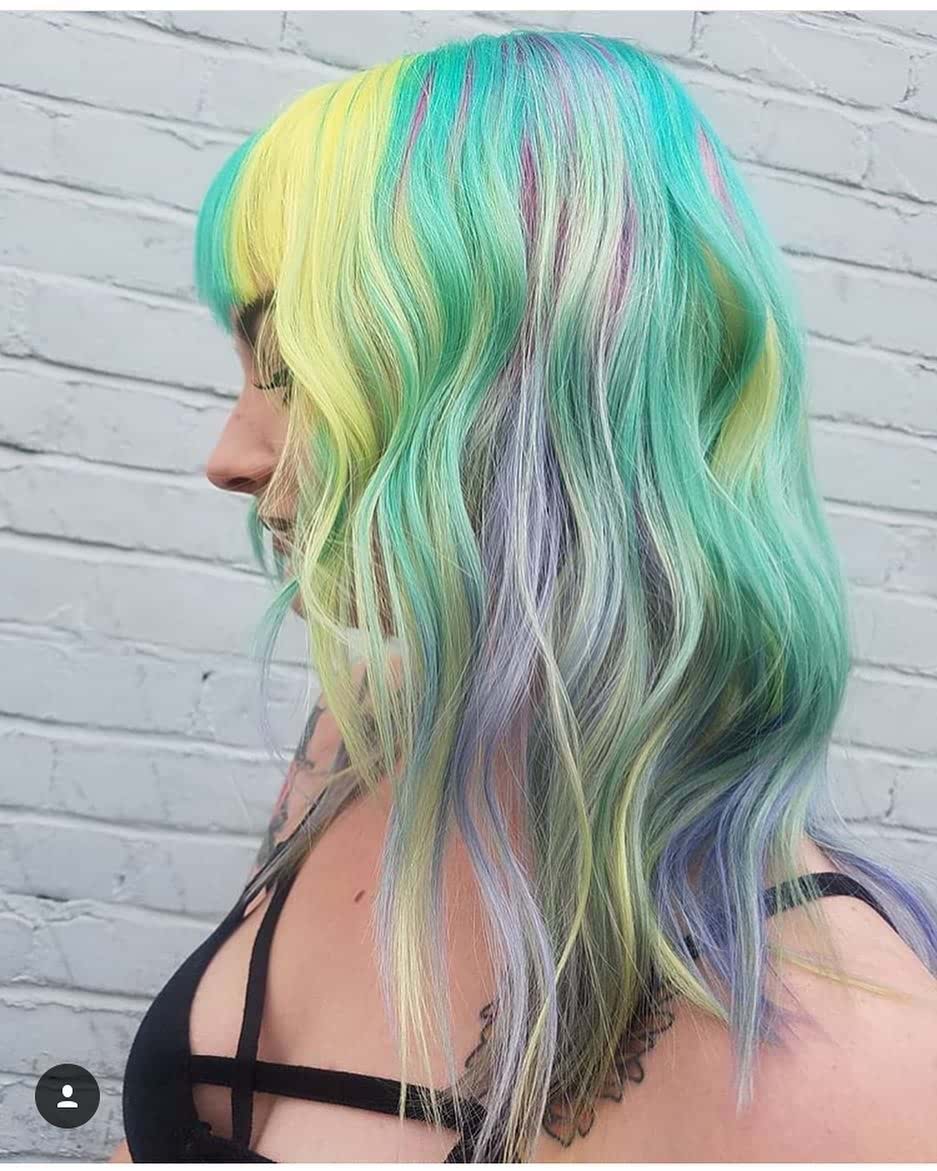 Green, yellow, and purple might seem like unconventional colors to pair together in one hair look. They're definitely not the most commonly-paired shades in the world of women's hair and fashion.
While it is true that these three colors are not seen together very often, this beautiful and unique long hair look blends together shades of green, purple, and yellow to create this flattering and one-of-a-kind style.
7. Fiery Red-Orange for long sleek hair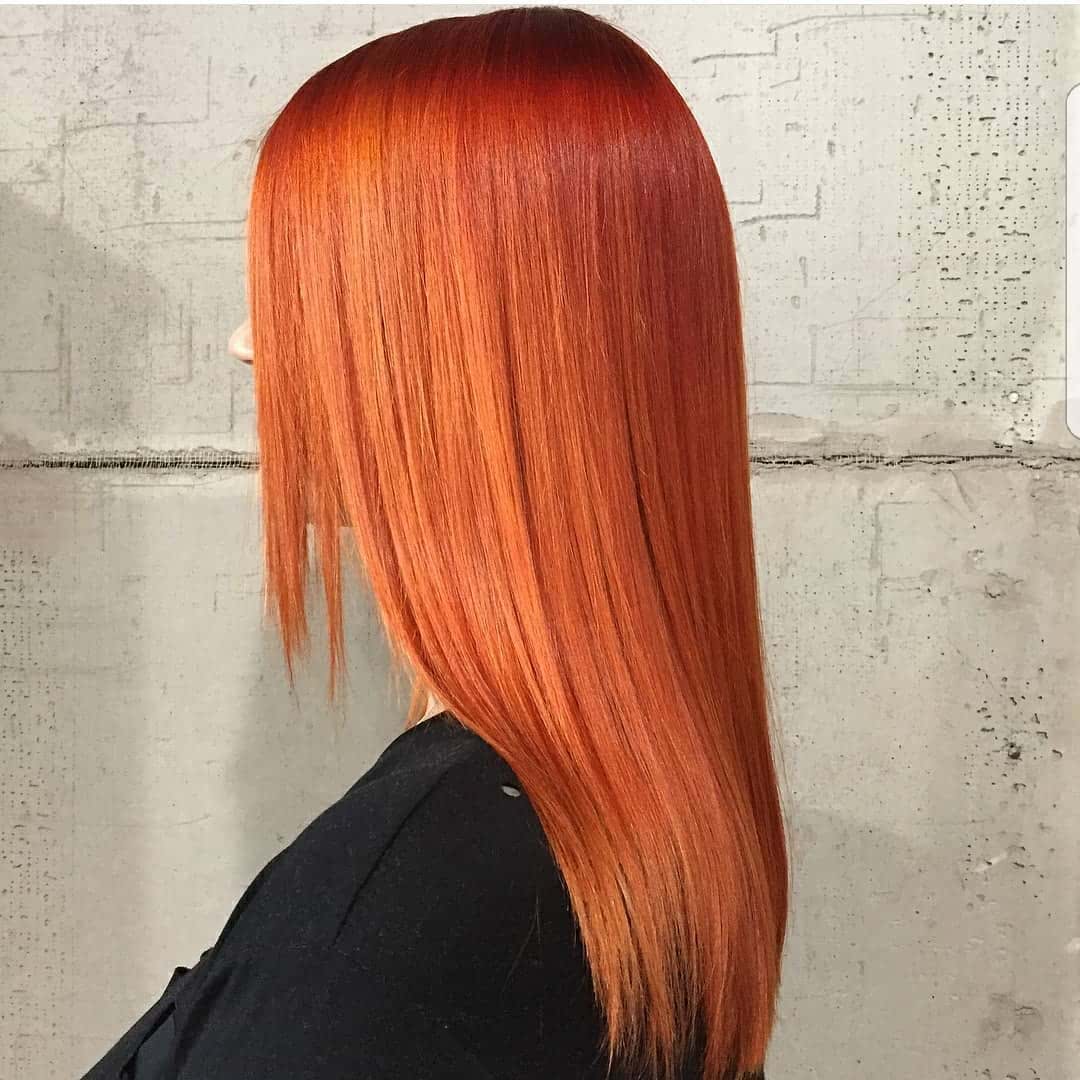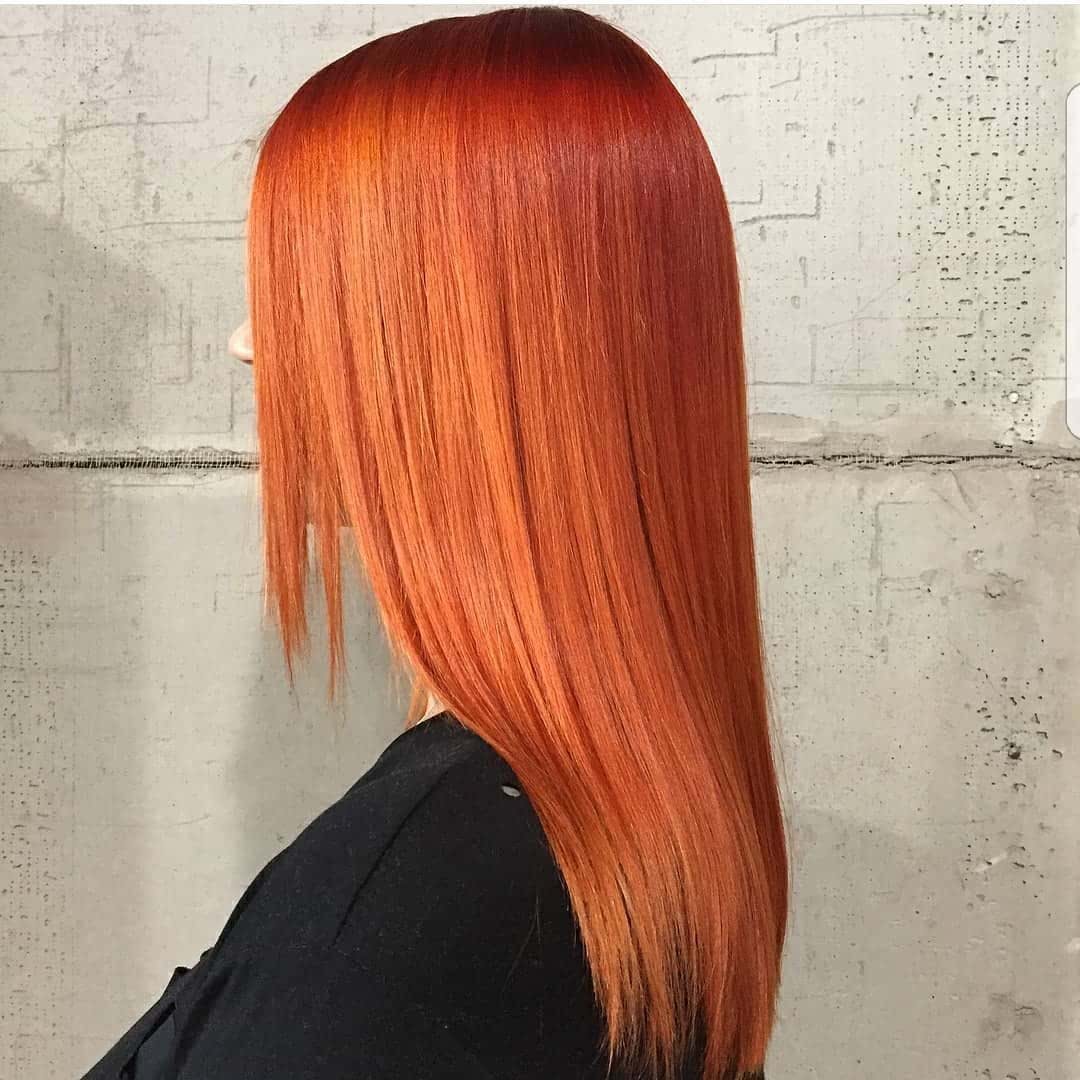 You won't be able to look away from this red-orange hair look, and neither will anyone else. Turn heads on the street with this fiery red-orange look that blends together multiple shades of orange and red with a seamless finish.
The sleek, straight style you see above shows off the bright, bold, otherworldly finish of this undeniable long red-orange hair.
8. Green and Yellow Stripes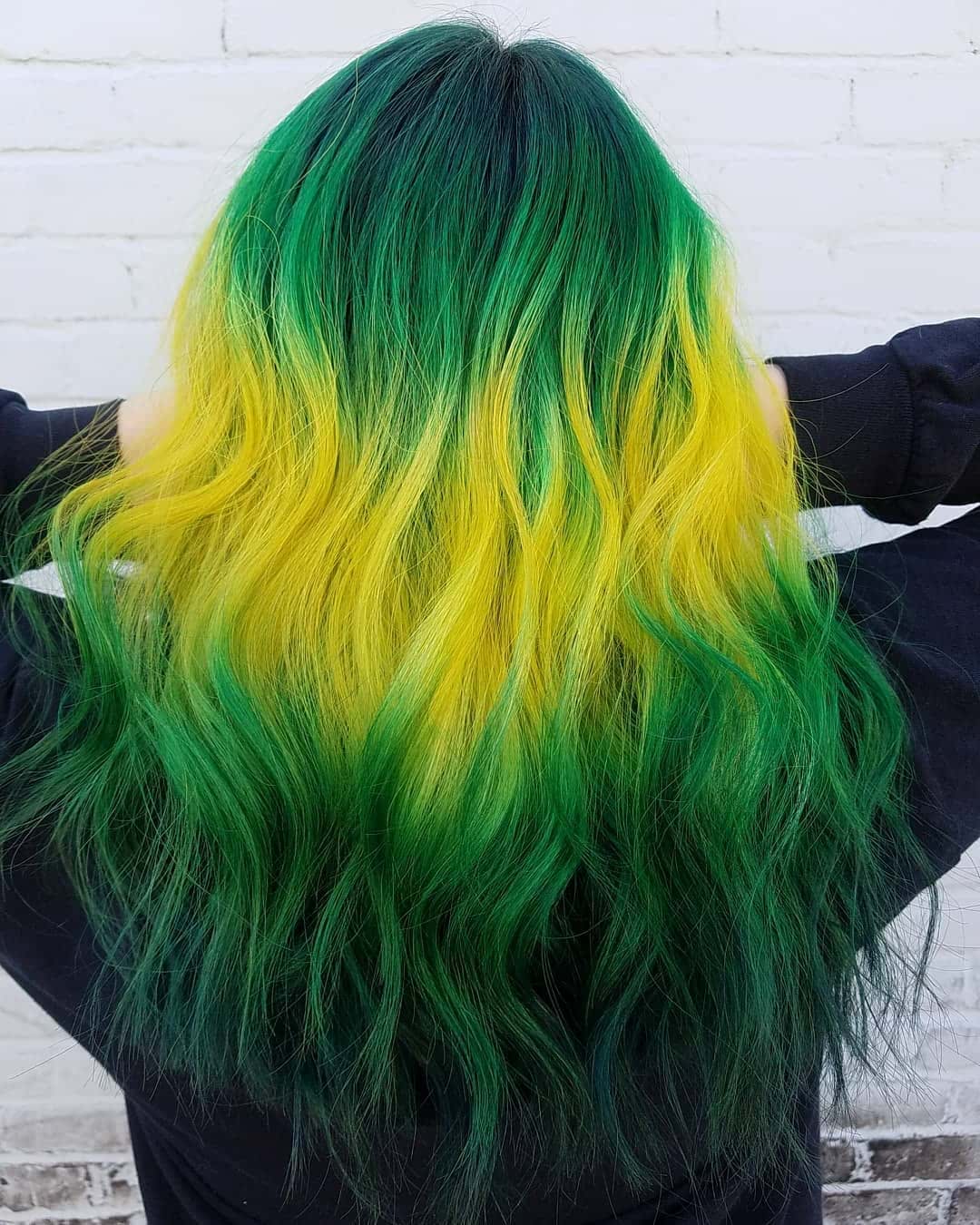 Stripes aren't something you see very often in hair looks, but this style pulls off hair stripes in an undeniably cool way.
Its bright green and yellow stripes blend together seamlessly to create unique layers that are both attention-grabbing and flattering.
9. Bright Rainbow Layers – Cool Colored Hairstyle for Women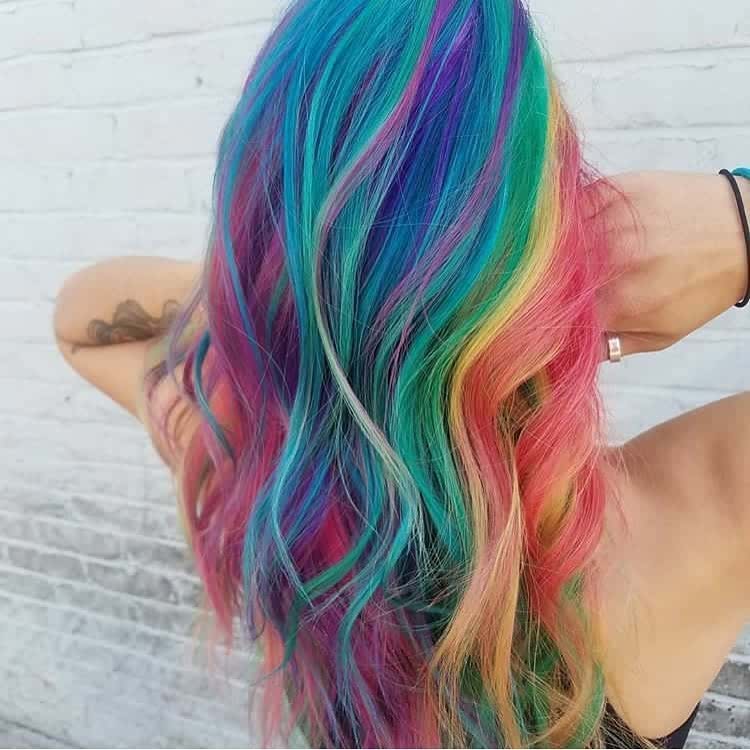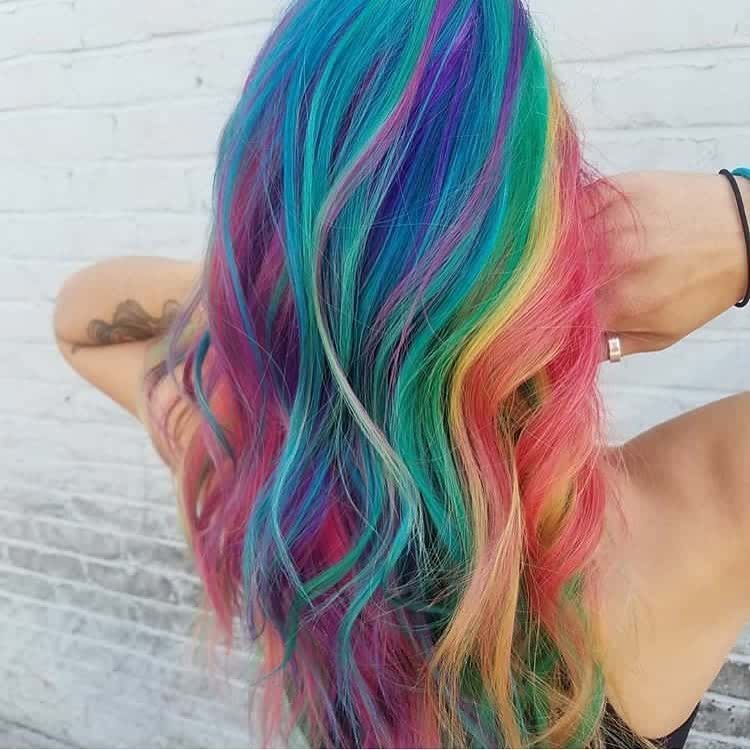 No bright hair color thread would be complete without a classic rainbow hair look. Rainbow hair looks are some of the most iconic hair looks that include bright colors.
These complex, intricate hair looks like the style you see above blend together all the colors of the rainbow to create a bright, eye-catching look that is impossible to ignore.
10. Purple to Pink Ombré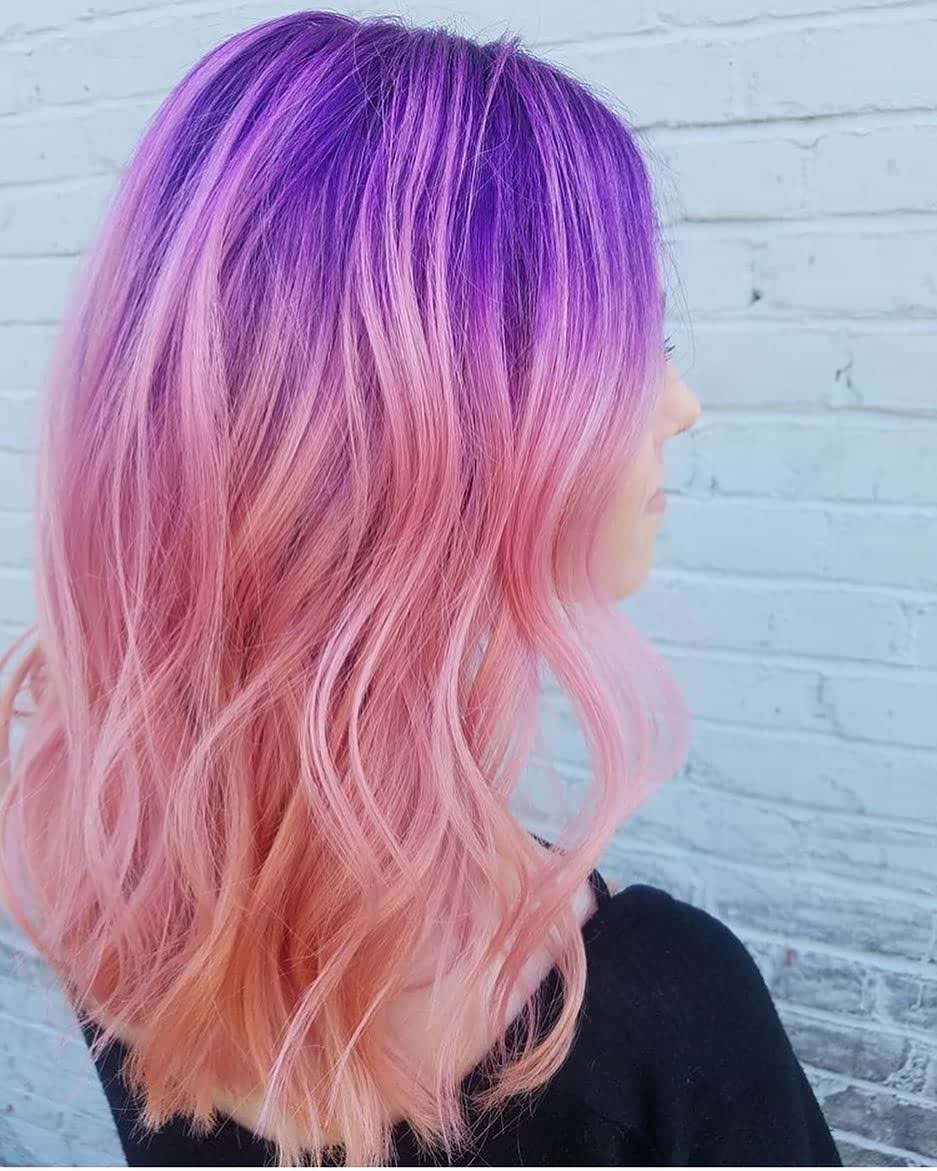 You'll look like you stepped right out of a modern-day fairytale if you're rocking this beautiful purple to pink ombré hair looks.
This gorgeous, fairytale-inspired ombré hair look starts with pastel purple roots and brightens into pink with peachy-pink ends for a multi-dimensional, one-of-a-kind finishing touch.
11. Blue-Green Balayage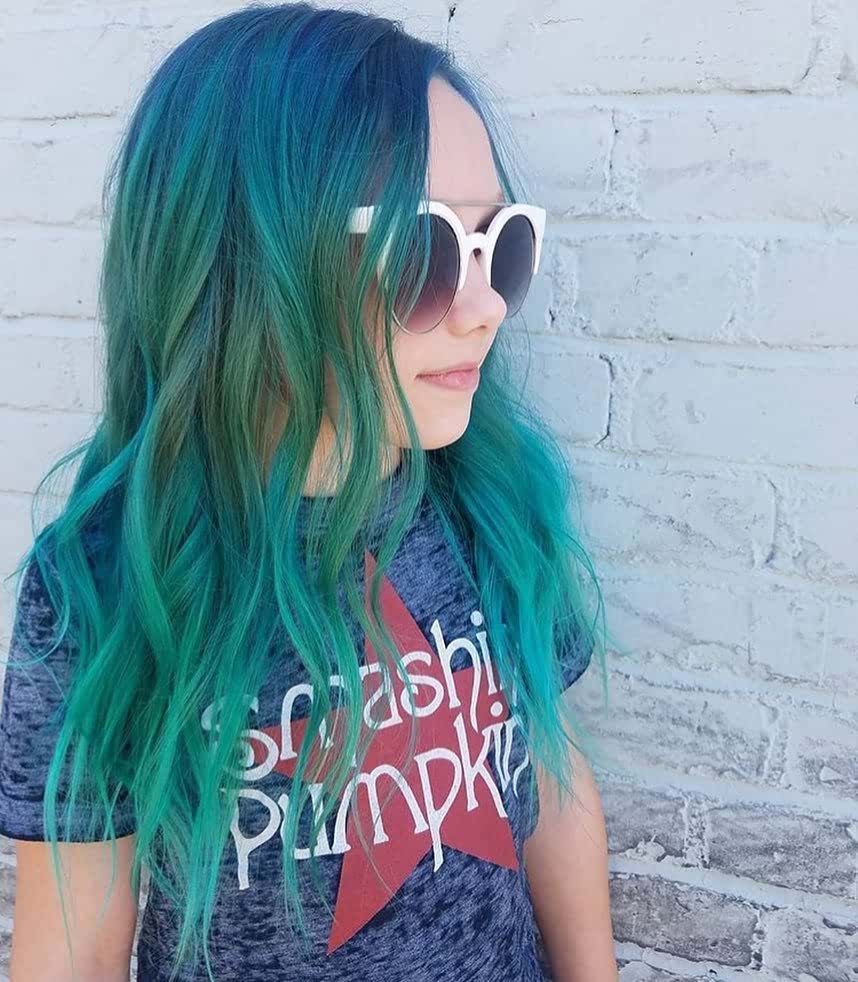 This balayage isn't like any other classic balayage. Instead of mixing together shades of blonde and brunette, this balayage hair look blends together multiple shades of blue and green to create this gorgeous multi-dimensional blue-green style.
This balayage look is perfect for any woman who has always wanted to try either blue or green hair. Because it includes so many different shades of blue and green, it is also flattering for a wide range of natural colorings.
Styles: Atomic Kitten Salon
Address: 1920 Eye Street Bakersfield, CA
Phone: (661)323-7653