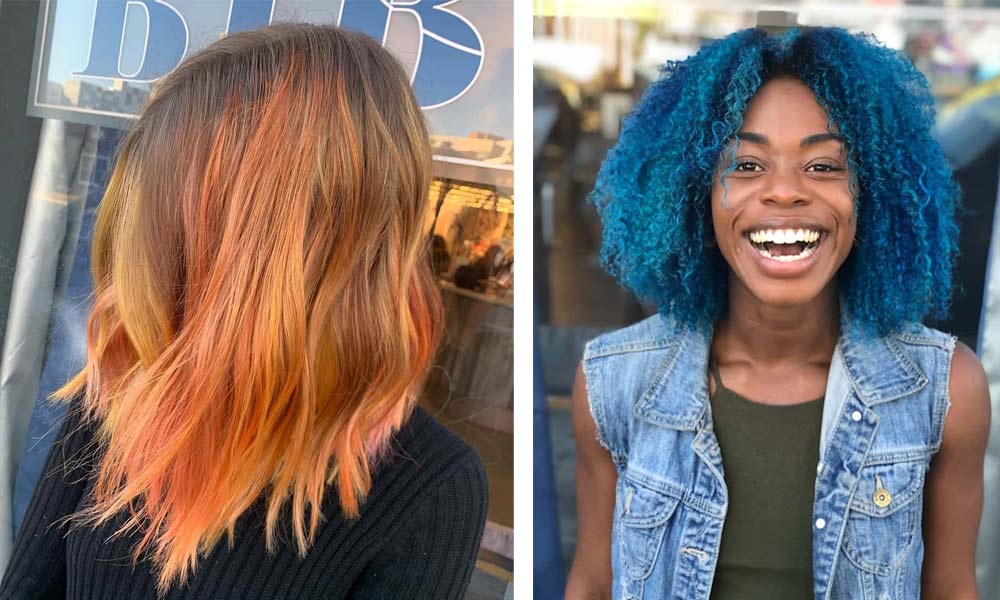 Whether you dye your hair regularly or not, it's normal to get bored of your hair color after a while. If you've had the same color for a while, it might be time to switch it up and try a new one.
If you're looking for inspiration for a brand-new color, check out these hair color ideas for women. These hair color ideas range from subtle to attention-grabbing.
1. Classic Brunette Pixie Cut
The classic pixie cut like the one you see in the picture above is a timeless style that is trendy, feminine, and ultra-low-maintenance.
This timeless pixie cut is perfect for natural brunettes. Its foundation color is a subtle brunette shade that looks completely natural. Lighter golden brown highlights brighten up this classic pixie for a luminous, multi-dimensional finish.
2. Curly Short Brunette-Auburn Haircut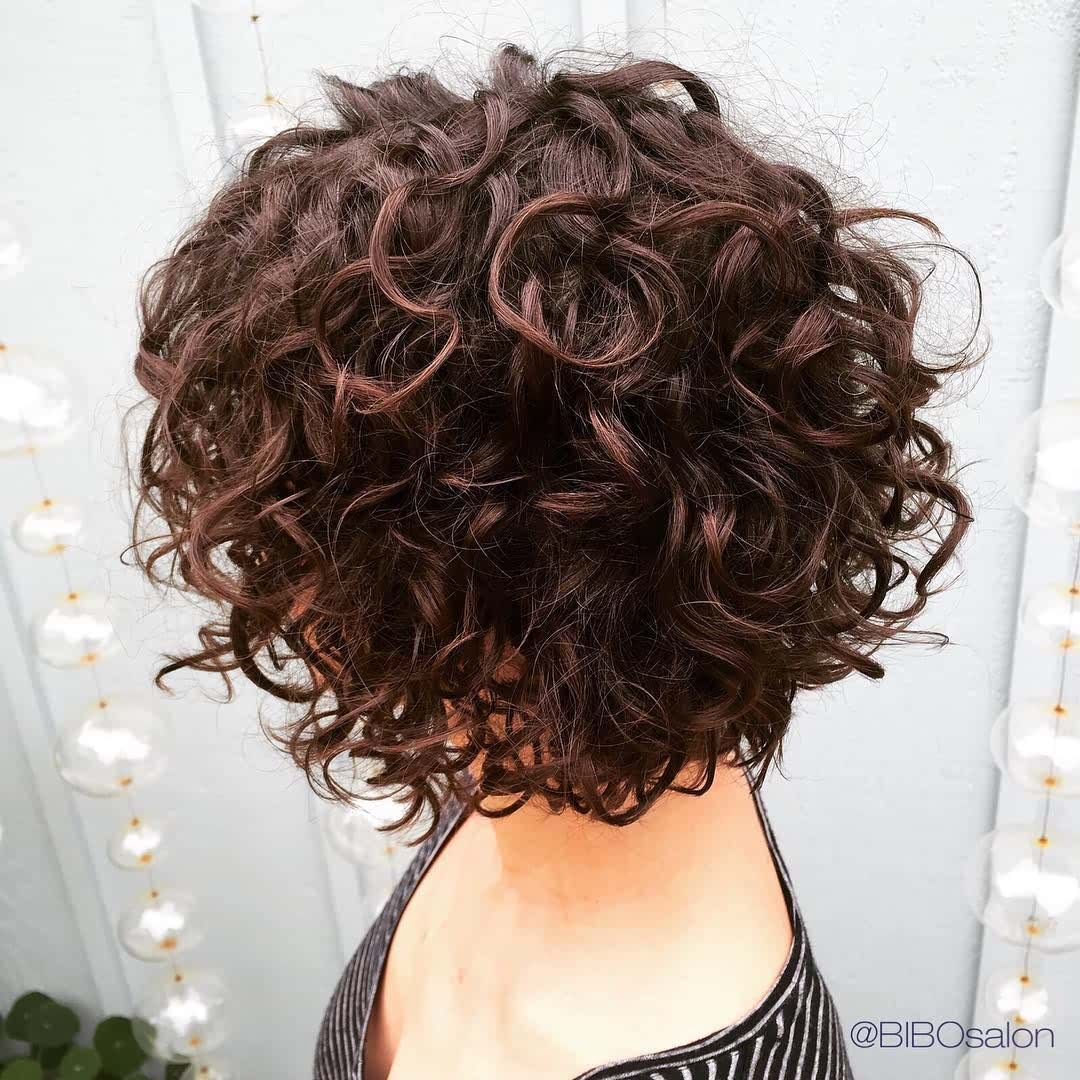 It can be tough to color curly hair in a way that looks seamless and natural. If you're a curly girl looking for a natural-looking way to switch up your color, check out the curly short brunette-auburn haircut in the picture above.
This curly haircut starts with rich brunette roots and fades into brighter shades of deep red and auburn that look totally natural but add dimension and style to your hair look.
3. Shoulder-Length Brunette Bob Hair with Dusty Rose Ends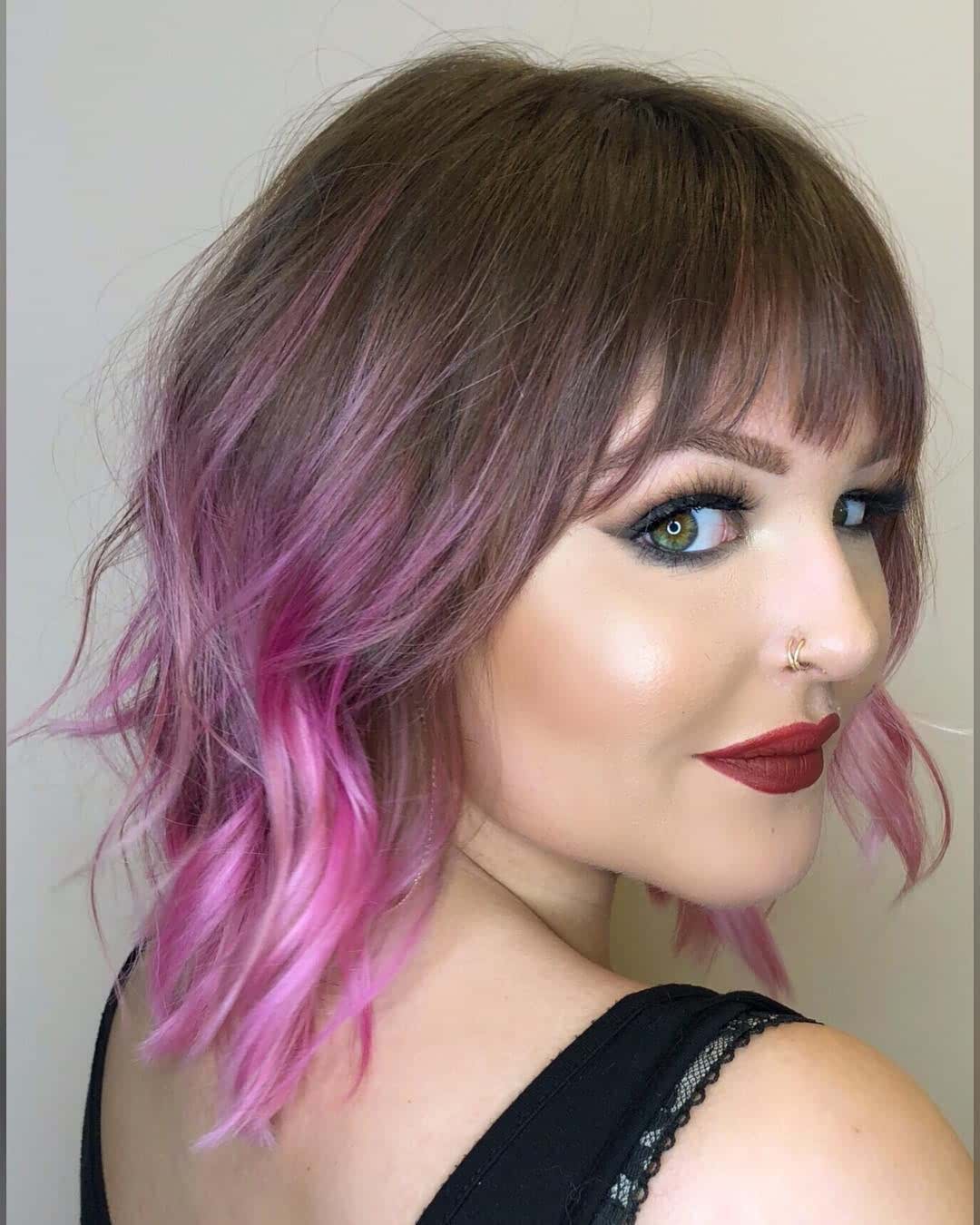 Fantasy hair colors tend to be fairly high-maintenance, but that's not the case with this shoulder-length brunette and dusty rose hair look.
This hair look features brunette roots that give this look a natural-looking finish and keep it low-maintenance. Dusty rose ends add bright, fun color to this look and keep this hairstyle in line with current trends in the world of women's hair and fashion.
4. Natural Honey Blonde Hair Look – Best Hairstyle for Women Over 50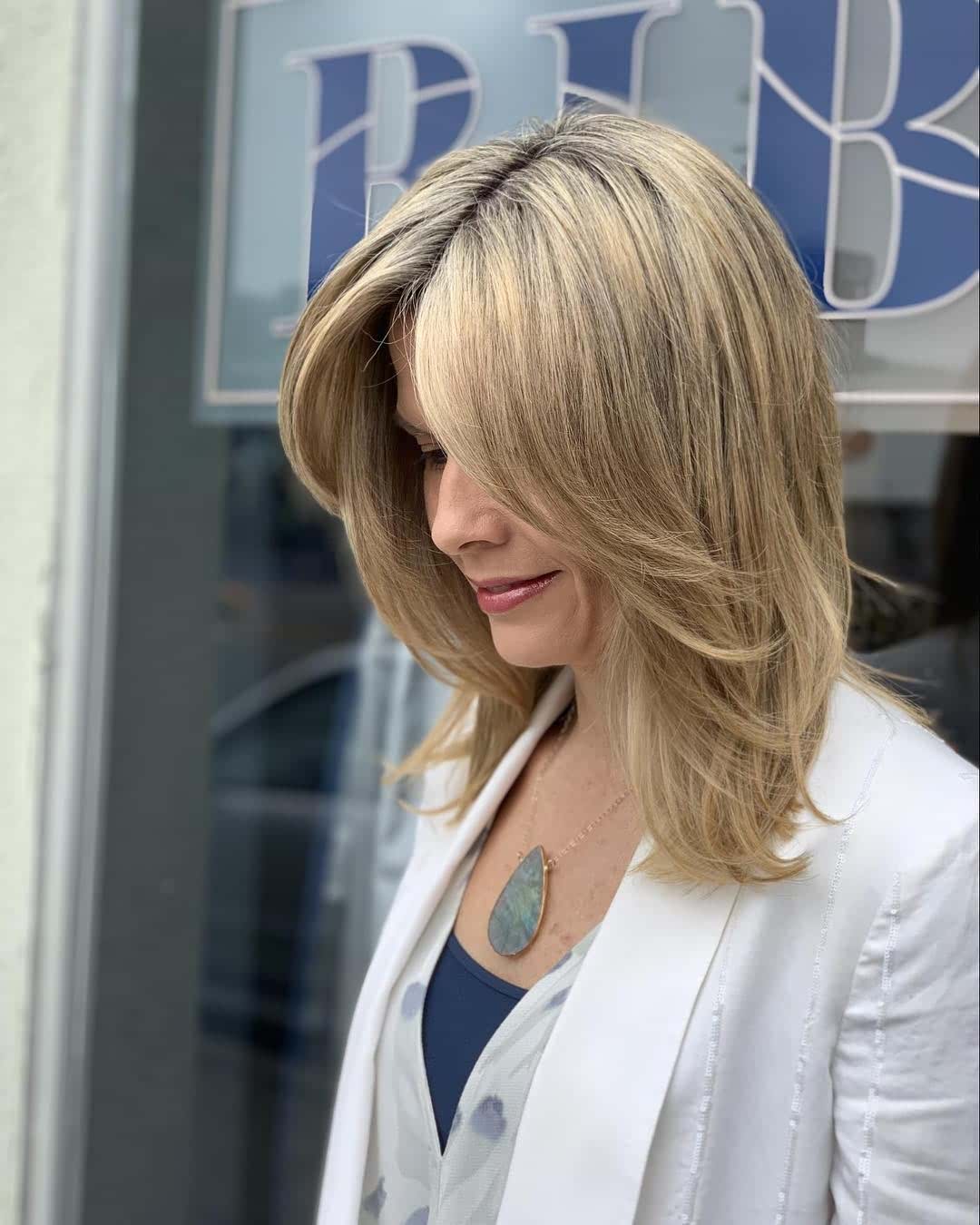 If you want to go blonde without looking like a bottle blonde, check out this natural-looking honey blonde hair look for inspiration.
This hair look features a subtle brunette shadow root that fades into brighter, multi-dimensional honey blonde ends. This blonde hairstyle looks completely natural and its subtle shadow root helps extend the amount of time you can wait between salon visits for root touchups. This is a perfect hairstyle for women age over 50.
5. Peach-y Pink Balayage with Brunette Shadow Root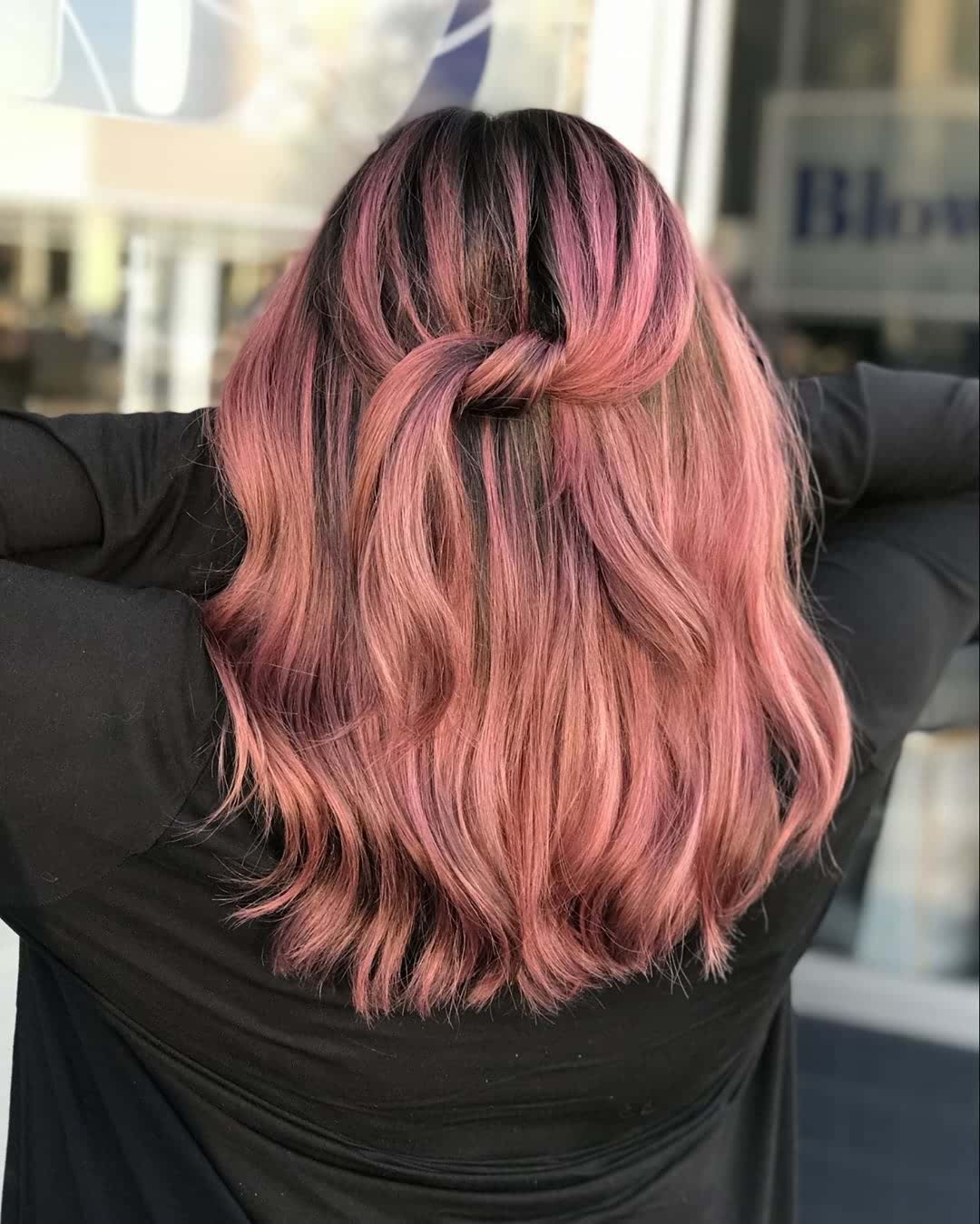 Balayage can be natural-looking or bright and colorful like this gorgeous peachy-pink balayage style you see in the above picture.
This balayage style blends together a natural brunette shadow root with several different shades of pink to create a beautiful, multi-dimensional peachy-pink finish. Its shadow root adds natural style to this look and extends the amount of time you can wait in between salon visits for root touch-ups.
6. Cool Ash Brunette and Blonde Hair Look – The bob cut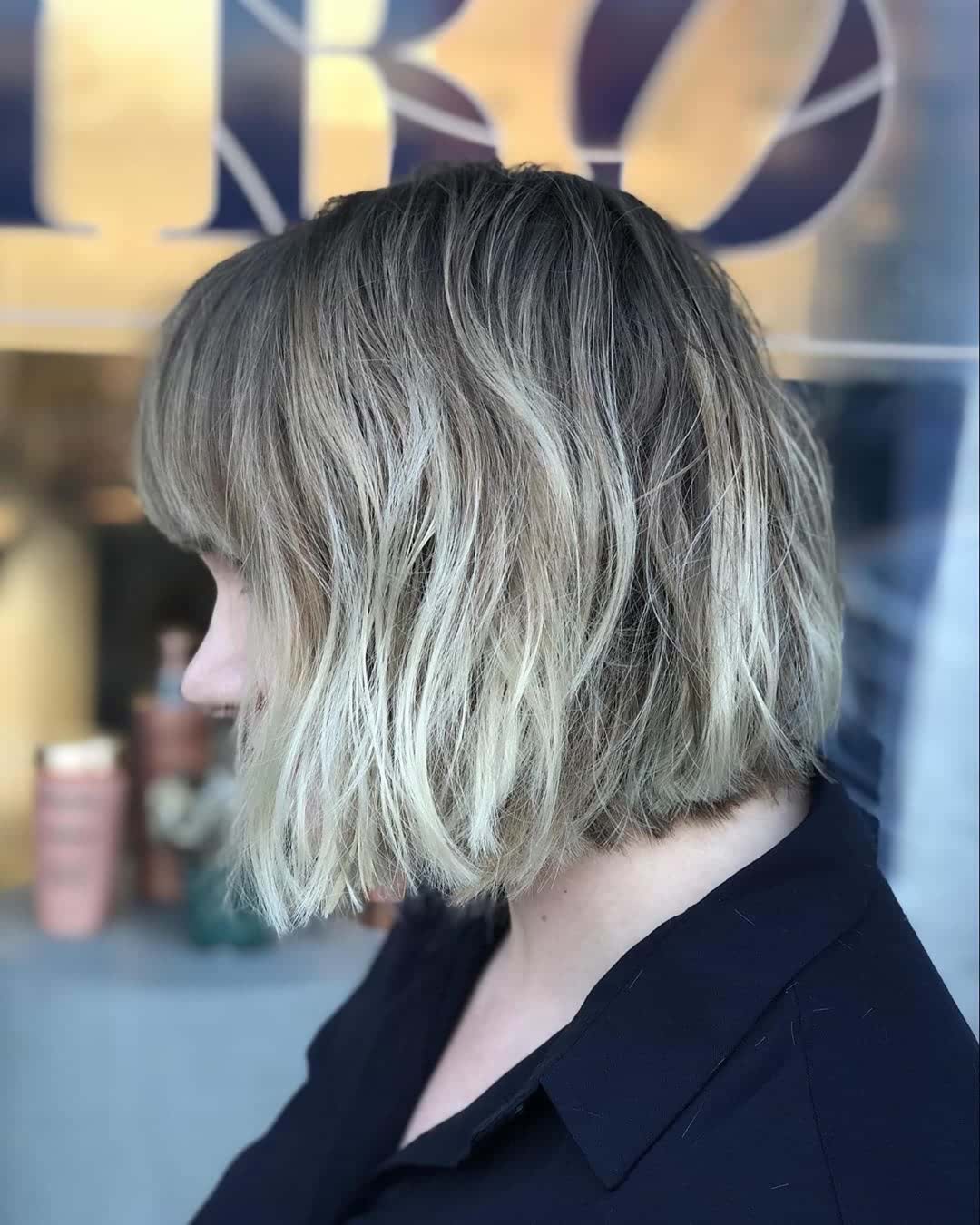 Cool-toned hair is currently topping the trend charts in the world of women's hair and fashion, and this eye-catching ash blonde and brunette hair look is no exception.
This style blends together cool-toned shades of blonde and brunette to create a natural-looking style that is in line with current top trends. It is especially flattering for women with skin that has natural cool undertones.
7. Bright Blue Natural Hair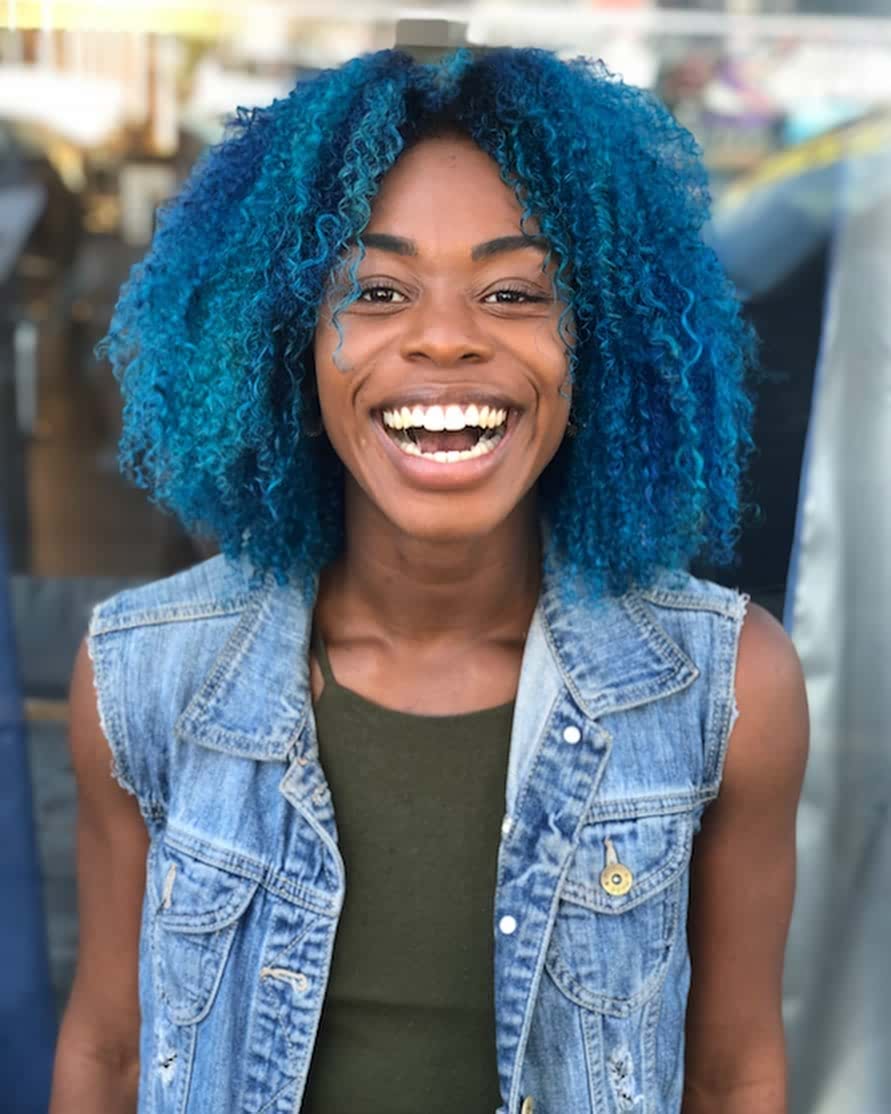 Natural hair is beautiful in any color, but this bright blue natural hair look really stands out.
This natural hair look is designed for thick, ultra-curly hair types. It blends together multiple shades of blue–including navy, teal, and turquoise shades–to create a bright style that defies traditional expectations for natural hair. This hairstyle is especially flattering for darker skin tones.
8. Fiery Red to Orange Ombré Look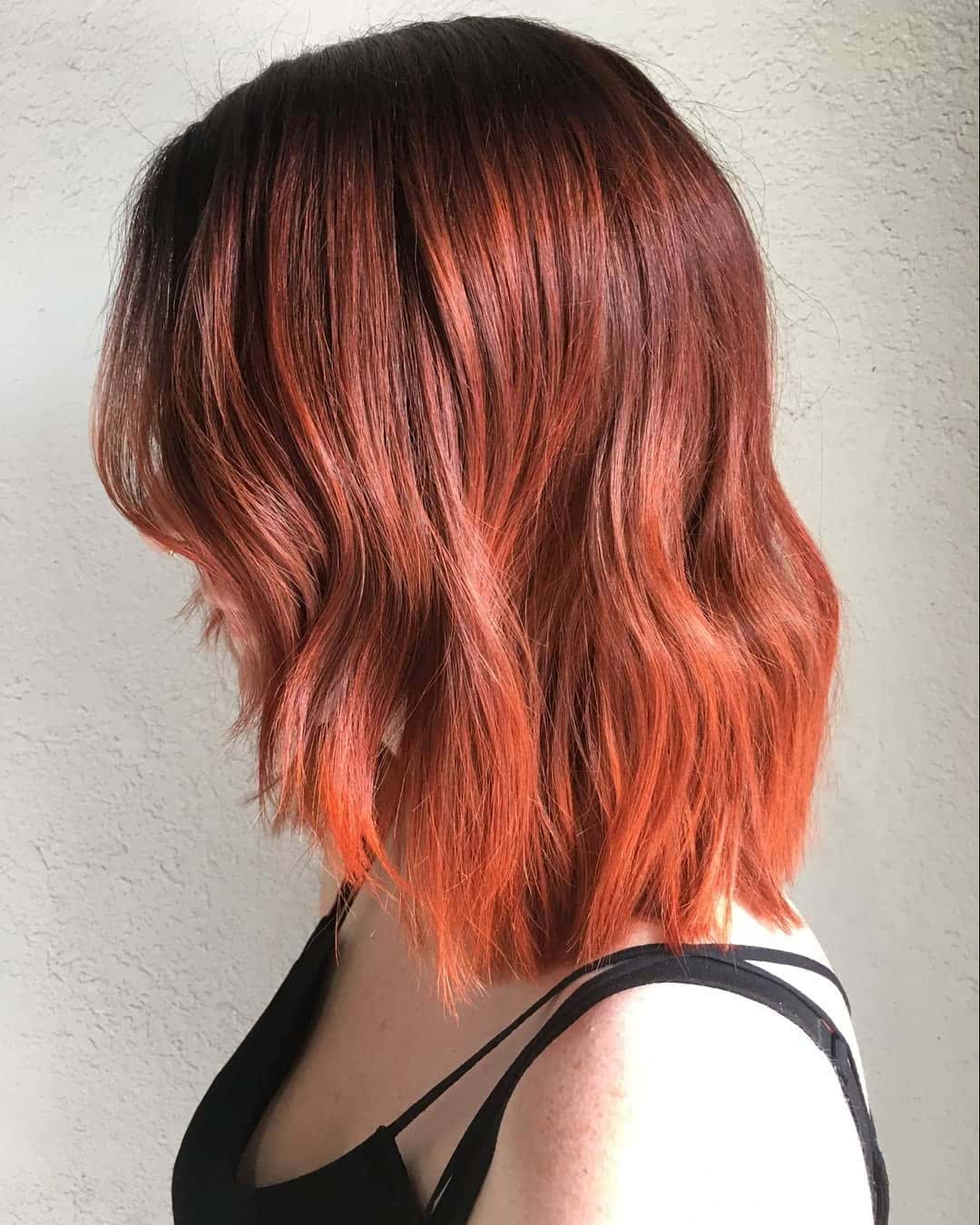 Fiery red-orange hair can be tough to pull off without looking like a fire engine, but this beautiful ombré look shows how to pull off red-orange hair right with a seamless finishing touch.
This red to orange ombré look features rich auburn roots that look completely natural and help extend the amount of time you can wait between salon root touchups if your hair is naturally auburn or brunette. Its auburn roots blend into deep red and fiery orange ends for an eye-catching, bright finish.
9. Blonde Balayage with Brunette Shadow Root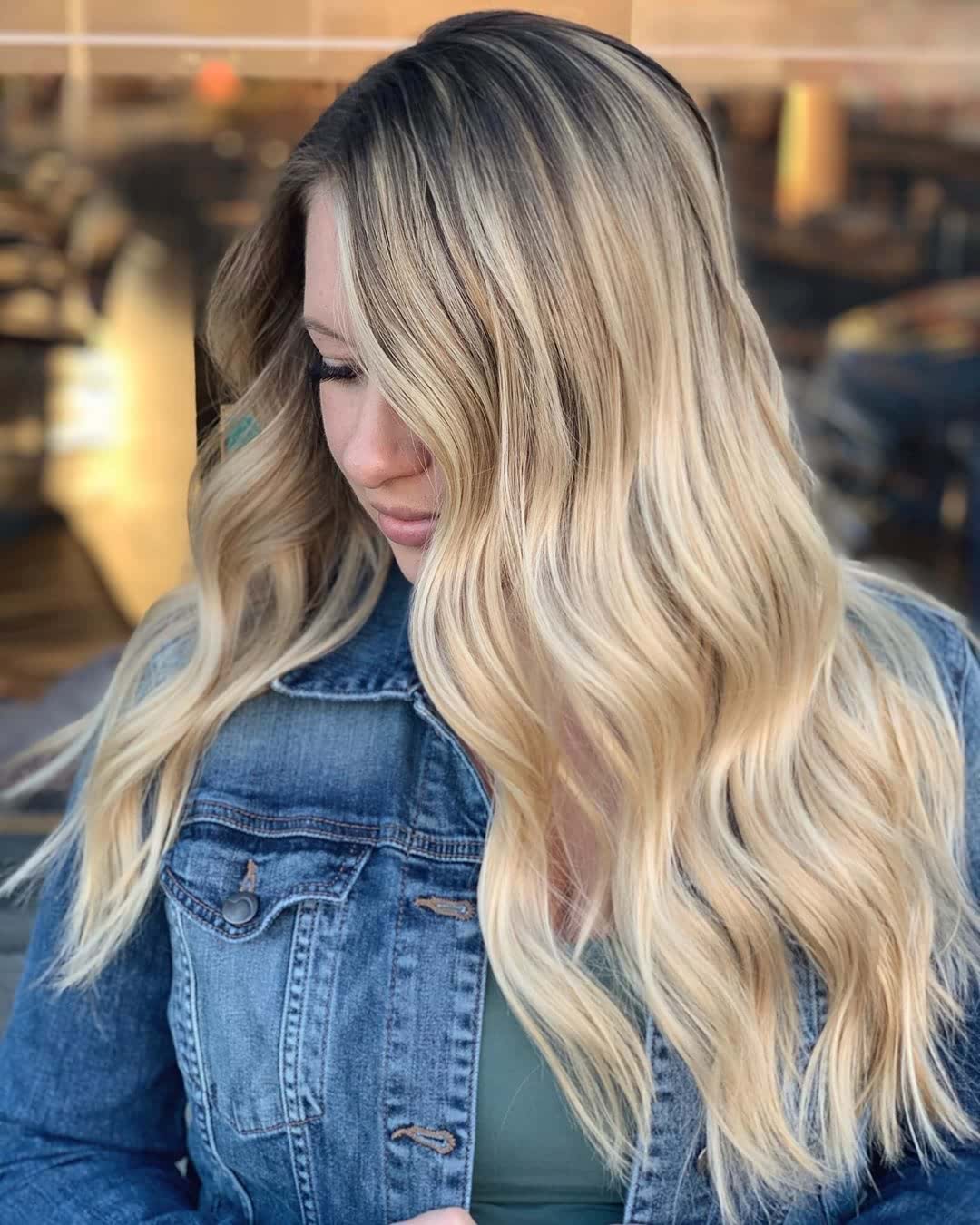 This beautiful blonde balayage is bright, stylish, flattering, and looks totally natural.
It features a natural-looking brunette shadow root that fades seamlessly into multi-dimensional blonde layers with gorgeous results that bring brightness and glam to any look.
10. Bright Pink Mohawk Look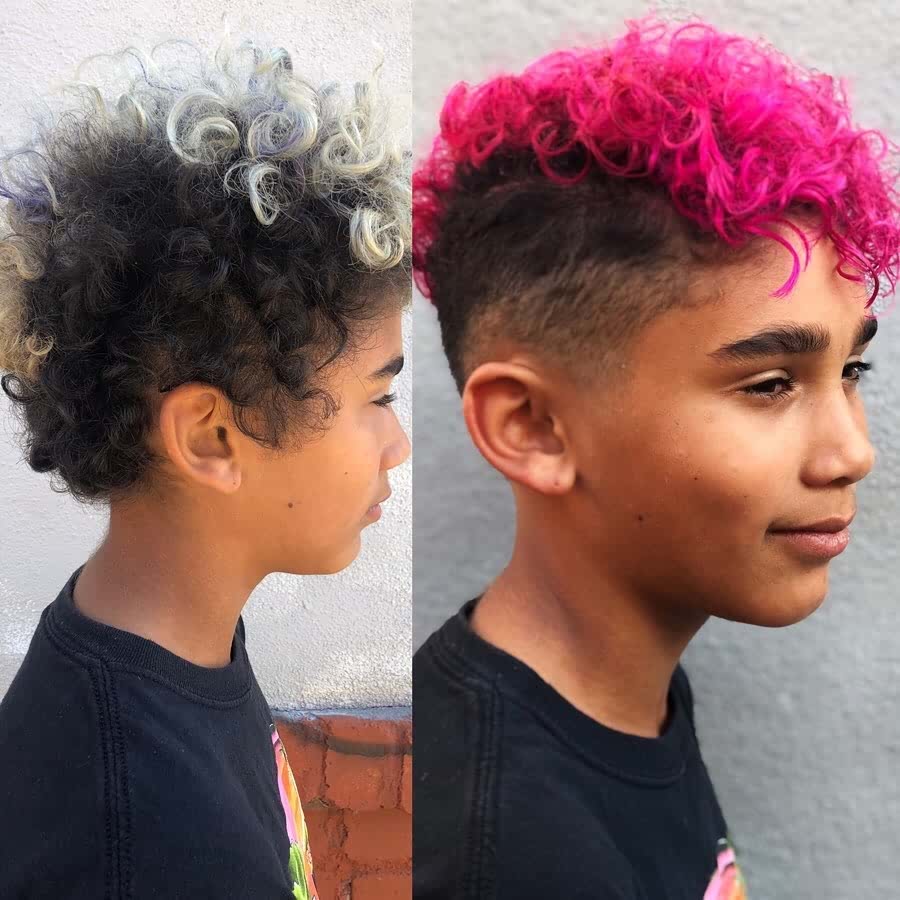 There's really no way to blend into a crow when you have a bright pink mohawk. However, that's not necessarily a bad thing.
This gorgeous hot pink mohawk hair look features buzzed sides and a shock of bright pink hair on top for an attention-grabbing, bold and daring finishing touch.
11. Multi-Dimensional Orange Hair Look with Brunette Shadow Root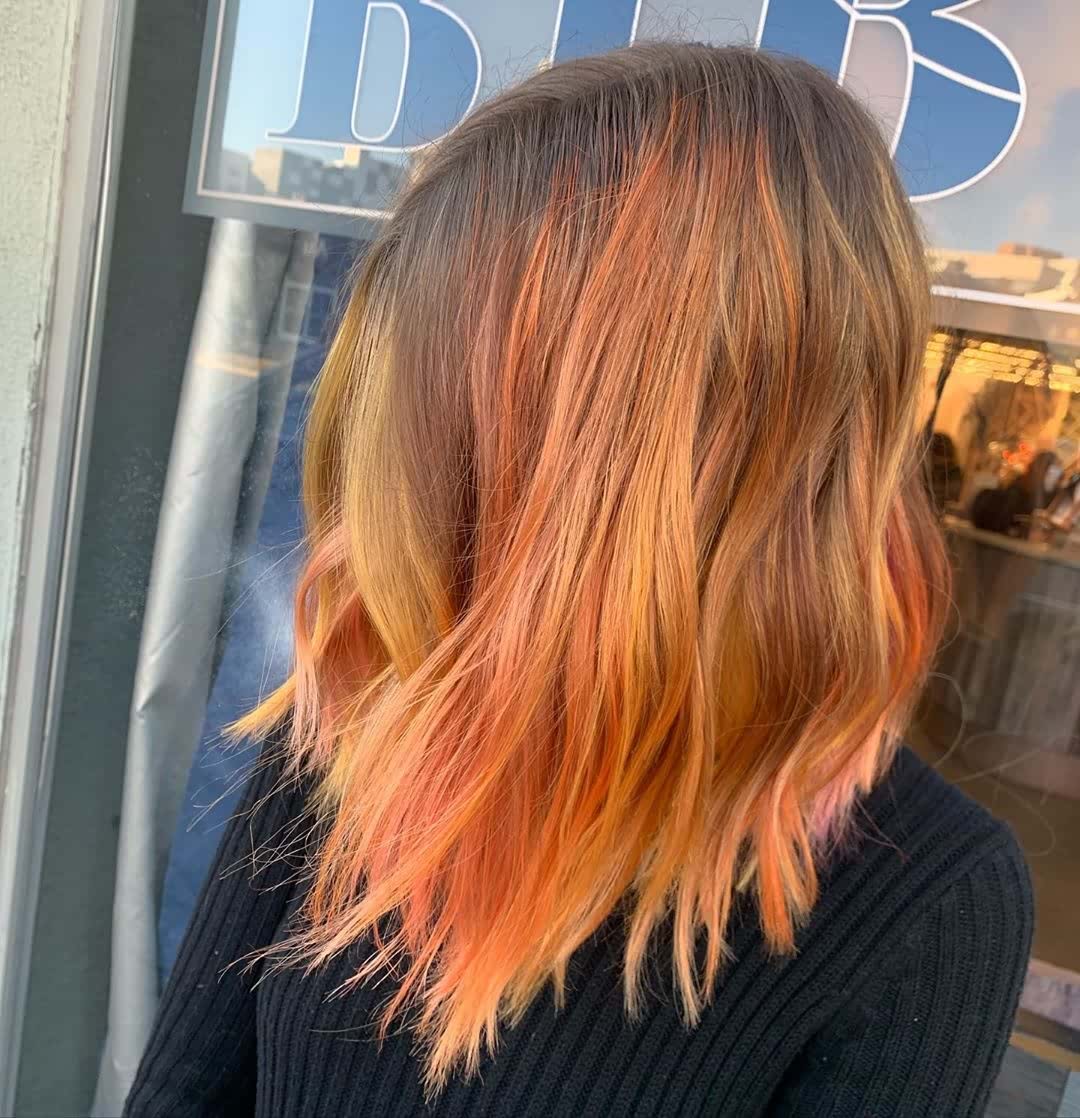 Orange is not one of the most common colors for hair. However, this multi-dimensional orange hair look shows just how gorgeous orange hair can be if you do it right.
This hair look features multiple shades of orange and blends these shades together with seamless, multi-dimensional results. A brunette shadow root adds more dimension to this look and helps keep this orange hair look lower-maintenance when it comes to root touch-ups.
Styles: BIBO Salon
Address: 2509 Broadway, Oakland, CA 94612
Phone: (510) 838-2426