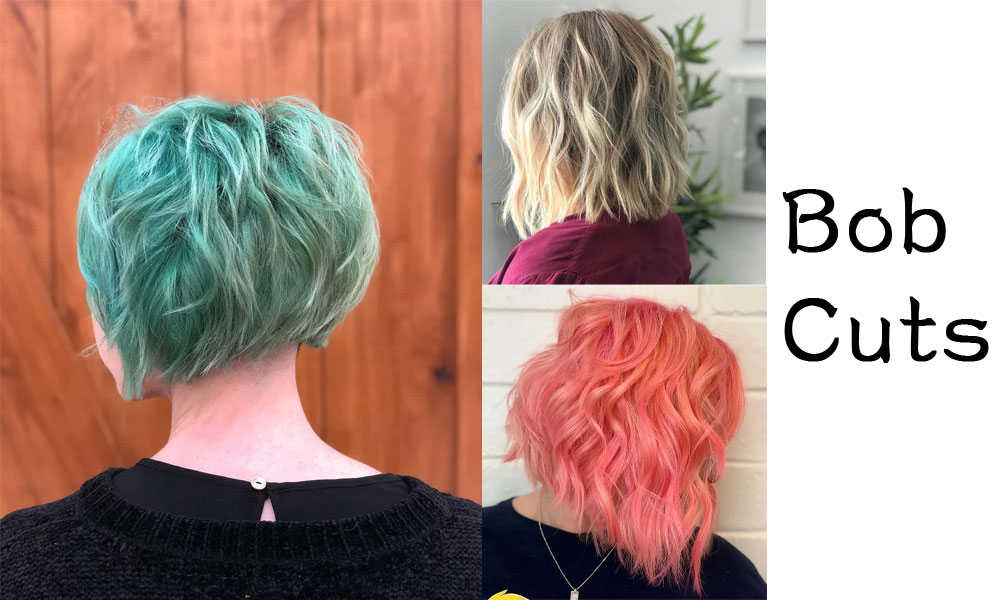 Bobs are versatile and diverse in-between haircuts that are timelessly trendy for women. Deciding on a color for your bob hairstyle can be a challenge, though. Because of their in-between lengths, bobs can be difficult to color in a way that looks seamless and natural.
If you're thinking about cropping your locks to rock a bob haircut or are searching for ways to freshen up the bob you already have, check out these 12 hair color ideas for bob hairstyles. From natural-looking brunette and blonde balayage to bright all-over turquoise, these 12 hair color ideas are stylish, diverse, and are designed specifically to accommodate bob haircuts.
1. Shoulder-Length Bob with Natural Blonde Balayage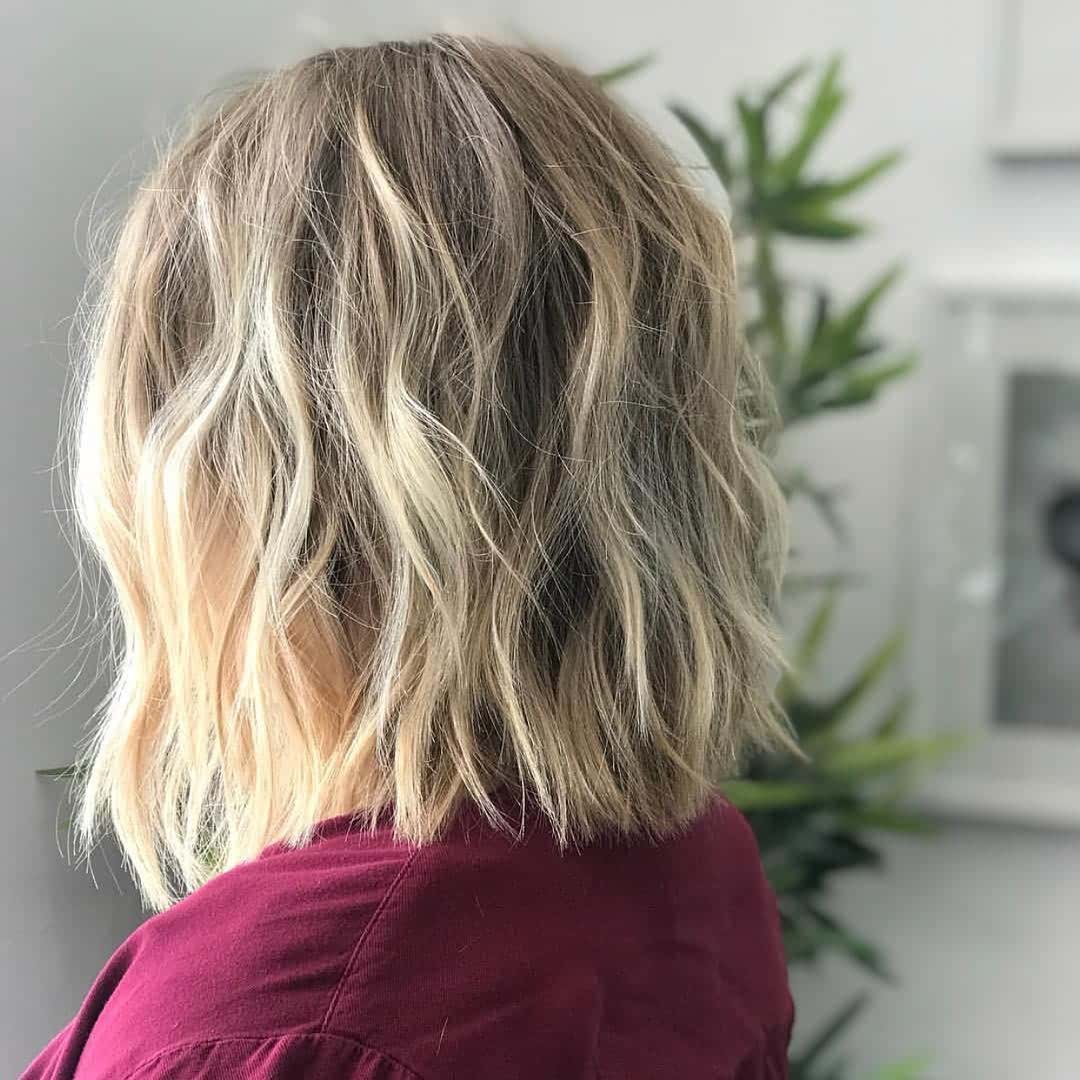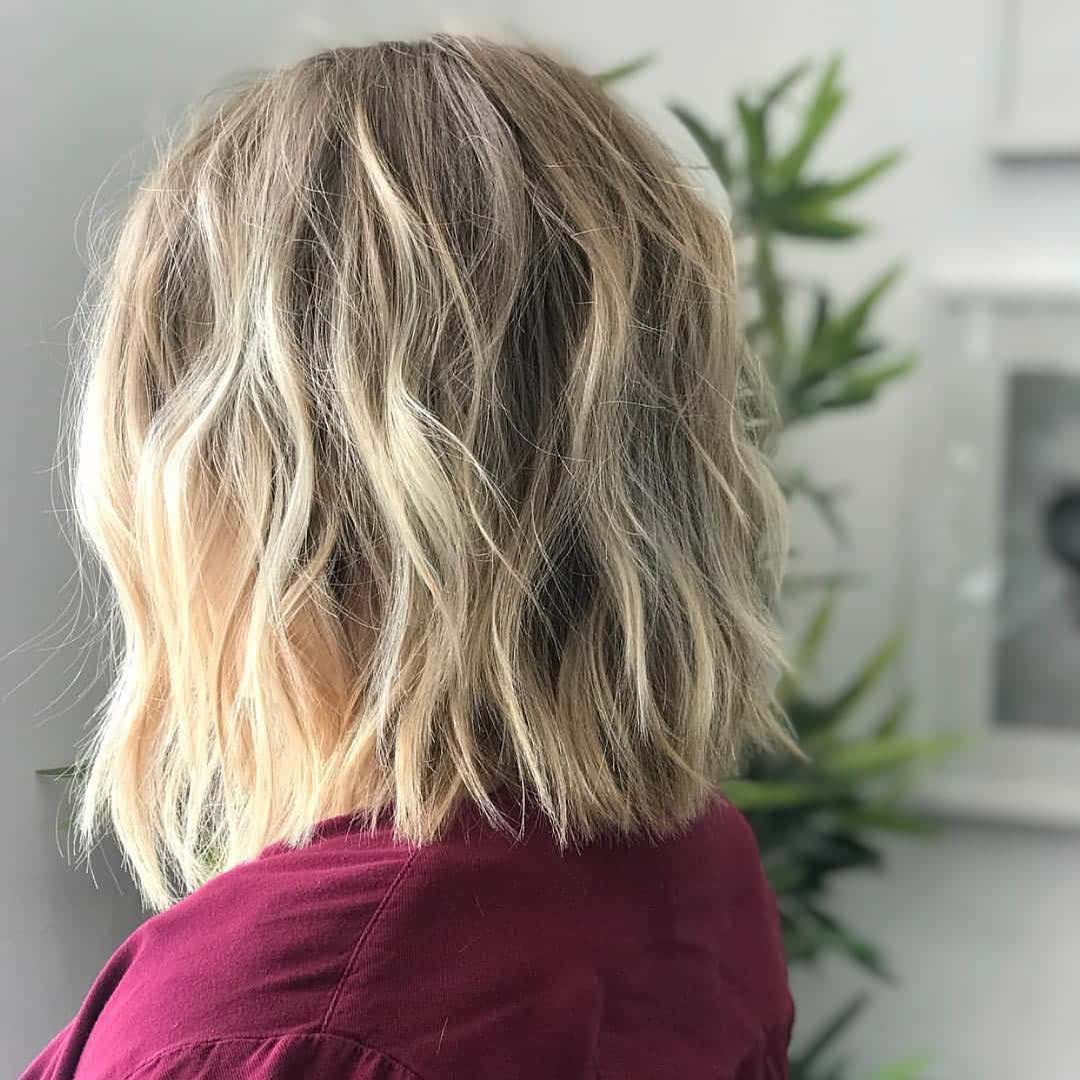 Balayage can be tough to pull off with a seamless finish on shorter cuts, but it's definitely not impossible. This gorgeous natural blonde balayage seamlessly blends together several different shades of lighter and darker blonde to create a natural look that is effortless
This shoulder-length bob's under-layers and roots are a darker, natural dirty blonde. These natural dark blonde roots give this look a more natural-looking finish and help extend the amount of time you can wait between salon visits. Toward its ends, this haircut fades into shades of lighter blonde that brighten up this shoulder-length blonde balayage bob look.
2. Green to Blue Ombré Blunt Bob with Bangs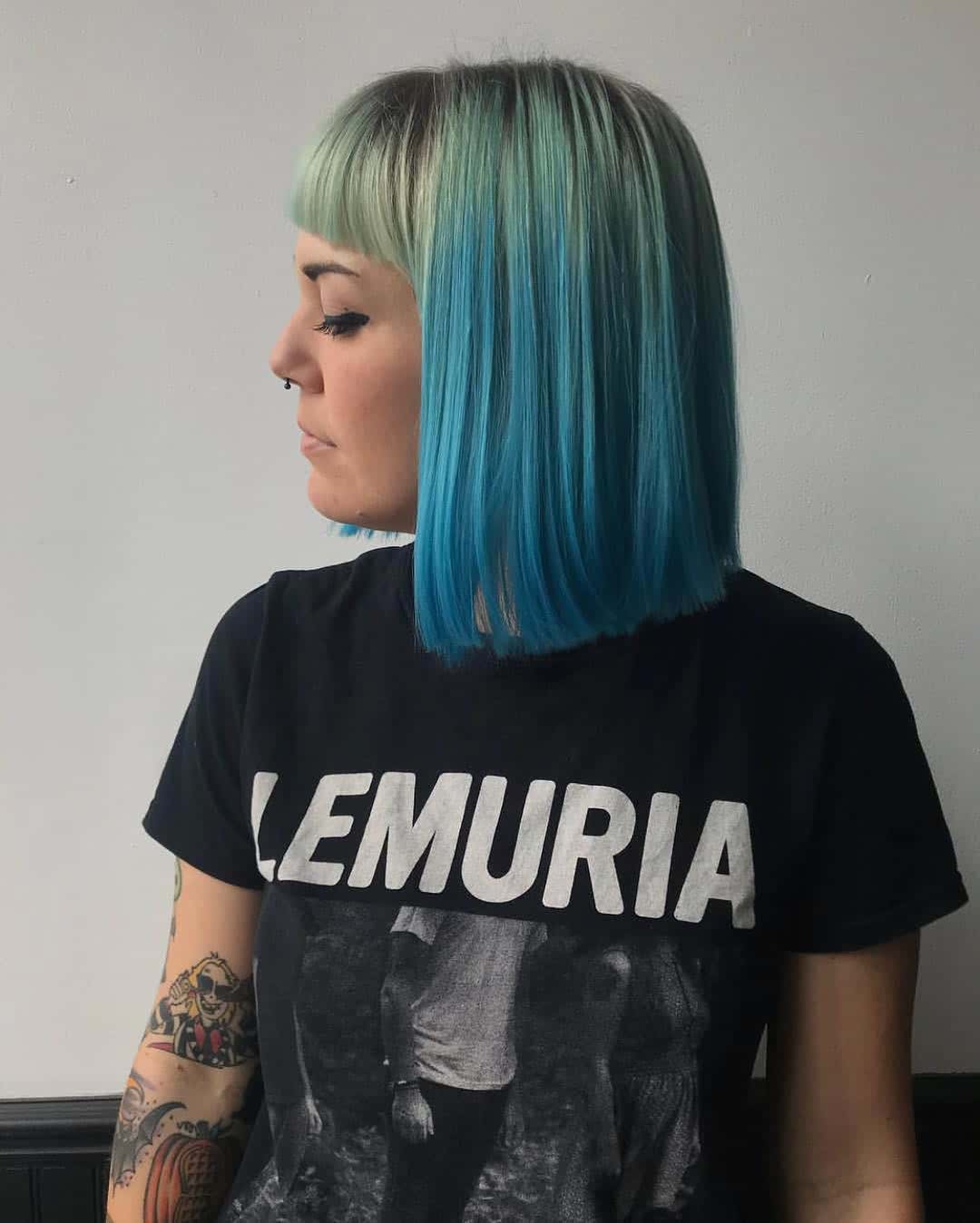 If you want to go bold with fantasy colors, check out this blunt banged bob that features green to blue ombré from roots to ends. This bold, edgy bob features teal green near the roots that brightens into a rich turquoise shade closer to the ends.
The blunt ends of this bob add to its edgy finish. Cropped blunt bangs add a bold focal point to this hairstyle and give it a more unique, one-of-a-kind look. Natural brunette roots add a more natural-looking finish to this hairstyle. These natural roots also help you stretch out the life of this look and extend the amount of time you can wait in between root touchups at the salon.
3. Aquamarine Pixie Bob – Short Cut Ideas for Women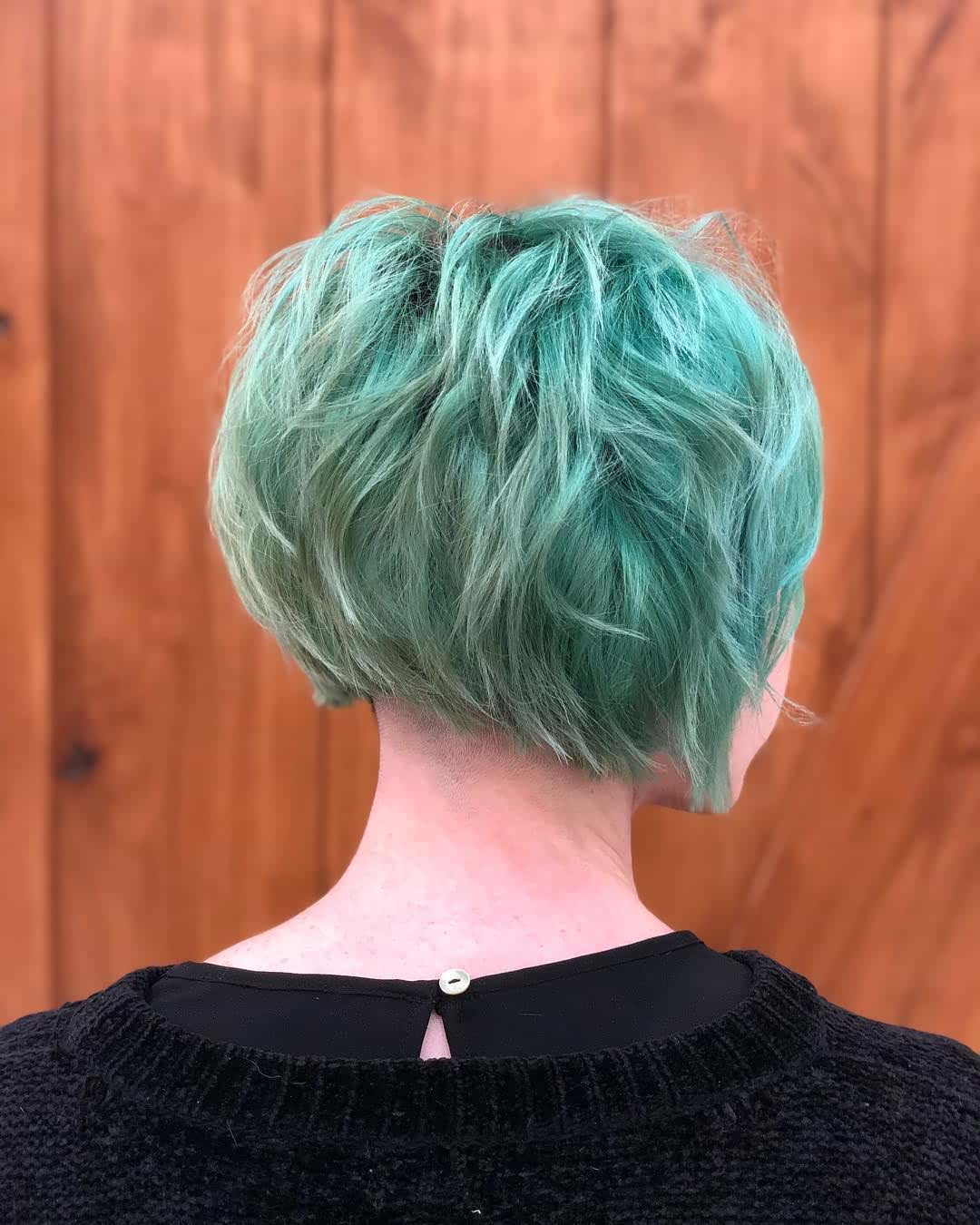 Bobs can be any of a wide variety of lengths ranging from just barely at the ears to slightly below shoulder-length. This look shows off how you can pull off fantasy colors even in a super close-cropped bob like this one.
Its gorgeous aquamarine hue gives it bright, eye-catching style and its cropped angled layers keep things simple and sweet for a neat, attention-grabbing finishing touch. And here are more cute pixie cuts for you to choose from.
4. Blunt Blonde Shoulder-Length Bob with Dark Shadow Root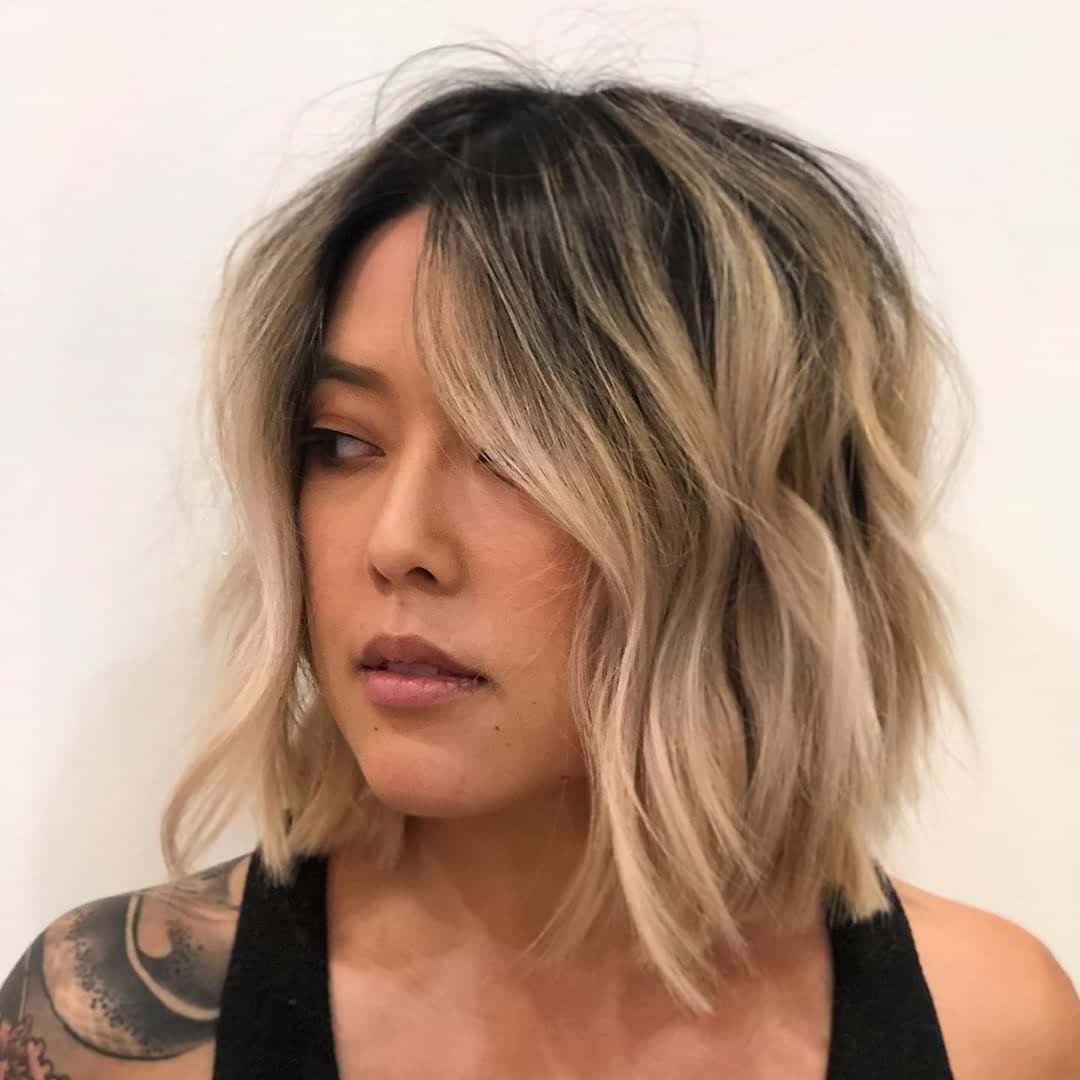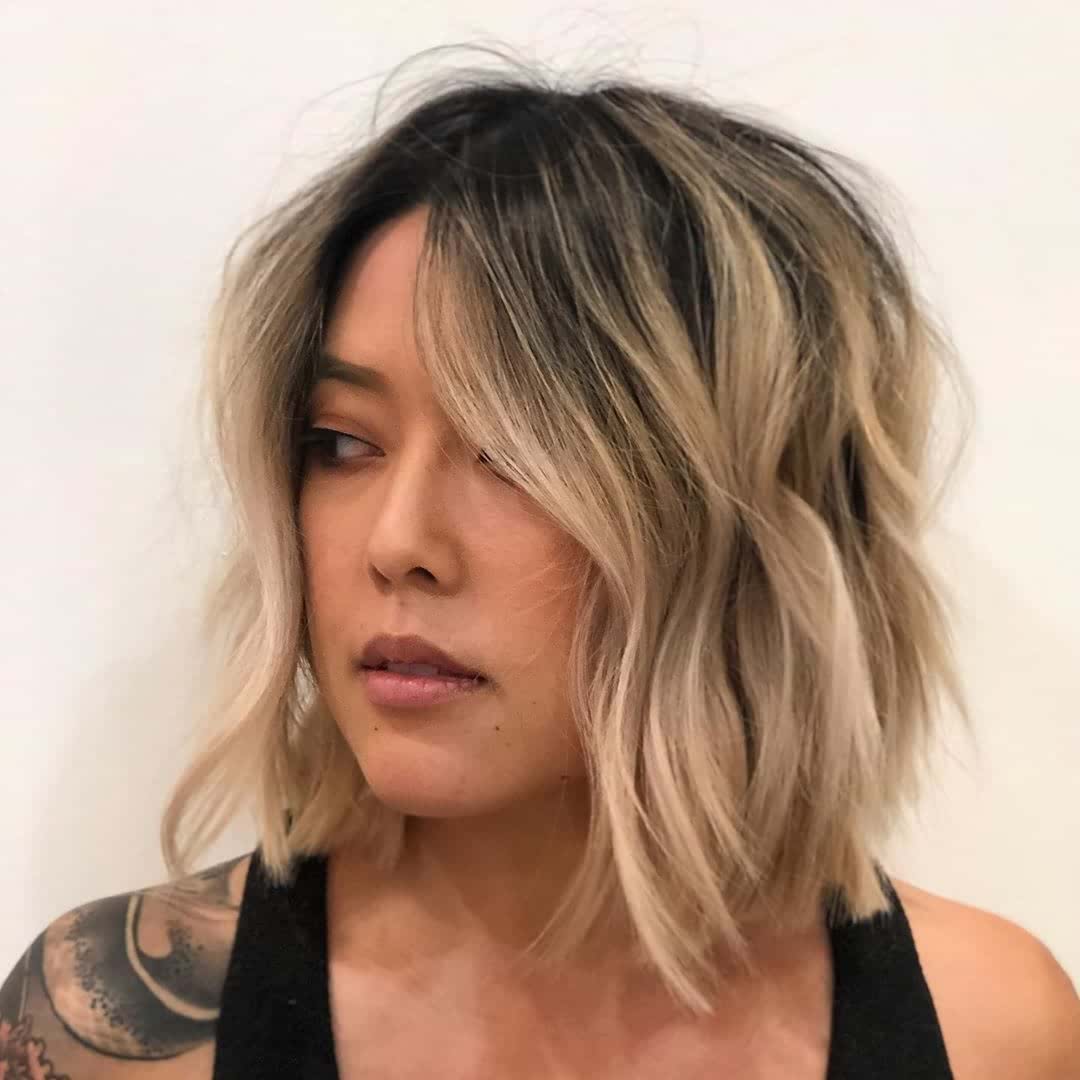 This shoulder-length bob starts with dark brown-black roots and fades to light cool blonde halfway down your hair.
Blunt shadow roots like the one in this style can be difficult to pull off, especially on a cropped cut like this one. However, this blunt brunette shoulder-length bob shows just how gorgeous a deep shadow root can be on a blonde style. Plus, dark roots this look a more natural-looking finish.
5. A-Line Lob with Deep Auburn Balayage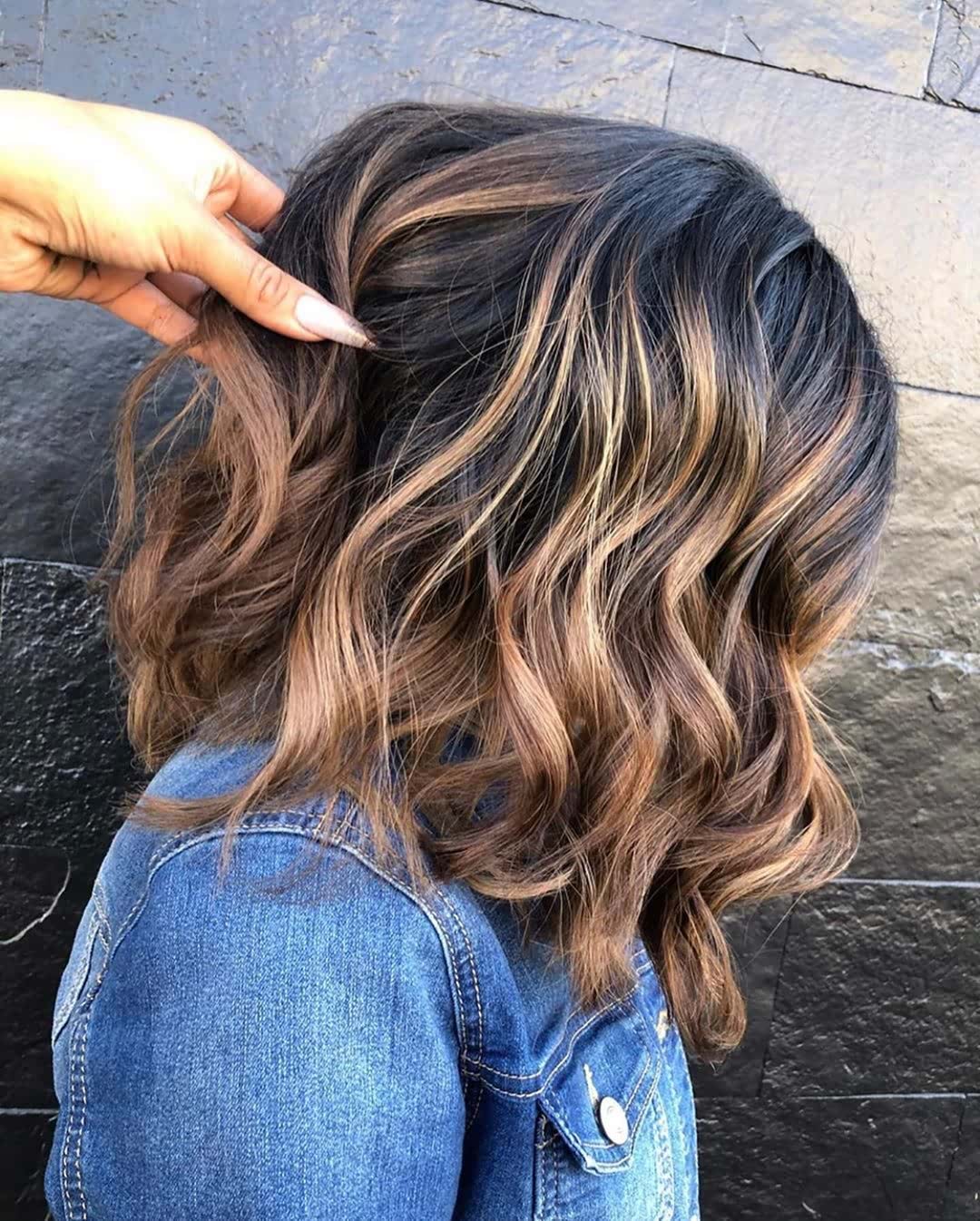 It can be tough to blend together wildly different darker and lighter shades in balayage on shorter cuts.
However, this gorgeous deep brunette and auburn balayage lob shows that longer bobs can easily accommodate complex balayage without looking choppy or unnatural.
6. Bright Peachy Pink A-Line Bob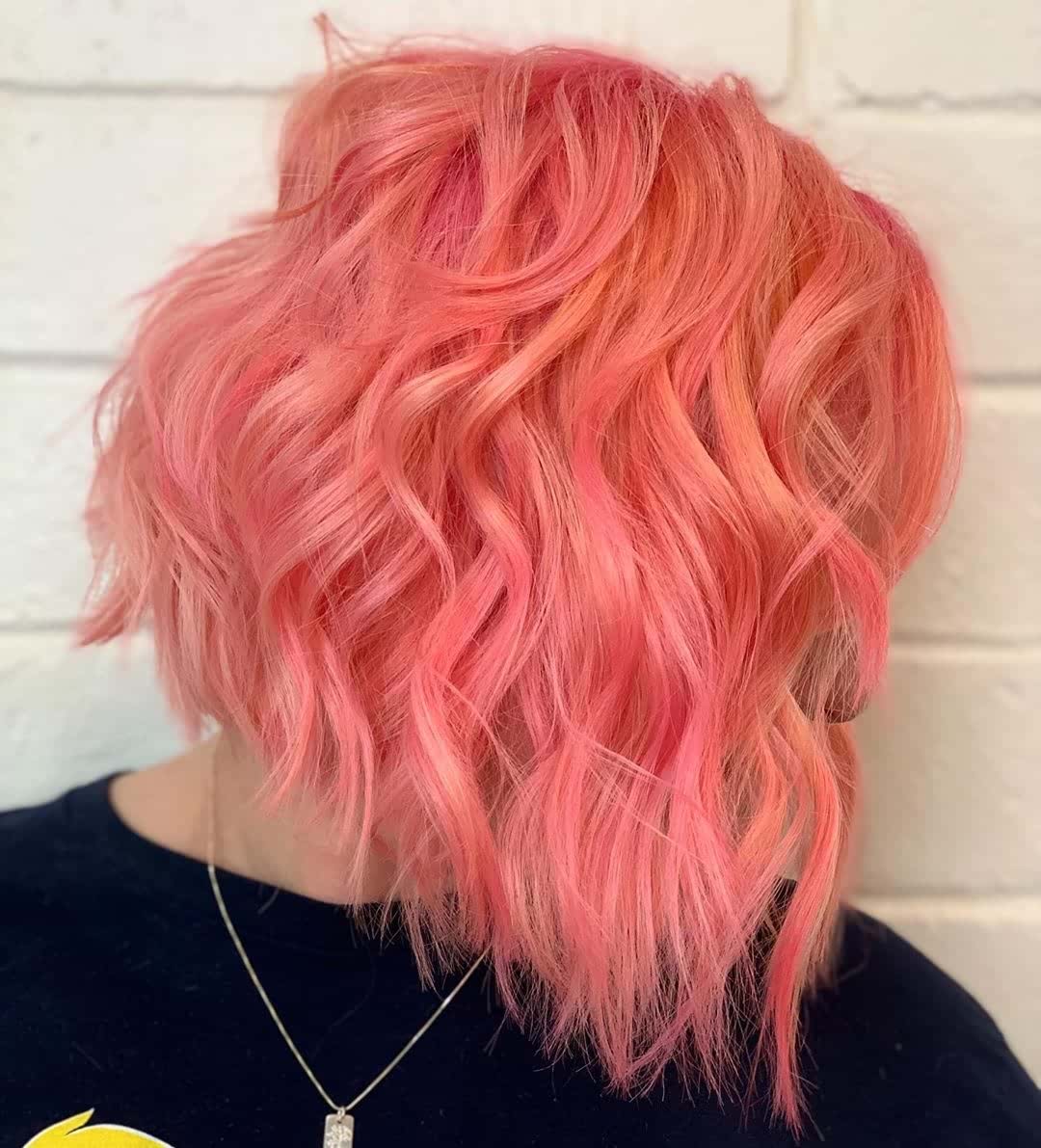 This gorgeous peachy pink A-line bob is nothing short of eye-catching. It will grab your attention and keep it, mesmerizing you with its multi-dimensional finish.
Blending together multiple shades of pink and orange, this peachy pink angled bob is bright, bold, and tons of fun.
7. Brunette A-Line Lob with Dusty Rose Ends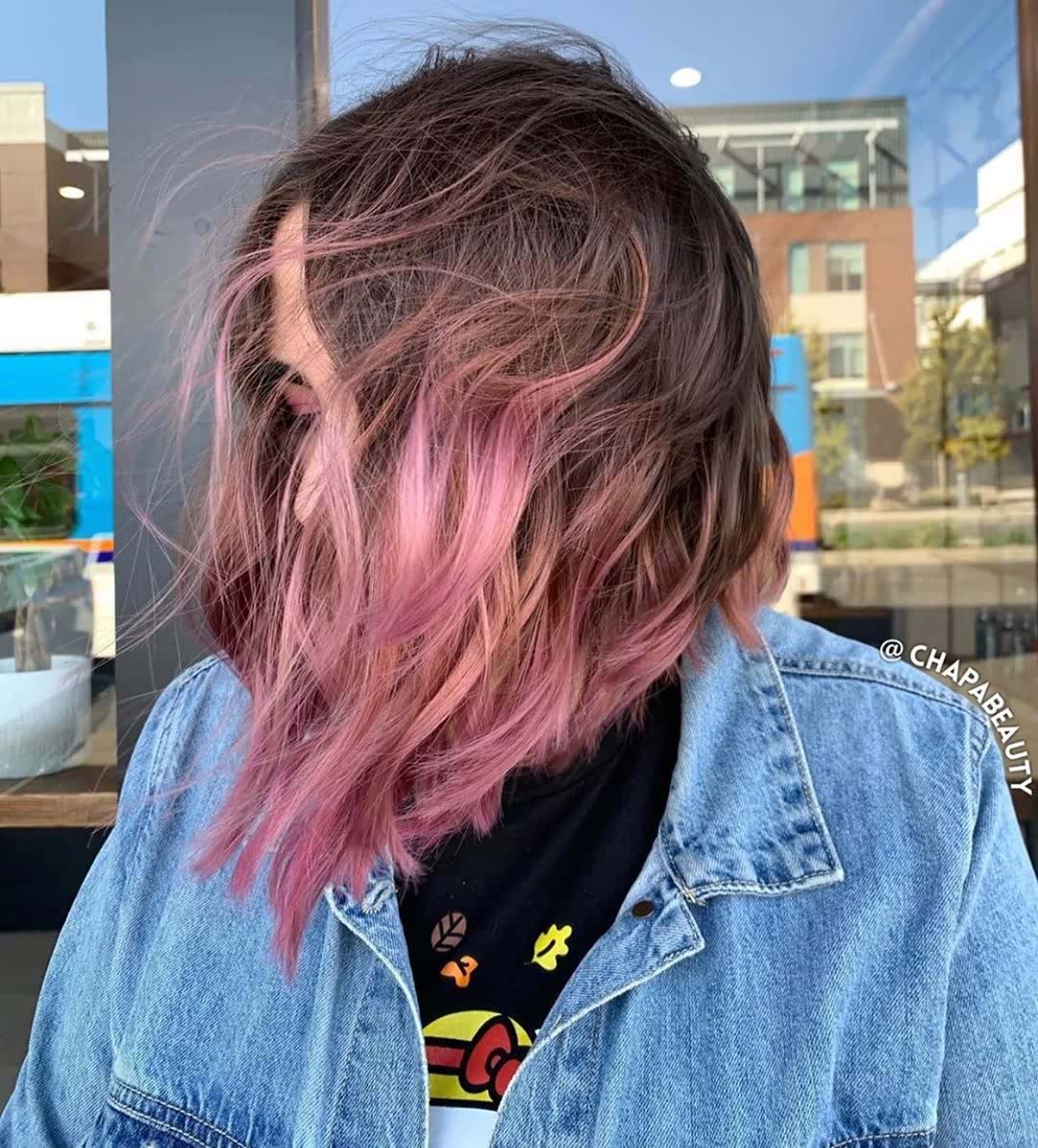 Dusty rose is one of the top trending hair colors of the season. It's pretty, feminine, almost universally flattering, and it somehow looks almost natural.
As you can see from this gorgeous look, dusty rose color adds  fun to any hairstyle and stands out without making too much of a statement. A brunette shadow root adds subtlety and a natural-looking finish to this dusty rose A-line bob.
8. Teal A-Line Bob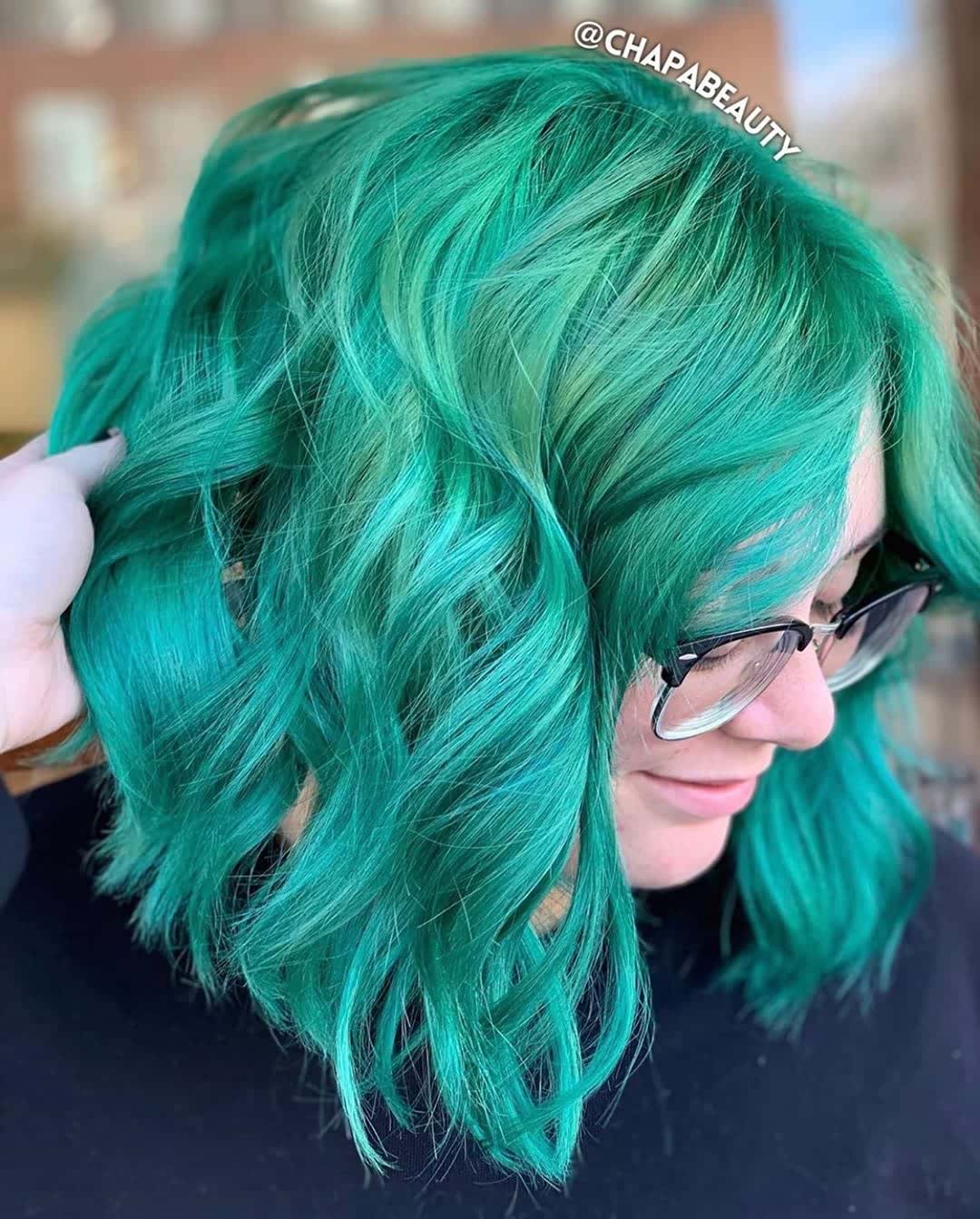 This beautiful A-line bob blends together multiple shades of teal blue to create this gorgeous, sea-inspired, fit-for-a-mermaid look.
Angled layers give this gorgeous teal A-line bob a bold finish, and a curly style emphasizes this bob's flattering multi-dimensional style.
9. Dark Red Bob with Highlights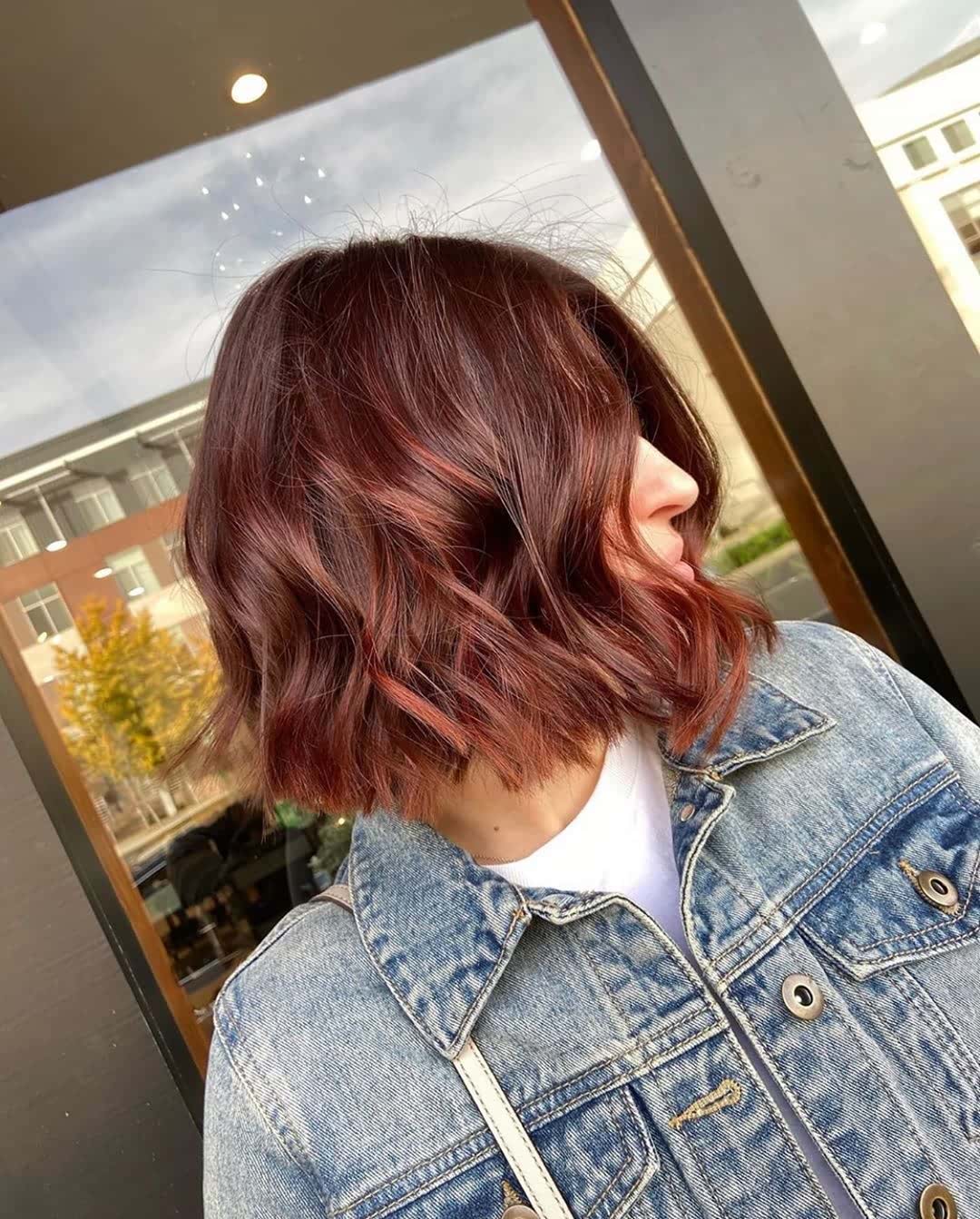 This dark red color is stunning, especially when paired with a gorgeous blunt bob cut.
The rich red layers of this dark red bob feature highlights that brighten up this look and give it a multi-dimensional finishing touch.
10. Cool Blonde Subtle A-Line Bob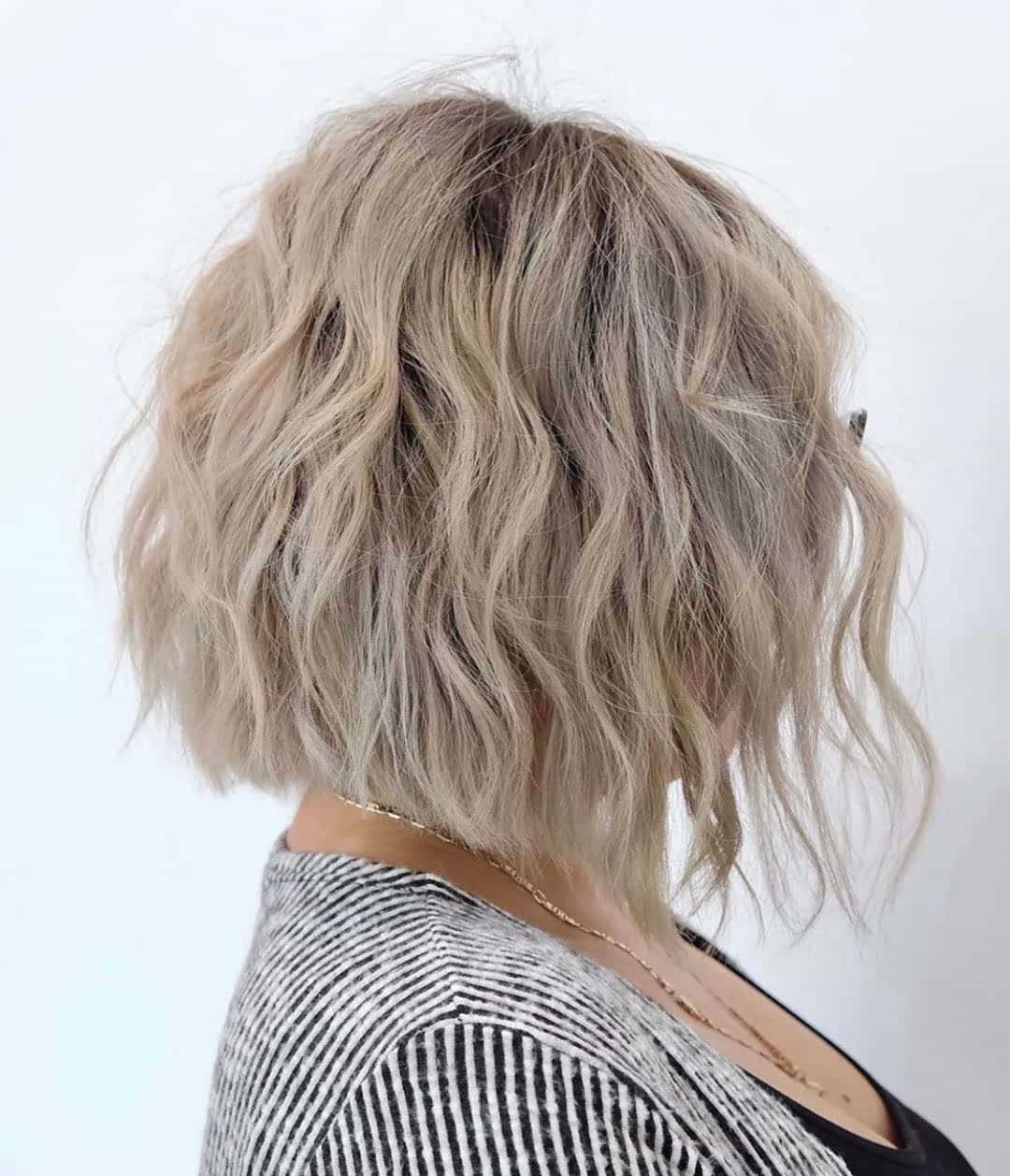 Cool blonde shades are currently topping the trend charts in the world of women's hair and fashion. This gorgeous cool blonde shade matches the boldness and daring style of this close-cropped A-line bob.
This bob's beautiful cool blonde shade brightens up this cut, and its shadow root brings this bottle blonde look back to reality for a natural-looking finish.
11. Brunette and Blonde Balayage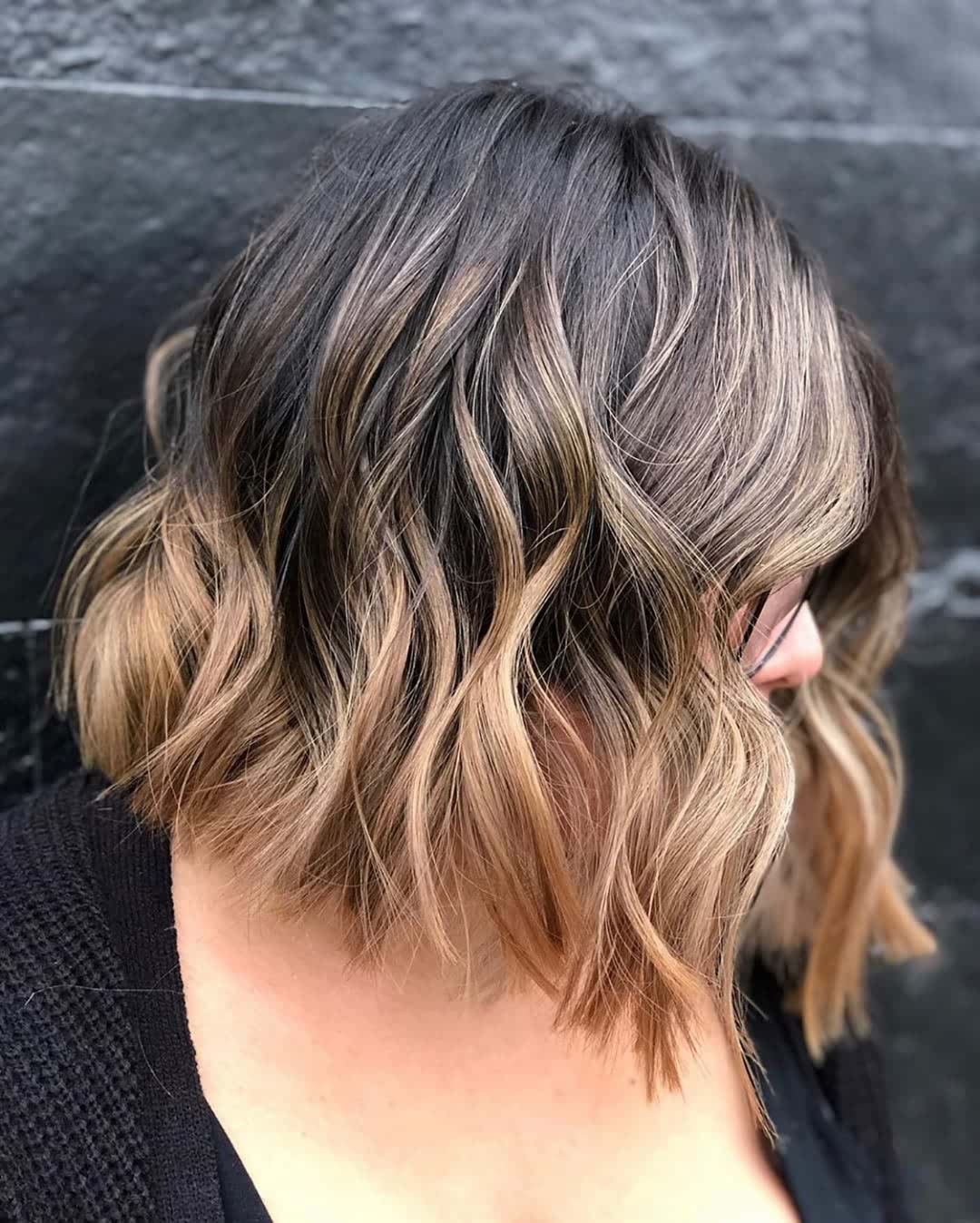 This balayage looks seamlessly blends together multiple shades of blonde and brunette, ranging from dark brunette to warm honey blonde. It fades from deep, rich brunette roots to lighter shades of brunette and golden blonde ends.
Deep brunette roots add natural style to this look, and honey blonde ends bring light to it to ensure a brighter finish for this bob.
12. Brunette Ombré Short A-Line Bob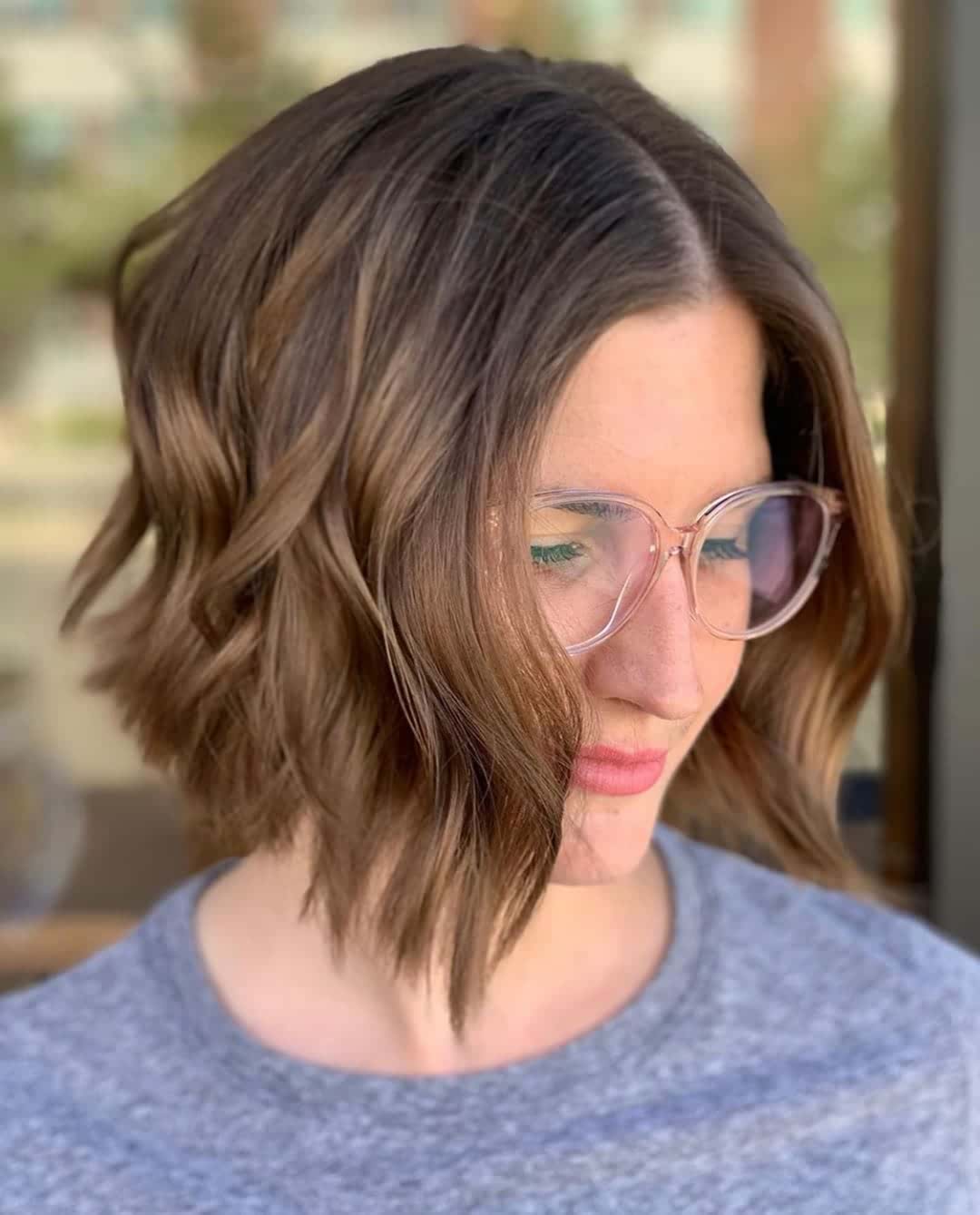 This short A-line bob shows just how stylish super cropped bobs can be. This cut keeps it natural with a subtle brunette ombré.
Its ombre fades from deep, rich brunette roots to slightly lighter, warmer brunette ends with a seamless finish. A wavy style and angled cut add bold, eye-catching style to this subtle brunette bob.
Styles: Remedy Hair Shoppe
Address: 119 S. HARBOR BLVD ANAHEIM, CA 92805
Phone: 714.780.1115