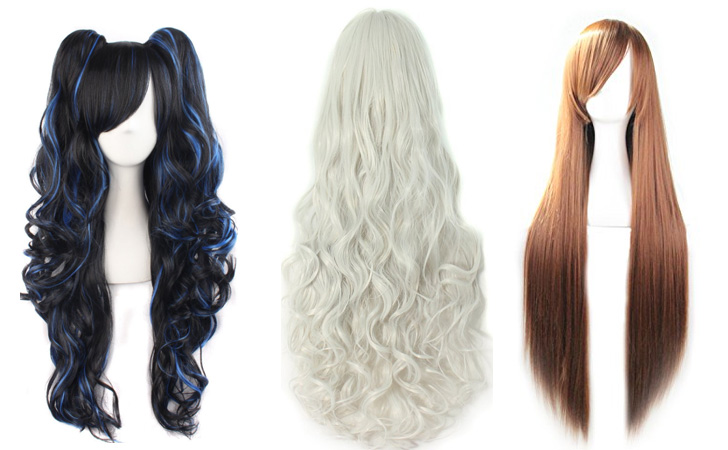 Whether you've gotten a bad haircut, have lost your hair, or are just looking for a bit of a style change, wigs can help you effortlessly achieve a drastically different hairstyle without the frustration and wait time of growing out your natural hair. If you've always dreamed of having long, cascading locks but haven't been able to grow out your natural hair, buying a long wig can help you get the style you're looking for.
Keep reading the following long wigs reviews to find out more about the top rated best long wigs on the market that you can buy.
10. DAOTS 28″ Big Wavy Hair Women's Wig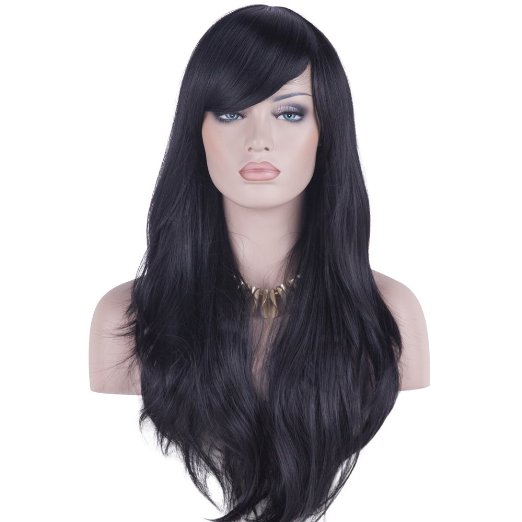 This gorgeous wig from DAOTS provides you with twenty-eight inches of long, straight black hair with full side bangs. With a weight of only 0.6 pounds, the wig is lightweight and will not feel heavy on your scalp despite its extensive length. It also features a breathable rose hair net that can be effortlessly adjusted for a better fit depending on the size and shape of your head.
Crafted from high-temperature synthetic fiber, this wig has a very natural appearance and feels soft and smooth to the touch. It is resistant to heat and can be styled to your preference with heated styling tools such as flat irons and curling rods without sustaining damage.
9. EmaxDesign Wigs 28″ Wavy Curly Wig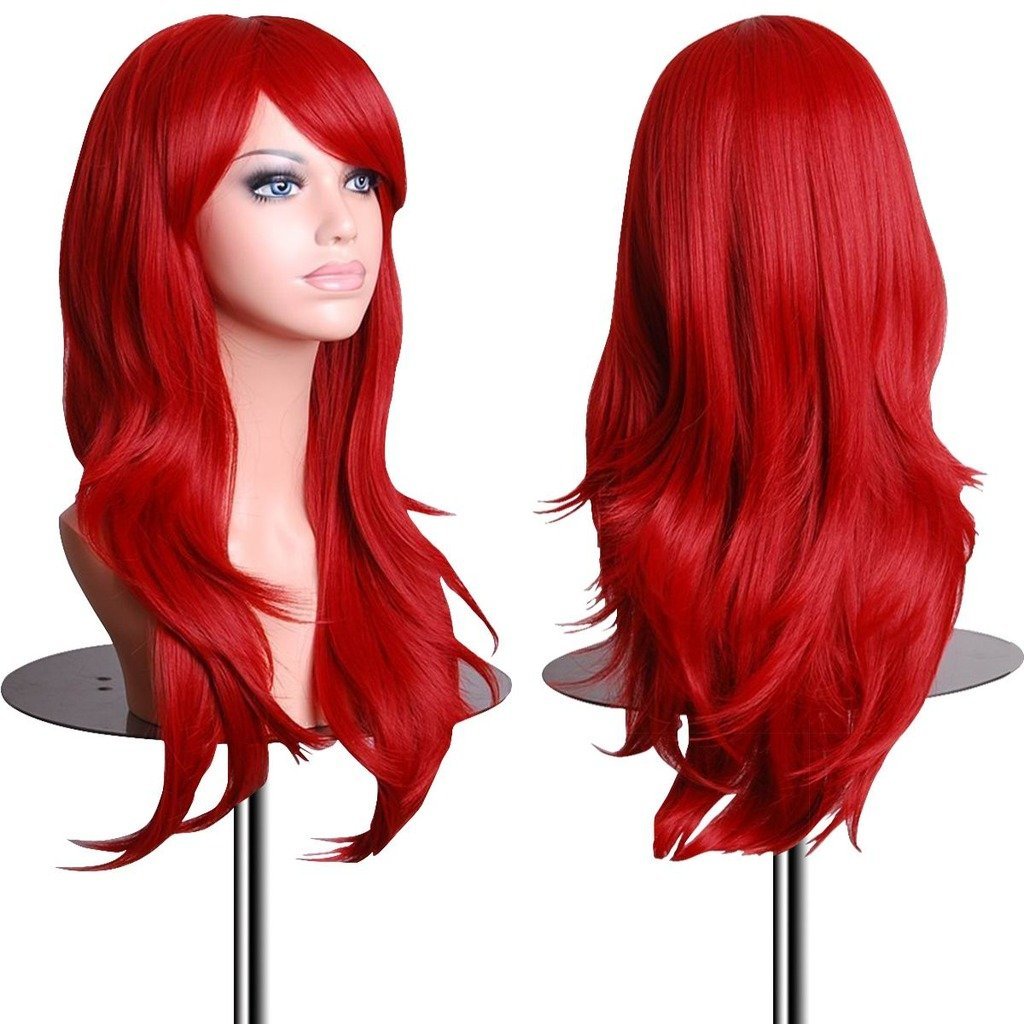 Have you always admired Ariel's beautiful, long bright red locks in The Little Mermaid? Now, you can have them too without an expensive and damaging dye job with this long, twenty-eight inch wig from EmaxDesigns Wigs. Crafted from one hundred percent top-quality Japanese Kanekalon fibers, the wig is shiny and feels soft.
This long wig is resistant to heat and can be styled using a flat iron or curling iron without melting or losing its softness and shine. You can easily wash the wig using a mild shampoo formula and cold water in order to surface clean it and make sure that it retains its original feel and quality.
8. MapofBeauty Black/Blue Lolita Long Curly Clip on Ponytails Wig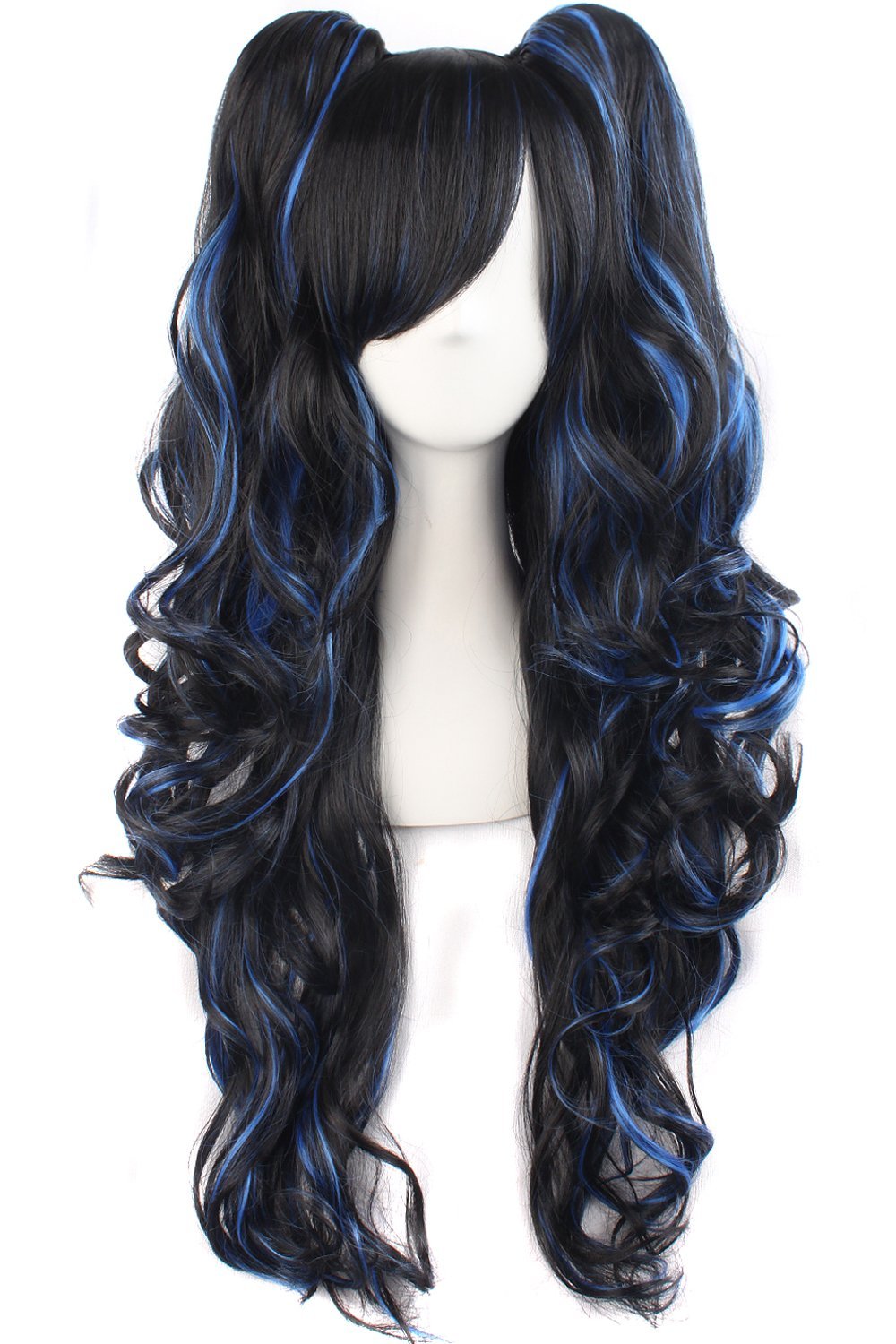 This fun, whimsical ponytail wig from MapofBeauty is a long black wig with blue highlights incorporated into it. The wig is separate from the ponytails, so you can wear it with or without them depending on the look you prefer. When you do want to add the ponytails, you can simply clip them on for a seamless, natural appearance.
Crafted from one hundred percent high-temperature fibers, this wig is of the highest quality and is resistant to heat so you can style it with a flat iron or curling iron. Its cap is also adjustable in order to fit the unique shape and size of anyone's head without slipping or feeling too tight.
7. AGPtek 33″ Heat-Resistant Curly Wavy Long Silver White Wig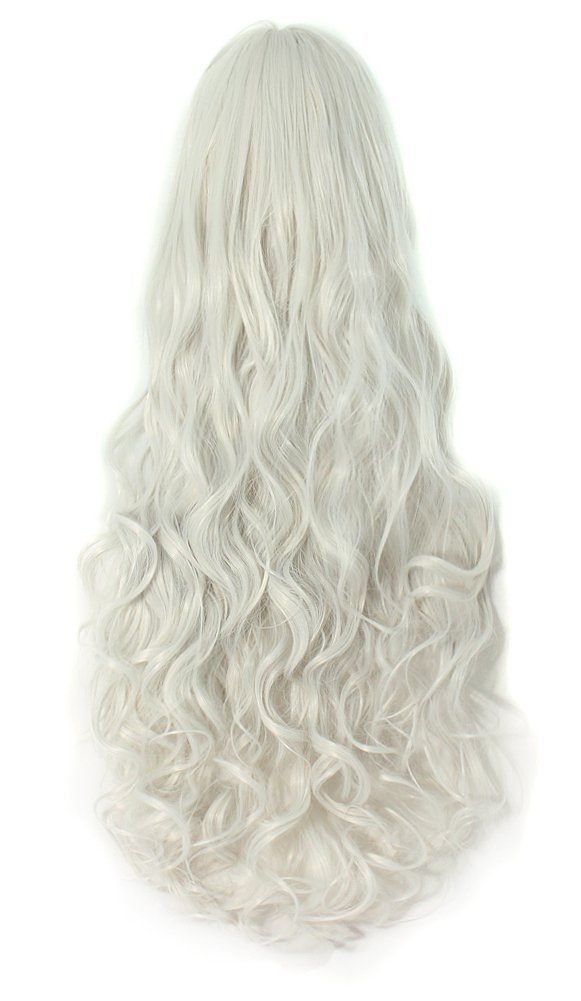 You can achieve the captivating appearance of a beautiful mythical siren with this long, flowing silver white wig from AGPtek. Designed with a gentle curl, the wig takes on the appearance of a beautiful cascading waterfall and is sure to help you stand out in any setting.
Crafted with synthetic fibers, the wig looks and feel completely natural. At thirty-three inches, it is very long and effortlessly extends down to the middle of your back. This wig is constructed with a comfortable traditional wig cap and is a full-coverage wig style.
6. Long wigs with bangs – Rbenxia Curly Long Heat-Resistant Spiral Pink 32″ Wig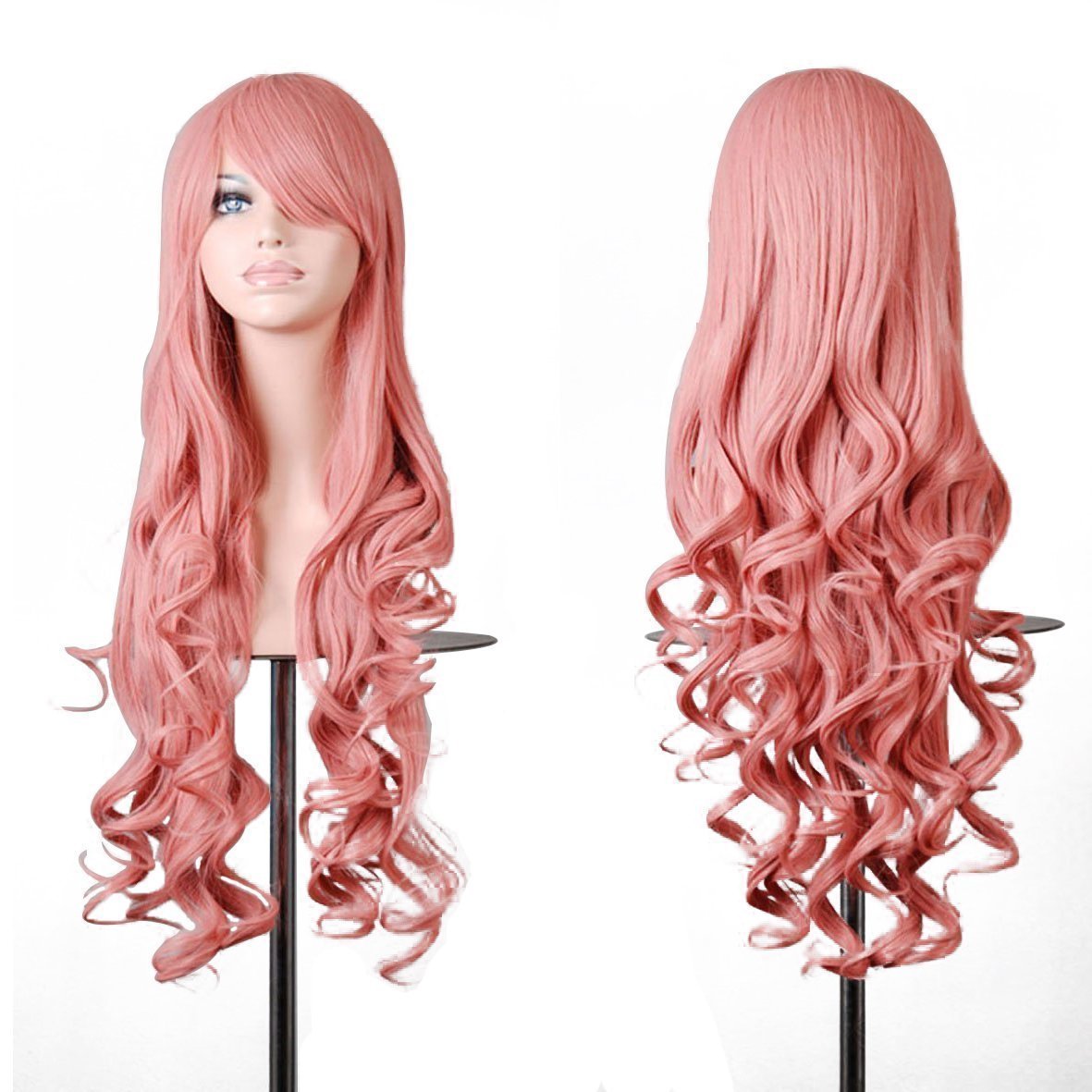 Are you hoping to follow in the footsteps of trend-setting celebrities like Pink and Kylie Jenner? Put your own twist on the popular pink hair trend with this pale pink long wig from Rbenxia. The wig is thirty-two inches long and features full side-swept bangs and defined curls at the bottom.
The synthetic fibers that this wig is crafted from feel just like real hair when you touch it and looks natural as well. Plus, you can part the wig in any way you choose without being able to see the netting underneath.
5. long halloween wigs – Rbenxia Curly Long Heat-Resistant Spiral Black 32″ Wig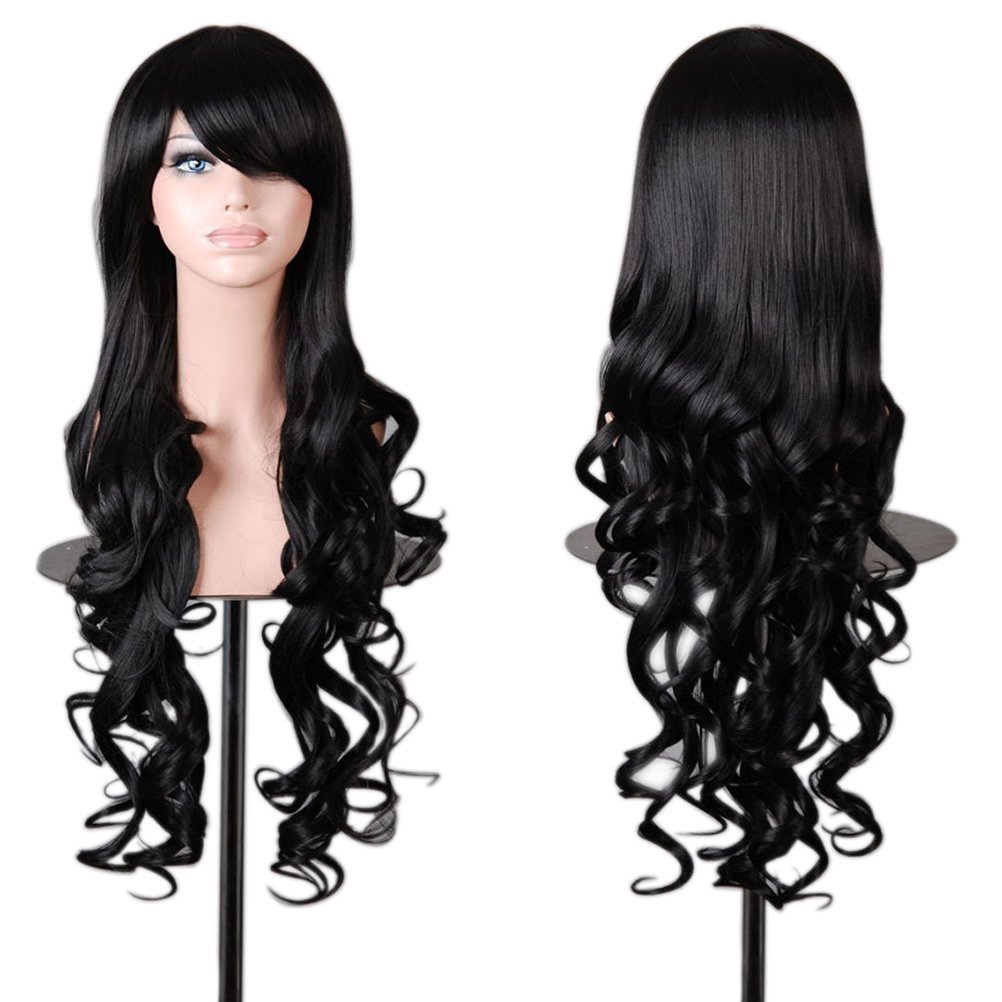 If you're looking to achieve a more natural look with the same long, curly style as the pink wig above without the crazy colors, try this black Rbenxia wig. It is a full, long wig that features side bangs and tight curls in a sleek, natural shade of black.
The wig is crafted from one hundred percent synthetic fibers that look and feel soft and natural. Its black fibers have a shiny finish that looks like real, healthy, glossy hair without appearing greasy.
4. MapofBeauty 32″ Long Hair Spiral Curly Wig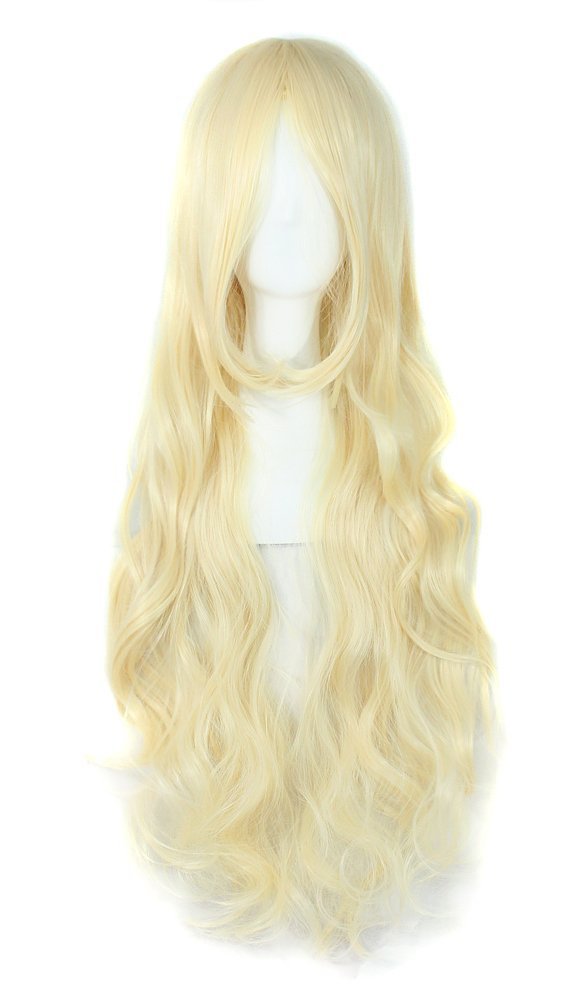 Have you always wanted to be a blonde but weren't born with natural light strands? You can avoid the expensive, harmful process of bleaching with this long blonde wig from MapofBeauty that always looks glossy and healthy despite its light color.
The thirty-two inch wig features layered bangs and a gentle wave. It looks and feels completely natural and is crafted from one hundred percent high-temperature synthetic fiber that you can style using heated tools without worrying about damaging your wig.
3. long costume wigs – 

Outop 28″ Women's Long Wavy Heat-Resistant Wig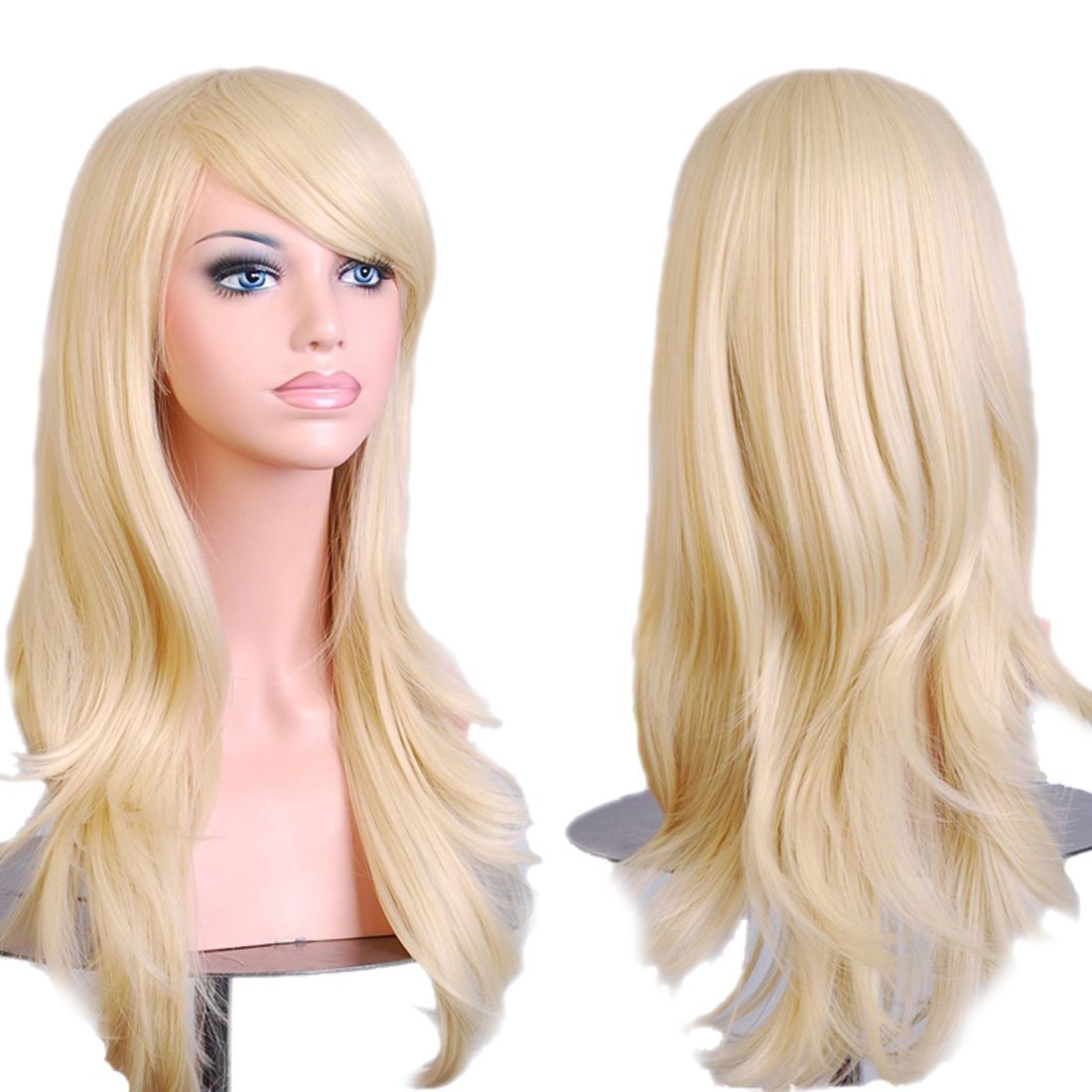 Crafted from top-quality, one hundred percent synthetic fibers, this long twenty-eight inch wig from Outop looks and feels soft, smooth, and totally real. It is long, thick, and straight with a gentle wave at the bottom that helps it appear more natural. The wig has a natural appearance that allows it to be worn everyday or for special occasions, depending on your preference.
With a length of twenty-eight inches, the wig is very long. It has a traditional cap construction and is adjustable in order to help it fit every unique head shape and size without feeling uncomfortably tight or coming loose throughout the day.
2. MelodySusie Black Long Straight Wig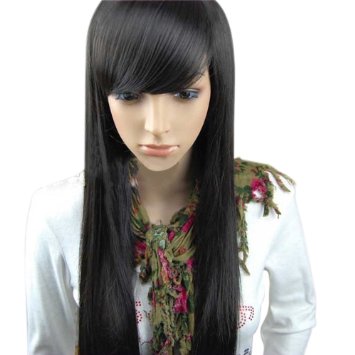 This long wig from MelodySusie helps you achieve flawless, pin straight long black hair effortlessly. It is a very long-lasting wig that is designed with a natural feel and look for daily use. The wig is crafted from top-quality synthetic fiber that is imported from South Korea and feels soft and real.
This wig comes with an included wig cap and comb to help you take care of your wig and maintain its original quality. It features two built-in adjustment straps that are easy to use in order to achieve a tight, comfortable fit on any head.
1. MelodySusie Dark Brown Long Curly Wig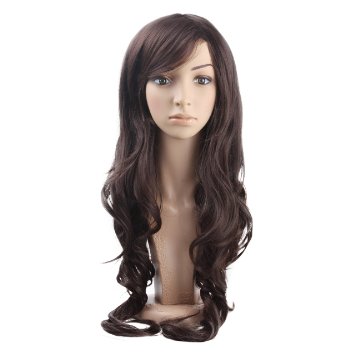 This beautiful long wig from MelodySusie helps you transform your natural hair into an abundance of perfectly styled, curly long hair. The dark brown color of the wig helps it look natural enough that you can wear it every day to work, the grocery store, or any other location that is a part of your daily schedule.
Crafted from imported synthetic fibers from South Korea, this wig is of the highest quality. It looks glossy without appearing unnaturally shiny and it feels soft and smooth to the touch for a natural look and feel.
A long wig allows you to get gorgeous, flawlessly styled long hair without having to spend years growing out your natural hair. Before you invest in a long wig, take a look at the list in this post to find some of the best long wigs available that combine top quality construction with a stylish design.