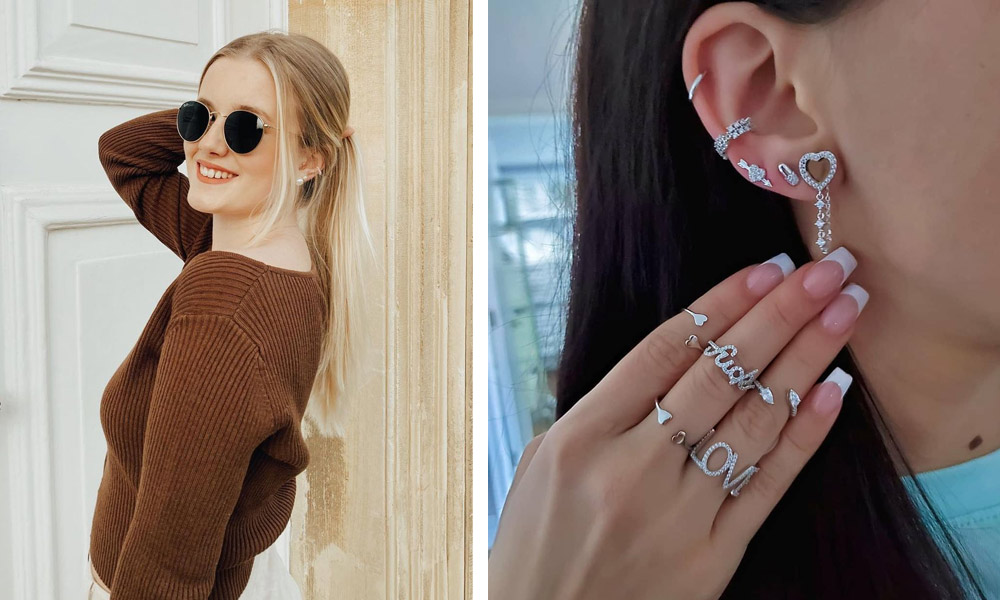 We're all currently shivering at the end of a snowy winter hoping but not yet believing that it will end once. But spring catches us by surprise, and we fussily begin to sort out our wardrobe, looking for an outfit to create light, flying, and airy images which we missed so much in the frosty winter.
With the arrival of warmth, we wake up from lethargy, shed the weight of multilayered warm sweaters and fur coats, and turn into light multi-colored jackets, short skirts, and flowing tunic dresses. It is now that fashionable women's accessories come to the fore – the less clothing, the more attention is paid to details. A properly selected accessory is not only an addition to the image, it is the icing on the cake which can reveal the peculiarities of the whole look and which can tell everything about its owner at once.
With the trends presented by fashion houses for Spring/Summer 2021, it will be easier to attract attention by picking out the right jewelry and accessories.
This spring, many runway shows were replaced with presentations and virtual events. But still, everything that was presented by the designers, all the innovations and interpretations of the old familiar fashionable attributes will have a great impact on our wardrobe.
So what accessories should you lookout for this season? We tried to round up the most proper examples.
1. Bags
Zip bags in the form of small boxes, reminiscent of travel beauty bags, are a fashion trend this spring. The brands have decided to reimagine their iconic cosmetic bags and offer a casual option. So, Christian Dior showed an ideal daily accessory – a Dior Travel cosmetic bag made of soft leather. Thanks to the handle and detachable strap, the bag can be carried in various variations: in the hand, on the shoulder, or even over the shoulder.
Cosmetic bags were also presented in the collections of Chanel, Coach, Dolce & Gabbana, Louis Vuitton, Miu Miu. Everyday options of bright fresh colors are interspersed with evening and holiday suede handbags, brand monograms, with various decorative elements. A very stylish and practical trend, isn't it?
2. Sunglasses
When choosing sunglasses for the new season, be guided by the trends set by the fashion houses of Fendi, Max Mara, and Miu Miu. Judging by the photos from lookbooks and from the shows, Aviators, round, laconic oval and rectangular models, half-face giants, flirtatious Cat-eyes, with tinted, colored, and gradient lenses will be relevant.
Fashionable frames are quoted as thin barely noticeable, wire, and thick acetate or plastic, especially from recycled materials – designers vote for Eco. You should definitely pay attention to the new seasonal Victoria Beckham's eyewear collection, which contains both graceful rimless options and oversized models in faceted frames.
3. Jewelry
No fashion look is complete without embellishments.
This season, geometric jewelry is undoubtedly in the lead: clear lines, sharp corners, cunning weaving of straight lines – all this is present on the jewelry that we will wear next spring. Modern jewelry masters, like their ancient predecessors, drew inspiration from the world around them, nature and space. Hence, the Miu Miu round sun-transparent earrings, the Prada logo triangular earrings, and the Isabel Marant star jewelry.
Someone will prefer items with sea or river pearls, having ideal or fancy, irregular shapes – there will be a lot of pearls this season.
Rainbow beaded necklaces, which you can put on for a party or combine with a casual-style outfit, are one of the hottest trends of spring and summer.
Chunky multi-color chains accentuate the graceful female neck. Layering in accessories is noticed at all fashion shows for the SS 2021: chains of different lengths, textures, and colors, with and without pendants, including pearls, which have long ceased to be an attribute of an evening look.
And don't forget about bracelets: a large metal bracelet from the Chanel collection or a thin bracelet with pendants from Dior, or you can have several diverse and multi-colored ones, made of precious metals or bijoux – eclecticism is in fashion.
4. Protective masks
The previous year's trend for designer masks is smoothly flowing into 2021. Thanks to this accessory, you can wrap yourself up in a light fog of mystery, especially if the mask looks like a transparent veil. Simple or decorated with rhinestones, prints, embroidery, or other decor, masks from natural or eco-leather – there is an enormous assortment.
American designer Rick Owens makes masks a part of the showcased looks: simple face-covering paired with a sheer fabric perfectly works with stylish clothes ensembles.
Designers advise choosing masks for clothes: the most suitable option is from the same fabric or at least the same color.
This season, you have a vast scope for the realization of your creative fantasies. So get ready to crawl out of your home pajamas and start thinking about new amazing outfits.