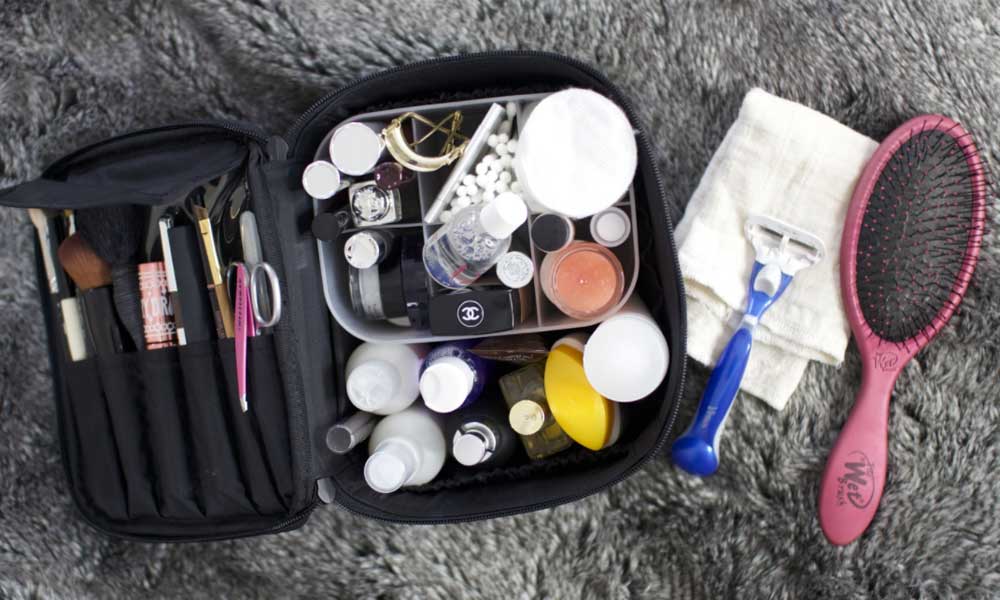 When you travel, your makeup needs to travel with you just like all the other necessities you use every day. Unfortunately, transporting a makeup collection can be a frustrating challenge for many women. Most women use a variety of makeup products on a daily basis, all of which they consider to be an equally vital part of their beauty routine. Furthermore, many makeup products are extremely fragile. Powder products can easily shatter and liquids and creams can spill if handled or transported improperly.
Due to the fragility of many makeup products and the importance of getting your key beauty products to your final destination in one piece, having a travel makeup bag is essential for all beauty lovers. A separate makeup bag ensures that you don't have to store your makeup in the main compartment of your suitcase where it is more likely to get jostled around and break or spill over the rest of your belongings. Plus, having a travel makeup bag is extremely convenient. It helps you know where all of your makeup is at one time and find it easily in your bag without having to hunt around your suitcase for a lost tube of lipstick. If you're a frequent traveler and a beauty lover, a makeup bag is a necessity for you.
8. BAGSMART Makeup Organizer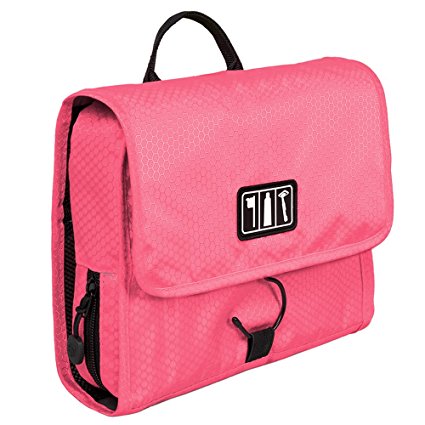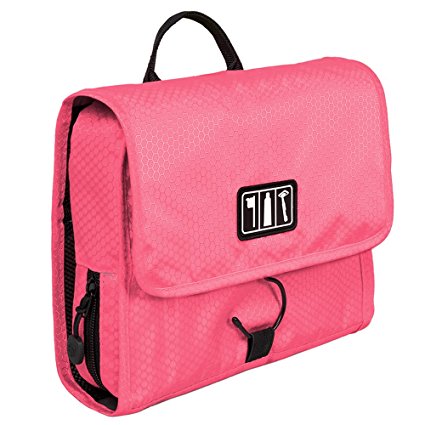 This durable travel makeup bag is perfect for keeping your precious beauty products safe and organized while on the go. It is crafted from premium polyester fabric and is very lightweight at less than one pound in order to make transportation as simple and convenient as possible.
The makeup organizer features three separate breathable mesh compartments. Each compartment is large enough to hold a variety of makeup and other beauty products. The separation of these compartments helps you keep your makeup organized and ensures that you will always know where to find your products when you're looking for them while on the go. Plus, the mesh construction of the compartments helps regulate the temperature of the bag and keep your beauty products from overheating during transportation.
7. Travel Smart Transparent Makeup Bag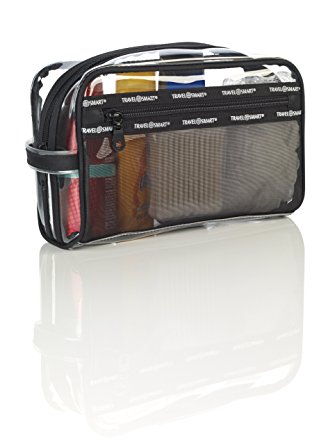 It's a lot easier to find what you're looking for while on the go if you can already see it. You'll never have to root around in your bag searching for the specific product you want to use with this transparent makeup bag. The bag features clear vinyl siding that allows you to easily see what is inside the bag and find exactly what you're looking for in no time. The transparency of the bag also makes airport security and other bag inspections easier and more convenient.
This makeup bag features a main compartment and a separate mesh pocket. These separate compartments help you keep your beauty products organized during transportation. They also make it easier for you to find specific products without upending the contents of your entire bag.
6. EN'DA Professional Makeup Bag
Professional makeup cases – This makeup bag is both stylish and functional. It comes in a range of fun colors, including black, bright blue, pink, yellow, and the red shade shown above. The construction of the bag is top-quality. It is crafted from professional-grade nylon material and includes a durable strap and zipper for travel convenience.
The case itself is designed to hold all of your essential beauty products. It includes several separate pockets of various sizes that can hold all of your favorite beauty products. This makeup organizer also includes special pockets for makeup brushes and a mirror for easy makeup application on the go. As an added bonus, the bag holds its shape in order to prevent your fragile products from getting crushed in transit.
5. Lavievert Makeup Organizer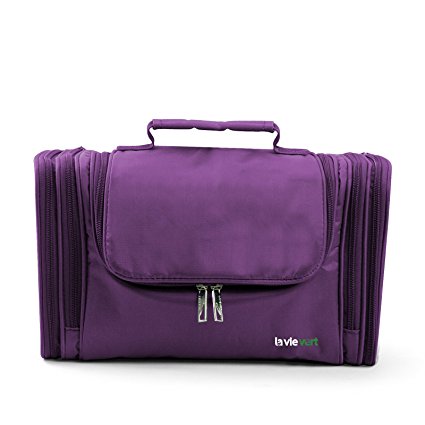 This heavy-duty makeup organizer is perfect for beauty lovers who can't bear to part with their full makeup collection even on a short trip. It includes an abundance of separate compartments and pockets of various sizes and materials in order to ensure that all of your beauty products fit into your bag easily and stay safe throughout your entire journey. The bag includes mesh pockets, elastic loops, zipped pockets, transparent pockets, and more.
The bag itself is completely water-resistant in order to prevent in-transit damage for your makeup. It includes thick padding that keeps even your most fragile beauty products safe during a bumpy flight.
4. ITraveller Hanging Makeup Bag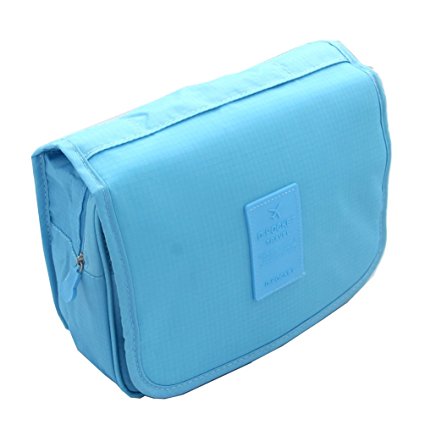 This bag is crafted from water-resistant fabric that keeps your makeup products from getting wet and developing bacteria during your travels. It also includes an inner lining with anti-bacterial properties to further prevent the development of bacteria within your makeup.
The makeup bag is extremely durable. It features top-quality stitching and a smooth zipper for secure and convenient closure. This organizer includes multiple different pockets and compartments, all of which you can access easily in order to retrieve the products you need without a hassle. It also includes a built-in durable hook that allows you to hang it up while on the go for easy and convenient storage and access.
3. Show & Tell Makeup Organizer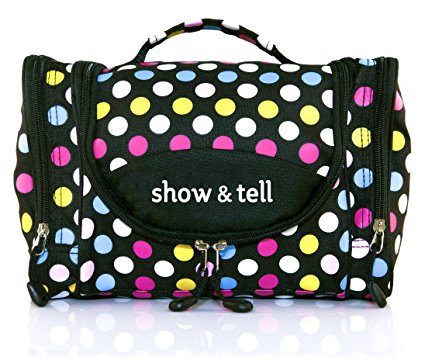 This adorable makeup bag is just as functional as it is cute. Inside its polka-dotted exterior, the bag includes four zippered compartments for convenient and logical storage of your necessary makeup products. Two of the bag's compartments are located on the outside and two are on the inside.
The makeup organizer is constructed from durable, waterproof fabric. This top-quality construction ensures that your makeup products will stay safe, clean, and bacteria-free throughout the entirety of your travels.
2. Bestrice Makeup Bag – designer cosmetic bags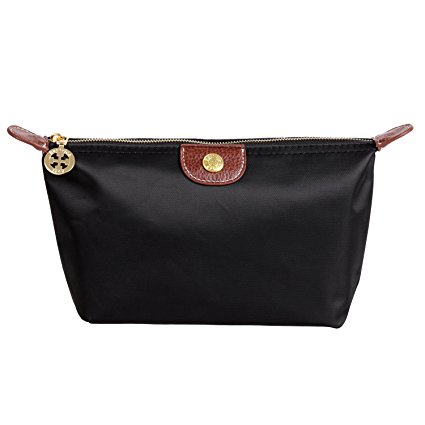 This gorgeous, professional makeup pouch looks great and keeps your makeup safe and organized while you travel. The bag is compact for easy storage in your suitcase or carryon bag, but it is large enough to allow you to carry all of your beauty necessities with you on the go.
The bag features padding in order to provide your precious makeup products with added protection. It includes one zippered compartment where you can conveniently store all of the products that are a vital part of your daily beauty routine.
1. Travel makeup organizer – Unimeix Makeup Bag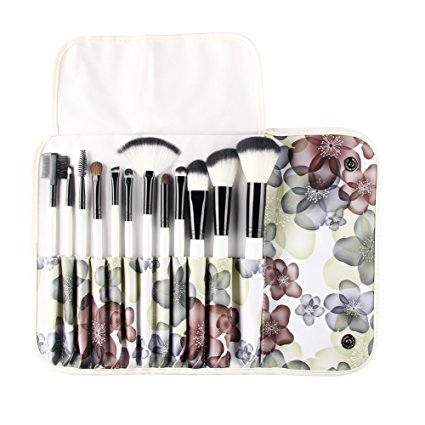 One of the most difficult beauty products to travel with is makeup brushes. They often get crushed or become misshapen during transit. This travel makeup organizer keeps your brushes safe and ensures that they arrive at your destination with the same quality they had at the beginning of your trip.
This gorgeous flowered organizer is crafted from artificial leather and stores twelves makeup brushes in a rollable, secure case with loops that separate each brush. Plus, the best part is that the case comes with twelve included makeup brushes that fit perfectly within the storage loops of the organizer.