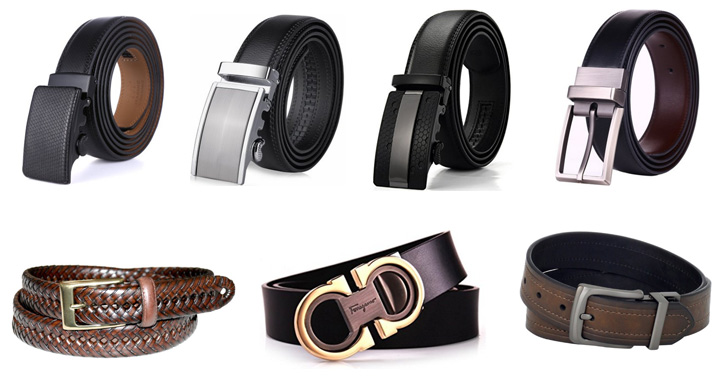 The right belt is much more than a necessity that helps your pants fit correctly. A belt needs to be functional, but it can also be an expressive fashion statement. Choosing a belt shouldn't be boring. If you're in the market for a new belt that works well and helps you express your own personal style, keep reading the following best men's belts reviews to discover the top rated belts for men currently available. Or you can click here to view the best selling belts for men on the market.
10.

Beltox Fine Men's Dress Belt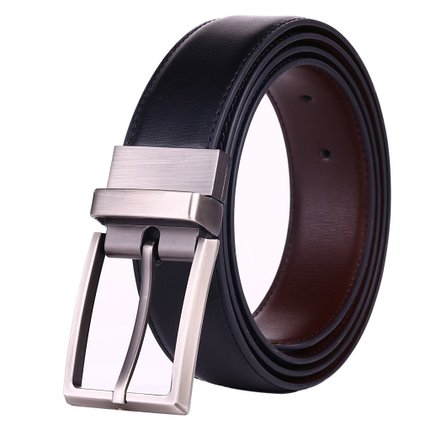 This dress belt is crafted from one hundred percent leather. It is one and one-quarter inches wide and can fit a variety of waist sizes. Men with a thirty to forty-seven inch waist can expect this belt to fit them.
No longer will you have to spend an excessive amount of money to buy both a black and a brown belt. This belt is completely reversible; it's black on one side and brown on the other. It features a silver single-prong buckle that rotates in order to make the reversibility of the belt as simple as possible.
9.

Royalours Mens Smooth Leather Belt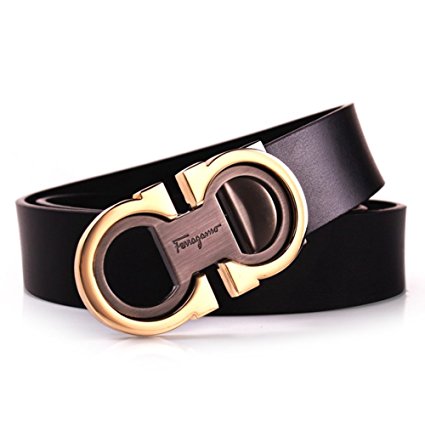 Say goodbye to boring belt buckles with this leather belt from Royalours. Featuring a gorgeous round gold or silver clasp, this belt has a buckle that's unlike any you've seen before. The belt itself is crafted from split cowhide leather and is available in either black or brown with a gold or silver clasp.
Designed to fit any waist size between thirty-one and forty-four inches, the belt is available in four different sizes in order to fit comfortably around as many waists as possible. Upon delivery, the belt comes in a complimentary gift box.
8. Xhtang Men's Solid Buckle with Automatic Ratchet Leather Belt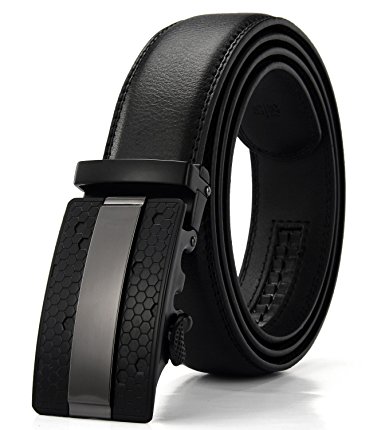 This belt combines fashion and durability into one functional accessory. It is crafted from second layer cowhide leather and features a strong zinc alloy buckle. The appearance of the belt is simple enough for casual use but classy enough to wear at more professional business events.
One of the best things about this men's belt is that it is one hundred percent customizable to your size and style. If it's too long for you, you can easily trim the length of the belt strap so that it fits more comfortably around your waist. Plus, the buckle and body of the belt are both removable and interchangeable so that you can switch up your style whenever you want.
7. Wolverine Men's Double Topstitched Leather Belt Roller Buckle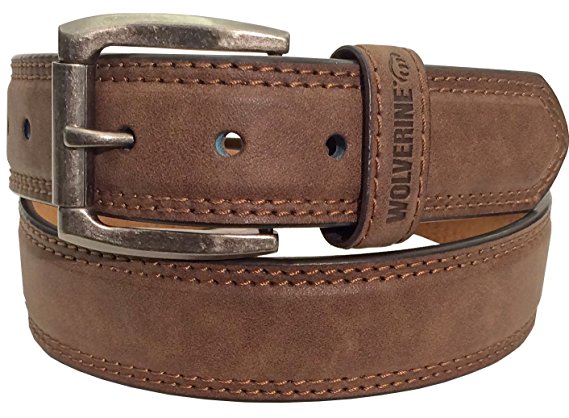 This belt from Wolverine is crafted from soft, premium leather. It is available in three different colors (brown, dark brown, and black), all of which have a simple yet timelessly fashionable style. The double edge topstitching of the strap really sets this belt apart from others with a similar basic style.
Durable as well as stylish, the belt is equipped with a sturdy roller buckle that secures easily and holds tight for a perfect fit. It also features several reinforced holes in order to ensure that fastening your belt is easy and that it stays fastened all day long.
6. Dockers Men's 30mm Glazed Top Braided Belt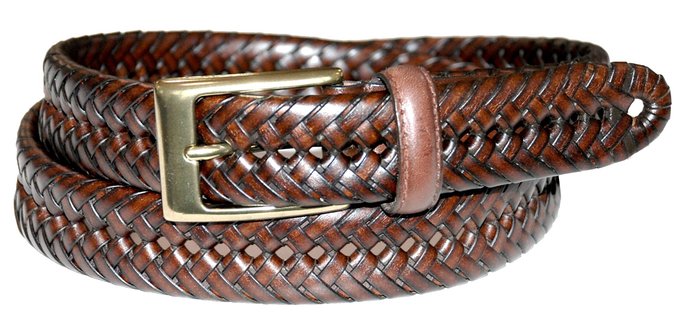 Featuring an intricate lace-braided strap that adds interest and intrigue, this men's belt from Dockers goes above and beyond in terms of style and high fashion. It is crafted from one hundred percent premium leather and has a buckle with a gorgeous brass finish.
The belt's buckle is a single-prong buckle that is functional and very simple to secure and tighten. Its beautiful lace-braided strap includes multiple integrated notches so that you can tighten or loosen the belt as needed to fit your waist as comfortably as possible.
5.

Marino Men's Genuine Leather Ratchet Dress Belt with Automatic Buckle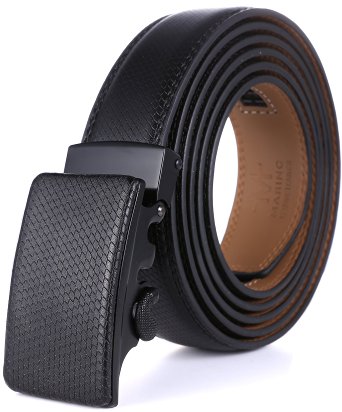 Upon first glance, this men's belt from Marino Avenue might seem confusing due to its lack of holes. However, despite its no-hole design, the belt is fully customizable in order to fit many different waist sizes. It is equipped with a unique auto-lock features that allows the strap to lock into the buckle and remain snug and secure all day long. Plus, you can easily trim the belt's strap to shorten it for a better fit if needed.
This belt is also incredibly durable. Its strap is crafted from one hundred percent leather and it features a scratch-resistant buckle that remains pristine even when the belt has become a much-worn old favorite. As an added bonus, this belt automatically arrives in a gorgeous gift box with a matching leather key chain.
4. Vbiger Men's Leather Belt Sliding Buckle 35mm Ratchet Belt Black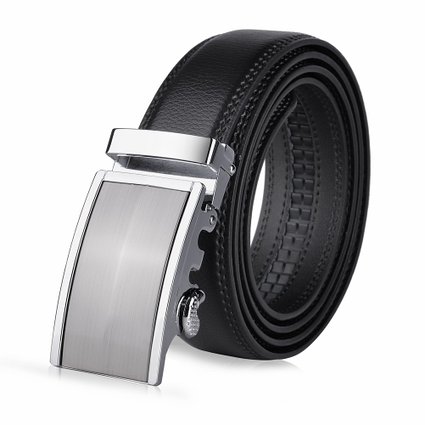 Crafted with beautiful double edge topstitching, this belt is both stylish and made to last. It is constructed entirely from top-quality leather with a premium alloy buckle.
This belt is a no-holes-needed accessory. It functions through a sliding buckle that has an auto-lock feature in order to keep the belt in place on your waist without loosening throughout the day. For extra customizability, the belt's buckle is removable so that you can switch out strap colors in order to match your outfit of the day.
3. Levi's Men's 40-mm Reversible Belt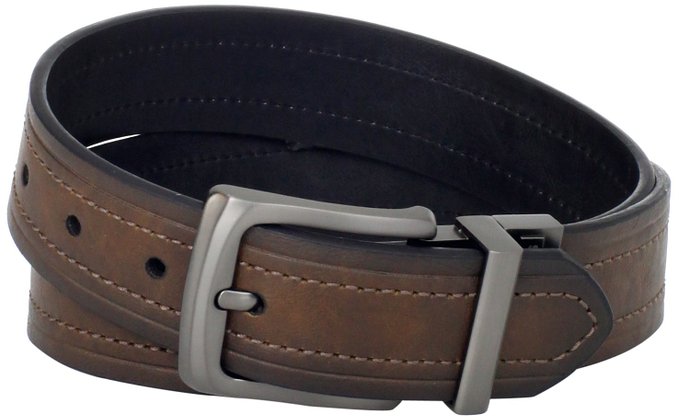 With a simple and rustic style, this belt is the perfect timeless accessory that complements almost everything in your closet. It is crafted from one hundred percent premium leather and is fully reversible. One side of the belt is black while the other is brown. It features a durable gunmetal buckle that is functional and classy without intruding on your style.
The width of the belt's strap is forty millimeters. When purchasing this belt, you should order it in one size larger than your standard waist size in order to ensure that it fits as comfortably and snugly as possible.
2. Dickies Mens 38mm Leather Belt With Two Row Stitch

Featuring classic double row stitching, this belt is a timeless accessory staple that will quickly become a new favorite in your wardrobe. It is crafted from dark brown leather with a simple single-prong gunmetal buckle.
If you spill something on the belt or it accumulates dirt and dust over time, there's no need to worry. Just wash it by hand using a damp cloth to remove stains or other imperfections.
1. Columbia Men's Military-Style Belt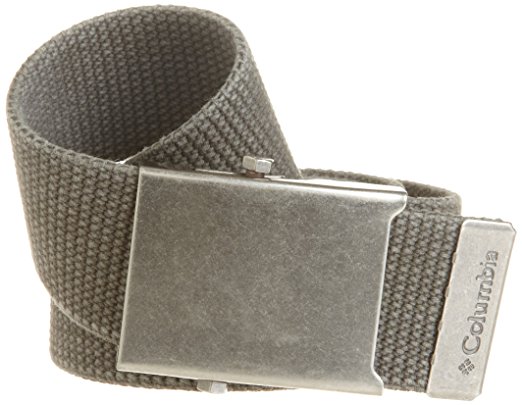 This men's belt from Columbia combines the durability and masculinity of a military-style belt with functionality and high fashion. It is crafted from one hundred percent cotton and is available in three classic colors: black, beige, and olive.
The belt's design is inspired by military apparel. It features cotton webbing that adds intriguing texture. Plus, it includes a wide metal buckle with a fashionable metal tip that sports the official Columbia logo.
Belts are often considered one of the most uninteresting accessories. Many people commonly think that they don't leave much room for personal expression and are generally a boring piece of clothing to purchase. Say goodbye to boring belts and try one of the top ten best men's belts on this list today.
Click here to view the top brands of men's belts on the market.