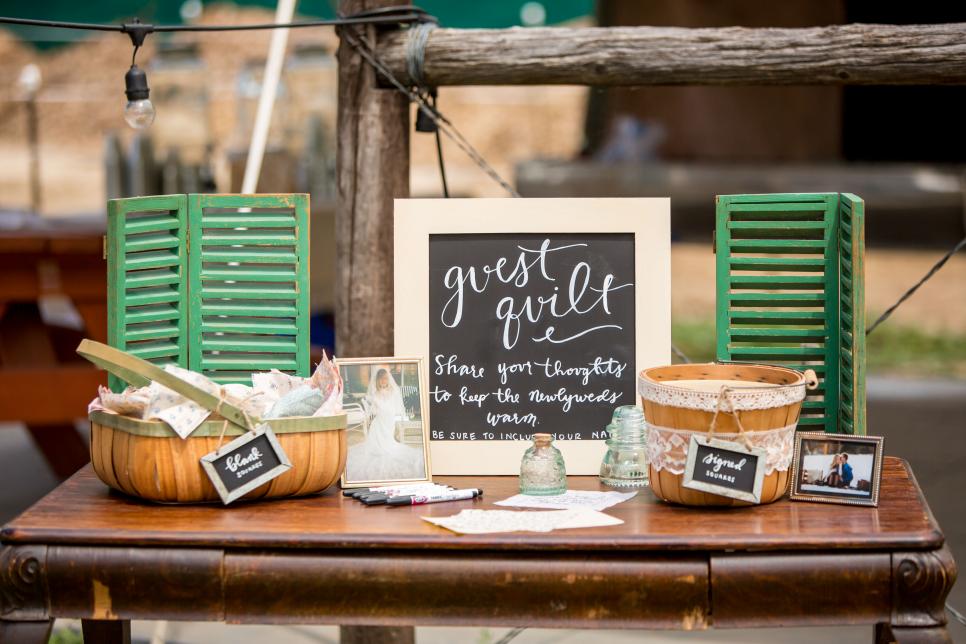 A wedding is the most incredible and the most memorable day of your life. This is the day you will remember and cherish for years to come. Couples spend years planning the perfect wedding. It involves so many aspects that most people hire professional services to plan the entire event.
While some prefer a glamorous wedding, others find the minimalist themes to be appealing, and for some, the aesthetic touch is the right choice. Although the minimalist theme has been trending a lot lately, it is completely normal to have a jazzy and glamorous theme for your wedding.
When we talk about a wedding, there are so many things beyond merely selecting dresses and choosing a hall. A lot of us often forget that it is also about the people who want to join you on your most important day. It's these people who'd eventually make your wedding memorable.
So, as you commence planning the big day, you will need to consider things such as deciding the meals, planning according to the weather forecasts, creating guestbooks and selecting gifts for the guests. Of these, creating guestbooks, though seems negligible, they are quite important. It truly enhances the theme of your wedding, what it may be.
So, we shall take a look at some major wedding guest book ideas that you can successfully incorporate into your big day.
1. The bucket list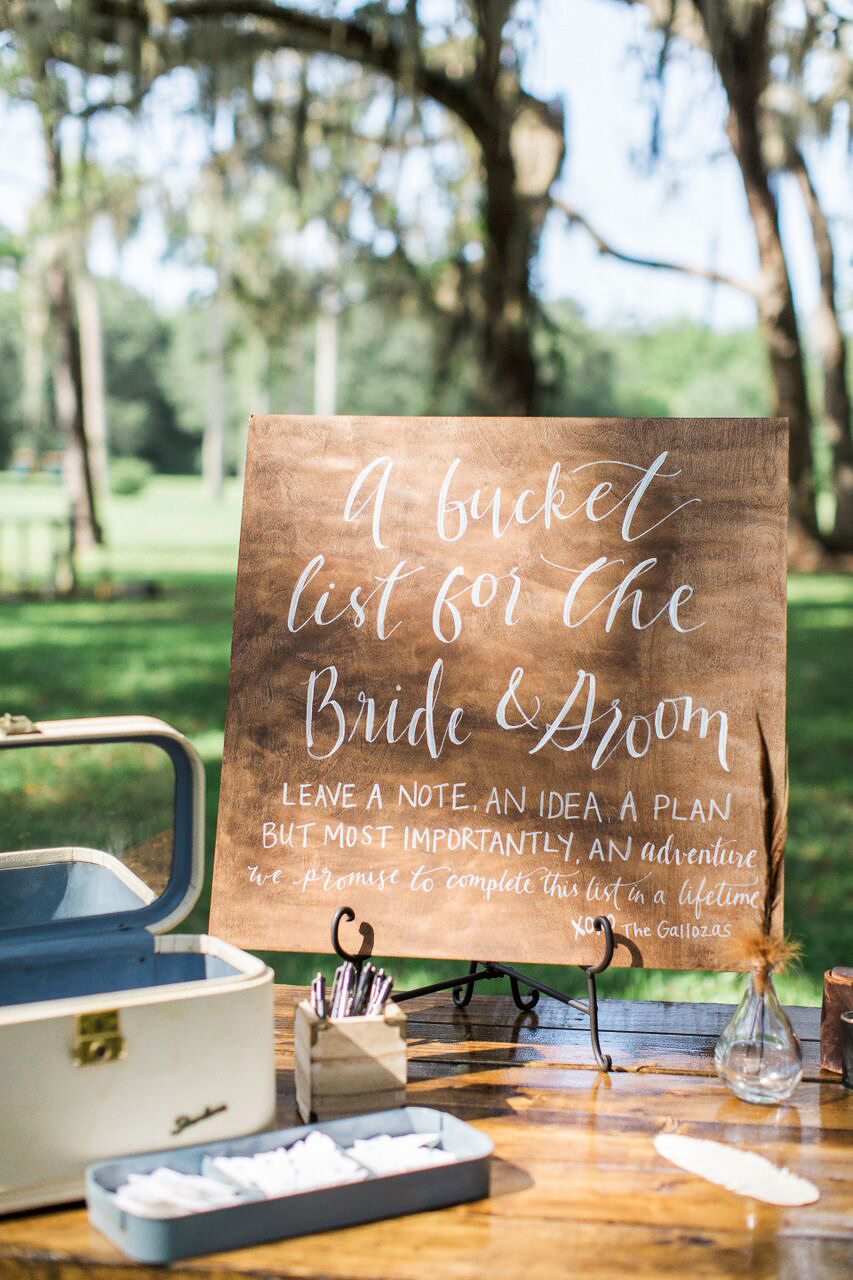 As couples, a lot of us have a bucket list of unique ideas for doing things together. You can take this to the next level with the marriage bucket list idea! Pass around vintage and classy tin buckets along with pens and pieces of paper for your guests to write stuff about you and your wedding! Here, they can write off their own thoughts and ideas for you or give you marriage advice and so much more. If you have flower girls involved, you can have them carry these buckets around collecting the paper slips. This will also enliven the mood of your guests and give them something to think about!
2. A wedding globe!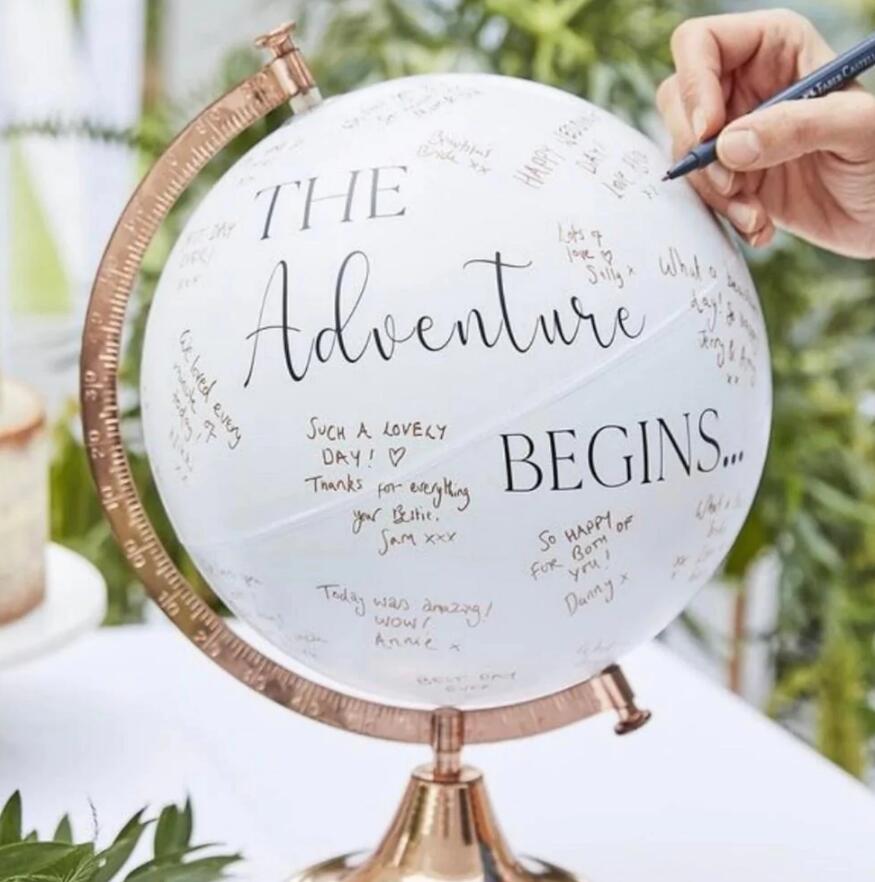 Couples often plan to travel the world together. So, for couples who are big-time travel freaks, this could be a striking guestbook idea. Aesthetically place the wedding globe guestbook at the entrance. Here your guests can nominate places for you to visit as a couple. This is a fun and intriguing way of starting off a conversation with your guests too. A wedding globe guestbook is quite a unique idea, and if you're looking to have a wedding peculiar and distinct from the rest, this might be a good idea.
3. Bottled messages and writing off the rocks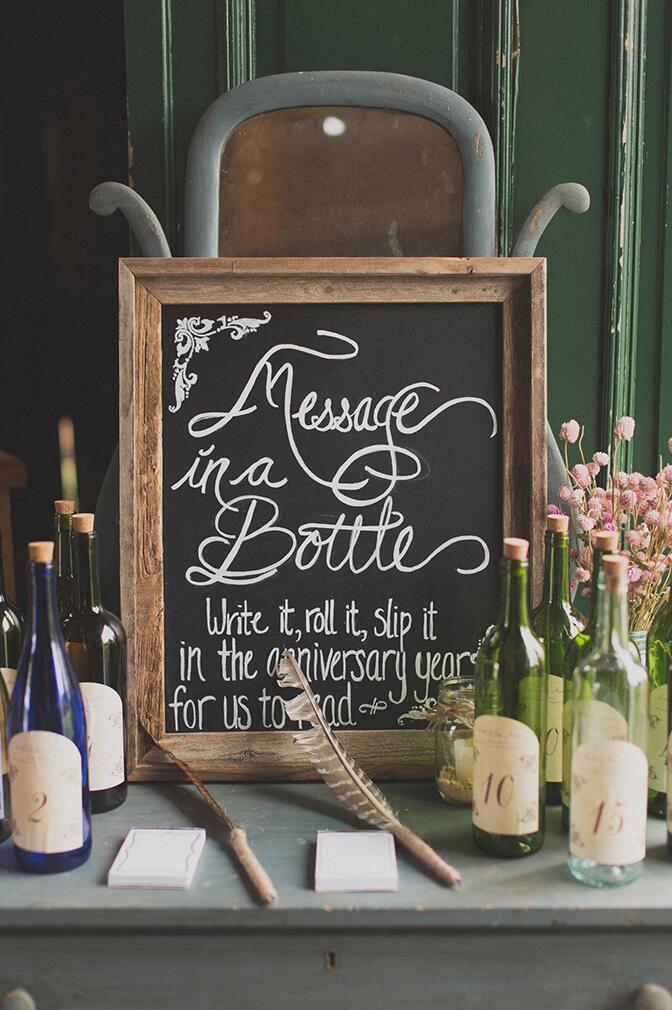 An open bar at the reception is the ideal way of celebrating your wedding. A bar means empty alcohol bottles that you can creatively put to good use!
This is another striking and quirky idea for a guestbook. Make use of the empty wine bottles by asking your guests to write whatever they want and put the piece of paper in these bottles. This is way more fun when the guests are drunk. You can store their happy memories as they write their thoughts.
Apart from bottled messages, you can also have your guests write off on stones and pebbles. Writing with pens and markers on plain white pebbles is a great way of preserving the guestbook and is unexpectedly surprising.
4. Wedding Video guestbooks
Nothing can beat the creativity of a wedding video guestbook, which is the best way to bring all your guests together, virtually. They just have to record a video message for you and upload the same. This is something that will stay with you forever, reminding you of your best pals and how they made your wedding so much fun and worth remembering.
5. Christmas ornaments and skateboards
You can also make use of Christmas ornaments for your wedding guestbook. Have every guest sign a Christmas ornament that you can make use of in the later years. This way, you have their memories, even if you cannot meet them during Christmas. You can make this more creative, by leaving out glitter, glue, sketch pens and more, for your guests to scribble away!
Not only this, but you can also have your guests sign or write off their ideas, thoughts and advice on skateboards, which can then be preserved for years. It is yet another way of doing things differently and uniquely.
6. Table photo booth
You obviously hire a professional wedding photographer with great reviews. But there's a limit to how many candids he can capture after a few drinks. What you can do is, place polaroid cameras all over the reception hall and the tables. Letting your guests do the photography can dramatically influence the tone of the images! Not only will you have a ton of great wedding pictures, but this will also not let monotony ruin your wedding day. So, a photo booth is a great wedding guestbook idea.
Conclusion
When you plan a wedding, there are numerous things to be taken care of; right from choosing the theme to arranging the cake of the couple's choice. If you're into the wedding planning business, you are expected to be as creative and resourceful as possible, so when it comes to things like guestbooks, one can have a wide spectrum of options and choices to choose from.