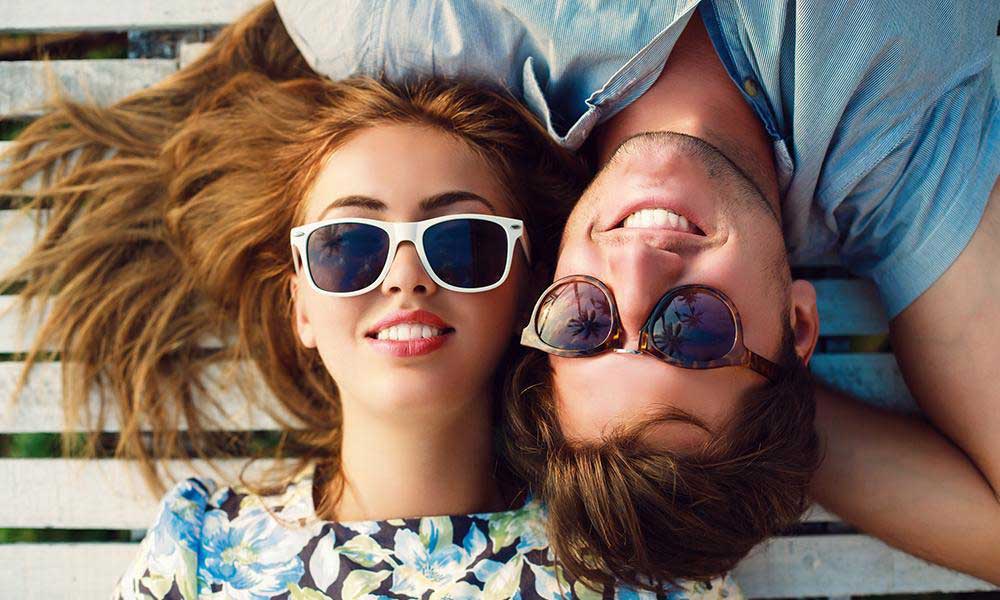 As summer approaches, so does sunglasses season. Warmer weather in the summertime goes hand in hand with clearer skies that leave you needing to shade your eyes. That's when sunglasses, summer's most popular and practical accessory, start to become an essential you never leave your house without.
If you want to upgrade your sunglasses for the upcoming summer months, don't just mindlessly grab the cutest pair off the rack. Whether you want to protect your eyes as much as possible or just want to have the trendiest sunnies on the beach, there are many factors you should consider before buying your next pair of sunglasses to make sure you end up with a pair that's perfect for you.
1. Think About Your Face Shape
Just like different clothing styles look better on people with a certain body type, your face shape has a major effect on how a pair of sunglasses will look on you. If you want your sunglasses to flatter you, it's important to choose a pair of sunnies that complement your natural face shape.
If you have a heart-shaped face with a wide forehead and narrow jawline, cat eye sunglasses create a balanced look because they are wider on the top than they are on the bottom. Oversized sunglasses make round faces appear to have a more defined, angular shape. Round or rimless sunglasses soften the harshness of square faces and create a delicate, feminine finish. Before you start shopping for sunglasses, make sure you know what your face shape is and which sunglasses styles flatter it best.
2. Look at the Numbers
When it comes to sun protection, not all sunglasses are created equal. In fact, some sunglasses barely offer any sun protection at all even if they look just like any other protective pair.
An easy way to make sure you buy sunglasses that will really protect your eyes from sun damage is to take a look at the tag on any given pair of glasses. Protective sunglasses will have a sticker, tag, or label indicating that they effectively block one hundred percent of harmful UV light from reaching your eyes. If you can't find such a tag on a pair of sunglasses, keep looking until you find a pair that provides the sun protection you need.
3. Pick the Right Lens Color
The color of your sunglasses' lenses aren't just for show. Different lens colors have slightly different functions. Darker lenses are designed to minimize glare and eye strain in bright sunlight. Sunglasses with darker lenses are an ideal choice for use while driving. Gray and green lenses don't distort your perception of colors as some other lenses. Lenses with a red tint block blue light and are generally more comfortable to wear for long periods of time than other lens colors.
If you're just worried about sun protection, don't concern yourself too much with lens color. Despite common misconceptions otherwise, the level of sun protection your sunglasses offer you is not affected much by the color or darkness of their lenses.
4. Accommodate Your Prescription
If you wear regular glasses on a daily basis to correct your vision, finding sunglasses can be a bit more difficult for you. Unless you want to start wearing contact lenses, you need to find sunglasses that allow you to see clearly without your standard glasses.
You have a few options when it comes to choosing vision-correcting sunglasses. You can opt for prescription sunglasses, but these glasses are more expensive and difficult to come by. Many glasses wearers choose to skip out on sunglasses altogether and buy regular glasses that automatically become tinted in bright light to protect your eyes from sun damage. Your final option is clip-on lenses, which you can buy with UV protection to clip onto your regular glasses when you need sun protection.
5. Go Big
When you're buying sunglasses, keep in mind that their size matters for more practical reasons than staying on-trend. The bigger the frames of your sunglasses are, the more coverage they offer and the more sun protection they provide.
Wearing sunglasses with smaller frames allows harmful UV rays to slip in through the sides of the glasses and potentially cause sun damage to your eyes. If you're at a loss for which sunglasses to choose, always opt for bigger styles to get as much full-coverage protection as possible.
6. Don't Pay Too Much
Sunglasses are an accessory that often sell for way too much money. It's not at all uncommon for high-end designer brands to sell their sunnies for upwards of $500 or even $1000. Unless brand names are very important to you, there's really no reason to spend so much money on a pair of sunglasses.
The price of sunglasses has nothing to do with the level of sun protection they provide. Don't assume that more expensive glasses offer better protection than cheaper pairs. Always check tags to make sure a pair of sunglasses block 100% of UV rays before you buy them, no matter how much they cost.
7. Buy More Than One Pair
Depending on your needs and preferences, you might not be able to find one pair of sunglasses that has everything you're looking for in your ideal sunnies. If this is the case for you, consider investing in more than one pair of sunglasses.
Keep one pair of high-quality, extra protective sunglasses in your car to protect your eyes from the sun while you drive. If fashion is important to you, choose a pair of inexpensive sunglasses in a trendy style to wear to the pool or the beach. Buy glasses with high-contrast amber, green, or gray colored lenses to wear while playing high-focus sports like baseball or golf. Sometimes, finding the perfect sunglasses for you means investing in more than one pair to meet all of your needs and expectations.
Your sunglasses are your most important accessory. They're practical and even essential in some conditions, and they can serve as the perfect finishing touch for your trendy looks if you choose a pair of stylish frames. When you go shopping for new sunglasses, make sure you get the most out of your sunnies by choosing a pair that's really right for you, your style preferences, and your lifestyle.
Luxury Brand Design Cat Eye Sunglasses Women Brand Designer Mirror Vintage Retro Sun Glasses For Women