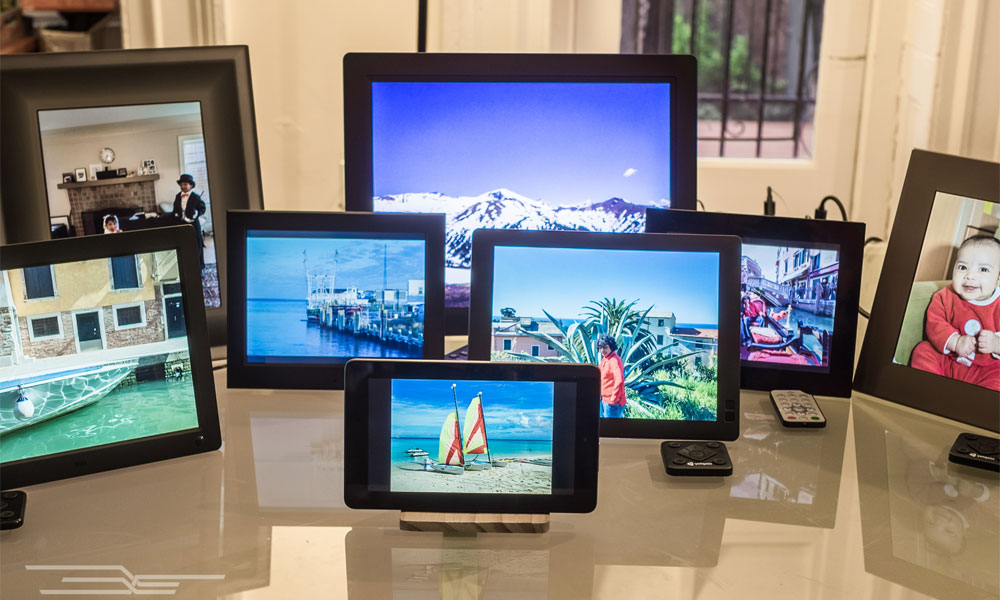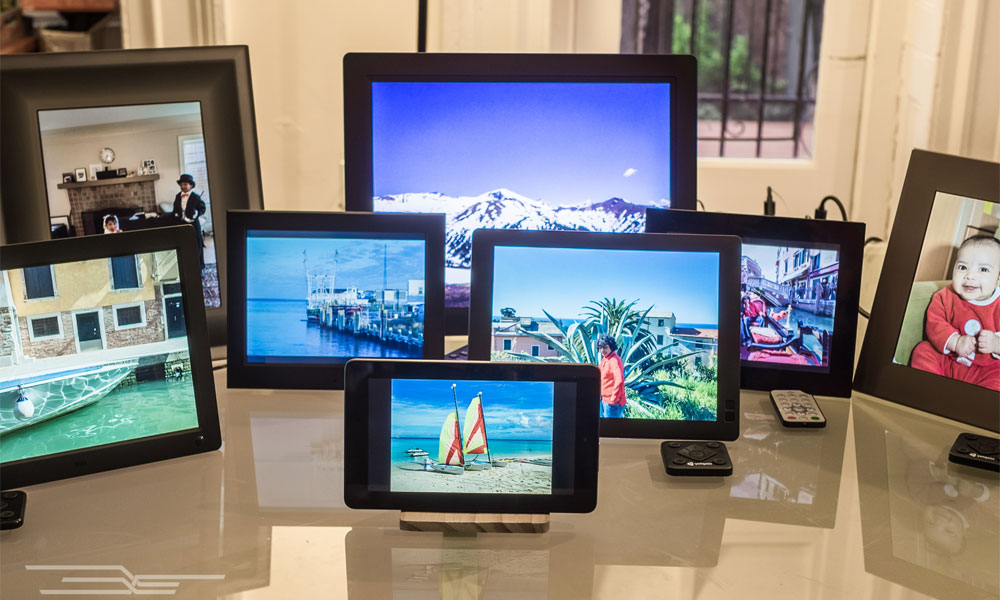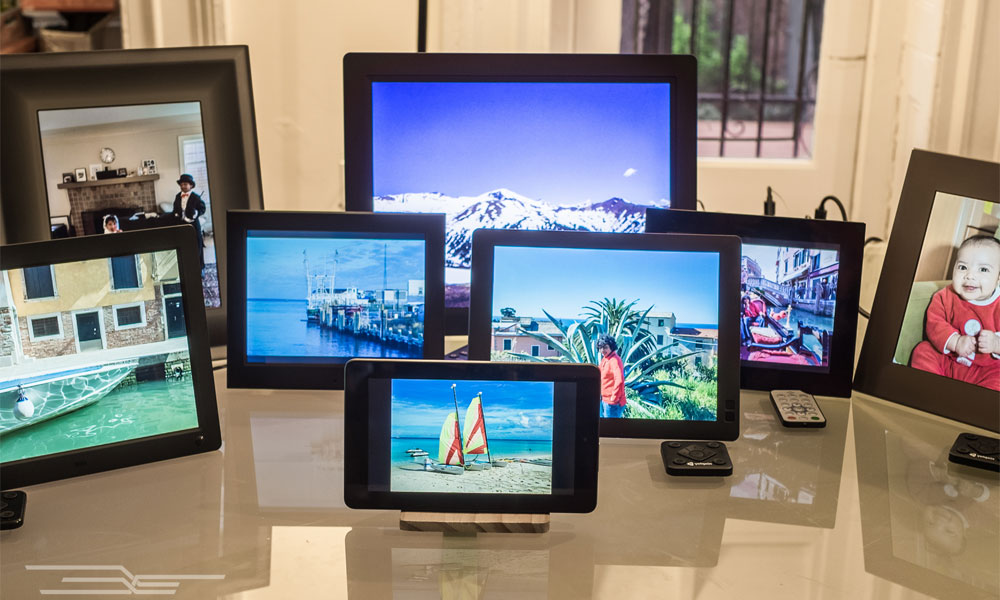 Digital photo frames are the future of pictures as decor. Much like e-readers revolutionized the way people read by allowing them to store thousands of books on a single device, digital photo frames can transform the way you display photos in your home, office, etc.
These high-tech frames allow you to program multiple photos into a single digital frame. They are especially useful as decor in small spaces–like on top of your desk–because you don't have to choose which important snapshots from your life to display. With a digital photo frame, you can display multiple pictures at one time in a slideshow. Plus, you can easily update which pictures are inside the frame when you want to switch up your display.
Digital picture frames make displaying your favorite photos/pictures more convenient and more fun. They make it easy to update your photos, so you don't end up with a houseful of pictures that were all taken a decade ago. Plus, they eliminate the need for ordering and printing out pictures–which can be a major hassle. With a digital photo frame, nothing is on paper and you can transfer your pictures directly from your camera, smartphone, computer, etc. without ever printing them out. Some digital frames even allow you to display videos you've taken as well as pictures. Revolutionize your photo displays by adding one–or all five–of these innovative, convenient, reliable, high-tech digital photo frames in your own home or office.
1. NIX Advance Digital Photo and Video Frame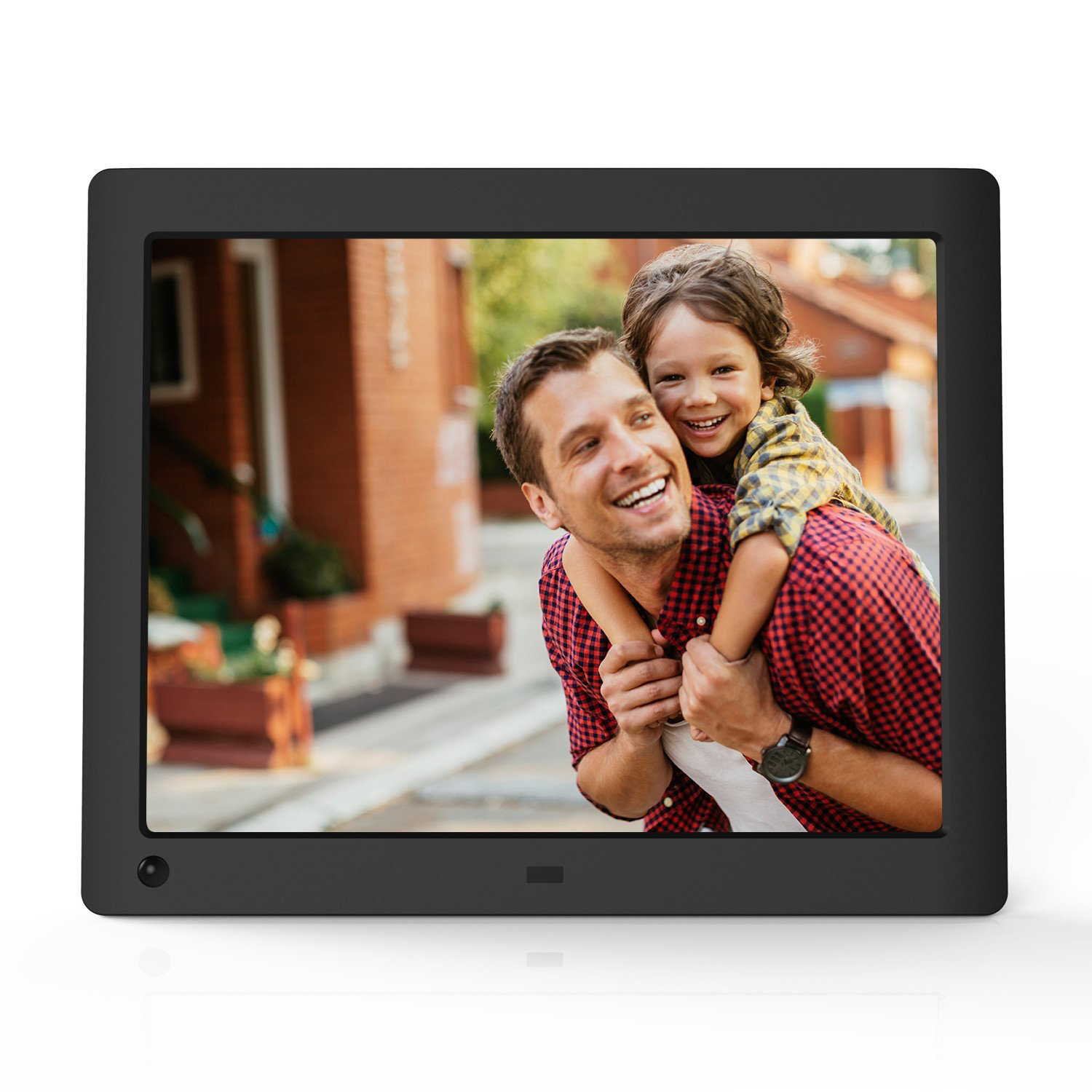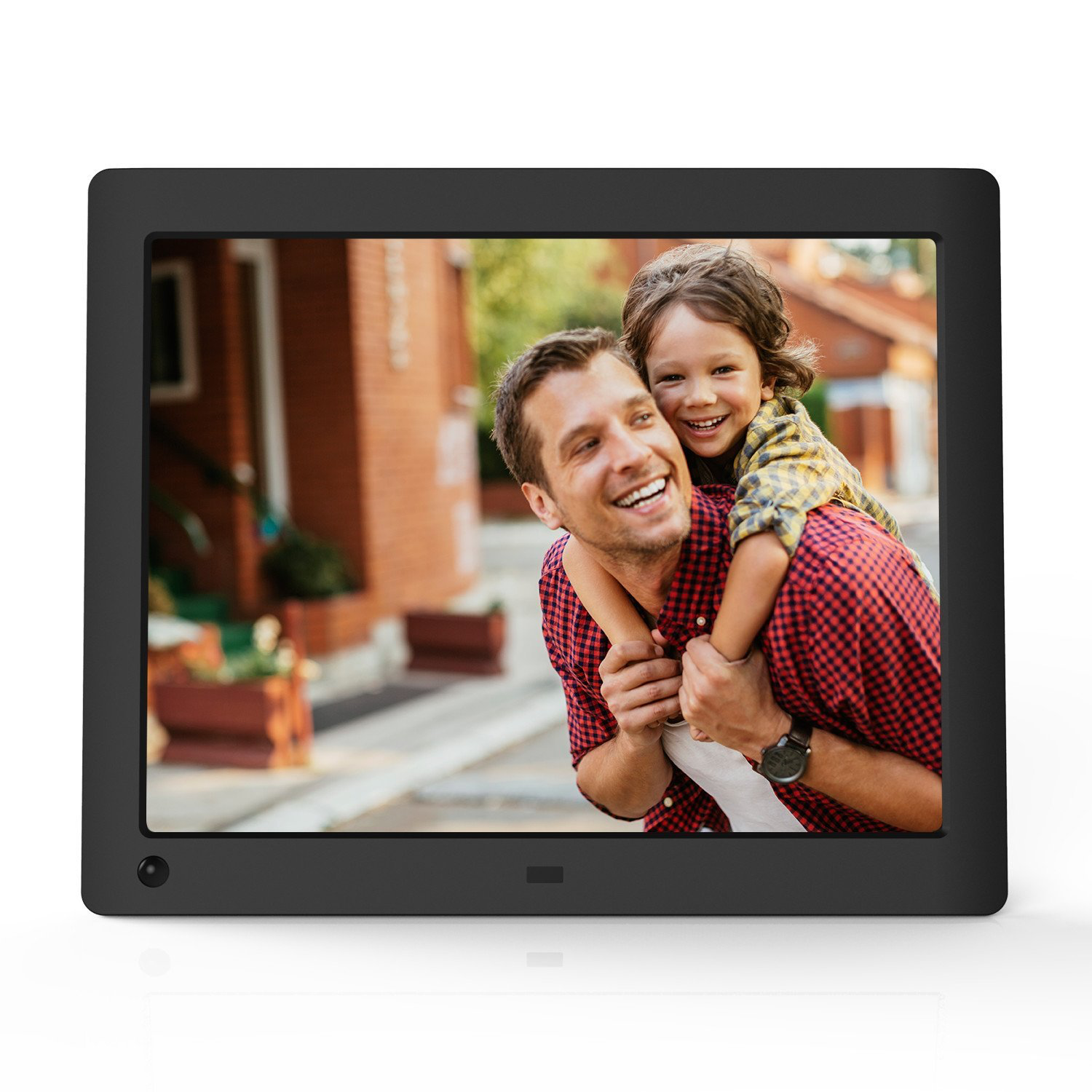 Relive the best moments of your life over and over again with this digital photo frame that displays HD videos as well as pictures. The frame can even combine video clips and still pictures within the same slideshow to create an aesthetic display that isn't too overwhelming. It is compatible with USB drives and SD/SDHC cards to make transferring pictures and video clips from your computer/device to your digital frame easy. Plus, it has an impressive amount of storage space that allows it to display thousands of photos and videos from just one drive or card insert.
You get to choose how your photos and videos are displayed. This digital frame offers multiple photo transitions for you to choose between and allows you to either shuffle the order of your photos and videos or arrange them by date or in alphabetical order. You can control all of the functions on this frame easily with its included remote.
As an added bonus, you don't have to worry about turning this photo frame on and off. It is equipped with a special motion sensor that detects whether or not someone is in the room at any given time. When the sensor detects a person, the photo frame turns on. Otherwise, it remains off. If you want to make sure no one misses your high-tech photo display, you can adjust the amount of time the frame waits to turn off after sensing no motion to between five minutes and a full hour.
Pros
Displays both photos and HD videos
Available in three different sizing options: 8″, 10″, and 12″
Offers options for photo transitions and display order
Features a motion sensor that turns the frame on and off based on movement detection
Cons
Photos do not appear in the order in which you upload them from your camera/computer/device to the frame
2. TENKER Digital Photo Frame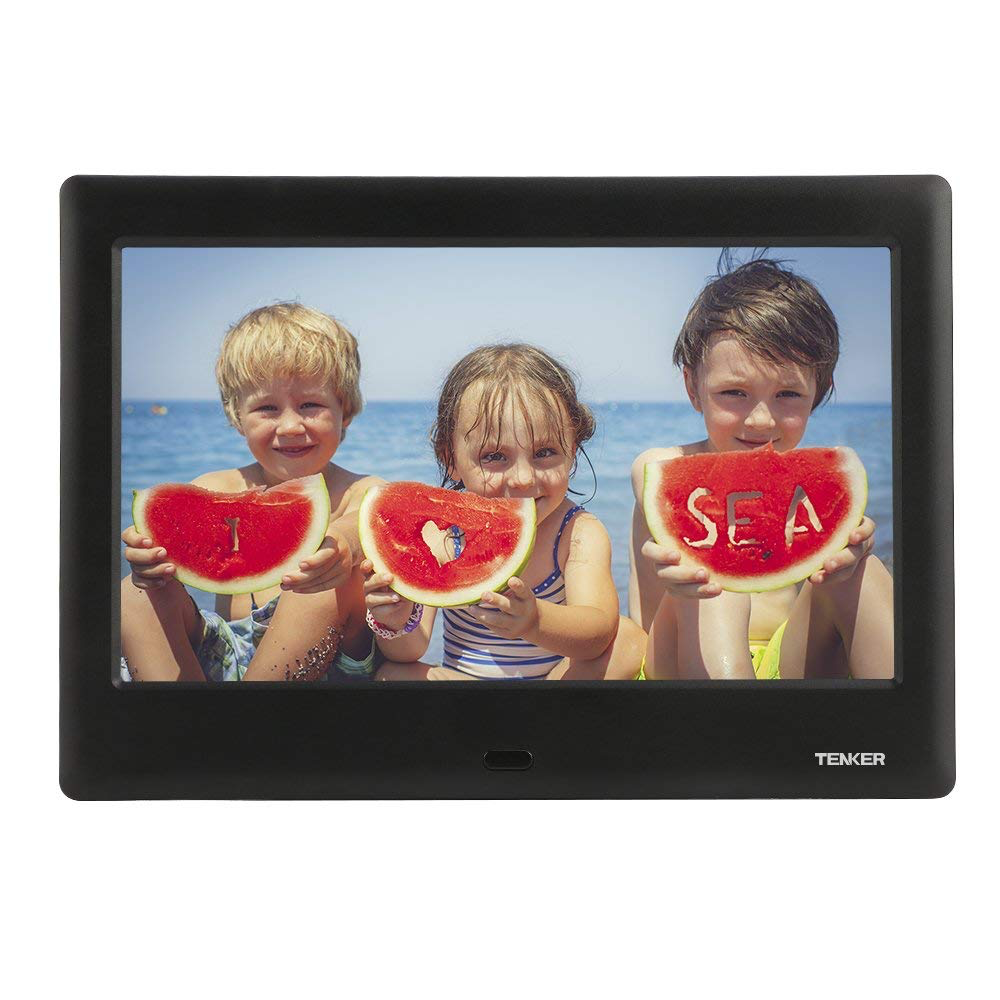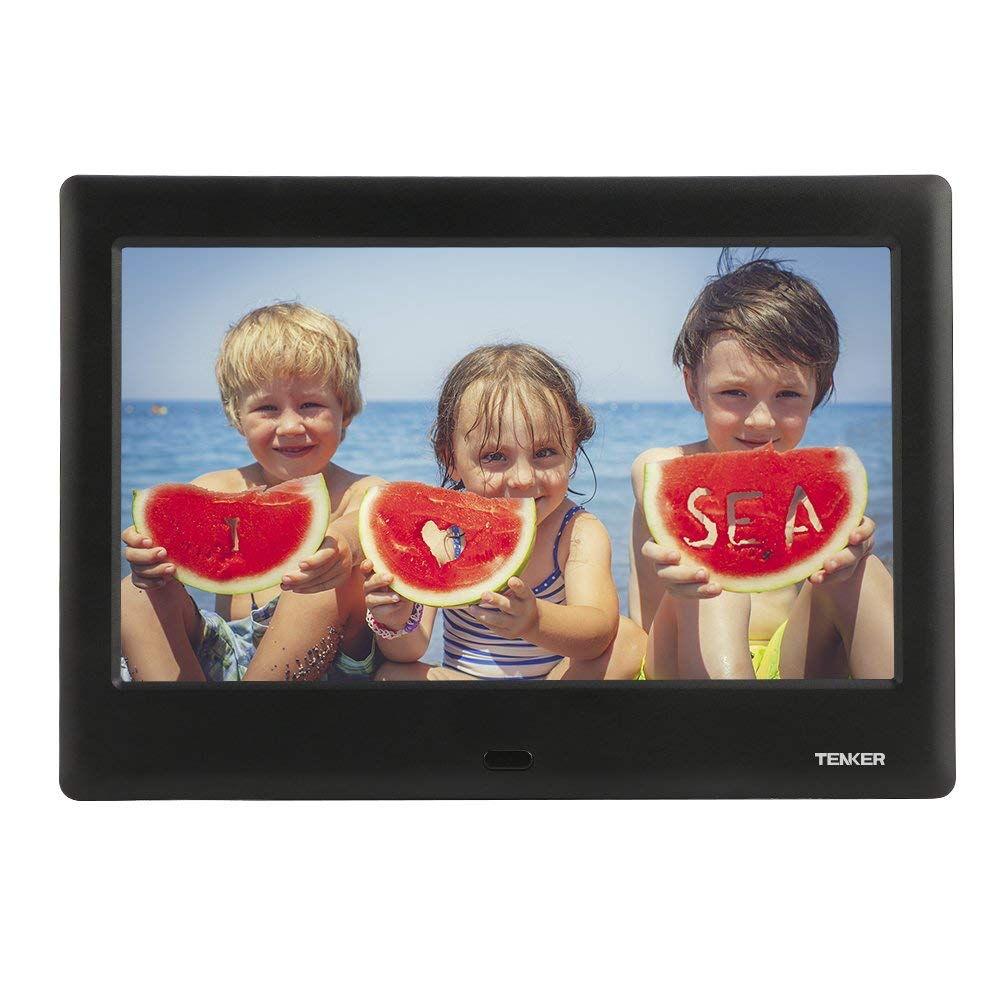 Experience the best moments of your life as if they were happening right now with this digital photo frame that offers clear, high-definition resolution. It features an LCD screen that displays ultra-clear, sharp pictures and plays videos with audio in 720p and partial 1080p high definition. Plus, it can even play background music as it displays your photos. This frame is compatible with both USB drives and SD cards for easy, convenient photo transfers with no software or complicated set-up required.
Don't worry about your pictures showing up upside down or twisted the wrong way in this frame. Its auto-rotate function automatically orients your pictures and displays them the right way without any interference on your part. In addition to photos and videos, this digital frame also includes built-in calendar and clock functions that are especially useful in an office setting.
Pros
Displays both photos and HD videos
Includes a calendar and clock function
Features an auto-rotate function that accurately orients your photos and videos for you
Support background music and videos with audio
Cons
Plays photos in order with no option to shuffle them or change the order in which they are displayed
3. Pix-Star FotoConnect Digital Picture Frame with Wifi /3G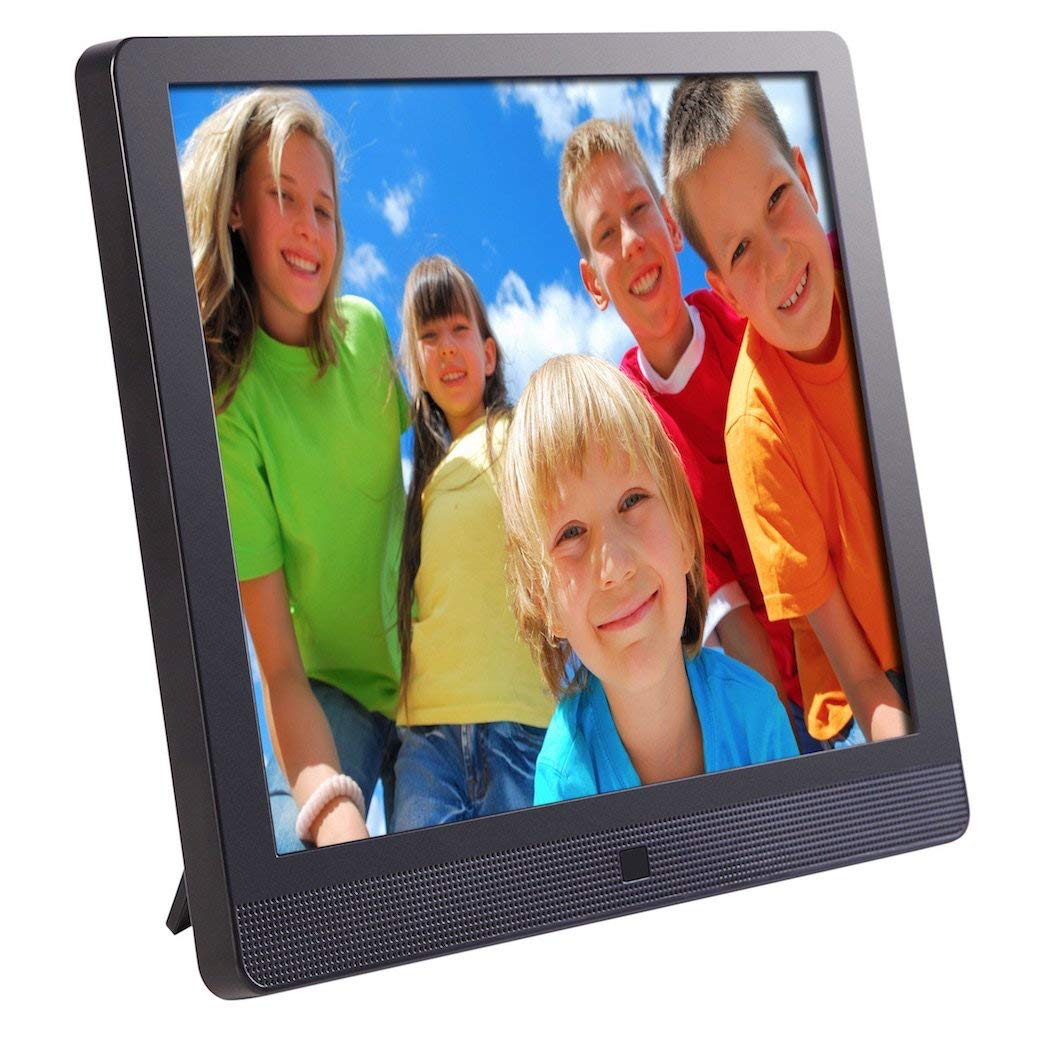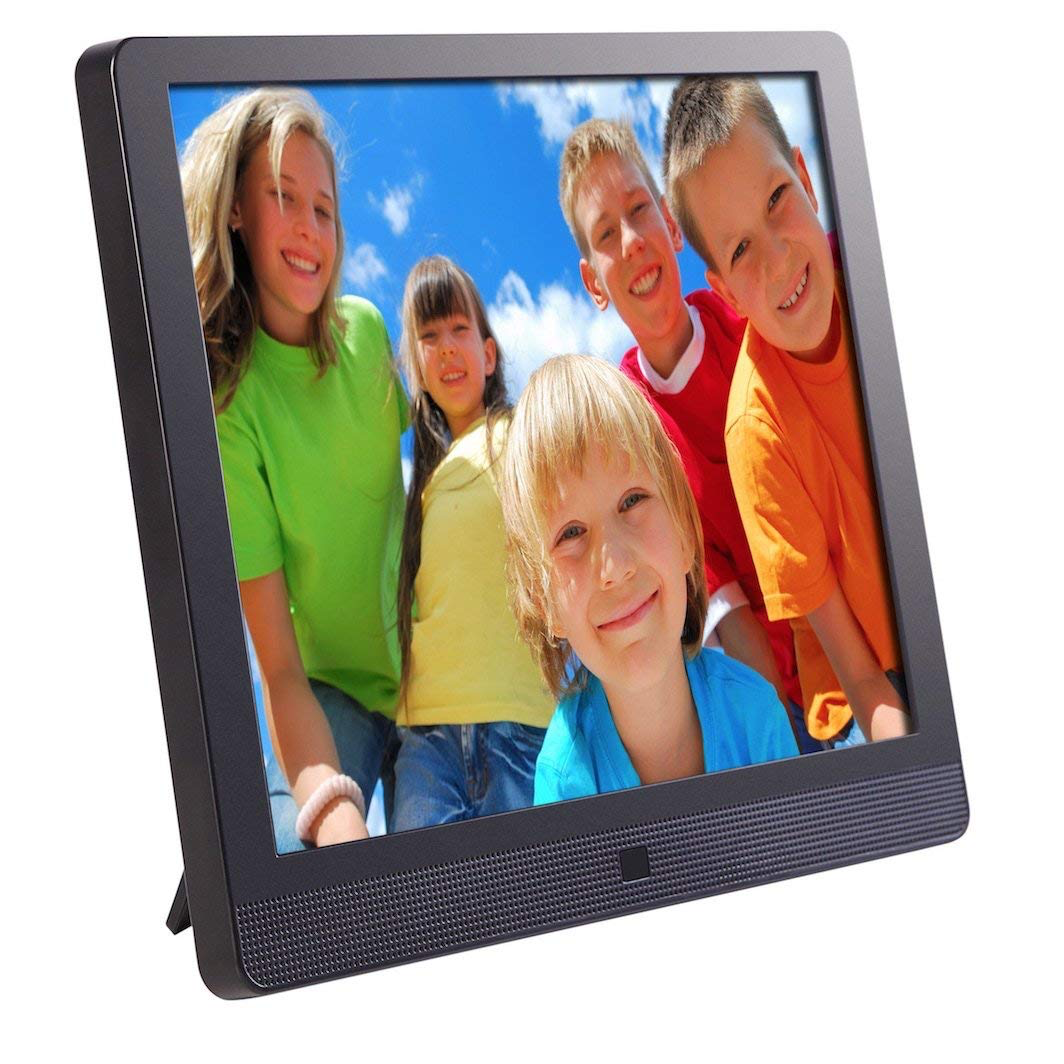 You don't have to worry about uploading your pictures to a USB drive or SD card in order to transfer them to this photo frame. In fact, you can send pictures you take on your computer, smartphone, tablet, or any other Internet-capable device directly to the frame using a WiFi or 3G connection. This direct transfer makes getting your pictures to your digital frame much faster and easier and allows you to display your newest photos on your frame within minutes of taking them with a few easy clicks. Transfer pictures and control your digital frame using its included free web account that is super easy to access from any device that is connected to the Internet.
The display of this digital photo frame is HD and ultra-clear. Plus, its LED backlight preserves energy to prevent this frame from overheating or becoming a drain on your power. If you want to share your photos with friends, you can easily send them directly from your digital frame via email without bothering with a computer or other device as a middleman. Another notable feature of this digital frame is its ability to offer you daily weather forecasts up to three days in advance, so you'll always know what to expect outside.
Pros
Includes a free web membership that allows you to control your frame(s) from your computer/smartphone/tablet
Compatible with 3G/WiFi networks as well as USB drives and SD cards
Offers daily weather updates
Allows you to email photos directly from the frame to your friends and family members
Cons
Has a noticeable blue screen tint when displaying some pictures
4. Nixplay Digital Photo Frame with Wifi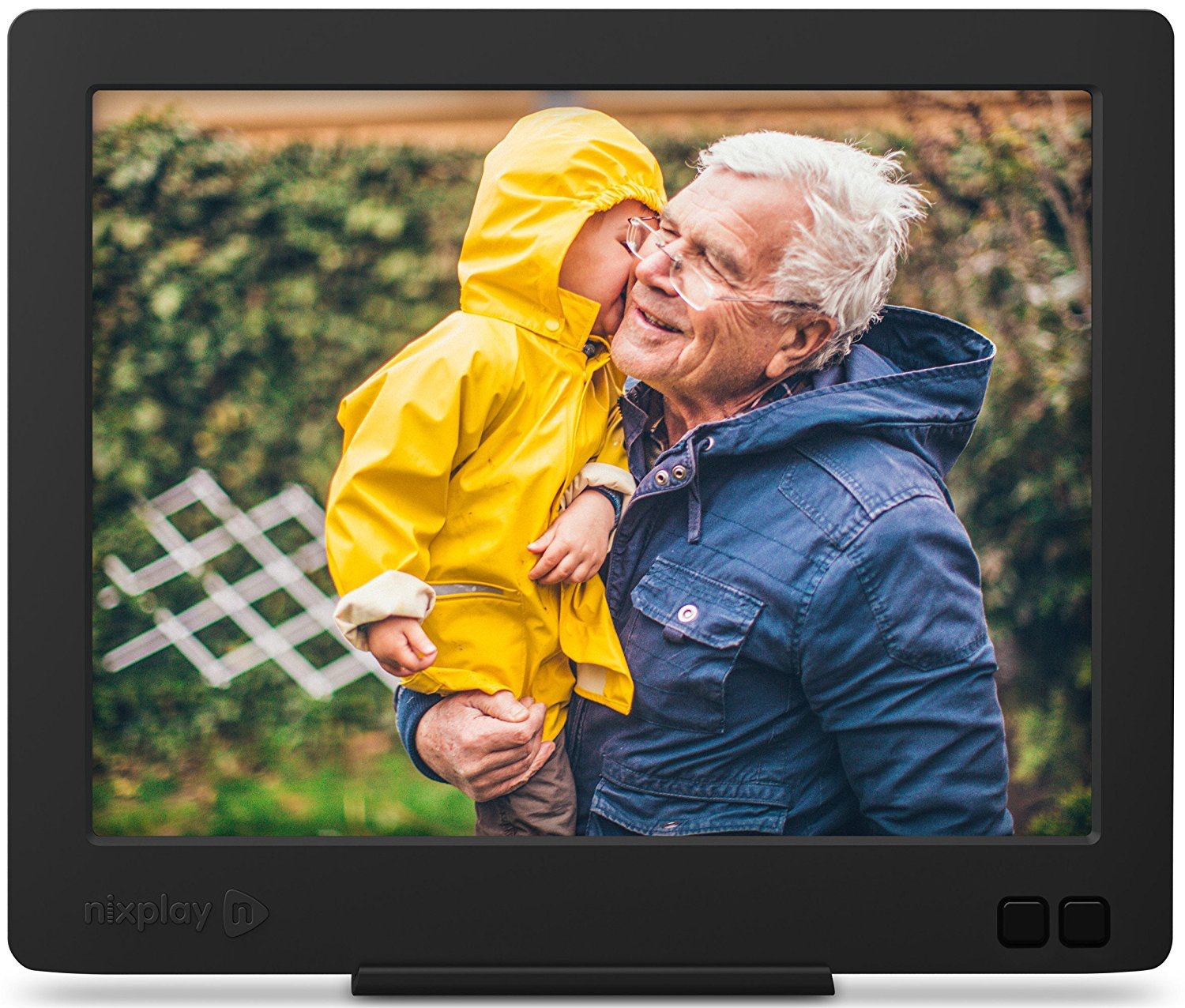 Sleek and stylish, this slim digital photo frame can blend in effortlessly with any decor. Its high-definition screen offers 720p video playback  in addition to photo displays. You can either connect this frame to WiFi and upload photos to it through your WiFi connection or go the "old-fashioned way" and transfer photos by inserting a USB drive or SD/SDHC card into the frame.
It's easy to customize which photos show up on your digital photo frame by creating personal photo playlists for this frame. You can upload pictures and videos from your devices and group them together to create personalized, organized displays. If you want to share pictures from your photo playlists with your friends or family members, you can email pictures to them directly from the frame itself.
Pros
Displays both photos and HD videos
Connects to WiFi and is compatible with USB drives and SD/SDHC cards for easy photo transfer
Gives you the opportunity to create customized personal photo playlists
Allows you to email pictures directly from the frame to your friends and family members
Cons
Randomly freezes and requires an on-off reset to start displaying photos and videos normally again
5. Aluratek Digital Photo Frame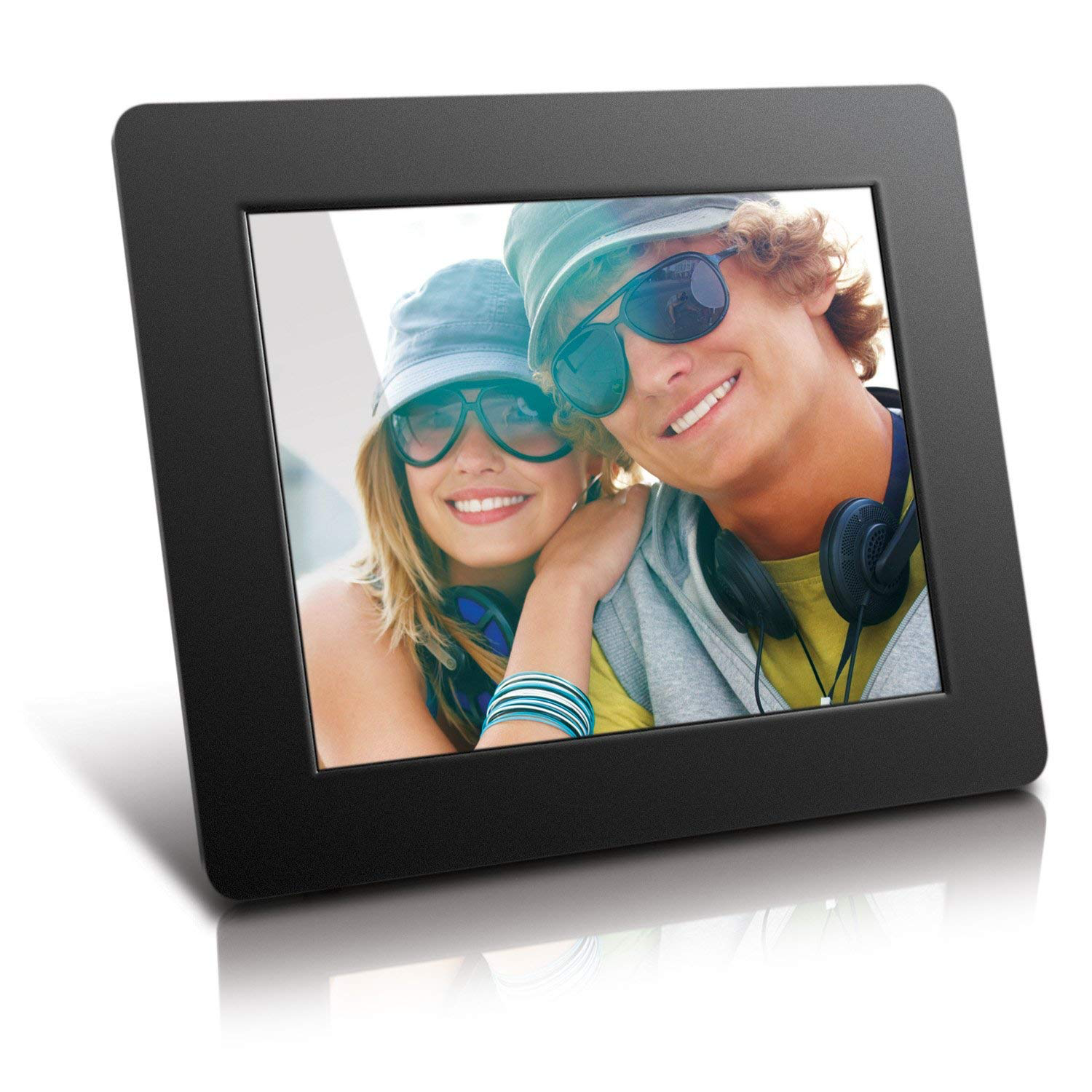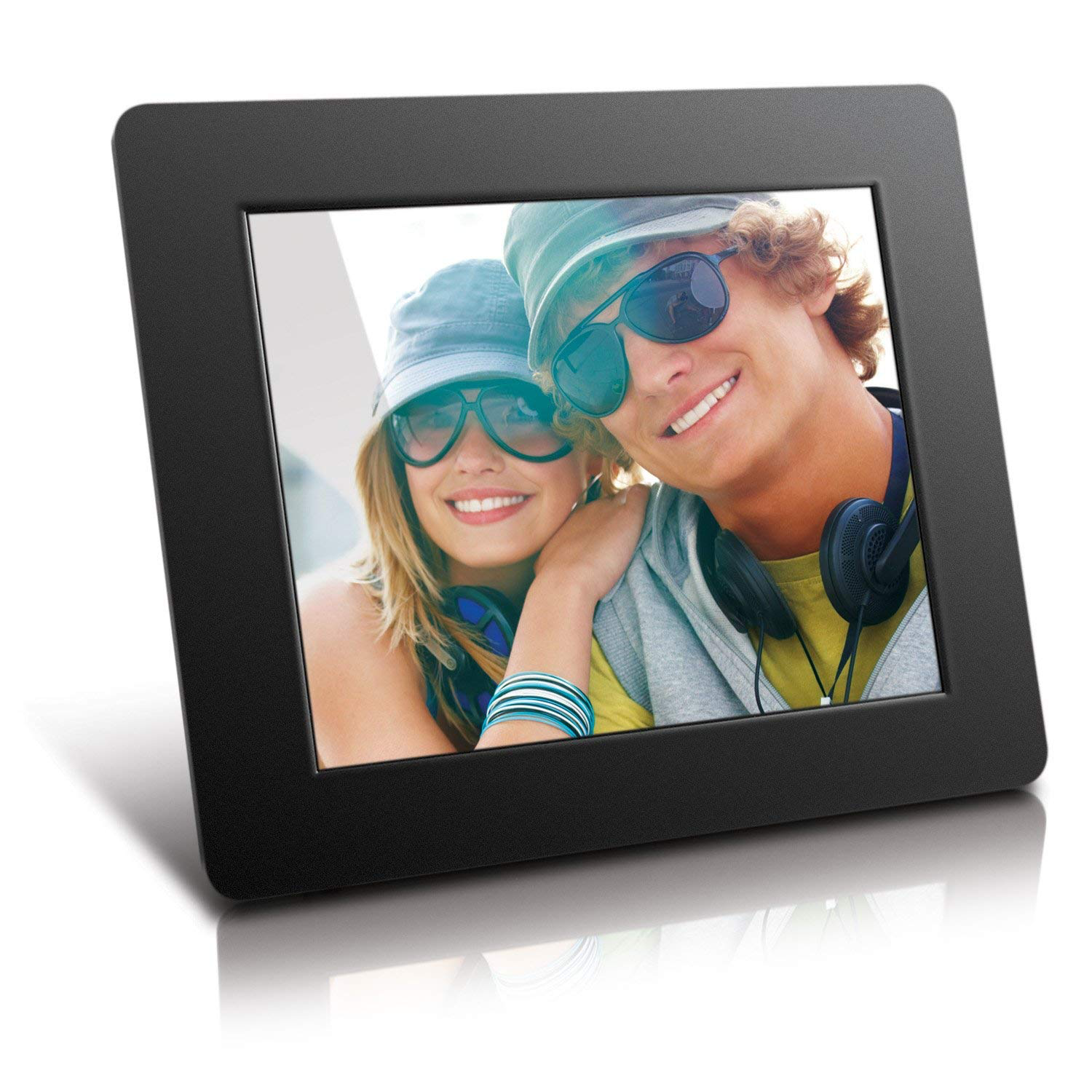 Create an authentic photo display in your home or office with this digital photo frame that features a high-quality wood frame. Setting up this frame couldn't be easier. All you have to do is turn it on, and it will automatically begin displaying a slideshow of the photos you've uploaded to it.
Uploading photos to the frame is easy, too. Just insert a USB drive or SD card loaded with pictures into the frame. They will automatically transfer and be added to the frame's slideshow. This digital photo frame's impressive 32-GB memory allows you to upload virtually unlimited photos through just one simple transfer from your USB drive or SD card.
Pros
Crafted from high-quality wood for a more authentic aesthetic
Offers easy set-up with an automatic slideshow mode
Compatible with USB drives and SD cards for photo transfer
Holds 32 GB of photos at one time
Cons
Displays photos in the order in which they were downloaded from a USB drive or SD card even if you set the frame to 'random' display mode