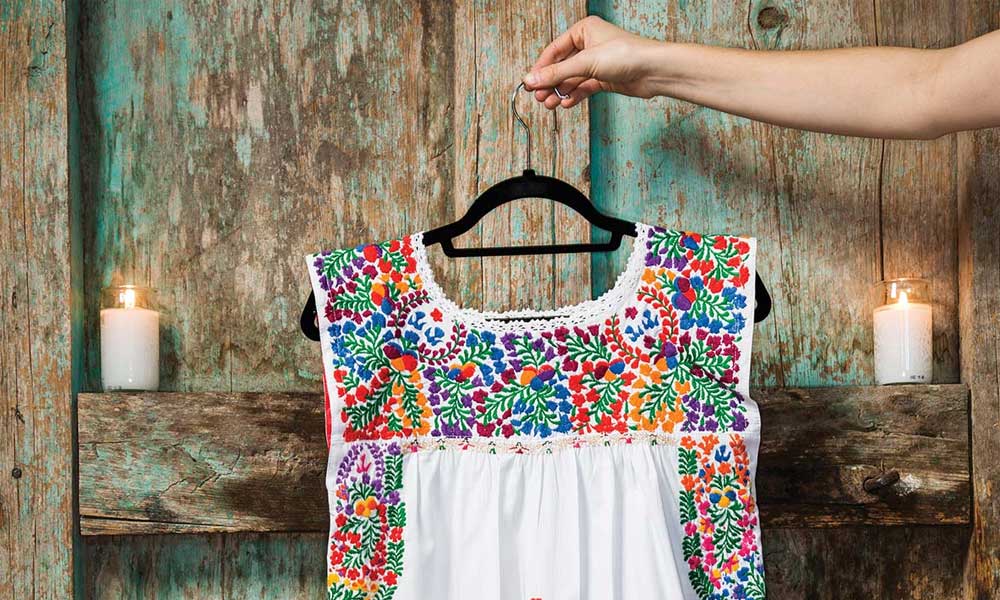 Here at Her Style Code we would like to think we keep our fingers on the pulse of the fashion industry. We live to know what's hot, what's not – and most importantly, how we can help you guys work these trends into your wardrobes. Whether that's hair, makeup or outfits – if it's on trend then you bet you'll see it on Styles Weekly. This week, we're bringing you a new trend which we simply cannot stop swooning over: embroidery. From embroidered shirts, shoes, boots, jeans and more – we just cannot get enough of this look. Here are 10 Trendy Embroidered Items of Clothing. Fill your wardrobes,  upgrade your style and stay ahead of the trend curve with embroidered items this season!
Embroidered Pinstripe Shirts
Pinstripe shirts are an absolute statement item in most female wardrobes. They work perfectly with jeans and boots, can be dressed down with trainers or tucked into skirts or work trousers for a smarter style. This gorgeous embroidered pinstripe shirt takes the look to the next level – and we cannot get enough! Team this stunning shirt with ripped jeans and heeled boots for a fantastic smart casual style.
Embroidered Trainers
Trainers are another huge trend which has swept the fashion scene by storm. They're super comfortable, incredibly stylish and oh so sassy too – our wardrobes are filled with them! Why not combine two trends by investing in a cool pair of embroidered trainers? Whether you wear them with jeans, shorts or sports luxe track pants – they will finish your look off in style.
Embroidered Cami Top
Camisole tops are summer time life savers. Regardless of your body type or shape, these beautiful tops are incredibly flattering on you. They also offer an incredibly cool top to wear when the weather is warm – and one that is so versatile too. Embroidered camisole tops are the next level. Comfortable, cute and stylish – these are perfect for day or night time wear. We just love this look!
Embroidered Denim Jackets
Denim jackets are our saviours. They have an incredible, vintage feel to them, keep us warm and look oh so chic. They're super easy to throw on and since double denim became a hot trend, wearing one will keep you seriously in fashion. Embroidered denim jackets are hot off the catwalk and will jazz up any outfit you have to perfection. We just love this stunning embroidered jacket!
Embroidered Jeans
Who could ever live without jeans? We certainly couldn't, and a good pair of jeans is undeniably the most important item in any wardrobe. Something that fits fantastically, can be dressed up or down and will go with almost anything – that's your favourite pair of jeans. Add embroidery to this and you're on to a serious winner. Wear these adorable embroidered jeans with your favourite sweater.
Embroidered Ankle Boots
Ankle boots are the ultimate footwear of choice if you're looking for something which is smart and casual at the same time. Often infinitely more comfortable than typical high heels, ankle boots are growing and growing in popularity. These beautiful boots are finished with the most gorgeous and detailed embroidery we ever did see. Team with black jeans and a pretty yet plain black top – let your boots do the talking!
Embroidered Sweater
Sweaters are becoming much coveted items on the high street – especially thanks to the growing sports luxe trend. Hop on the fashion trend by purchasing a cosy and cute embroidered jumper to work into your wardrobe. This gorgeous green sweater has embroidery on the sleeves and on the shoulders and is the perfect accompaniment to jeans and trainers for a casual vibe.
Embroidered Cropped Shirt
Cropped, boxy shirts are a super cute addition to any wardrobe for summer time. They can be tucked into denim shorts or mini skirts or worn loosely over jeans for a super flattering and trendy outfit. Add some embroidery on there and you've got the most fashionable outfit ever – we can't get enough! This adorable white shirt has flowers embroidered across the chest and is a real summer must-buy.
Embroidered Denim Skirt
You just can't beat a good denim skirt. These babies have been a non-mover in the fashion charts for decades now – and we think they're here to stay. A good denim skirt is flattering, fabulous and perfect for warmer weather, so why not throw some pretty embroidery in there too? This black denim skirt has gorgeous red flowers embroidered along the side and will look incredible with sandals.
Embroidered Bohemian Shirts
Baggy bohemian shirts are on our love list lately. Take one look at this gorgeous embroidered number and it will tell you why! Add a super stylish 'peasant shirts' to your wardrobe. It will be flattering, loose, perfect for warm weather and can be dressed up or down too. Add heels if you want a night time look or sandals for a cute day time look. Whichever bohemian shirt you opt for – make sure it's got that embroidery there!
Which of these items will you be adding to your wardrobe? Let us know in the comments below!