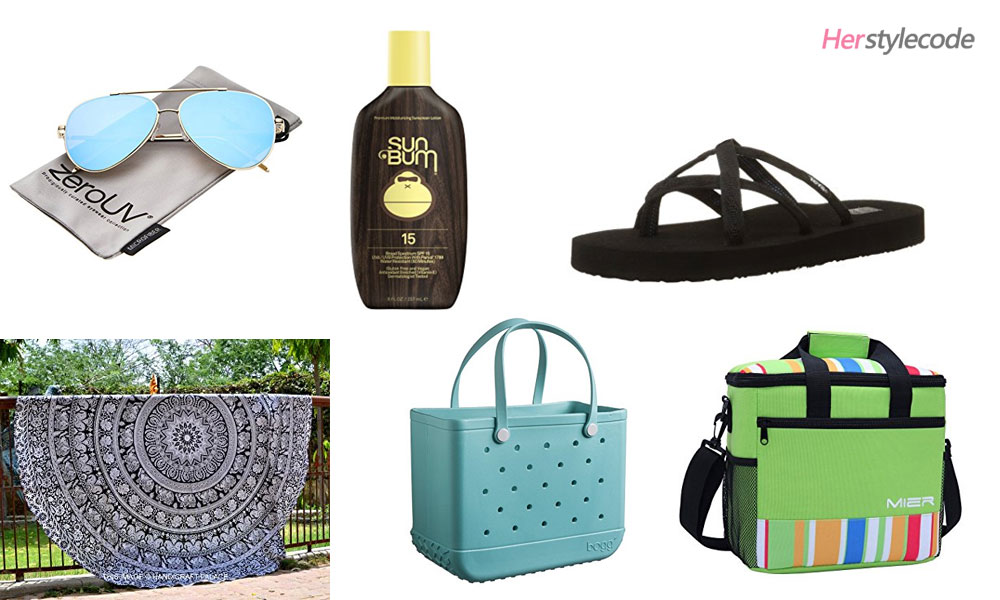 As summer approaches, warm sands and blue shorelines are probably one of the first things on your mind. Whether you live in close proximity to the ocean or are planning an all-out beach vacation, summer is definitely the best time to go to the beach. But as you dream of lazy afternoons spent on the sand with a good book and mentally prepare yourself to enjoy your time by the ocean, are you actually prepared with everything you need for a trip to the beach?
Going to the beach always requires a bit of extra packing, even if you're just heading out to the sand on a day trip. There are many items that are absolutely necessary to bring with you to the beach in order to make your trip more convenient, comfortable, and enjoyable. From sun protection to clothing to exactly what you need to carry it all, find this season's top-notch, trendy beach essentials here.
8. SIGGI Women's Foldable Beach Hat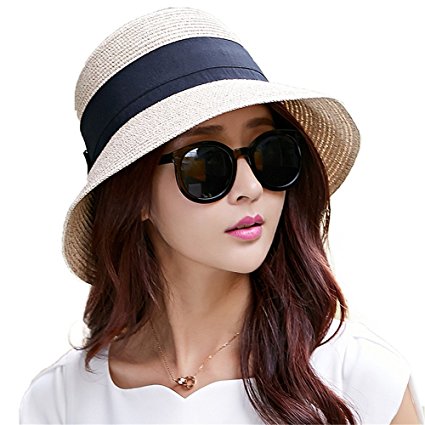 This wide-brimmed straw hat is the epitome of classic beach hat fashion. It includes a traditional straw body with a black ribbon and bow accent that adds class and style. The hat features a brim that is almost four inches in diameter. This brim is wide enough to fully protect your face and eyes from the sun's harmful UV rays. However, it is not too wide or floppy and still lets you make a trendy yet practical statement.
The body of the hat is crafted from a soft straw material. This material feels comfortable against your head without scratching at your skin. It provides ample ventilation to ensure an open, breathable feel. Plus, the entire hat is foldable so that you can save room in your beach bag without having to contend with a wrinkled hat.
SHOP NOW
7. Bogg Bag Durable Beach Bag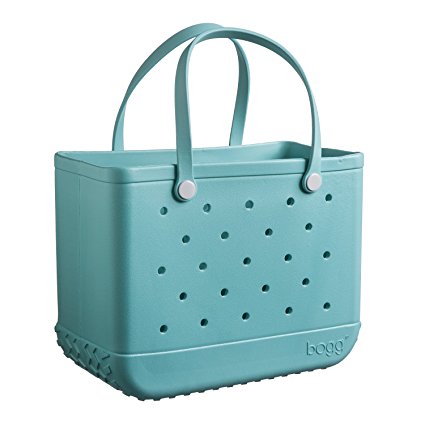 If there's one top-quality beach essential you absolutely need, it's a beach bag. Without a great beach bag, you won't be equipped to easily and conveniently carry everything else you need to bring to the sand with you. This award-winning tote bag is the perfect choice for a practical and adorable beach bag. The bag is crafted from sturdy material that allows it to stay upright without tipping over into the sand.
However, it also features soft shoulder straps that allow for comfortable and non-awkward carrying. This carry-all beach tote is extremely roomy and is equipped to easily carry all of your essentials. Plus, it includes three clear plastic accessory bags that attach to the main bag for separately carrying snacks, wet bathing suits, or anything else you need front and center. As an added bonus, the bag is available in many different bright colors, including red, orange, pink, purple, and more to meet your style preferences.
6. MIER Beach Cooler Tote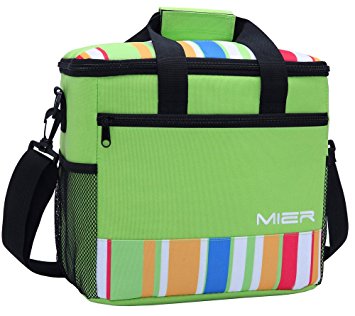 A beach day wouldn't really feel like a beach day without eating a pre-packed lunch of fruit and sandwiches on towels in the sand. That's why a quality cooler is most definitely a beach essential for everyone.
This soft, insulated cooler is the best of the best. It features foam insulation on the inside to keep your food and drinks cold as well as an outer layer of extremely durable fabric for protection against sand, water, and more. The bag is built with multiple compartments, including the main compartment, a zippered pocket, and two ventilated mesh pockets. It is extremely roomy and holds up to twenty-four standard drink cans at one time.
5. Handicraft-Palace Round Beach Throw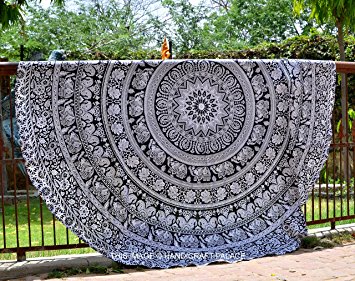 If you're looking for a huge, trendy towel to spread out in the sand to enjoy a day of relaxation, you've found it. This circular mandala towel is both fashionable and very practical. Its large size comfortably fits two to three adults at one time, allowing you to spread out yourself and all of your stuff.
The towel's gorgeous traditional design is monochrome black and white. It includes a mandala pattern that is adorned with elephants and other shapes. The towel is crafted from one hundred percent cotton and is very comfortable and easily washable.
4. zeroUV Rimless Mirror Sunglasses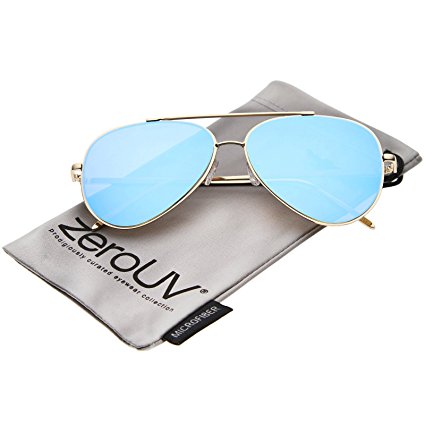 Unless you've picked an extremely cloudy day to go to the beach, you're going to need sunglasses. If you want to stare out at the ocean or read a book on your towel, you'll end up with very squinted eyes by the end of the day if you head out to the sand without a good pair of sunglasses. Plus, sunglasses are important to protect your eyes from the sun's harsh UV rays that are usually very strong by the ocean.
These quality sunglasses have mirrored lenses and a metal frame. They have a delicate frame and a trendy style. The lenses of the glasses are UV400 protected polycarbonate lenses that ensure that your eyes receive sufficient protection from the sun's rays all day long. The mirrored lenses of these sunglasses are also available in three different colors: blue, gold, and purple.
SHOP NOW
3. 

Sun Bum Moisturizing Sunscreen Lotion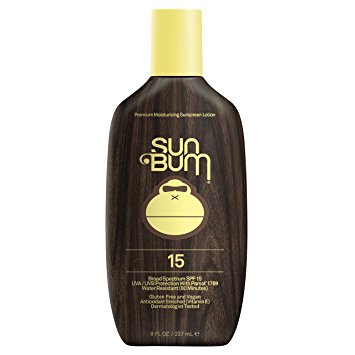 As stated previously, the sun's rays are very strong at the beach. Even if part of the reason for your trip is to get a tan, you need to protect yourself from the pain and skin damage of a sunburn by wearing quality sunscreen throughout the day. Make sure to bring it with you in your bag to reapply as the days goes on as well.
This sunscreen is designed specifically for beachgoers who will be spending the day out in the sun. It features a smooth, light formula that doesn't make you look or feel greasy. It is hypoallergenic and free of any harmful chemical ingredients, including parabens, oil, and PABA. If you're a swimmer, no need to worry; this sunscreen is water-resistant for up to eighty minutes at a time without requiring reapplication.
SHOP NOW
2. Yonala Women's Beach Cover Up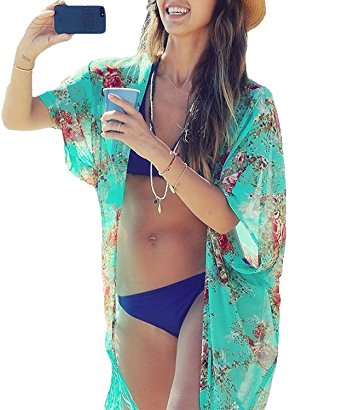 Stop being afraid to rock your bikini at the beach by choosing this gorgeous cover up. The cover up features comfortable, light chiffon material and designed with a loose fit that falls past mid-thigh on most women. It is available in three different bright patterns and prints depending on your preferences.
1. Teva Women's Flip Flops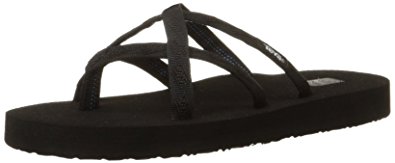 Life on the beach isn't complete without a comfy pair of flip flops to protect your feet from the hot sand. These flip flops are both stylish and extremely comfortable. Their cushioned soles allow you to walk for miles along the shoreline without any discomfort. Plus, they feature a myriad of straps that add security and style.
The flip flops come in twenty-five different colors and patterns so that you are able to customize the shoes you choose to match your personal style.
SHOP NOW