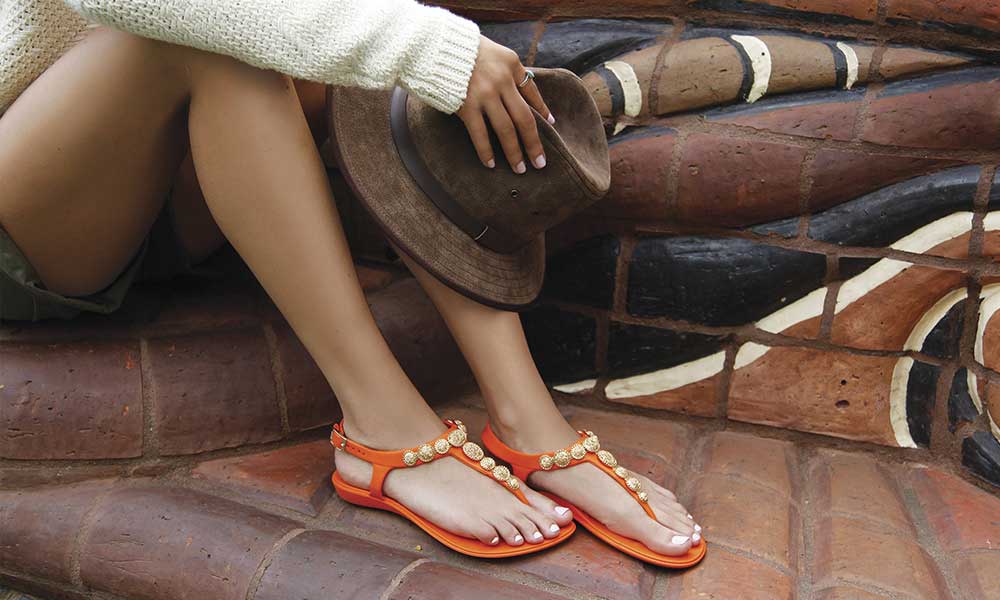 While sandals are a notoriously casual genre of footwear, don't let the laid-back style of these shoes lead you to sacrifice in quality. Even if you're just going out for a quick shopping trip or headed off to a casual date, rocking top-quality sandals is vital for both your comfort and aesthetic.
Invest in sandals you can trust for laid-back days that warrant casual footwear. Durable, quality sandals are comfortable enough for all-day wear and have a low risk of breaking or wearing down too quickly. Buying higher-quality sandals even saves you money in the long run because they last much longer than a pair of cheap flats or flip flops you have to replace every summer. Plus, the best luxury sandals add a trendy finish to any look no matter how casual it is so you can feel stylish even on your laziest days.
10. Stuart Weitzman Nudist Flat Sandal
The simple, polished design of these sandals from Stuart Weitzman makes them a versatile option for occasions ranging from casual to semi-formal. A beautiful caramel brown suede finish contributes to their delicate, feminine vibe.
A mini heel dresses up these shoes without disrupting their comfort or functionality. The sandals feature a full back that cradles the back of your heel and adds professionalism that makes these shoes appropriate, stylish office attire. Slim straps around the ankle and toes of these flats contribute to their polished, put-together finish.
9. SJP by Sarah Jessica Parker Bobbie Flat Sandal
Look and feel classy in these sophisticated flat sandals that strike the perfect balance between elegance and contemporary style. The simple design of these flats from SJP balances with their whimsical scalloped detailing to create a shoe that adds a fun, classy touch to any look.
Durable and comfortable, these sandals are crafted from suede and feature a tough leather sole with a tasteful half-inch heel. They are available in neutral gray, medium pink, and the periwinkle blue shade pictured above.
8. Marc by Marc Jacob's Joni Flat Dress Sandal
Make a bold statement with your casual footwear in these dress sandals from Marc by Marc Jacobs. While these shoes are designed in a trendy gladiator style, their slim back strap and square three quarter-inch heel balances any bulkiness for a stylish, eye-catching finish.
These extremely durable sandals are crafted from quality patent leather with a leather sole. Large cabochon gemstones embellish the sandals' thick straps and add an attention-grabbing, luxurious touch. These versatile flat dress sandals are available in off-white and the shade of black shown above.
7. Stuart Weitzman Buttoncandy Flat Sandal
Slip on these uber-comfortable sandals from Stuart Weitzman every time you're feeling creative. Adorned with buttons, miniature metal spikes, and colorful embroidered patterns, the luxury flats are a cheerful and adventurous fashion statement.
These artsy sandals add joy and whimsy to any casual outfit. Try rocking them with a pair of distressed skinny jeans or an A-line summer dress to add instant creativity and character to your look.
6. Rachel Comey Frisco Espadrille Sandal
This unique shoe from Rachel Comey is an intriguing mix between a closed-toed shoe and a flat espadrille sandal. They are crafted from beautiful cadet blue and olive leather with a durable synthetic gum sole.
These espadrilles are extremely comfortable and slip on and off easily. They feature a slight, one and a quarter-inch platform heel that elevates their soles without disrupting your balance or comfort. A top mesh panel, stitched detailing, and laces around the ankle contribute to the bold, edgy vibe of these sandals.
5. Tory Burch Miller Sandal

 
A cult favorite, these classic sandals from Tory Burch earn respect and admiration from lovers of luxury fashion worldwide. Comfortable and stylish, the elegant tumbled leather sandals feature a rubber sole with a soothing, supportive padded insole.Although the style of these sandals is very simple, the iconic double T Tory Burch logo sets them apart from other generic T-strap sandals. In fact, the simplicity of the sandals' design only adds to their versatility to give you more options for mixing and matching your wardrobe.
SHOP NOW
4. BeautiFeel Maisy Dress Sandal
Be ready for any occasion with these unique dress sandals from BeautiFeel. The sandals are crafted from shiny polished leather that gives them an elegant, sophisticated finish. A neutral polka-dot print at the front of the sandal adds classy interest and style.
Comfort is a top priority of these shoes. They include an adjustable instep strap that prevents your feet from sliding around during wear. This in turn helps you avoid pinched toes and blisters. The innovative thick, square design of the sandals' two-inch heel also elevates their sole for a sleek finish without any discomfort.
3. Stuart Weitzman Corbata Flat Sandal
Stylish and practical, these versatile sandals from Stuart Weitzman fit like a glove and are comfortable enough for effortless all-day wear. The basic trendy flats are feature a delicate suede overlay with a durable leather sole.
The strappy detailing and fringed bow around the ankle of these sandals matches the exterior of the rest of the shoe. This simple detail gives the flats a subtle flirty, feminine finish. Their slight three-quarter inch elevated heel also contributes to the femininity of these shoes.
2. Stuart Weitzman Nieta Flat Sandal

 
These top-quality sandals from Stuart Weitzman are a simple and stylish addition to your casual everyday wardrobe. Crafted from one hundred percent suede, the shoes are soft and comfortable. Their genuine leather sole ensures the durability of these flats.
The metallic finish of these shoes' quarter-inch platform heel contributes a bold, upbeat finish that offsets the softness of the rest of their design. These fun, casual sandals come in two different cheerful colors. They are available in the neutral pink shown above as well as a vibrant shade of turquoise.
1. Stuart Weitzman Rockalong Flat Sandal
Make yourself the picture of stylish luxe fashion in these luxurious sandals from Stuart Weitzman. These magnificent flats feature hand-crafted leather of the highest quality in addition to a durable genuine leather sole.
The T-strap style of these sandals is simple but effortlessly trendy. Their snakeskin-embossed leather bottoms and bejeweled straps add elegance to the shoes while setting them apart from any other footwear with a similar design.
Casual shouldn't mean low-quality. In fact, you probably often count on your most casual sandals to double as your most comfortable, supportive footwear and provide the trendy finishing touch to your daily looks. Explore some of the gorgeous luxury sandal options detailed in this post to guarantee comfort and style in your footwear every day.