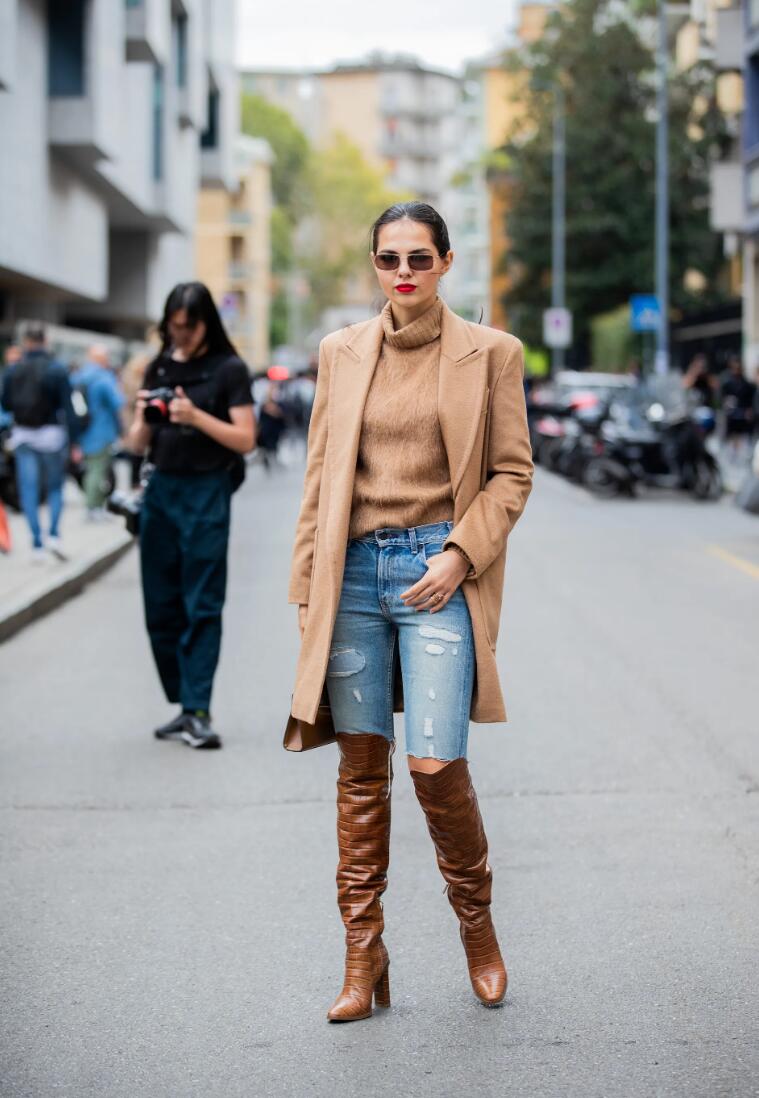 Knee high boots are perfect for keeping your legs and feet warm and dry in autumn, winter and spring. And they are a high-fashion item again this year, so even though you may have been wearing ankle-boots recently, there's plenty of room in your wardrobe for flattering, sexy knee-high boots! And knee boots can be worn with just about everything in your wardrobe, including trousers, leggings, jeans, skirts and dresses. Unlike cute ankle boots, knee high boots tend to create a longer, leaner silhouette and have the advantage of covering up your legs to avoid them getting wet and cold.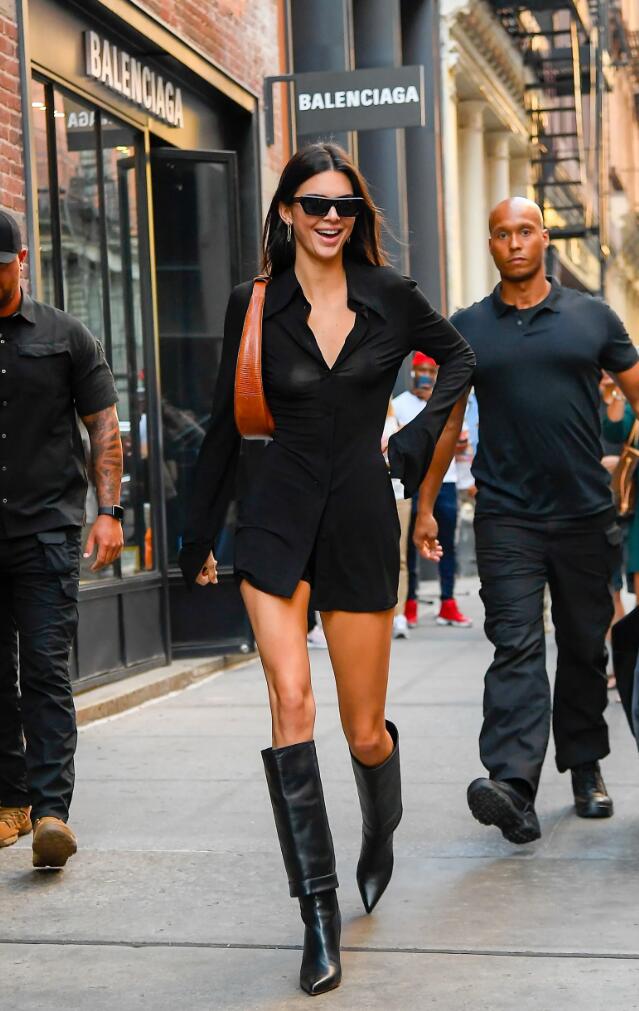 So if you'd like to do a fashion check on how to wear this season's favorite knee high boots, read on and get some fresh inspiration!
Contemporary knee high boots
The current trend is for simple, classic boots made from smooth textured leather/suede. The usually have an inside leg zip-fastener, which makes it easy to put them on and take them off. The main winter colors this year are brown, tan, dark green, burgundy, navy-blue and black.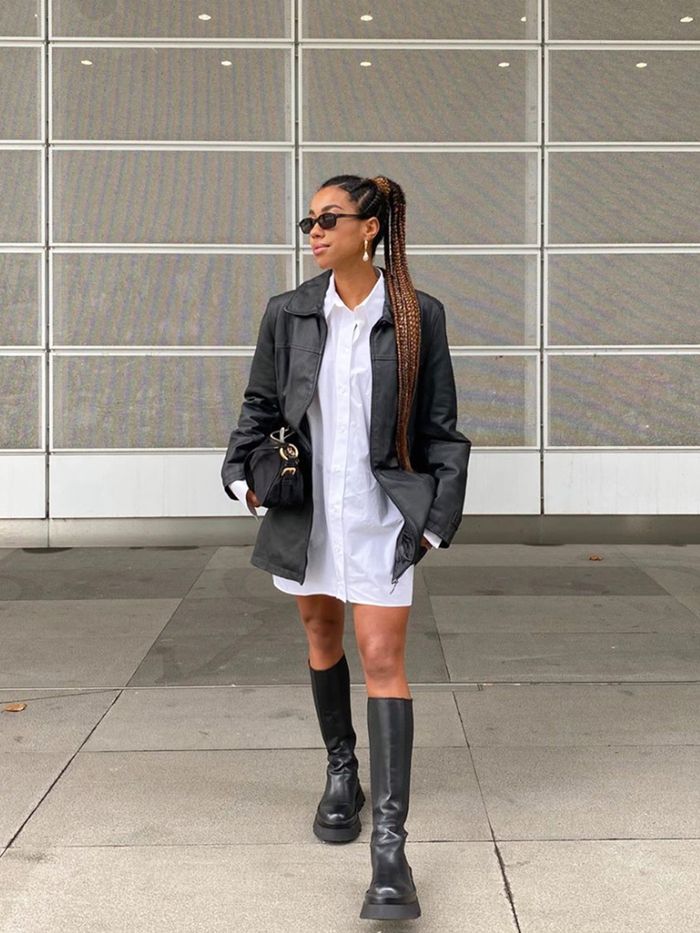 So there's a good range of colors to help you put together outfits in complementary or contrasting colors. A number of knee high boot styles are decorated with straps and buckles, which add interest and extra style.
Riding knee high boots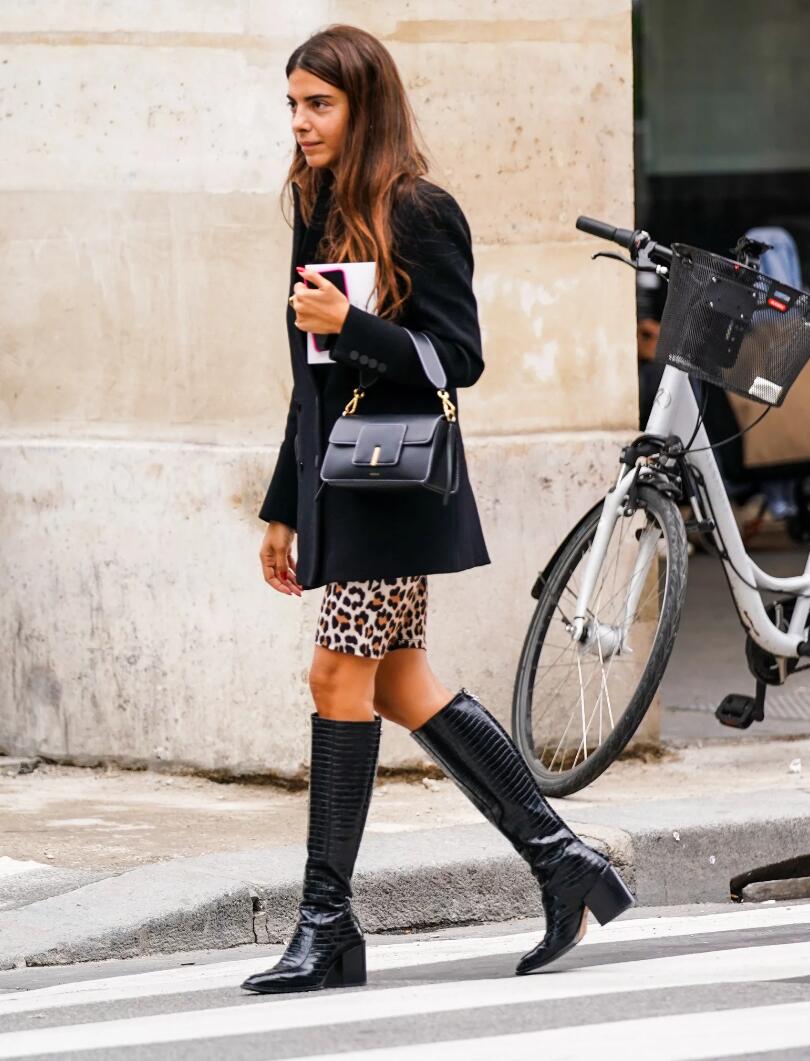 Riding boots are designed to be the fashion equivalent of the traditional English riding boot. And they have a rounded top which ends at knee level. The heel of a riding boot is quite small, at no more than 1 inch, and it was originally there to stop the rider's feet from slipping out of the stirrup. This is a classic boot, copied from the original English riding boots, so it's always stylish.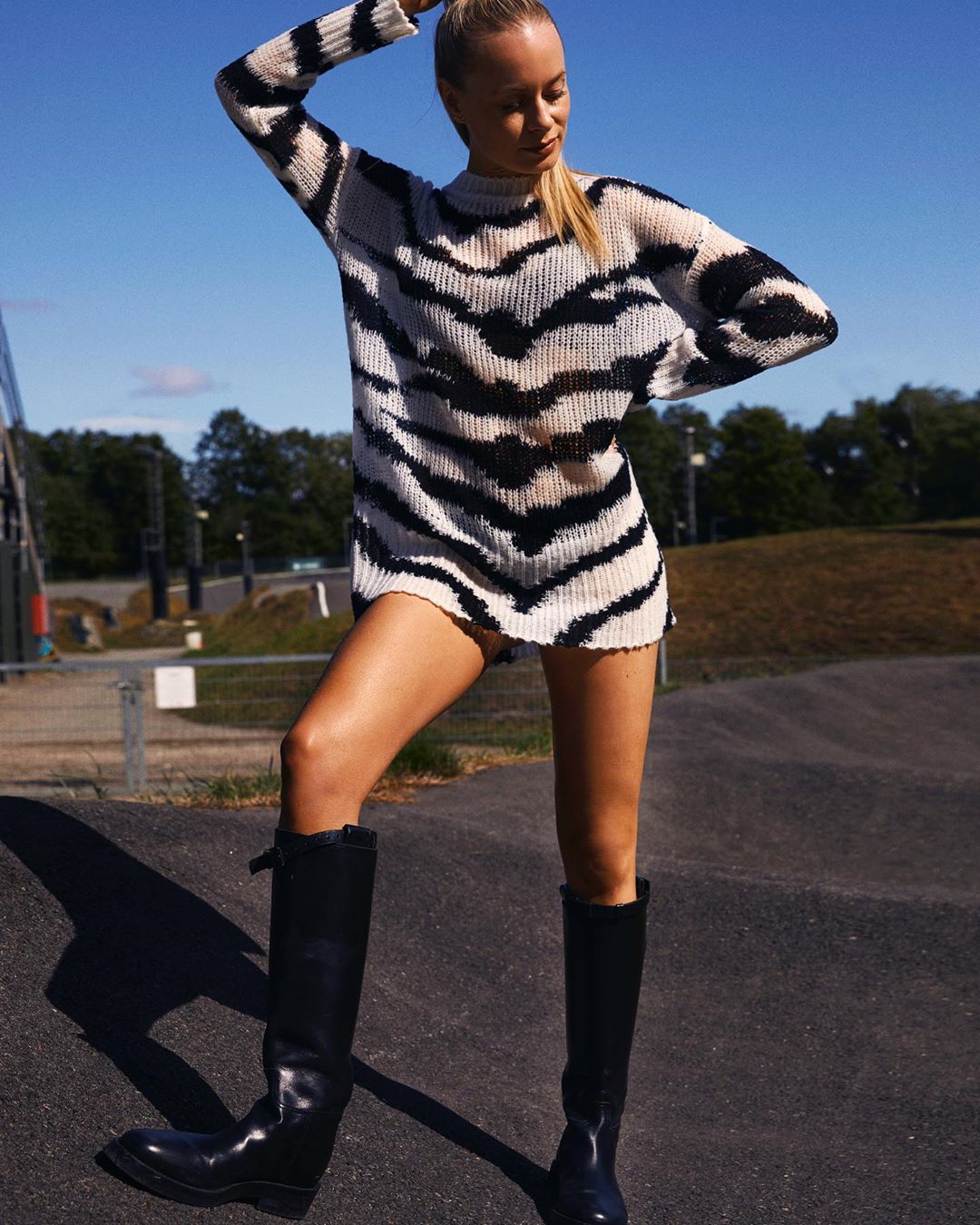 They do have a heel, usually 1-inch or less in height, which was used to prevent the foot from sliding out of a stirrup. This boot is usually only offered in brown and black, but the two-tone black and brown models are very chic and attractive. The zip-up riding boot often has strap and buckles, which were intended to provide a secure fit for the boot during hard riding. This is another trendy knee high boot you can wear anytime when the weather conditions are cold or wet.
What to wear with classic, dressy or riding knee boots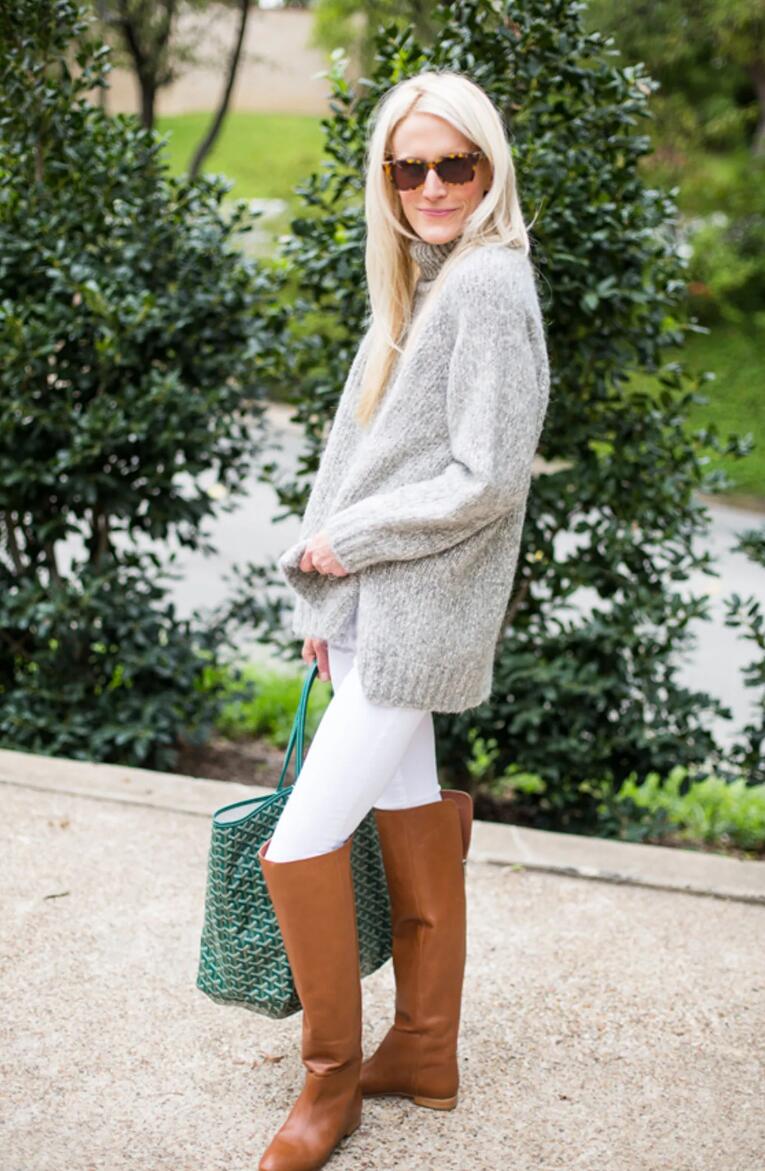 Classic, dressy or riding boots are perfectly acceptable for wearing at work. Consider pairing gray, wide-leg pin-striped trousers with a silky blouse. And dark-blue dress trousers look super-smart with a white, cotton buttoned shirt and brown or tan riding boots. White jeans in winter or spring look great with popular tan-colored boots and a burnt-orange sweater or top, as they look softer and more color complementary than black or brown knee boots.
Motorbike knee high boots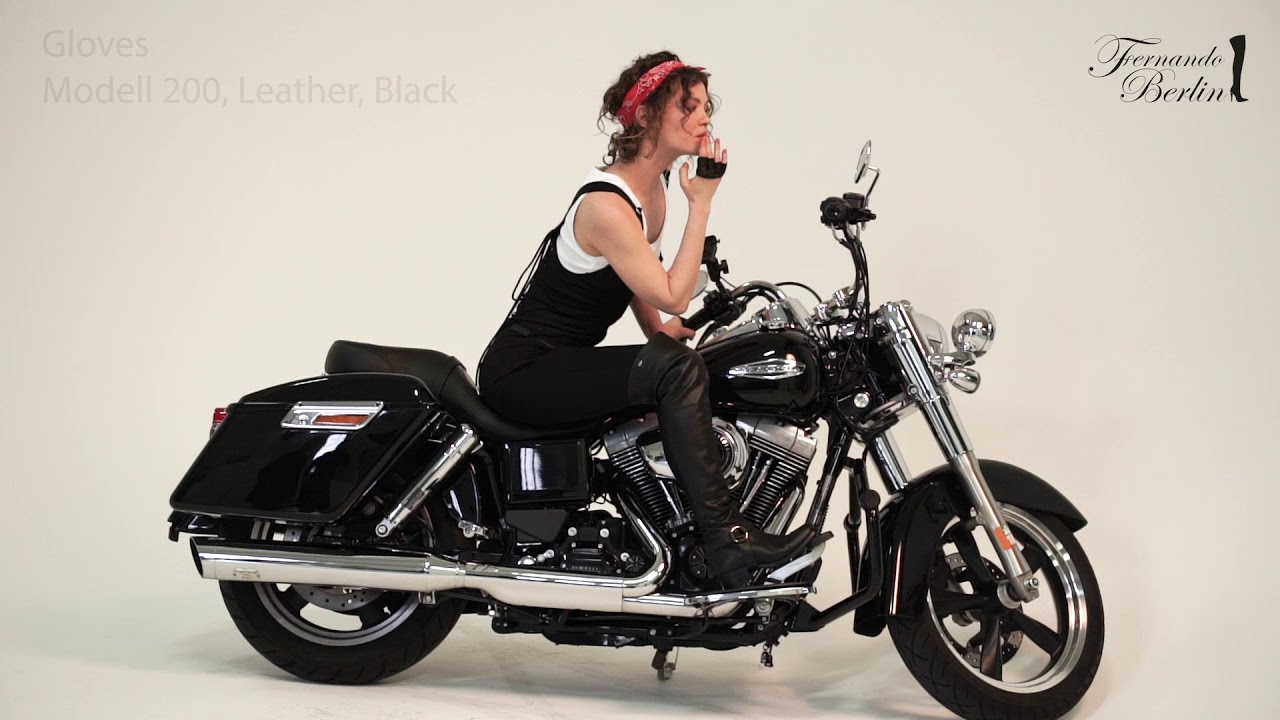 Biker boot have a different fashion image, which is more masculine and practical-looking. In addition to this motorbike knee high boots are made from stronger, heavier leather and have a thick sole. They are designed to protect motorbike riders' legs and feet from injury whilst riding or in the case of an accident.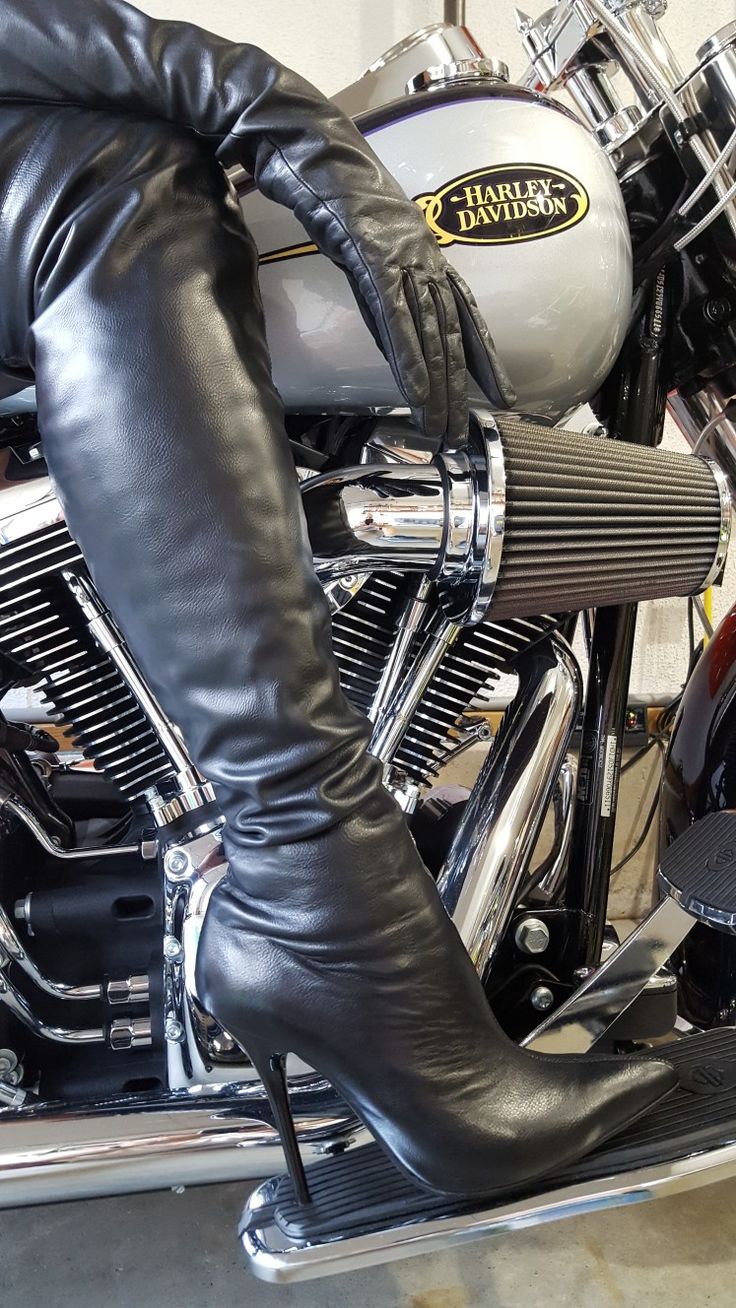 So these can be worn as a fashion accessory in a casual outfit and look very stylish, but it's not always suitable for office wear, as its real category is heavy-duty protective footwear.
What to wear with biker knee high boots
Biker boots look great tucked-in to leggings and skinny jeans. And you can wear them with the new wide-leg jeans, with the trouser covering up your boots and just showing the front tip. Biker boots have a chunky look that suits the larger silhouette produced by wide legs and flapping hemlines. Team-up black biker boots with a white or graphic tee-shirt, tucked into blue jeans, and a black leather jacket for the weekend.
Wear black skinnies, black boots and a trendy oversized sweater for a casual lunch with friends. Or try dark-blue jeans, with your boots under the jeans, and a crisp, light-colored cotton shirt for wear in a casual workplace or for leisure activities in general.
Trendy knee high boots
These can be sexy, with a high stiletto heel or fashionable and attractive with a platform sole, a wedge sole, or a chunky heel. Trendy knee boots are the most popular fashion boots this season and you can buy them in leather, luxurious suede and faux-leather materials.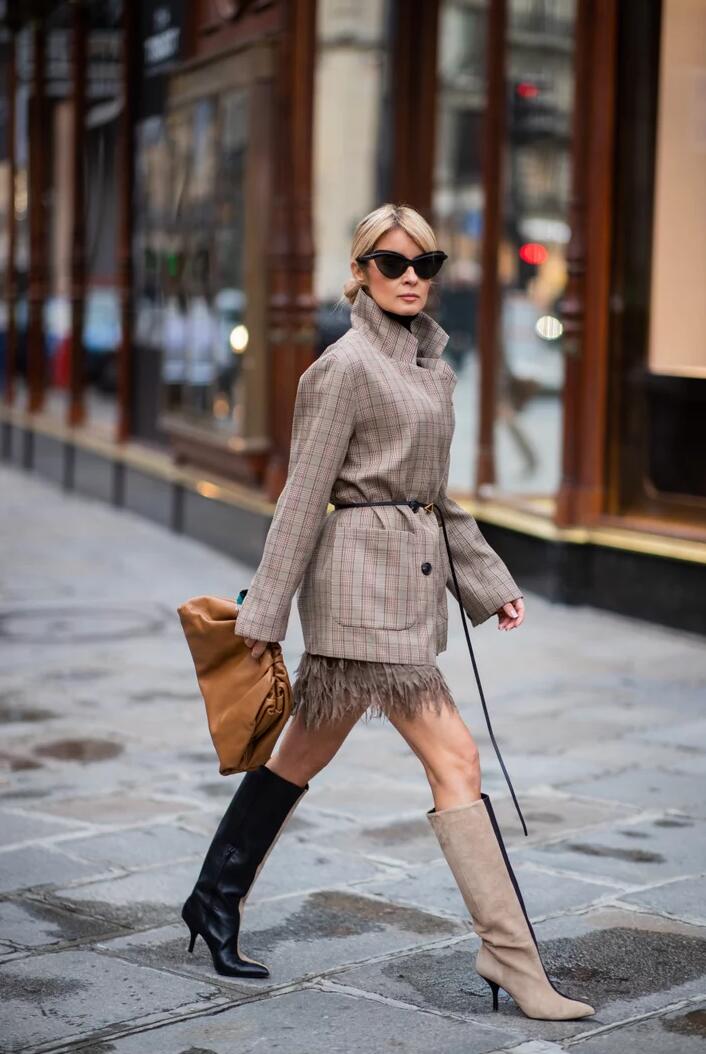 These are the boots you would wear with skirts and dresses, as well as all types of pants. And they are suitable for office wear and popular for wearing with a dressy day or evening outfit. Trendy knee high boots are available in lots of colors this year to complement the main winter colors of gray, brown, khaki, deep purple, deep-blue, burgundy and forest green.
Practical knee high boots
Snow boots, casual Uggs and rubber boots are not really included in the range of fashionable boots that flatter the wearer. These casual and protective boots are suitable to wear as practical, cold-weather gear, with casual jeans and pants or thick midi-skirts. However, they are too wide in the leg to look especially attractive or trendy.
How to wear wide-leg pants & knee high boots
With so many new styles of jeans/pants/trousers hitting the fashion shops this year, you may be struggling to decide how wide-legged jeans will look with knee high boots. In the past, we've all been able to tuck out skinny jeans and leggings neatly into the tops of our high boots, but we can't do that anymore!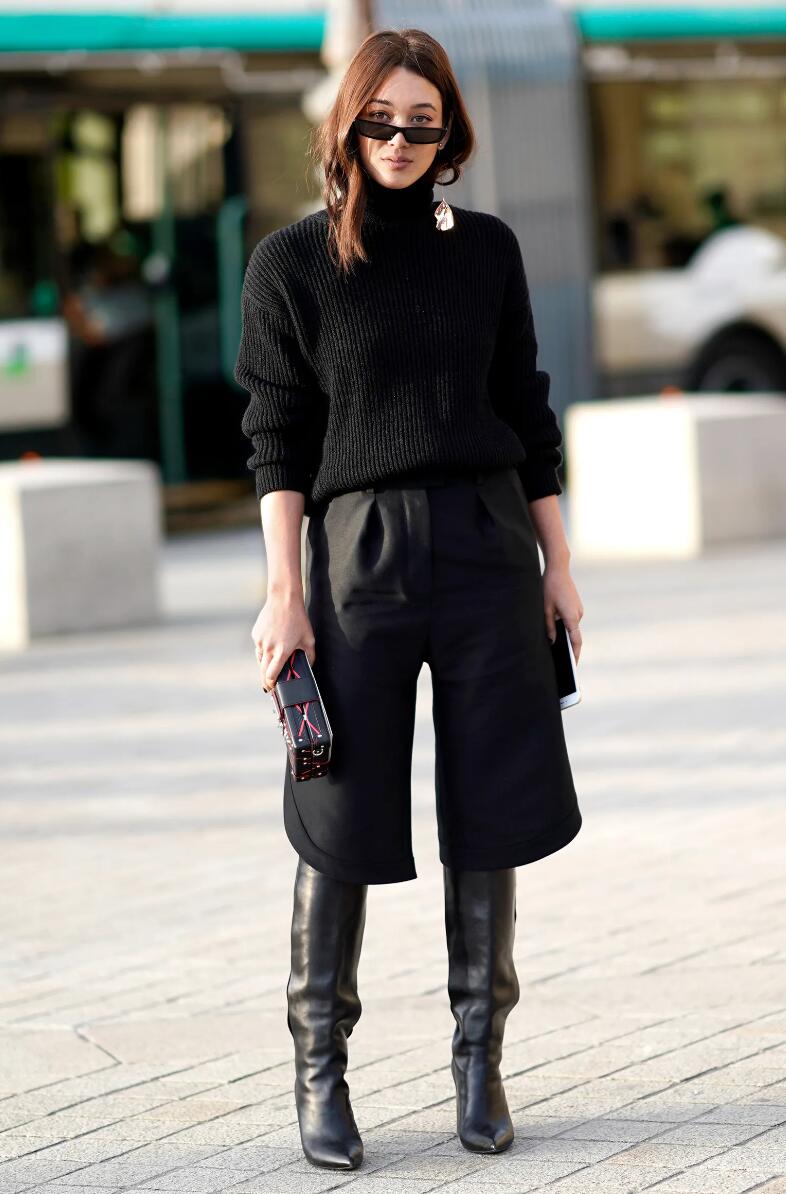 When wearing wide-leg trousers, you should team them with boots that have a larger silhouette on the upper, and thick, chunky heels. This is important to balance out the wide silhouette of the legs and create a coherent look. So tight-fitting, sexy, knee high boots with stiletto heels are not going to look right with flares, bell-bottoms, wide-legs, baggy jeans or Palazzo pants, because they are too 'dainty'.
Wide-leg jeans & chunky-heeled knee boots
So if you start wearing the wide-leg fashion, you need to wear high heels to balance out the width and make your legs appear longer. This means platform, wedge and chunky heels are the latest trend in knee high boots for wide leg pants of all types. And it's worth mentioning that if you wear narrow high heels with wide-hem pants, you may find that the heels get caught in the inside hem and cause you to fall forward.
This can easily happen when you are descending steps and it's definitely something to avoid. Straight leg and boot-cut jeans and trousers are also intended to be worn over knee high jeans, so if you like the tucked-in look, you'll need to stick with your skinny leg pants.
Leggings are also the perfect complement to boots, as they are naturally tight fitting and slip easily into any style of boot. For daytime wear at the weekends, add a long tunic or dress and add a warm coat and scarf and enjoy a coffee date or shopping with friends. In the spring, you can wear a soft, warm coatigan, which is a long, thickly textured cardigan worn when it's not too cold outdoors.
Gray, camel, dark purple, burgundy, blue, forest-green, deep pink and mustard yellow are good colors to go for. And there's a big trend towards oversized clothes this year, so look out for very fashionable gray, beige and khaki plaid oversized blazers to wear with trendy wide-legs and brown jeans.
How to wear knee high boots with skirts
Fashionable pencil skirts look fabulous with knee high boots and the streamlined silhouette you get makes you appear slimmer and emphasizes your waistline, as long as you have a waist. Top off your outfit with one of the winter, shirts/blouses in a gem-color or a bright plaid. And add a light sweater or summer pastel-colored cropped cardigan with pretty, pearl buttons and a feminine lace collar.
Unfortunately, the pencil skirt isn't good for apple shaped women, who carry weight around their middle. But it does suit pear-shaped, curvy and most other body shapes.
Faux-leather skirts are also good fashion garments to pair with your high boots, but they must both be the same or very similar color. With a denim, leather or suede mini-skirt, play with the lengths by wearing suede boots and a long, oversized cardigan. And midi-skirts also look great with knee high boots, which can be flat or heeled, depending on your own height. Small women need heels to carry off a look that covers up so much of the body.
How to wear knee high boots with dresses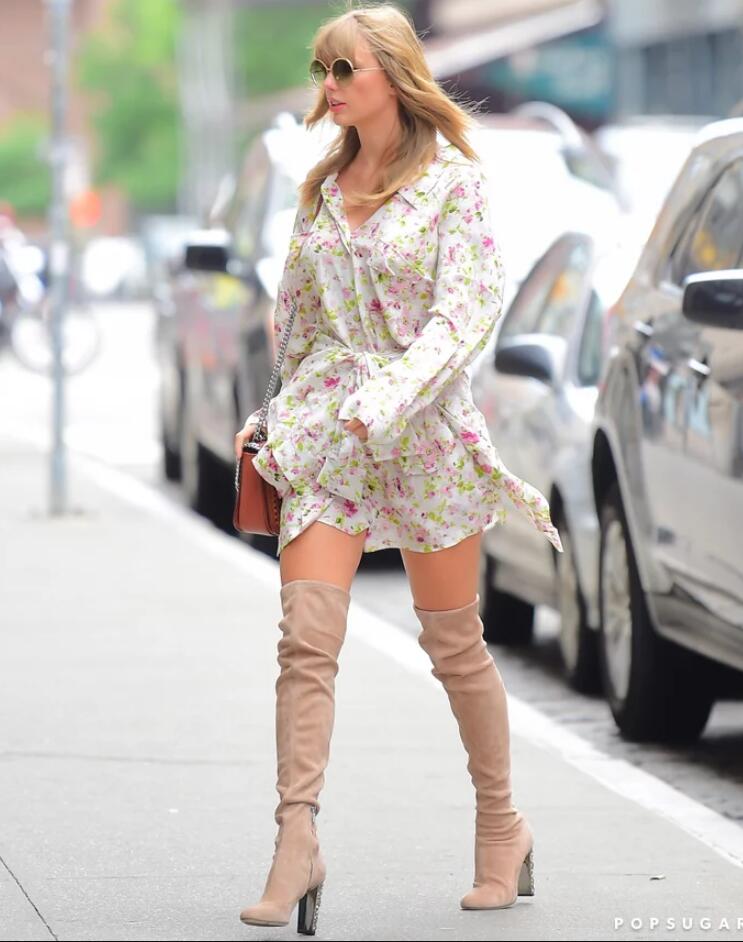 Knee high boots can look absolutely fabulous with the right dress. Try knee high boots that are well-shaped to the leg and have a high heel, and team with a slim-fitting LBD for a chic and sexy look. And boots also look great with the popular wrap-dress, too.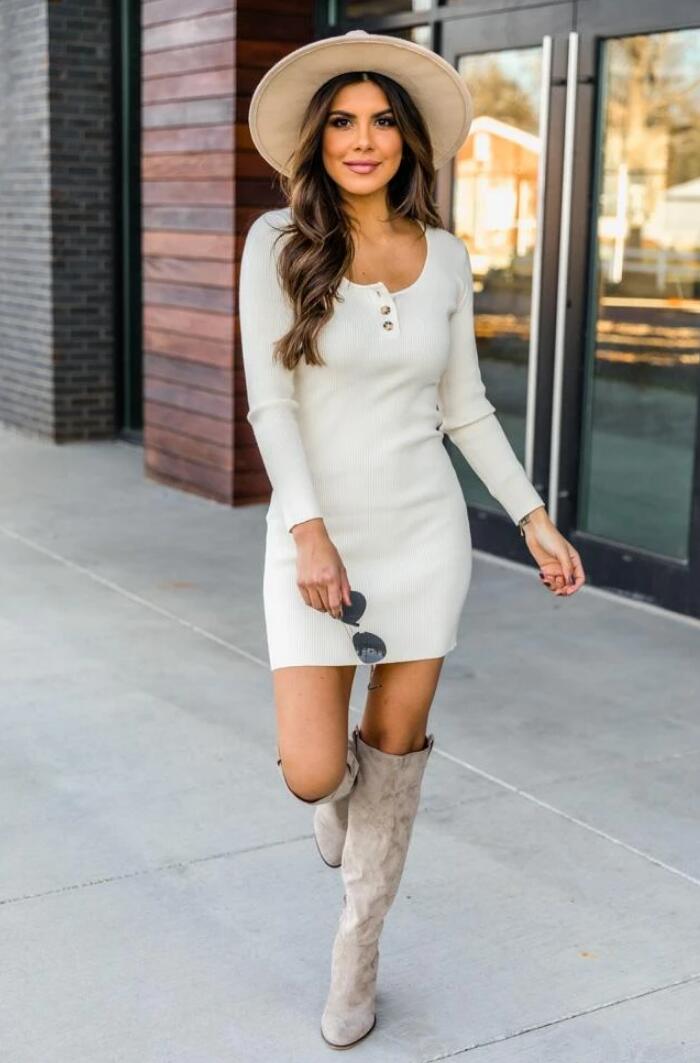 Try to choose plain or classic print dresses to wear with boots, as you don't want to try and match flowery, ruffled summer frocks with high boots.
Style tips for wearing knee high boots
If you like a Boho vibe look out for suede and lace-up boots
Wide-leg pant length with boots needs to be just 1 inch off the floor, and have a little break where they touch the boot's upper.
Well-fitting boots make your legs look good, so go for styles that are snug at the calf and ankles, saggy boots make people think you've got saggy legs!
If you have large calves, choose boots with a wide leg design as you will be more comfortable and they will help your legs appear longer and slimmer. Chunky, platform and wedge heels help balance out big calves.
Thin calves can be minimized if you wear boot with details like straps and buckles that create a focus around the ankle area. Lace-up boots can also be a flattering option, as you can adjust the tightness and get a good fit on thinner legs.
Shorter women need a high heel, platform or wedge heel to elongate the leg. And pointed or round toed boots are more flattering than square-toed boots.
Whether you're planning on buying yourself some new knee high boots this year, or need some new ways to get your current boots out of the wardrobe and worn more often, I hope you've found some excellent inspiration here!
Click the images to view the slider