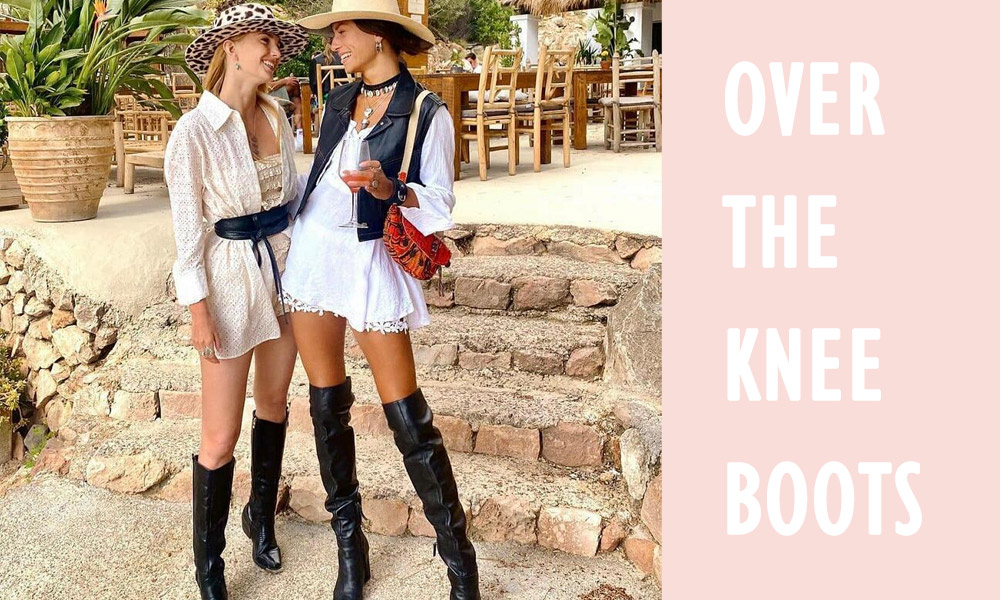 Women want to know how to wear over-the-knee boots this year more than ever, because they've never been so highly fashionable! We mostly wear sandals or sneakers in the summertime, but later in the year we have a number of footwear decisions to make. And these include sensible Mary Janes, slick loafers, classic Chelsea boots, knee-high boots and most unusual of them all, over-the-knee-boots.
Over-the-knee boots have never been one of the most popular types of boots worn on Main Street, purely because they've always had a slightly sexual connotation, especially since the 90's 'Pretty Woman' film. But the fashion designers, quite rightly, have over-ridden the silly ideas that stop women wearing the most practical of winter boots. Because, of course, a pair of suede or leather over the knee boots are far warmer than any other shoe or boot you can name! And they do look very fashionable and stylish, too!
Wide choice of styles
And when the Fall/Winter Fashion Shows offer lots of very short skirts, what else could they do but provide the best leg protection and trendy style with over-the-knee boots! And so you'll have a very wide choice of over-the-knee-boots to wear this year, from slick, ultra-practical combat versions, to tightly fitting boots with heels, minimalist styles, bikers and high glamour!
Warm & trendy
We may be entering spring weather right now, but to many of us that still means quite chilly temperatures and changeable weather conditions. And we are really looking forward to getting out in our new mini- and midi-skirts, so the best way to get a warm and trendy look is to wear over-the-knee boots. And as high boots cover up your legs, leaving just a few inches showing, it's actually quite a modest look compared with shoes and a mini-shirt!
How to choose the right style of over-the-knee boots
Here's how to select boots that complement your height and body shape.
Over-the-knee boots for tall & short women
Tall women look fantastic in over-the-knee boots as they accentuate the length of your legs and show them off beautifully. You can still wear a high heel if you prefer, or you can choose one of the more comfortable lower, chunky heels.
Short women need to wear high-heeled boots in order to make their legs appear longer and a good tip is to wear a brightly colored dress at a length that just covers the top of the boots. This trick works by accentuating your whole presence with a noticeable color and the dress length will also add a little extra 'height' to your silhouette.
Over-the-knee boots & body shape
When choosing the most flattering over-the-knee boots you need to consider whether you have Slim or Large thighs. And it usually turns out that curvy women with an hourglass or pear-shaped figure have fuller thighs. Whereas, rectangular and apple-shaped figures usually have slimmer thighs. And if you do have slim thighs, then you can wear over-the-knee boots successfully with any clothes, including skirts, dresses, jeans and shorts.
In addition, plus-size women can also look great in over-the-knee boots, but you need to restrict the range of clothes you wear them with. For instance, if you really want to showcase your lovely curves, wear a pencil skirt that finishes slightly above the knee for a sexy, but classy look. And this look is especially attractive if your boots contrast with your outfit. But you can also wear a skirt/dress that matches the boots and get the benefit of your legs appearing longer and your silhouette slimmer.
How not to wear over-the-knee boots
Remember that over-the-knee boots are a very attention-grabbing look, so don't overdo your outfit by wearing sexy clothes as well.
Avoid wearing tight tops with over-the-knee boots, as they are more of formal footwear which looks classier with a blazer jacket or an oversized jumper.
Insist on getting a perfect fit before you commit to buy over-the-knee boots, if they feel too tight in the store, they will be very uncomfortable to wear for hours at a time. And if they are loose around the top, they'll keep sliding down and be a nuisance to wear.
If you're wearing a mini-skirt, make sure you balance the look very carefully by wearing a top that covers your upper chest and arms. You should be aiming for an elegant or casual-chic over-the-knee boot outfit.
Here are some examples of trendy over-the-knee boot styles to inspire you to join the many women who wear high boots to be stylish and warm!
Over-the-knee boot outfit ideas
Try slouchy over-the-knee boots with a flared or gathered black skirt, and team with a green check-patterned jumper, covered with a fitted long vest/gilet. Accessorize with a large, gray handbag.
Short skirts look great with long coats and a camel coat will look fresh and trendy over a navy sweater and mini-skirt, and gorgeous camel suede over-the-knee boots.
Update a chic long, tweed coat and black trouser ensemble with a lovely touch of color from denim-blue high boots and a matching, small black and blue handbag.
Wear over-the-knee boots with a printed skirt-suit or dress
Tight fit black leather boots with a modern, block heel are incredibly versatile and you can look fantastic with a patterned, long-sleeved skirt suit or dress for professional or formal occasions.
Wear trend-setting snakeskin over-the-knee boots
If you love animal-prints, choose a pair of high-heeled, snakeskin over-the-knee boots in shades of brown and tan. Team with a tan suede jacket and a ragged-hem, denim skirt and add a quirky touch with a scarlet-red shoulder bag.
Wear chunky over-the-knee boots for grunge chic
Heavy, chunky soled over-the-knee boots are perfect for grunge style and are on-trend for this season. Wear with opaque, black tights and a mini-skirt, plus a mustard and black tiger-print, long-sleeved sweater to add a little color and offset the edginess.
Wear over-the-knee boots with a ribbed-knit puff-sleeve dress
Ribbed knit dresses with puffed, long sleeves have proved their popularity since they appeared last year. And if you'd like an ultra-chic look, team a blue knitted dress with cream, suede, over-the-knee boots.
Wear over-the-knee boots with a front-slit midi-skirt
Over-the-knee boots look great worn with a front slit, midi-skirt so just a few inches of leg are showing above the knee. Wear with chunky heels and try a monochrome dark purple, brown, green, blue or gray outfit to create a smart look.
Wear over-the-knee boots – late summer/autumn shorts suit
If you enjoy wearing shorts in late summer and autumn, pop-on a pair of over-the-knee boots to keep your legs warm. Trendy khaki brown shorts look fabulous with a shell-pink, high-necked top and a camel leather jacket plus black boots and tights. And add a candy-floss pink, small rectangular, cross-body bag to finish a super-smart look.
Wear over-the-knee white boots in summer
White boots will be worn in the summer to create some fresh, modern color combos. A navy boob-tube, or bralette, looks good under a large-size navy blazer, teamed with a white, button front skirt, white over-the-knee boots and a white shoulder bag.
Wear dressed-up white over-the-knee boots
And white over-the-knee boots will be a staple through all of this year and the next! You can dress them up with a glittery dress, or wear with skinny jeans and a gray or khaki checked or plaid jacket for daily style.  And give your look a different look with a cream, gondola handbag.
Wear over-the-knee boots with layers & textures
Layering and texture can create a highly fashionable and individual look. Consider wearing a tie-dye mini-dress in cream and brown colors, with a long, brown-tan leather trench-coat and honey-colored suede over-the-knee boots.
Wear black suede over-the-knee boots
Get out your favorite short dress and wear it with opaque tights and black suede high boots, with stiletto or chunky heels. Finish with a cushioned, chain-strap shoulder bag.
Black suede over-the-knee boots look smart with a simple, soft-charcoal blazer and a white tee-shirt tucked into a black corduroy mini-skirt. Wear a brown sweater on top and accessorize with a tan or black and white striped cross-body bag.
For time in the city, wear a bright, long-sleeved mini-dress with a narrow, straight shape with black suede over-the-knee medium-heeled boots and a large tan handbag.
Wear over-the-knee boots in the office
Wear knee-length or midi-skirts with high boots in the office.
For office time, wear a navy blazer and a warm sweater tucked into a tweed, check or plaid skirt with your over-the-knee boots.
You can also wear a trendy, oversize gray or khaki blazer, or a checked blazer with a plain, dark skirt and your high boots.
Wear over-the-knee boots – biker & military looks
For a biker chick look, wear a thigh-length black leather jacket, a graphic tee-shirt left to hang loose, with a flared black leather mini-skirt and matching over-the-knee boots.
If you like the military look, wear a dark-green army greatcoat with a chunky-knit sweater and black jeans tucked into over-the-knee boots.
Wear over-the-knee boots with a hat
Or add a hat and scarf to your outfit for some extra personality. A brown trilby hat with a decorative band, and a loose fit black blazer, looks super with a warm dull-green scarf casually draped around the neck. Worn with fitted black shorts, black tights and slouchy high leather boots with chunky high heels; you get a chic winter/spring outfit.
If you're in any doubt about wearing over-the-knee boots this year, the experts say that the street styles outside of this year's fashion shows demonstrated that many women were already sporting over-the-knee boots! You have loads of leeway to style these high boots to suit your own style, from skinny jeans to a silver-glitter party dress. And over-the-knee boots in a range of light and dark colors are now being offered as all-season, high-fashion footwear!  Subscribe to get more fashion tips on herstylecode.com!