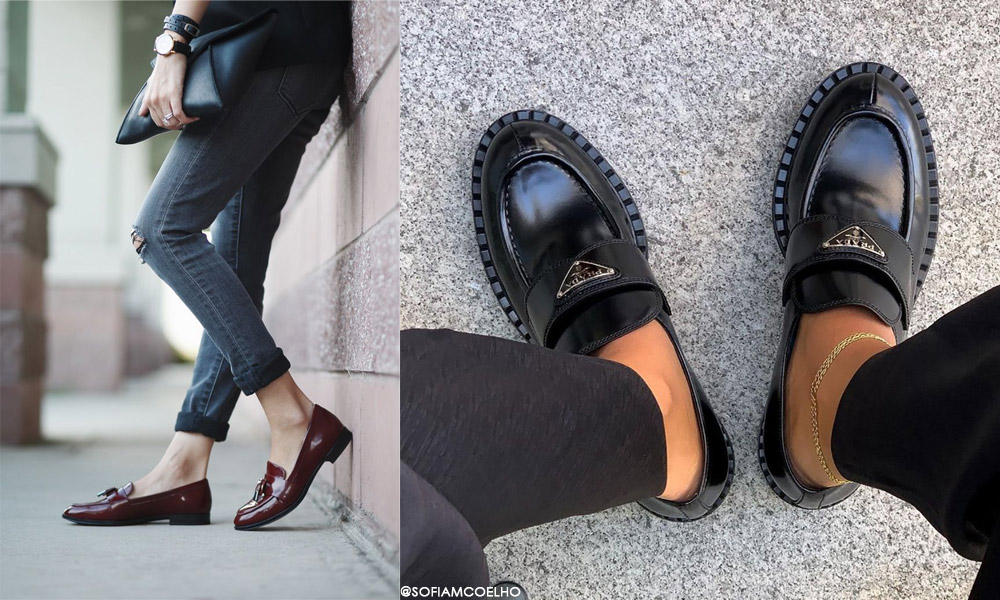 It's no surprise that with wide-leg jeans needing chunky shoes, thick soled loafers are taking over from high-heels and trainers. Loafers have never been out of fashion for luxury brands, but for high-street fashion they were pushed aside for decades in favor of sports shoes. Now both designer brands and high-street stores are offering a wide range of comfortable and smart loafers. And I'm so glad – 'cos I've never stopped wearing my loafers! LOL!
Prada – Proenza – Doc Martens & Comme des Garçons loafers
Prada are leading the designer pack with their chunky loafer complete with their logo. And top-drawer designer, Proenza Schouler, has released its version of loafers with the super, trademark, contrast-stitching decorating leather platform loafers. In addition, Doc Martens has collaborated with Comme des Garçons to make a fabulous chunky loafer that's perfect for wearing with wide hem jeans and trousers.
So instead of feeling sad that you haven't been able to wear your stilettos for a while, join the trend-setters who are wearing fashionable, comfy loafers with all their new fashion clothes! Read on and see how to style loafers with jeans and tops, pleated shirts and sweatshirts, plus trousers, pants, mini-skirt and dresses, and shorts for this spring/summer season!
How to style loafers with mini-skirts or shorts
Wear a long burnt-orange, ribbed woollen over a short, black mini-skirt or tailored, black shorts and complete your outfit with flat, black loafers with a gold metal bar decoration across the upper and a flat sole. And have you seen the lovely, pleated tennis skirts in plaid fabric yet? They're so cute, but you need to wear flat shoes and bike shorts to keep the look trendy. So loafers are the perfect style of shoe to keep the look smart-casual and chic.
How to style loafers with black jeans
For a cool spring day, you can make a streamlined, silhouette with wide, straight-leg black jeans, with a frayed hem cropped above the ankle. These should be teamed with a tucked-in white, ribbed, polo-neck sweater and covered with a light-weight, white duster-coat left open at the front. Add a tan, rectangular handbag for a little warmth and finish with high upper, black loafers with a thick sole and a slightly pointed toe, decorated with a traditional gold link embellishment. This monochrome outfit and classy loafers is a fabulous minimalist look!
How to style loafers with white shirts & blouses
Long, lace collars are a feature of a number of shirts and blouses this year, as well as large broderie-anglaise collars. And they are perfect to create a Puritan look that's ultra-fashionable. So with a white, long-collared shirt covered by a trendy, sweater vest in black, add a medium-brown midi-skirt, with black traced flowers on the fabric. And finish off this look with black, ankle socks and a pair of bright gold loafers to make a great style-contrast and jazz-up your outfit!
How to style loafers with straight-leg jeans
Prada loafers are immensely popular this season and you can wear black loafers, with a high upper and a triangular Prada logo on the top, with all types of jeans. Try straight-leg, cigarette jeans with a sewn hem that comes down just past the calf. Match with a gray-blue polo-neck sweater and cover with a V-necked, gray-blue coat with a casual, belted style. Add black ankle socks and black, thick-soled Prada loafers to complete your casual, but classy outfit!
How to style loafers with wide-leg jeans
Loafers are the perfect footwear to don with your flappy, wide-leg jeans as they create good proportions and a simple, sleek silhouette. Try with a V-necked, pale blue blouse, tucked in at the waist and soft-nap, navy-black, medium-rise, wide-leg jeans. Cover with a black wool coat with a revere V-necked collar and a chain-strap, small, rectangular shoulder-bag. And add smart, flat, plain loafers with a slightly pointed toe, with no decoration, for another popular minimalist look!
How to style loafers with a baggy sweater
All shades of medium and light-brown are fashion colors for this year, so if you love the jeans and sweater look, here's how to do it right! Choose a camel-colored oversized sweater, with a collar if possible. The sleeves will have a dropped seam and the ribbed cuffs could be flared out into a bell-shape. The sleeves will cover your hands completely.
Match with medium rise medium-light blue jeans, with narrow legs that finish just past the calf, like Mom jeans. And always wear a brown leather belt on your jeans. Wear a chain-strap, quilted dark-brown, cross-body handbag and black ankle socks, plus black loafers with a gold embellishment on the upper. It's a super, smart-casual, high-fashion look you can wear anywhere!
How to style loafers with beige trousers
Moving on now to lighter colors, try wearing wide-legged, cream trousers with G. H. Bass black and white loafers, which have lots more personality than one-color shoes. You can wear a round-necked sweater, with a light-beige background and vertical lines of spots in blue and red or any patterned sweater that matches cream.
With wide-legged trousers the fit should be good around the waist and hips, so you can wear a loose-fitting jumper with dropped seam shoulders for a nice, casual vibe. And if you finish off with smart, black and white loafers, you'll have a thoroughly modern, smart-casual ensemble for daytime wear and at the office.
How to style loafers with cream jeans
In warmer weather, you'll want some simple, minimalist outfits you can have ready to wear anytime. And the short-sleeved, white tee-shirt, tucked into cream straight-leg jeans, is a classic look. Remember to highlight your waist with a nice, brown leather belt and make sure the hem of your jeans is an inch or so above your ankles. This will show off lovely, brown leather loafers, with a gold detail on the upper.
How to style loafers with a summer midi-skirt
Flowy, midi-skirts are always attractive and comfortable to wear in warm weather and if you switch from trainers to loafers, you will get a far more sophisticated look. Loafers were invented to be walking shoes for women and you'll find they are perfect for summer strolls and hiking activities. To stay in fashion for the summer, wear a pastel top in lavender, pink, blue, yellow, peach, light-red, cream, khaki or beige with a printed, flared skirt.
Loafers with neat, white ankle socks look super-cute with shorts of all types. So your new loafers will match floral, baggy shorts, navy tailored shorts and your favorite denims, too. Wear with a cream light sweater around town, and the socks and loafers combo will make your shorts-outfit perfectly suitable for daily wear.
How to style loafers with lace socks
If you're wearing black, cropped wide leg pants, jeans or trousers, wear fancy, lace socks to pep up your outfit for evening wear. And black lace socks can add a flirty, sexy vibe to a long skirt outfit or a shorter dress! Add some zest to a preppy look, by wearing a black, pleated mini-skirt and a tucked in white sweatshirt, with high, black lace socks. And you can find white lace socks to wear with beige, khaki and cream loafers and summer outfits.
Types of loafers
Of course, not all loafers cover the entire top of the foot. Winter loafers tend to be high-cover, but summer designs are lower down and create a daintier shoe. For instance, John Lewis' Gani-Bar Trim Loafers in Brown are gorgeously cute summer loafers. They are a very fashionable tan color and have an attractive, stacked-wood effect on the flat heel.
Classic loafers have a flat heeled sole and a rounded toe. They often incorporate a gold, metal decoration on the front tab. For instance, you'll see classic loafers in the Gancini Chain Flat Leather Loafers from the Salvatore Ferragamo range.
For something more streamlined and contemporary-looking, take a look at the loafers from L.K. Bennet – like Marina Croc Leather Loafers in black. This model has a gently pointed toe. The Crocodile-skin, look of the surface adds lots of personality, there's a cute gold chain on the front tab and the heel is super-thin.
One of my favorite loafer styles is the duo-color, square-toe, flat leather loafers from J. W. Anderson. These quirky loafers are reddish-brown, with a light-gray upper plus green cross-stitch around the upper and a cute gold JW charm hanging from the side. And studded loafers are perfect for biker chicks, punks and anyone who wears black fashion clothes like goths, as well as adding extra edge to other fashion styles.
For a fantastically-modern take on the traditional loafer, take a look at Arket loafers! I love their futuristic look with an aerodynamic profile and pointed toes. This is also a daintier loafer, making it suitable for wearing with floaty dresses and mini-skirts, and for all dressed-up occasions. They have a touch of the ballet shoe about them, but they are smarter for wearing with office outfits and formal events.
Chunky-heel loafers and platforms are best for wearing with wide-legged jeans and trousers. You need to balance the wide hems out with a 'big' shoe silhouette, to get that little extra height and the best proportions. ASOS have lots of suitable loafers, like Monster Chunky Loafers in Black, which are very economically priced.
So if you like walking, looking smarter than with trainers or being in the forefront of fashion this year, you need to get some loafers into your footwear wardrobe. They last for years and instantly add trendy comfort to any of the latest fashion outfits! Subscribe and get more fashion tips on herstylecode.com