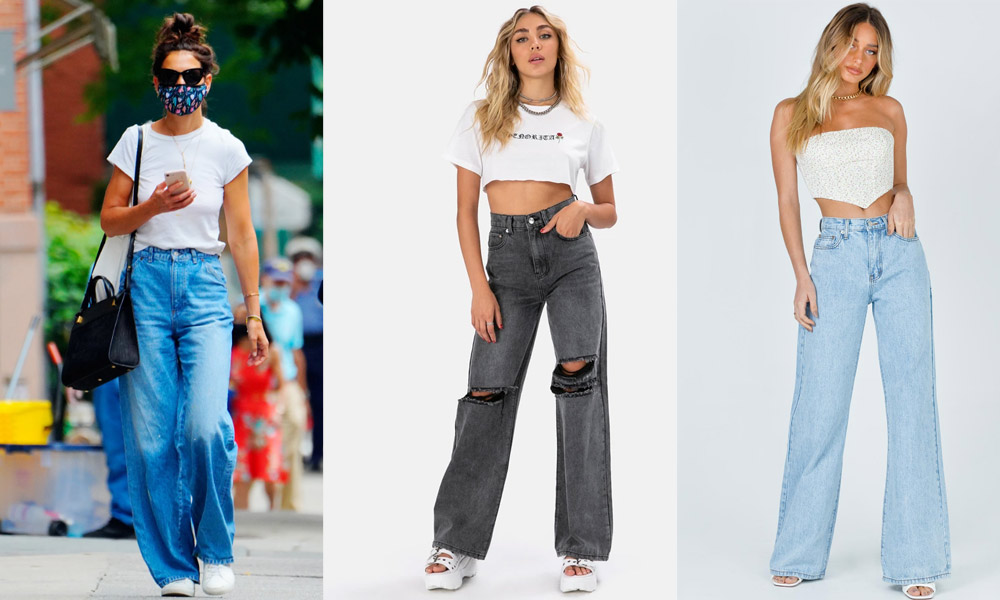 Looking around the stores, it's easy to get confused this year as we're being offered a huge range of new-style wide leg jeans. Our beloved skinny jeans are still popular and won't be pushed out of fashion by the new wide legs. But it's obvious that we are going to shift away from a wardrobe full of skinny jeans and skin-tight leggings. Instead we can have a selection of our favorite new styles and more variety.
And according to various fashion retailers the balloon leg, mom jeans and all loose-leg shaped jeans are finding favor with people spending more time working from home.
Have a wardrobe of different jeans
Now that people have more money we have completely changed the way we shop for fashion clothes. In the past, you might have a particular style and only wear clothes that were part of that style. For example, in the past you would have one pair of Levi's or one pair of Wranglers in your favorite fit and that was that. Then when flares came in, you switched to having one pair of flared jeans, although you would probably have several pairs of dress flared trousers for work and leisure evenings. But now you can have a wardrobe of jeans in several different shapes, cuts and shades of blue.
The main wide leg jeans fall into these categories:
'Dad' jeans
Mom jeans
Straight-cut jeans
Bell-bottom jeans
Balloon leg jeans
Barrel leg jeans
Cool weather colors & plaid
You'll be amazed by the different range of colors you encounter in the fashion stores this year. It's as if everything has changed and that's good because I think we're all a bit bored and looking for some exciting new fashion trends. Brown trousers are taking over from black, and this means there are cardigans, shirts and tops to match in all brown shades like tan, sand, khaki, chocolate, cream, mustard and earth tones.
And for winter, the gem colors like deep purple, blue sapphire, deep burgundy red and deep pink are appearing on short, thick knit sweaters. Gray and brown plaid blazer jackets are super-trendy, along with tweedy blazers, which should be oversized to balance with wide-leg jeans.
Summer colors & platform shoes
The summer colors are so lovely, with lots of pretty, pastel, short cardigans decorated with girly details like pearls, shiny jewels and large lace collars. So look out for pale green, light blue, peach, soft orange, baby pink and especially lavender cardigans and tops. Plus graphic tee-shirts are everywhere and there's a huge range of images and logos to wear to reflect your personal style.
And platform shoes, heeled boots, heeled trainers and wedge sandals, are definitely the best choice for balancing out your wide leg jeans!
Balloon jeans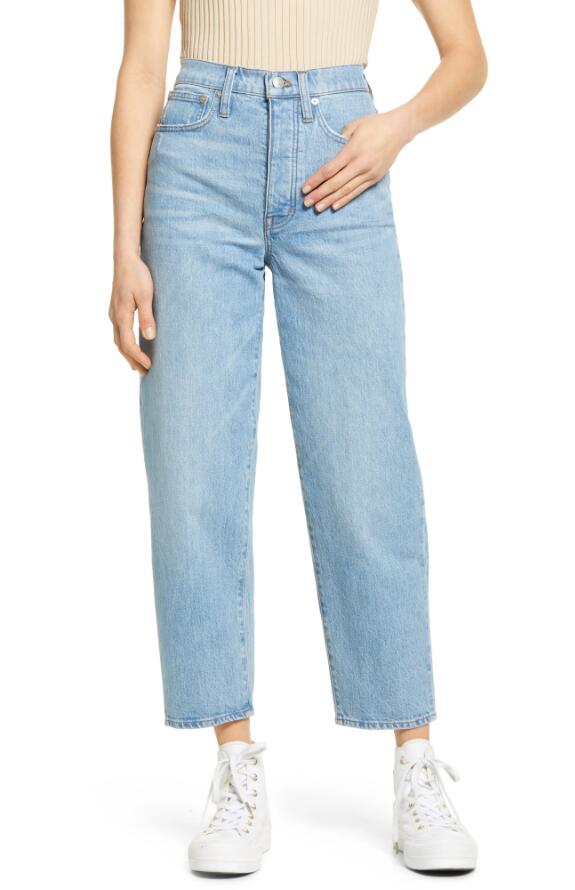 Levi's and other brands have come up with balloon jeans, which are designed to have a flattering high waist. So you have a good fit around the waist and hips, before the leg is gently shaped into a curved shape, which is then tapered-in slightly to finish just above the ankle. This allows you to show off your cute and feminine shoes, or boots. Wear with cropped tops that reach to the waist or tuck-in your tops and pull them out slightly to create the blouson effect. In the summer you can just wear skinny, white tops tucked in with engineer boots for a simple, trendy outfit.
But is it just because these jeans are wider in the leg, after all nothing is more comfy that stretchy skinny jeans and leggings? Well, manufacturers believe that we are ready for outfits that look more 'put together' than the image you get with tight pants. For example, boot-cut jeans look very smart with heeled shoes and a blazer jacket. And the shops are offering us super-smart, plaid blazers in soft dove gray and gentle tan colors, as a fresh new look. Skinny jeans and trainers are now our everyday look, and we need a change for when we want to look more polished.
Boot-cut jeans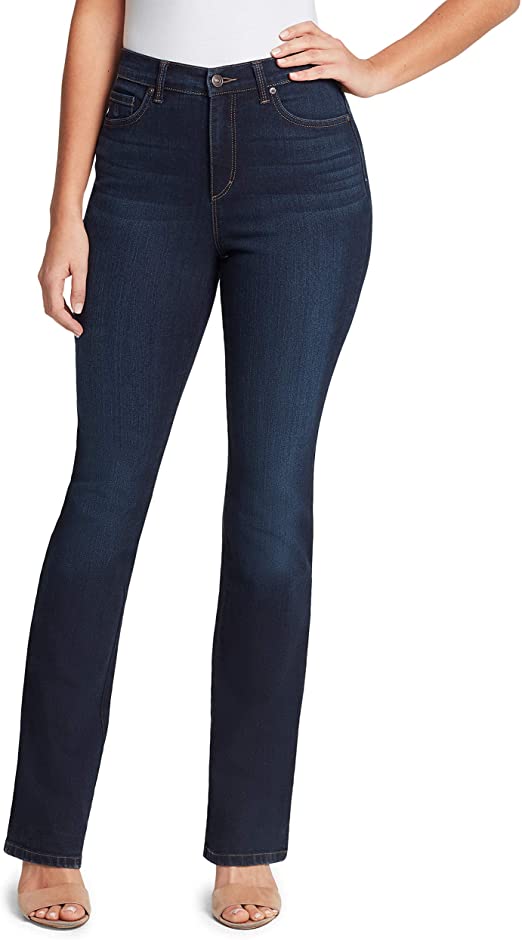 Boot-cuts are a new jean cut that suits lots of different body shapes. It emphasizes the length of the leg, so it's an inclusive style, which even suits shorter women, but I would always wear a heel myself as I'm quite short and need to add some height to get the balance right. Boot-cuts don't look their best with flat shoes. Lots of fashion pundits are expecting the boot-cut jean to emerge as the most popular of the wide leg jeans this year. But only time will tell!
Flared jeans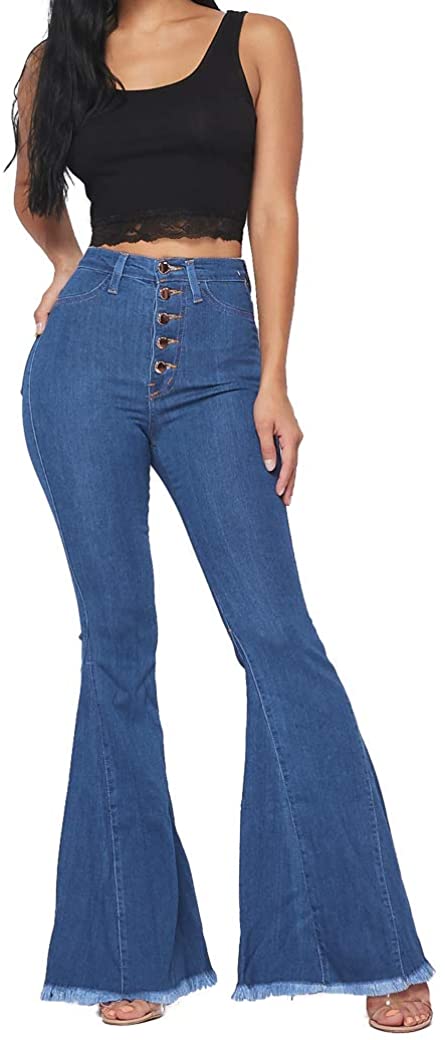 Vibrant Women's Juniors High Rise Button Fly Flare Jeans
The new flare shape is another strong trend this year but it's been updated for a contemporary look. So there are plenty of distressed and extremely distressed flares available. This year's flares should be worn with a long length that covers your chunky shoes or boots. The best footwear for flares is platform soles on trainers, shoes and ankle boots or Doc Martens. You can wear flares with pointed-toe boots or heels, but avoid stilettos as they can get caught in the floppy hem and cause you to fall forwards. Wear with chunky knits to make a warm and fashionable winter outfit.
Dad jeans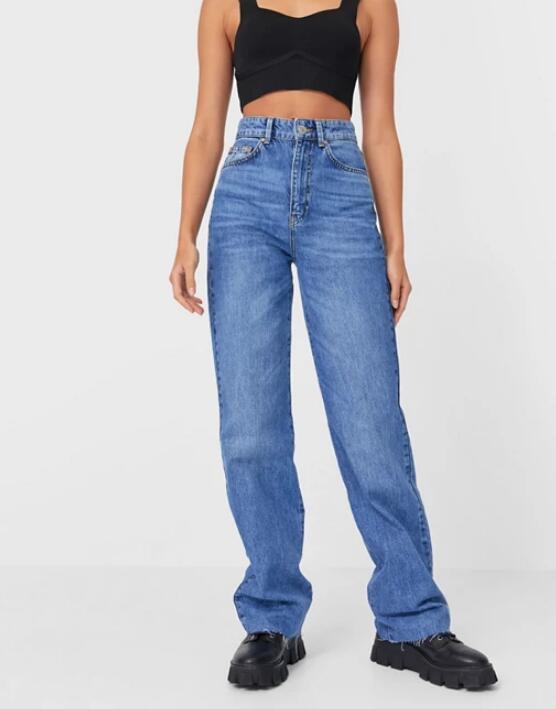 Dad jeans are roomy around the hips, with a low waist and a dropped crotch, so avoid wearing with the oversized top trend, unless you want to hide your whole body shape. The best way to create an outfit with these slouchy jeans is to wear a waist-length cardigan to add a little femininity to the outfit. And of course you can wear any graphic t-shirt tucked-in to create a waist-line.
Loose-leg ripped jeans

JOFOW Jeans Womens Loose Ripped Distressed Straight Leg Long Pants
And loose-fit jeans are replacing the authentic skater look, with lots of ripped holes with frayed edges creating a relaxed vibe to any look. These are an update of the scruffy jeans worn by skate-boarders, which were always getting ripped and damaged. They often had frayed hems where they had been cut to the right length, but frayed hems are included in this year's fashion details.
This year's baggy jeans have a low-slung drape and you should wear them with a long hem that covers your sneakers or boots, and adds length to balance the width. Wear with a graphic tee-shirt to get the authentic skater-kid image, without needing to go to the skate-park!
Washed gray jeans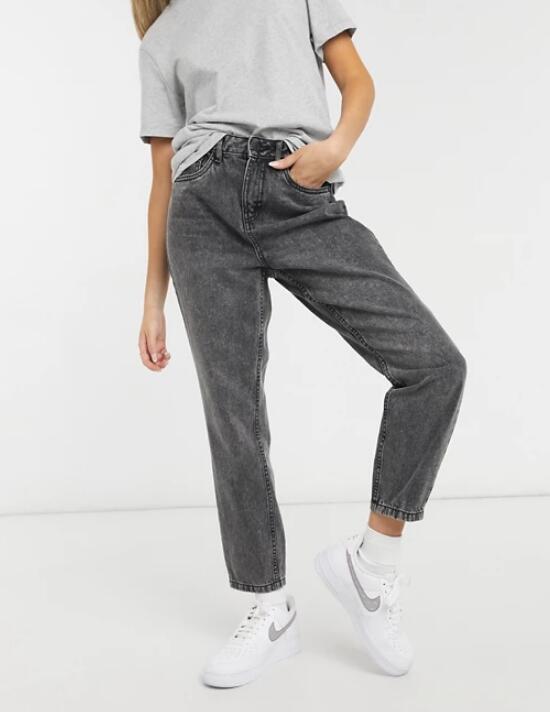 Apart from the high-street stores, designers like Ulla Johnson are giving the loose jean a much smarter edge. There are washed-out, gray jeans worn with floral, peplum blouses with puffy sleeves and a beige handbag from the runway that are chic and feminine for Summer/Spring. Look out for interesting details like ultra-high waists, utility pockets and front seams, that give Johnson's jeans their unique style.
High-waisted baggy cargo jeans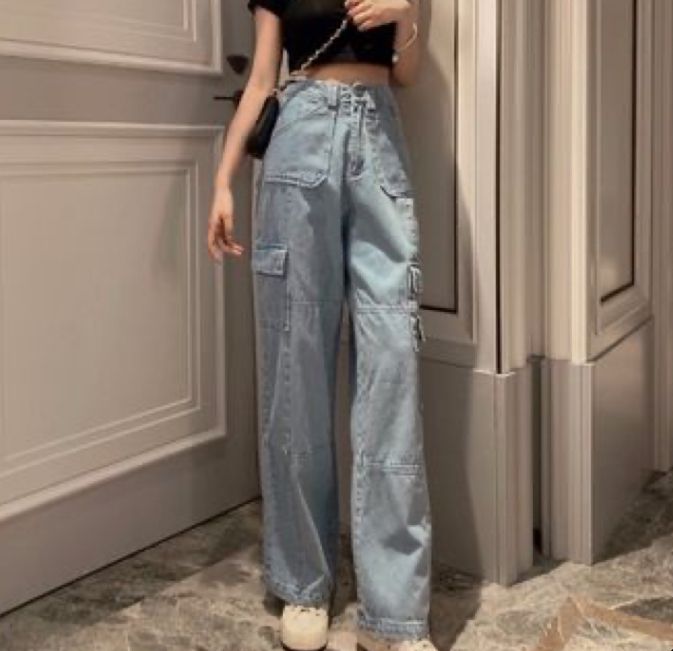 BDG's 'Kate' wide leg Cargo jeans are unusual and attractive with cargo pant details and a loose shape. Wear these trendy jeans with a short, cropped top and/or short cardigan worn open or buttoned up like a sweater to give a smooth line that contrasts with the bunched up baggy style. I love how these blue and white sneakers have an old-skool look that blends so well with the vintage look of these wide jeans.
The trendy colors of light-tan top and lavender cardigan, which we've never worn together before, but look great.
Wide-legs with strap & buckle detail
WeWoreWhat jeans have designed a different pair of wide leg jeans that have a loose, straight leg and a strap plus buckle you can fasten around the ankle to create a super, baggy look that's totally unique. And with an ultra-high-waist, they will be very figure flattering. Wear with a crew-necked tee-short, a tan belt, a taupe tweedy blazer and tan suede shoes.
Well-cut culottes
Culottes are considered to be the fashionable solution for those who want a third option between loose jeans and a skirt. In my experience, when I wore denim culottes in the past, you'll find that the jeans experts like Levi's etc. will produce well-cut and good-fitting culottes that will flatter the average figure. However, the cheapest end of the culottes market always churns out some horrendously unflattering culottes, so if you decide to wear this hybrid, invest in a well-cut pair.
Wear plain culottes with a smart tucked-in shirt, or a romantic blouse and high boots for a sophisticated outfit.
Bold prints & embroidered white jeans
White jeans are in fashion again and Colina Strada has surprised and delighted fashion fans with the bold prints, patterns and embroidery she's used this season, particularly on denim! The trend for patterned jeans is one you can wear all year round and it's feminine, cute and quirky! Wear with sweatshirts or tees and trainers for a fun, youthful look that's a completely new take on the trend for white jeans! And look out for Rosebud Embroidered High Waist Crop Slim Jeans, which are super-cute little pink roses embroidered on faded black straight-legs.
Zebra-print jeans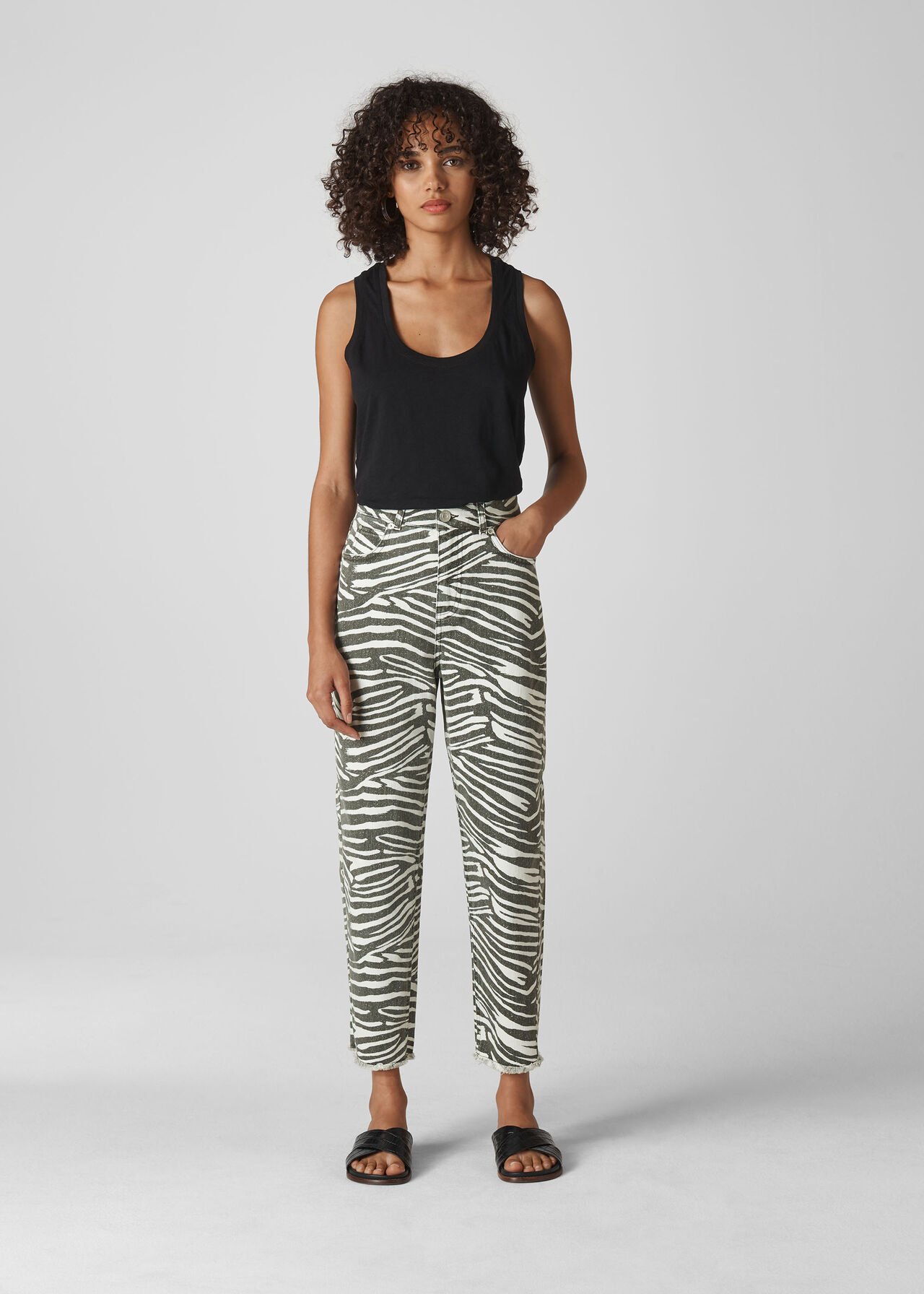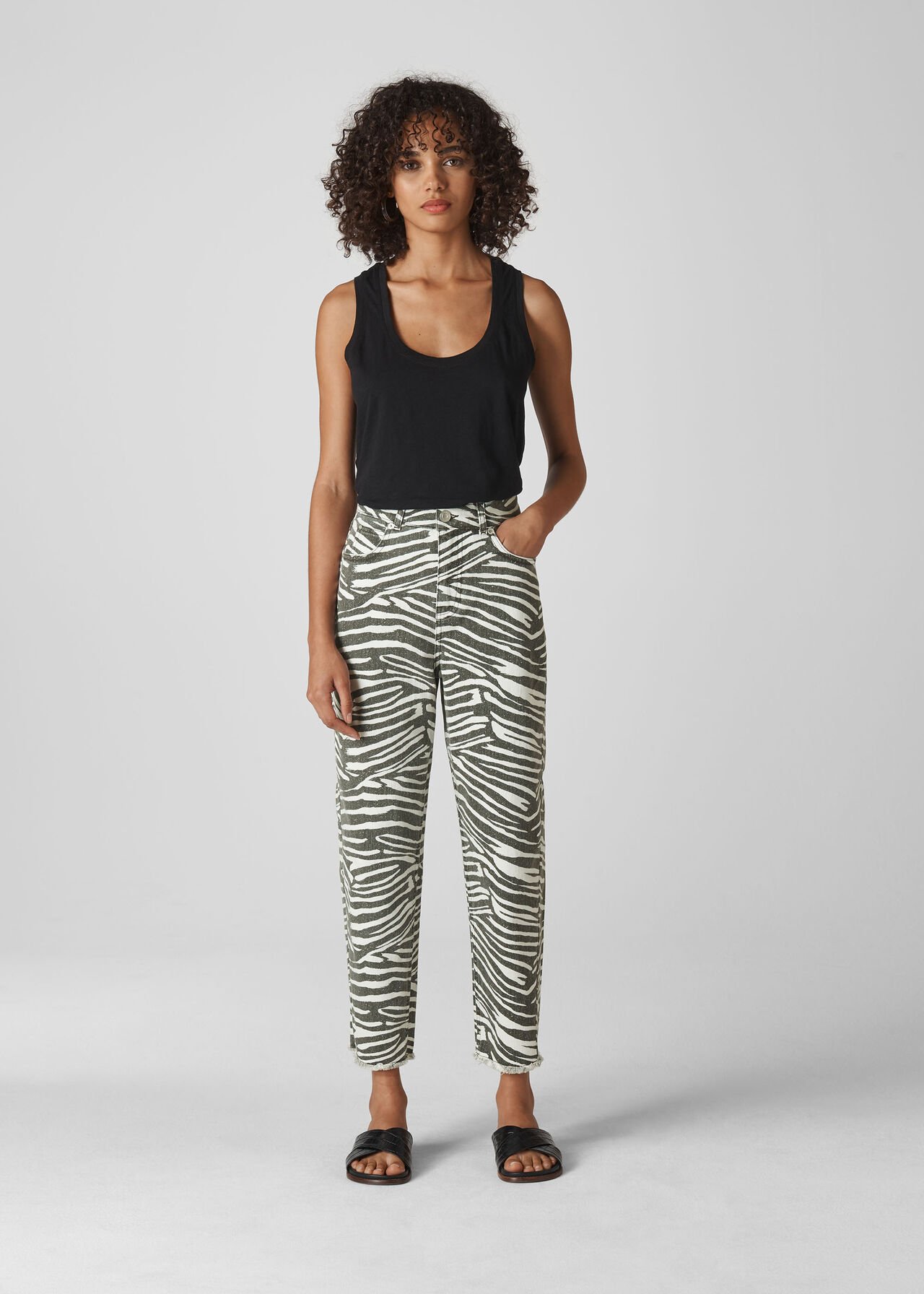 With neutral colors and all shades of brown, tan, cream, sand, mustard and earth colors in general, you'll find that a cream sweater and brown boots are the perfect accessories to zebra-print mom jeans from The Looker range. And they'll look fantastic in summer with a white crop top and sandals. So although they are expensive, they definitely are a super-chic investment that will impress your friends.
Asymmetric straight leg jeans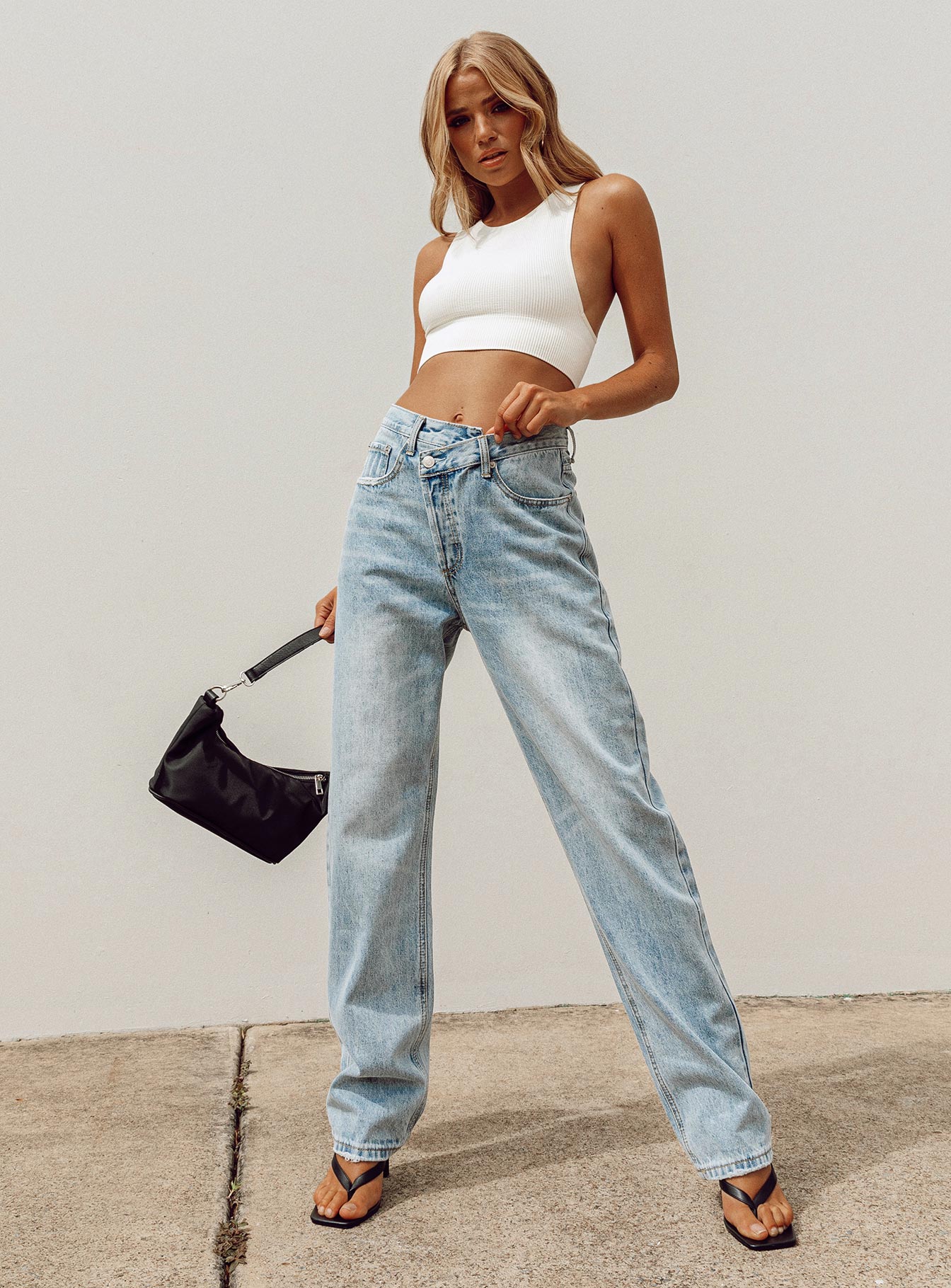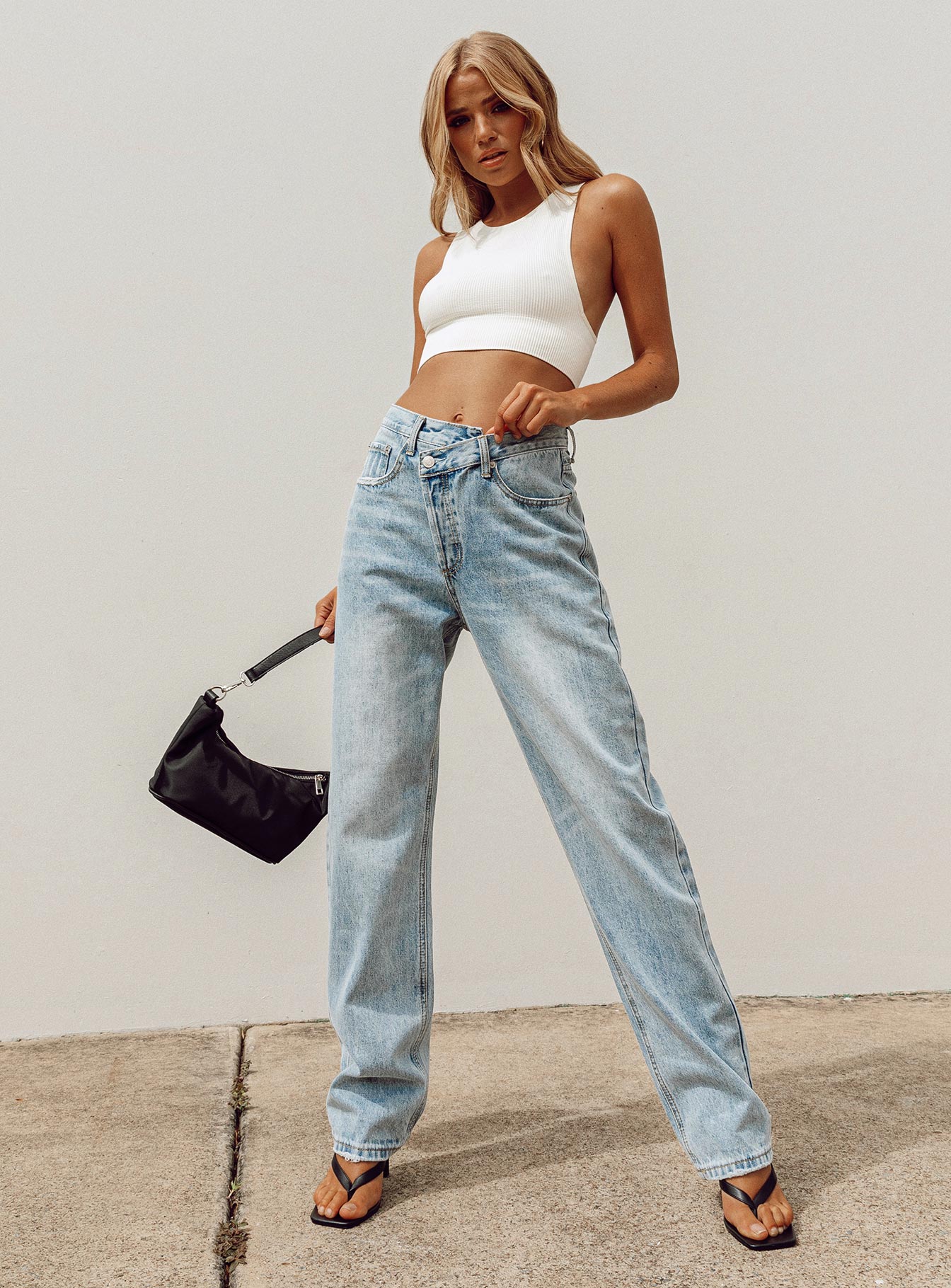 Net-a-porter has also added their own genius twist to the wide-leg jean trend, with their fabulous asymmetric jeans. The front fastening makes it look as if you have moved the button on jeans that are too big for you. Sooo, if you can't afford these jeans buy straight or wide leg jeans a couple of sizes too big and move the button to create the look yourself!
Multi-tasker cropped jeans
Cropped, wide-leg jeans are another style you're going to love wearing with a tucked in fine-knit sweater and a tan belt plus strappy shoes or sandals in summer. You can crop jeans to the length you want at home with some very sharp scissors or a razor, if you are good at sewing. Or just make a wide turn-up cuff as part of the style!
Staple straight leg jeans
If you're not sure where to start with wide leg jeans, start with the straight-leg and work your way out to the wider legs as the season progresses. Straight-legs are definitely a staple jean that you can wear for work and many occasions for a smarter look than skinnies. This style has a flattering high waist, and looks good when cuffed for a cropped length or at ankle length. It is known as a jean style that makes your legs look longer and that is always an attractive look. Wear with graphic tees, shirts, blouses, tucked in under waist-length cardigans and sweaters, with a gray or brown blazer and loafers.
All these new styles and colors are just waiting for us to go out and 'shop 'till we drop', so we have a whole range of new clothes to wear and a fresh, fashion vibe for this year!