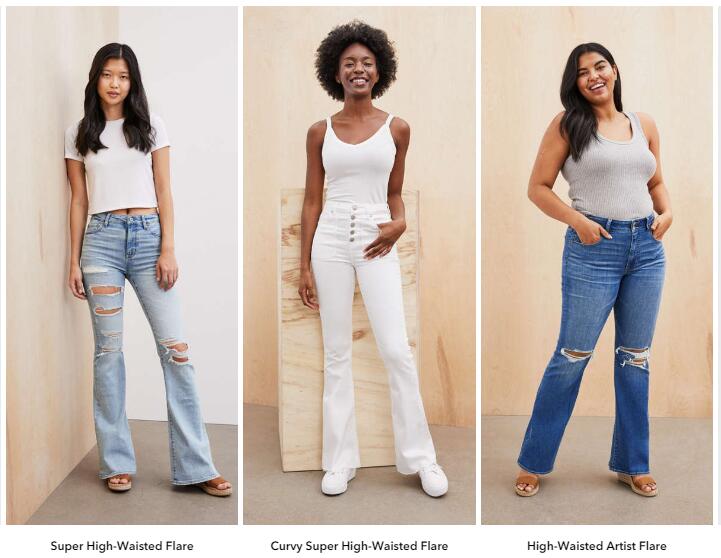 Guide to Styling Flare Jeans for Beginners
Flared jeans are back, but this time they are available in a vast array of different styles to suit all the fashion looks we love. 'Flares' are really easy to wear for women of all shapes and sizes, too. And the degree of flare can be used to balance the figures of plus-size and slender women and girls.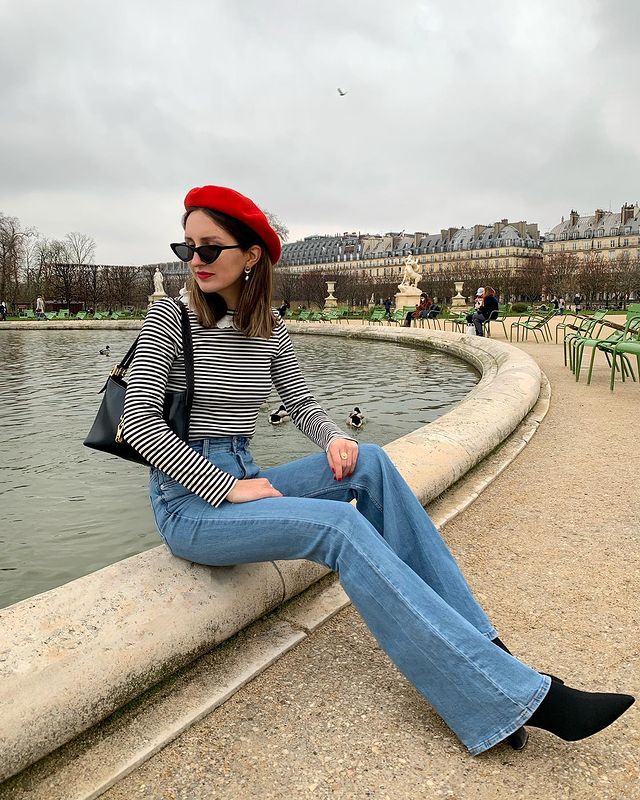 Huge bell-bottom jeans were the hippies' favorite jeans in the 60's, but by the 70's they had been toned down to a more streamlined, 'flared' shape, suitable for trousers and formal suits for women and men. But as there are now so many different fashion tribes, let's first have a look at all of the varied options in flared jeans!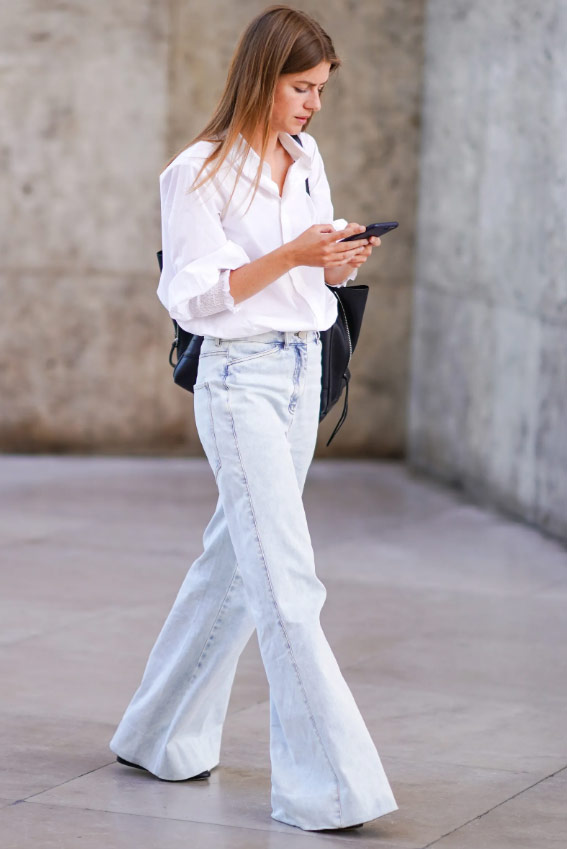 1. High waists & varied lengths
The shape and size of the flare vary tremendously in the new varieties, and there's an ultra-trendy new selection of lengths, including three-quarter and seven-eighths. But in the mainstream styles the length should cover your shoes, so your legs look longer. Best of all, high-waist jeans are back and that's good news for every woman.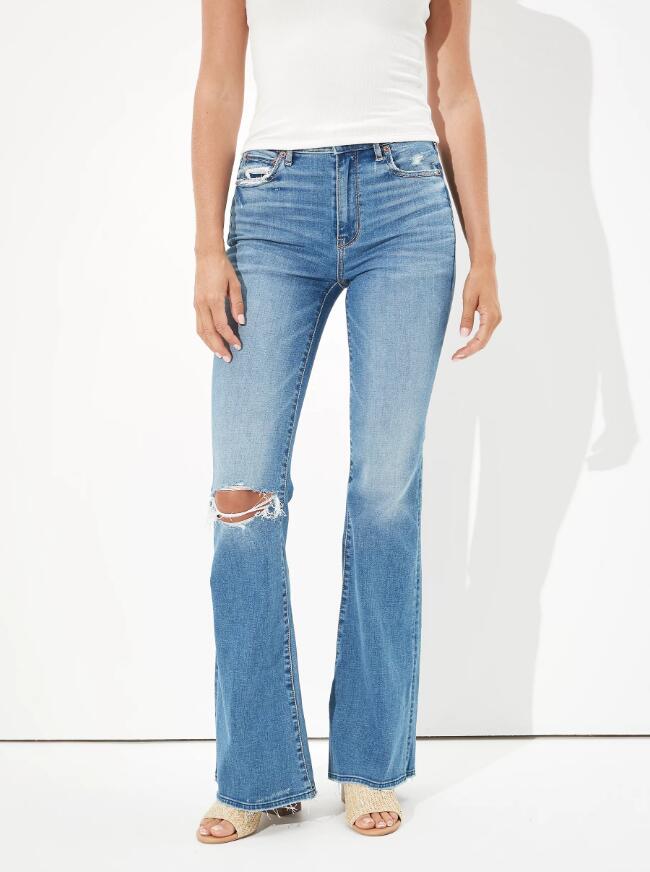 A high waist can work wonders by emphasizing your waist and skimming over a plump stomach. Low-waist jeans really only look good on women with slender figures, but high-waist fashion clothes improve everyone's figure.
2. Best flare jeans for plus sizes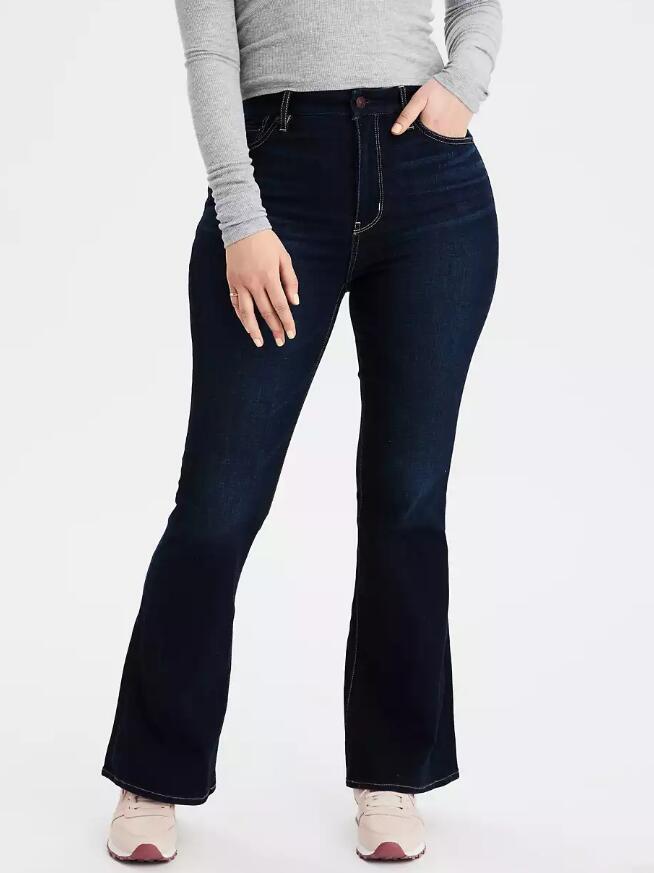 If your figure is pear-shaped and you have curvy hips, you are going to love wearing your new flared jeans! Look for styles that have a flare that starts at the mid-point of your thigh, and this will balance your shape beautifully. In addition, try on some jeans that flare out from the knee to see how they balance your figure. And high-waisted flares, worn with high heels, will lengthen your overall silhouette and minimize your hips.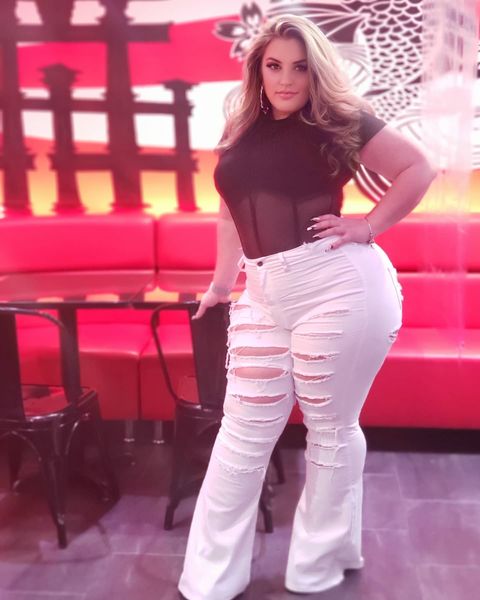 Short women should avoid the much wider bell-bottom jeans, as they change your proportions to look short and wide, which is not flattering at all. Loose fit jeans are a big trend this year and so flares are often cut looser now than they were in the past.
3. Different flare jeans styles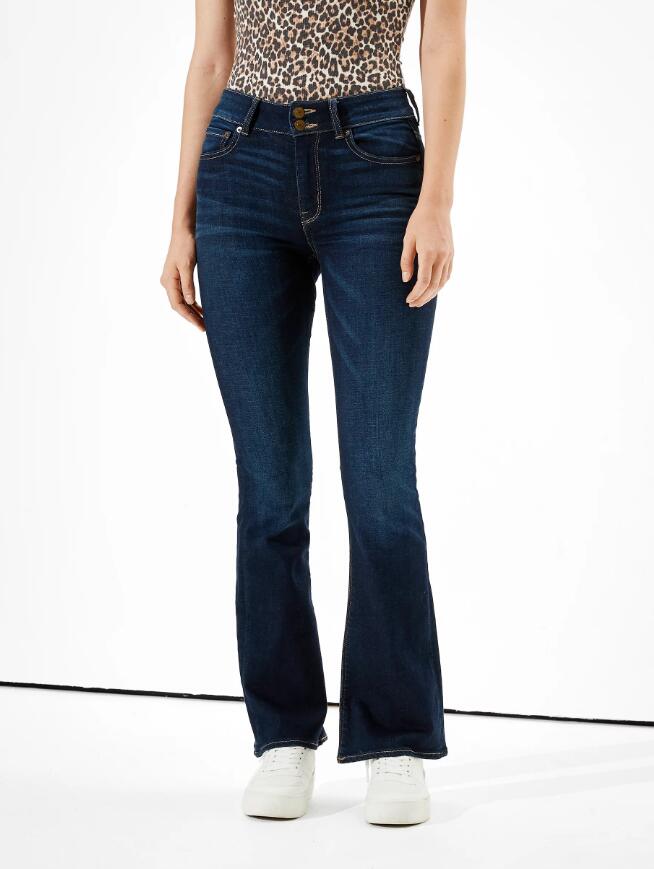 The two basic differences are the point where the flared section begins. This can be either the hip or the knee and it makes a lot of difference to how your figure looks wearing them. But there's also the 'wide-cut' jean, which has a full flare starting from the waist. Full flare jeans – have extremely wide legs with the width starting right from the waist. They are roomy and comfortable and suit slim and not so slim women. This style is available in cropped or full-length jeans.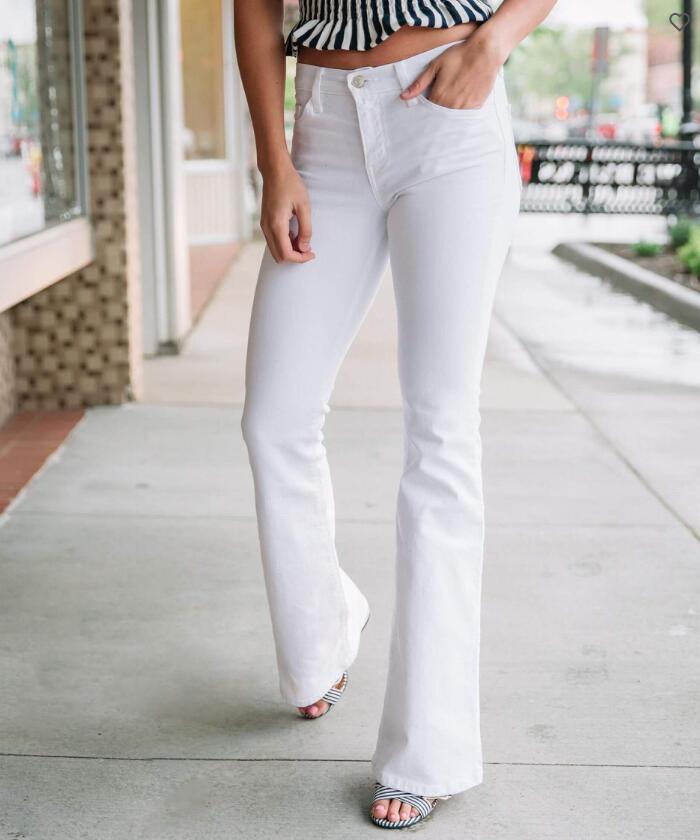 Hip flares are the most authentic shape and one of the most popular, trendy options, especially as they tend to slim broad hips. Knee flares fit like generic jeans around the waist and hips, but start their flare at the knee and look more like the original style of bell-bottom jeans.
4. New types of flared jeans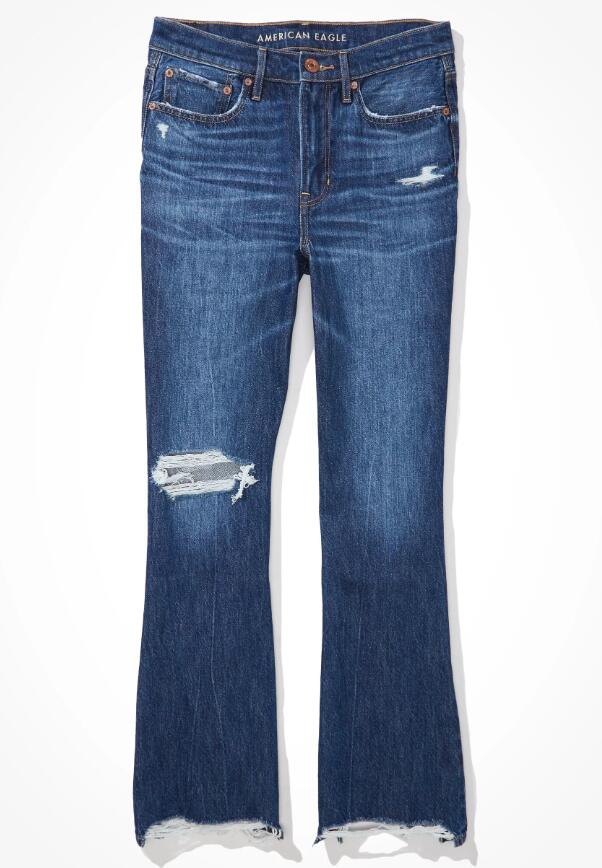 Cropped culottes/flares end at the shin and the flare can be subtle or exaggerated.
Authentic retro flares have the three main style points of the original 70's flared jeans, which are a flattering high-waist, the flare starting from the hips and a wide flare that covers the shoes completely.
Skinny flares are close-fitting jeans with a lower flare that starts just above the ankle.
Asymmetric flares are extremely fashionable and have an uneven or textured bottom edge and a length short enough to show the shoes.
5. Stylish flared jeans colors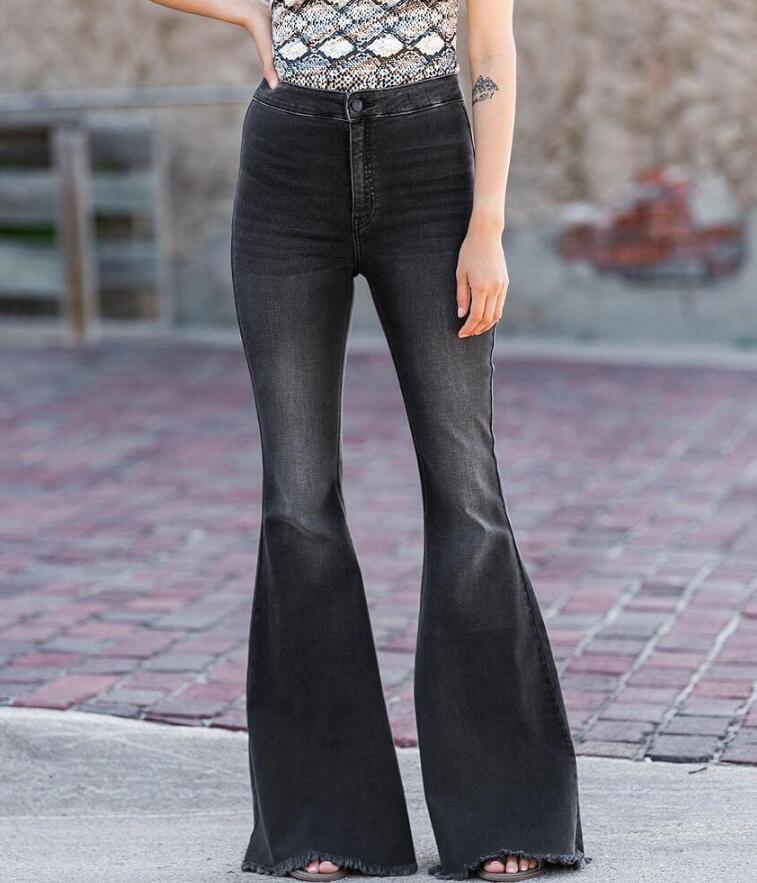 The classic blue-jeans colors are all fashionable options from ice-blue to indigo. There are also plenty of discolored and degraded color patterns used to create new and original color effects this season. White, gray and black flared jeans look great in the cooler months and match fashionably with trendy jackets, coats and boots.
And designer fashion collections are producing flares in a new range of soft shades, including romantic dusky pink, mustard, fresh mint green and vivid colors including lively red. These are going to be the high fashion flared jean colors in the warmer months, as well as orange, burgundy, purple, pinks and khaki shades. Teamed with a white top or shirt you'll have a simple, trendy look!
6. Textures and end fringes on flared jeans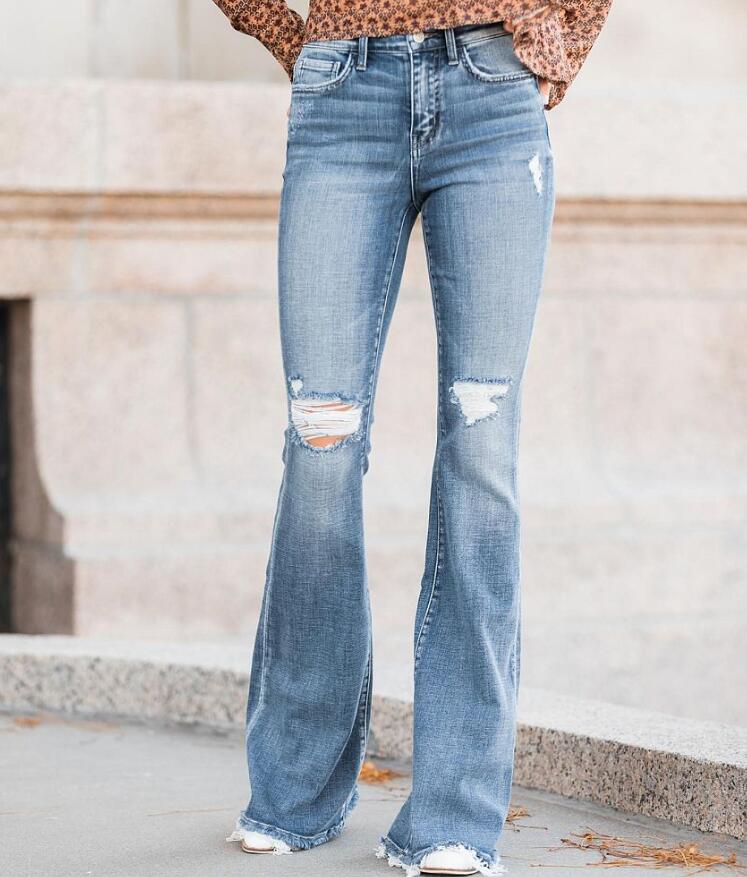 Rips and cuts are not going to appear on flared jeans, as it's time to leave rips behind and embrace a new look. However, the flared jeans have always had their own authentic decorative ideas, like raw-edge bottoms, inserts of flowery 'granny-print' fabric to make the flares wider and sewing on your own square patches of fabric.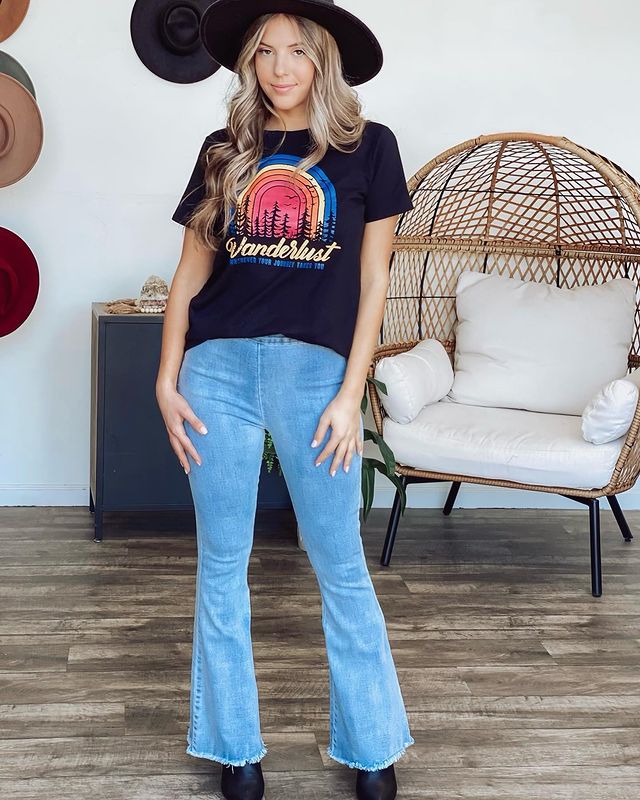 Some jeans have lacing on the 'flies' instead of a regular zip. But there will be a 'less is more' vibe to the new jeans, after years of diamond-studded and over-decorated jeans, minimalism is starting to become popular. These are some of the decorative details on offer right now:
Raw bottom edge made into a scruffy fringe and black leather jacket
Double-denim in matching blue
Boho individuality
Large patch-pockets in contrasting fabric
Uneven cut bottom edges
Floral fabric inserts/patches
Embroidery in different styles is also a trendy detail on flared jeans for a classy look.
7. What to wear with flared jeans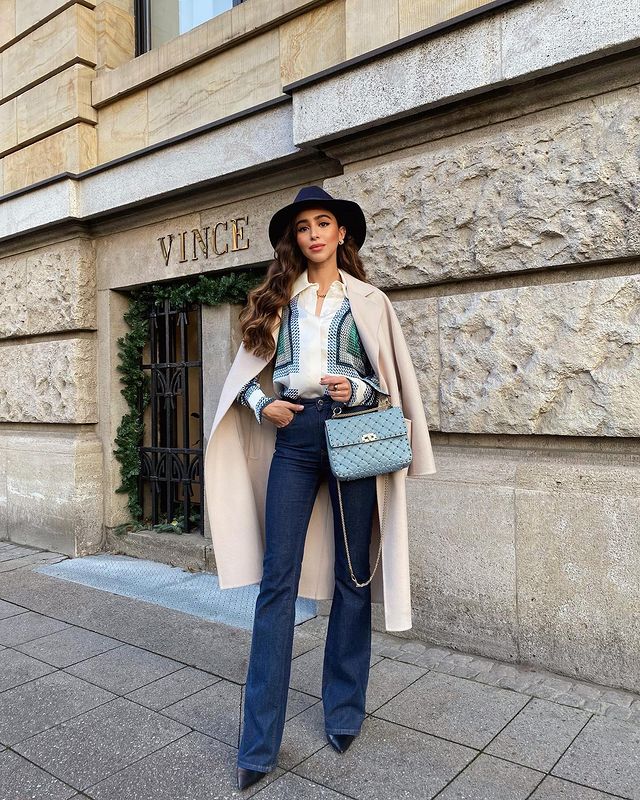 You can choose between tight-fitting tops, vests, sweaters and shirts or just the opposite! It all depends on your body shape, but the good news is that tight and oversized clothes are trendy this year!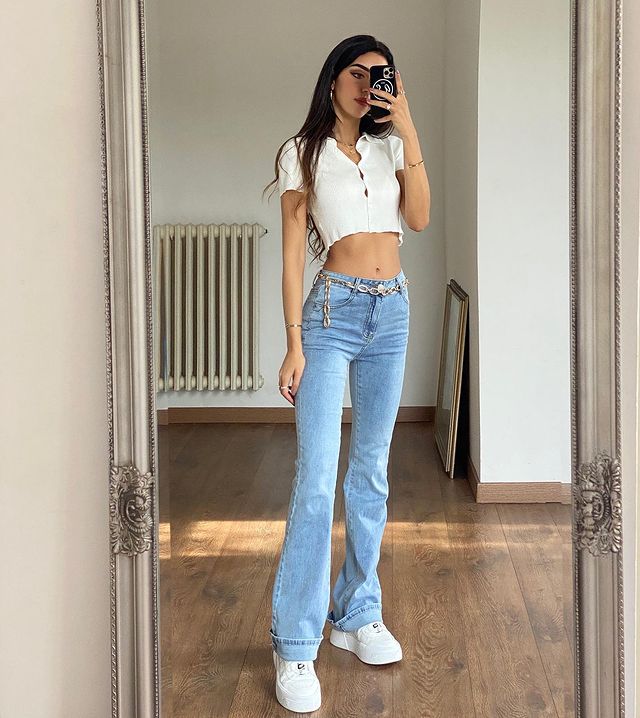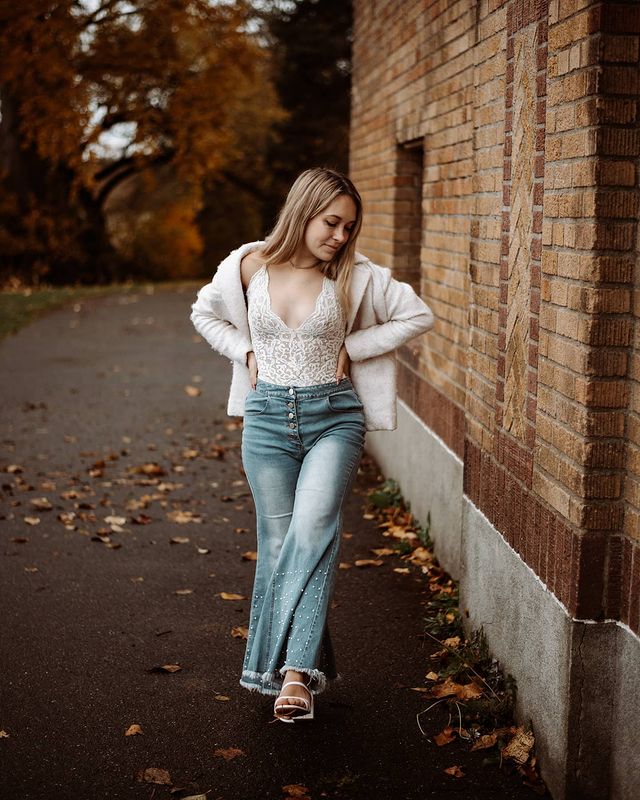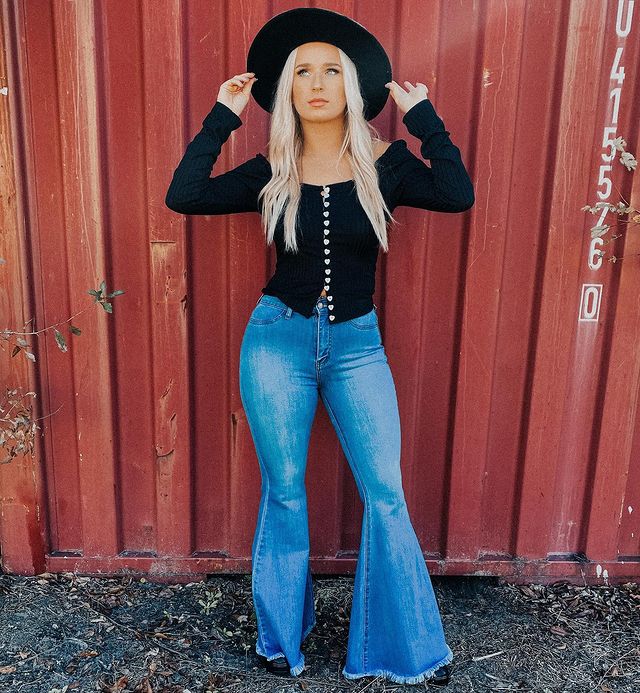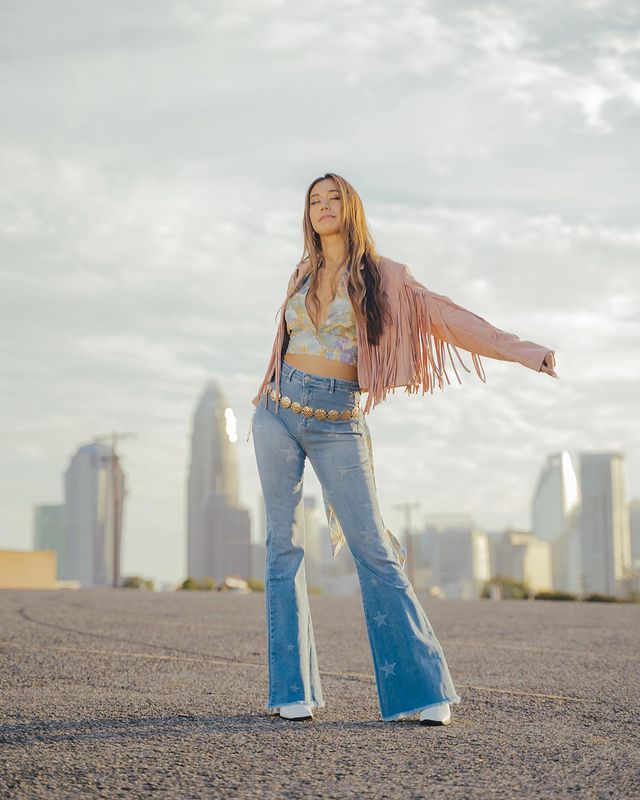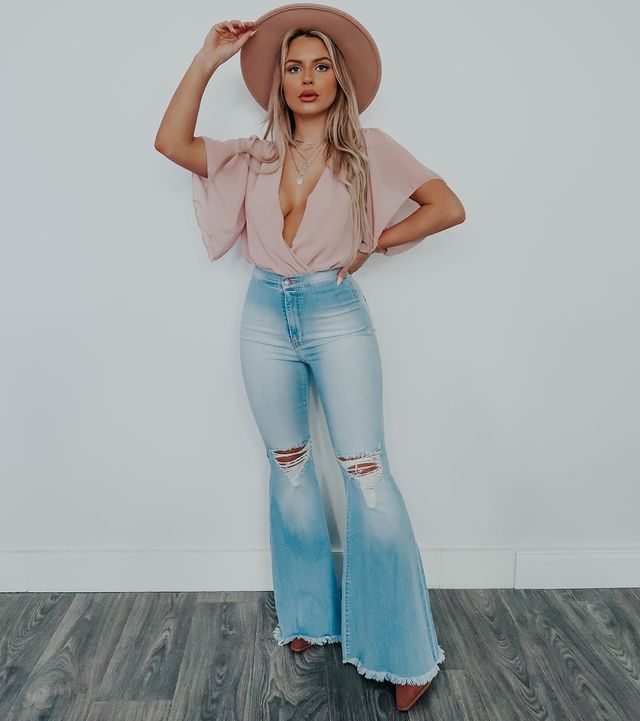 Long tops & narrow belts create a great look for plus-size women and will give you an attractive 'hour-glass' figure balanced by the flared leg.
Sporty looks are easy to achieve with your new flared jeans. You can tuck in football shirts, shirts and T-shirts and pull them out to create a blouson effect that will accentuate your waist. Or wear any sort of crop-top.
Flared jeans can be worn as semi-formal business wear for office workers, if you add a smart jacket or formal blouse.
Cute looks are easy with a feminine blouse or crop top and your flared jeans or pants.
Denim suits are classy and fashionable. If you're short, (or even if you're not short), you'll benefit from wearing one color to make your silhouette appear longer.
Sweaters always suit flared jeans, but this season you should be wearing over-sized sweaters to look trendy.
You can mix and match the colors of your top and jeans, too!
8. Jackets & coats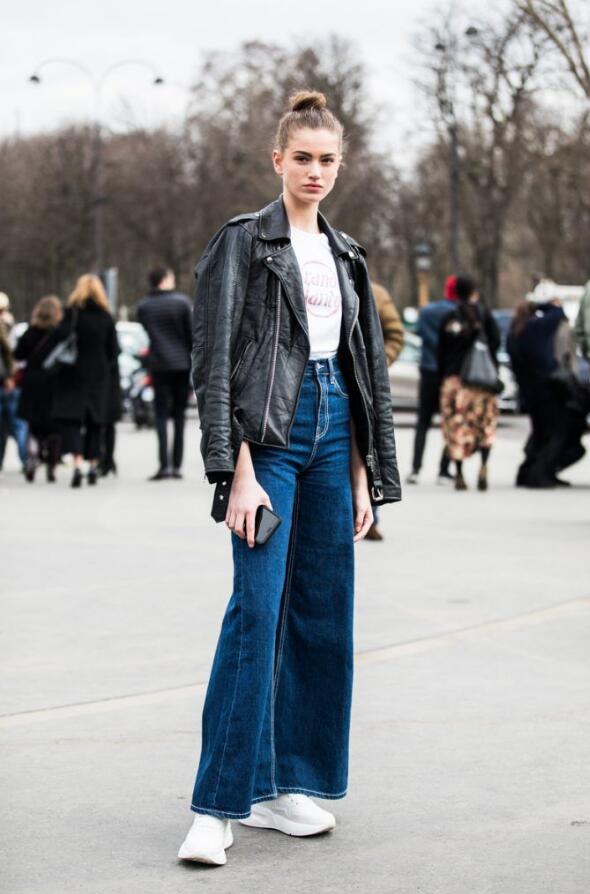 You can wear flared jeans with any type of outerwear, but they look especially trendy with leather jackets of all types, and with suede, for a youthful image. Mix and match with fancy cardigans, ponchos and trendy capes for an individual style. Quilted and down jackets, raincoats, classic overcoats and sheepskin coats all look great with flares. And the new faux-fur, multi-colored coats and fur jackets will create super, fashionable outfits.
Plus, following the trend to wear your summer clothes as layers in cooler weather, you can also wear a short dress over your jeans and under a jacket, sweater or coat!
9. What shoes to wear with flare jeans?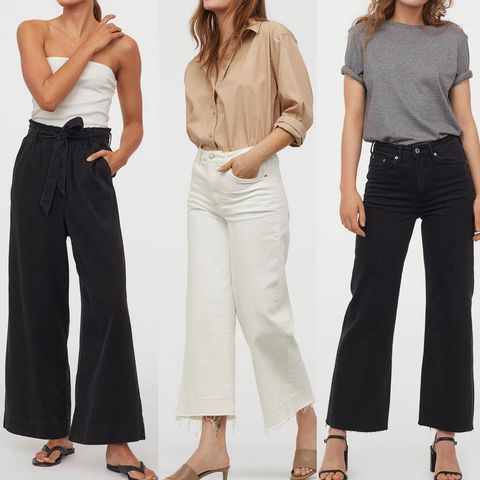 To create a true style identity, you need to ensure your shoes harmonize with the look you're trying to compose. Fortunately, versatile flare jeans look good with most types of shoes and with heels and flat soles.
To make the best choice match your shoes to your fashion style, i.e. classic, punky, tribal, sporty, cute, Boho, glamor. But there are also some types of shoe that are not suitable to wear with flared jeans.
10. Choose wedges or thick heels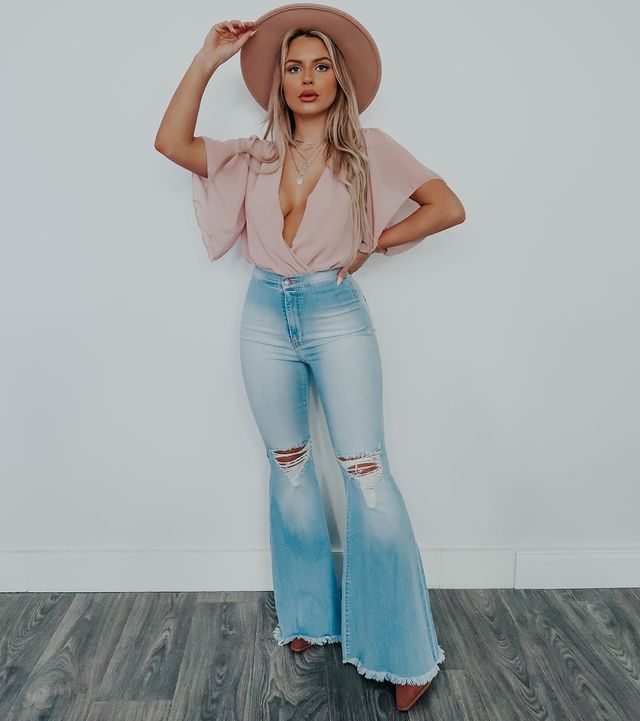 Flares aren't the most flattering style for short women and so it's best to wear chunky heels to add some height and stop the flared section making you appear shorter. Wear your jeans long, so they cover the front of your shoes, and part of the heel, to make your legs appear longer.
However, do not wear thin or stiletto heels with flared jeans for safety reasons. Thin heels often get caught up in the hem or fabric of flares and cause the wearer to fall forwards onto the ground. Also avoid winkle-picker shoes with long noses and rhinestone or other fancy details as they are the opposite of the chic vibe of flared jeans. Simple styles of shoe look better with flares.
11. Platform shoes & espadrilles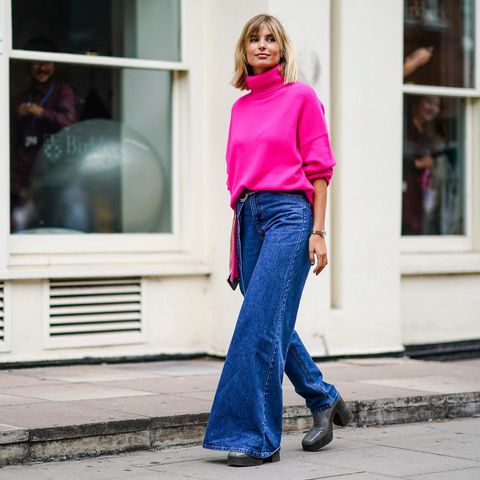 If you're wearing full-length flare jeans, platforms and wedge espadrilles are the authentic 70's look. And platforms are very flattering – making your legs appear longer, so you seem taller. Plus they're comfortable to wear.
12. Sport shoes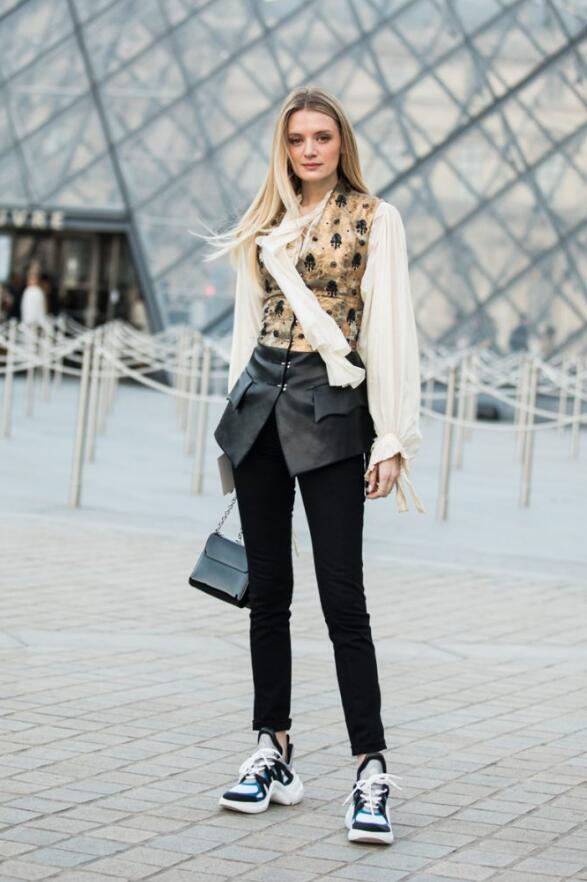 Flares have never been associated with the sporty look, so stylists didn't pair training shoes with flared jeans in fashion shoots. And I agree that they don't look right – but now that most people find trainers the most comfy, everyday shoe-wear, sport's shoes have won!
So if you choose to wear trainers with your flares, try to wear a leg-length that covers them up. Avoid wearing big and flashy training shoes and go for modest sneakers that match the color of your jeans or flared pants.
13. Flat-soled shoes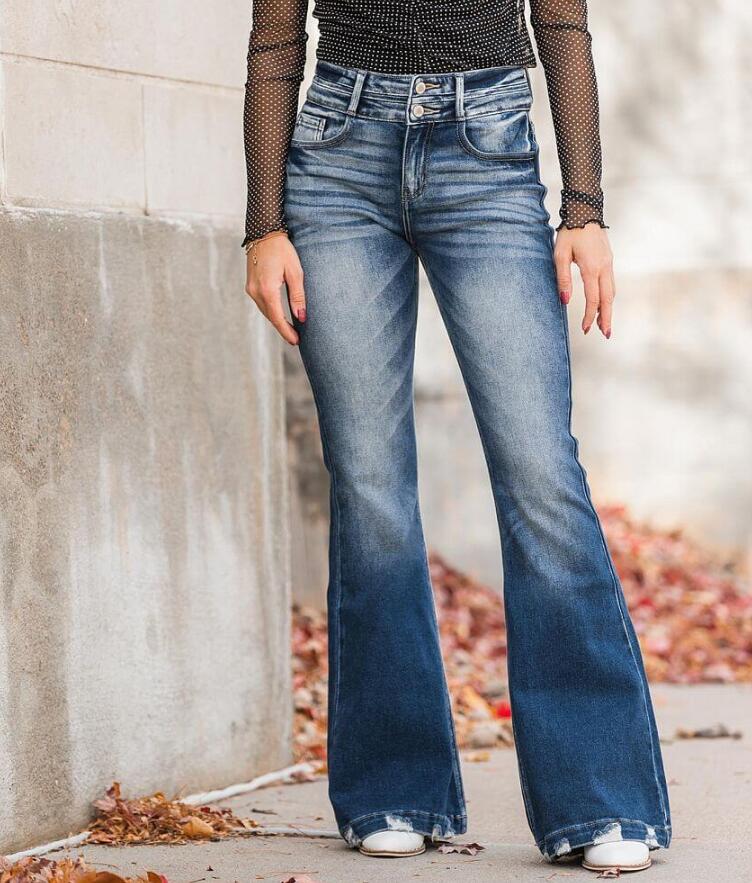 Most classic flat-soled shoes like loafers and oxfords, or flat-soled boots look smarter than training shoes, and are just as comfy. And this type of semi-formal shoe is getting more popular as a big fashion change approaches us.
14. Ankle boots and long boots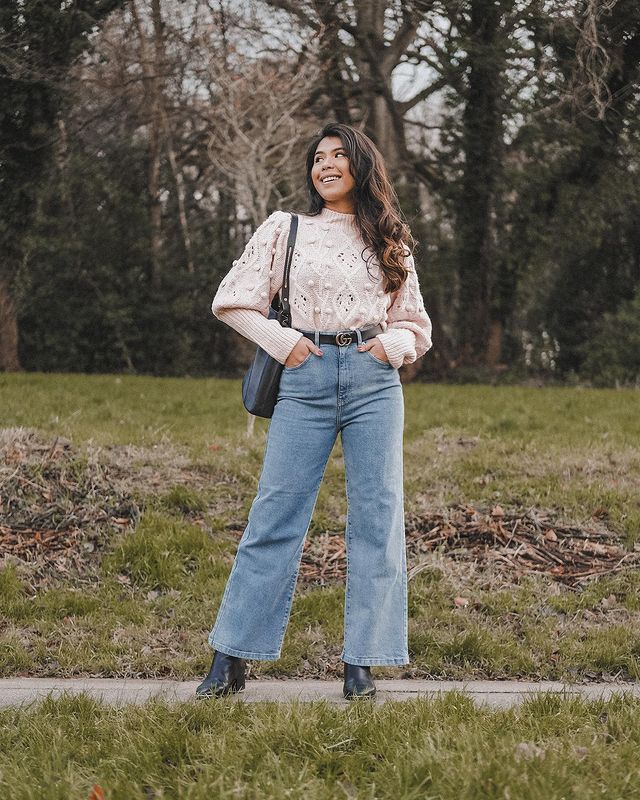 In the cooler months, all types of boots look stylish with flare jeans. It doesn't matter if they are engineer's boots, or flat or have heels. And they even look great combined with cropped flares!
15. Benefits of wearing flare jeans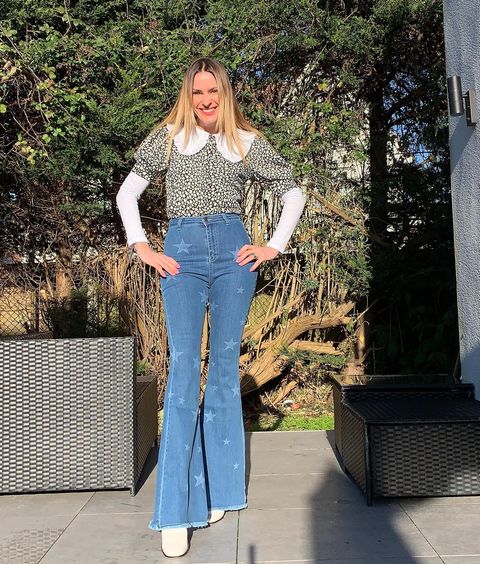 Jeans have been an important part of our fashion style for decades now and I know that we're all going to enjoy the wide range of new styles on offer in flare jeans and trousers this year. They are bringing with them:
the attractive high-waist
the flattering hip flare that gives curvy women a fantastic 'hour-glass' figure
the blouson style tucked-in shirt/blouse that makes your waist look a lot slimmer
oversized sweaters that hide a multitude of little flaws
a trendier way to wear your current clothes
or an excuse for a complete wardrobe overhaul if you feel like it
So unlike some fashions that only really flatter a small proportion of women, flared jeans are going to make us all look and feel our very best!