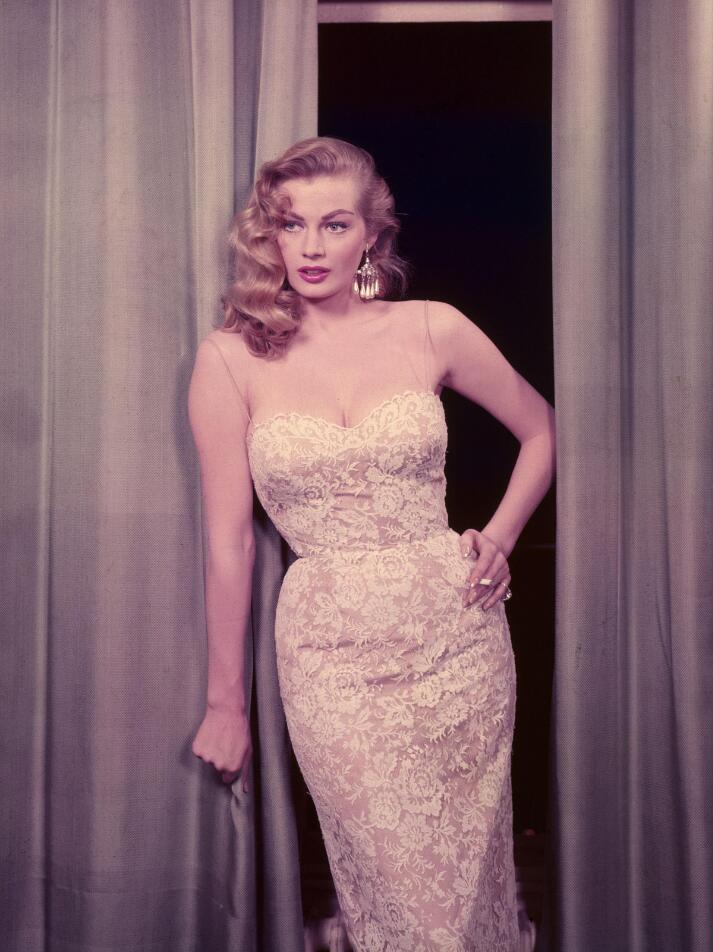 This Kibbe Soft Dramatic Style Guide will bring you up to scratch with your best fashion choices for the new season!
The Kibbe Soft Dramatic Style Identity is described by David Kibbe as soft and statuesque, with a lovely Romantic undercurrent.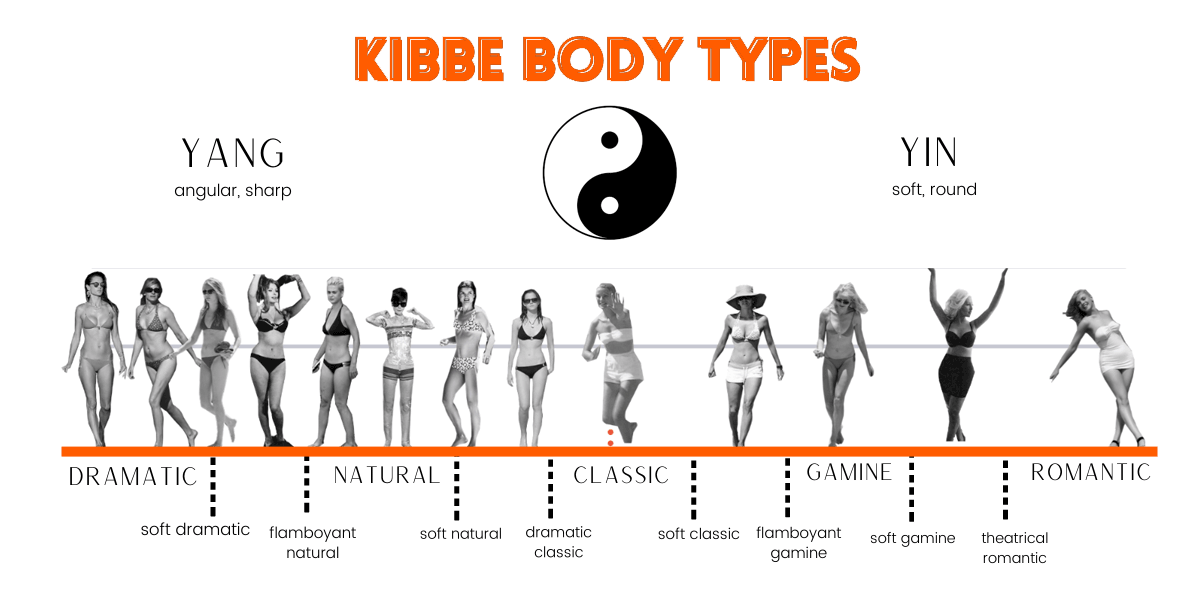 So let's get you started on a full understanding of your best style lines, silhouettes and the general core of your personal style.
First of all, here's a rapid re-run of the Kibbe Body Type System and in particular, the Soft Dramatic body type.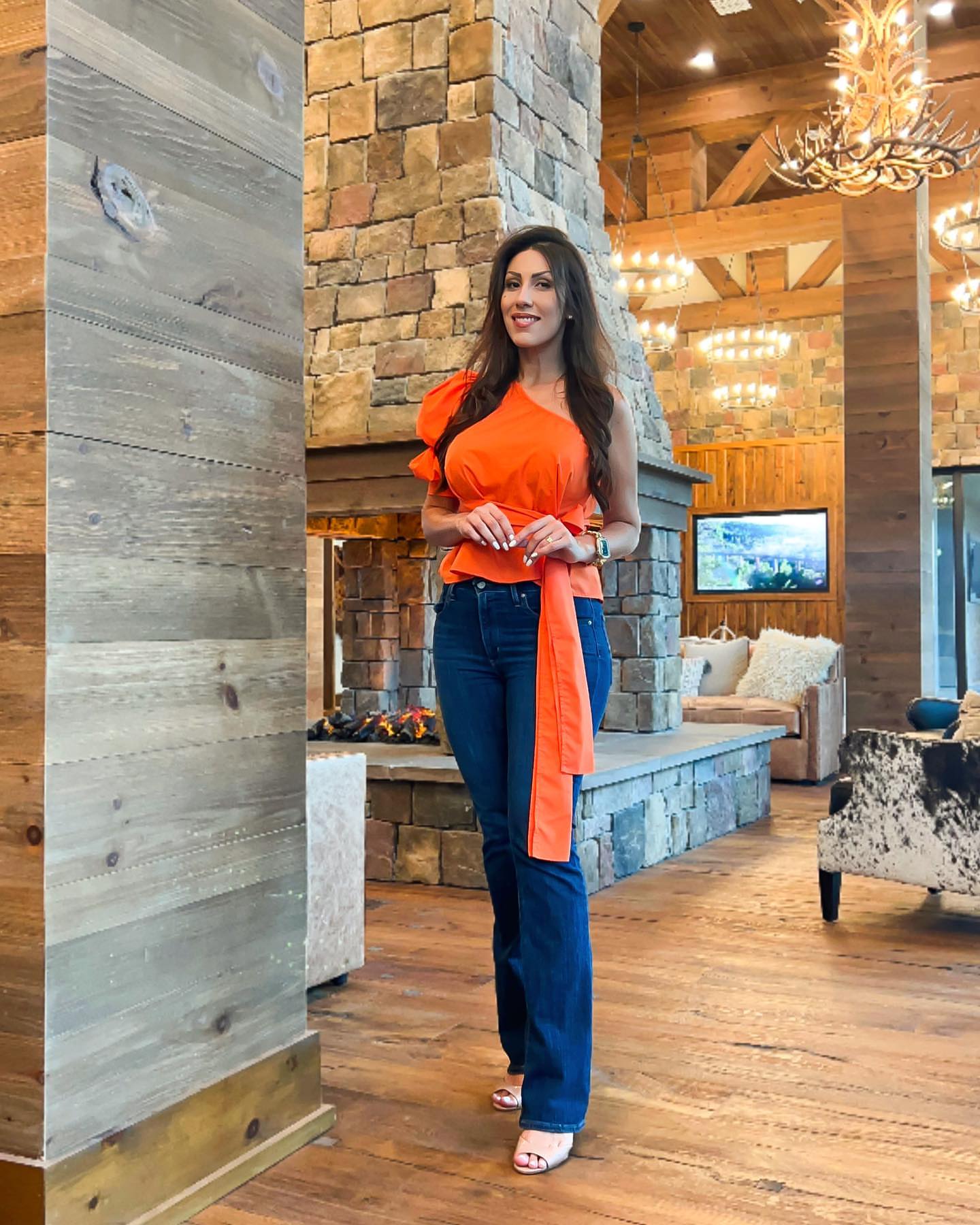 Soft Dramatic Q & A
Is there a quick check for Kibbe Soft Dramatic Style Identity?
You do need to do the Updated Kibbe Body Test with Pictures to get the most accurate decision on your style identity, but if you just want to confirm your decision, check here:
The Soft Dramatic style identity is a blend of dominant Dramatic with a little Romantic added in.
In terms of the Yin/Yang system, you will have mainly bold Yang traits plus some Yin softness.
Soft Dramatics have a bone structure that's angular, with long limbs, and Romantic soft flesh that softens your look.
Where can I find the detailed physical traits of the Kibbe Soft Dramatic?
Right here! Remember the Kibbe body type method is concerned with two major characteristics – your bone structure and how the flesh is distributed and stored on and around that frame.
It was originally three characteristics, but David Kibbe updated his method to remove facial features as he came to see they are not relevant.
Kibbe Soft Dramatic Physical Traits:-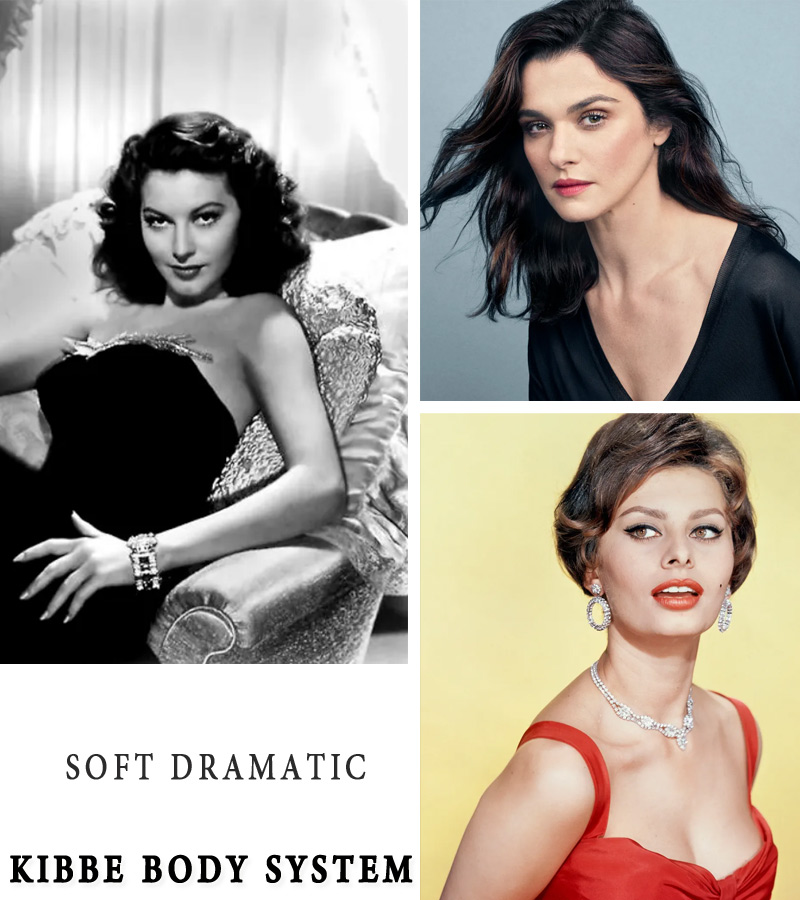 Taller than 5 feet 5 inches
Long limbs
Defined waist which is of moderate size compared with the rest of the body
Fleshiest in bust and hip area – except if you are particularly slender
Medium amount of flesh on upper arms and thighs
Kibbe Soft Dramatic Skeletal Frame:-
Long limbs
Largish feet and hands that may be wide or narrow, but are usually quite long
You tend to look taller than you actually are
Overall impression is of long and angled frame
Kibbe Weight Gain Patterns for Soft Dramatic
When SD's gain weight, it tends to collect in the bust, hips, waist, upper thighs and upper arm area.
And if you'd like to see medium – plus-size examples of weight gain patterns, please read my detailed article here – Modern Kibbe Weight Gain Patterns – Plus Size Examples
You won't qualify as a Soft Dramatic if you have these qualities:
A boy-like figure
Short limbs
Look petite
Why's everyone going crazy about the Kibbe Style Guide?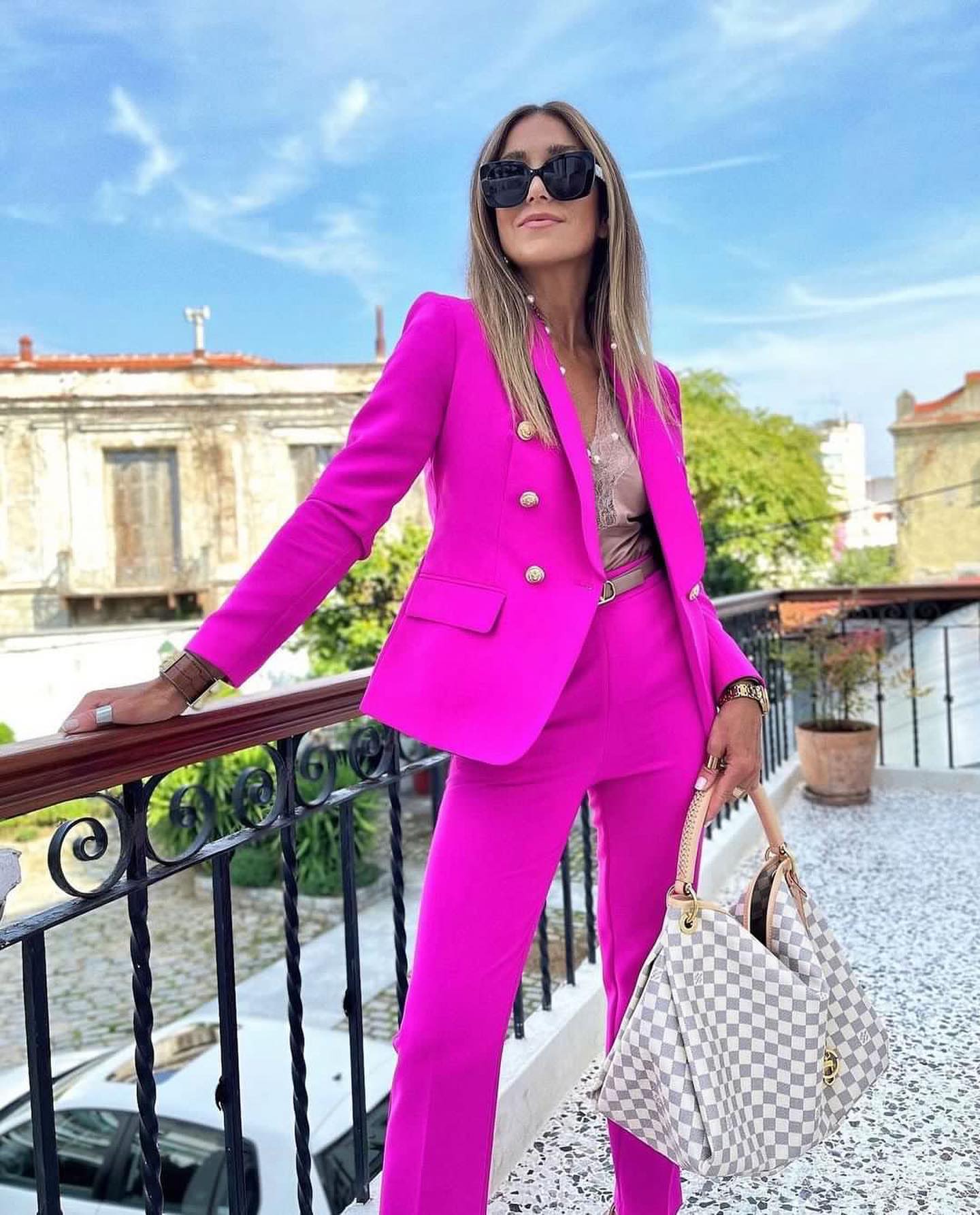 I would say that as women we are overwhelmed with so many different fashion styles in the stores, but without a Professional Stylist to educate us on what suits our individual body shapes, we make so many mistakes.
I can remember when there was just one jeans style in fashion each couple of years and you knew exactly what to buy!
Now, there are about 20 different jeans' styles in the chain stores and who's got time to try them all on to see which style suits your body best?
After all, there's no school education that teaches good taste in dressing, or dressing to highlight your good points!
Some women have an innate style instinct, some have a little idea of what suits them and others just don't have any real understanding of how to flatter their figure.
So we are like thirsty travelers in the desert who see an oasis in front of us and know that the Kibbe Body Type system is A Very Good Thing!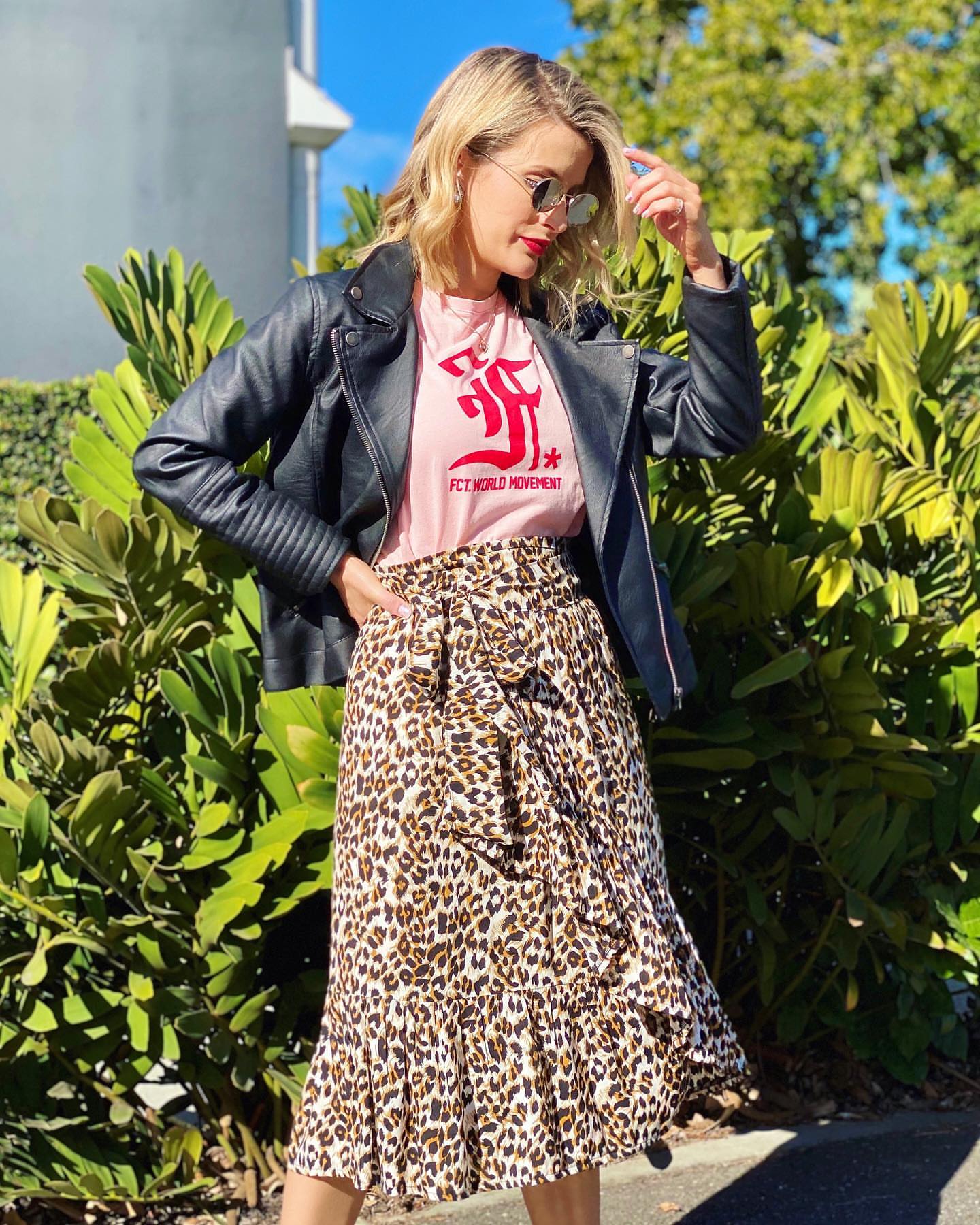 Teaching everyone how to identify their own body type and dress in flattering styles is a major step forward for women.
It saves us wasting money on clothing we later abandon to the shameful depths at the 'back of the wardrobe'.
It shares knowledge that will boost your self-confidence more than you can imagine.
And it leads us to turn away from the cheap experiments we make with poor-quality, throwaway 'fast fashion', which we now know is not good for our pocket, or our ailing planet!
Learning the same stuff that a professional Image Consultant knows is very empowering.
It means you can get the polished, stylish look you see in films and on the TV – and yearn for – for free!
Turn depressing treks around shops looking for something that suits you, into swift, targeted and satisfying in-and-out trips.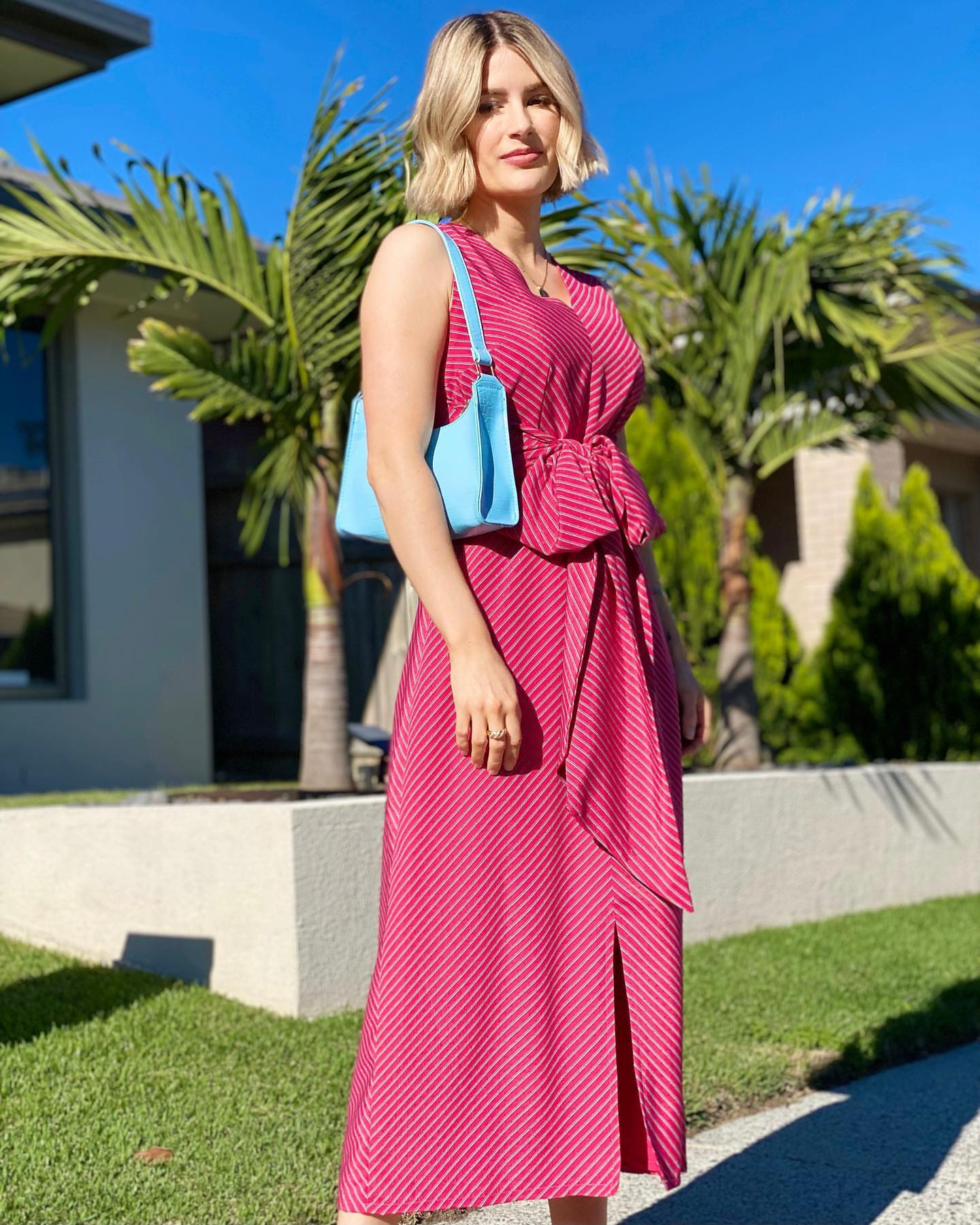 It is incredibly liberating when you can quickly walk past all of the styles you know aren't flattering for you and zero in on what will make you look great.
So whether you love fashion or absolutely hate it, the Kibbe system is designed to cut the negative part out of buying clothes and leave you with a set of outfits you always feel comfortable with.
What are the style goals for a modern Kibbe Soft Dramatic?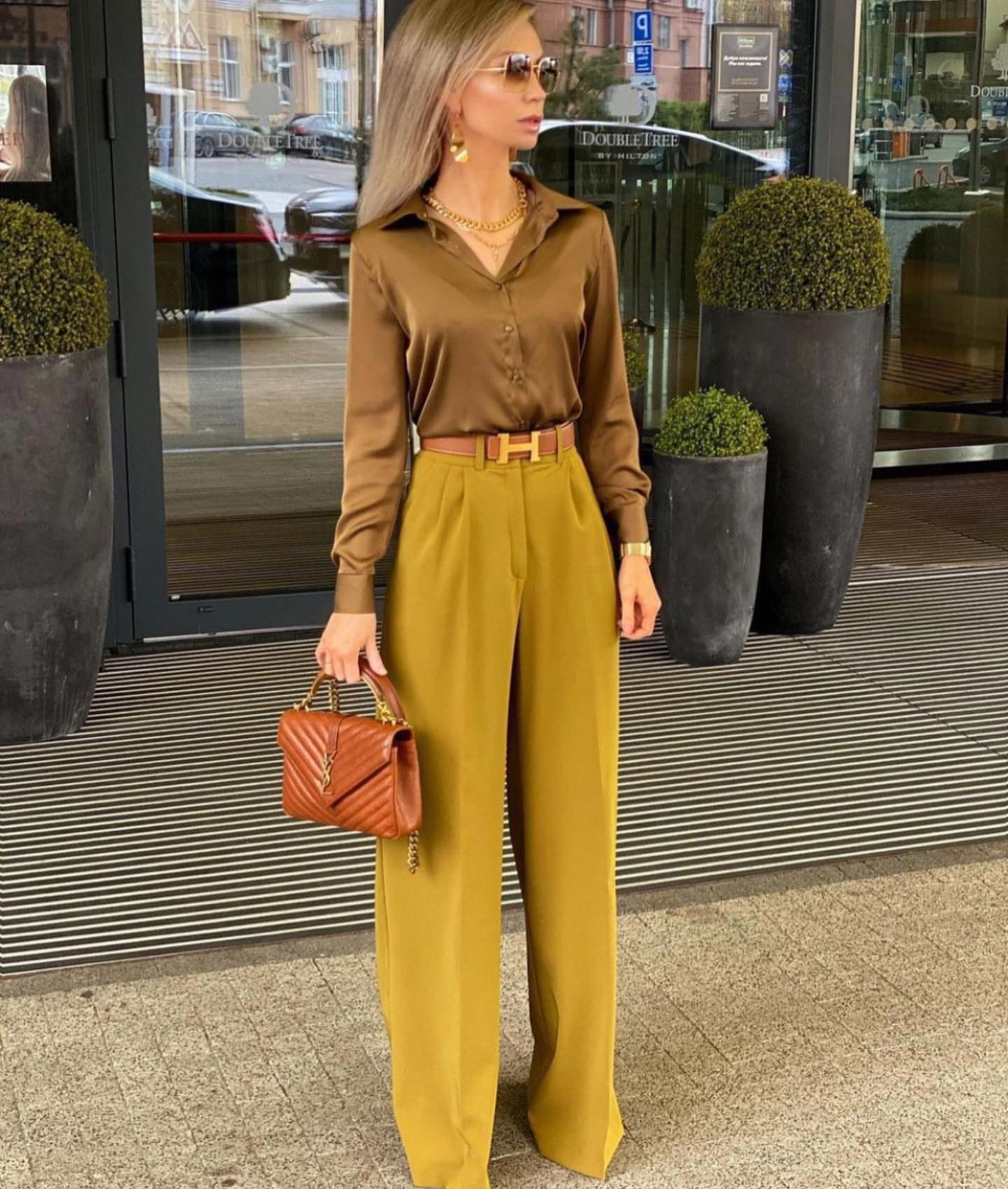 Whether you're looking for inspiration for casual outfits, polished ensembles, work, weekends or holidays, a good place to start is with Kibbe's inspiration and your own mood board!
Take these suggestions – based on Kibbe and lightly brought up-to-date by myself – and use them as the basis for your own fashion style.
Here are some goals to get you started on your exciting Soft Dramatic style makeover:
Look out for clothing silhouettes that are bold 'T' shapes
Soften your strong geometric shape with draped, flowing fabrics
Choose lightweight textiles to bring soft elegance and drape well over your strong lines
You can wear ornate accessories and highly decorated clothing for overall style impact
This will align with your major Yang, minor Yin balance.
Select your new clothes with these Soft Dramatic points in mind: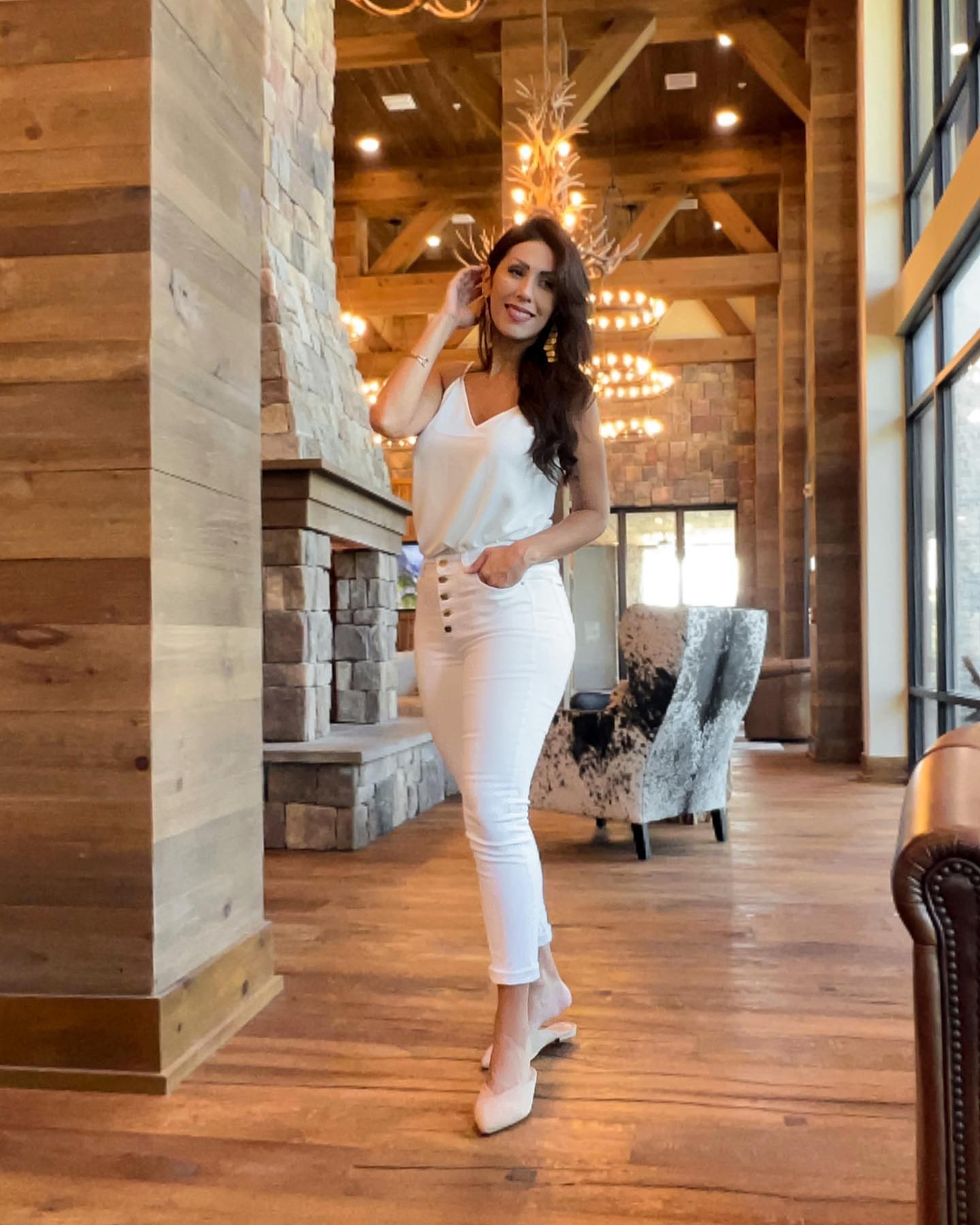 Cowl necks
Glamor
Jewelry that stands out as a statement piece
Extravagant details and decoration – be flamboyant when appropriate
Lightweight, draped fabrics are vital for a great effect
Lapels can be oversized, but should be soft
Project polished chic and sensual femininity
Wear slits in your long skirts
Don't be afraid of sparkles and fancy details
Plan your purchases for an elegant, sophisticated style
Stay right away from quirky or boho 'mix and match' outfits
Always try to put together a harmonious top-to-toe look
Soft Dramatics should avoid these styles and fabrics:
Anything conservative or understated won't work with your shape and style 'personality'
Heavyweight textiles will make your body look square and shapeless
Wide and oversized silhouettes will swamp your lines
Tailored clothing in stiff textiles or anything with very sharp lines
Rough textured textiles like tweed etc.
Kibbe Certified Celebrity Soft Dramatics 
This is a list of Soft Dramatic type women included in Kibbe's original book – plus a few others he has added more recently.
Michelle Lee
Rachel Weisz
Christina Hendricks
Sofia Vergara 
Anita Ekberg 
Anita Morris
Anne Bancroft
Ava Gardner
Barbara Carrera 
Barbra Streisand
Diahann Carroll
Jacqueline de Ribes
Kim Novak 
Mae West
Marlene Dietrich
Raquel Welch 
Sophia Loren
Valerie Perrine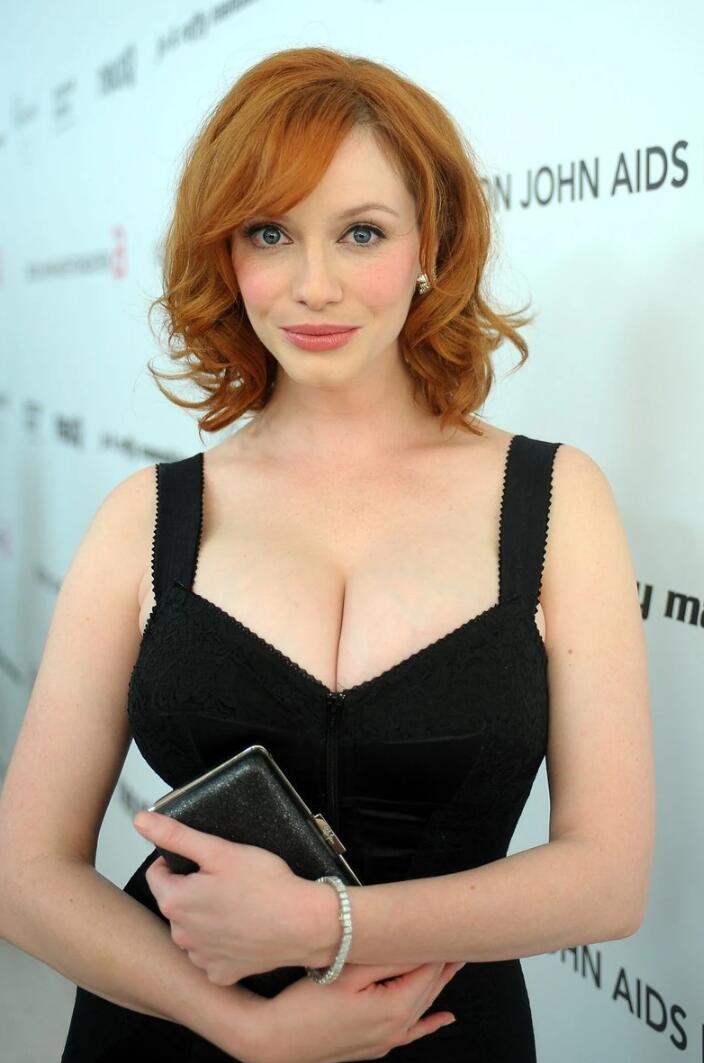 Younger International Soft Dramatic Icons
Here's a more diverse selection of women who all fit the Soft Dramatic category very well.
They haven't been 'typed' by Kibbe personally, as he was writing for a 1987 UK readership, but they should be helpful to a wider range of women interested in verifying their SD style identity!
Ashley Graham 
Aurora James
Chiquinquirá Delgado
Chou Tzuyu
Denis Bidot
Eliza Gonzalez
Jameela Jamil
Kajal Aggarwal
Kim Hye Soo
Monica Bellucci
Nia Franklin
Salma Abu Deif 
Tyra Banks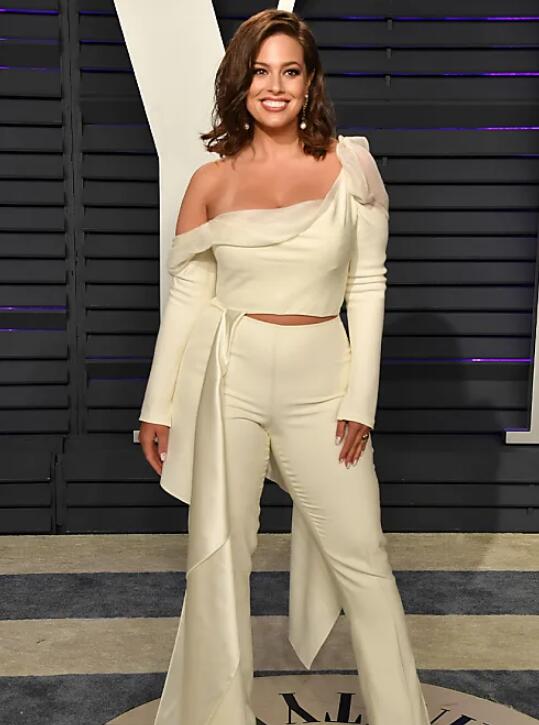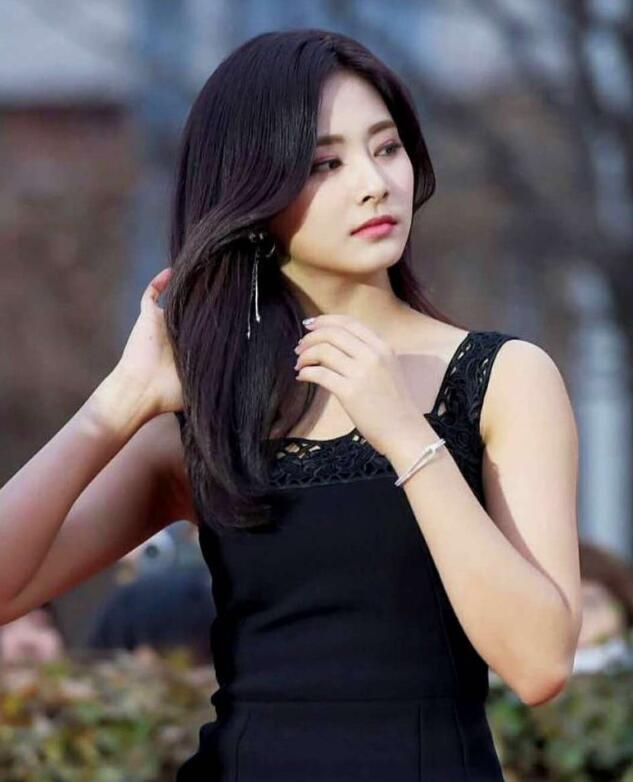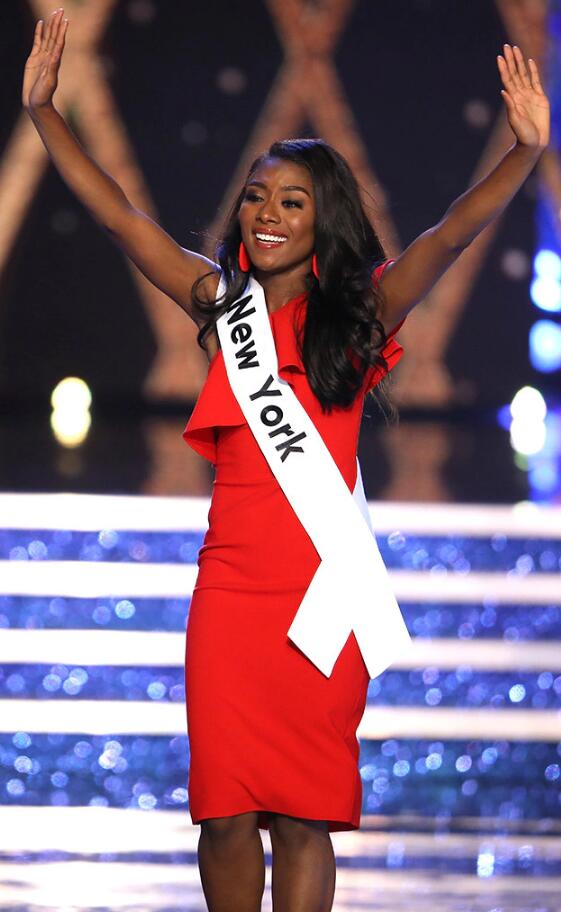 How can I build up a Soft Dramatic wardrobe?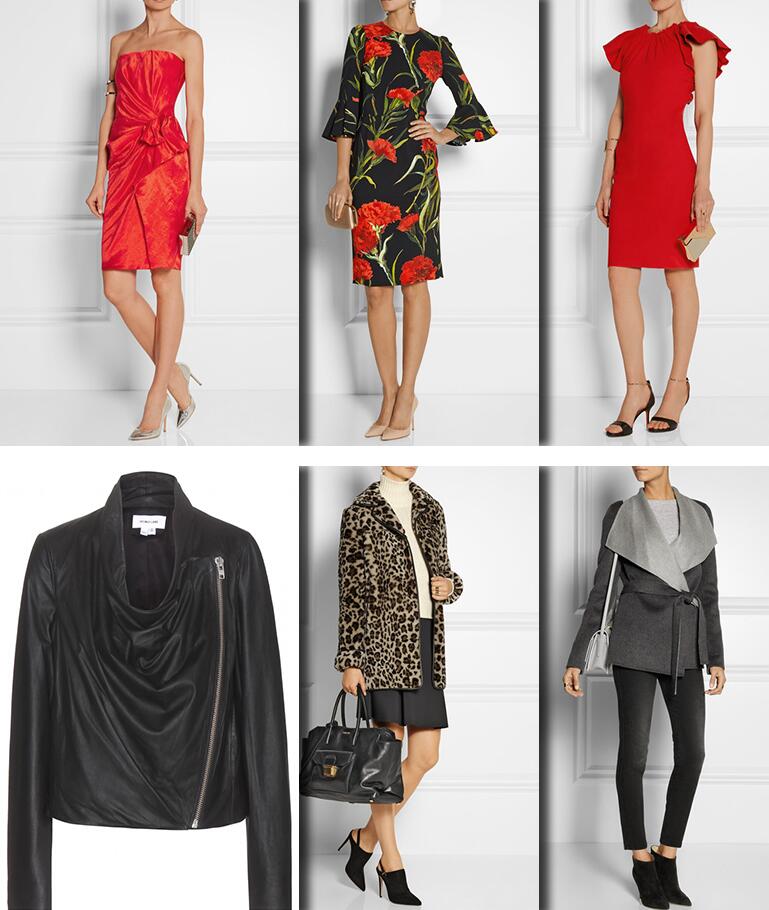 Good question!
Your perfect wardrobe should bring together the outlines, fabrics, trends, colors and classics that suit both your body shape and your individual personality.
But you can follow these suggestions to keep you on the right track for a set of clothes that harmonize your look and display your personal fashion style, too!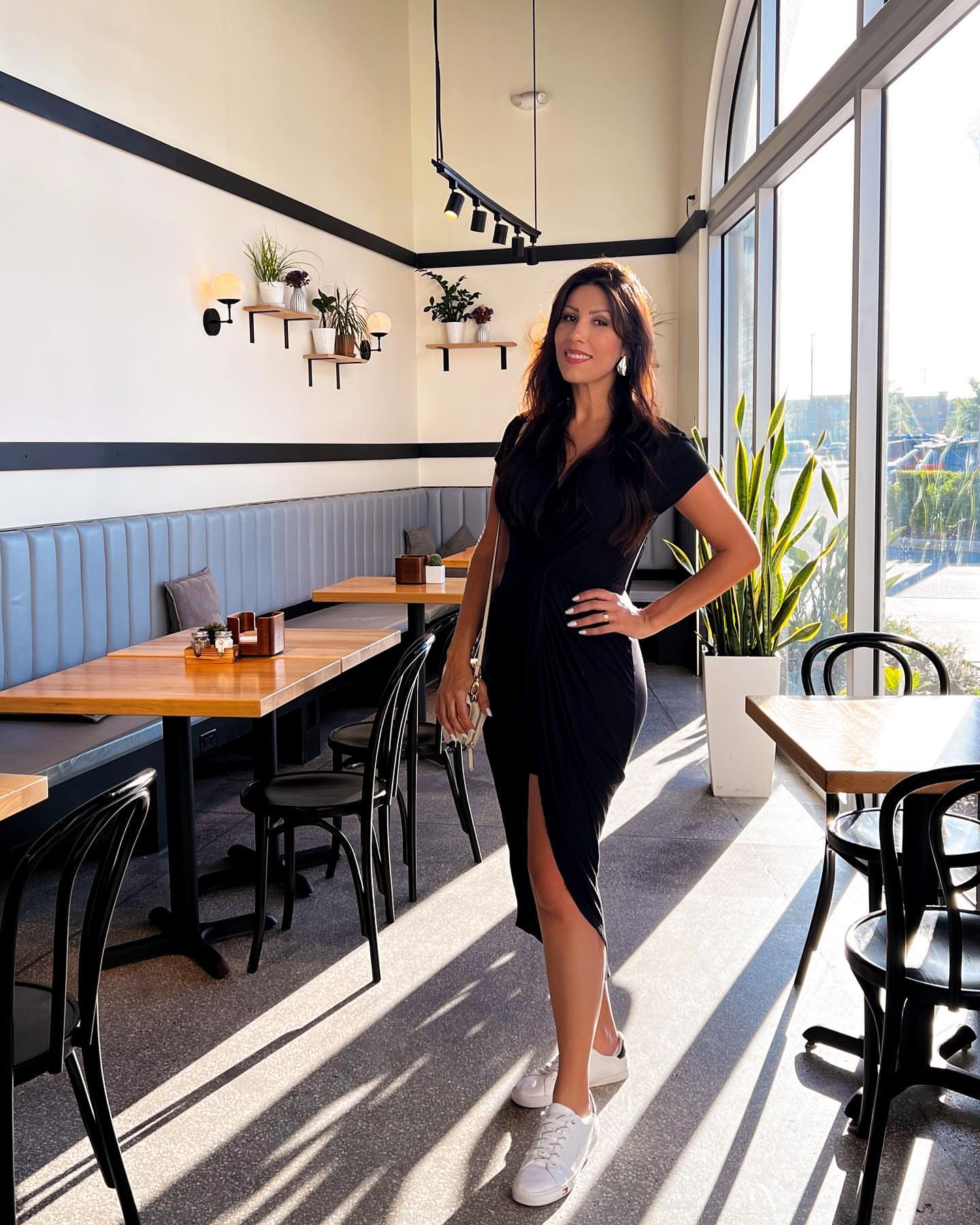 Kibbe didn't offer a lot of suggestions for casual outfits, as his aim was to show women how to dress with sophistication in a world which favored formal clothing more than today.
So to round out the style options and update the Kibbe system to meet the needs of our more casually dressed trends, I have added my own take on his advice.
Some of my outfit suggestions stray a little from the original Soft Dramatic guidelines, but this is a healthy modernization of a solid method.
Best Fabric Types for Kibbe Soft Dramatic Style Guide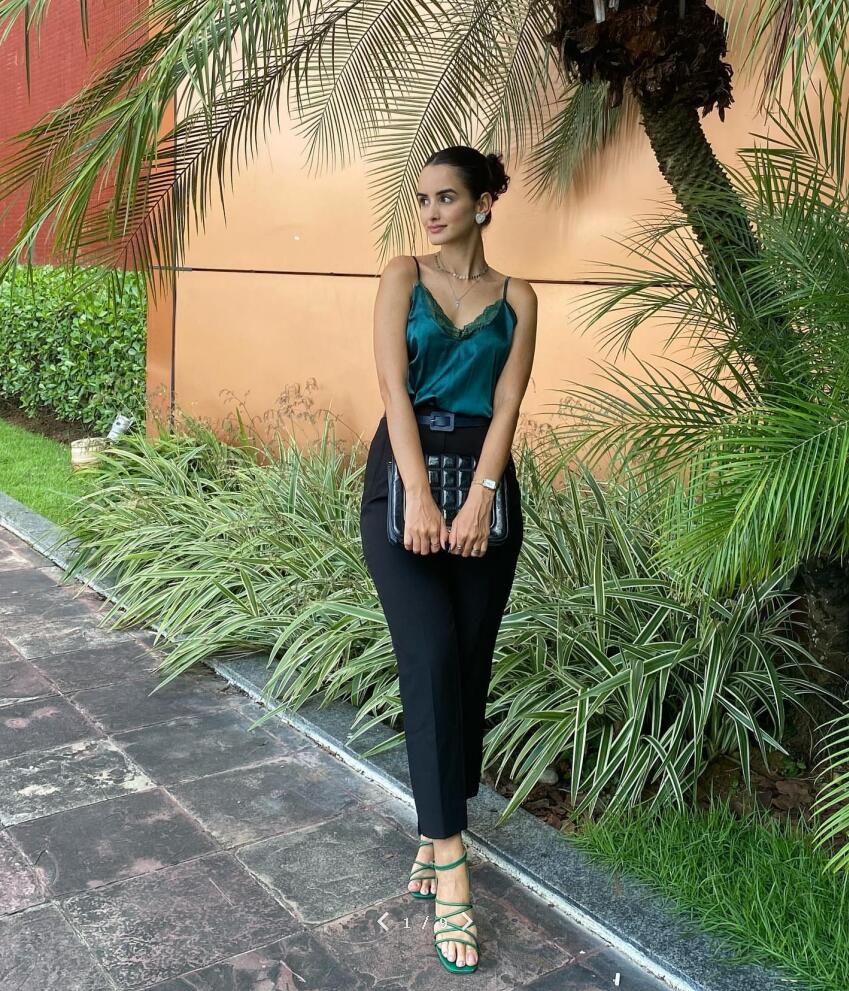 Softer fabrics and especially lightweight fabrics are a great choice for your body type. However, you should also experiment with some mid-weight fabrics that drape well and follow your body contours.
The aim is to create a balanced, but lightly flowing image, so materials like silk, crêpe and jersey – or their modern look-alike synthetics – will give you subtle elegance with a sexy edge.
Another great fabric to show of your particular Yang:Yin proportions is soft, plush and velvety.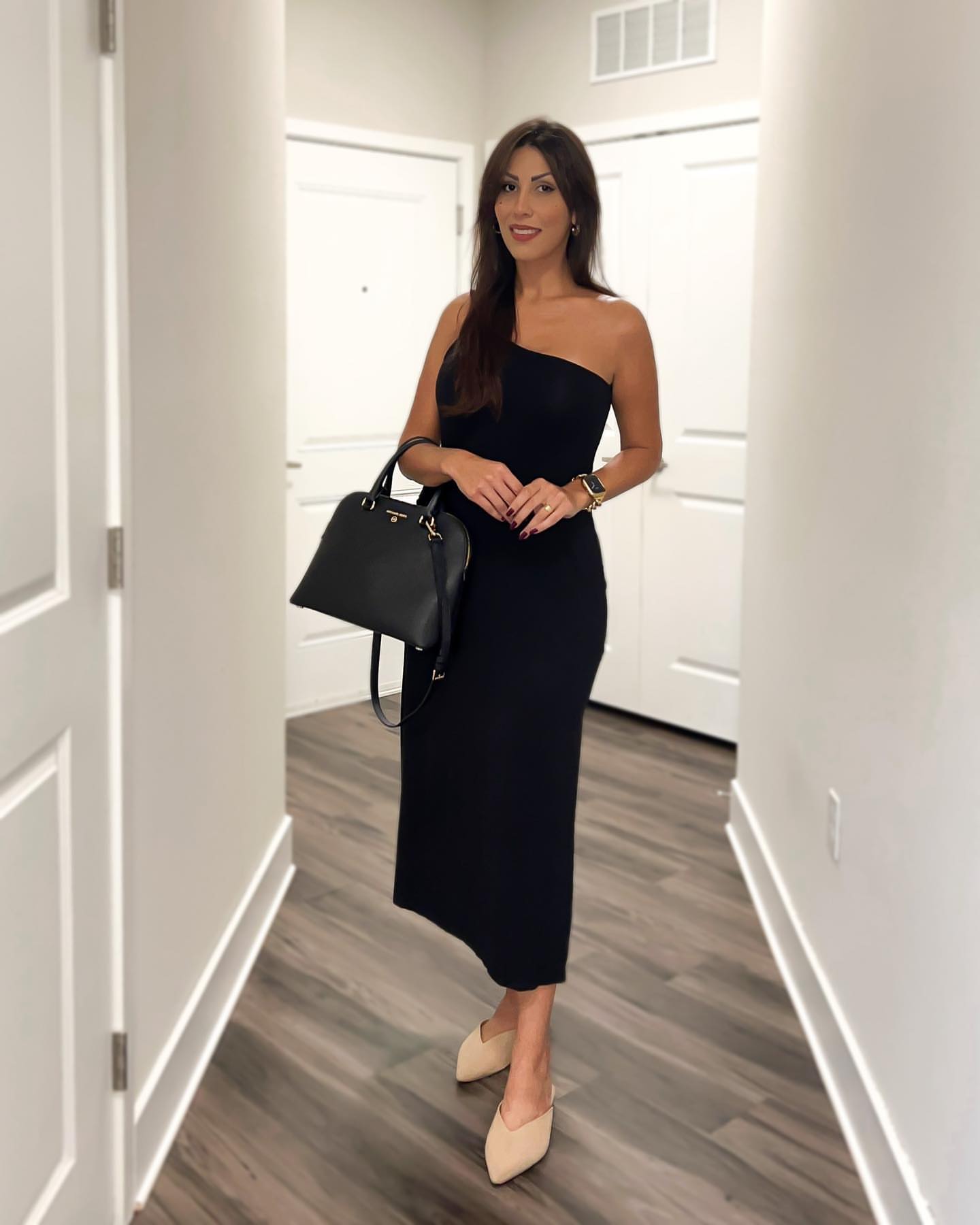 And when you want to push the boat out for a really glam look, you look super in shiny, metallic, sequined outfits and Lurex fabrics.
You can also try soft, plush textures that have a deep pile. And shiny, metallic fabrics also work well to up the glamour level. 
Fabrics to avoid
Rough-textures, stiff textiles like tweeds
Heavyweight fabrics that add squareness
Best Silhouettes for Kibbe Soft Dramatic Style Guide
As previously pointed out, the 'T' silhouette really brings out the best of a Soft Dramatic body shape.
Moreover, draped, flowing lines on outfits that accentuate your elongated vertical line are also very flattering.
Flattering Necklines for the Kibbe Soft Dramatic Style Guide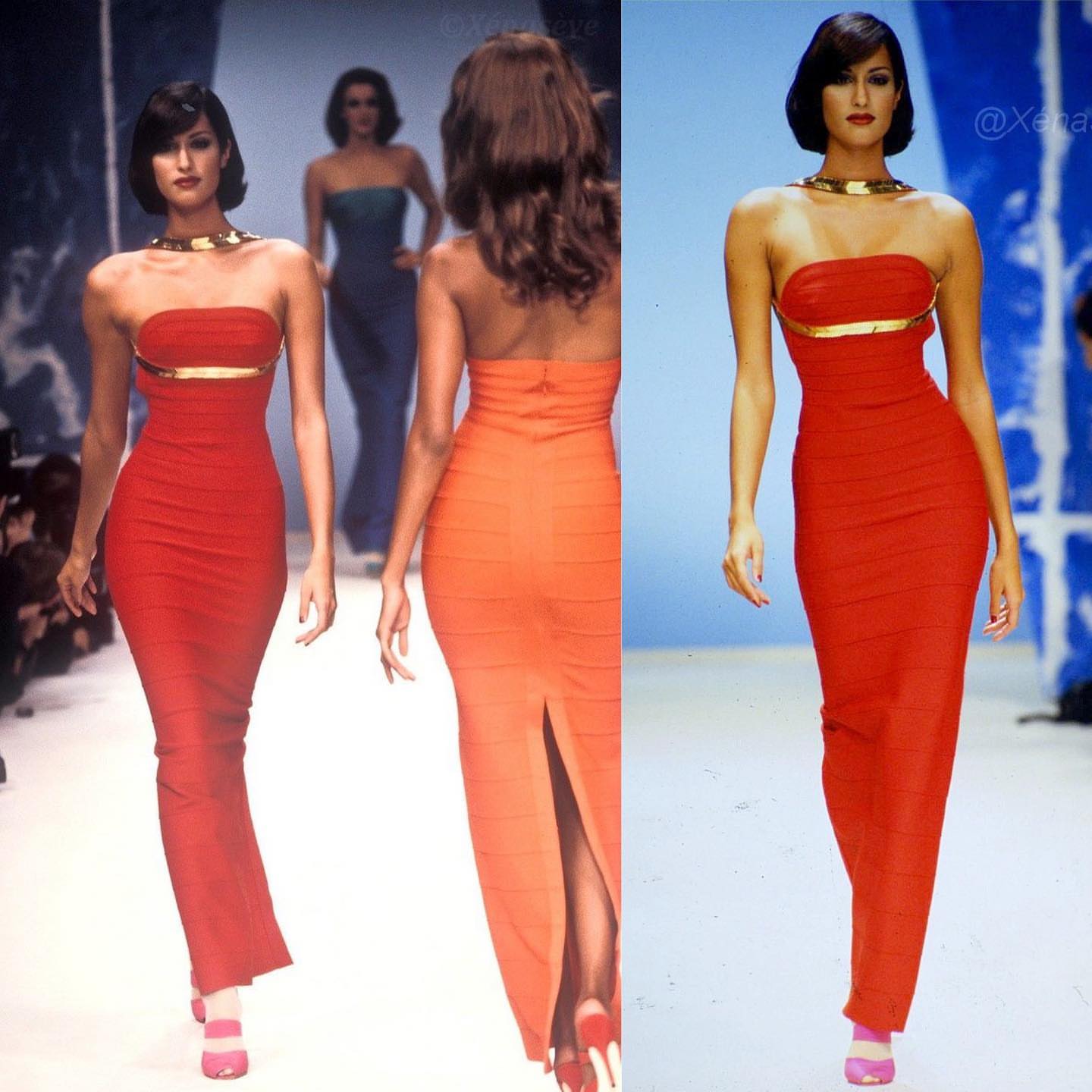 Kibbe himself pointed out that his advice is to be taken as general guidelines to get you started on dressing well.
So you don't have to be worried if the neckline of a garment, for example, doesn't fit exactly with the guide.
What matters most is that you manage to achieve a balance of SD traits in the outfit as a whole.
The recommended necklines for a Soft Dramatic will have some drama or sharpness in the cut.
For instance, plunging necklines, large cowls, V-necks, square necklines and fancy details all look great on you.
High-necks can be flattering, too, but make sure your sweater with a turtleneck or crew neck is in a light, soft fabric that will hug your shape.
Best Sweaters for the Kibbe Soft Dramatic Style Guide
Your shape looks fabulous in knits with a draped neck, some trimming or decoration and a flowing silhouette.
And to bring out your Romantic undercurrent you can wear dramatic and decorated sweaters with a strong shoulder line and an elongated waistline.
This look gives the SD an excellent Yin/Yang balance.
Avoid
Rough, chunky or heavy knitwear
Knits that are too dainty or fussy
And very fitted knitwear
Best Jacket Cuts for the Kibbe Soft Dramatic Style Guide
Lapels are key to promoting your SD style, so make sure they are soft and wide. Choose fabrics that are mid-weight and soft, so they bend well around your shape and are never stiff.
The most flattering length is mid-thigh, as this will elongate your height and vertical line. So jackets with waterfall collars, shawl collars and wrap-jackets are all great options.
As wardrobe basics, try to choose jackets with clean lines that will match with a good range of your clothes. And you can always add more drama with an accent accessory that's bright or sharp.
Mid-thigh jackets are the easiest for your type and help elongate your height. Wrap jackets, waterfall collars, and shawl collars are all great options. 
Stylish Outerwear for the Kibbe Soft Dramatic Style Guide
As mention in the Jacket Section, wide, soft collars and lapels flatter your shape most.
Look out for fur-trimmed collars, shawl collars and wrap coats which all add a little 'dramatic' broadness at the shoulder line – and have clean, unfussy lines.
You can also wear coats with a simple belt or other light waist emphasis, and straight silhouettes in soft fabrics.
Fabulous Skirts for Kibbe Soft Dramatic Style Guide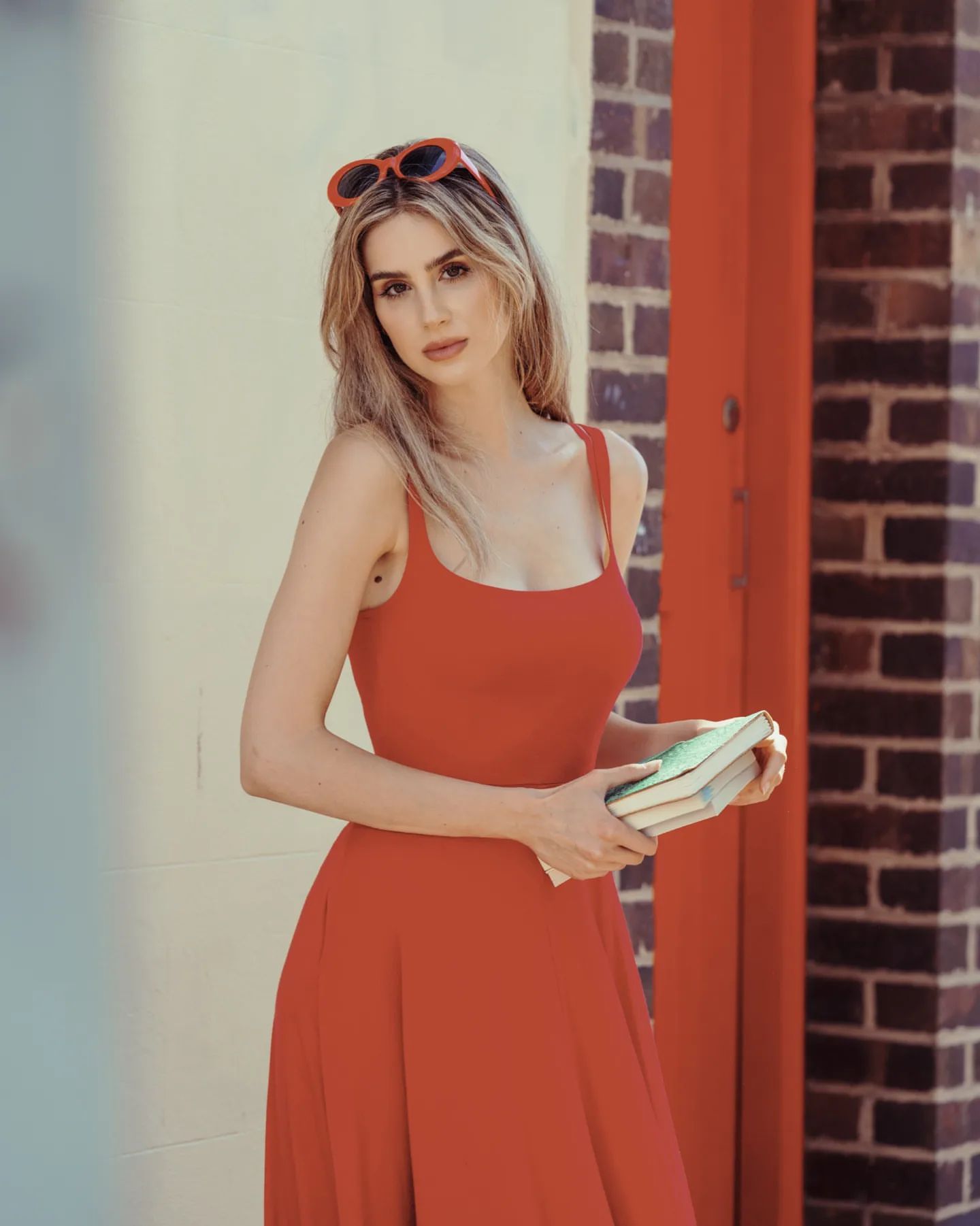 Bearing in mind your long vertical, you look fabulous in longer skirt styles – below the knee – made from soft fabrics with a straight silhouette.
Soft Dramatics can also wear knee-length skirts, as long as you factor in the 'vertical line' of the whole ensemble and don't shorten it!
Slip-skirts, bias-cut and wrap-skirts are always your best choice, so this will make your shopping trips easier and more 'targeted.
Avoid
Mini-skirts
Full A-line skirts
Full gathered skirts
Closely fitted skirts
Fussy, frilly skirts
Nothing lacy or delicate
Most Flattering Dresses for Kibbe Soft Dramatic Style Guide
You should be looking for dresses that give you a little broadness in the shoulder, tapered to create a slender waistline and flowing.
Dropped waistlines look wonderful on SD body shapes.
And if you fancy adding a little drama, choose a dress with a strongly accentuated waist, but make sure this doesn't disrupt the overall T-silhouette, as you need visual balance.
Dress details can be eye-catching in various ways e.g. over-large or extra-fancy like ruffles, embroidery, gemstones, sequins and shirring!
Sophisticated, narrow, clingy styles will emphasize your sexy femininity, as long as they are well-balanced and elegant.
Overall, look for dresses with a long silhouette that accentuates your vertical line. Choose well-draping, soft fabrics with a cut that includes some sharp angles – like slits or a V-neck, or square neck.
And with your height and long limbs, you look great in large patterned fabrics.
Flattering Trousers for Kibbe Soft Dramatic Style Guide
The same fabric and style advice comes into play for trousers, which should be softly structured and drape well.
SD's look great in straight legs, wide legs, soft fabric pants and draped trousers.
Avoid
Stiffly-tailored trousers
Tight pants
Baggy pants
Pants with lots of extra seams, pockets and tabs
Best Jeans for Kibbe Soft Dramatic Style Guide
Soft Dramatics do look fabulous in elegant and formal styles, but you also need to have casual outfits to hand.
Kibbe didn't discuss jeans' styles in his book, but my advice – based on his other suggestions – is to buy straight or flared-leg jeans, that fit closely around your hip and thighs.
Skip the low-rise styles altogether because they aren't flattering for you and stick with medium to high-rise waists that accentuate you lovely vertical lines.
Avoid
Skinny jeans – unless you wear them with knee-high boots in a similar color to your jeans to avoid cutting your vertical line
Attractive Tops & Shirts for the Kibbe Soft Dramatic Style Guide
You should be aiming for subtle elegance with your blouses, tops and shirt – so avoid any top made of thick material that may add a bulky look to your outline.
Again, go with wrap-styles, strong draping, soft fabrics and large, wide collars.
You can also wear side-knots, big bows and ties, if they are oversized and not dainty or fussy.
Your best fabrics will have a silky or satiny texture and drape beautifully.
And for casual wear look out for soft cottons that show your curves and round edges.
Avoid
Baggy, unconstructed styles
Cropped and wide shapes
Extra-fussy blouses
Excellent Evening-Wear for the Kibbe Soft Dramatic Style Guide
Soft Dramatics look fantastic in soft, dramatic fabrics – like satin, silk and brocade!
Create evening outfits that accentuate your long, vertical line and have a hip-hugging silhouette.
This should include dropped-waist dresses and draped dresses, which look especially good with a broad shoulder-line and/or a wide, V-neck.
Slits are an excellent style detail, which always emphasizes your verticality.
Everything should conform with the aim of a 'T-shaped silhouette'.
Be cautious with clingy, body-con gowns which may undermine your elegant style essence.
Color Palette for Kibbe Soft Dramatic Style Guide
Obviously not all SD's will have the same hair, eye and skin tones, and everyone's best option is to use our Seasonal Color Analysis – What Season Are You? to identify which colors favor them.
However, Kibbe did make some useful suggestion that apply to all SD's and make a world of difference to your outfits being successful.
First of all, bold, vivid and dramatic colors all look great on your SD frame.
In addition, you can wear some pastel shades, as long as your ensemble has a sufficiently bold silhouette to balance out the light color.
Pastel colors look best in a monochrome outfit.
The aim for SD's is always to produce a 'polished' color scheme, so mixing dark base colors with vivid and bright colors looks great on you.
You can also wear prints that are abstract, bold shapes and large floral patterns.
Avoid
Neon colors
Multi-colored or watercolor blends
Symmetrical prints
Dainty, cutesy or fussy prints
Appropriate Accessories for Kibbe Soft Dramatic Style Guide
Your shoes should be angled and tailored with tapered toe and heel styles. High, narrow heels are excellent, if you can tolerate them and 'bare styles' are also very flattering.
Nude styles are good for you, too, as they are subtle and let your color scheme and jewelry take pride of place.
Simple mules with pointed toes or pointed boots are also great when you need a more relaxed shoe.
Avoid 
All chunky boot and shoe styles, even though they may be currently popular, as they shorten your vertical line and create a 'heavy' visual at the bottom of your 'look'.
Cute, fussy and dainty shoes
Any frilly or delicate sandals or shoes
Beautiful Bags for the Kibbe Soft Dramatic Style Guide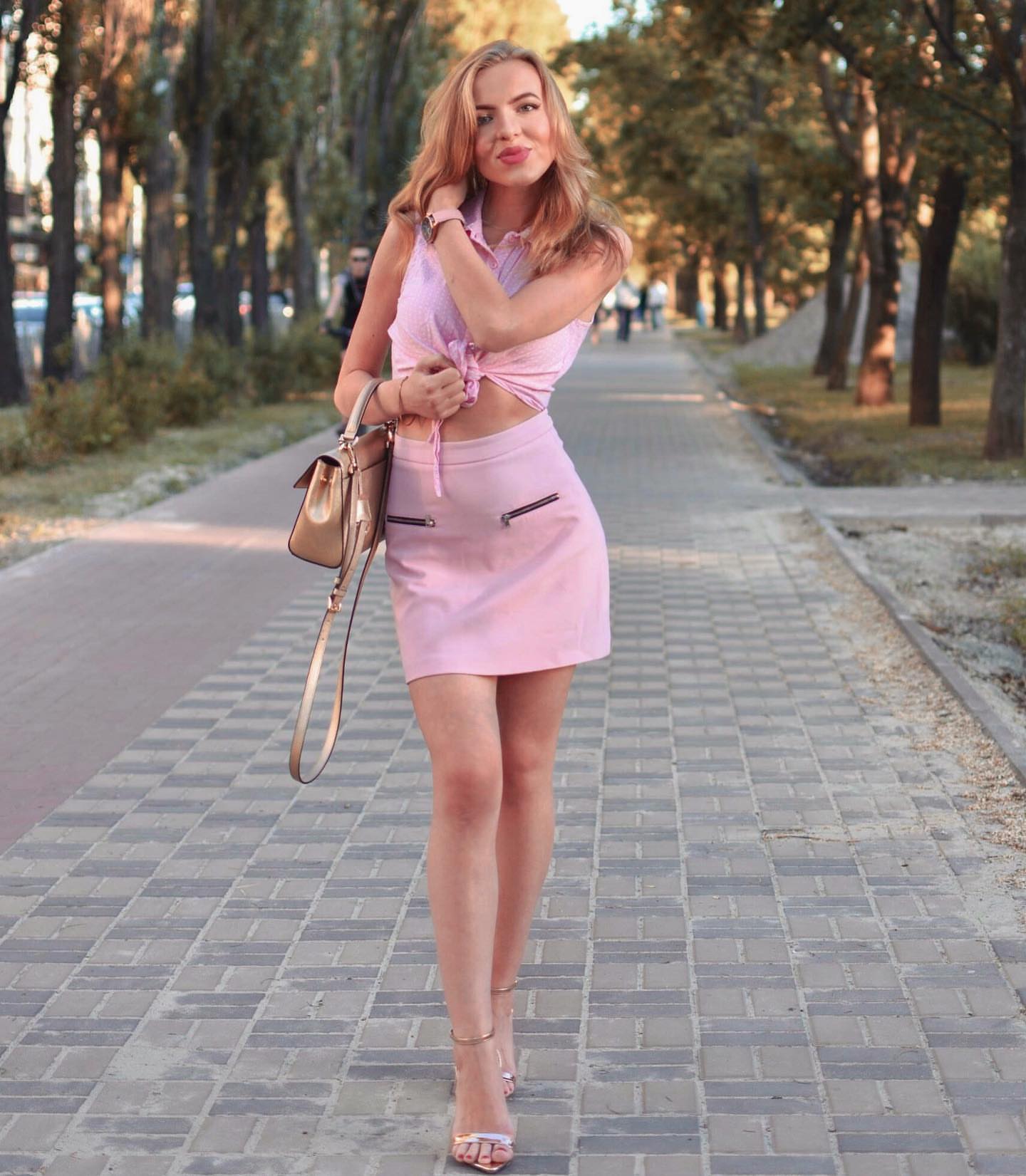 In his original book, Kibbe recommended oversized bags, very ornately decorated bags and those with soft shapes.
And in addition to these, I feel the SD has plenty more options to choose from.
For example, you can wear sleekly-structured bags, with a plain 'leather texture' and well-shaped handles.
And a streamlined clutch bag is great for evening wear.
The main aim is to choose bags that are subtle and sophisticated, but with one bold feature.
Avoid
Small, delicate or fussy bags
Glam Hats for the Kibbe Soft Dramatic Style Guide
Your hats should always project drama and bold 'presence', so look for glamorous, or oversized, or round hats.
You can also wear hats with ornate decoration.
Bold Belts for the Kibbe Soft Dramatic Style Guide
SD's look great in bold belts, which may be wide, have fancy buckles or other interesting details.
Eye-Catching Jewelry for the Kibbe Soft Dramatic Style Guide
Jewelry is a vital accessory for SD's, and any item that makes a 'statement', shines or sparkles will flatter your outfit.
So don't wear anything subtle, small or dainty, because it won't harmonize without your bold lines and the overall style image you're aiming to project.
You can wear big, bold and fancy rings, earrings, necklaces and bracelets. Costume jewelry is great for Soft Dramatics, as well as big metal pieces, fancy shapes and color-bright gems.
Here are some suggestions for your everyday jewelry, which you'll see are fancy – but not too much for daytime wear.
Avoid
Jewelry like studs, leather and items with a rough texture
Simple, delicate jewelry
Modern Makeup Styles for the Soft Dramatic Style Guide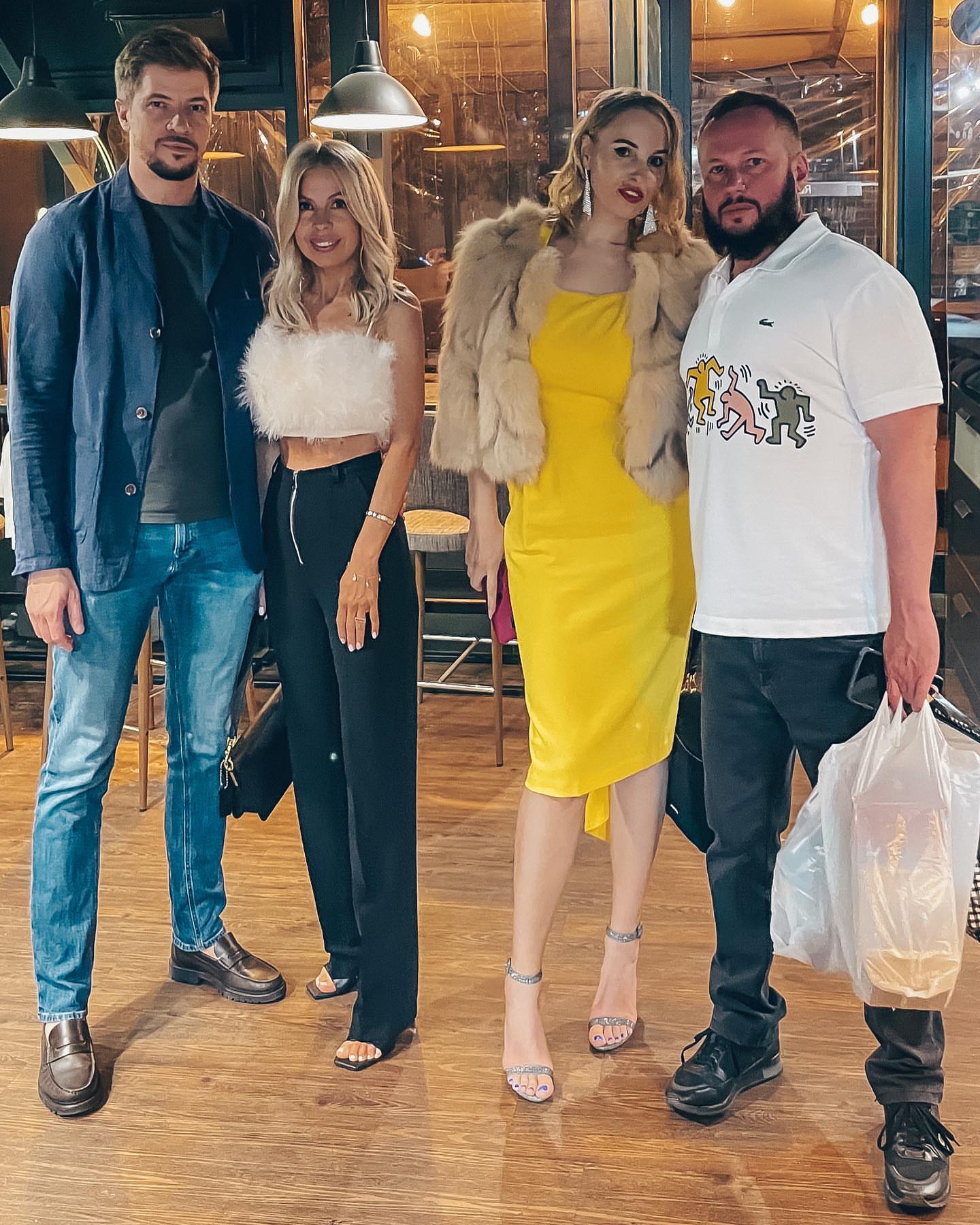 Looking polished means you need to wear makeup that is bold with definite lines to harmonize your top-to-toe sophisticated image.
At minimum, emphasize the lips and eyes, and accentuated cheekbones help add drama.
For daytime wear, have a nicely-finished makeup that accentuates one of your features and avoid the 'no makeup' look.
So that could be strong brows, with a little mascara and a fairly neutral lip-color.
For formal and evening wear, try a strong, liquid eyeliner, defined brows and a bright lipstick shade.
Fresh Hairstyles for the Soft Dramatic Style Guide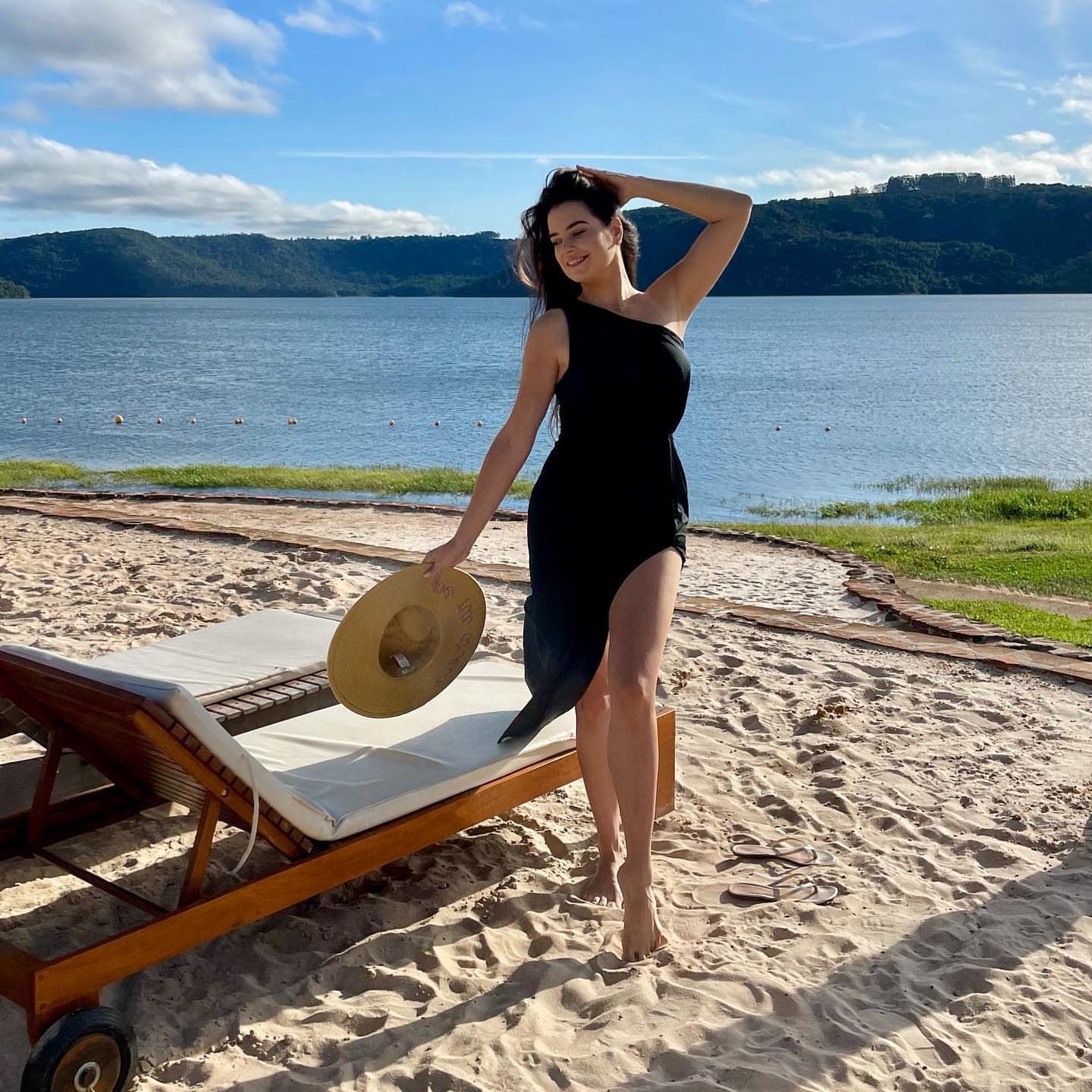 You need a hairstyle that suits the shape of your individual face, but it should have a chic, well-finished vibe.
So try to avoid shaggy hairstyles with lots of layers, blunt cuts, overly geometric haircuts and asymmetrical hairstyles.
Kibbe was never a fan of very natural hairstyles, but I believe that if your hair dries into a tamed style, then you don't need to overcomplicate it.
The best styles are going to have soft, clean lines like these suggestions:
Soft waves with medium volume
Hair down in loose, neat waves
Hair-buns and hair-knots are great for SD's
Up-styles that aren't messy are fine
Aim for subtle elegance and a polished vibe.
Attractive Hair Colors for the Soft Dramatic
Obviously, the colors and streaking techniques originally suggested by Kibbe in the 80's aren't relevant for today's Soft Dramatic.
But if you like coloring your hair choose rich, bold colors that harmonize with your eyes and skin tones.
With your colorist's consent, you can look fabulous in bold reds, rich brunettes, black or platinum-blonde colors.
Avoid
Delicate 'sun-kissed' highlighting or balayage – it's too relaxed for the bold SD look
10 Fabulous New Season Soft Dramatic Outfit Ideas
And finally, here are some great Soft Dramatic Outfit Ideas for you to see the best garments to revolutionize your relationship with fashion dressing!
Not every outfit will suit every single Soft Dramatic, but they are my new season suggestions to inspire you to start on your fabulous makeover process – whatever season you're currently approaching in your part of the globe:
1. Casual Workplace Outfit for Soft dramatics
Mock-neck turtleneck and wide-leg trousers under soft wrap-jacket
Although the SD style identity is both bold and glamorous, when it comes to office-wear we all have to be more professional than eye-catching!
So take some inspiration from this work outfit that combines a soft, silk blazer jacket, with wide-leg pants in a soft textile and appropriate SD color for a subtle look.
The result is body-flattering, professional and chic!
This ensemble shows off your vertical lines and as some SD's don't like a mock-neck, tank-top you can always change this top for something softer and to your personal taste.
2. Casual Jeans Outfit for Soft Dramatics
Bootcut jeans with black bodysuit and black pointed-toe, high-heeled boots plus stud earrings, a chunky bracelet and a cream tote bag
Monochrome outfits will always accentuate your lovely vertical line and all-black ensembles are perfect for most Soft Dramatics.
Jeans are quite casual for an SD, but feel free to add sophisticated or glam accessories to add 'polish' to a relaxed look.
3. Casual Summer Outfit for Soft Dramatics
Bermuda shorts, one-shoulder top/T-shirt, soft bag and jeweled or shiny sandals
Soft Dramatics have struggled to find their best summer fashion style in the past, but longer Bermuda shorts that are hip-fitting, but not tight are great for the warmer months.
And asymmetrical top adds suitably sharp drama and the slouchy bag and blingy sandals complete the chic summer style.
Try to make this a monochrome ensemble if you can, as shorts will shorten your vertical.
4. Casual Silk Skirt & T-shirt Outfit for Soft Dramatics
Boat-neck t-shirt, silky skirt, white shoes, hair ornament
Boat-neck t-shirts with capped-sleeves are a fabulous choice for the SD. They retain the important 'T' outline and look more sophisticated than other t-shirts.
And if you wear one with a vivid, silky skirt that drapes well around your body, you have another appealing look for warm weather.
You can add extra glamor with a gold hair clip or decorative hair ornament.
Finished off with bright, white shoes assists in elongating the vertical, to compensate for breaking it up a little with the skirt.
This is a slightly Classic outfit, which is also a lovely casual look for a Soft Dramatic.
5. Glam & Sophisticated Camisole & Skirt Outfit for Soft Dramatic
Silky Cami-top with a matched wrap-skirt, softly draping cardigan and high heels
This attractive look flatters the SD with beautiful style lines, including the silky cami that fits closely but doesn't restrict, under a softly draped wrap-cardi.
And the wrap-skirt, which maintains the strong vertical and has a useful tie at the waist to accommodate curves, also adds a 'sweeping' movement.
The accessories are probably not in line with the original Kibbe recommendations, but their style vibe definitely suits the glam, sophisticated Soft Dramatic Style Identity.
6. Silky Blouse Dressed Down & Dressed Up for Soft Dramatic
a) Silky blouse, boot-cut jeans, flat, pointed mules, over-large tote bag
b) Silky blouse and skirt, sparkling earrings, black stiletto pumps and red clutch bag
A silk blouse can harmonize with the main style lines of the Soft Dramatic, if not every one.
But in combination with daily-wear casual jeans or a more formal silk skirt, it can fulfil the SD style aims very well.
The blouse looks best tucked in to accommodate your curves and the skirt is a little shorter than some Soft Dramatic skirt lengths.
However, you can wear this length as the vertical line is extended by the long, wrap tie plus matched black footwear.
7. Casual Jeans & Boat-necked Blouse Outfit for Soft Dramatics
Jeans, cowl-necked blouse, large tote bag and pointed-toe mules
As Kibbe wasn't writing about casual wear in his original text, I have chosen more than one jeans' outfit to ensure all Soft Dramatics find one that suits their preferences and shape.
The soft, boat-necked 'cowl' blouse fits the body without being restrictive and keeps the 'T' silhouette intact.
The flattering, straight jeans fit closely around the hips, but are not tight, and the flat shoes are angular.
Big jewelry can be fine for daytime, as long as you stick to the jewelry guidelines above.
So this jeans' outfit is both well put-together and casual, despite breaking the 'vertical'.
This shows that you needn't stick to the guidelines too closely on every outfit to look good.
It's difficult to retain your long vertical line without always wearing either one color in varied shades, or strictly monochrome outfits.
8. Below Knee-length Dress Outfit for Soft Dramatics
Longer-length dress with angular neck, sweeping, draped lines, soft, slouchy shoulder-bag and nude sandals
This type of dress looks great on an SD because it has curve accommodation, a suitably angled neck and longer length.
The flattering draping doesn't over-accentuate the waistline but contributes a nicely sweeping line.
A simple, nude sandal is always a good shoe to avoid cutting your vertical line.
And this outfit is excellent for creating an appealing style which is neither casual nor formal – so it's very useful!
9. Two Cowl-Neck Jersey Dress Outfits for Soft Dramatics
a) Cowl-neck jersey dress in casual mode with flat, pointed-toe shoes, large tote bag, chunky rings and a wrap-around camel coat
b) Cowl-neck jersey dress in formal mode with diamanté bling high-heeled mules, flashy earrings, black clutch bag, red lip-color and same camel coat
We all need to know how to create a versatile wardrobe and experiment with garment combos that are suitable for several different occasions.
This gorgeous camel coat looks super over a basic black dress and makes an excellent SD outfit you can dress up or down for polished day or evening wear!
10. Sparkling Glamour Look for Soft Dramatics
Sparkling dress with boat-neck, gathered at the hips and close-fitting without being tight, plus ankle-strap, silver stiletto shoes, a black clutch bag and glam gemstone earrings
Kibbe always referred to the essence of Soft Dramatic style as being, 'Diva chic' – in the days when a 'diva' meant a top-class, international opera singer.
And you would regularly see these high-earning opera stars, like Maria Callas, dressed up in the richest fabrics, blingiest jewelry and most glamorous styles imaginable!
So Soft Dramatics excel in glamorous outfits like this modern, sophisticated ensemble for evening or cocktail events!
These are only suggestions and you shouldn't feel stifled as everything depends on your individual shape and personal likes and dislikes!
The soft dramatic style identity revolves around bold elegance, subtle sophistication, luxury fabrics and a polished image.
You may find you need to do some experimenting and perhaps stray a little way from your normal style, but that's the point of studying Kibbe.
He showed us all that highlighting our positive features will lead to a fabulous new 'you' who can enjoy dressing your body shape and never make those expensive fashion mistakes again!
How to Get Started on Your Kibbe Style Makeover?
The Kibbe style identity system can take up to six months to fully understand and absorb, so please don't rush into identifying your body type.
And don't think you need to get rid of all your clothes and start again!
Make the changes gradually, over a period of time – unless you have a big budget to back you.
Start off by identifying items in your wardrobe that aren't very suitable for your Kibbe Style ID, and think of accessories you can use to tweak them to look more flattering!
As a Soft Dramatic you can keep wearing any Yin girly blouses you may have, but under a Soft Dramatic jacket or with some Yang accessories to add the drama you need!
When you have practiced a while with your new Kibbe Style Image guidelines they will become second-nature to you and you'll see everything connected to your fashion look with fresh new eyes!
What Are The Most Important Kibbe Body Type Benefits?
The Kibbe Body Type System will eventually save you a fortune by leading you to buy flattering clothes that you will enjoy wearing time and time again.
And that means long-term savings in clothing – one of your most expensive spending areas.
Moreover, it will allow you to confidently project your true personality.
But more important than anything, adopting the Kibbe Styling System will increase your self-confidence and allow you to enjoy life without any more wardrobe-stress dogging your steps!
Your Comments
Tell us what you think about our New Season Soft Dramatic Style Guide!
We love to hear your feedback:
Has this article helped you confirm your Kibbe body type?
Have you started putting together more flattering outfits?
Have you stopped buying clothes that don't flatter you?
Have you saved time and money on clothes' shopping trips?
Have you gained confidence in yourself?
Have you finally realized why some garment styles never suited you?