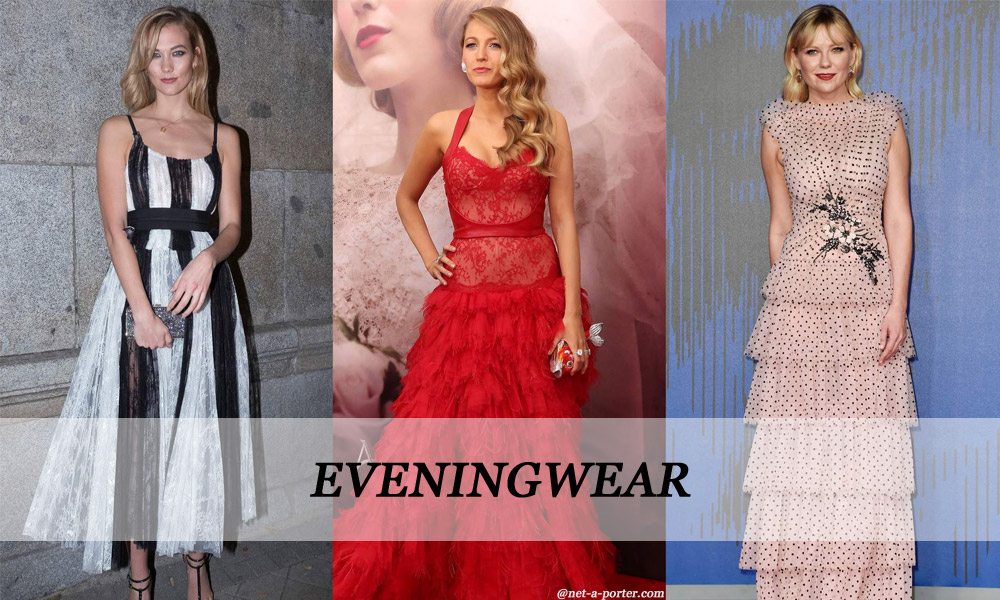 It's always exciting to receive an invitation marked 'evening wear', which means it's a formal occasion where you will be royally entertained! And of course, the next thing you think is, 'What shall I wear?' And then, 'I wonder what the other women will be wearing?' The image you need to bear in mind is sophisticated and elegant, with a hint of restrained glamor.
So if you're ready to shop for a special event, read these rules and fashion tips to help you find an outfit that really brings out your best features!
General Evening Wear Dress Code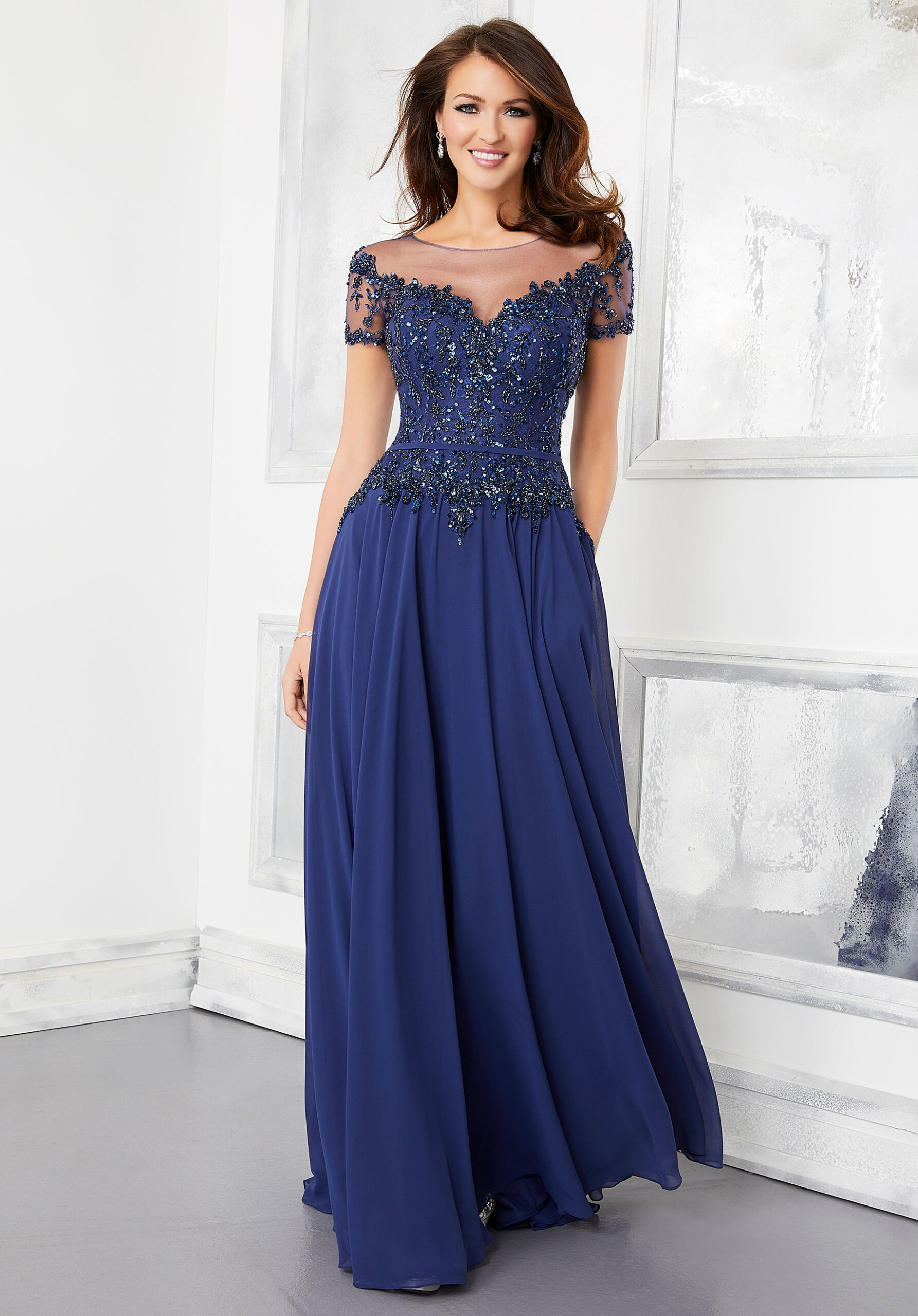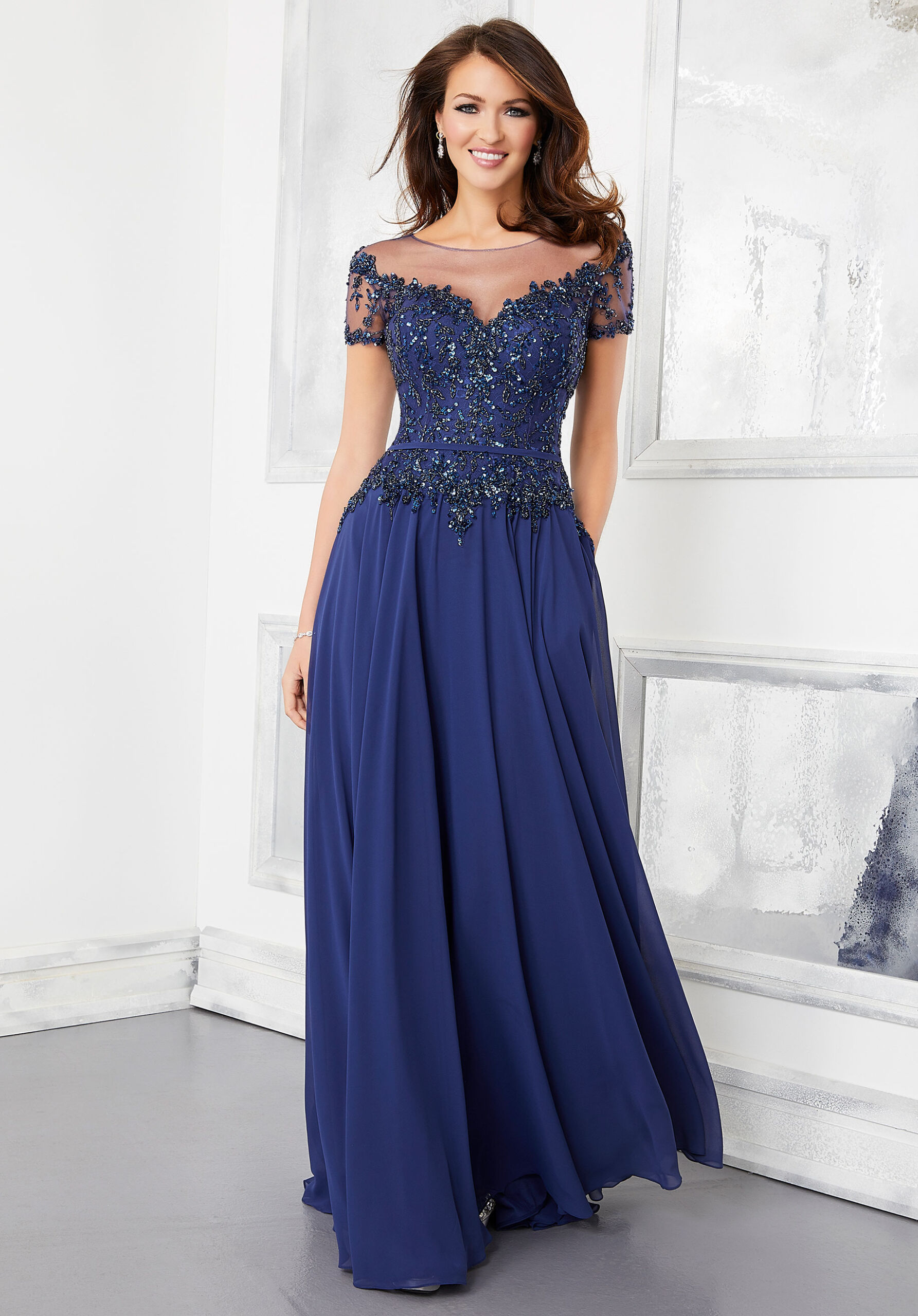 A-Line Evening Gown with Crystal Beading on Lace Bodice with Chiffon Skirt/ (Buy it Here)
Formal dinner-dance events are where the moneyed classes can show off their wealth in a restrained and tasteful way. Therefore, look for rich, textured fabrics, like silk, satin, gold or silver brocade, velvet and lace, which emphasize your luxury look. But don't go over-the-top with a dress that's cut very low and has a thigh-high slit. Always err on the side of caution when planning your formal evening wear!
The main rules for formal evening wear are darker colors, but that doesn't mean dull colors. Deep red, purple, jewel-like emerald green and midnight-blue are all contemporary evening-wear colors, that save you from wearing black if it's not a color that suits your skin tone. Evening wear isn't the same as a Hollywood Oscars' party, so 'gaudy' and 'bling' are two words that shouldn't apply to your outfit!
Modern Evening Gowns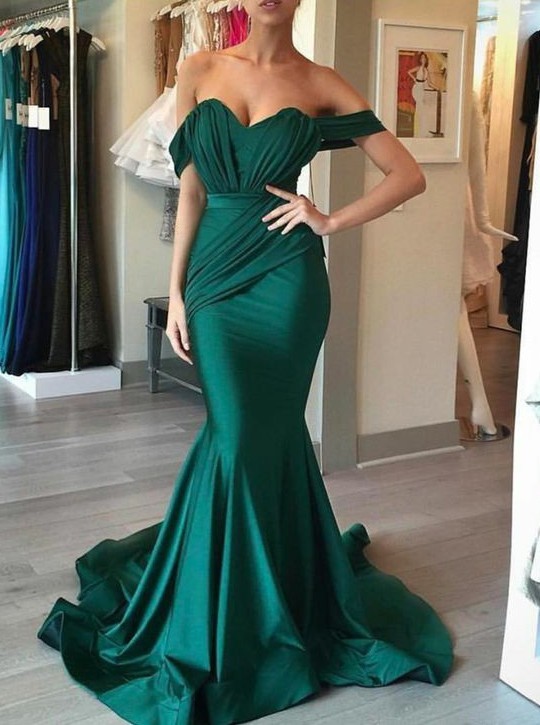 The modern mermaid style is a good choice for a flattering an hourglass figure and will give you a trendy look, without being beyond the rules of good taste preferred for formal evening wear. And formal dresses are mostly full-length gowns in plain colors or black in simple, well-fitted styles. One-shoulder styles and off-the-shoulder gowns will add style flair to your look.
Technically, a black little black cocktail dress is perfectly suitable for a formal evening event, but it has to be special, with perhaps jet beading or diamond trim to compete with full-length gowns. And a cocktail dress mustn't be more than an inch or so above the knee for a formal occasion.
Latest Evening Separates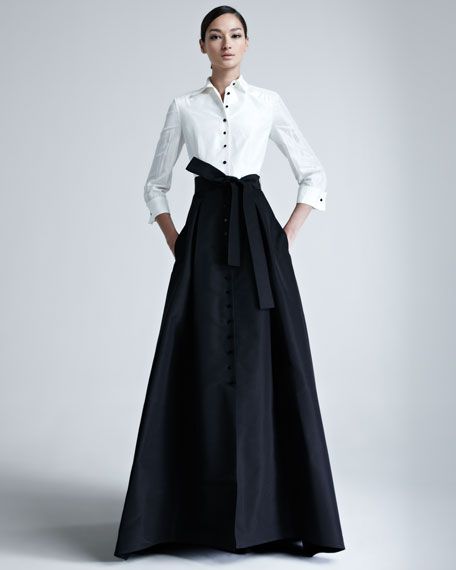 Carolina Herrera Shirtwaist Taffeta Ball Gown (buy it here)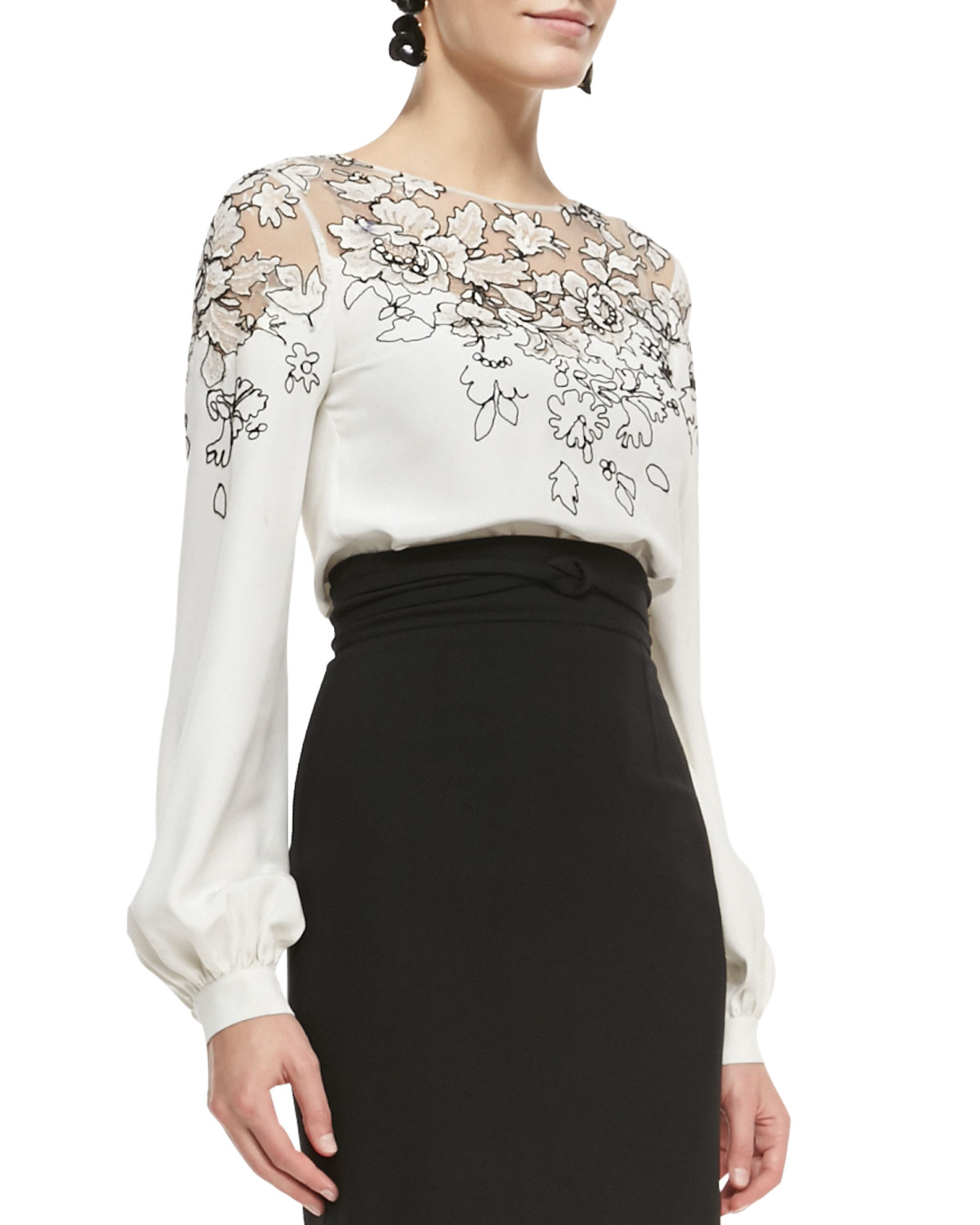 Oscar de la Renta Lace-Embellished Silk Top (buy it here)
As you can see from these gorgeously elegant outfits, evening wear also includes a wide array of skirts and blouse styles. Black and white or cream blouses are still the most popular styles, but you can wear rich, dark shades of red, blue, purple or green in the skirt if you choose.
High waist styles are trendy right now and will be the main waist-style for the foreseeable future. This is great news as high waists smooth out lots of lumps and bumps very effectively! Evening jackets should be fitted and are often made of brocade. This allows you to add a little color to your look, keep warm when the temperatures are low, and still look polished and attractive!
Trousers & Evening Suits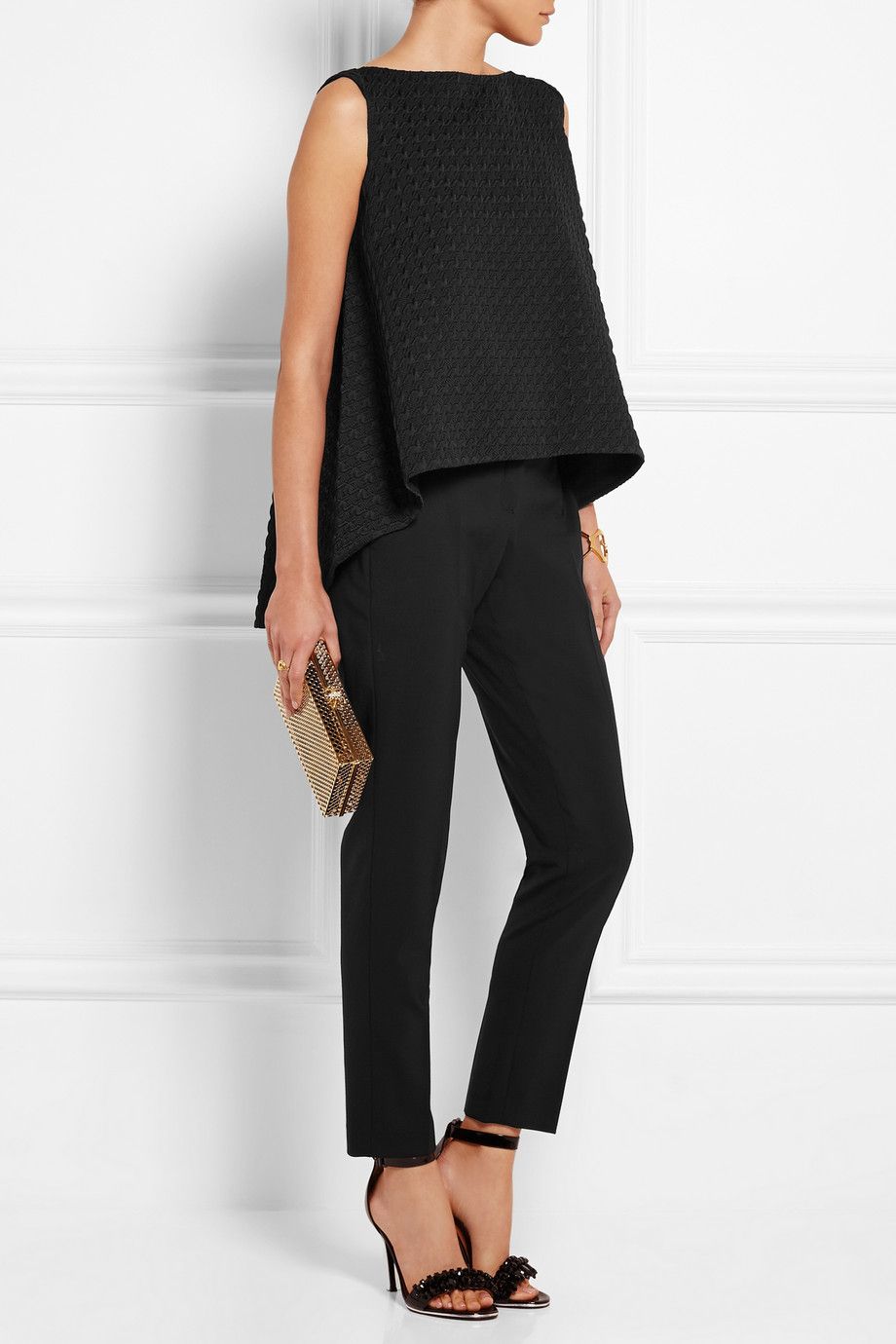 net-a-porter ERDEM Joelle houndstooth matelassé top (buy it here)
If trousers are more to your taste, you can wear a trouser-suit in the Tuxedo style, or a pair of black cigarette pants with a simple ivory top. If you choose a black top, this could be slightly decorated with black or silver sequins or made from metallic fabric. This example of formal wear is minimalist and in my opinion doesn't flatter the model's slim figure, because it skims over the bust and hides the waist and bottom. It's also too plain to wear with no jewelry at all. So use this as an example of the right trousers, shoes and clutch, but the wrong top!
Formal but Trendy Jump Suits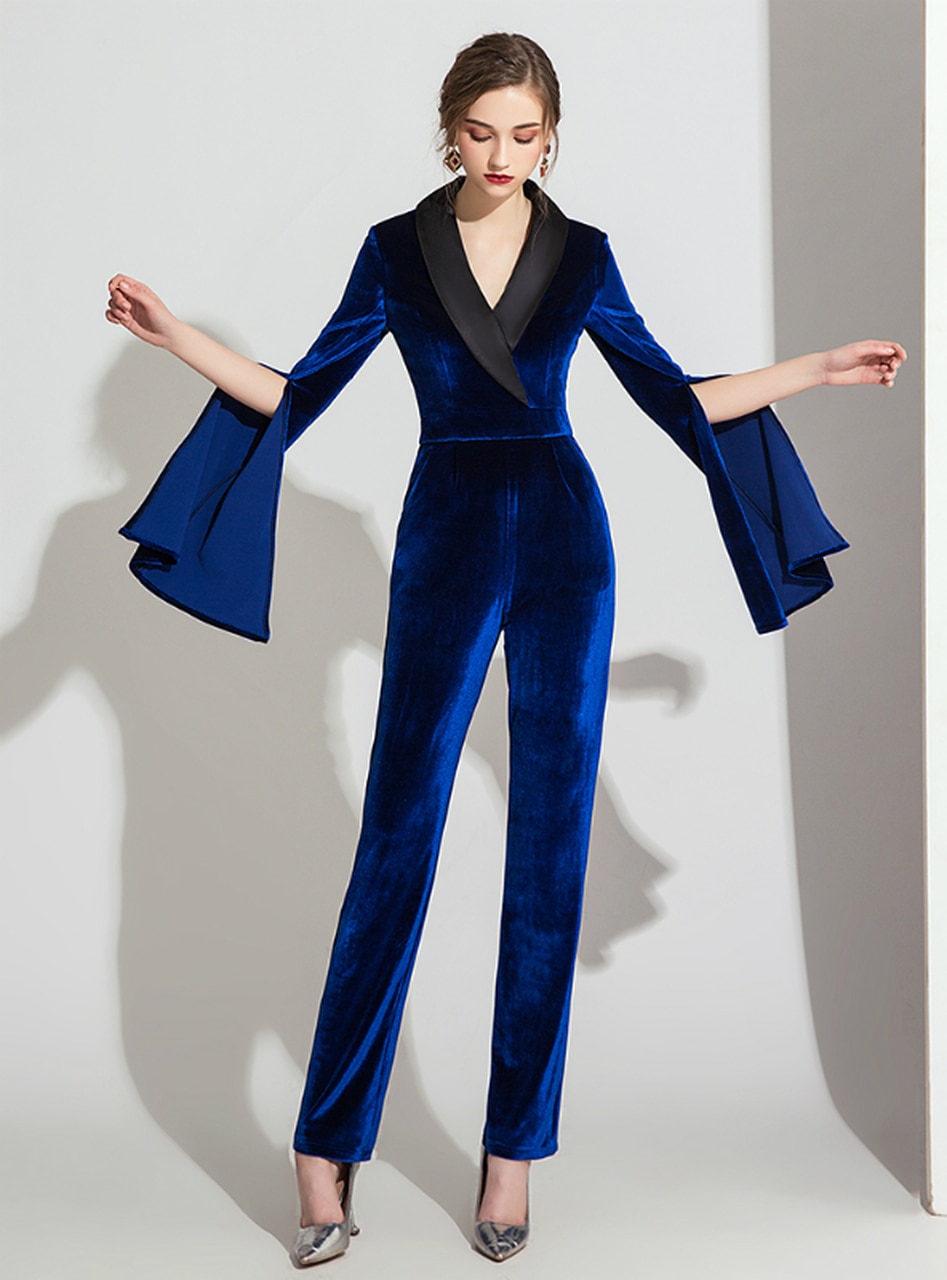 Pintarest blue velvet jumpsuit
And a streamlined, fitted jumpsuit is also acceptable as formal evening wear, especially a halter-neck version. This is a great way to show off pretty shoulders and a smooth back, on a slender figure.
Evening Jewelry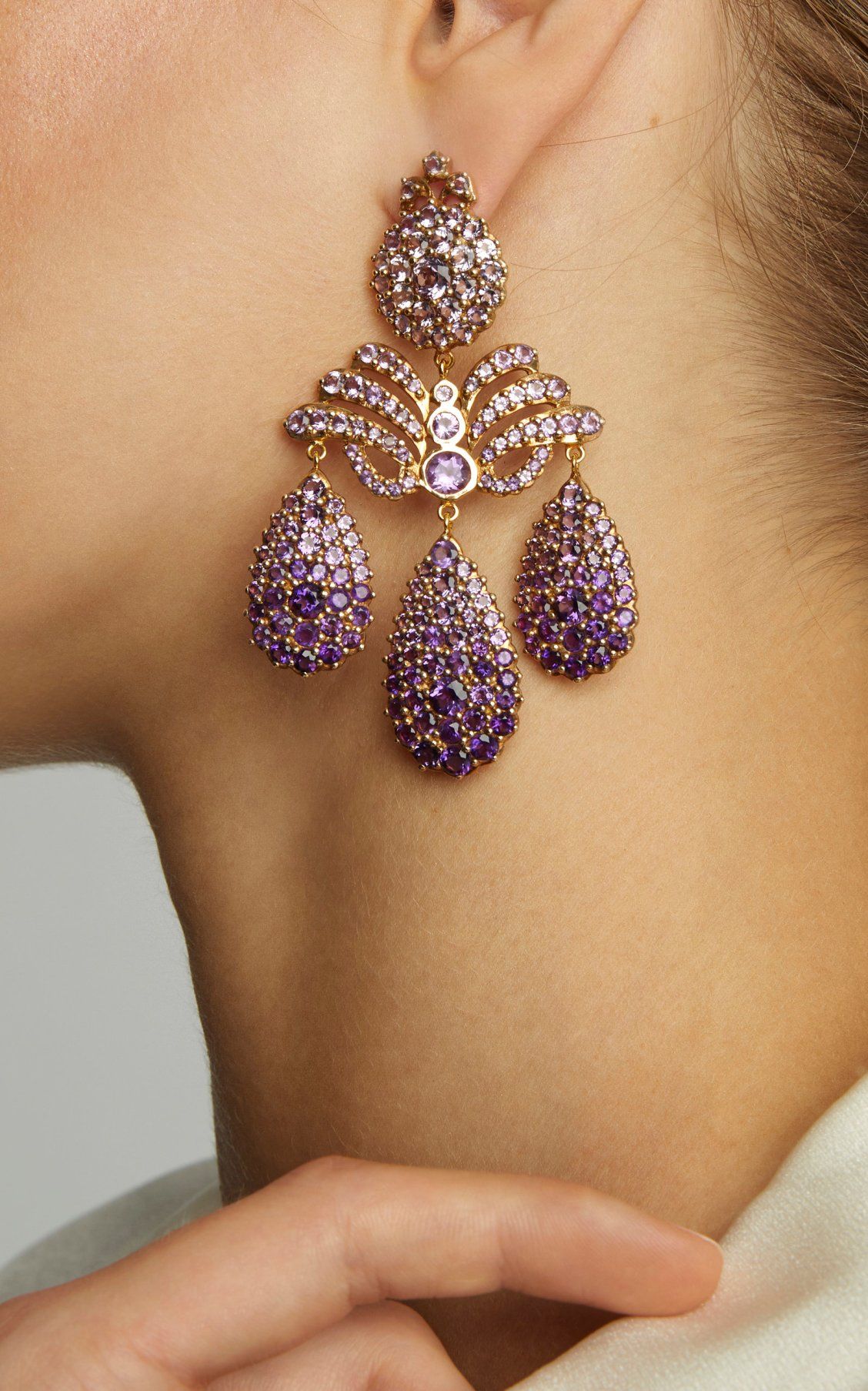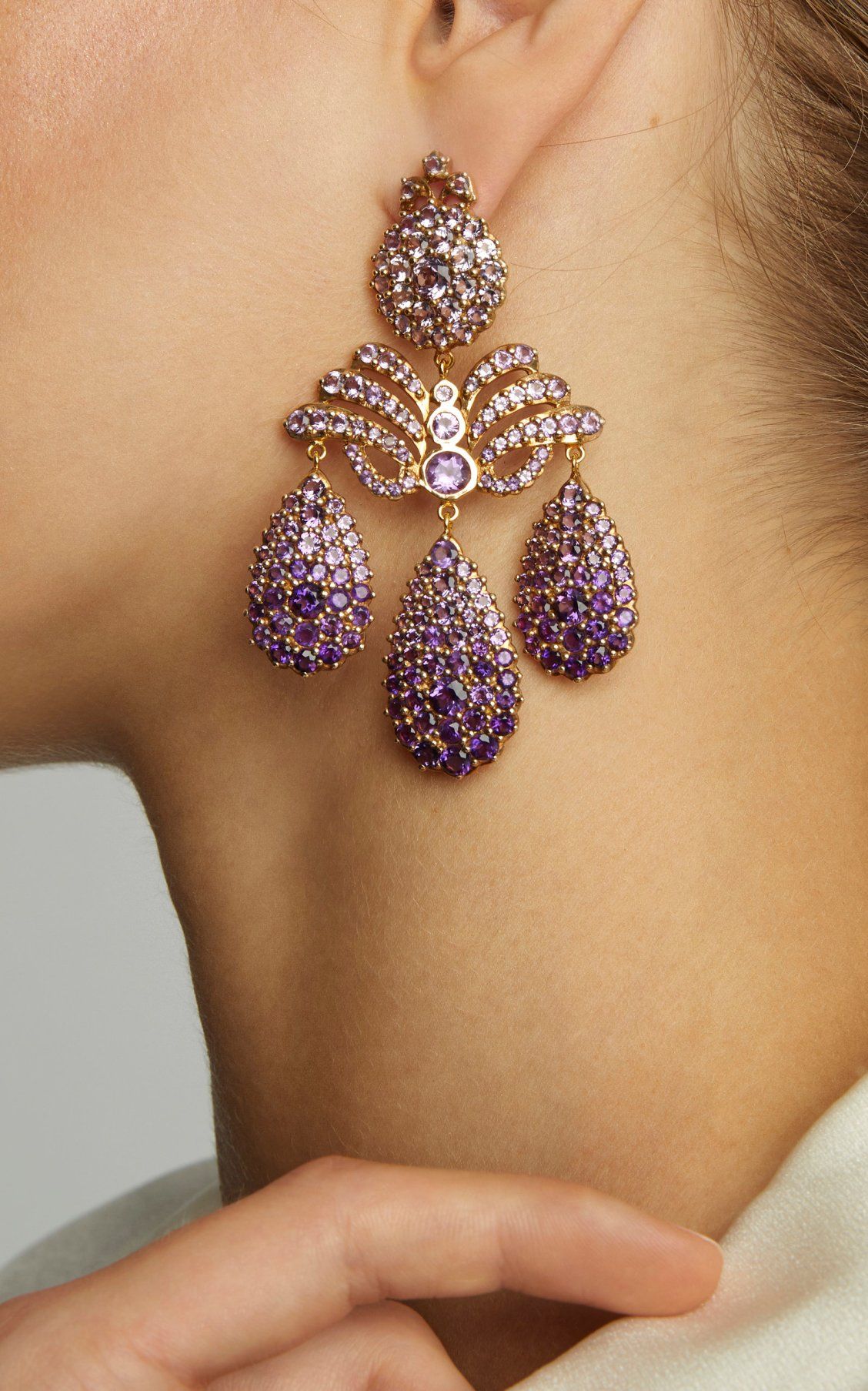 Available on Moda Operandi
Formal evening wear is also the perfect occasion to wear your best jewelry, which should be simple but as near to 'real' gems as possible. This is the time to wear long, dangly diamond or diamanté earrings. Necklaces and bracelets should match, except if you necklace is diamond or another gem you can wear a solid gold or contemporary silver bracelet or vice-versa.
Remember to match all your colors to your skin undertones. Warm skin tones look best with gold and cool skin tones are complemented by silver. Diamonds come in lots of different shades, too, if you are lucky enough to be able to have diamond jewelry! If you've been invited to a posh wedding, choose a long gown, but if it's a business event you can definitely bring out your short black dress and dress it up with contemporary silver or resin jewelry!
Formal Shoes & Handbags
Formal evening shoes are also usually 'dancing' shoes, so they can be dainty black pumps with delicate heels or extravagant silver or gold open styles. But stilettos aren't suitable for dancing, so make sure you choose a heel that's comfortable for you. If you've chosen a simple, black style of outfit, it's important to dress it up with a specially decorated evening clutch bag. This will add texture and bright color to balance a black gown.
Best Formal Hairstyles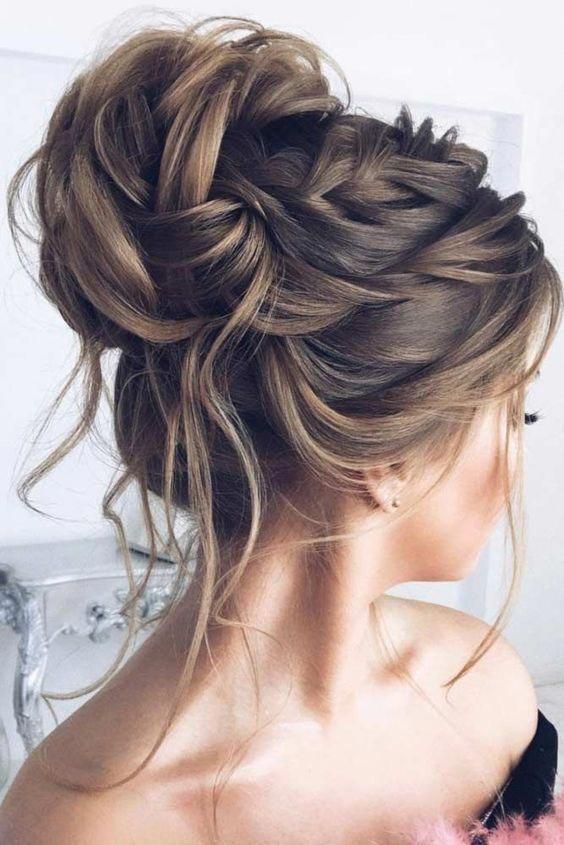 Formal hairstyles are another important aspect of the evening wear dress code and up-styles are always a good choice. The look should be elegant and tidy, with sophisticated hair-knots and buns being a favored type of hair-dressing. Another good way to wear your hair is with a bun and head braids that show off an expensive hair color design, for a sleek and elegant finish.
Avoid fantasy hair colors for formal events, but the latest subtle ombré-balayage hair colors in natural blonde shades, as well as brunette, copper and black are quite stunning for evening wear. A formal evening party is a good excuse to splash out on a total hairstyle makeover, with a professional cut, color and hair-styling session.
If you follow these guidelines, you'll be perfectly presented at your next formal evening wear event. So make sure you arrive relaxed, confident and ready to enjoy yourself!