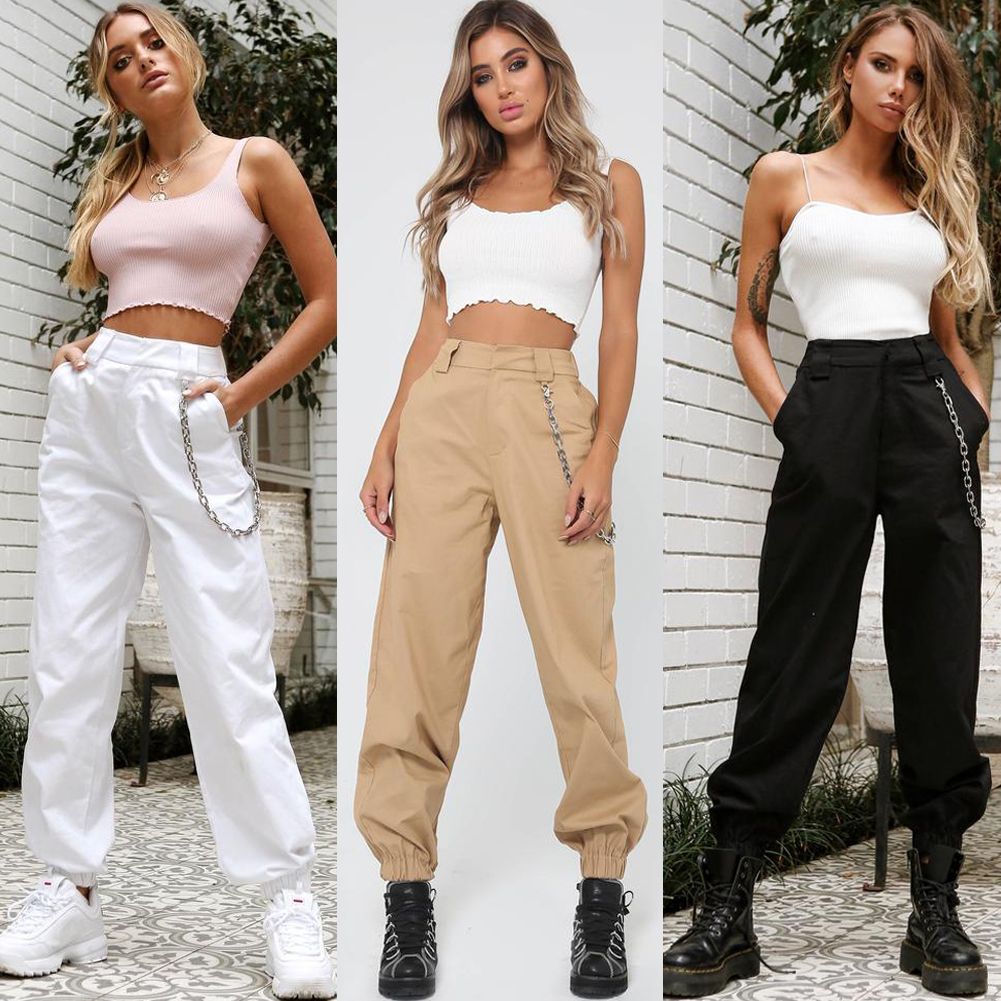 Style Guides for Women – What to Wear wtih Cargo Pants
If you're getting bored with wearing blue-jeans or are totally confused about which style will be the trendiest this year, why not switch to wearing cargo pants? All shades of brown pants are highly fashionable this year, so you can't go wrong with light or dark-brown cargo pants. In fact, a lot of designers have revamped classic military garments to make them more feminine and trendy, to wear every day. This year's fashions are often based on popular retro looks from the past 50 years, so if you're getting a lot of deja vue moments, it's because you probably have seen them before!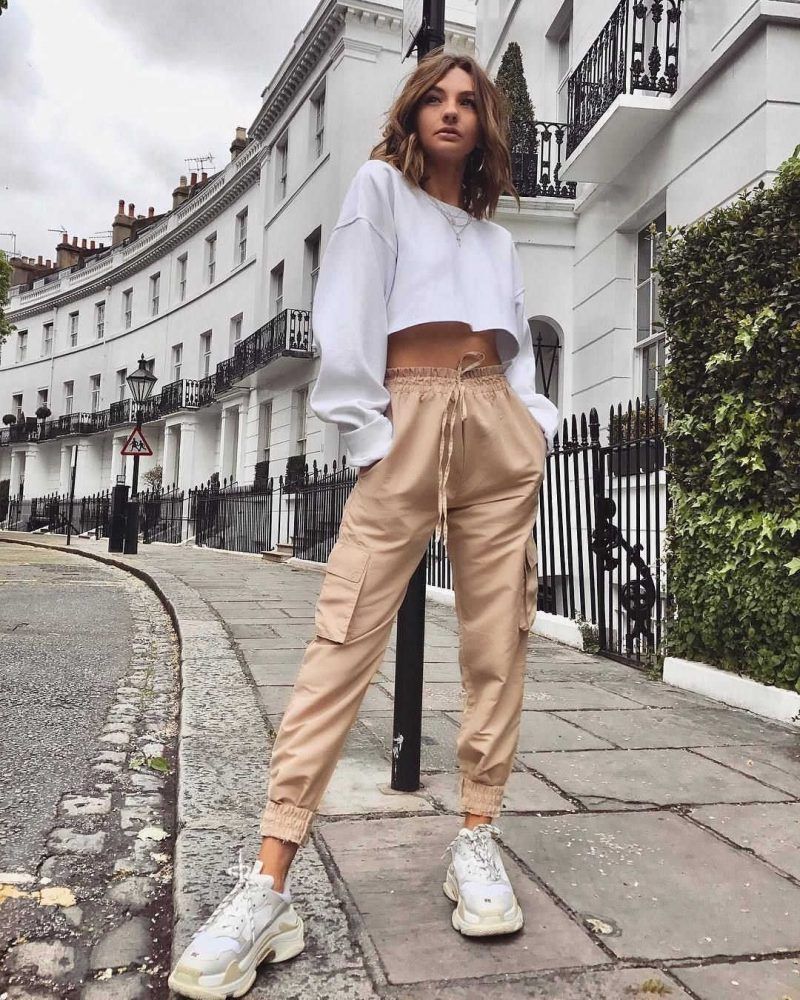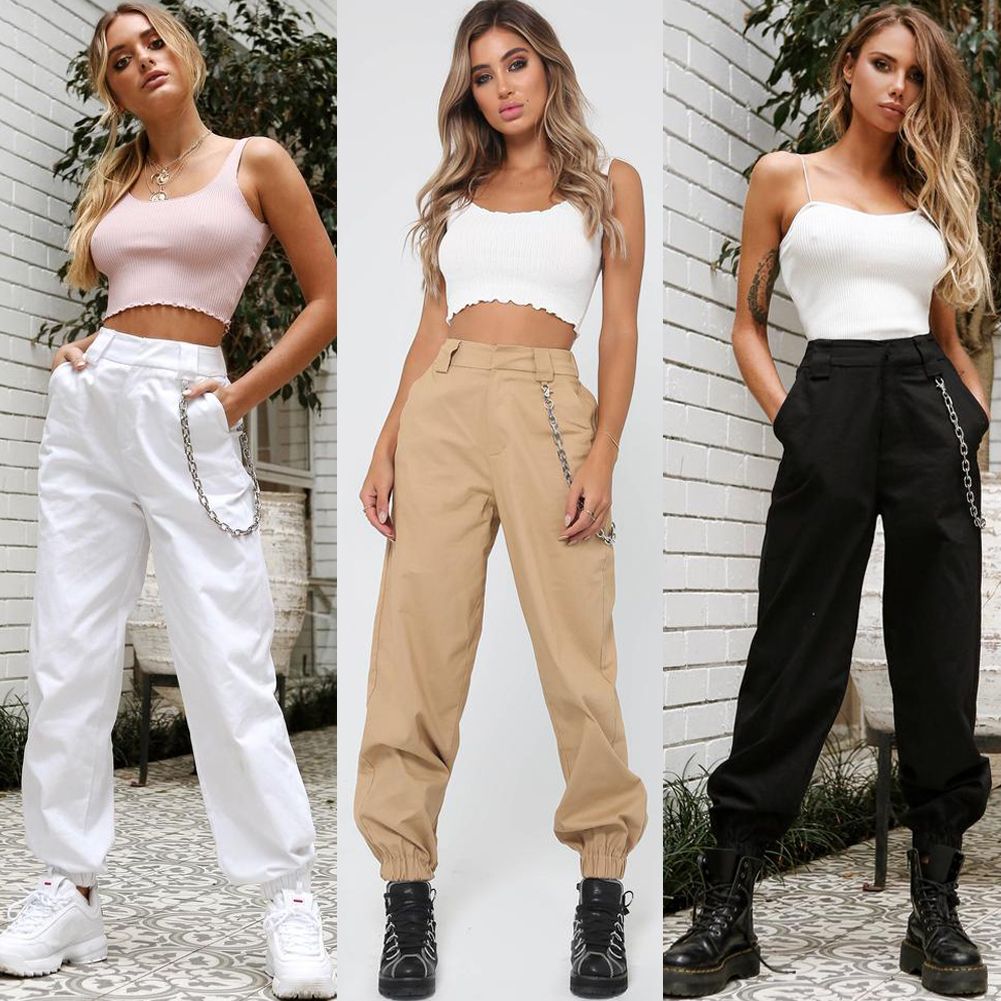 Cargo pants were very popular in the 90's and have lots of extra utility pockets as decoration for fashion pants. But don't think they are just the same old cargo pants you saw on many episodes of Friends, because the new version has been re-designed and refreshed to make it an exciting new look for this year. You'll love the new wide-legs, quirky fabrics and flattering tapered shapes of the latest cargo pants and here's our guide on how to style cargo pants for your best look!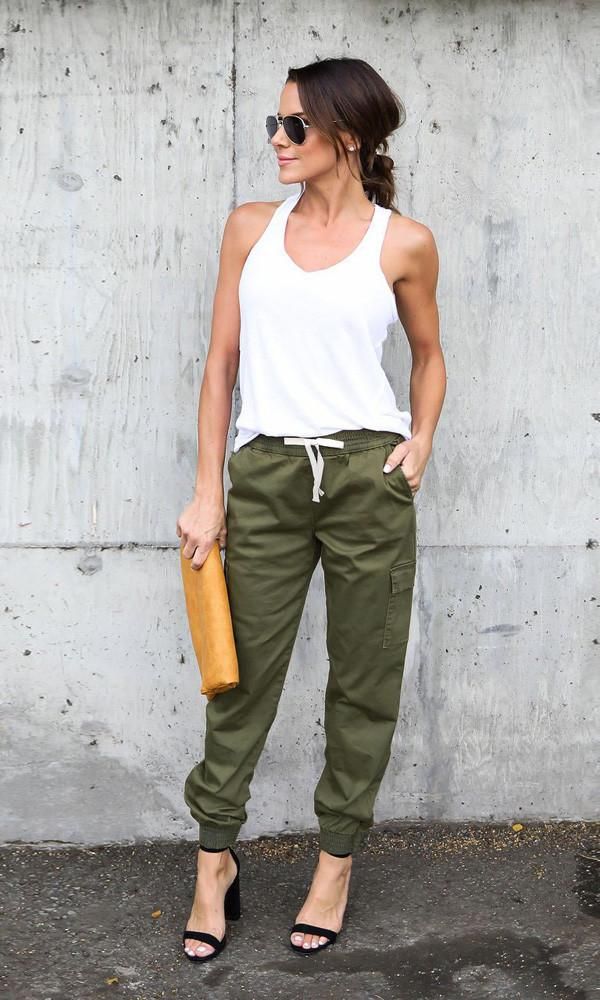 1. Cargo pants with tie-dye long-sleeved tops
This year's fabulous, tie-dye looks have also been tweaked and feature different colors and dye patterns, so you won't look like you're a hippie! Try black cargo pants with barrel legs that finish a couple of inches above the ankle, and a high waist. And match with a red and white tie-dye long-sleeved tee-shirt with a relaxed fit, tucked in lightly at the front. Carry a small, red patent, rectangular handbag and beige, high-heeled summer sandals. Red and beige/sandy colors look great together!
2. Faux-leather cargo pants
If you feel that cargo pants are a bit too military for your chic image, buy them in faux-leather. Mustard yellow, wide leg cargo pants drape beautifully and make any military style look attractively feminine. You can also buy faux-leather cargo pants in bright red, sand and black. And with this year's trend for puff-sleeved blouses, you can make a super day or evening outfit. Just add a rectangular gray shoulder bag and gray and white sneakers to complete a super, trendsetting look!
3. Cargo pants & combat boots
Cargo pants & combat boots, were literally designed to go together! But they've shifted from the battle-field to be one of our favorite urban looks. Try taupe, high waisted cargo pants with a black belt, black scooped neck tee-shirt, black lace up combats boots with a warm black jacket with a contrasting off-white shearling collar. With tapered, relaxed fit legs gathered in at the ankle, which stop just at the top of the combat boots, and a block heel, this style is super-chic and powerful!
4. Quirky two-tone cargo pants
Cargo pants are pretty versatile and you'll get plenty of opportunities to wear them. So don't be afraid to experiment with the new versions, like two-tone pants. With one tan leg and the other leg in black, you find it easy to put together an eye-catching outfit with a cropped white tee and low-heeled pumps. When you're wearing something bright and unusual, remember to keep all of your accessories simple.
5. Comfy sweats & cargo pants in new colors
If you prefer to wear sweatshirts most of the time, replenish your wardrobe this year with some of the new color sweats and different styles. Lots of this year's sweats are plain, cropped styles, which look great with beige cargo pants. The winter colors are purple, tan, brown, forest green, mustard yellow, midnight-blue, deep-orange, brown and burgundy. And in the summer the colors will be soft, pastels like lavender, soft-green, beige, cream, sand, khaki, tan, soft yellow, baby-blue and pale pink.
6. Wide-cut straight cargo pants
Try wide-leg, straight cut cargo pants in sand. They are a new style of cargo pant especially designed for this year's switch to wider legs, but they still have the signature pockets. Wear them with high black boots underneath, a black cross-body bag and a trendy, gray plaid blazer for a super new work outfit.
7. Graphic tee-shirts & knits
Rich, chestnut brown cargo pants are high-fashion this season and you can complete the look with a fancy top. For example, team your brown pants with a graphic tee-shirt, or a bright and patterned sweater in a large floral or geometrical pattern. Brown looks great with pale blue. And a fake-snake chestnut-colored handbag, plus black boots under the pants completes a fresh new look. And experiment with new color combinations, such as forest-green cargo pants with a rich purple top.
8. Dull-green cargo pants jumpsuit
Something completely different is a soft, gray-green cargo jumpsuit that look smart and chic. This one-piece outfit can be worn over a fine-knit sweater or a tee-shirt for extra warmth in winter. It's a high-class look you can team with cream, lace-up, skating-style boots with high heels, a forest green shoulder bag with pewter chain strap and a black fabric belt with a fancy gold plaque decoration. Pleats at the waist add attractive shape and slightly rolled-up cuffs show of the gorgeous boots!
9. Cargo pants with black leather jackets
Cropped, straight leg cargo pants with jewel button decorating the pockets mark some of the new styles out as glamor wear. But this is easy-going glam, that doesn't overload you with too much girly bling. The beige pants look super with high heeled sandals with gems decorating the heels. But the black turtleneck sweater and short leather jacket keep the look suitable for daytime wear. Carry a black clutch bag with a new-style hand-strap and stride out confidently in your groovy style choices!
10. Forest green cropped cargo pants with animal-prints
Whether you choose forest green, khaki green or a really subtle beige-green color for your new cargo pants, a cream or white shirt will always create a fresh look. Make sure you have a beige-cream shoulder bag this year, which will match with lots of trendy colors. As will tan handbags and shoes, too. But what about animal prints and cargo pants?
Well, leopard print can be treated as a neutral 'color', but one which is especially suitable to match with this years subtle green and varied brown fashion colors. So you can just add a leopard print belt, or wear your pants with a long cardi-coat in light tan with tan ballet pumps, and top it off with a lovely, warm leopard print scarf. Or you can liven up your outfit for a night out with an animal-print oversized blazer over your tee-shirt and cargo pants.
11. Create a cargo pants suit
Make your own cargo pants' suit with black trousers with cargo pockets and an oversized leather/faux leather blazer. Wear over a tucked-in, white, round-necked tee-shirt and a beige cardigan for warmth or a brightly colored shirt for extra interest. Team up with engineer boots and a tan shoulder bag to show that your suit is casual and individual and enjoy being trendy in your own style – without upsetting the Human Resources rules!
12. Add a classy touch with a white shirt and sling-backs
Graphic tees are definitely the tops to wear with ripped, cropped jeans. But you can add a touch of refinement to camo khaki cargo pants with straight legs. Try styling them with a white buttoned shirt and vintage sling-back, low-heeled pumps from the 70's. Nude-beige sling-backs with black toe contrast will match the camo and give your whole outfit a lot of extra class!
13. Tan suede jacket with cargo pants
And now that tan is a fashion color for this year, there are lots more tan suede jackets in the shops, which also add plenty of style and class to cargo pants. Tan matches beautifully with all of the light or dark, warm brown shades in fashion right now. Tapered sand colored, cargo pants look super with a brown plaid blazer or tan jacket and black, high-heeled sandals.
And if you have pretty ankles, wear them with a little bit of cuff above the ankles. This is also the perfect way to deal with cargo pants that are too long for your legs. As long as the fit is tapered, you can turn them up to a cuffed-length that suits your footwear and this looks especially attractive with strappy sandals.
14. Go for a quirky look
Skinny cargo pants are still in fashion and if you want to look different try a mustard-yellow cardigan, long enough to come half-way down your thighs, to give you a long slim silhouette. Pop on a fashionable warm scarf, with subtle green and mustard in the pattern or plaid, and match with gray cargoes. Complete this youthful, winter style with knee-length leather boots in rich chestnut brown. Soft yellow really brings out an appealing contrast with brown or gray.
15. Black hats & cargo pants
Fedoras and floppy-brim hats are trendy again and can easily be worn with dull-green, skinny cargoes. Match with a fine-knit, low-necked pale-gray colored sweater. And cover with a black, one-button blazer and an extra-large, leather hand-bag, plus black toeless sandals with stiletto heels.
16. Summer-time cargo pant outfits
We will be wearing the gorgeous, waist-length cardigans buttoned up as lightweight sweaters in summer and they will add an attractive feminine touch to our cargo pants. The latest, cropped cardigans have cute long, lace collars and pearl or jewel buttons. The main summer colors are all pastels like lavender, baby pink, pale blue, soft yellow, soft moss green and lots of sand, cream and beige shades. Graphic tee-shirts will be everywhere and having a white or cream, flimsy blouse in your wardrobe will always be useful.
So although these pants are military-inspired, once you put a woman in them and style them with panache, they look flattering, fashion-forward and extremely feminine! Subscribe to get more fashion guides on herstylecode.com!