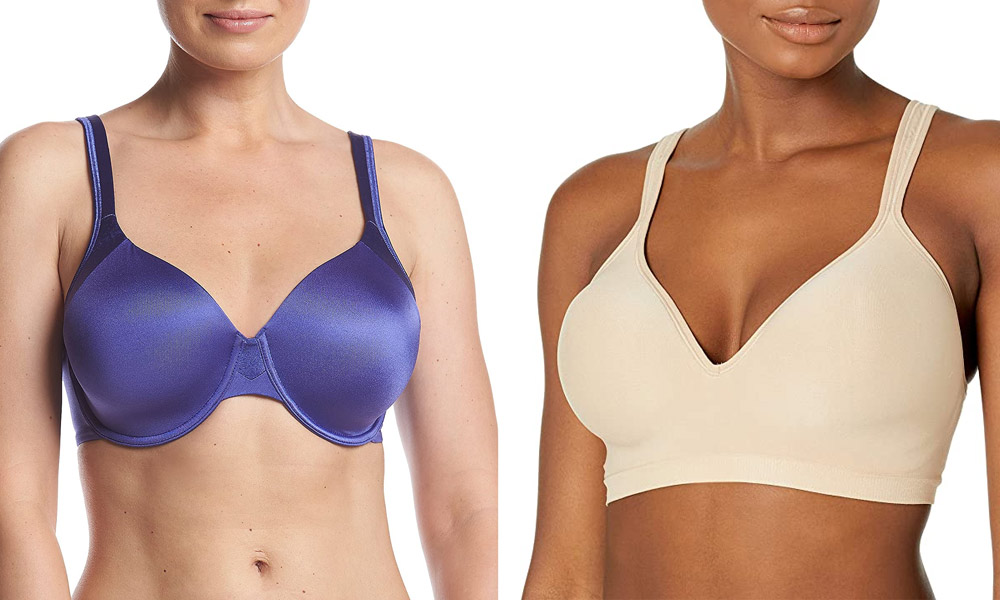 The best bras for large busts should feel comfortable all day and give the correct fit and support for all physical activity. They need to protect you from painful back problems, but should also enhance your femininity in an attractive way!
As all large-breasted women know – it's hard to find a pretty bra that fits well and looks sexy. So we've tested a wide range of large-cup bras for comfort, fit, 'lift', contour and cuteness! So read on and discover your perfect large cup bra here(how to choose the right size bra):
1. Best All-Purpose Bra for Large Busts
Pure Luxe Bra
This popular bra is not only ultra-comfortable, it comes in lots of bright, fashionable colors. And that means it's great for wearing under same-colored, flimsy or lacy, tops! You get strong support and smooth shaping from this classy, full-cover cup. And those cute, lace straps add a super, sexy vibe!
Band sizes from 32 – 38 and cups from size B – G
2. Best Value Bra for Large Cup Sizes
Ultimate T-Shirt Bra
This daily-wear, comfort bra gives you a super-smooth sillhouette, with an excellent fit. It's lightweight for all-day wear and so cute, you'll feel super-attractive even cleaning out your 'fridge! With full breast coverage, the cups keep your bust stable. This model has a 'racer-back' hook accessory, for T-shirt wear and it's one of the new, patterned bras you can wear to the beach!
Band sizes 34 – 38 and B – DD Cup
3. Best Bra for Full Figures
'Love My Curves' Modern Curvy T-Shirt Bra
This pretty, champagne-gold bra gives a very appealing, natural look to your figure. The strong straps provide firm control and comfort, without being wide enough to show under sleeveless dresses. And the super-trendy, satin-finish fabric gives this bra a very sexy, 'vintage' vibe!
This is one of the most comfortable bra for large bust.
Band sizes from 36 – 44 and C – G Cup
4. Best Strapless Bra for a Large Bust
Red-carpet Strapless Bra
Finding a sturdy strapless bra for a large bosom can be a nightmare! And nothing looks worse than a bride constantly pulling up her strapless bra during a wedding. However, this well-fitting bra has a special design so it stays firmly in place, and you look effortlessly elegant. It's definitely one of the best strap-free bras currently on offer, so now's the time to show off your sexy shoulders!
Band sizes 30 – 40 and C – H Cup
5. Best Unlined Bra for a Large Bust
'Vanishing Back' Unlined Front-Close Bra
If you hate padding that adds inches to your bust, choose this unlined bra. The smooth fabric gives a natural silhouette with full-cover cups that keep your breasts controlled. The low V-front makes it perfect for sexy low-cut outfits, without too much cleavage on display. And gently-patterned cups add classy femininity.
Band sizes 32 – 42 and B – G Cup
6. Best Size Range Bra for Large Busts
Idol Molded Balcony Bra
Freya is my own favorite, large-bra brand and I love it for its great fit, good looks and strong control. Freya designs large bras for young, and not-so-young women, who expect their large-cup bras to be just as trendy, pretty and alluring as other bra sizes! They always have fashionable, new, fabric patterns on offer in a huge range of sexy models and sizes! A perfect support bra for full figured.
Band sizes 28 – 38 and B – HH (UK L) Cup
7. Panache Sexiest Bra for Large Busts
'Envy' Lace Bra
We all love pretty, lacy bras, but some are very uncomfortable! However, you'll love wearing this sexy bra because it also fits very well. It's comfy and holds, separates and lifts heavy breasts securely, which makes any woman look younger!
Band sizes 28 – 38 and D – K Cup
8. Vanity Fair Best Wireless Bra for a Large Bust
'Beauty Back' Full Figure Wire-free Bra
Get plenty of 'lift', without under-wiring, with this versatile, Vanity Fair bra. Its outstanding feature is fixing the problem of unruly extra flesh on your back! It controls all that with a special back-smoothing design that gives you a much younger-looking contour – front and back!
Band sizes 36 – 44 and C – DDD Cups
9. SPANX Best Smooth-strapped Bra
Bra-llelujah! Full Coverage Bra
Spanx are famous for their clever designs and this front-closing bra controls with a firm fit. It's cut low to let you show-off your lovely décolleté in super-sexy evening wear. Don't be afraid to try a bra with sturdy, wide shoulder straps, as they can lift your whole bust shape and make your stomach and waist look a lot slimmer!
Band sizes 32–40 and A–DD cup
10. Shapeez – Best Large Bust Bra with Built-in Shapewear
Shortee Bra
This bra is the perfect way to control unsightly 'back fat', leaving a smooth and more youthful silhouette. The extra band fabric beneath the cups is great for keeping your bra in place at all times and giving plenty of 'lift'. It's great for active woman and when you go dancing, you'll never need to keep pulling the band back down into place!
Band sizes XS-1X and A – E Cup
11. Best Lounging Bra
'True Body Lift' Scoop Neck Bra for a Large Bust
True & Co.
This is a 'lounging around' or 'sleep bra' rather than an 'evening out' garment. It isn't as 'lifting' as a normal bra, but the fabric and fit are incredibly comfy. It's easy to hand-wash and dry overnight, so you've always got something soft and comforting to wear when you're relaxing in front of the TV!
Band sizes XS – 2X and recommended for DD – DDD Cups
12. Best Sports Bra for a Large Bust – Brooks
Maia Sports Bra
This excellent sports bra is perfect for compressing and separating large breasts. And that means your bust doesn't move at all! Specially designed for high-impact exercise, you'll find it easy to set the straps to suit your body shape. And thick padding ensures your chest stays completely under control, even when running. This well-designed bra could be just what you need to get started on a healthy, new exercise hobby!
Band sizes 32 – 44 and C – E Cup
Just looking for the best minimizer bras? Check them out here.