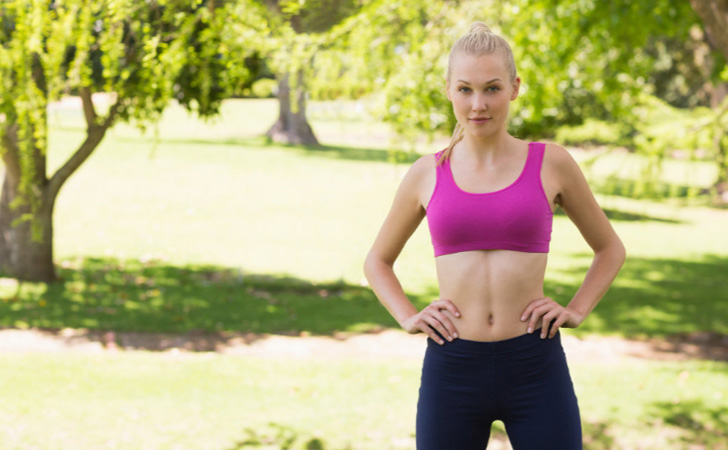 For active women, a collection of high-quality sports bras is a must. Good sports bras provide gentle, comfortable support that prevents painful jostling and bouncing while you work out or play sports. However, not all sports bras are created equal and not every sports bra will provide you with the support, flexibility, and breathability you need to be able to remain fully comfortable in your bra while exercising.
Read the following sports bra reviews to discover the top ten best sports bras that are currently available.
11. Lemedy Women Padded Sports Bra – Fitness Workout Running Shirts Yoga Tank Top
This is a perfect bra for yoga, exercise, fitness, and any type of workout, or everyday use. This bra combine fashion, function, and performance!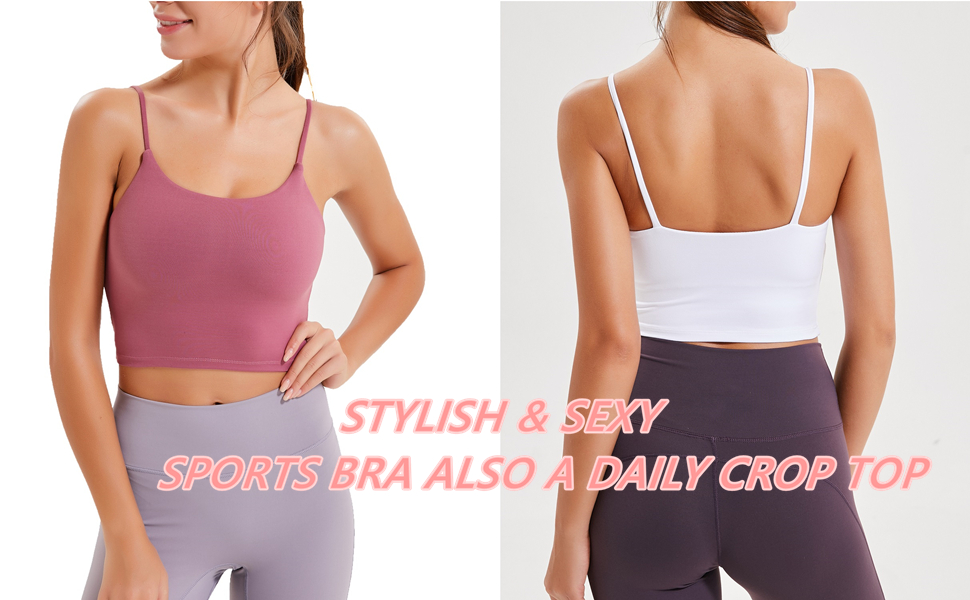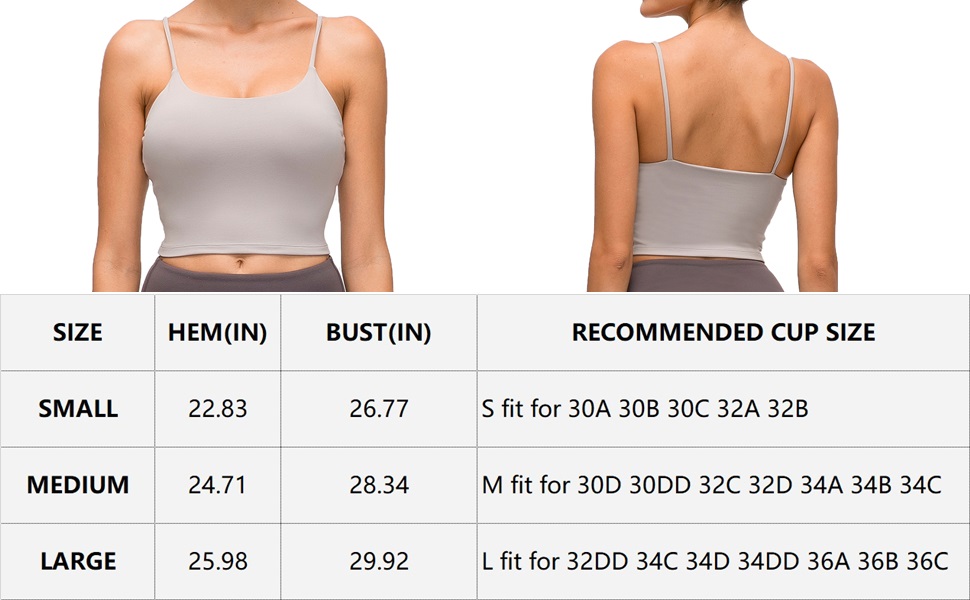 10.

Fruit of the Loom Women's Built-Up Sports Bra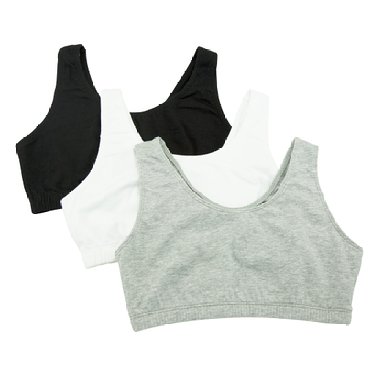 This three-pack of sports bras from Fruit of the Loom provide ample support for active women who frequently work out or participate in sports. These bras are constructed from ninety-five percent cotton for maximum breathability with five percent spandex for stretchy comfort.
The three-pack of bras includes three sports bras in black, gray, and white. The bras have a tank-style design with a scoop neckline and a wide elastic band for extra support. They are designed to create a smooth appearance under even the tightest clothing.
9. Champion Women's Freedom Seamless Racerback Sport Bra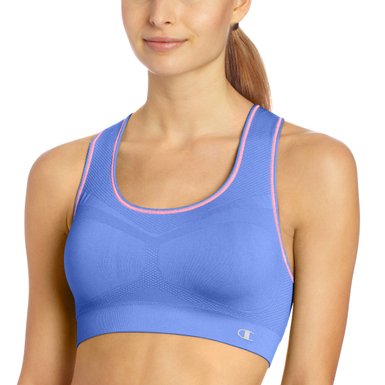 This sports bra from Champion is designed with a racerback design to increase comfort and support as well as decrease visibility of the bra underneath traditional workout-style tops. The bra is crafted with special Moisture Management technology that helps prevent buildup of sweat and moisture even during sessions of intense exercise.
The bra is available in many fun colors which range from bright green to light blue to purple to neutrals like black and gray. It is crafted with breathable ventilating mesh that keeps you feeling cool and never smothered. The wide elastic bottom band of the bra provides extra support and the bra's seamless edges prevent chafing and skin irritation during extended wear.
8. C

hampion Women's Absolute Sports Bra with SmoothTec Band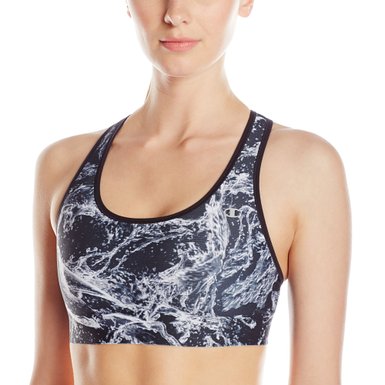 This polyester and spandex blend sports bra from Champion provides comfortable, breathable full coverage support at all times. It features a SmoothTec elastic band that prevents chafing and skin irritation even for women with extremely sensitive skin. The bra also includes Champion Vapor technology that is designed to keep you feeling cool and dry at all times.
The bra is available in a myriad of unique colors and patterns, including orange, blue, butterfly wing design, and water design, for wear under clothes or alone. It is constructed with a racerback design to increase comfort, support, and flexibility.
7. FITTIN

Women's Sports Bras Seamless High Impact Support Racerback Workout Yoga Bra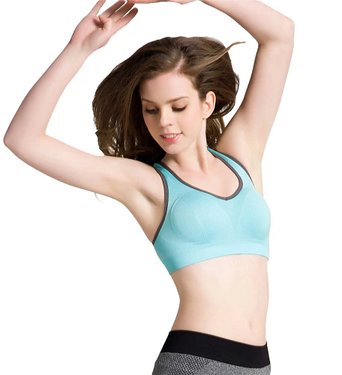 This sports bra from FITTIN is a multi-use garment that is designed to provide gentle, comfortable support while also pushing up your breasts for flawless shaping. The bra is designed to provide moderate support and fits tight in order to prevent bouncing and jostling. It features moisture wicking technology that keeps your skin dry and cool even when you sweat.
The FITTIN sports bra has a removable pad to provide extra shape and support to your breasts when needed or desired. It has a racerback design for added comfort and support and is seamless to prevent irritation and decrease visibility under clothing.
6.

MISSALOE Women's Seamless Sports Bras with Removable Cups High Impact Yoga Bra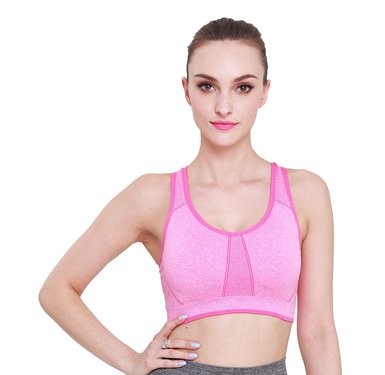 This sports bra from MISSALOE is crafted from a special blend of stretchy fabrics, including polyester, nylon, and spandex, to ensure maximum flexibility and movable comfort while you perform even the most high impact activities. The fabrics are designed with moisture wicking technology to absorb sweat and keep you feeling cool and dry during workouts.
The MISSALOE bra is designed for use during high-impact cardio activities. It provides maximum support and gentle comfort at all times. It allows you to run, jump, play sports, and perform any type of exercise without experiencing chafing, moisture buildup, or painful jostling.
5. Puma Women's Seamless Sports Bra for Running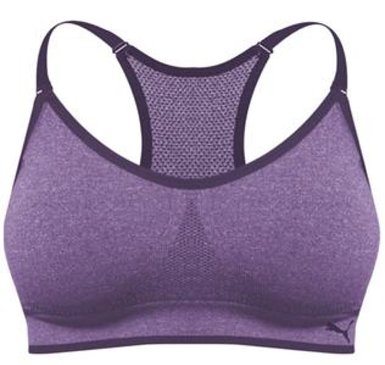 This sports bra from Puma is crafted from a blend of nylon, polyester, and spandex for stretchy yet firm comfort and support. It is designed with medium impact cardio activity in mind. The bra has seamless edges to ensure a smooth appearance under clothing and prevent skin irritation.
The bra has a sleek, thin racerback design to increase flexibility and prevent moisture accumulation and smothering. It has removable cups for added support and padding when you want it and adjustable straps to ensure a tight and supportive fit.
4.

Glamorise Women's No-Bounce Full-Support Sport Bra for Yoga

This sports bra from Glamorize is designed for women who have large busts and need maximum support and coverage during physical activity in order to avoid painful bouncing and chafing.
This sports bra features a hook-and-eye closure in the back in order to increase comfort of taking the bra on and off. It is crafted with moisture wicking polyester, nylon, and elastane fabrics to help keep your skin cool and dry and prevent it from feeling smothered under the full coverage garment. The bra also features a special mesh panel at its front to prevent moisture buildup. If you're looking for plus size sports bras, try this one!
3.

Encounter Womens High Impact Strech Racerback Strap Workout Yoga Sports Bra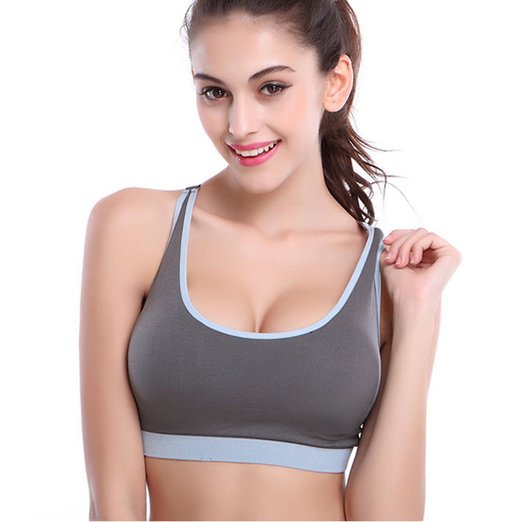 This sports bra from Encounter is crafted from polyamide fabric that feels incredibly soft against your skin to ensure maximum comfort and prevent chafing and irritation. The polyamide fabric of the bra also soaks up sweat to prevent any moisture buildup or accumulation on your skin.
The bra is designed to provide support for medium impact cardio activities, including weight training and pilates workouts. The bra features a thin racerback design for comfort and support and includes a wide elastic bottom band to increase support.
2. Panache Women's Underwire Sports Bra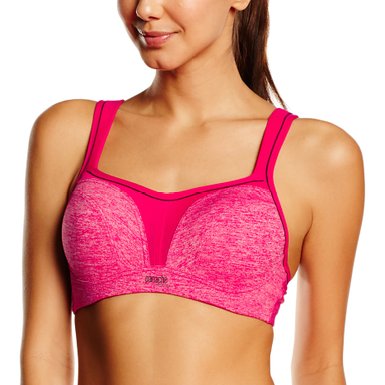 Review of sports bras: This sports bra from Panache is carefully crafted from a blend of polyamide, polyester, and elastane fabrics to ensure moisture-free comfort, support, and flexible movability at all times. The shoulder and bust areas of the bra feature ventilating mesh panels to ensure that your skin stays cool and dry with zero moisture buildup at all times.
The bra includes flat seams on all edges to ensure invisibility of the garment under clothing as well as prevent chafing and skin irritation during wear. It includes a hook-and-eye closure at the back to ensure effortless changing in and out of the bra. The Panache sports bra also includes underwire to help provide ample support for bustier women.
1.

Playtex Women's Play Outgoer Underwire Lightly Lined Sports Bra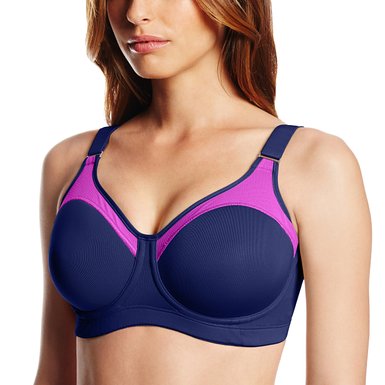 This Playtex sports bra offers maximum support and comfort during high impact activity for women with larger breasts. It features reinforcement of the cups, back, center belt, and strap to ensure that the garment stays in place while you exercise.
The bra features All Day Dry technology to help keep you cool and dry all day long. It also includes lightly lined cups to ensure a smooth appearance and provide extra support and comfort. The Playtex bra has a hook-and-eye closure in the back to make it easier to take the bra on and off. If you don't love this bra, also you can try nike sports bras.
If you're in the market for a new sports bra that will provide you with comfort, flexibility, breathability, and full coverage support, look no further than this list. Peruse the products on this list to learn about some of the best sports bras available and choose one that is perfect for you and your needs.
Plus:
Fruit of the Loom Women's Front Close Builtup Sports Bra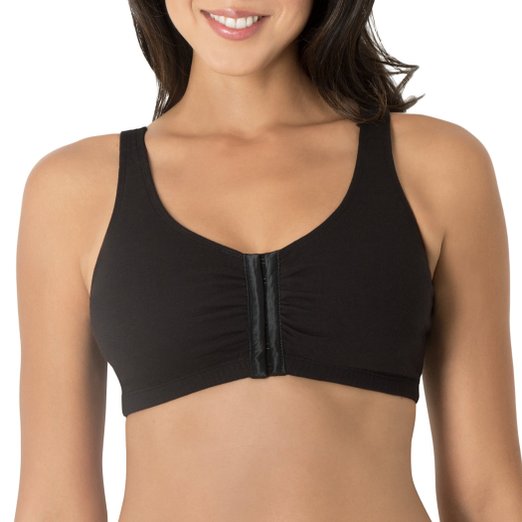 If you're looking for front closure sports bras, this is one of the best one! A full coverage, wire free front close sports bra. Unlined with front rouching and soft thick straps. This is a "comfort bra" with minimal support. I think it is very well made . The front hook is helpful. It stays hooked. The cup area is well lined and there is no "show through". I wanted a bra for comfort and this one works well for me.