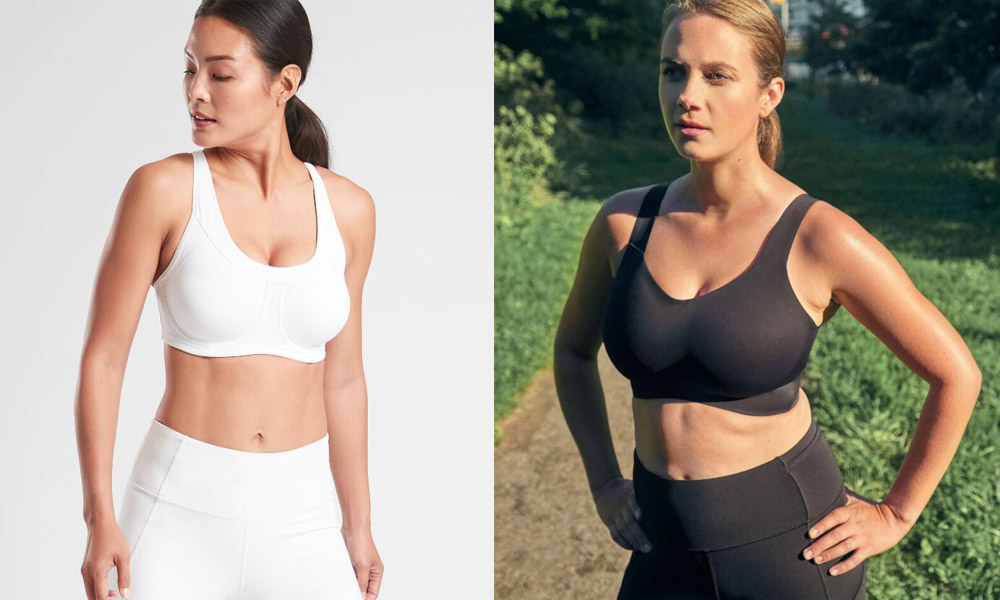 Sports bra shopping can be a real worry, as specialist bra-shops in local areas seem to have all but disappeared. And that means we are often faced with a choice between one brand in a superstore or buying over the internet. And we all know that 70% – 100% of us may be wearing the wrong size – but it's not our fault! And that's why specially supervised bra testing and buying guides are such an important way to cut the stress, time and failure-rate of bra-shopping online.
HerStyleCode is constantly running bra tests to find the best bras for all shapes and sizes in terms of fit, support, comfort, appearance, durability, and the effectiveness of special-purpose bras. So here's our latest set of 10 Best Sports Bras rated for fit, comfort, support, appearance and activity level to help you enjoy staying healthy with activities ranging from yoga to marathon-running!
How to select the best sports bra for your shape & activity level
Choosing the correct shape for your breasts is crucial, as well as finding the right amount of support for your athletic activities. Associate Professor McGhee said Better designed sports bras do help women to exercise comfortably.
Encapsulation or Compression
– Encapsulation sports bras give separate and individual support to your breasts and are a good option for medium to large busts. They can be worn as high-support bras under most clothes with a T-shirt bra contour. Compression sports bras are best for smaller sizes as they keep your breasts supported, and closely contained against your body. Larger cup sizes get the excellent support from encapsulation bras, but a combination of encapsulation and compression is the perfect sports bra combo for large busts.
Size
– Sports bra sizing is a little different from every day bras, so use each brand's individual size chart to get the right size. A good-quality sports' bra will feel more closely fitting than a day to day bra, but shouldn't feel uncomfortable in any way.
Sweat management
– Moisture-wicking fabric is important if you do strenuous activities that cause you to perspire. Cotton is one of the best moisture-wicking fabrics, but most sports' bras are made of synthetic fabrics, so check that you're buying a special sweat-removing fabric blend.
Styles
– For extra-strong support choose a bra that's underwired with built-in cups. For the closest, comfortable fit opt for hook-and-eye fasteners and adjustable straps. If your athletic activity includes upper body movement, pick a racerback style to avoid strap chafing and get a wide range of easy movement.
Chafing
– Skin gets irritated when damp fabric causes friction from constant rubbing. So look for a sports' bra with the fewest seams and obvious stitching. This will mean far less friction during repetitive activities like running.
1. Best High-Impact Sports Bra for Large Cup Sizes – Panache – Wired Sports Bra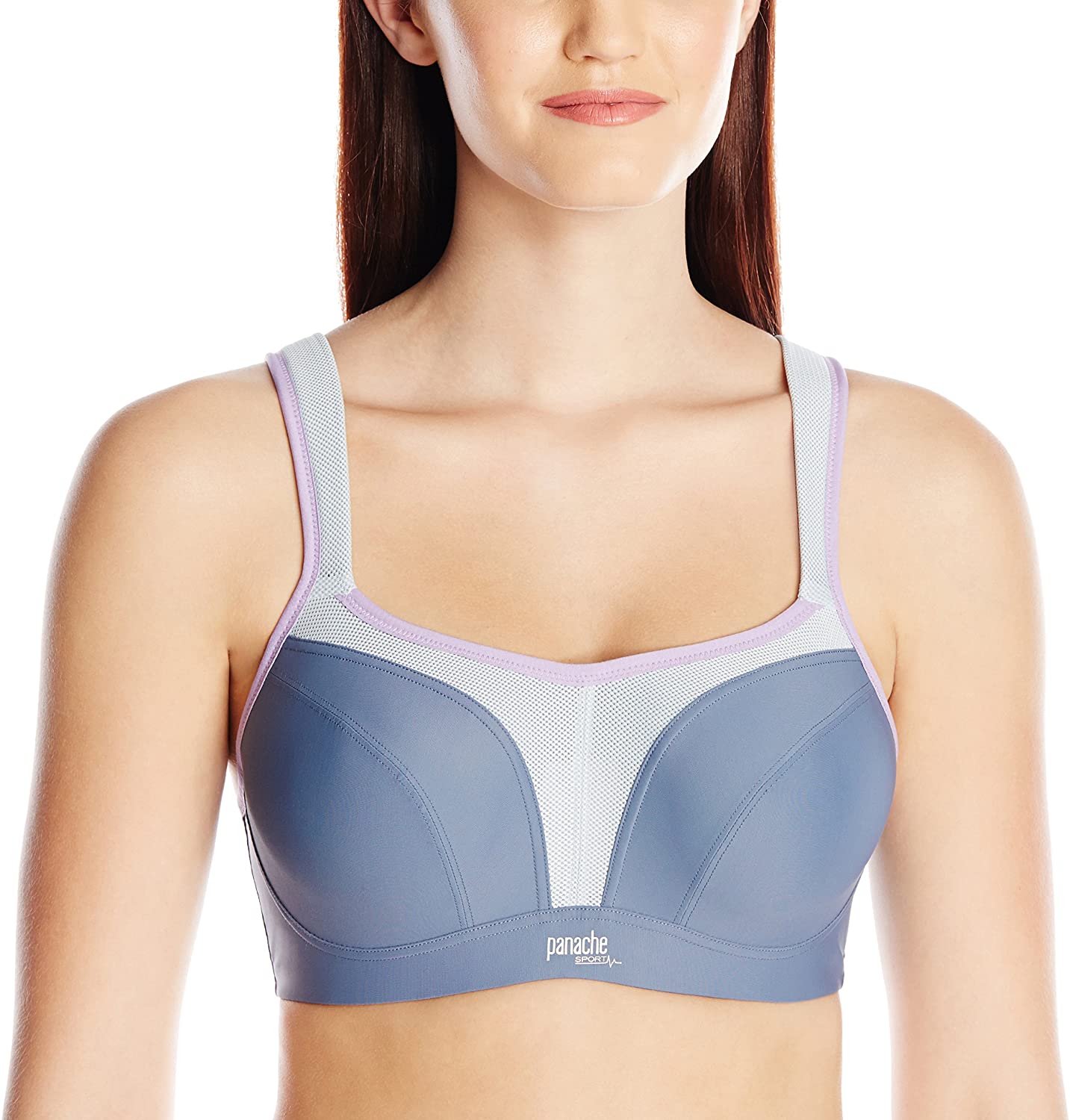 Panache has an excellent reputation amongst women who need large cup sizes, including myself. This bra has both separation and an excellent rate of compression, which our testers said was firm but not constricting. And one of our G-cup panel said it has great support and that she had never thought a sports' bra could fit her size so well. Other testers highlighted the great fit, support and adjustability and the convenience of being able to convert it to a racerback when required. This is the one to choose if you engage in high-impact sports like tennis, HIIT and running.
Available in a broad range of band sizes 28 – 40 and cup sizes B – J
Pros
Wide 4 hook-and-eye fastener panel
Underwire
Comfortable & supportive
Cons
More expensive than some others
2. Best High-Impact Sports Bra – Athleta – Glory 2.0 Bra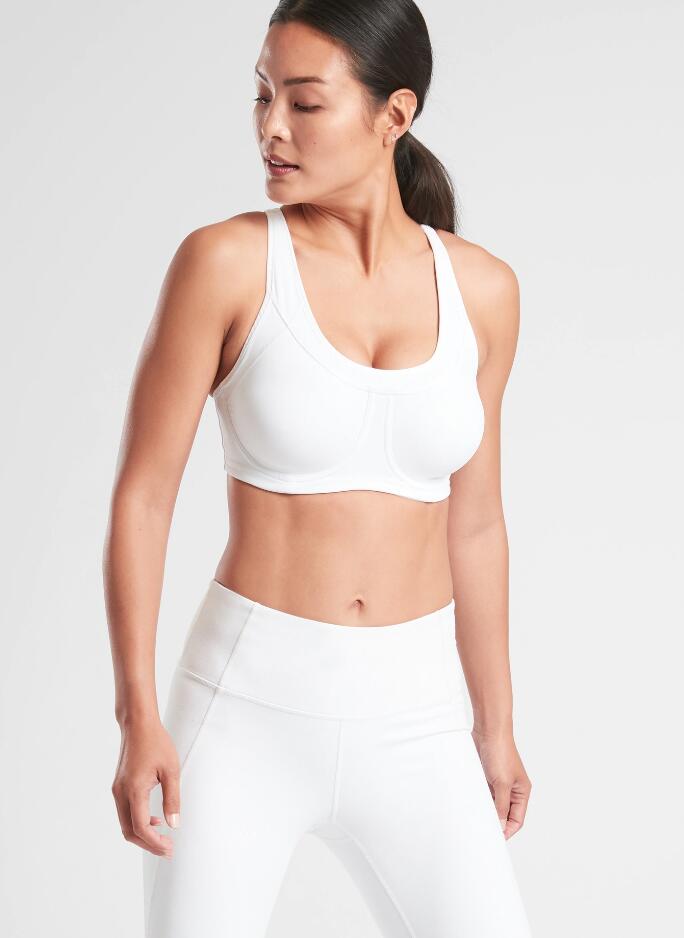 High-impact activities like running need a bra that absolutely prevents bounce and chafing from repetitive movements. This sports' bra has firm underwire support and compression to keep your breasts from moving in any direction. The fabric is smooth and the cups have no seams to prevent irritation or chafing. And the straps are designed for a well adjustable criss-cross back, which cuts out the problem of straps that slide off the shoulders. To keep you cool when perspiring, the fabric is a blend that wicks moisture off your skin and lets it evaporate in the air. Our testers in all sizes loved this bra, commenting it was very comfortable and supportive. The hook-and-eye fastener gives excellent, adjustable body fit and everyone agreed it was easy to put on and off.
Available in sizes 32B – 38DD
Pros
Supportive underwire
Hook-and-eye fastener
Breathable fabric
Cons
Some sizes sell out quickly
3. Best Sports Bra for Small Breasts – Calvin Klein – Performance Reversible Sports Bra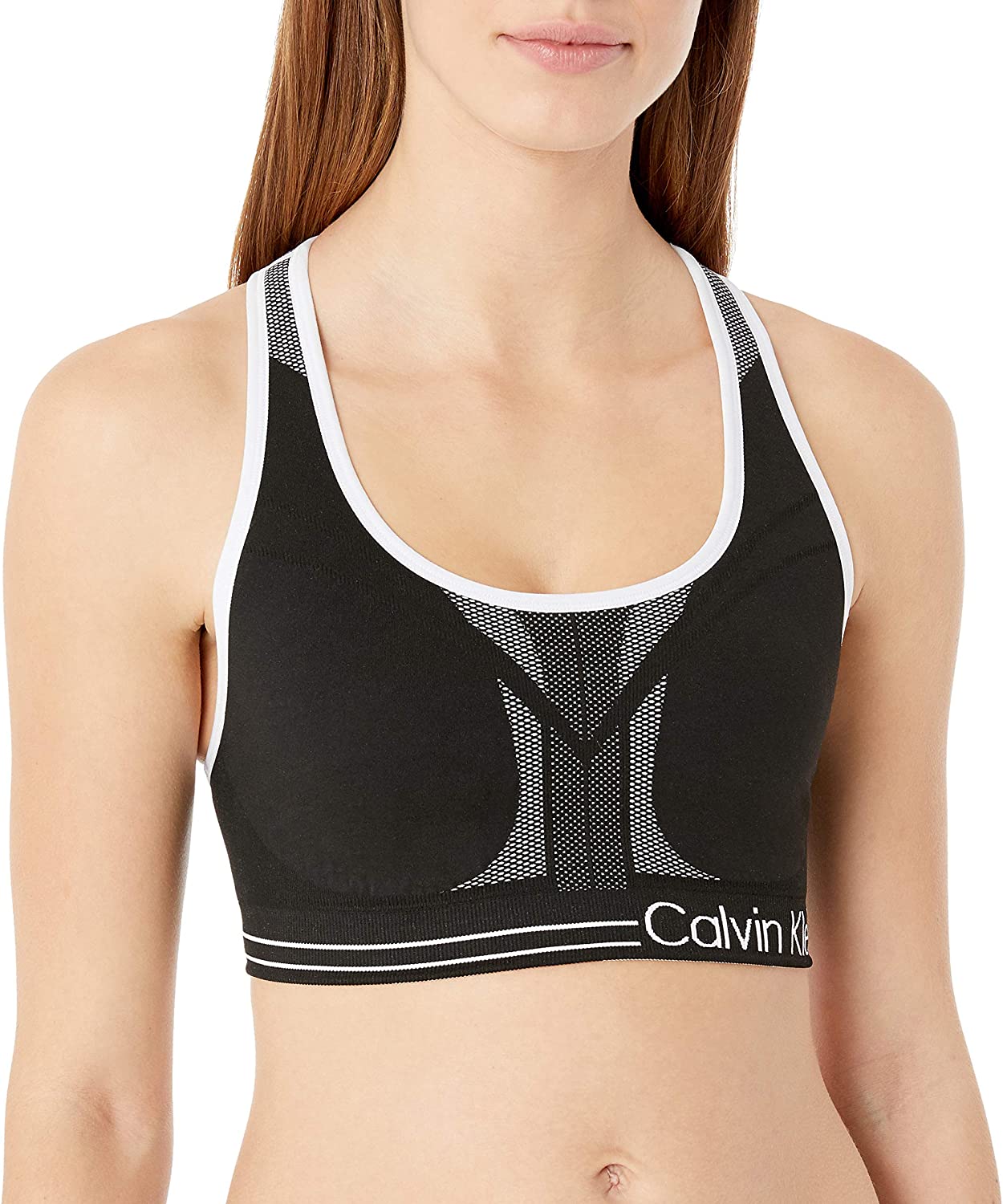 All breasts need to be supported and this sports' bra is great for smaller busts that don't need padding or underwiring. It's a bralette style racerback sports' bra that looks trendy and offers medium support and total comfort. The smooth fabric and seamless design ensure nothing irritates or chafes your skin. And our B-cup wearers said it gives support without feeling constricting and that it actually doesn't even feel like you're wearing a bra when exercising. And to give you two looks for a very good price, this bra is reversible! This is a pull-over style, so it's easier to put on than a hook-and-eye for those with restricted movement.
Available in sizes XS – XL
Pros
Pullover or step-in style
Moisture-wicking fabric
Trendy look & reversible
Cons
Doesn't have separate cups
4. Best Sports Bra for Runners – Knix – Catalyst Sports Bra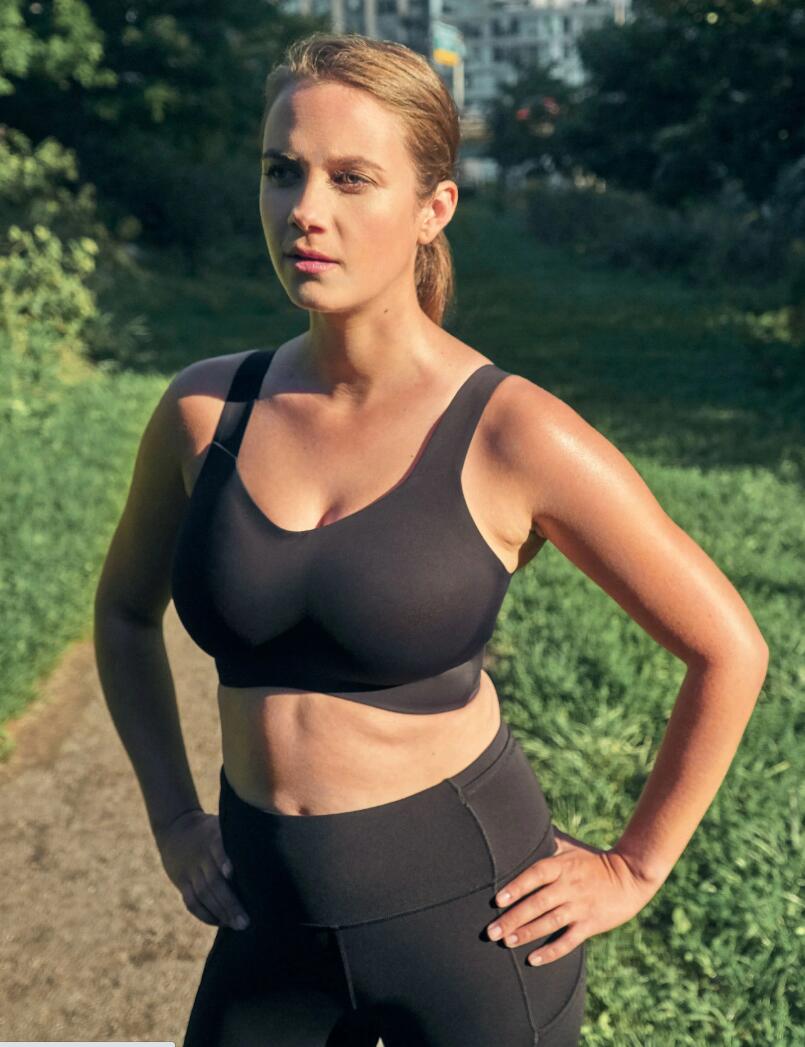 This sleek bralette sports' bra is ideal for women with a larger bust and for high-impact activities like running. It's designed for the serious athlete and the higher price reflects its high-quality and ability to minimize bounce. The testers loved wearing this bra with molded cups which separate and encapsulate for comfort and secure support. They really liked the attractive, trendy look of a fashionable bralette. And all commented that the broad, adjustable straps supported the bust perfectly with no pulling on the shoulders. The fabric is 'breathable' to prevent dampness staying on your skin and causing chafing. Check the sizing chart carefully as this brand's sizing is different from some others.
Available in sizes 32A – 42G
Pros
Great for serious runners
Top quality design
Hook-and-eye fastener
Cons
5. Best Sports Bra for Big Breasts – Freya – Active Underwire Molded Sports Bra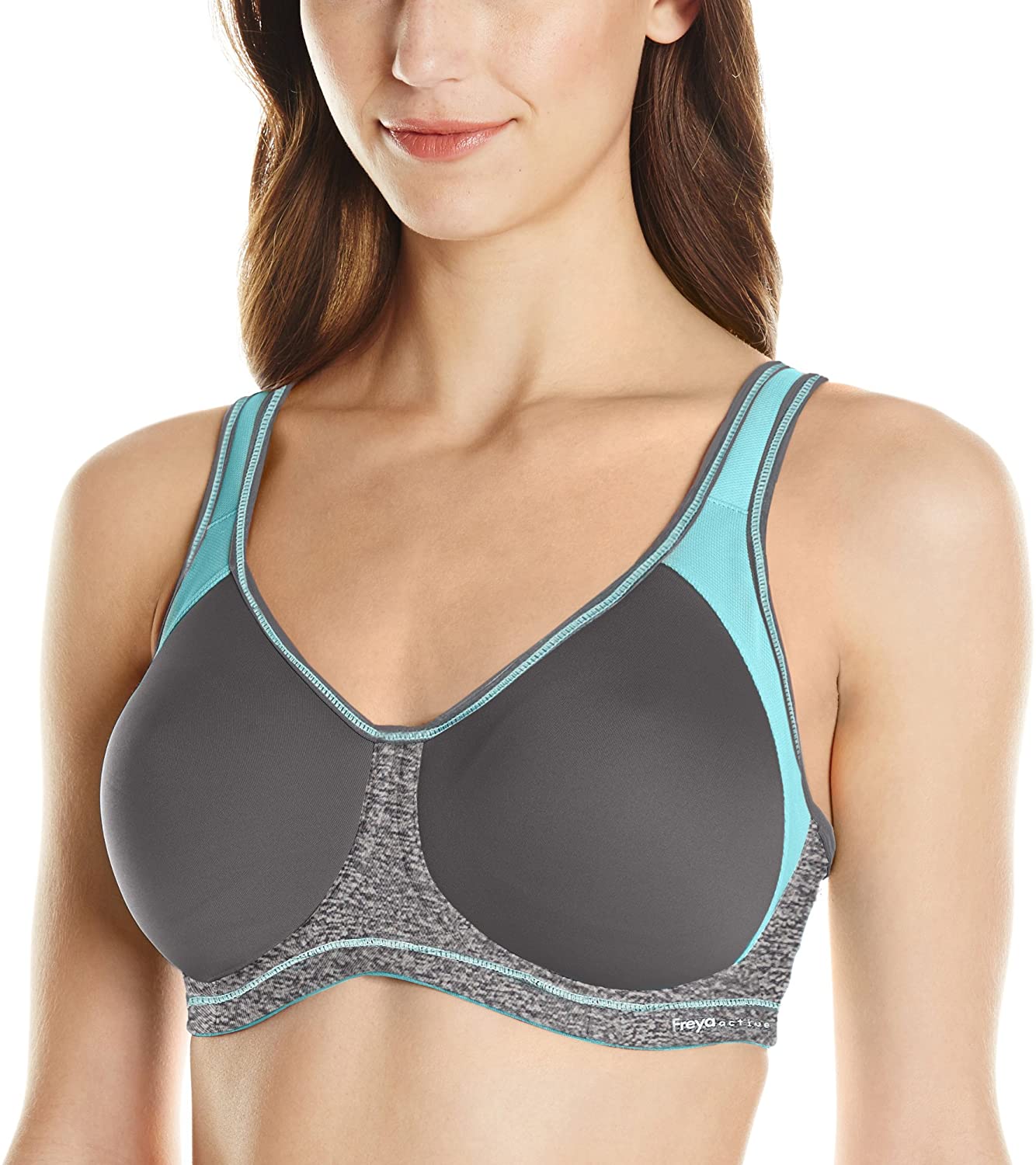 I love Freya bras and have been wearing them for 20 years. So I know their bras are perfect for women with a large bust. I have varied between a 36 G down to a 34 F over the years and wear a Freya sports' bra every day as my normal bra. This style of sports' bra has broad, cushioned straps that don't hurt your shoulders, an underwire that doesn't dig in and is made of moisture wicking fabric from full comfort. The cups give correct separation of the breasts for a natural look and there's a hook in the straps, so you can make it into a racerback style. This sports' bra was a genuine favorite with our panel, particularly by those with cup sizes ranging from D to H.
Available in band sizes 28 – 40 and cup sizes B – H
Pros
Broad back-band with 4 hook-eye fastener
Excellent underwire support
Comfortable broad adjustable straps
Cons
6. Best Value Sports Bra – Fittin – Sports Bras (4-Pack)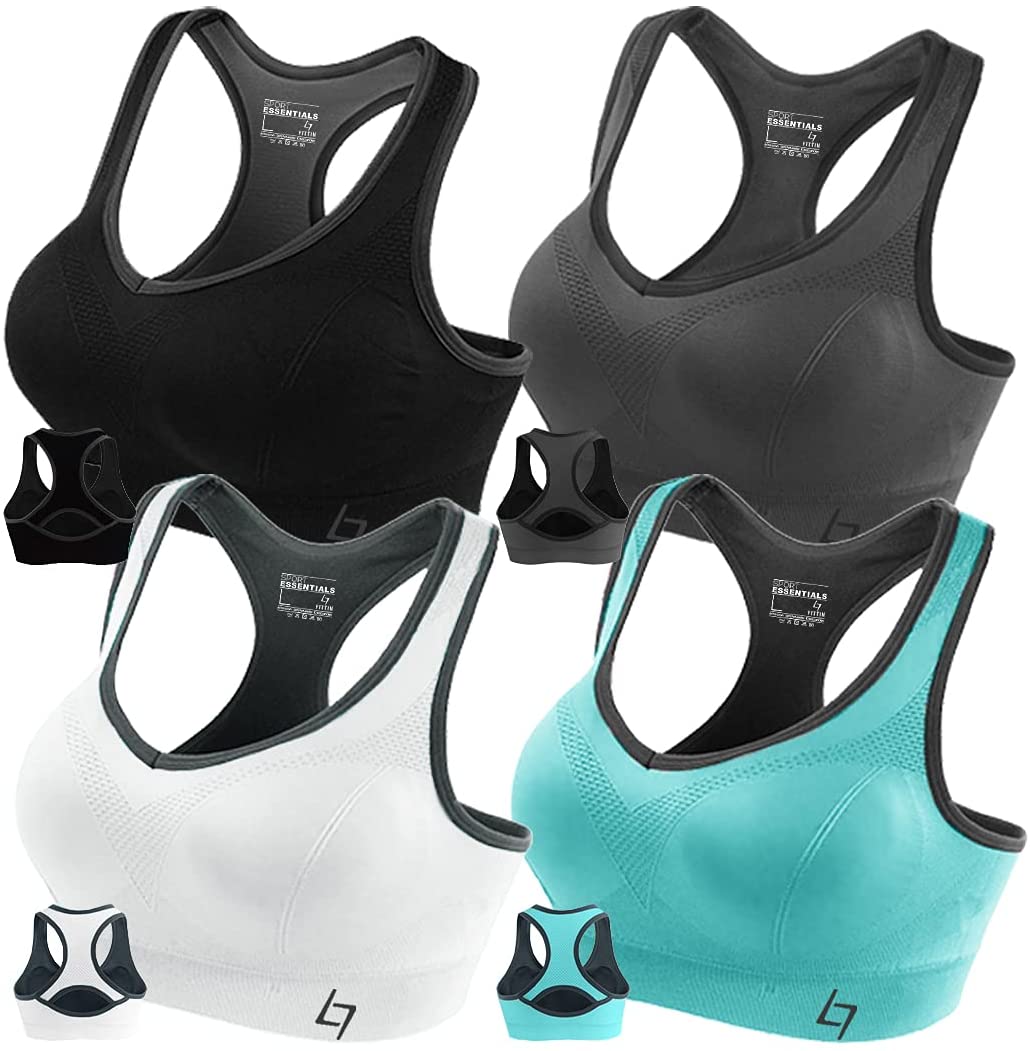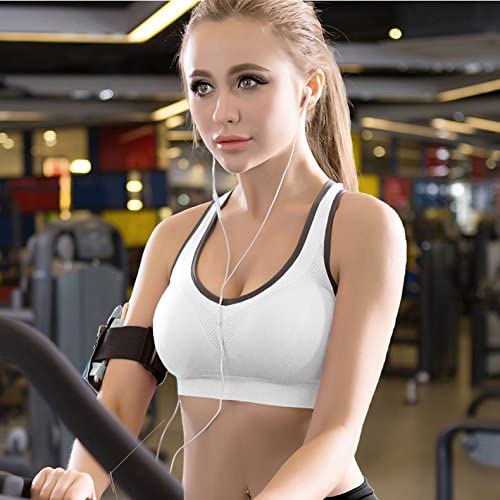 This is a highly affordable sports' bra that comes in a pack of four that all together cost the average price of just one bra from other brands. It looks similar to the Nike style, and has medium support in a racerback design. This sports' bra also has removable pads. However, you can only hand-wash this bra, and that's not as efficient as a machine-wash, especially if you've been sweating during exercise. It looks attractive in white with a black border and has a nice, mesh detail between the breasts to help keep you cool. This is a best-seller which our testers genuinely enjoyed wearing as a medium support bra.
Available in sizes S-XXL
Pros
Affordable best-seller
Removable cups
Pullover style
Cons
7. Best Cotton Sports Bra -Fruit of the Loom – Built-Up Sports Bra (3-Pack)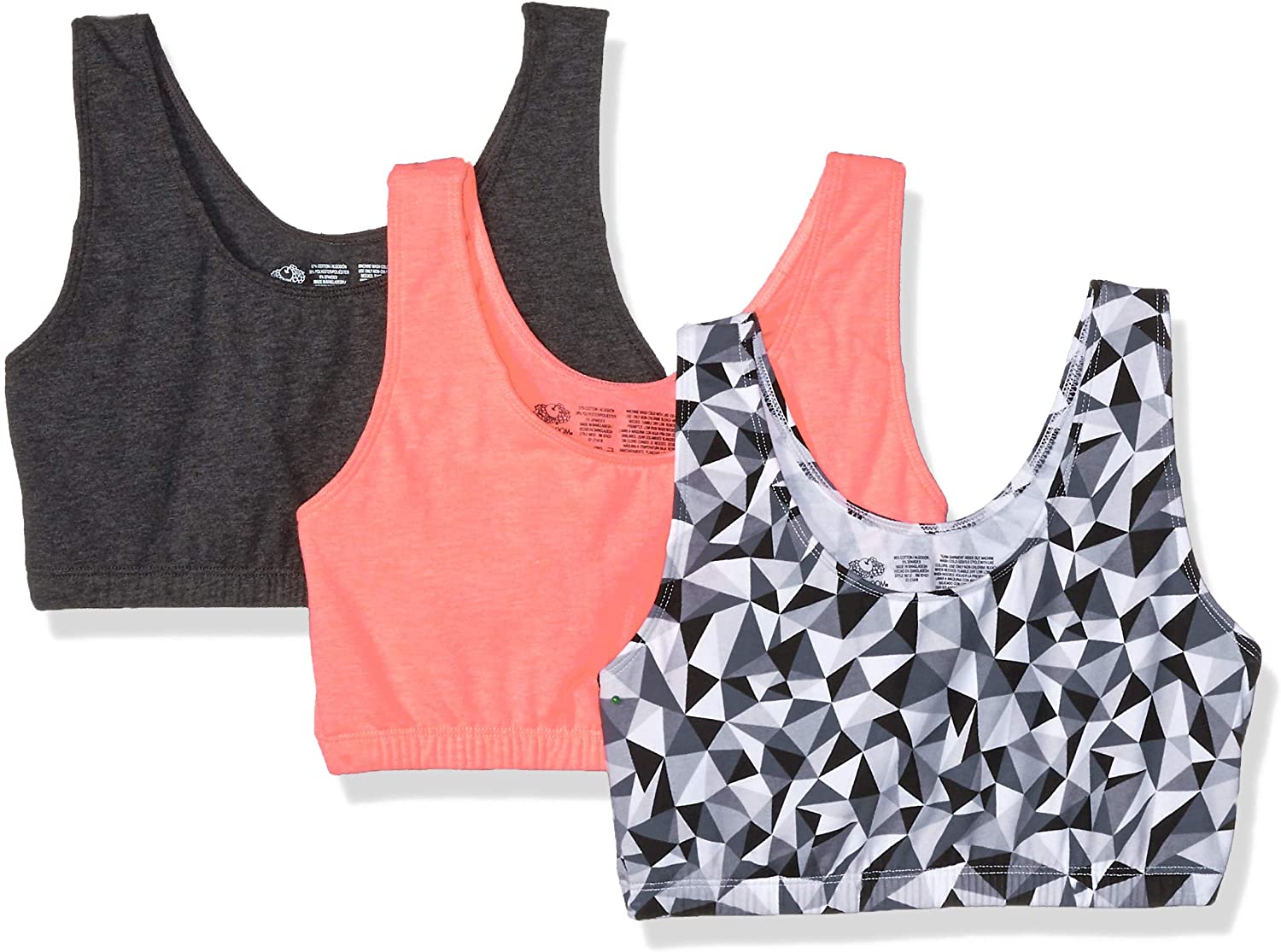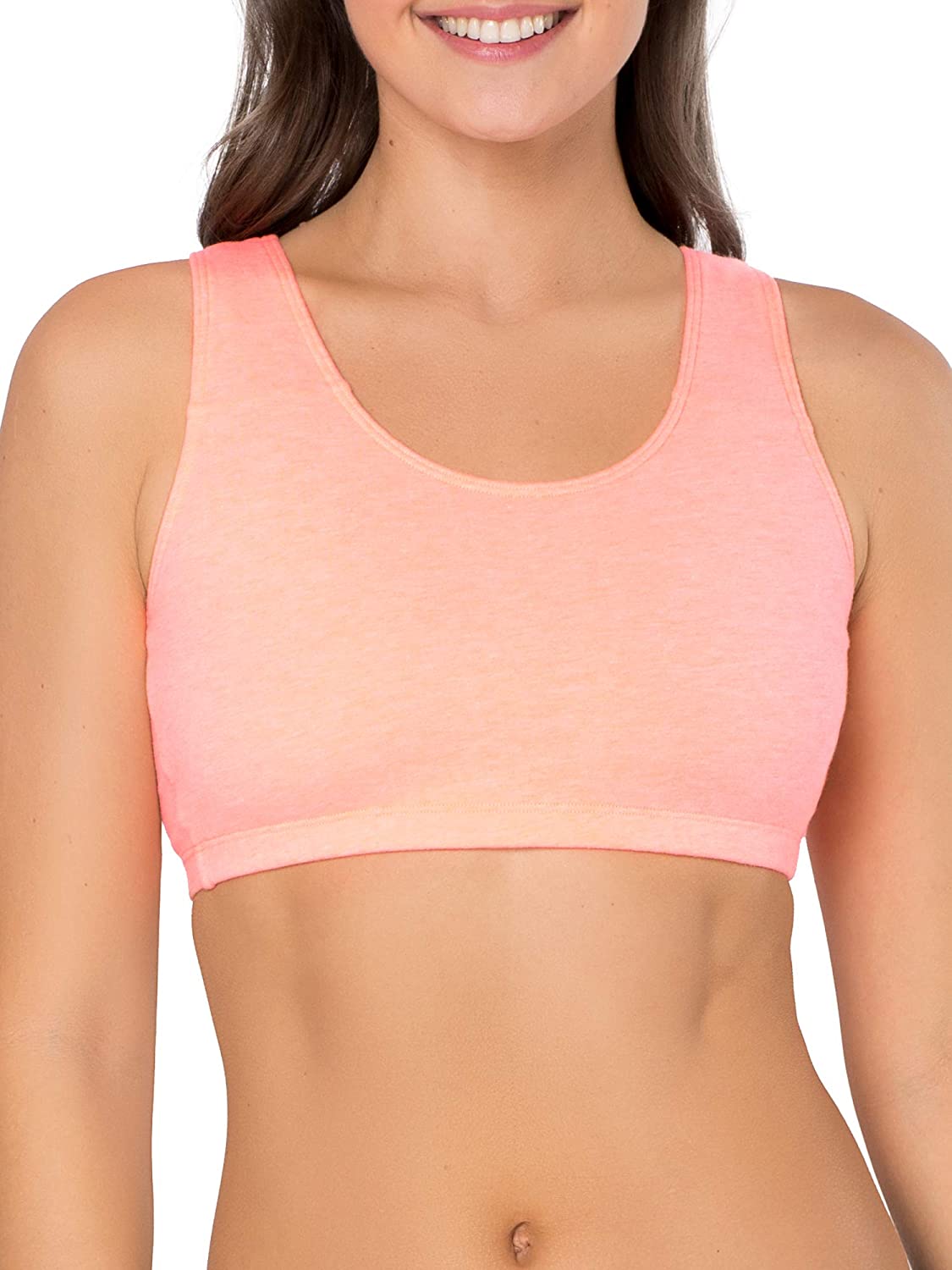 Most sports' bras use synthetic fibers to wick sweat away better than cotton, which absorbs moisture well, but dries slowly. However, some women prefer the soft feel of natural cotton and if that includes you, this is a great choice of sports' bra. It's made of a blend of cotton and Spandex in it to give it a little stretch and a closer fit. The testers said they wouldn't buy this bra for high-impact workouts, but they would buy it as a soft and comfy lounging bra to wear at home. So as a working from home and relaxing bra, this was rated as excellent for large figures and band sizes right up to 50. And as it's sold as a set of three, it's a very economical bra.
Available in sizes 34 – 50
Pros
Comfortable cotton
Pullover style
Affordable sets of 3
Cons
8. Best Adjustable Sports Bra – Brooks – Fiona Bra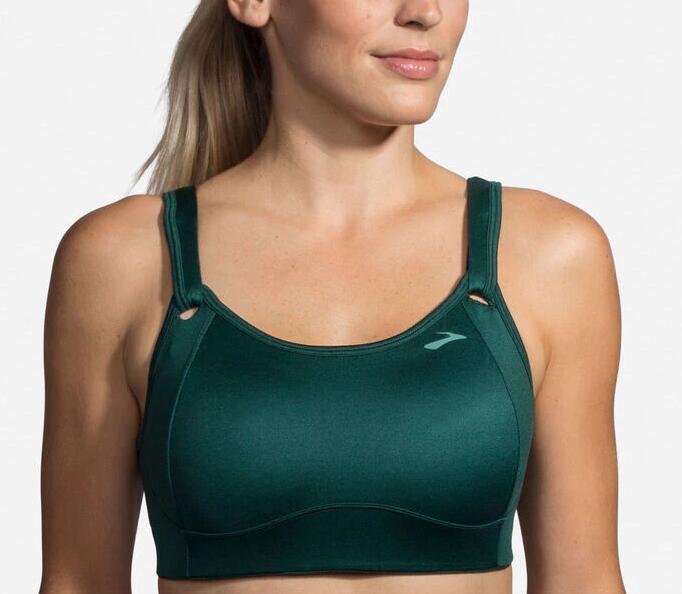 Adjustability is one of the key requirements in any bra and often one of the most difficult to design. But this unusual sports' bra has clever Velcro on the straps, so you have total control over the length of the straps and can get a much better fit, easily! Our testers were delighted with this novelty and said it worked really well. So you'll never have problems with your straps falling down with this bra. The fit is excellent with a close fitting body-band fastened with a hook-and-eye fastener at the back. This Fiona bra is made for B – DD cups, and there's a related style, Maia, which is more supportive for C – E cups.
Available in sizes 30B – 44DD
Pros
Comfortable
Velcro adjustable straps
Free returns within 90 days
Cons
9. Best Low-Impact Sports Bra – Lululemon – Flow Y-Bra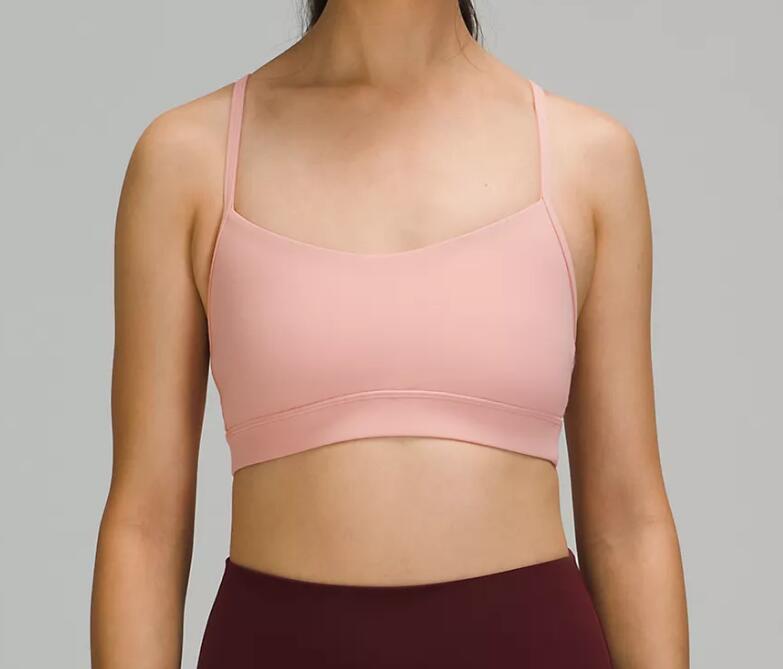 Suitable for yoga and other low-impact exercise activities, this is a bra that offers light support for smaller busts. And it's a good lounging about style for larger sizes. The thin straps aren't comfortable for all day wear for large cup sizes. But the stretchy, smooth fabric and unusual Y-shaped back give a wide range of comfortable movement. This is a wireless style, with removable cups that give more shape if you require it. Our testers in B/C cups tried this sports' bra first, as it's designed for B/C sizes, and loved it! So then our other testers tried the other sizes – A – DD and everyone said it was one of their favorite bras for comfort, fit and appearance. Some testers recommended going up one size.
Available in sizes 32B-38DD
Pros
Comfortable
Y-shaped back
Wireless with adjustable straps
Cons
May run small for some women
10. Best Overall Sports Bra – Nike – Swish Sports Bra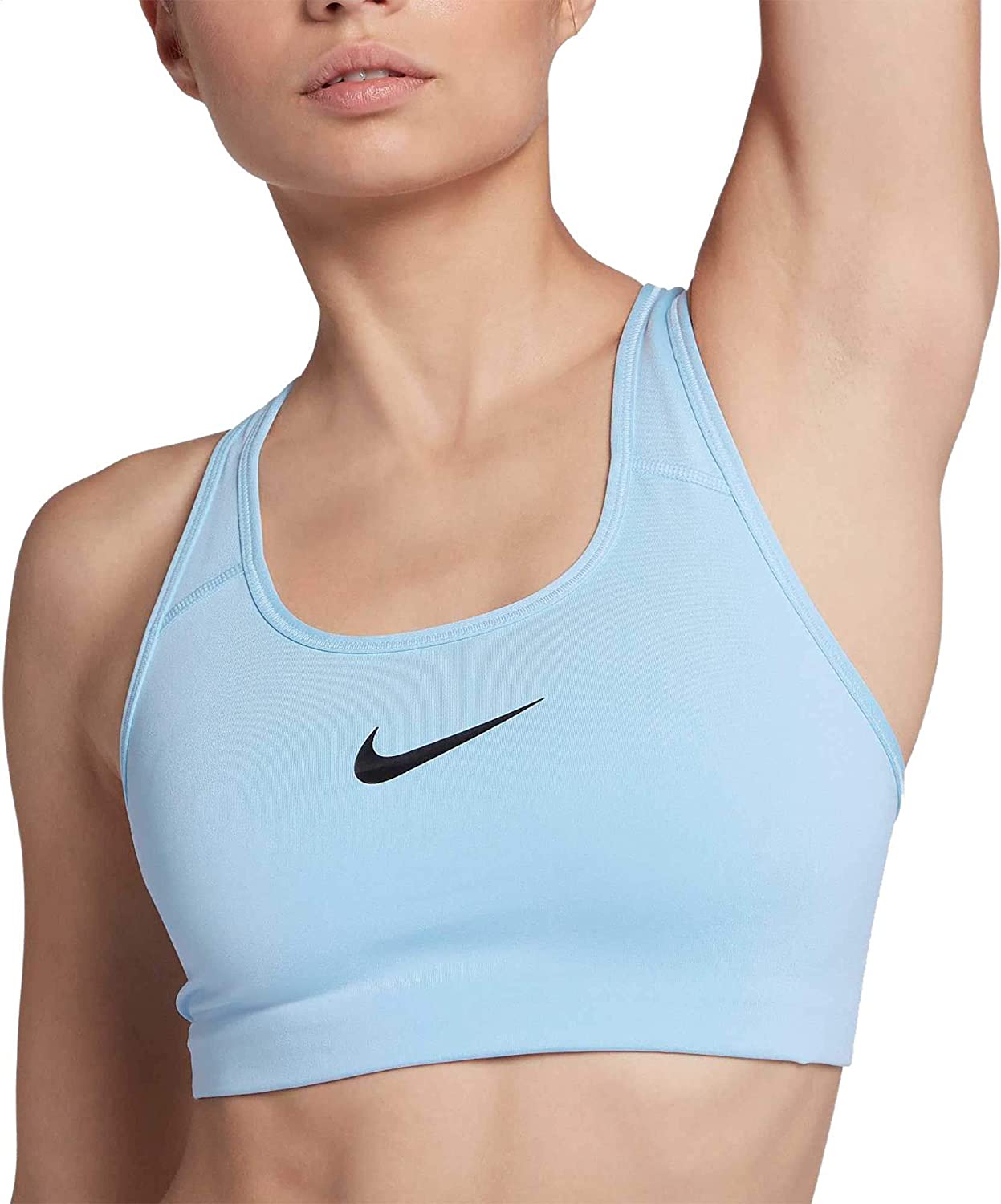 Our reviewers marked this as a versatile, good-looking sports' bra that's the most comfortable one in this wide-ranging testing project. It's a medium-impact style you can wear for gym workouts and running, as long as you don't have large breasts. The fit is compressive, which holds the bust well and the racerback style allows for a wide range of motion. Our testers said it fit very well and was supportive. And the bra did well in terms of wicking moisture away from your skin and washing tests. This is a best-selling bra and our team said they could easily see why it's so popular.
Available in sizes XS-XXL
Pros
No fastener pullover style
Trustworthy Nike brand
Comfortable medium impact
Cons
Not suitable for high impact sport
When choosing which styles to try on remember that pull-over styles always offer less support than those with a hook-and-eye and an underwire. And when you're buying online check for sites that offer the best customer returns service. Some offer free returns, so you can order several bras and try them out carefully at home. Subscribe to get more sports bra buying guides on herstylecode.com!