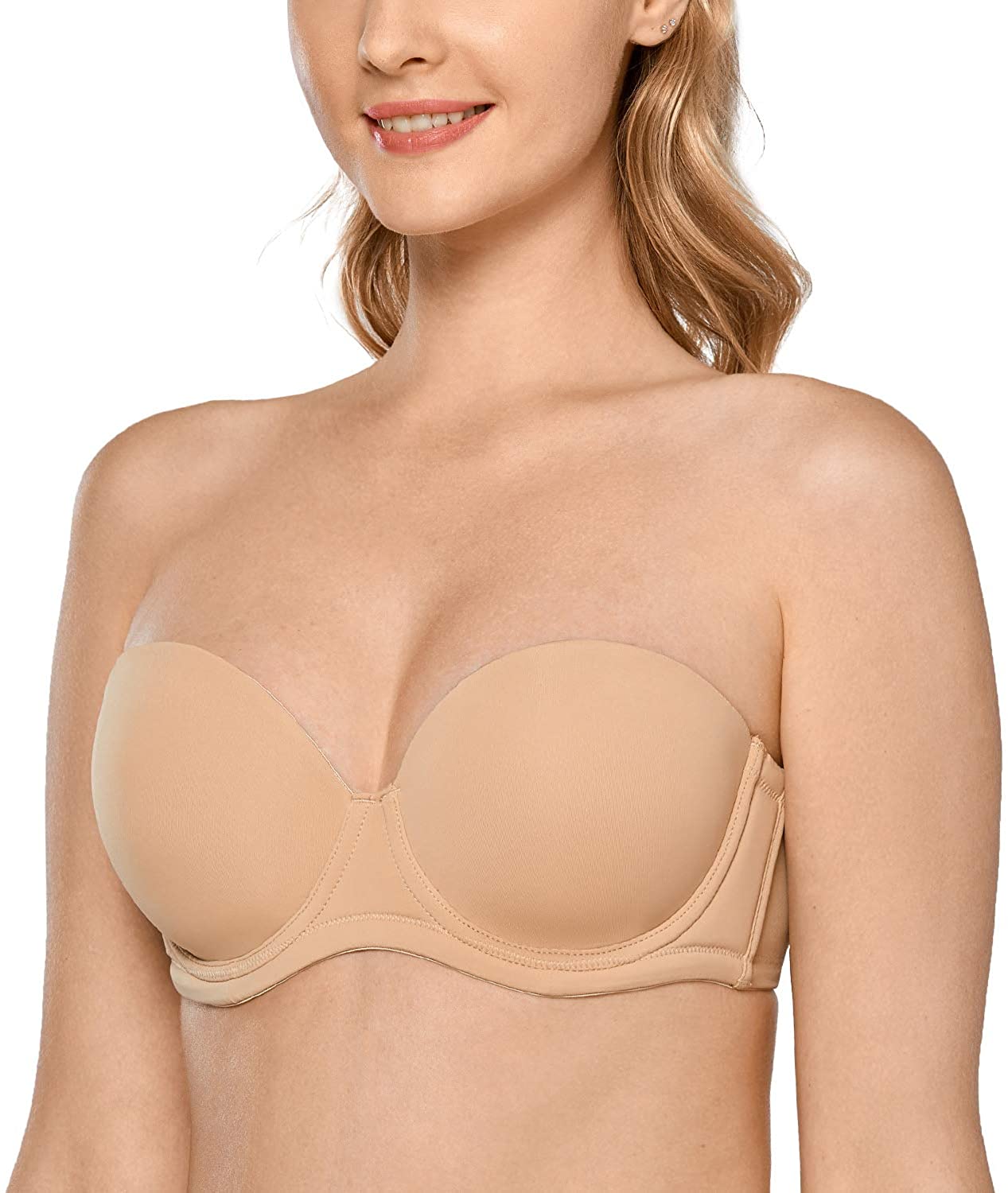 Have you seen our latest list of the best bandeau bras yet? They're not just flimsy bralettes for small busts anymore. You can get a great quality bandeau bra for most sizes now. And the advantage of wearing a bandeau bra is that you'll never be bothered by straps that slip down at inconvenient moments. Plus you won't get straps digging into your shoulders when you're wearing a bandeau, either.
Comfy bandeau bras are a soft-bra trend
Lots of larger cup-size wearers are desperate to join in the fashion trend for strapless and spaghetti-strap summer clothes. And in Australia, the UK and the USA, there's a huge trend towards more comfortable bras right now. So lots of women are wearing bandeau bras as comfy lounge-wear at home and for running errands locally.
Bandeau bras have become a lot more popular with all women. And there are now plenty of high-quality bandeaus suitable for cup sizes from AA – G. And plus-sizes. So if you're one of over 50% of women who's switched from underwired, uplift bras to softer, comfier bras this last year or so, you may find a bandeau bra is a great new option!
Where to find the best bandeau bras for your size and shape?
HerStyleCode undertakes regular bra tests, so we can publish frequently updated guides on the best bras to buy online. We have teams of ordinary women who wear each bra for a minimum of two days, before giving us their honest feedback. So we find the best bras for comfort, support, fit, durability and appearance. And we check for any other special features that may make a bra better for you. And this means we can discard bras that aren't worth the money and concentrate on bringing you the best.
So if you're ready for wearing cute, off-the-shoulder summer clothes or sexy, winter, glamor gowns, these are the 7 Best Bandeau Bras to buy!
1. Best Lace Bandeau Bra (3-pack)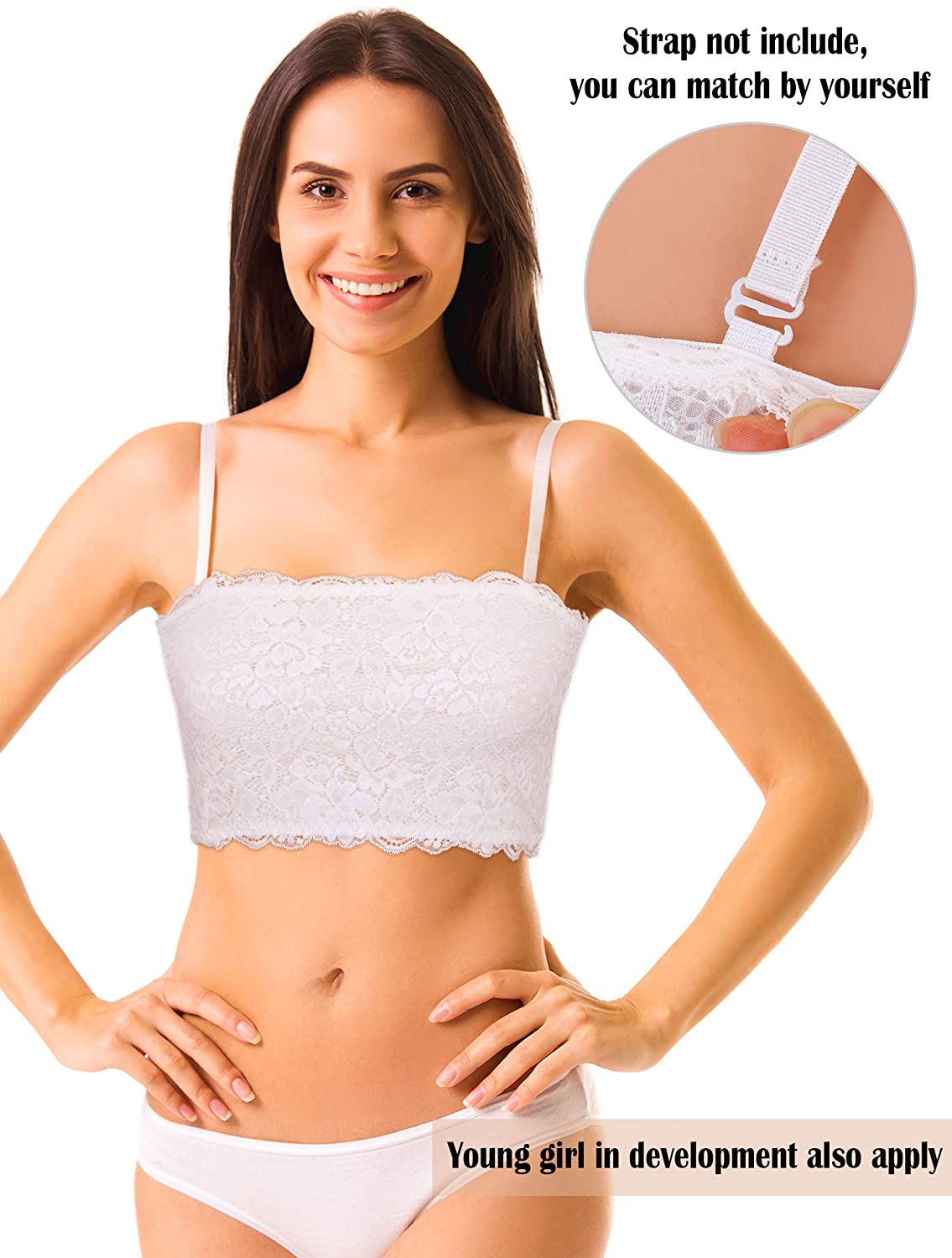 The Boao Floral-Lace bandeau is lined with a non-irritating blend of modal cotton and spandex. So this is a pretty and comfy bandeau. It's unpadded and wire-free, so doesn't offer much support for larger busts. However, it looks great under an open shirt, or low-cut tops that show too much of your chest.
Our Testers of all sizes were thrilled with this cute and comfy bra. The broad band looks great at the back. The reviewers also commented that the lace was soft and high-quality. It's great for wearing under thin summer dresses for extra modesty. But it doesn't offer support for your breasts.
 2. Best Minimizer Bandeau Bra for Large Busts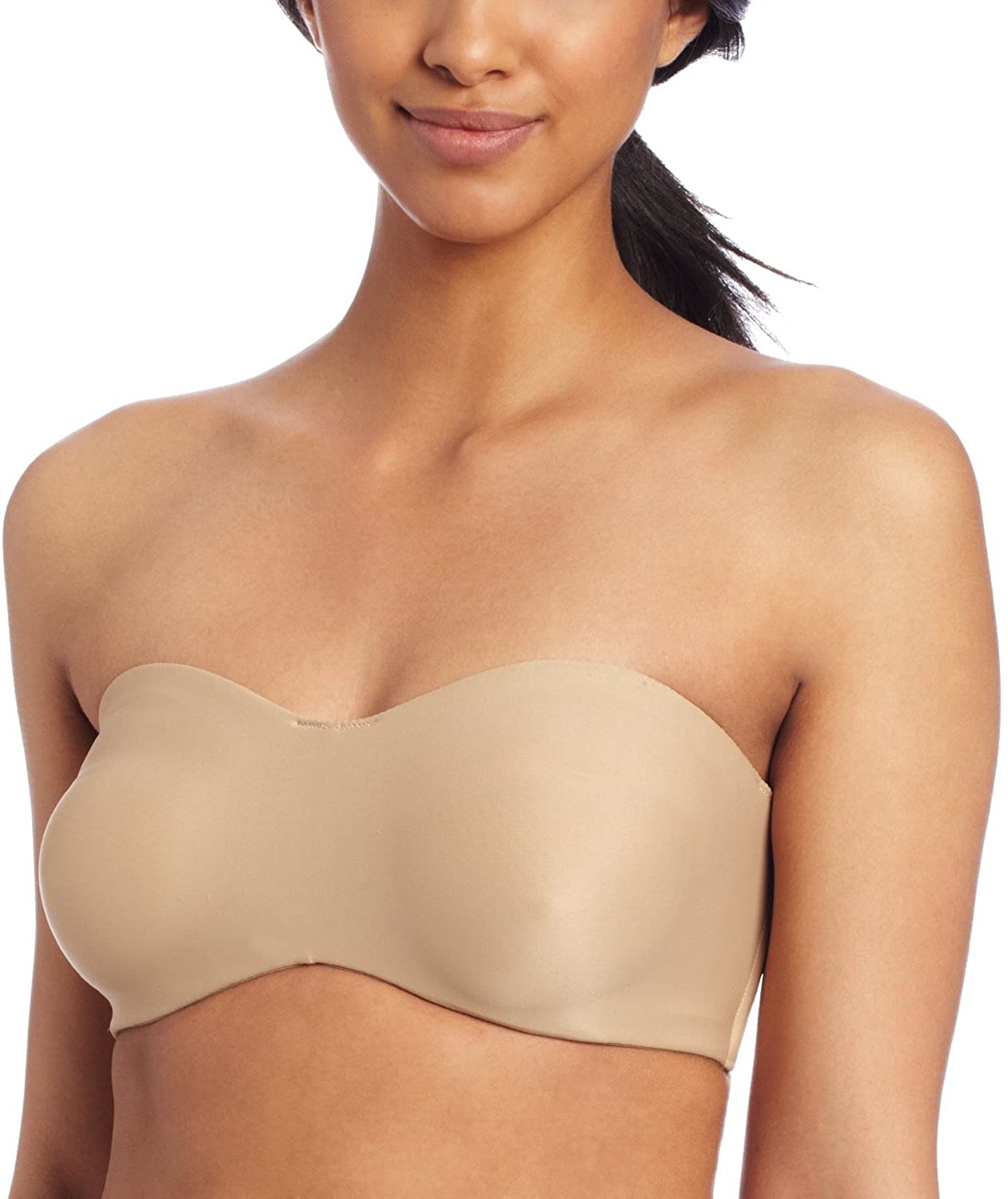 This is a very comfortable option for women who find their large bust a problem. It has a lined underwire to give uplift and a wide body band with light boning. The silicone grip sections also help keep the bra in place. And it comes with removable straps for wearing as a halter, criss-cross or demi-cup bra.
Our Testers said the underwires don't squeeze or dig in. So this is a comfy bra to wear with spaghetti-strap tops and dresses. And our 40 DD cup tester said this is the best bra for giving large breasts lift and support. Our 42 DD said the wide body band gives extra support and smoothens back bulges. And it reduces the look of your bust by one cup size, for a younger look!
3. Best Wide Size-range Bandeau Bra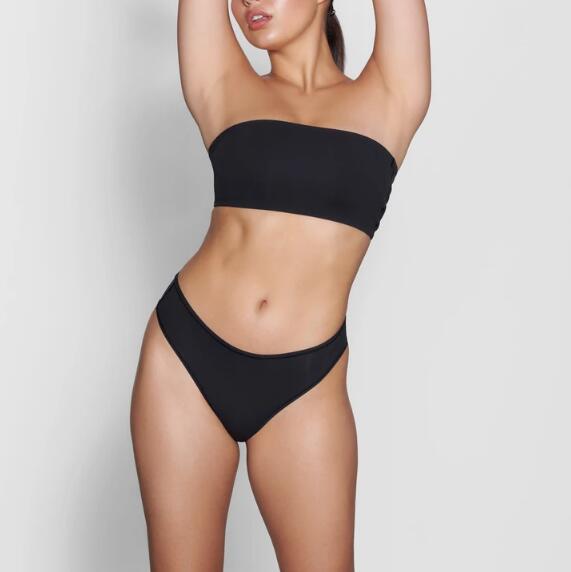 The Skims Bandeau Bralette is very soft with stretchy fabric that molds to your body and gives lift. It's designed to give you comfort all day and has a seamless front for a smooth look under clothing. It goes on over the head and doesn't have any back fasteners.
Our Testers said this is a very comfortable, streamlined bra. It has a very wide range of sizes from XXS to 3XL. And testers with a large bust said the 3XL was a comfy bra to wear at home. But you won't get full support for a DDD+ cup size. However, it's perfect for A – C busts!
4. Best High-Support Bandeau Bra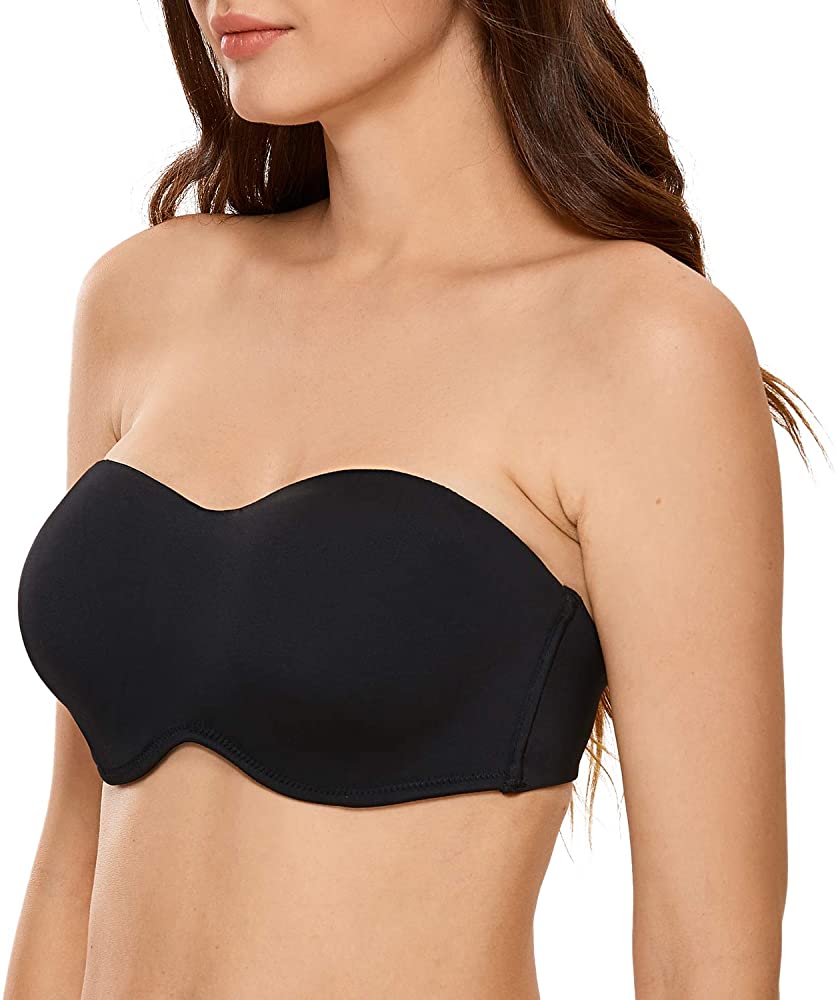 The Delimira Bandeau bra is another minimizer bra, designed to reduce the appearance of large busts. You get full coverage and strong support from an underwire, and the fine, smooth fabric doesn't add any volume. Plus the seamless cups give a smooth, invisible contour under clothes.
Our Testers loved this versatile bra, which comes with detachable straps. You can wear it as a halter, criss-cross and normal bra. The review team said this unpadded bra is perfect for busts up to DDD/F/G and very comfy to wear! And they adored the natural shaping you get.
5. Best Contoured Bandeau Bra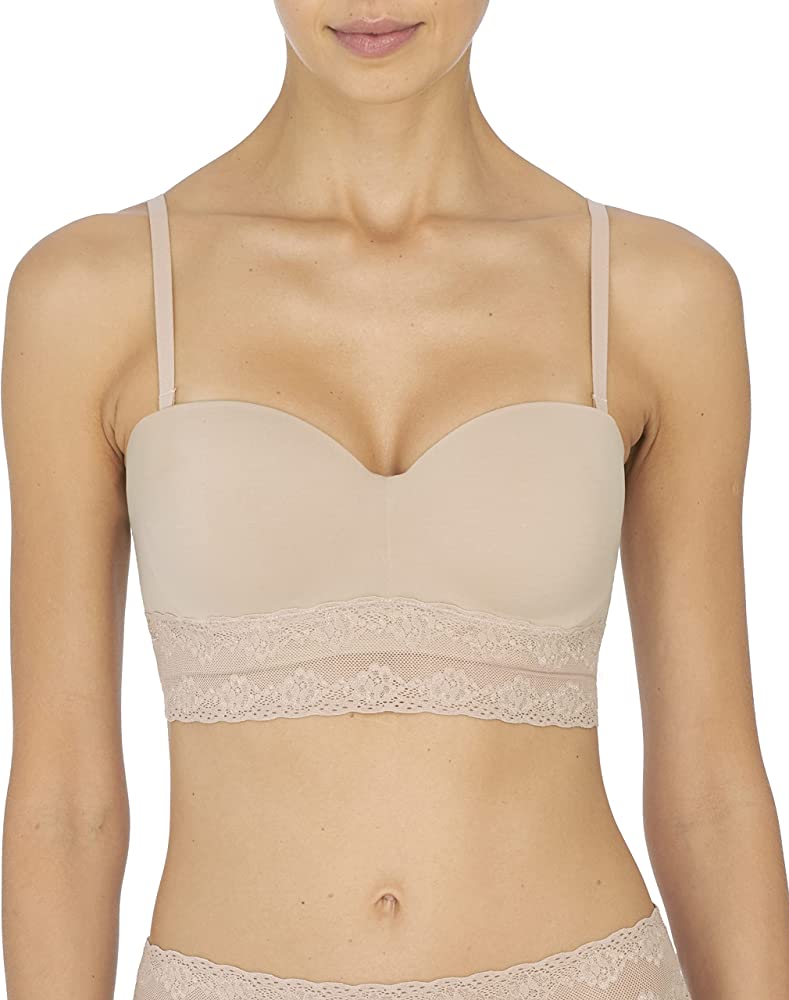 The Natori Bandeau Bra has several unusual features, such as 6 hook-and-eye fasteners on the broad body- band. This makes it easier to get the best fit around the body. And the cups are lined with stretch foam pads that adjust to your breasts. The band and cup are true to size.
Our Testers said this convertible strap bandeau bra stayed in place very well and for long periods of time. It also gives you a great fit owing to the extra hook-and-eye fastener at the back. In addition, stretchy lace decoration adds a feminine touch. And sizes start at a small 30 DD to suit women with a very small frame.
6. Best Plus-size Multi-way Bandeau Bra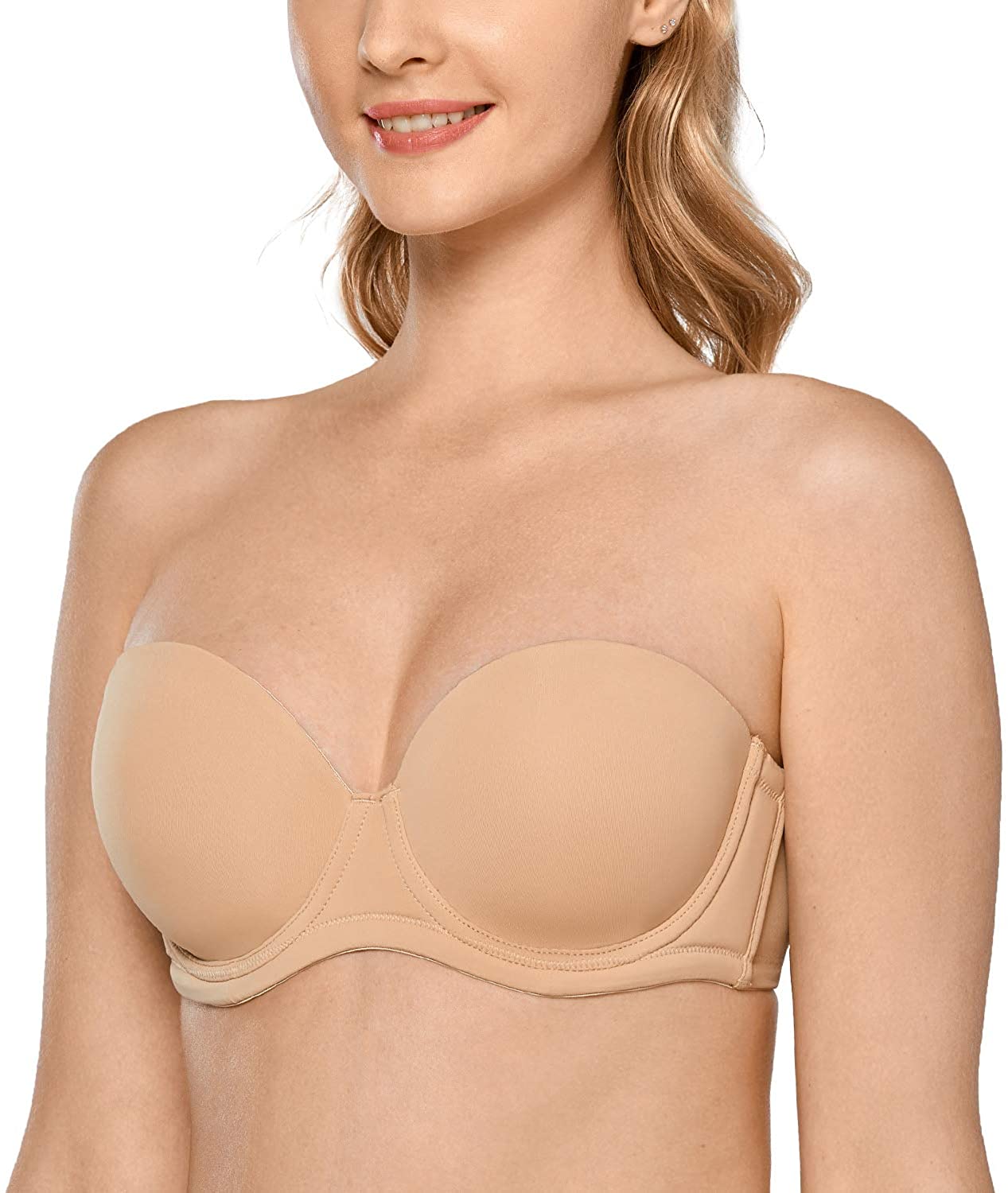 The Delimira Plus-size bandeau bra offers strong support from an underwire and a silicone band along the top edge. In addition, you get extra uplift from slightly padded cups that create a natural shape. It's designed to be worn by curvy women on special occasions, but not for everyday wear.
Our Testers included a bridesmaid who wore this bra in a 38 F to the wedding. She said it was extremely comfortable and supportive. And it was still comfy at the end of the day. The testers also said this bra give excellent fit from high-quality fabric. And other reviewers said it gives you a natural shape, and stays in place perfectly!
7. Best Value for Money Bandeau Bra (3 – 4 per pack)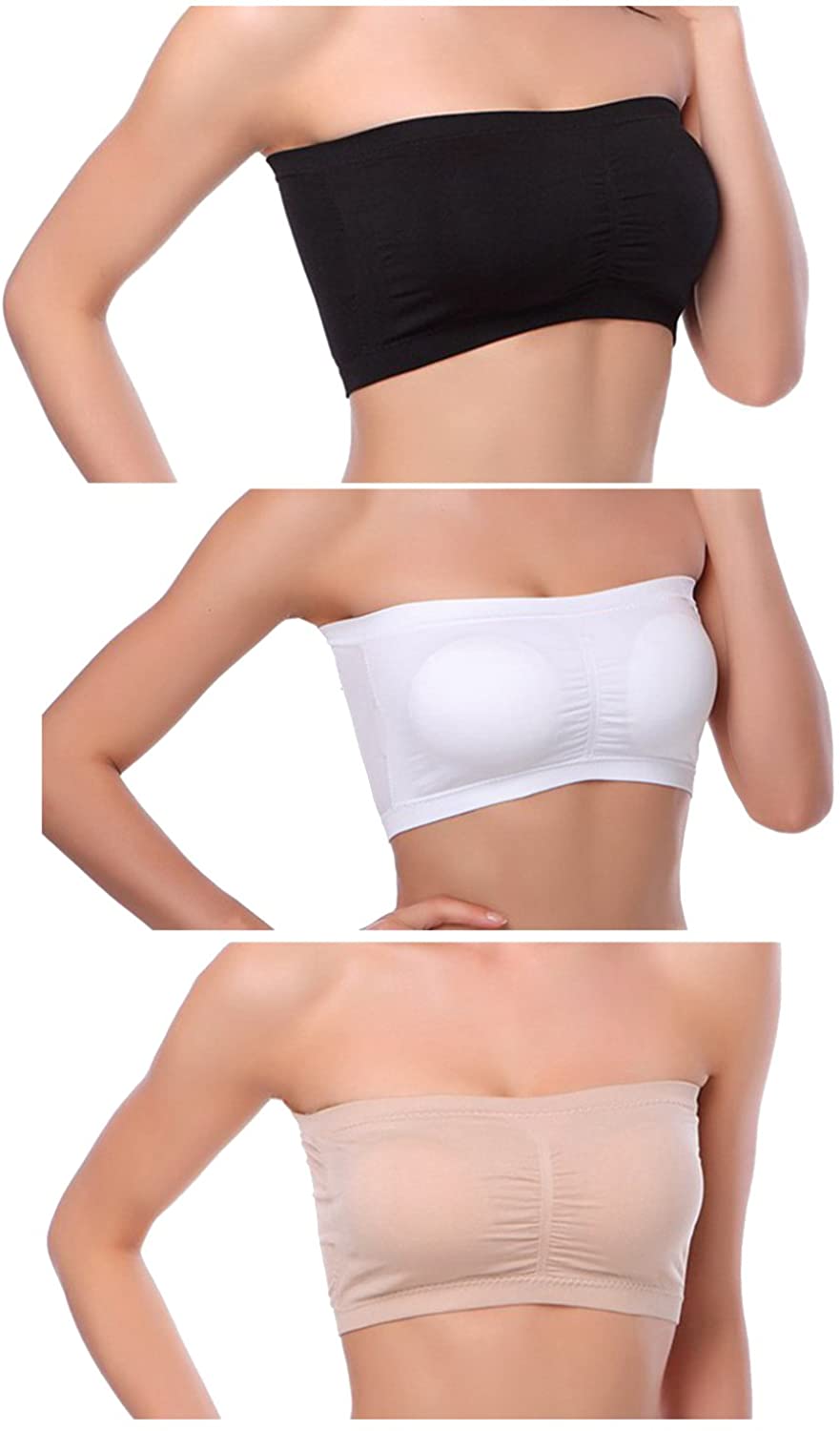 The Venbond Bandeau Bra is a seamless, stretchy bra with a lined front and removable pads. It isn't a high-support bra, but it is available in a wide range of sizes from XS – 3XL. It can be matched to the color of your dresses and tops, so nothing shows through. And it's a comfy, strapless top.
Our Testers said this bra runs a little large, so you should buy a smaller size than usual. This bra is well-made and soft, and perfect for putting on easily, especially if you have shoulder problems. The pads are just thick enough for modesty and don't lose their shape after washing! And these packs of colored bras are very affordable!
Did you know that about 50% of women suffer regular breast pain. And some women are so uncomfortable in their bra that they take it off in their car after work. Because they can't wait until they get home after work! So whether you're wearing the latest fashions or vegging-out at home you'll look and feel much better wearing a comfy, strapless bandeau bra!
What's your favorite type of bra? Has your preference changed during the last year or so? What's more important to you these days – uplift from structured bras or comfort from softer designs? Let us know what you think – we love to hear your thoughts and opinions!