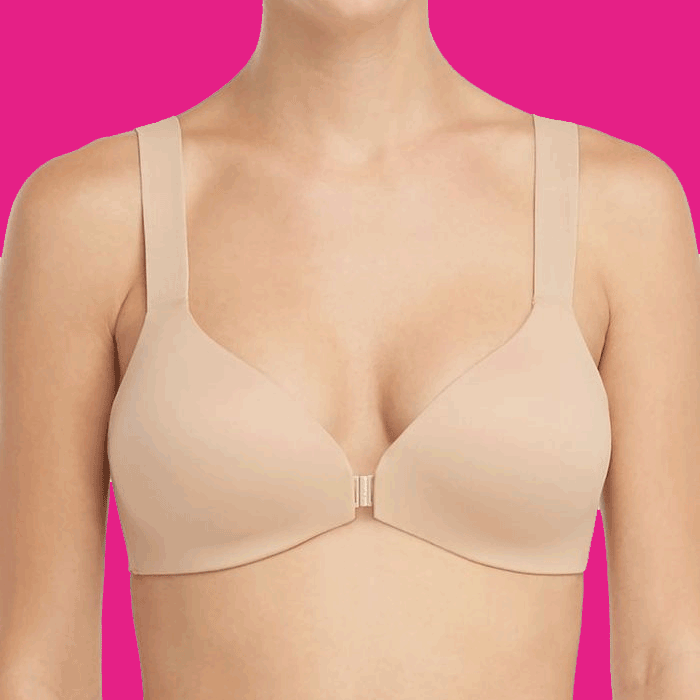 The best front-closure bras are a marvelous alternative for any woman who has restricted movement. So if you have arthritic shoulder, neck, back or hand pain, you really need a bra clasp that's easy to access and simple to work. And front-closure bras are also needed for post-surgery wear.
Best front closure bras for comfort & convenience
Fibromyalgia is another medical condition that causes pain and tenderness in the body, so front-fastening bras with thicker straps and broader body-bands are a great choice for better comfort. They spread out the weight so you don't get pinched or squeezed by your bra. But as there are so many choices of front-closure bra on the internet, you really need some professional help to find the best bras for you.
Where to find the best front closure bras?
And that's where we come in! HerStyleCode specializes in providing honest reviews from a wide range of bra testers. We use ordinary women who wear each bra for a minimum of two days and then give us their genuine feedback. And out of a long list of bras, we soon come up with a short list of bras that are best for comfort, performance, support, fit, quality and appearance.
So if you're looking for the best front-closure bras, read these reviews of the best on offer right now!
1. Best Plus-Size Front Closure Bra
This bra caters for large breasts and/or plus-sizes with a soft, padded underwire that stops the wires digging in or poking out. The cups are covered with attractive lace. And you get good side control that shapes and supports. The straps are wide and well-padded to avoid any shoulder pressure.
Our Testers said this is a sexy, high-quality bra with a secure hook and bar front-clasp. It may run a little small in the cups, so you may want to go up one letter. But when you get your correct cup-size, the fit is excellent. The padded straps are very comfy and the bra shapes, supports and separates well.
2. Best Everyday Front Closure Bra
This plunging, racerback front-clasp bra has a pretty lace back and smooth cups. The fully-lined cups give good shaping and support. The straps never slip-off and the side-wings help minimize bulges. The front closes with a hook and eye fastener. Good for V-necklines, but doesn't 'push-up'.
Our Testers said this is an incredibly comfortable bra that doesn't pinch, ride-up, dig-in or chafe anywhere! It gives a great fit as soon as you put it on and it's true to size. It's recommended for wearing under tank-tops and gives great shape and supportive full-coverage.
3. Best Front-Closure Bra for Sagging Breasts
This contour bra is specially designed to flatter breast shapes that are sagging and 'east/west' breasts. The fabric is soft on the skin and mesh inserts above the cups aid cooling in hot weather or during exercise. And the barrel front-clasp is secure. Great for wearing with racerback tops.
Our Testers said they adored this bra for its extremely comfortable fit. They liked the fact that it doesn't have any lining or padding, but is still very supportive. It flatters shallow-top/full-bottom breasts perfectly i.e. ones that are sagging after breastfeeding and in later life. And it was very popular with all our testers.
4. Best Post-Surgery Front-Closure Bra
Designed to be ultra-soft and comfortable on damaged skin, this is advertised as a no-chafe, no-sweat and no-bounce bra. It is also useful for light-medium impact sports including yoga, jogging and gym exercise. The cups have removable pads and the front closes with a zip. It stays in place well without needing adjusting.
Our Testers highly recommend this as a very comfortable post-surgery and/or sports bra. The bra is soft and snug to give you support, but never restrictive. The zip has a fabric cover to ensure it doesn't irritate delicate skin. And as a sports bra for women over 50, with extra flesh, this popular, high-quality bra doesn't produce the usual bulges at the back!
5. Best T-Shirt Front-Closure Bra
This is a 100% cotton bra with an underwire and memory-foam lined, contoured cups. The fabric is very soft and the cups are lined with plush material. The neckline plunges, so you can wear it with low-cut tops. And broad, but non-adjustable straps mean there's no pressure on your shoulders.
Our Testers voted this underwired bra extremely comfortable and one of the best fitting bras they had tried! However, the seller doesn't recommend it for petite women, because the straps might be too long. It's modern and minimalist with good support and retains its shape very well.
6. Best Uplift Front-Closure Bra for Large Breasts
This is a sturdy, high-quality bra with fuller cups, broad straps, higher sides and a taller back. So you get great support and smoothing of all bulges. The straps are non-slip with a flexible, criss-cross elastic back. There are no tags at all. And it closes with several hook and eyes.
Our Testers said this bra creates a lightly minimizing, uplifted and well-supported look from cups that cover the breasts completely. It gives you a flattering shape and the 'Flex' back is excellent for comfort and fit on a broad or fleshy back. It stays in place all day and the cups hold in, and control, the side-bust perfectly!
7. Best Minimizer Front-Closure Bra
This is a minimizer bra that reduces the look of your breasts by up to 1 ¾". And that gives you a slimmer, sleeker outline under clothing. The cups create uplift and support without flattening your bust. The plastic clasp is a high-quality barrel closure. And the underwires and straps are cushioned.
Our Testers said this is a highly comfortable bra, that's super-soft with a wide, U-back. It's supportive and lightly padded to look smooth, but not bulky, under T-shirts. The testers said it gives a great fit, yet feels very lightweight when you're wearing it. And everything stays in place all day!
All of the bras in our guides have been voted, 'very comfortable', so you have a good selection here to suit different shapes and preferences. And if it's a while since you measured your size, why not just check it again before you buy? It may save you a lot of time!
Do you have problems with front- or back-fastening bras? If you have restricted movement, which bras do you find suit you best? Don't hesitate to let us know your thoughts and opinions, as we always love to hear from you!