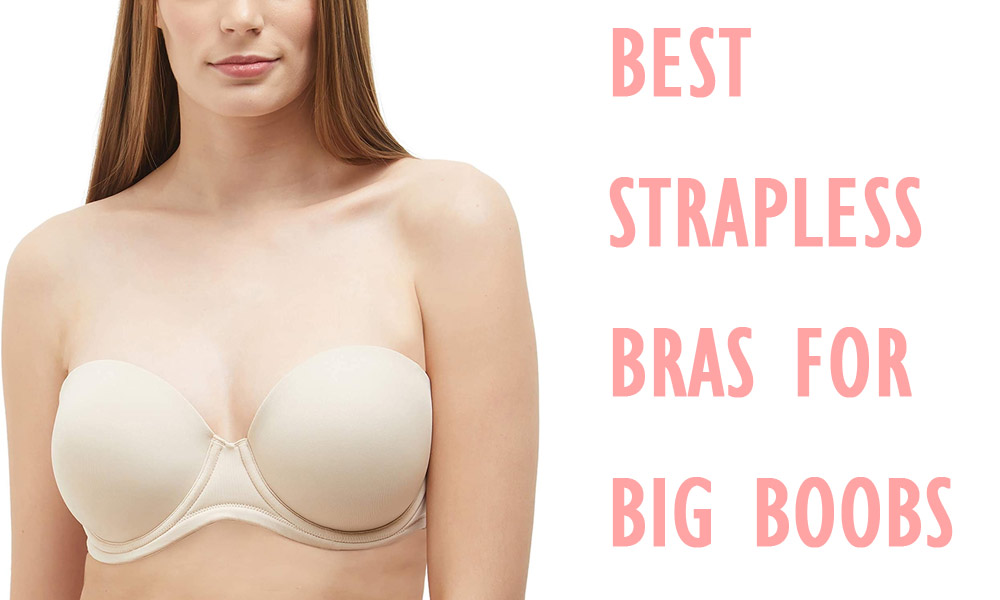 Strapless bras for big boobs may seem like an impossibility, but the fight against gravity has moved on a lot during the last few years! Bra designers have invented extra features that mean their strapless bras stay put and push-up – without holding you in a vice-like grip! But the trick is to find the few styles that actually work amongst the massive amount of strapless bras offered online – that don't work!
Because we've all tried to do our bit in finding a good strapless bra to support our big boobs! But how many times can you afford to waste cash on bras that don't fit properly after the first hour of wear? Trying a bra on for a couple of minutes in a cramped, changing cubicle doesn't always give you the full picture.
So that's where we come in! HerStyleCode regularly carries out tests on the latest bras to see if they match up to their marketing claims. We recruit teams of ordinary women who each wear the bra for 2 or 3 days in real time, before completing a comprehensive feedback form. So if you're looking for an effective strapless bra, save yourself a lot of time (and heartache) by consulting our quick guide to the Best Strapless Bras for Big breasts!
1. Best Big Boob Strapless Bra for Comfort – Halo – Convertible Underwire Strapless Bra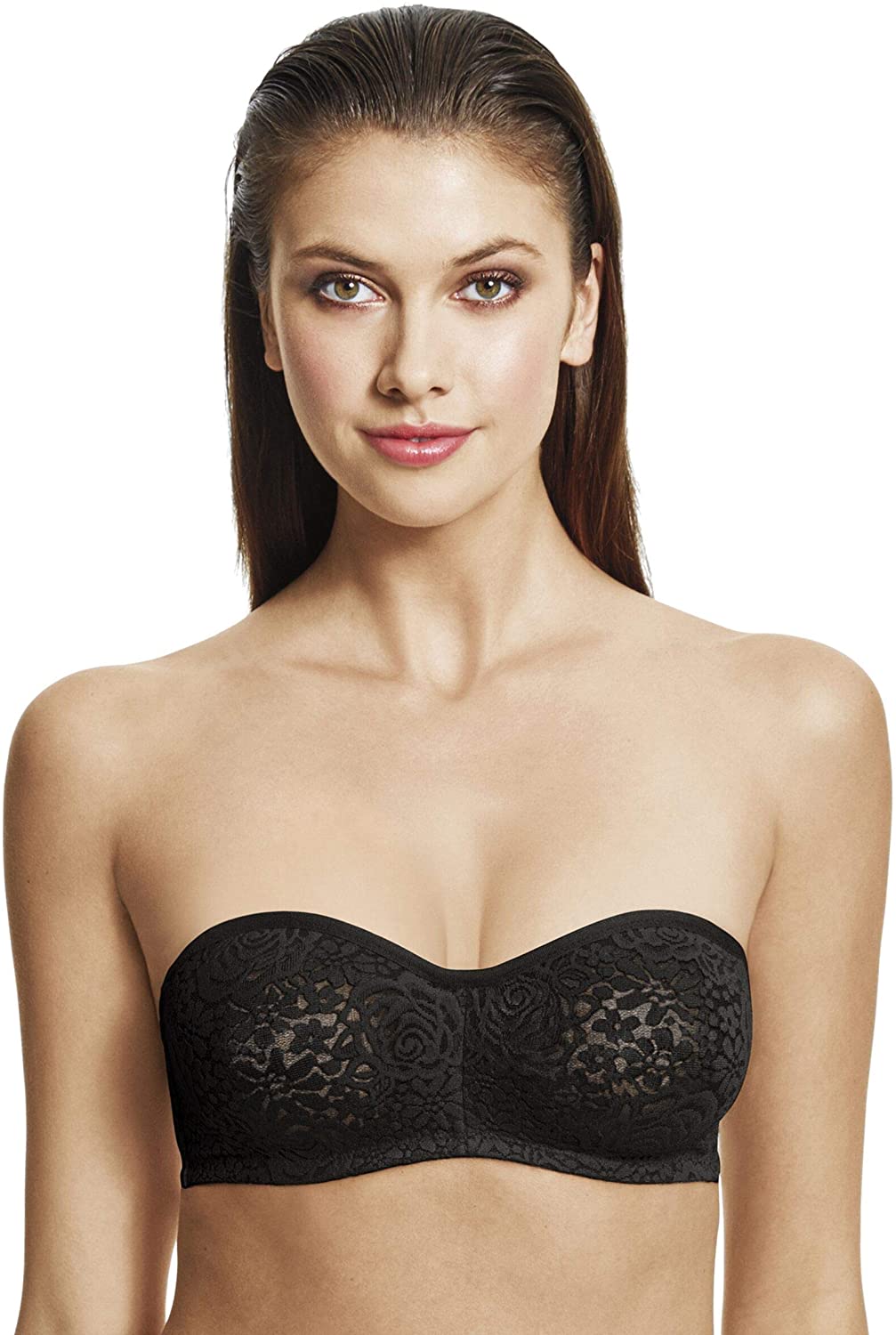 This strapless bandeau bra is more supportive than it looks at first glance, because it is made with sturdy medical-grade elastic and has an underwire. It's very cute with soft lace that has a flat texture that doesn't show through clothing. We tested this on big-busted women who had never worn a bandeau bra before, because usually they don't give enough support for large cup sizes.
The results were excellent with testers raving about the comfort, support and attractive look of this strapless bra. It's so comfortable that our testers said they would definitely recommend it for daily wear – even when you don't need to be wearing a strapless bra. It isn't padded, so doesn't add volume where you don't want it. But nipples may show through tight, thin fabric clothing. However, overall it stayed in place well and was supportive enough for dancing.
2. Best Big Boob Strapless Bra for Plus-Sizes: Fenty Savage X – Strapless Bra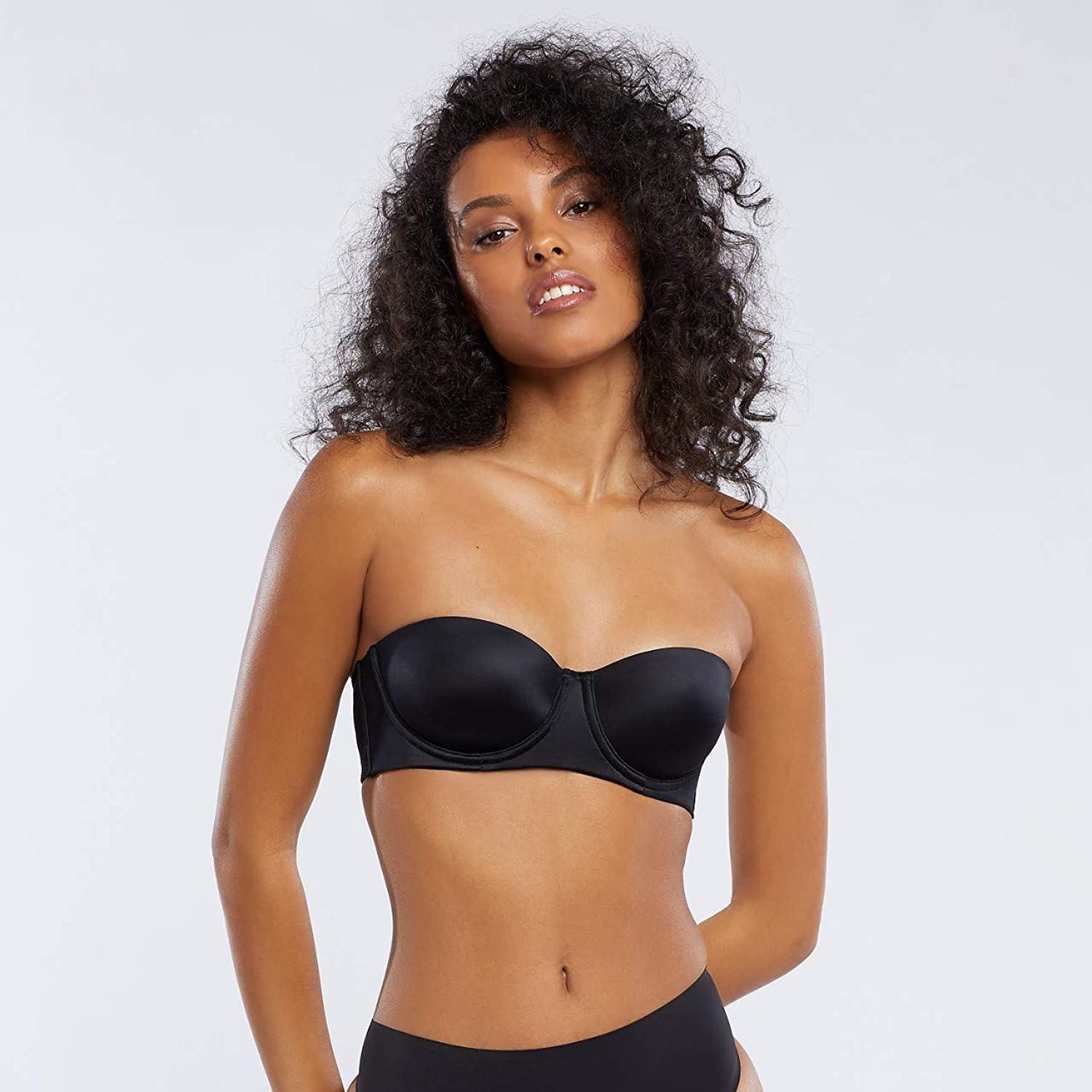 This is a strapless bra for large breasts and plus size women, which has two sizing ranges 'Regular' and 'Curvy'. It's attractive and comes with molded, foam cups which have silicone elastic on the top and bottom of the interior. And as well as adhering well to the skin, silicone works with Fenty's extra supportive interior boning to make sure you get uplift and total 'stay in place' performance.
One of our testers said that the cups were such a good fit that they seemed to snap comfortably into place over her breasts. The combination of silicone strips and boning made all the bras tested stay in place extremely well. And testers reported a supportive uplift to large busts. It's very smooth under clothing and has just a little thickness to give modest nipple coverage. One or two testers said it runs a little small compared to their normal cup size.
3. Best Big Boob Strapless Bra for Back Smoothing: Vanity Fair Full-Figure Underwire Strapless Bra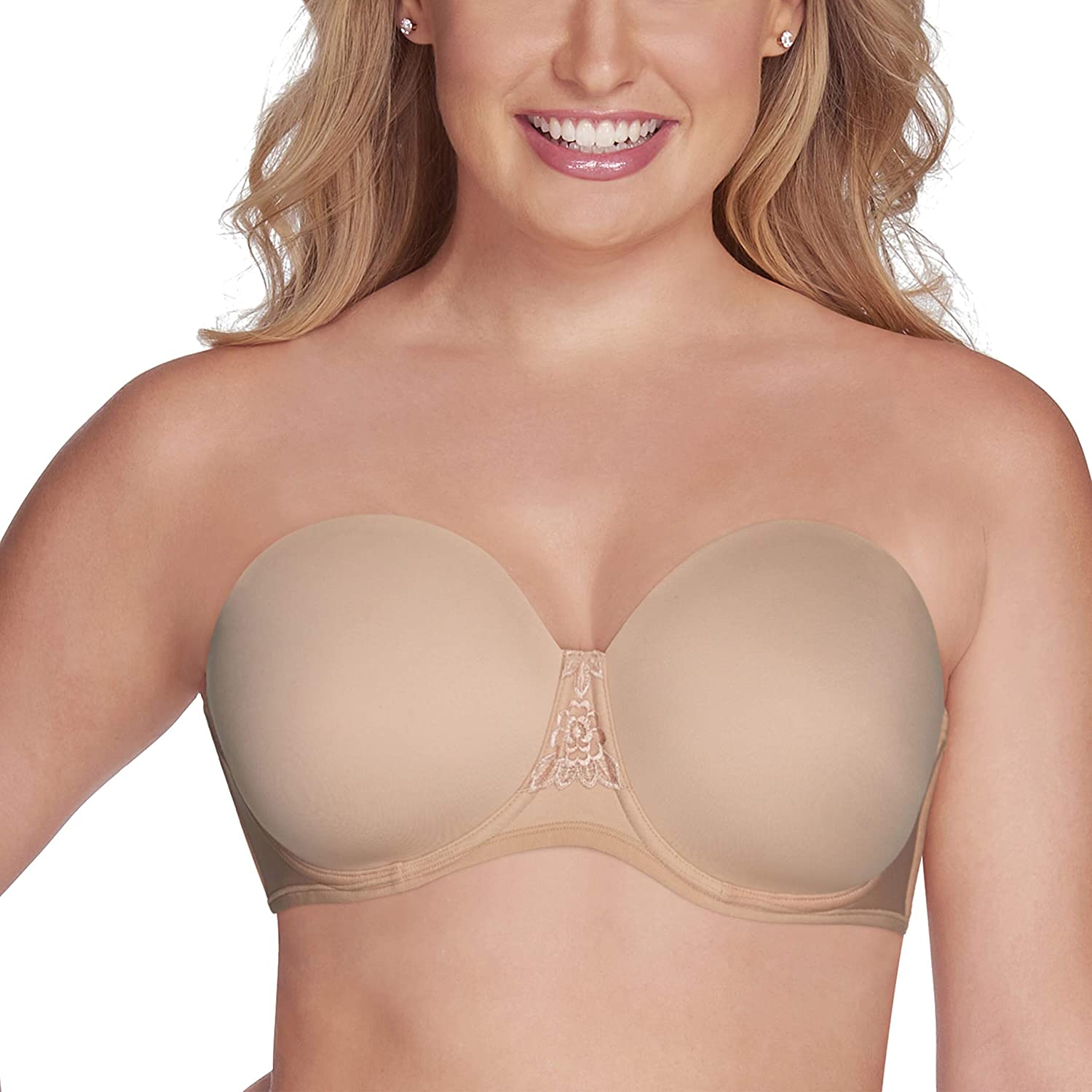 This effective strapless bra gives a little higher breast coverage than some and is great for wearing under a strapless top, dress or spaghetti-strap T-shirt. You get a close-fit and good support from the foam cups and underwired structure. And self-adhesive, silicone strips on the underwire, sides and back keep the bra firmly in place. We know this as one of our testers spent an hour weeding her garden whilst wearing the bra and said it performed brilliantly!
Our testers loved the comfort of 4-way stretch fabric, which also gives well-fitting cups. And they all said it stayed in place really well. The cups have sufficient lining to be modest and create a good shape, plus, 'no bulge', smooth contours under T-shirts and clingy fabrics. The fact that this style also comes with straps that can be converted into 5 different bra types was very popular and our testers said this made it really great value for money.
4. Best Big Boob Strapless Bra for Half-Size Fit: 24/7™ – Comfortable Strapless Bra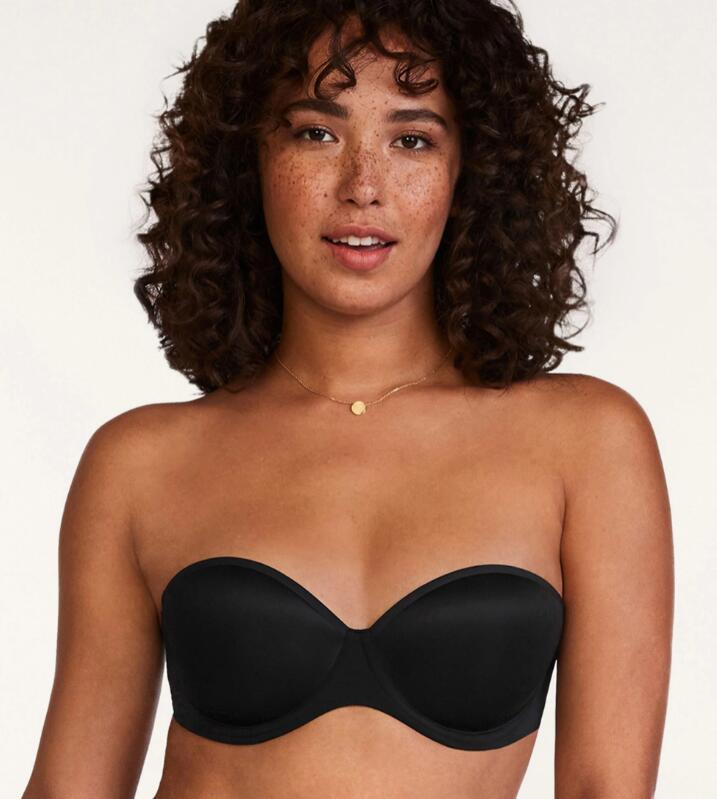 This is a classic strapless bra with flexible underwires and silicone adhesive bands along the top and bottom edges. It has soft foam cups and two sets of removable straps come along with the bra. We tested this bra with women who say they've always struggled to get a good fitting bra. And several of our testers were very happy to find that all they needed was the option of half-sizes to finally get the correct cup-size.
It was highly rated for staying in place, giving strong support and being comfortable enough to wear every day with the removable straps. It is under-wired, but no-one had problems with the wires 'digging-in'. Testers said once they had found their correct size, they liked the way the cups molded to their breasts, with no more problems with gaping tops or the dreaded 'double-boob' effect of badly-fitting cups!
5. Best Big Bust Strapless Bra for Overall Uplift & Support: Wacoal – Women's 'Red Carpet' Strapless Full-Busted Underwire Bra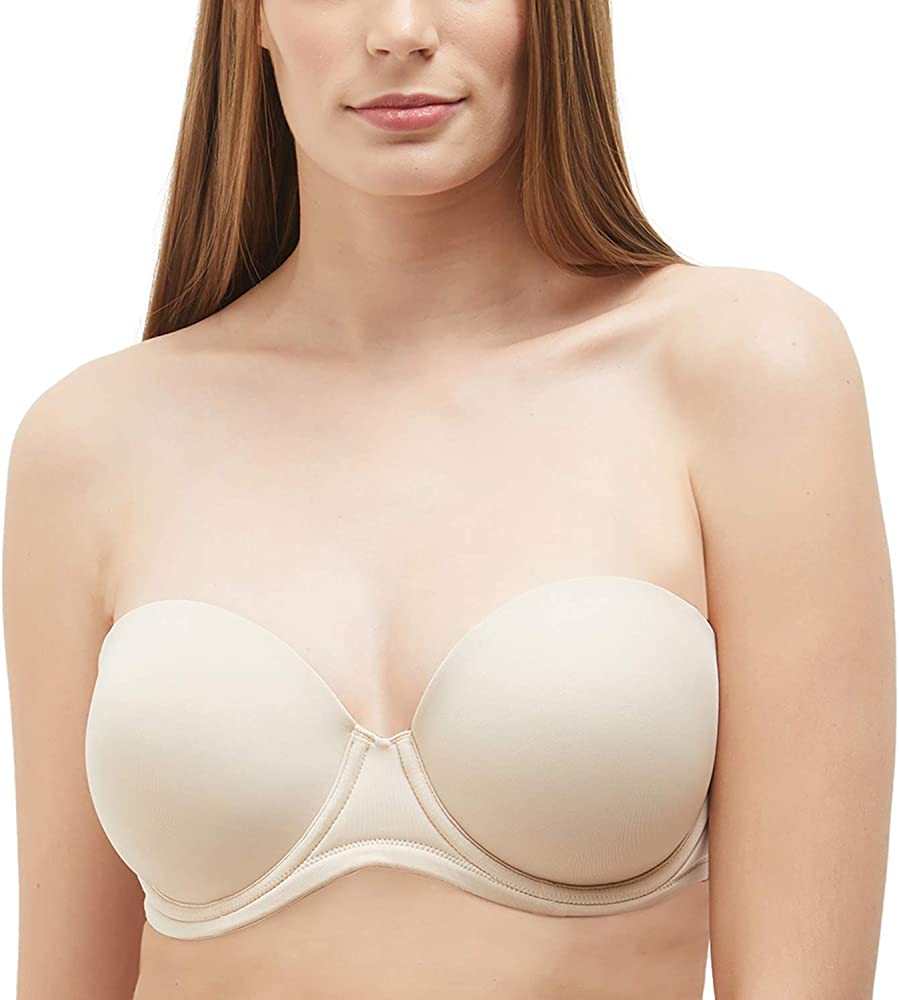 This special occasion strapless bra was designed for plus-size and full-busted women. And some of our testers were thrilled to report how well it supports low-hanging breasts. Heavy and sagging breasts are common amongst women with larger cup sizes, and this design was given the thumbs up for full support and staying in place well. It has silicone adhesive bands all along the neckline, which not all strapless bras have, as well as silicone and boning in the sides and back.
It was tested at weddings, dances and other active social events and our testers said it's very supportive for all sizes. We were told by testers that it may feel a little uncomfortable when you first put it on, but wear it for a few hours before your special occasion and it will soften and adjust to your shape well. Every tester liked the smooth, seamless fabric and the versatility of removable straps you can use to convert this bra to racer-back, one-shoulder and halter-neck clothes.
So with modern bra design having improved a lot in the last few years, you can now find comfortable and supportive strapless bras for big boobs and actually enjoy wearing all the different necklines on offer these days! So don't wait until you have a wedding or a special occasion to get a strapless bra, treat yourself to one right now and start wearing sexy, off-the-shoulder tops and spaghetti-strap summer dresses! YOLO! Subscribe to get more bra shopping guides on herstylecode.com!