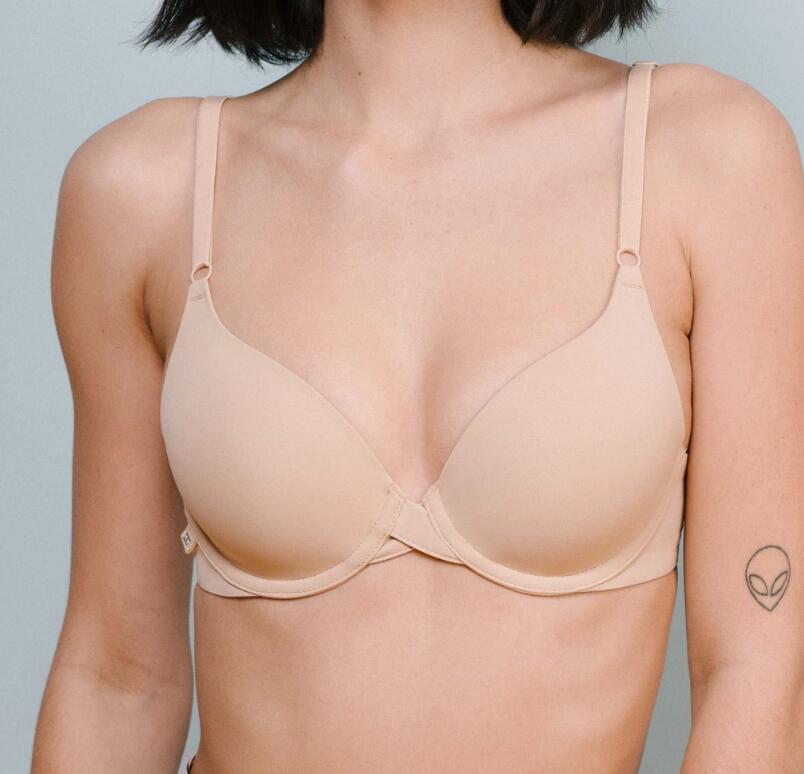 Finding the best bras for small busts will depend to some extent on the shape of your breast tissue. However, whatever size bra you wear, you also need lift and support to cancel out the effects of gravity. And that's because even small amounts of breast tissue will stretch over a period of years and only a well-fitted bra can reduce the amount of sag. So, no doubt you've had a long search for a bra without loose straps and gaping cups – that does nothing for your self-confidence (7 tips on how to Make Your Boobs Look Bigger)!
However, the brands our testers chose are careful to design for different shapes and smaller bust sizes, to give you an attractive alternative to over-padded, push-up bras and tiny bralettes. Most women own plenty of bras, but only wear half of the bras in their lingerie drawers. And the rest represent those times when we've tried and failed to find an efficient, everyday bra. No wonder eBay is packed with offers from women selling their, 'worn once', and, 'bought the wrong size', bras!
But help is at hand, and these top bras for small busts will give you a well-researched guide to the bras you've always wanted, for a comfortable, supportive and modern bra. We recruited a team of enthusiastic testers, eager to try and review a range of bras for small busts. And all the bras were evaluated by their fit, all-day comfort, support and appearance, as well as how easy they were to put on and off and how well they stayed in place. And we also washed them 6 times, either in a machine or by hand, according to the manufacturer's instructions. The 10 top bras give a smooth outline, good breast shaping and support and feel comfy against your skin.
So take a look at our latest small bra buyers' guide here!
1. Harper Wilde everyday strapless bra for small busts – The Flex Bra 10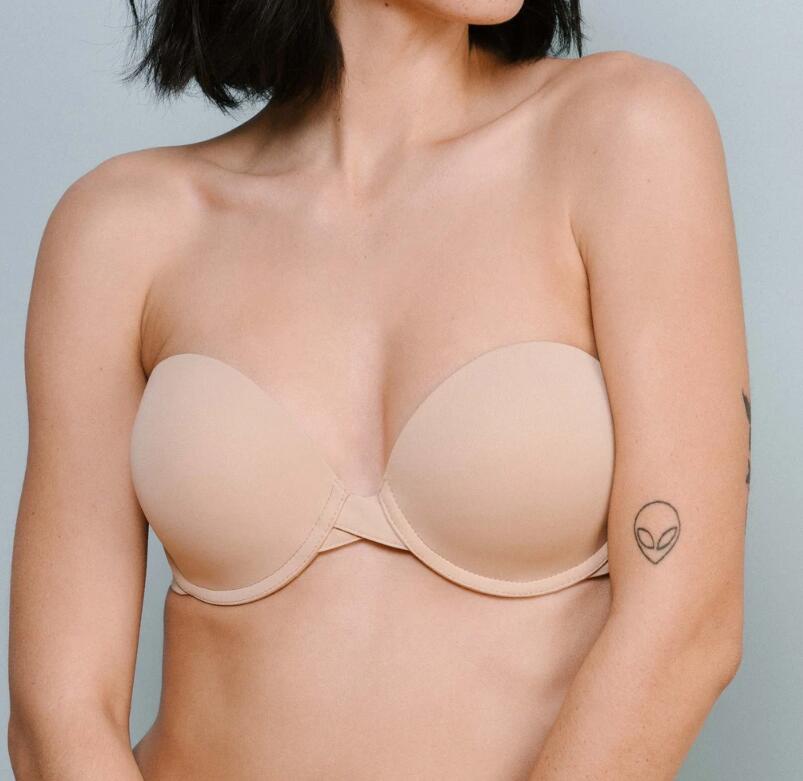 Harper Wilde is an excellent online bra brand, which allows customers to order an assortment of bras to try-on at home. They are also critical of the bra industry for making bras that appeal primarily to men, without putting women's comfort and health first. And they offer their bras at a fairer price, saying quite openly that the cost of making a bra is very much lower than the high prices women get charged for a good quality bra. So we were very interested to see how Harper Wilde's contemporary approach to this uniquely female garment worked in real life.
This strapless bra was popular with our testers, who rated it highly for comfort and support for small and extra-small cup sizes. It's a versatile bra with removable straps, so you can wear it two ways and not just for those times when you wear a strapless top. Testers with the smallest breasts commented that the bra stayed in place all day. And the Flex bra gives a smooth outline under clothing and came up well after 6 washes. The Flex bra is offered in several 'nude' colors including beige, brown and black to suit a range of skin tones.
Available band sizes 32-38 and cup sizes A-DD
Pros
Comfortable and supportive
Convertible to bra with straps
Wide range of 'nude' colors
Cons
No white or fashion colors available
2. Harper Wilde The everyday full-coverage underwire bra- The Base Bra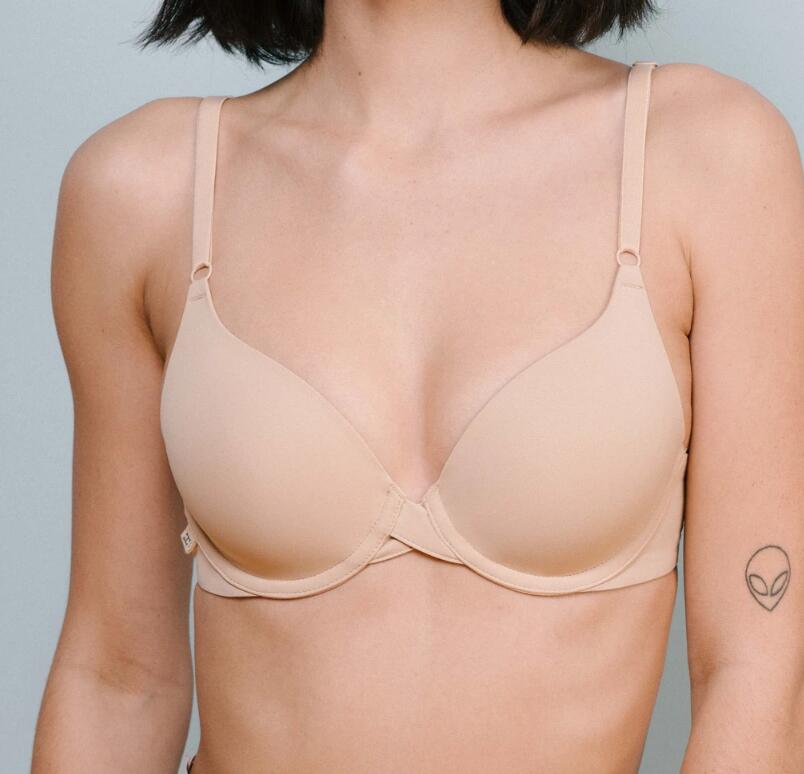 And here's a second offering from Harper Wilde, The Base Bra. It's described by the retailer as an everyday, lightly-lined, full cover bra that's extremely comfortable. They describe the fabric as 'buttery-soft', and available in nude colors that don't show through your clothing. Harper Wilde encourages you to order several different bra types and sizes, with free-shipping both ways, which is a very sensible option for an online bra retailer. If only all bra retailers were as progressive!
Out of our team of testers, the B-cup ladies particularly commented on its good shape, without lots of padding. The Base has lovely new features like straps you can adjust at the front, whilst you're wearing the bra. And this is also a two-in-one convertible bra with a light, soft lining you can also wear as a racer-back style. Our team reported that it's comfy and supportive, fits true to size and is, indeed, a very soft bra to wear. The Base bra is intended as an every-day bra and we think it fulfilled its purpose really well, with no shrinking or deterioration after 6 washes. This bra is also the least expensive in our top ten. The colors are brown, black, tan and beige for discreet wear under t-shirts and fine fabrics.
Available in band sizes 32 – 38 and cup sizes A – DD
Pros
Two-in-one every-day and racer-back
Front-adjustable straps
Affordable
Cons
Not available in white or fashion colors
3. Hanes Unlined Wire-free Bra for small breasts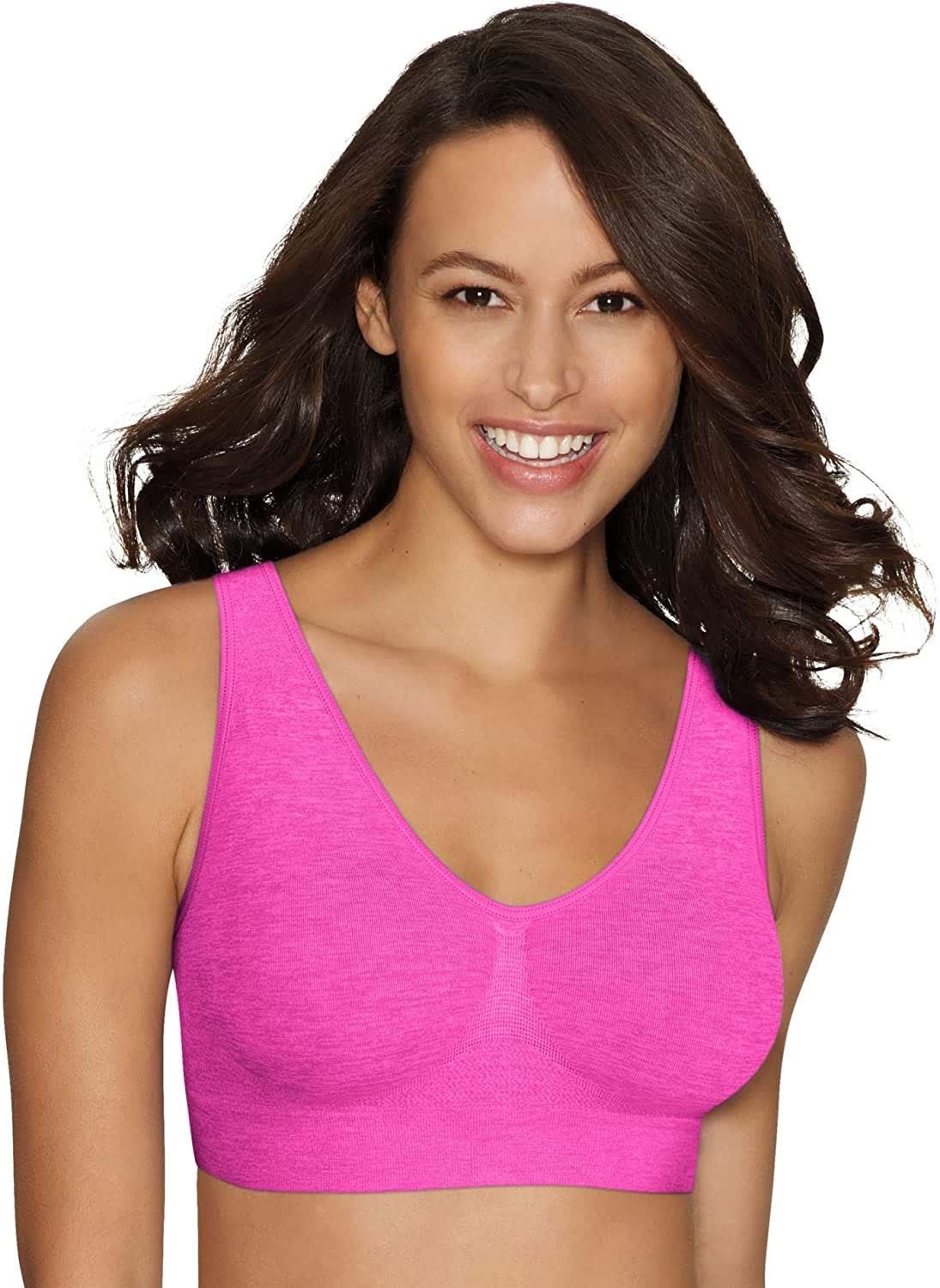 The Hanes unlined, wire-free bra boasts an exclusive seamless band, which they say will never bind or pinch. The cups of this bra are made with 4-way stretch fabric, which Hanes claim makes it easier to get a good cup-fit. And it features seamless, stretch fabric with modern, front adjustable straps you can change to suit racer-back and other necklines. You get shaping without bulky padding in this unlined style. The style is pull-on, which is convenient for those with limited movement – and any woman, really! And you can wear it as a trendy, camisole-top under V-neck sweaters.
It has to be noted that some of the testers didn't think it was a very attractive-looking bra. However, testers with both A and B cup sizes found it comfy and supportive for daily wear and liked the fact that it has no clips or hooks. Some of our testers felt that the body-band was too wide for them and complained that it didn't stay in place well. On the whole, wearers found that they needed to go up at least one size, as this comes up quite small compared to UK/US bras. It gives enough support for small busts and washes well with no deterioration. The colors are light- and dark-heather -gray, vivid pink, turquoise and clematis-blue. Made from 89% Polyester and 11% Spandex.
Available in a variety of colors in sizes S – XXL
Pros
Comfortable and supportive
No clips or hooks
Full coverage
Cons
Small sizing so size up
Bralette style
4. WOWENY – Everyday Seamless Wire-free Bralettes for Small Busts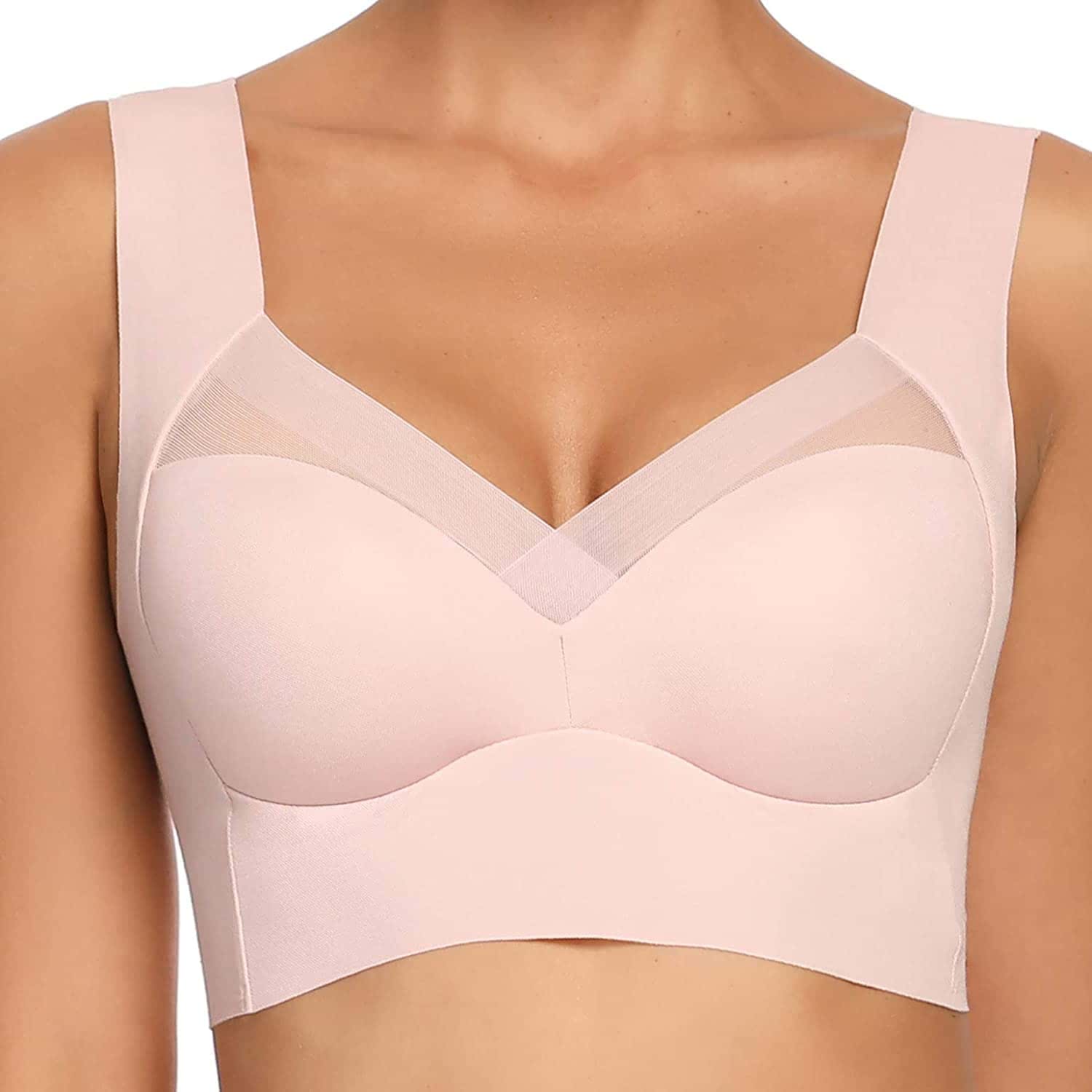 The seamless, leisure, wireless, pullover bralette is definitely designed to be ultra-comfortable. It has no clips or hooks to dig in to your delicate skin and extra-wide shoulder straps, that always make wearing a bra a lot more comfortable. This is a pull-on over the head, or step-in and pull-up, bra style, which is very easy for anyone to put-on and off. The bra is made of fine fabric, which is not transparent at the front. The fabric blend is 52% Modal, 37% Nylon and 11% Spandex, so it's stretchy and won't squash your breasts. The inserts aren't stiff and circular, but are soft and breathable with lots of air-holes.
This bralette was popular with some of our testers for its trendy, retro-lingerie look in the pink and black solid color styles. And others liked the lacy styles. It can be worn as a workout, yoga or top and our testers rated it as comfortable for all activities. It has soft, removable pads that can be washed separately after each wear. The color range is wide and features approx. eight solid colors and lace styles, including extra deep neckline versions for wearing under V-necks. Testers with small busts found it supportive enough for daily wear and thick enough to hide your nipples. It's smooth-looking under clothes and gives enough support for small breasts, whilst being very light-weight to wear. And it passed the wash-test with flying colors!
Available in sizes S to XL
Pros
Comfy and supportive
Extra-wide straps
Attractive leisure bra
Cons
Sizes run small so go up in size
5. Hanes – 'Oh-So-Light' Wire-Free Bra for small breasts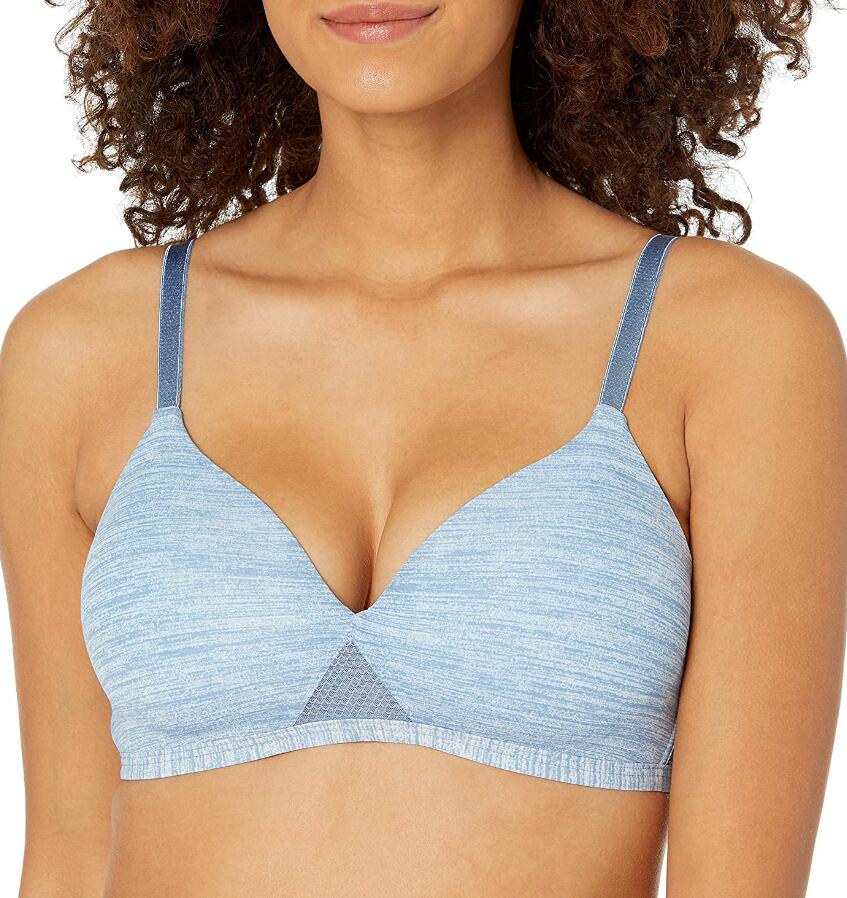 This is an affordable bra, which is amongst the lowest priced bras in our top ten reviews. But it performed very well in our tests, so don't let the low price put you off! It features soft, foam cups that create an attractive shape for small cups sizes, without needing any underwires. Our reviewers said it is comfortable, supportive and light-weight to wear as an everyday bra. It has a larger percentage of Spandex than some other bras and this was obvious as it recovered its shape completely after being washed and worn more than 6 times. The cups are 84% Nylon and 16% Spandex and the lace is 79% Nylon and 21% Spandex. The colors include black, nude, white, pale gray and denim-blue.
Our testers commented that this bra is so light and well-fitting that you feel like you aren't even wearing a bra. They liked the little vent on the front, and mesh fabric at the back, which keeps you cool when exercising. It has lightweight padding from the comfortable foam cups, which testers confirmed produce a nice, natural shape that molds to your body shape and good support. One of our A-cup testers found the cup too large and said it dimpled slightly. The color range is smaller than some other bras. It's a nice-looking bra and The Hanes Oh-So-Light lives up to its name and washes without any problems after drying.
Available in sizes S–3X for band sizes 34–50 and cup sizes A–D
Pros
Lightweight and comfortable
Cool with front vent
Foam cups give natural shape
Cons
Only one bright color option
6. ThirdLove – 24/7 Classic T-Shirt Bra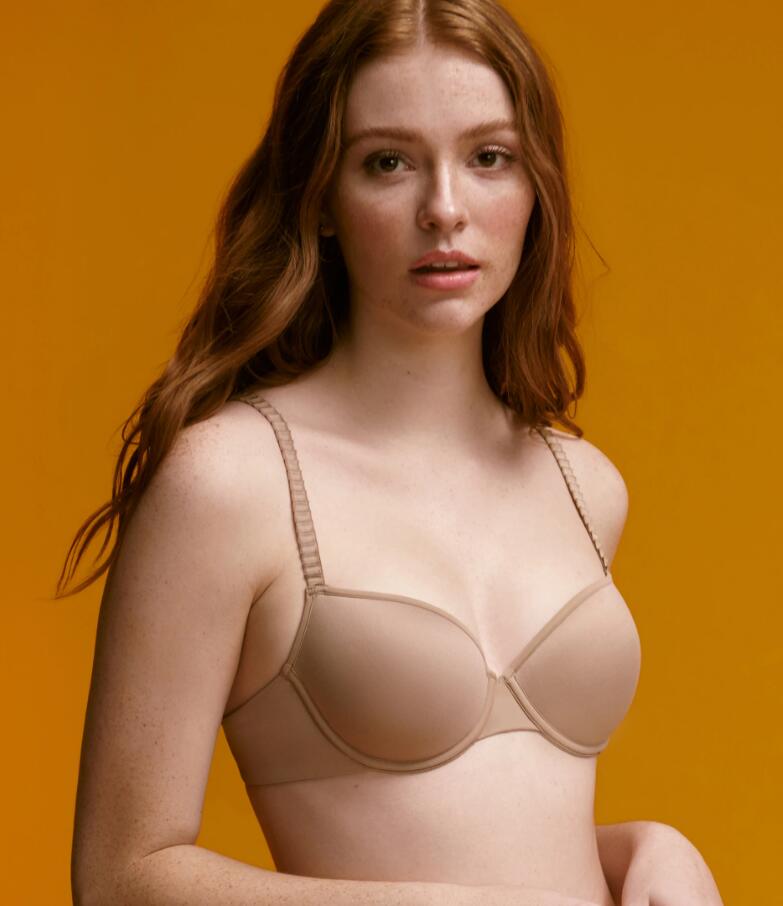 ThirdLove have definitely gone the extra mile to help us all get an excellent fit from the right size. They actually offer cup sizes in half-sizes and have a quick quiz on their website to help you decide whether you are currently wearing the correct size! They were actually one of the first online retailers to offer T-shirt bras and their Classic T-shirt bra uses memory-foam cups they claim molds to your unique shape. And you always get a smooth silhouette with this bra, which has a clever, non-scratch printed label. This bra brand offers free return shipping, so you can order several different sizes and find the right fit at home.
Our testers were pleased with the smaller cup sizes because they create a nice shape without too much padding. The amount of support was good and our A-cup wearer said that even though she usually wears 'push-up' bras to get lift, no extra 'push up' was needed with this bra. Another tester said it was the best-fitting bra she had ever had, because she had tried a half-cup size for the first time. And that ended her problem with cups always being either too small or too big. Pleated straps look stylish and stay in place well, but one wearer felt the foam cups were too thin. If you're not completely satisfied, exchanges and returns are free for 60 days. Available in 10 colors including nudes, black and fashion colors.
Available in band size 30 to 40 and cup sizes A, A ½, B, B ½, C, C ½ up to G
Pros
Comfortable and supportive
Memory-foam cups
Non-slip straps
Cons
7. Hanes – Women's Convertible Seamless Wire-Free Bra for Small Busts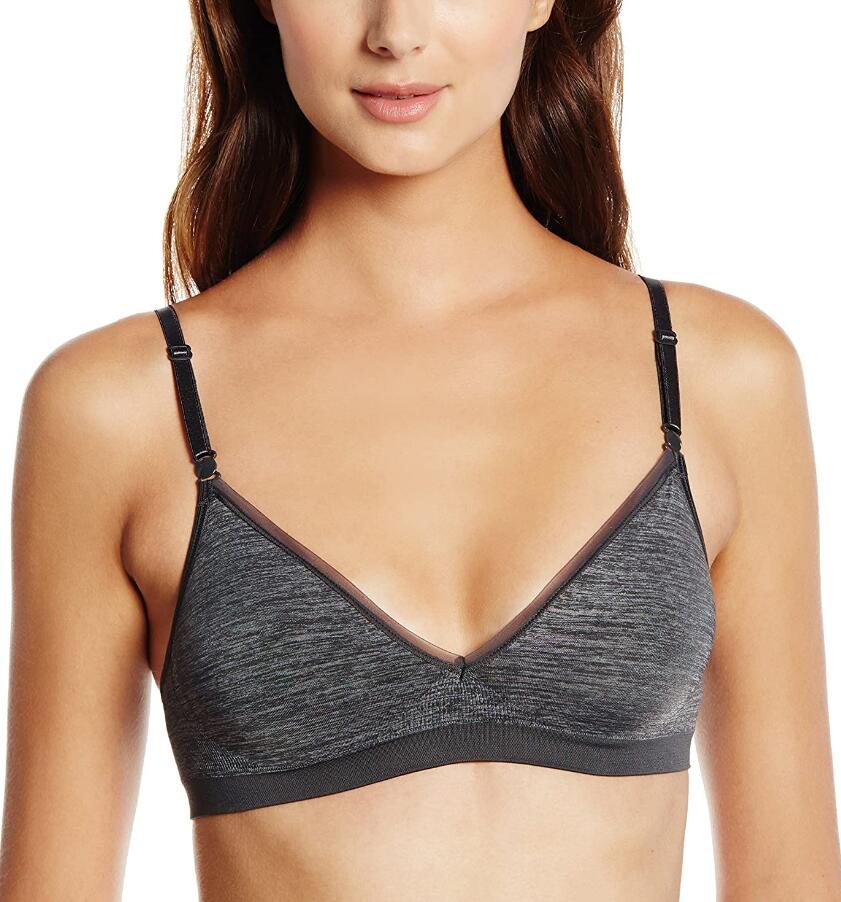 This is a wireless bra with no padding and so won't give a high rate of support. However, for small cup sizes this was rated highly for comfort and testers said it was lightweight and soft, with sufficient support for their size. Testers liked the fact that it's a convertible bra you can also wear with different necklines, like racerback. And it has a modern, low cut neckline you can wear with deep V-neck tops. This bra has a hook-and-eye fastener and soft, brushed fabric inside the cups for extra comfort.
We appreciated the tag-free design that saves you from irritated, itchy skin. And overall this was rated a comfortable, bra suitable for smaller cup sizes. It's made from a blend of 80% Nylon, 15% Polyester and 5% Spandex. And the Hanes Women's Convertible Seamless Wire-free bra comes in gray, navy, two shades of nude and white.
Available in sizes small to XX-large
Pros
Comfortable
Low-cut neckline for V-tops
Convertible
Cons
8. Calvin Klein – Perfectly Fit Modern T-Shirt Bra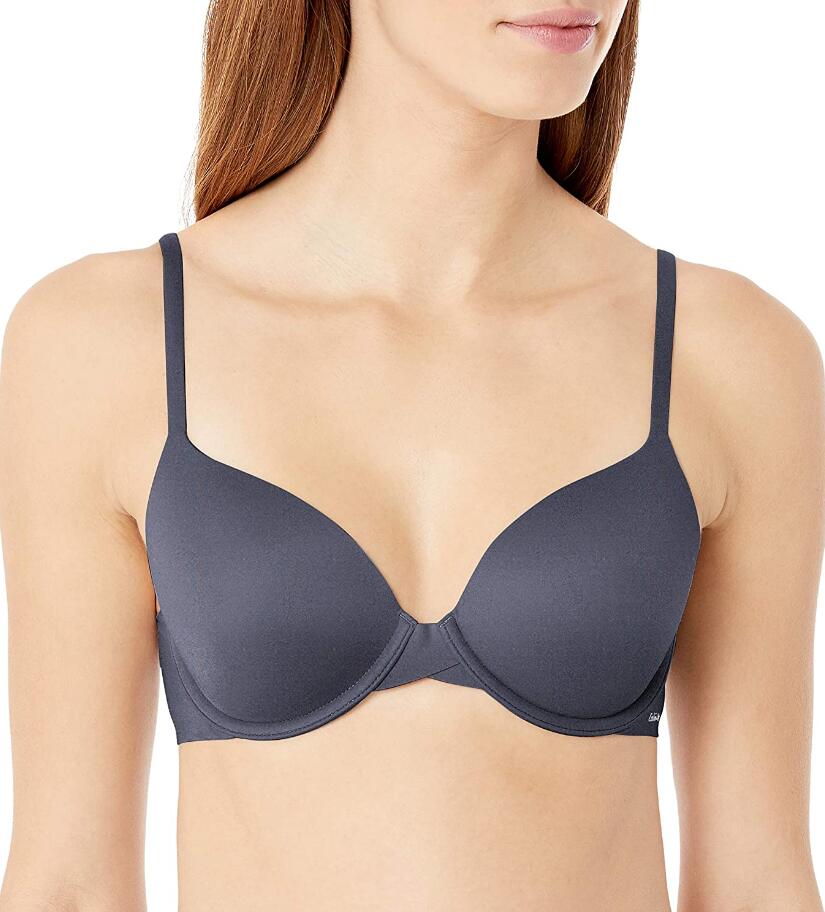 Choose this if you want a high-quality, basic bra for comfortable everyday wear. It's modern, minimalist looking and comes in 14 different colors, which is always a sign that a bra is selling well. You can easily find a suitable Nude shade or choose a fashion color to match your blouse or shirt. The back fastener is cushioned and you can machine-wash this bra without it deteriorating. The straps are adjustable and this bra has double-layered, bonded wings for invisibility and soft support. Our testers liked the look of this bra and the wide color range.
Our B cup testers loved the comfort factor and felt it had the perfect amount of padding. It looks great under clothing and is a full-coverage bra that has a light, soft lining in the cups. The cups are made with memory-foam that molds to your body shape and gives good support. Testers said it gives a nicely-shaped silhouette and that it lived up to its great reputation as the 'Best T-shirt Bra' – as voted for by readers of New York magazine. It runs 'true-to-size' and is made from a blend of 72% Nylon and 28% Elastane.
Available in band sizes 30-38 and cup sizes A-DDD
Pros
Modern minimalist design
Full coverage for better support
Thin memory-foam cups
Cons
No free postage on returns
9. Cosabella Never Say Never Sweetie Bralette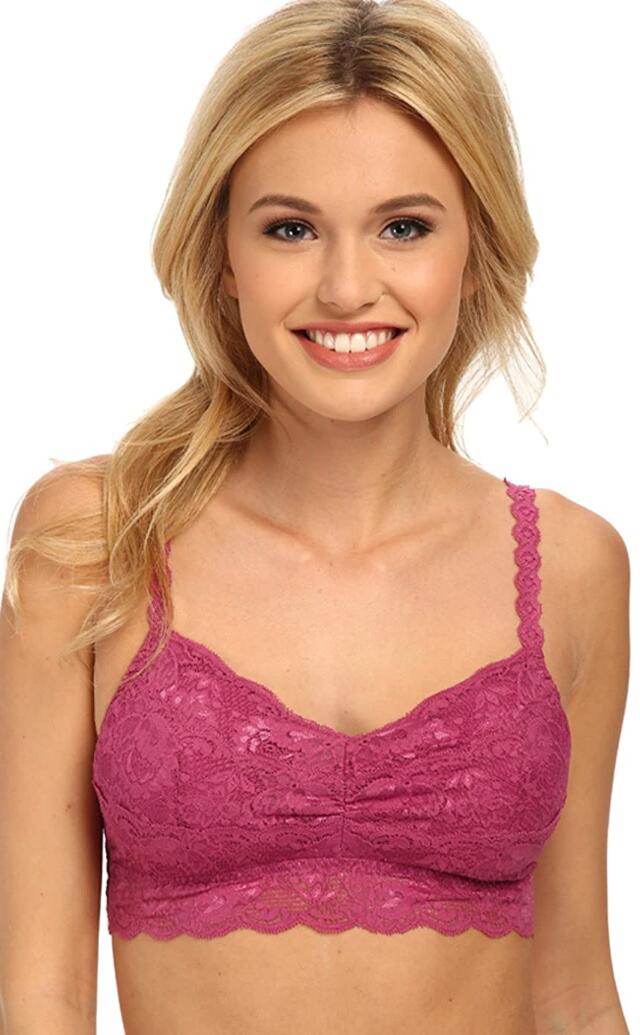 This is described as a light-support bra by the retailers, so it doesn't offer as much support as some of our other top bras for small busts. However, it's supportive enough for small cup wearers. And it is popular as a bra to wear if you work from home, because it's much prettier and more feminine than a sports' bra. Testers loved the lacy look and found it comfortable, with the convenience of sewn-in pads that are a part of the actual bra, and don't need to be removed and washed separately.
Those with sensitive skin had to remove the tags sewn into the back of the bra. Cosabella specializes in providing non-irritating, soft lace, but one of our testers found it scratchy. It washed well in a lingerie bag in the machine and dried on low in the drier. The sizes are small, medium and large, and some of our petite testers said the straps were fixed too wide-apart for their frame. Most testers said they would wear it every day and highly recommended it as a wireless, padded bra. It's available in several colors, including black, white, beige, pink, aqua and violet. The fabric blend is 78% Polyamide, 12% Elastane and 10% Viscose.
Available in a variety of colors in sizes S – XL
Pros
Cute scalloped lace
Comfortable pull-on bralette
Padded for shaping
Cons
Straps may be too widely spread for small frames
10. Niidor Adhesive Bra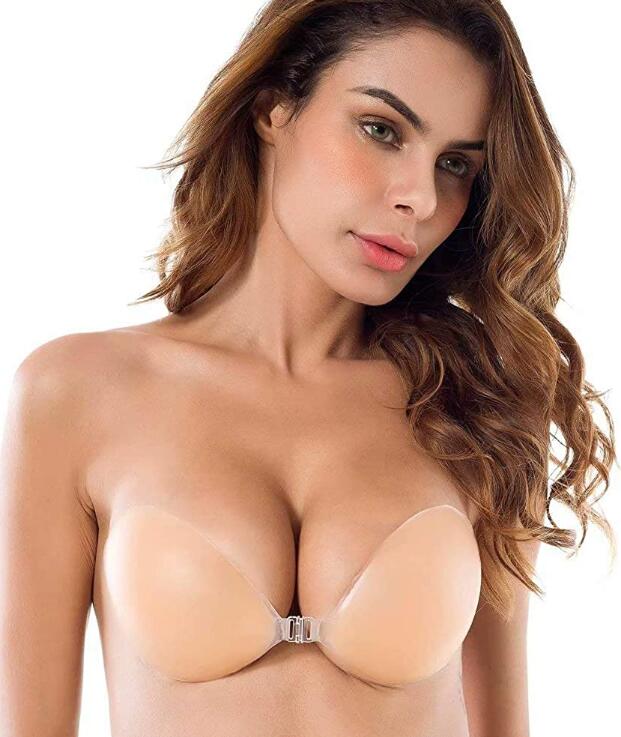 Generally accepted as an effective backless and strapless bra for small busts, the Niidor brand uses modern silicone adhesive that can be worn time and time again without any problems. This adhesive bra continued to stick onto breasts and didn't lose any shape, after being washed by hand several times by our testers. All testers were enthusiastic about this bra, and the consensus of opinion was that it fit well, was easy to put on and was invisible under all clothing. A few testers noticed that the bra began to peel-off sometimes during wear, but others found it stayed in place, without moving, for long periods. It stays in place even when you sweat and dance for long periods of time – which is essential if this is to be used as a bra substitute, of course!
This amazing bra is made of sticky and non-irritating 100% silicone, which adheres to your skin without slipping down or affecting your skin. It has a front clip so you can easily place the 'cups' in a way that helps you create cleavage. And the seamless bra is undetectable under backless clothes, strapless gowns, halter-necks, wedding dresses and tops with trendy, cut-out sections. And you can easily clean the Niidor with warm water and mild detergent and then leave it to dry naturally. The bra comes with two silicone nipple covers and is available in one color – Crème. It doesn't provide much breast coverage, so Niidor suggests you order a size bigger than normal if you do need more coverage.
Available in cup sizes A – F
Pros
Comfortable
Efficient
Non-irritating
Cons
Not suitable for every-day wear
I do think it's time all online bra retailers offered free postage both ways, so we can order multiple bra styles and sizes and try this important garment on at home. We know that some retailers are making a huge amount of profit from our need to wear bras, even though we've all got a drawer full of our mistakes. And the various post offices of the world are making money from our returns, too. So make sure you always measure yourself carefully before you order and follow our HerStyleCode.com lingerie reviews for regular updates on bras and a range of popular underwear styles!