Wearing lingerie is a fun and sexy way to show off your body. It can make you feel confident in your own skin, but if you feel you are not wearing the right type or style, you may feel self-conscious while wearing it.
Women come in all shapes and sizes. This is something to celebrate! Your uniqueness is what makes you beautiful. Whatever your body shape, you can find the perfect lingerie to make you feel sexy and confident.
This article discusses body types, the best lingerie for each body shape, and tips to find the right lingerie for you.
What are different body types?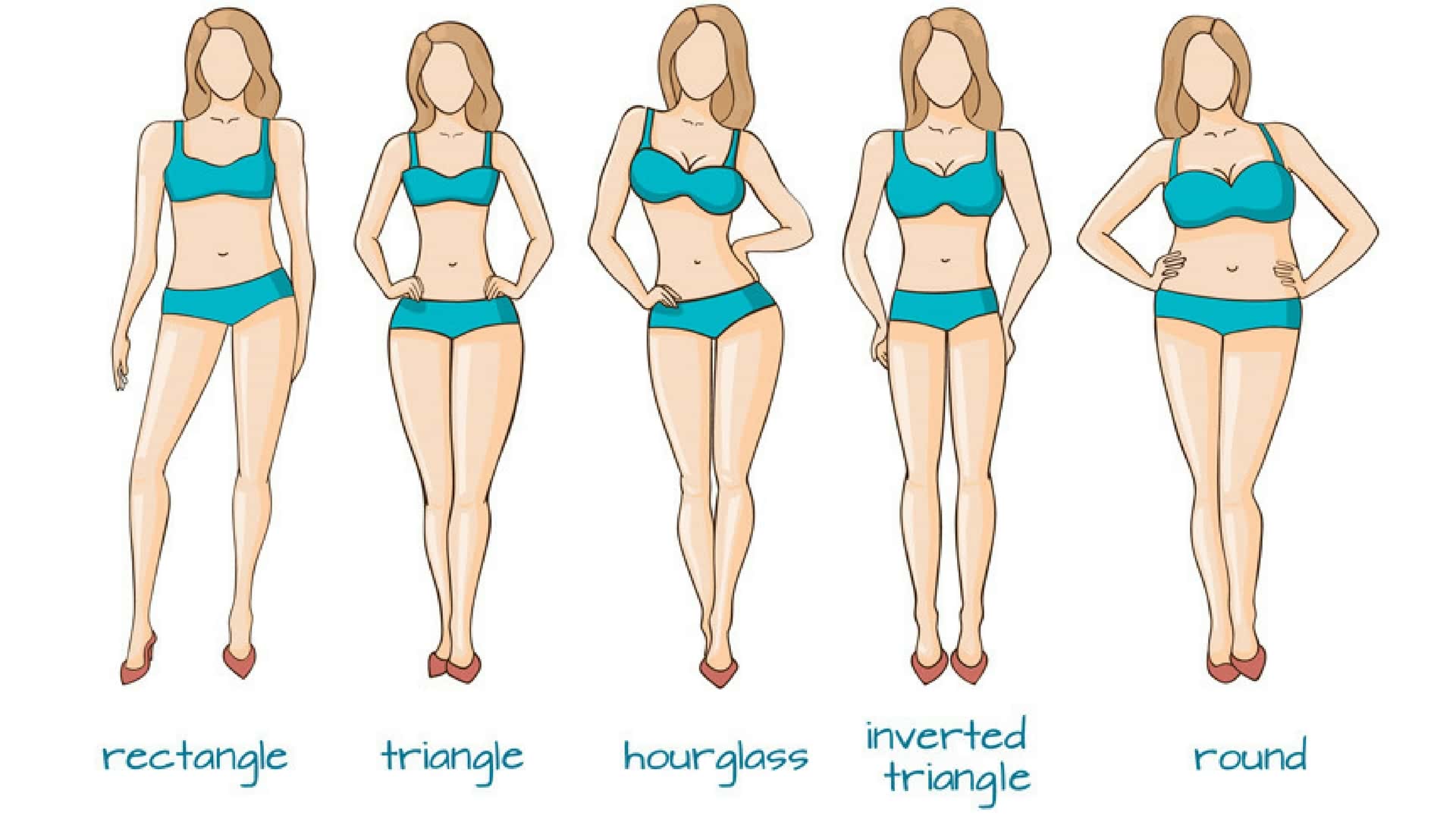 There are five different categories of body types. These are hourglass, round, rectangle, triangle, and inverted triangle.
These categories refer to the proportions of a woman's body, including shoulders, waist, and hips. Your body shape is not affected by weight. You can not change your body's natural shape by losing weight or gaining muscle.
You want to find out which body shape you have to dress in a more flattering way. This can help you feel more confident in what you wear.
Let's go through each body shape.
Hourglass. If you have an hourglass shape, your waist is significantly narrower than your bust and hips. Your bust will have a similar measurement to your hips.
Rectangle. This shape is an athletic build. Rectangular shapes have close to the same measurements for their bust, waist, and hips.
Triangle/Pear. The triangle body shape or pear shape is wider in the hips and legs than in the shoulders and bust.
Inverted triangle. This body shape means your bust and shoulders are larger than your hips and thighs.
Round. This body shape is defined by a round outline rather than sharp definitions. It is similar to the rectangle shape in that all of your measurements will be similar.
What are different types of lingerie?
There are many different types of lingerie available. The variety of lingerie allows women of all shapes and sizes to look their best. Let's go through different types of lingerie and which body shape suits each.
Matching set
A matching set of lingerie refers to a set of bra and panties that are the same color and style. This type of lingerie suits all body types. That is because it draws attention to both your breasts and hips equally. Rather than focusing on one specific feature, a matching set of lingerie draws attention to your body as a whole.
Corset
A corset is not just a restrictive garment anymore. Women can wear corsets to feel seductive and create an hourglass illusion. The corset can help you achieve that hourglass look by shaping your figure.
Corsets are tight-fitting and have boning that helps narrow your waist. This type of lingerie is best for rectangular body shapes to create an hourglass shape or hourglass shapes that want to define and bring attention to their waist.
Garter belt
A garter belt is a lace belt that wraps around your waist. Some garter belts are made of leather for a more commanding, bolder lingerie look. The garter belt comes with hanging clips that you attach stockings or knee-high socks to.
This lingerie look is best for women who want to show off their legs, such as triangle shapes. It also works for hourglass shapes to emphasize their narrow waist.
Bustier
A bustier is similar to a corset because it reinforces the natural hourglass shape. It is a tight-fitting lingerie piece that pushes up the bust and narrows the waist.
This type of lingerie is best for rectangle shapes, triangle shapes, and apple shapes because it gives the illusion of a narrow waist and full bust.
Negligee
The negligee is a sheer, dainty dressing gown. This lingerie is easily the most comfortable and is perfect for showing off your femininity.
The negligee is a perfect lingerie piece for any body shape to add a little romance to your life. You can wear it by itself or over other lingerie.
Teddy/Body suit
Another type of lingerie is the teddy. It is similar to a one-piece bathing suit, but it is made with lace, mesh, leather, or other fabrics. You can find teddies in a variety of styles and colors.
The great thing about the teddy is that it flatters every figure. All body shapes are suitable for this type of lingerie because it elongates the body.
The teddy is the best choice for inverted triangle shapes because it balances out wide shoulders and elongates the body.
Similar to the teddy is the body suit. A body suit is another one-piece lingerie that is similar to a romper. It is great for rectangle, apple, and inverted triangle shapes.
Babydoll
Babydoll lingerie is a delicate dress with soft straps and a flattering skirt. This type of lingerie is especially flattering for hourglass shapes because it emphasizes the narrow waist and wider hips.
The babydoll lingerie piece is also flattering for inverted triangle shapes because it flatters the shoulders while making your hips appear wider, balancing your overall shape. This type of lingerie is not particularly flattering for apple shapes or triangle shapes.
Camisole
A silky camisole is a comfortable piece of lingerie that comes in a matching set. The apple body shape as well as the triangle or rectangle shape will look flattering in a matching camisole sleep set.
This type of lingerie is not particularly flattering for busty women with narrow waists. A large bust makes the waist loose on the certain types of camisole type of lingerie, so it does not flatter the hourglass shape because the waist is not defined and makes the natural hourglass shape appear more rectangular.
The camisole set of lingerie is great for women who want to show off their legs in comfortable sleepwear.
Body stocking
Body stocking is a one-piece lingerie that is made to be extremely tight. This form-fitting lingerie is best for tight and toned bodies. (That doesn't mean that it won't look great on your figure if you are not athletic or slim. You can still try it out to feel sexy!)
Body stocking lingerie is a statement garment. It can be flattering on any figure, but it may be hard to feel confident in it if you are insecure about certain parts of your body.
Slip
A slip is a dress initially made to be worn underneath a dress. This lingerie is flattering for women with broader shoulders because it balances out the figure.
Thong/G-string
A thong or g-string is a type of underwear that eliminates panty lines. Thongs are a great way to show off your lower half. They are flattering for women with round, firm bottoms.
V-cut panties
V-cut panties are cut so that the sides are strappy. They still cover what they need to cover, but they show off the hips. This type of underwear is best for hourglass, inverted triangle, and apple-shaped bodies because it complements wide hips.
When choosing lingerie that will make you feel confident, your body shape is not the only thing to consider. Determine which are your best features, then choose lingerie that will complement those features.
You also want to choose the right cut and color that suits your style. You should feel like yourself when wearing lingerie, not a cookie-cutter model type. Show off what makes you unique and have fun with it!