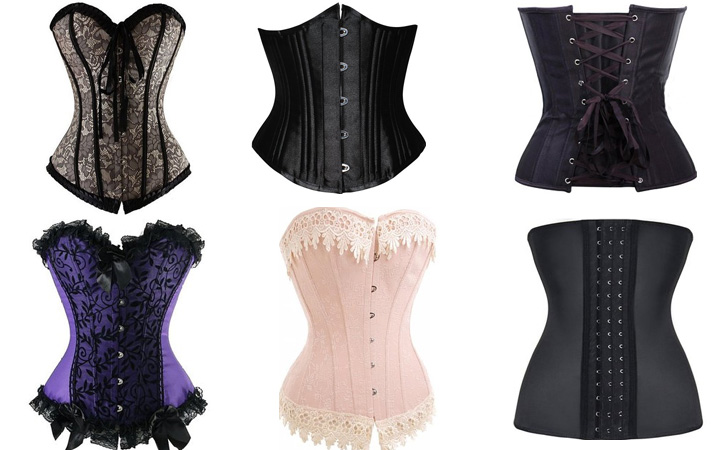 Corsets are multi-use garments. They can act as sexy lingerie or can be worn underneath tight outfits to help shape your curves and help your waist and stomach appear slimmer. Unfortunately, however, some corsets can also be extremely uncomfortable and even make it difficult for you to breathe while you wear them.
Many people associate corsets with discomfort and believe that feeling smothered and itchy while wearing them is simply unavoidable. Fortunately, this is not true. Read on the following corsets reviews to discover the top-rated best corsets that provide you with the shaping, sexy benefits of a corset without the discomfort.
10. AZONT Women's Court Sexy Push Up Shapewear Overbust Corset Bustier with G-string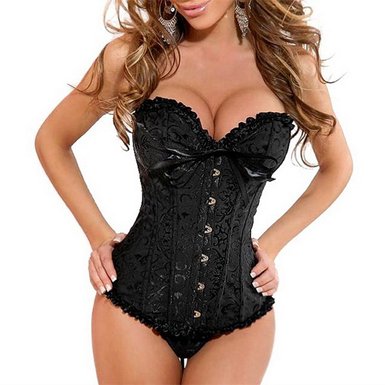 This slimming corset is designed with ultimate sexiness in mind. It features a delicate black lace design with extra lace detailing around the seams of the corset. The corset also includes a G-string design in the back to show off and enhance your butt.
The corset is an excellent garment for training and slimming your waist. It is crafted from polyester and spandex and features strong plastic boning and tight lace cinching that help train your waist and make it appear slimmer and more shapely during and after wear. This corset is designed to immediately and effortlessly lift, slim, and shape your stomach, waist, and bust.
9.

Chicastic Black Satin Sexy Strong Boned Corset Lace Up Bustier Top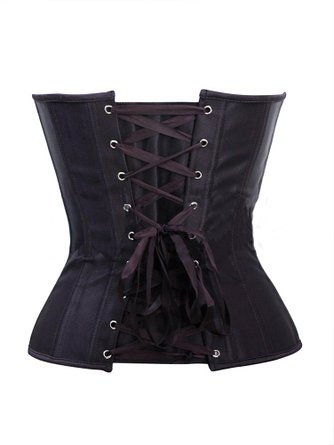 This corset top from Chicastic features a unique lace-up design that looks gorgeously sexy when paired with leggings or a tight skirt. The corset sits at your waist and does not include an attached underwear design. However, the corset comes with a separate thong to create the perfect lingerie look.
The Chicastic corset features strong plastic boning that slim and shape your waist and lift and enhance your bust. It features a gorgeous, slimming lace-up back that easily cinches the corset around the unique shape of your curves.
8.

Camellias Corsets Sweetheart Overbust Satin Lace Boned Corset Bustier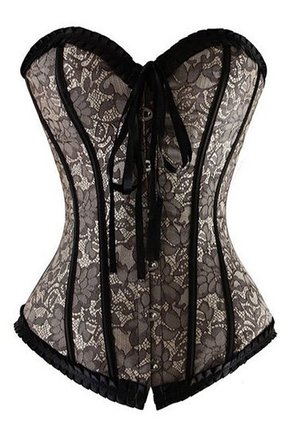 This corset from Camellias Corsets is crafted from a blend of ninety percent polyester and ten percent spandex to ensure firm shaping mixed with stretchy and movable comfort. The criss-crossed lacing of this corset is adjustable to help increase comfort and tight fit of the garment.
The corset is available in a wide range of colors and styles, including purple lace, red lace, leopard print, and plain white, blue, or black. The corset sits on top of your waist and comes with a separate sexy G-string in a matching color and pattern to the corset you choose.
7. Zhitunemi

Women;s Floral with Black Lace Trim Corset Satin Overbust Waist Cincher Bustier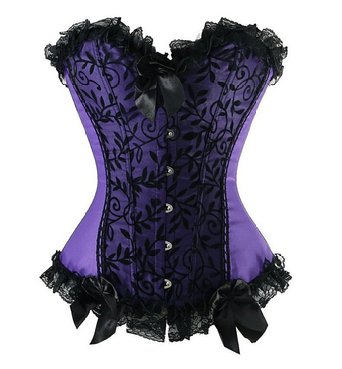 This corset from Zhitunemi is designed to complement any tight pants or skirt for a costume party, stage performance, or any event where you want to show off your gorgeous curves and slim waist and stomach in a sexy corset. The corset features beautiful, intricate detailing, including lace panels and edging, ruched trim, and ribbons.
The corset features a hook-and-eye closure in the front and a lace-up back to ensure easy on-and-off and a tight fit for your unique curves and body shape. This garment is designed to show off and lift your chest while slimming your waist and flattening your stomach. It is crafted from soft, silky satin to increase comfort during wear.
6.

ShaperQueen Women's Best Waist Cincher Girdle Belly Trainer Corset Body Shapewear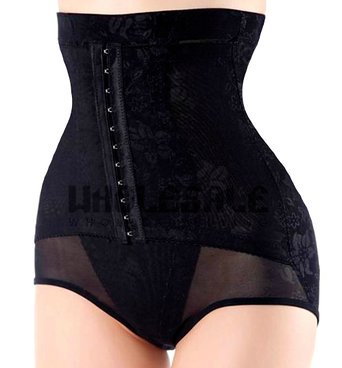 This corset is specifically designed to slim and train your belly for a slimmed, flattened appearance. The corset featured an attached underwear design and extends up over your belly. It includes power cinching technology that features three columns of hook-and-eye closures to ensure a tight and firm fit.
The corset also features a strong boning system that prevents the corset from rolling and sliding out of place. This corset is designed for wear under clothing and looks smooth and invisible even under tight tops or dresses. The corset is breathable and is crafted from moisture wicking polyester and spandex fabrics to prevent irritation and moisture buildup.
5.

Imilan Women's Embroidery Blue Corset Top Sexy Lingerie Sets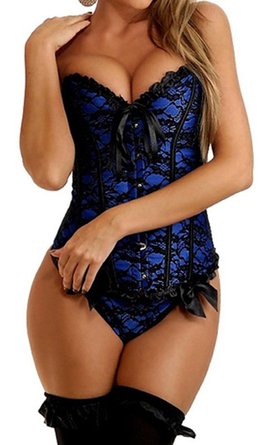 This corset is crafted from firm, stretchy polyester and spandex fabrics to ensure comfort and shaping. The corset comes in a two-piece set that includes the corset as well as a separate G-string that matches the color and pattern of the corset you choose.
The Imilan corset features a tie-up back that is easily adjustable to ensure a tight yet comfortable fit. It carefully and gently hugs your curves to slim and shape them while simultaneously lifting and enhancing the shape of your breasts without uncomfortable wires or push-up designs.
4. TAILONG Waist Corset for Weight Loss Sport Body Shaper Tummy Fat Burner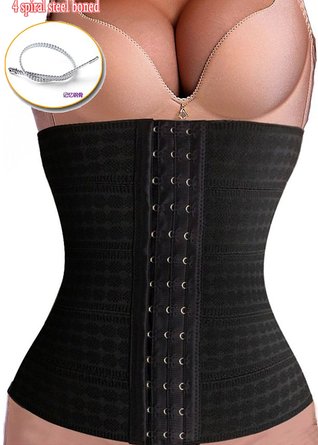 This corset is crafted from top-quality fabric that is breathable and comfortable to prevent any moisture accumulation or bacteria buildup. The fabric of the corset, which is a blend of nylon and spandex, features a waffle-knit design to ensure a tight and firm shaping fit that is still breathable and allows you to move.
The corset reduces the size of your waist by several inches and flattens your belly for a slimmer appearance all around. It is designed to be worn under clothing or even during exercise to increase perspiration and allow unhealthy toxins to escape from your body to help you lose weight. The corset also features an attached bra top to ensure support for everyday wear or exercise.
3. Camellias Corsets Steel Boned Heavy Duty Waist Trainer Corset Shaper for Weight Loss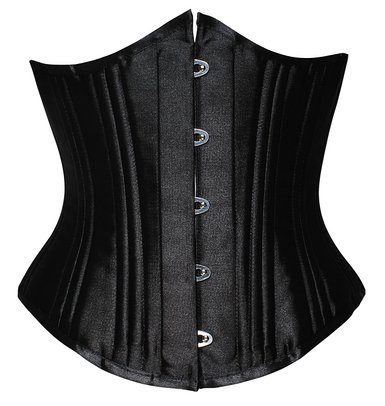 Best steel boned corsets: This corset from Camellias Corsets is designed to help you effortlessly lose weight and permanently slim and shape your curves. The corset features strong steel bones that include spiral steel bones and rigid steel bars to help shape and slim your waist and belly. The corset also includes adjustable ribbon lacing on the back of the garment to ensure a tight and comfortable fit.
The corset is crafted from two inner layers of high-quality breathable cotton that prevents moisture buildup and maximizes comfort. The third outer layer of the garment is laminated to increase its strength and maximize its shaping and slimming abilities.
2. Lover-Beauty Women's Latex Underbust Corset Waist Training Cincher
This comfortable corset is crafted from a blend of ninety-six percent high-quality cotton for breathability and four percent spandex for stretchy, firm flexibility and ease of movement. The corset features spiral steel boning that strengthen the garment and allow it to shape and slim your waist and belly.
The corset features three columns of hook-and-eye closures in the front in order to allow you to adjust the garment as you need to in order to help you achieve a tight fit that hugs your curves. This corset is a high compression corset that slims and shapes while feeling gentle and comfortable on your body at all times.
1.

Alivila.Y Fashion Women's Sexy Vintage Floral Lace Trim Corset Bustier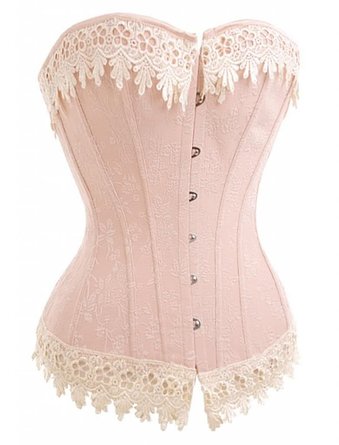 Bridal corsets: This gorgeous, delicate vintage corset is perfect for costume parties or waist training. It is ribbed with steel bars and supporting plastic bones that allow it to shape your waist and slim your belly.
The corset features an adjustable lace-up back to ensure a tight fit. It comes with a separate, matching G-string to complete the look. The corset has a delicate, vintage design with intricate lace edging that increases its beauty and sexiness.
Corsets are a great way to slim your curves and feel confident in any outfit. Use the list in this post to find some of the best corsets currently available that mix comfort and shaping for the perfect, gentle slimming results. Also you may love the buy the Top 10 Best Control Panties That Really Work.
Best Seller:
YIANNA Women's Latex Sport Girdle Waist Training Corset Waist Shaper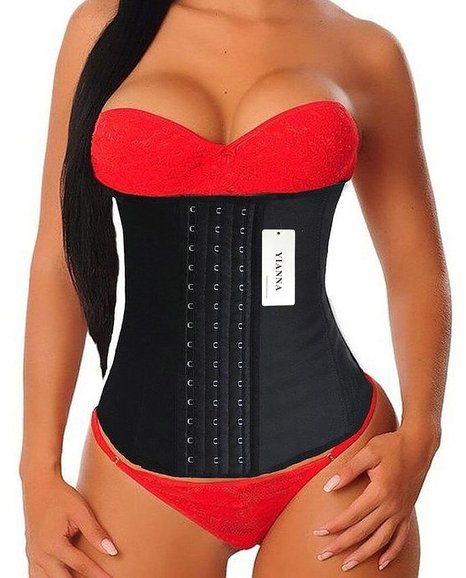 Great trainer, it works, improves posture and trains the stomach muscles to not roll out forward. My weight is the same but my waist is 3 inches smaller. But ladies! The sizing chart is misleading. If your waist is let's say 28 inches get a size smaller, closer to the size you want your waist you desire it to be. If you get 28 inch size your waist will remain the same. So get a smaller size and suck it in! Not to the point where you can't breathe of course but it has to be tight. You have to be consistent with it and it will work. I sleep in it, work out in it, run errands with it on no problem. And my posture looks like I'm on top of this world 🙂
Here is another side note. It is a beginner trainer, it does stretch out a bit, so once you feel like it's not tight enough you can fold the part with 3 rows on it inward and stitch it with a needle and thread if you know how to sew. See the photos attached. Once you're ready to go even smaller fold the other side with one row of hooks inward as well and stitch it. It will save you money because you won't have to buy a smaller size. The hoking it together part will be tricky though because the hooks will be facing your skin and will be pressed against it when the corset is closed. Quirky? Yes. But not unmanageable. When you've worn this one for a while you can graduate to a more heavy-duty fabric corset with no stretch. Best of luck in your waist training endeavor! 🙂
Check out the Top 10 Best Shapewear – Best Shapewear Solutions for Every Woman