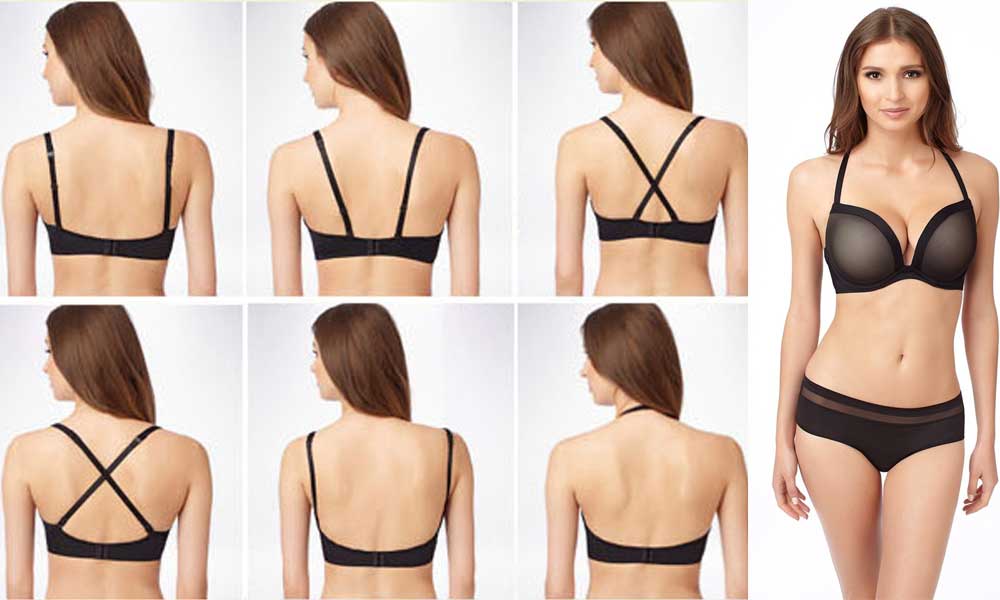 There are countless different types of bras on the market. Demi bras, push-up bras, strapless bras, T-shirt bras, unlined bras, backless bras, lingerie bras, minimizer bras, and many more are all common bra options available to women today. All of these bra options have been created for a specific reason. Each one of them fulfills a slightly different range of needs and desires that women want their bras to meet on any given occasion. Strapless bras can be invisibly worn under more revealing clothing. T-shirt bras look smooth underneath your tightest tops. Unlined bras give you a no-bra feel while still providing lift for your bust.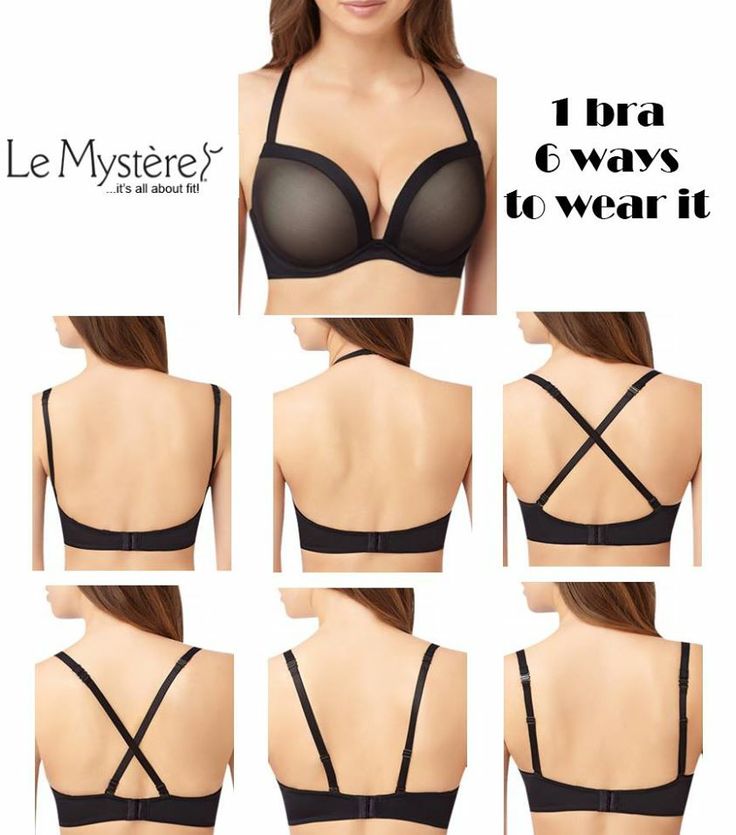 When you start to consider all of the varying benefits that different types of bras provide, it makes more sense why most women have an overflowing drawer full of bras. However, the problem is that many of the bras in every woman's coveted bra drawer barely ever actually get any wear. We all have our trusty favorite bras that we wear several times a week. And then there's the itchy and uncomfortable backless bra we only reluctantly unearth when a slinky, low-cut party dress forces our hand. Convertible bras help solve the universal problem of owning a collection of bras that continue to take up valuable space in your closet despite the fact that you never wear them.
What is a Convertible Bra?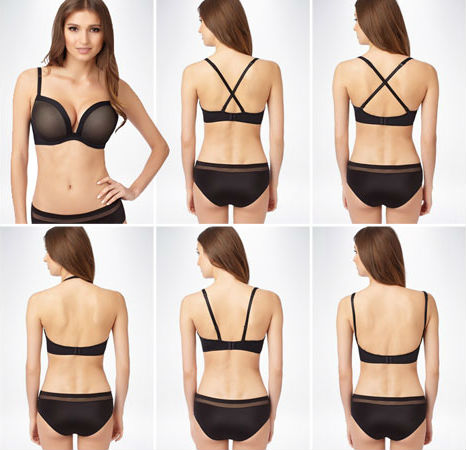 A convertible bra is a bra that you are able to wear in many different ways. Convertible bras feature detachable and adjustable straps. These straps can be completely removed, allowing you to wear the bra like a strapless bra. They can also be kept in place to keep your convertible bra as a trusty, traditional strapped bra. When most people think of convertible bras, they commonly think of a bra that transforms from a traditional bra to a strapless bra and back again. However, convertible bras actually offer moe wear options than just these two.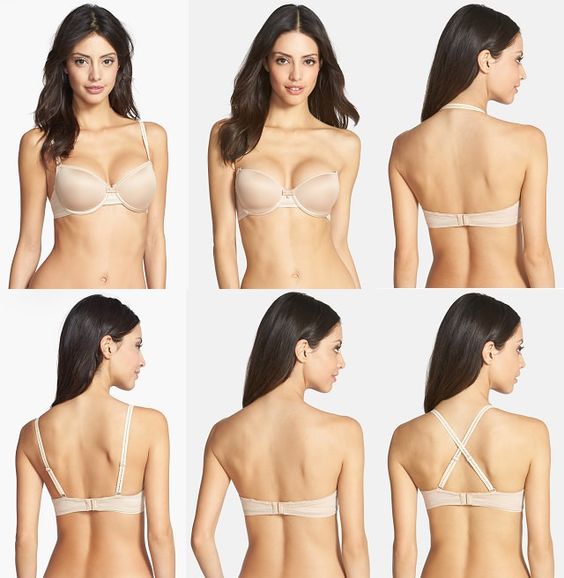 via
If you want to wear an off-one-shoulder top or asymmetrical dress with only one sleeve, just remove one strap from your convertible bra and keep the other one intact. This allows you to maintain more support than a strapless bra while still keeping your bra straps invisible. Convertible bras also give you the option of crossing both straps in the back to create a racerback bra that stays hidden under under tops and dresses with a racerback design.
The Benefits and Limitations of a Convertible Bra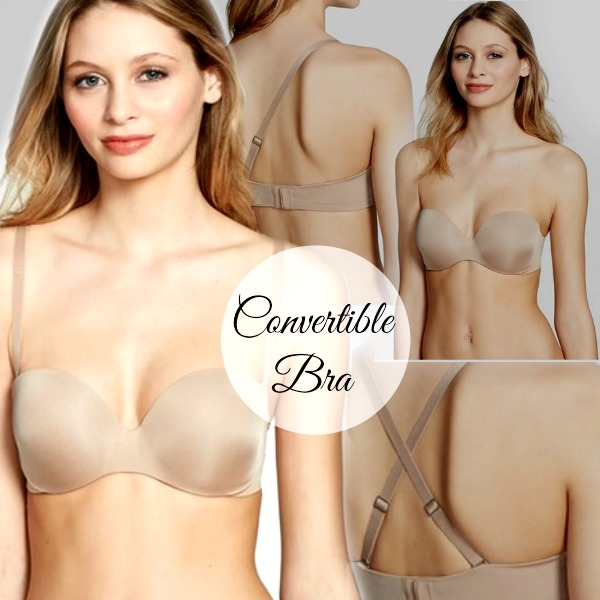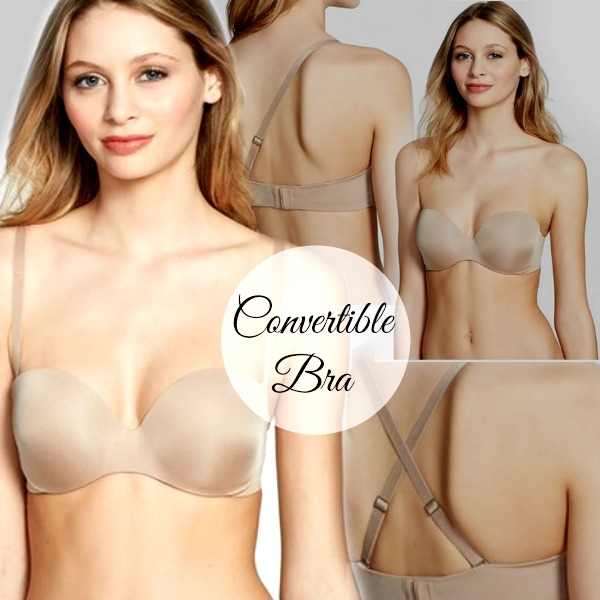 Basically, convertible bras are virtually the best of all worlds. They are able to take the place of several different bras, including a racerback bra, a strapless bra, and a plain old traditional bra.
Convertible bras are an exciting prospect. The thought of only packing one bra with you on vacation instead of filling up your suitcase with five is definitely something to celebrate. However, don't get too crazy with your convertible bra. Although a convertible bra is a jack of all trades, it is a master of none. These bras are designed to work with multiple different configurations. Therefore, they aren't as effective in these configurations as bras that only have one purpose.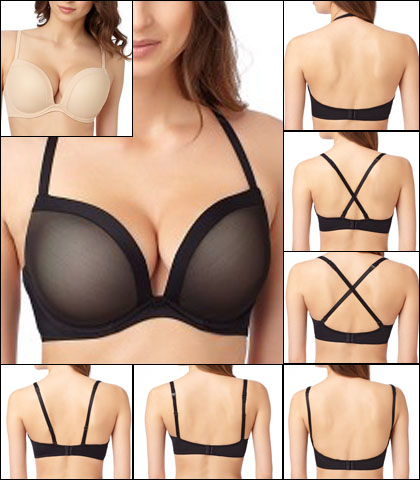 When you wear a convertible bra as a strapless bra, it's not going to offer as much support and security as a strapless bra that is only a strapless bra. The straps of a convertible bra configured as a racerback bra are not going to be as comfortable or supportive as the straps of a regular racerback bra. As a traditional bra, however, convertible bras don't really have any drawbacks.
Don't throw away all of your other bras the second you purchase a convertible bra. This is especially important if you have a larger bust and require more support in strapless or racerback bras. It's also a good idea to hang onto your strapless/one-strapped/racerback/halter bras if you wear them on a very regular basis. However, buying a convertible bra is a good way to pare down your bra collection. It lets you get rid of superfluous bras you haven't worn in years but keep around in case you need them one day. With a convertible bra, you'll have peace of mind. You'll know that you have many options at your fingertips available in just one bra.
How to Choose a Convertible Bra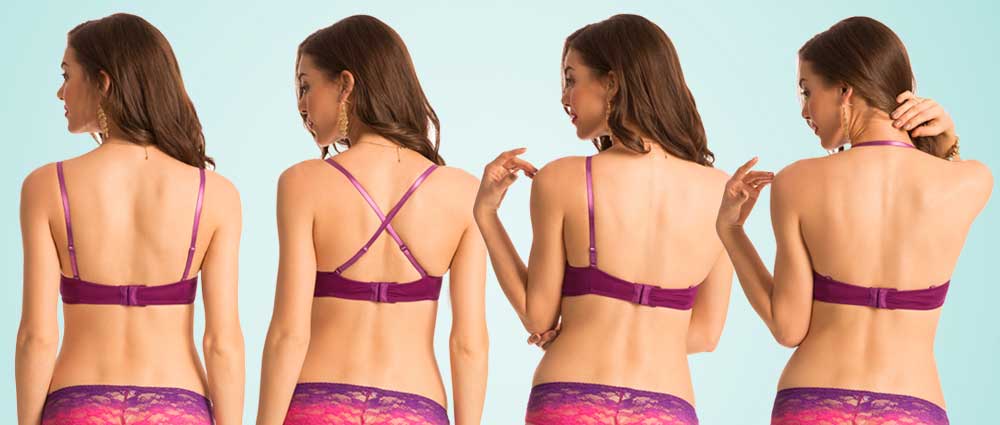 When you first try on a convertible bra, try it on just like any other traditional bra. If a convertible bra doesn't fit very well when you configure it as a standard bra, leave it on the shelf. Make sure that the straps of the bra don't dig into your skin. Pay attention to the band and ensure that it fits snugly around your ribcage. Confirm that the cups of the bra don't gap or dig into your breasts.
After you try on a potential convertible bra as a traditional bra, start experimenting with the straps. Remove the straps completely. Make sure that the bra provides enough support for your bust when you wear it as a strapless bra. Try out other strap configurations as well. Configure the bra as a halter, racerback, off-the-shoulder, one-strap, and any other arrangement you can dream up. Ensure that the straps do not feel too loose or dig tightly into your skin in any configuration.
It's a good idea to bring some of your more adventurous clothing pieces with you when you shop for a convertible bra. Try on the convertible bra underneath your low-cut dresses, halter tops, and racerback tanks. Make sure that the bra looks natural and invisible when you pair it with these pieces.
A convertible bra can effortlessly transform your undergarment collection in no time. These bras are extremely convenient. They allow you to throw away pesky, unwanted bras that take up unnecessary space in your closet. Plus, once you find a convertible bra you like, you'll have a trustworthy bra that fulfills your need for many different types of bras. Introduce the best of all worlds into your bra collection with a top-quality convertible bra.