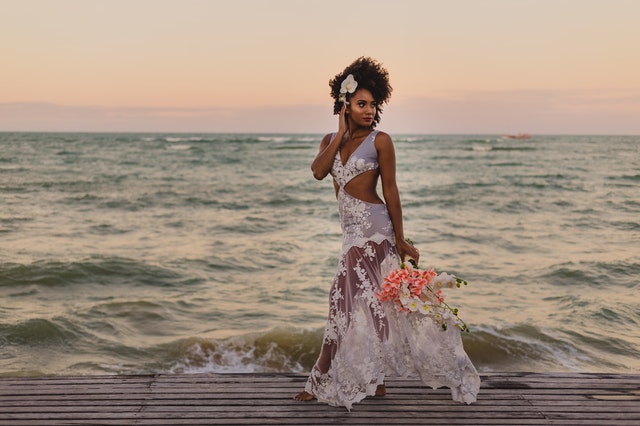 It's your wedding! The day that you have been dreaming about since you were 5, has finally come! Wondering about the most perfect venue for your special day? What can be better than exchanging your vows with your special someone with the beach as the backdrop?
Now that you have opted for a beach wedding, there are certain things that you have to consider to make sure that your wedding day does not have any hiccups in between.
Here we have some helpful tips for you, regarding styling, accessories, and other things that suit a beach wedding.
Go With Tea-Length or Mini Wedding Dress

Photo by Adam Kontor
When it comes to the dress length, there are a lot of options to choose from. You can opt for the classic long bridal gown in mermaid or A-line cut, or you can choose to go shorter with mini or tea-length.
We recommend you opt for a shorter dress length for a beach wedding. It might become difficult for you to walk in the sand with the hem of the gown around your ankle. The sand will also get trapped in the train of your dress, making everything quite uncomfortable.
To avoid this, opt for a shorter dress or a long gown that has a fabric that can be easily cleaned using just a brush, like chiffon or organza. We will come to that later.
You can ideally opt for a cocktail dress. Cocktail dresses are very popular for beach weddings as they are practical and you can be at ease all day when you are moving around or dancing on the beach.
If you do not want to opt for a shorter dress that is fine too. You can choose a tea-length dress for a classy look, or you can opt for an asymmetric hemline for a bit of quirk.
Choose A Lightweight Fabric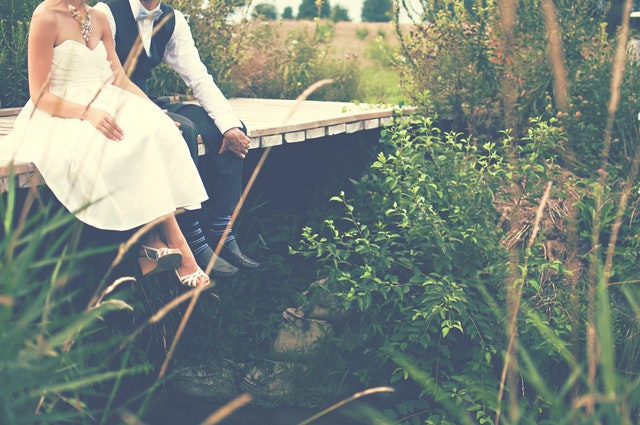 Photo by Scott Webb
Since you will be wedding at the beach, you need to consider the weather as well when you are choosing your bridal attire. You can expect the temperature to be hot and balmy because of the constant sunshine, so you need to choose a dress that is lightweight and is made of breathable fabric. It will help keep you cool as you exchange your vows.
If you end up sweating and feeling sticky all day, that will not be a perfect wedding now, isn't it? Also the lighter the fabric, the better it is because it will sway in the wind making it all the more dramatic! Jersey cotton, charmeuse, chiffon, tulle, organza – these are some of the ideal fabrics.
Something Easy To Pack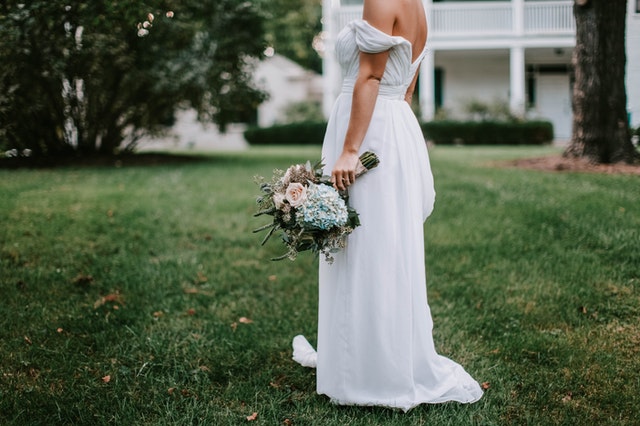 Photo by Leah Kelley
How many of us are lucky enough to live near the beach? Since not all of us have a beach house, you need to make preparations to have the wedding on the beach. This also requires you to travel quite a distance to have your wedding and traveling means packing!
Opting for a wedding dress that is easy to pack and steam later on after you unpack it will save you a lot of worries. You can easily pack the dress and carry it in your bag and you would not have to worry about it being damaged on the way to the destination or worse, lost.
Do not forget to pack your skincare essentials and toiletries as well!
Say No To The Veil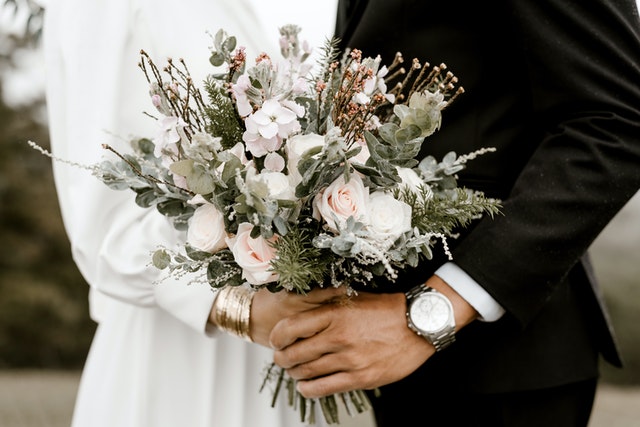 Photo by Trung Nguyen
This may sound like a bummer, but hear us out! Beaches often have a strong breeze, there are high chances of your veil being fluttered in an unruly way by the wind.
Instead of a veil, you can opt for a crystal-lined floral clip or fresh flowers in your hairdo if you have long hair to style into a bun. If you have short hair, you can try wearing a floral tiara. These accessories are easy to wear and can be made to stay in place as well.
Casual Styling Suitable For The Seashore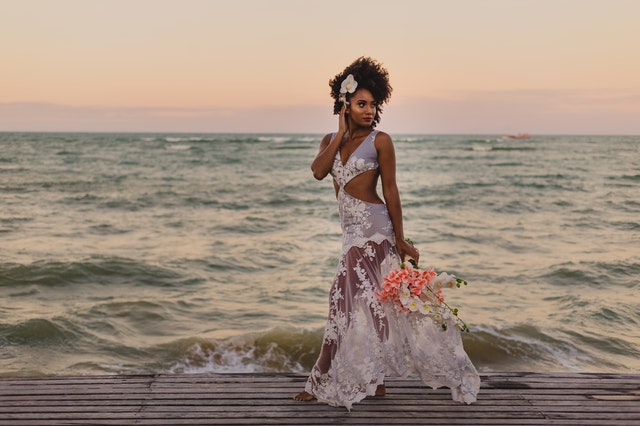 Photo by Rodrigo Feksa
Beach weddings have a very casual vibe. If you look at the other traditional indoor weddings you will see the brides wearing a full bodice and full gowns, with the veil and everything. But the brides in beach weddings wear softer, more flowy dresses that are more comfortable and easy-going.
You will look out of place if you choose to wear a traditional gown with all the wedding accessories at a beach. Your beach wedding styling should be more soft and romantic, and less formally structured. The same goes for your accessories as well. A simple sapphire or diamond stud will do the trick for you.
It is your wedding day, you should dress like the queen you are today. Despite all the points we have mentioned here, you should wear the dress that you are most comfortable in.