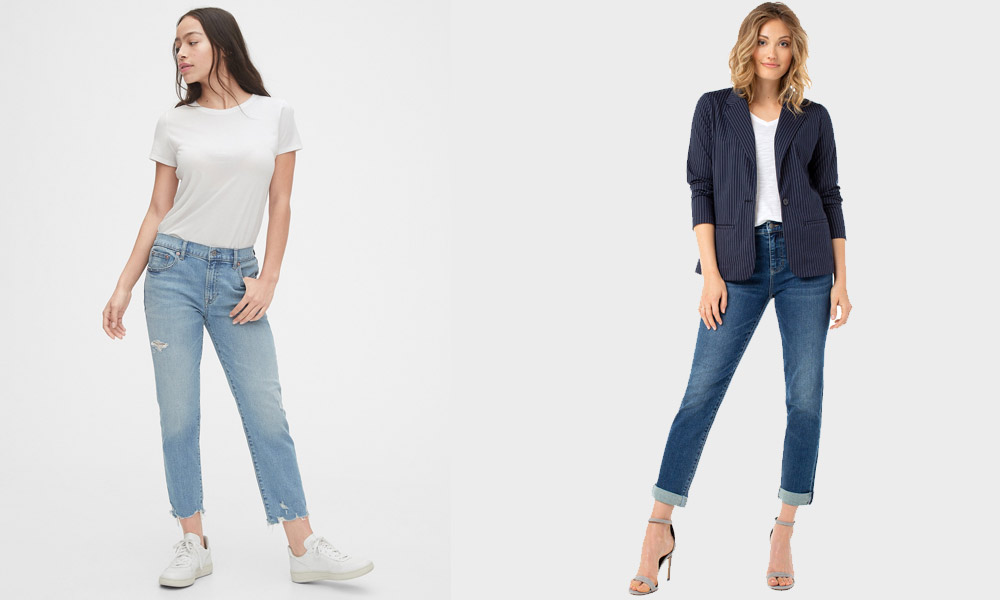 Relaxed through the hip and thigh. Slightly tapered leg. A little stretch and a lot of laid back vibes, a total everyday go-to!
Girlfriend jeans are one of the most popular jeans' styles right now. And that's because they offer 'the middle way' between extremely tight, skinny jeans and flapping, wide legs. Girlfriend jeans have fabric with a hint of stretch and a looser fit, so you won't be squashed in like a sausage. And with a mid-rise waist and a good choice of blue shades, you can't ever get it wrong with this fashionable jeans style. All you have to remember is to roll up the hems, to show your nonchalant attitude – and get on with what you want to do!
But before we delve into how to style the best outfits around Girlfriend jeans, maybe we should have a quick chat about all the other 'family members' who have recently pushed into fashion stores. I mean, with so many different jean styles, like Mom, Dad and Boyfriend, also milling about in the jeans section, you never know what to take with you into the changing rooms! So here's a quick run-through of all the other 'family' jeans styles, so you know which ones you don't want before you go shopping!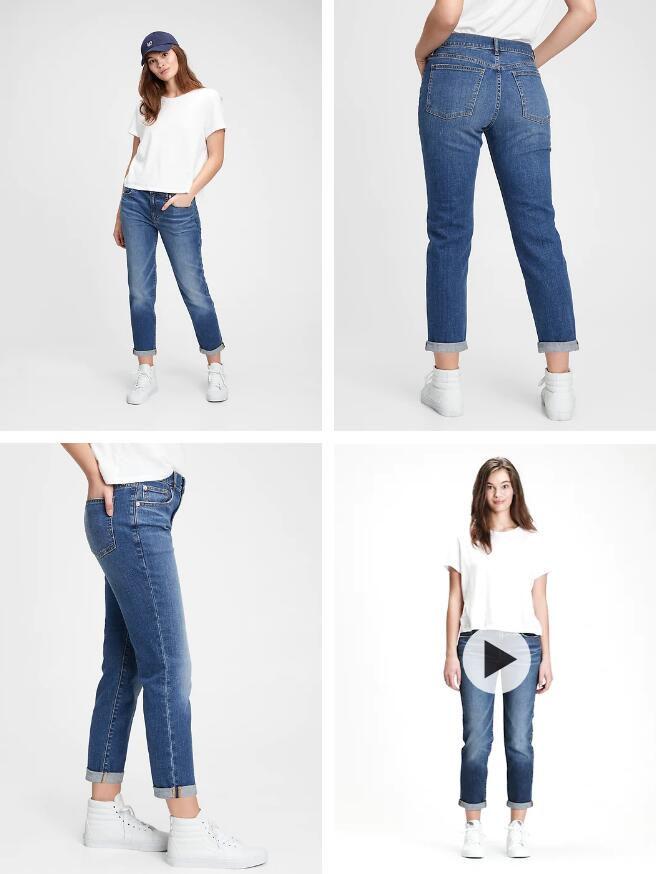 About "Family Jeans"
Mom jeans fit
Mom jeans are looser fitting around the hips and are a relaxed high-waist jean. They have more loose fabric on either side of the zip and are tighter around the buttocks. Their main feature is that they taper down lightly to end at the ankle, so you don't have to shorten the hem or roll them up.
Boyfriend jeans fit
Boyfriend jeans look like you would look in real life if you borrowed your boyfriend's jeans – baggy. They are the opposite of the skinny jean and you need to style them with an oversized tee-shirt or a cropped top and Chuck Taylors, for a boyish look.
Dad jeans fit
Dad jeans are looser, high-waisted and have quite a wide variety of denim wash colors and fabric density. They are really old-style Levi 550's and Wrangler jeans, which can be worn by males and females.
Girlfriend jeans fit
Girlfriend jeans in detail have a tapered, straight leg, a higher waist than boyfriend jeans, and a little extra stretch around the hips for a more classic fit. There's a little bit of slouch and a slim silhouette that accentuates the buttocks and provides the good fit. And it's the 'girlfriend fit' which makes it suitable to be dressed up or down. In addition, you get great comfort without losing anything in terms of trendy style, because there are plenty of ripped and classic designs in the Girlfriend ranges.  And they are offered in every denim-blue color you could wish for!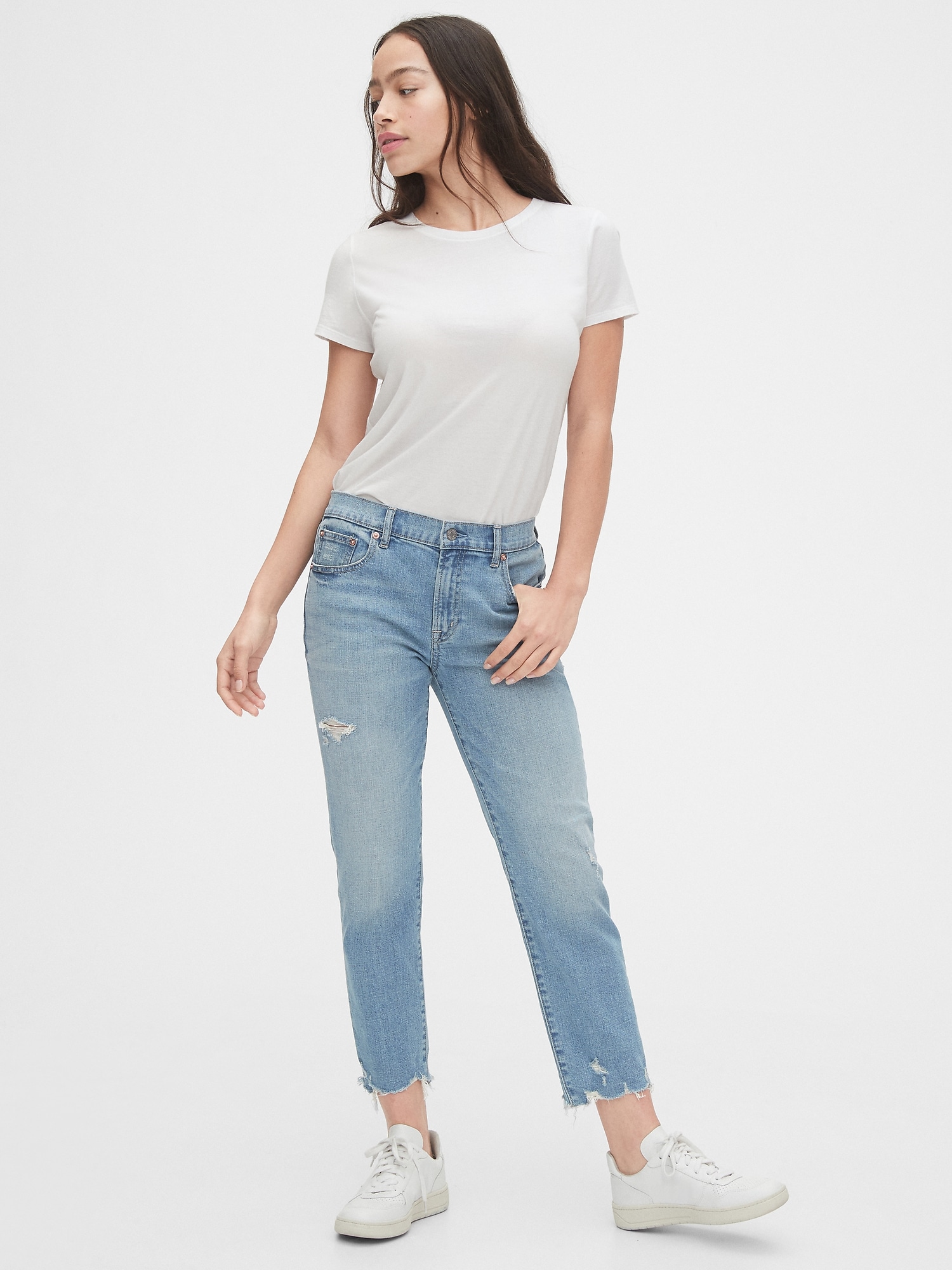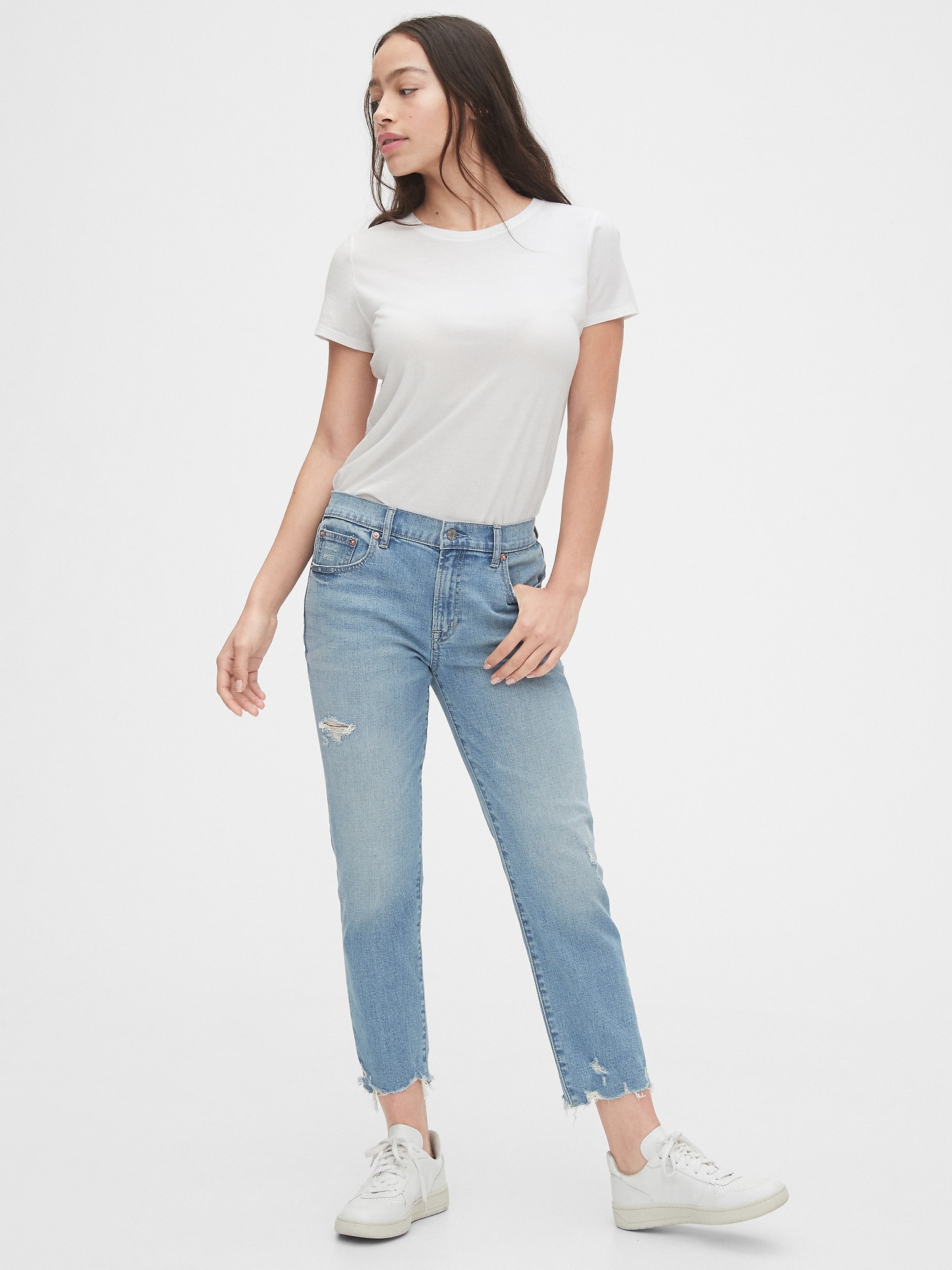 So now we all know what we're talking about, let's move right on to how to wear this year's trendiest girlfriend jeans outfits!
Girlfriend jeans & oversized shirts
Oversize clothes are back in fashion for this year, and slim-fit girlfriend jeans look super with an oversized shirt. Turn up the cuffs of your jeans to show your ankles and wear smart bootees for a trendy look. If you want a more eye-catching look, why not drape an animal-print scarf around your neck and wear a trilby hat?
Girlfriend jeans & blazers
Dress up your girlfriend jeans with a neatly tailored blazer and chunky-heeled boots. Suede boots in tan or beige look great with faded, dark-blue wash jeans. And a blazer with either a check or plaid pattern will bring your outfit right up to the minute!
Look for gray, beige, khaki, and dark-navy with tan check. And underneath you can wear a French sailor striped top with a neck-scarf to complete this year's new look. Carry a bright handbag to add a touch of lively color and you're all set!
Girlfriend jeans & heels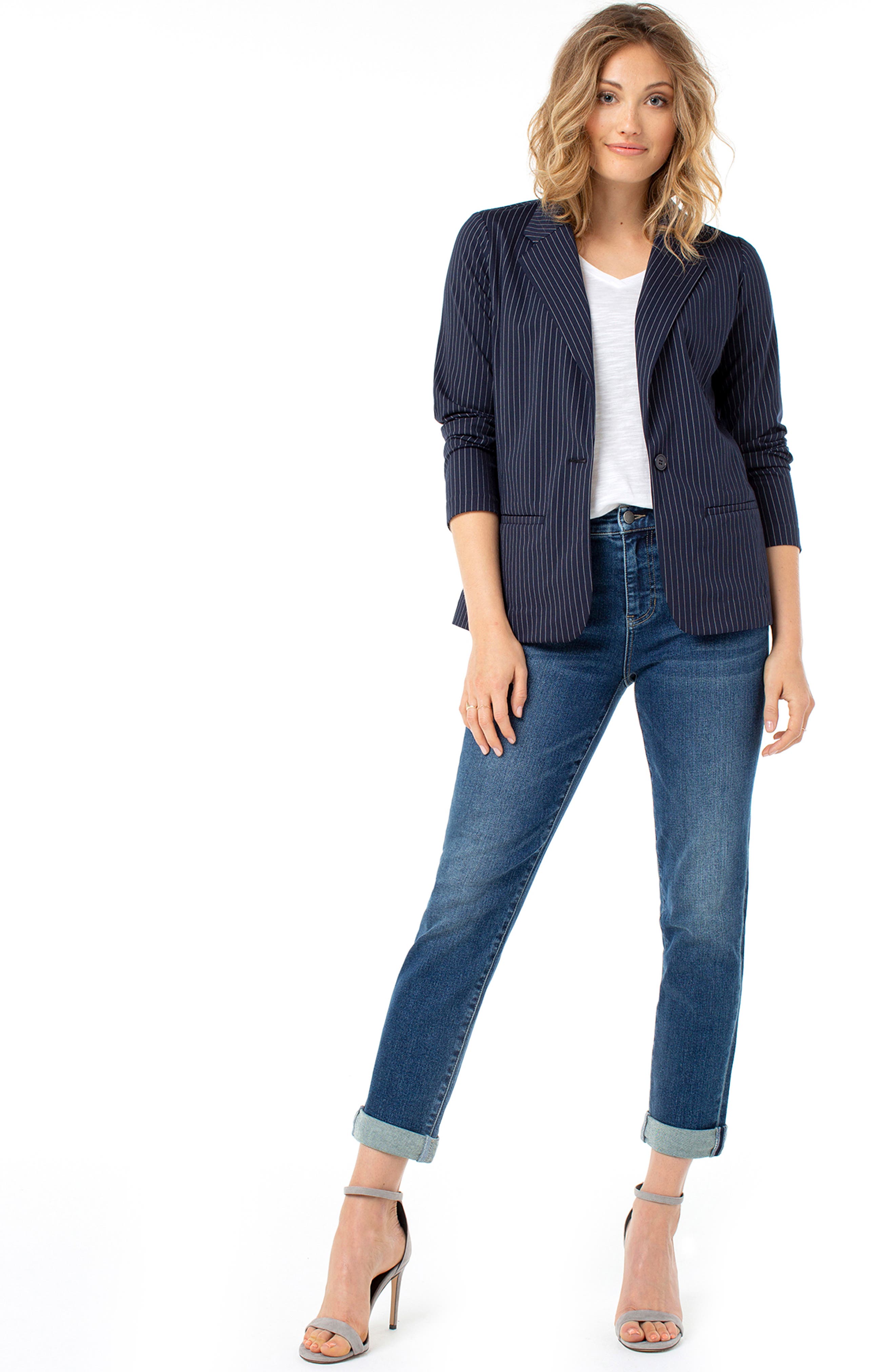 Girlfriend jeans are mostly worn with a turned-up hem, cuffed or cropped to make sure your ankles are on show. So if you choose high-waisted girlfriend jeans, this will balance out the shorter leg, if you make sure you always wear heels. Shoes with pointed toes, rather than squared toes, will also help to lengthen your 'leg-line'.
And avoid flat shoes, as with girlfriend jeans your legs would look shorter if you didn't wear heels. Try wearing a light-beige sweater, under a burgundy leather jacket and a gray trilby hat. And accessorize with a beige bag plus white heeled shoes to create a trendy 'about town' vibe.
Ripped girlfriend jeans & graphic t-shirts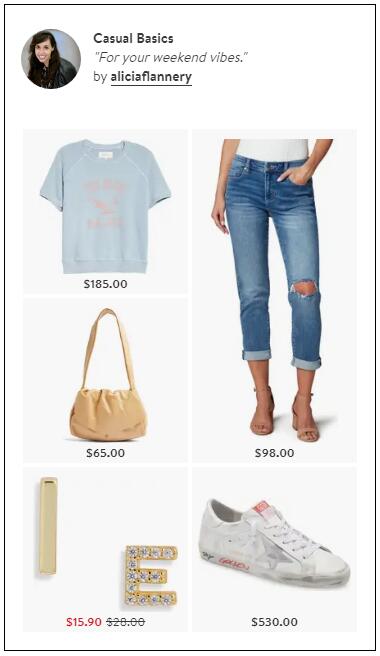 As the warmer weather approaches, you'll want to wear the cool and airy version of girlfriend jeans. Ripped jeans are great for everything from dates to running errands around town or going to the pub with friends. Wear them with a graphic tee-shirt, strappy sandals with a medium-heel and a black leather jacket and black wide-brimmed hat. Or maybe wear a new cropped sweater vest on its own, or over a cropped tee. This is a casual-glam look that shows you're a trend-setter.
Girlfriend jeans & plaid flannel shirts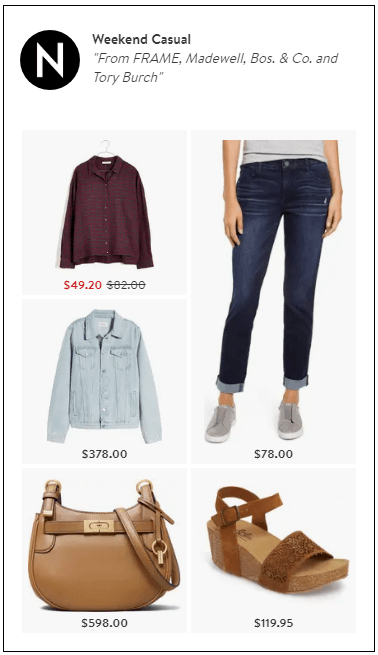 For a brighter look in spring, wear a red & gray-checked flannel shirt with a white background. Tuck the shirt in and then pull it out a little bit to make a small baggy line draped over the waistline. This will make your waist and hips appear slimmer. And wear a pair of trendy tan ankle boots with brown straps decorating the uppers. This is a smart-casual look using the shirt and smart boots to give your jeans a classy edge.
Girlfriend jeans & an oversized sweater/coatigan
Cool days are perfect for wearing your jeans along with a white, collarless shirt and an oversized sweater. This year's oversize sweaters have more shape than in previous years, with wide, baggy sleeves, and a nice curve into the thigh, to give your body more shape. Look out for chunky-knit sweaters and the latest coatigans, which are long extra-thick cardigans with loads of texture.
A coatigan is intended to keep you warm without a formal jacket or coat in spring, in a soft and comfortable big woolly cardigan. They come in a range of plain, fashion colors for this winter/spring, such as purple, deep-blue, gray, beige, burgundy, brown, camel and deep pink, so you can easily match one with your current wardrobe. And if you feel like something jazzier, there are various new designers offering lively, patterned cardigan-coats in vivid colors!
Girlfriend jeans & cropped tops
Cropped tops and spaghetti-strap tee-shirts are back in for this summer, and they both work perfectly with girlfriend jeans. Make sure you buy high-waisted jeans, if you don't want to show your entire midriff. But with a mid-rise girlfriend jean, you can wear a trendy cropped top and just show a little flesh around your waist, but nothing lower. This is a fashionable and comfortable outfit to wear for your leisure time, at festivals and on vacation. And you won't need to pull-up your jeans constantly, as we have with low-rise cuts!
Girlfriend jeans & cropped cardigans
I must admit I love the new cropped cardigans that have suddenly appeared in all the best fashion shops. They are just what's needed for a cute, summery look when you still need something to protect you from a cool breeze. The summer colors are the pastel counterparts of the winter shades, so there's lavender, shell-pink, baby-blue, gorgeous soft moss-green, beige, light-gray, khaki, camel and cream.
These cardigans are so feminine with long lace collars and pearl or gem button details. And they have been designed especially to flatter mid- and high-rise jeans, by drawing attention to your waist. Cropped cardigans can be worn over a spaghetti-strap, tee-shirt/tank-top, or just worn as a pretty, buttoned-up sweater with lots of feminine allure!
Girlfriend jeans & a quirky look
This is a good year to experiment with different looks, as there are so many new trends on offer. So if you want to create a quirky look one day, wear a buttoned shirt not tucked-in, but tie a knot in just one side of the shirt to hang just below your waist. You can do this with a plain, checked or patterned shirt and get an attractive, asymmetrical look.
And neck scarves are going to be huge this year, so now's the time to start learning how to tie a scarf, so you can decide which styles suit you best. They look good with tucked-in, casual, t-shirts and buttoned shirts. And an elegant silk scarf can really add a touch of sophistication to your girlfriend jeans' outfits, if wear a silky top to dress them up.
Girlfriend jeans & double denim
Double-denim is fashionable this year, and there are so many lovely blue chambray and denim cropped tops, shirts and short jackets, it would be wrong not to wear them! Wearing a similar blue color on both halves of your body will help make you look sleeker and finish the look with nude or beige shoes or sandals and a natty, tan-brown shoulder bag.
Caring for your new girlfriend jeans
I've just read that (apparently) we have been washing our denim clothes too often and that to keep your denim in its best condition you shouldn't wash it for the first 6 months! It sounds pretty strange to me and I think I'll just carry on washing mine regularly on a quick, delicate wash. I've been wearing denim for many years and can't say I've ever had any problems with washing it too often! I don't think many women will start this new 6-months-before-you-wash idea – do you? LOL!