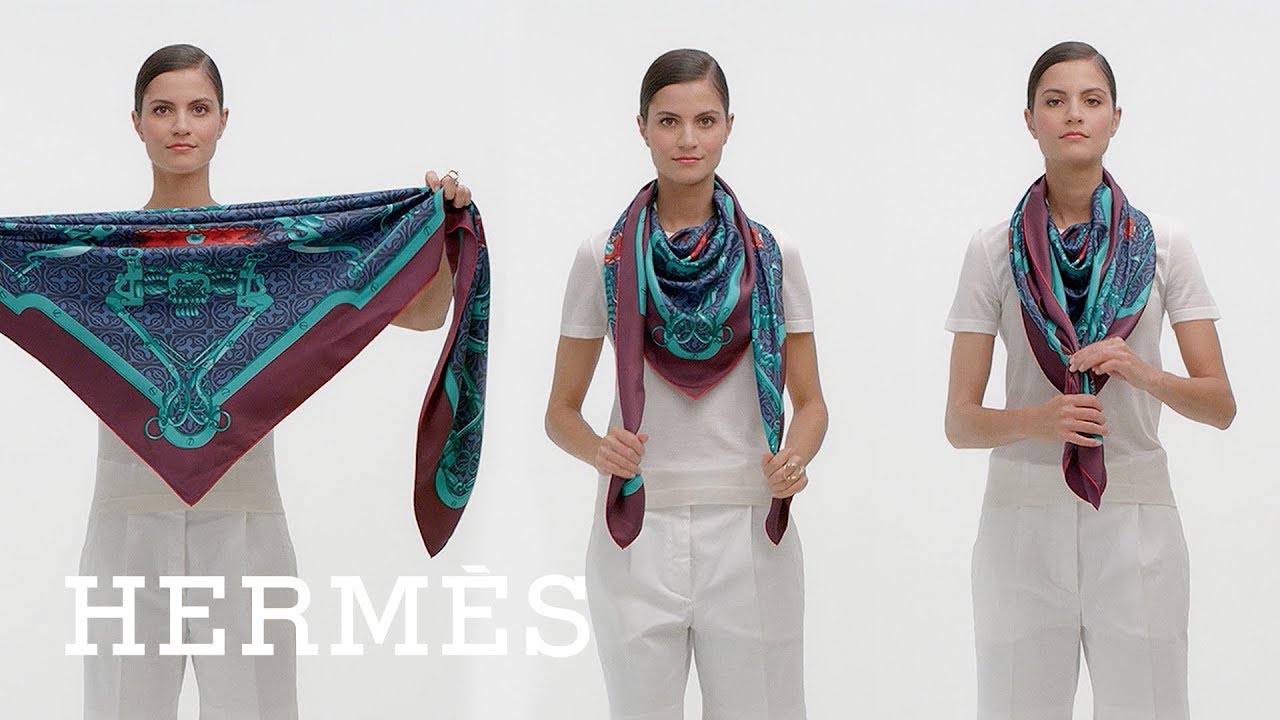 The Hermès silk scarf is the symbol of ultimate luxury and good taste owing to its wonderful silken fabric and the gorgeous designs. It's always been used to add elegance or fashionable style to formal and casual outfits. And when you add a Hermès scarf to your ensemble, you instantly raise it up to a higher level of trendy chic! The Hermès scarf can be used to completely change the neckline of any dress, shirt or top to a more decorative look.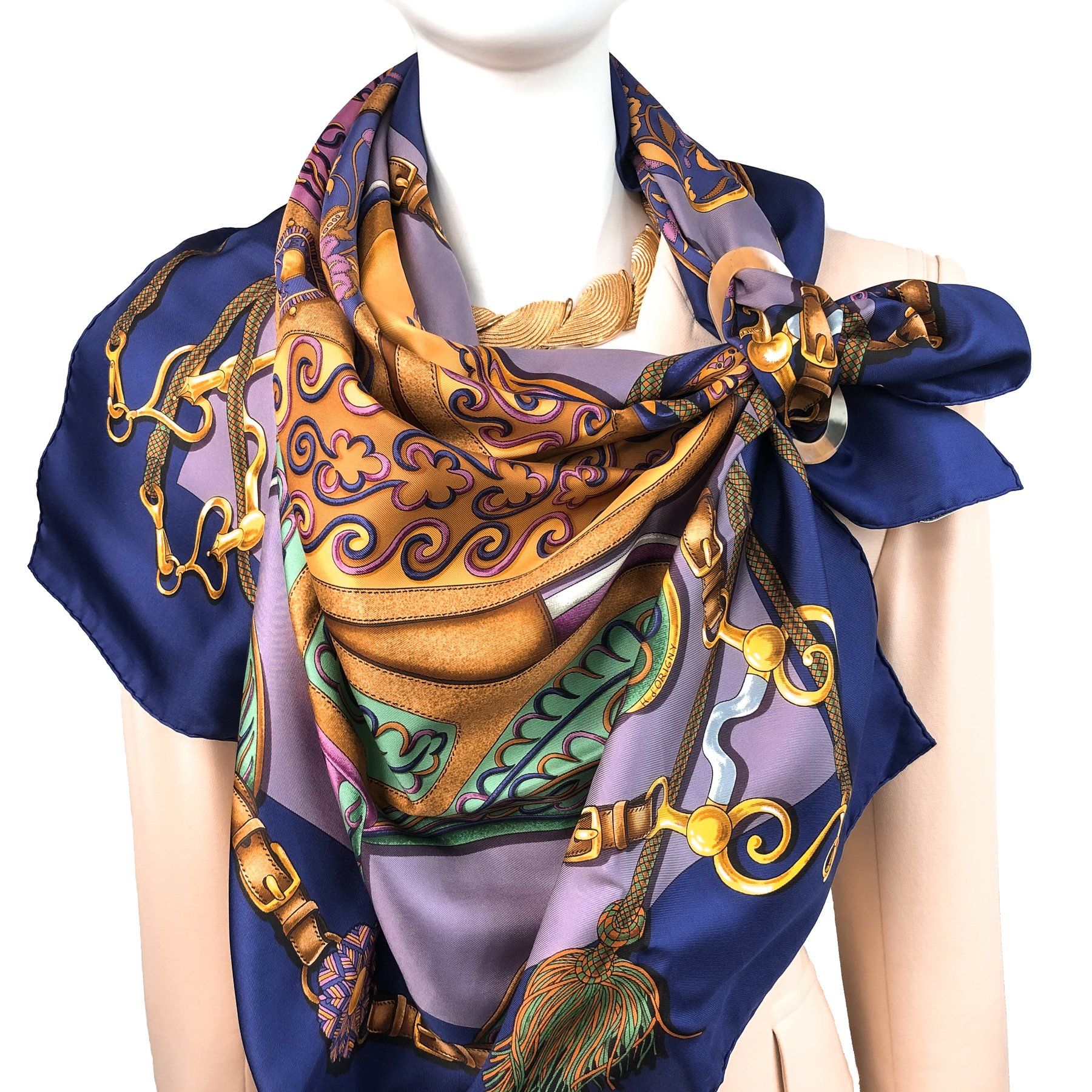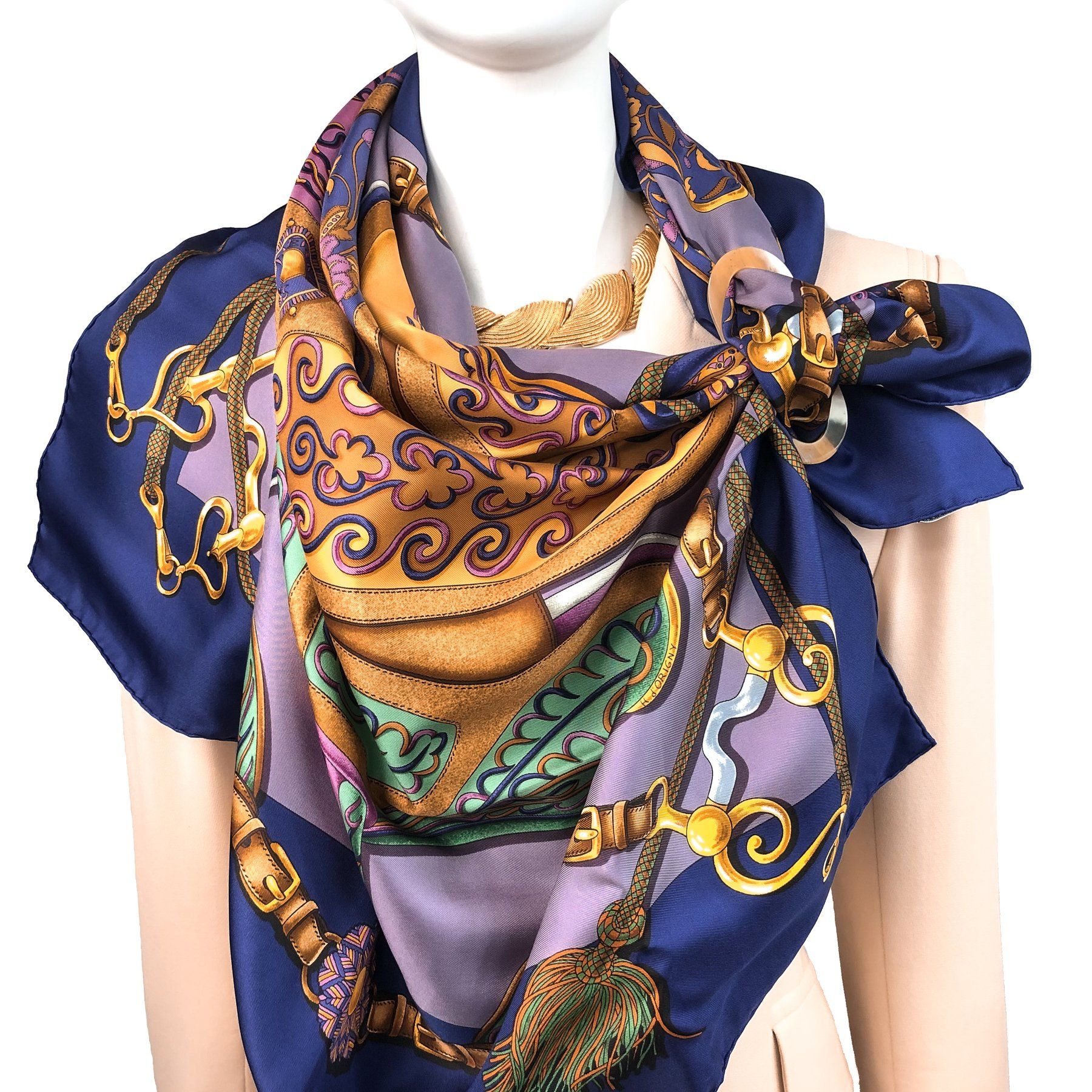 And it's so versatile you can use it as a belt, or a bag or to decorate the handle of a handbag! Wearing a Hermès scarf as a headband is the height of retro-chic, or wrapped around a bun or ponytail fastening and left to trail down over your back, looks youthful and carefree. So if you'd like to add some panache to your look, why not read on and see just how easy it is to wear a Hermès scarf like a Paris model!
How to tie a Hermès scarf around your neckline:
Hermès Scarf Cowboy Ring Method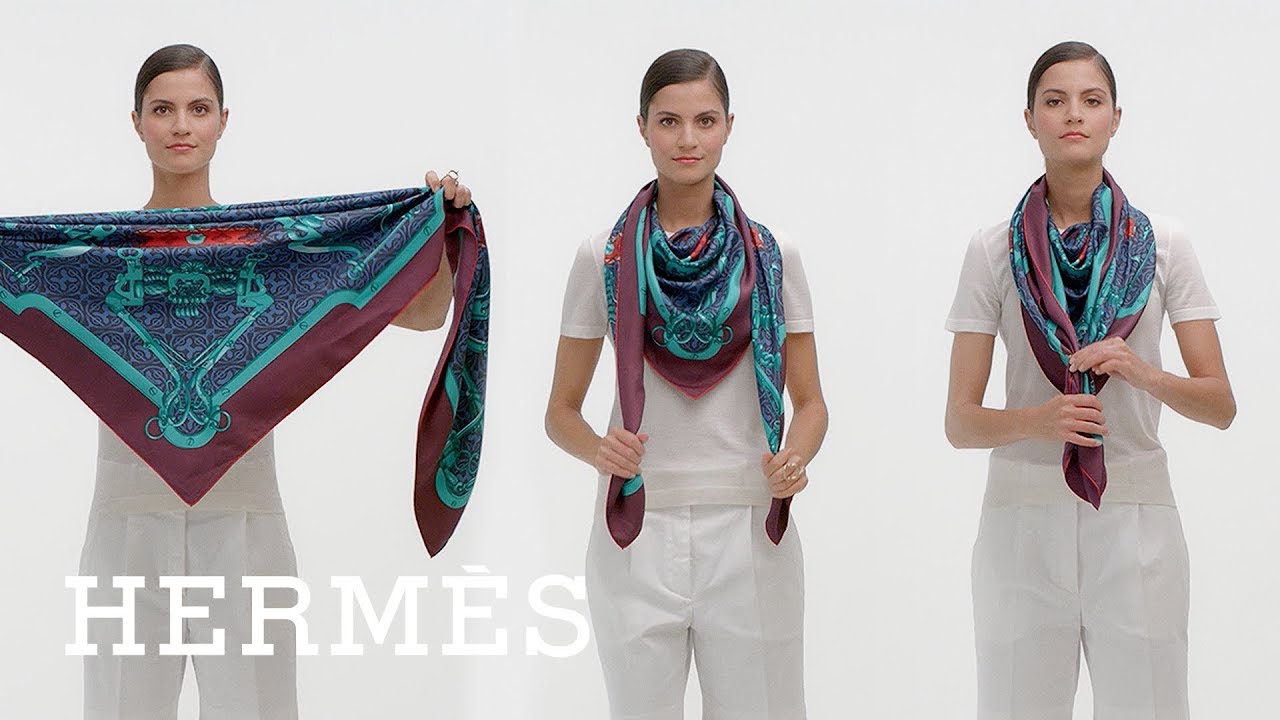 Fold the scarf in half diagonally to make a triangle
Tie a knot on one side of the triangle a few inches along from the end
Then tie the scarf around your neck by knotting the ends together
Then you should have an asymmetrical look that reaches down the front to your waist
Hermès Scarf Cowboy Fluid Method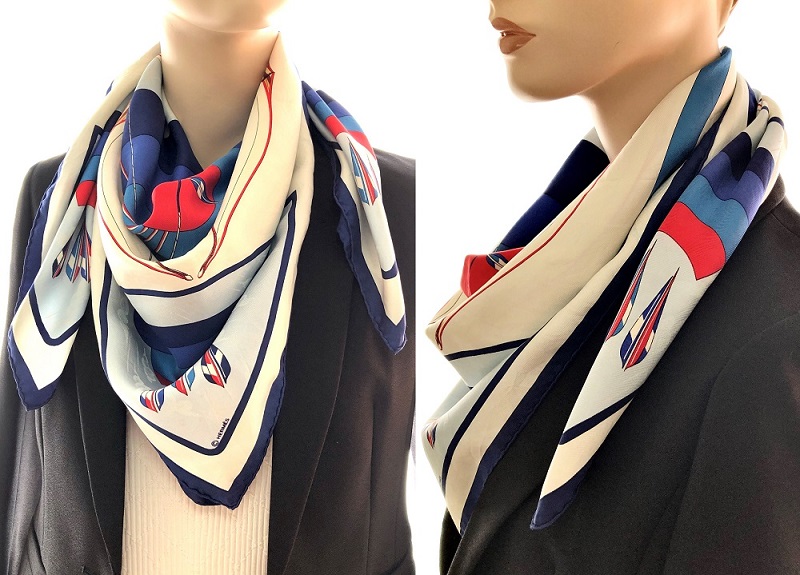 This gives a long drape of scarf down the front and looks super with an open-neck shirt, a plain dress or a plain tee-shirt.
Fold the Hermès scarf diagonally to make a triangle.
Wrap the two longer ends around your neck once and bring them around to drape down at the front.
The finished look should have the main section of the scarf hanging down, with the two long ends hanging loose on either side.
Hermès Scarf Collier Wrap Method
This is a great way to fill in a low neckline or to brighten up a dark, high-necked t-shirt or top
Fold the scarf over several times to create a strip.
Then tie three knots in the scarf, starting with one in the middle and then one of each side with about 3 – 4 inches in between.
Then wrap the knotted Hermès silk band around your neck like a trendy necklace.
This is a great way to fill in a low neckline or to brighten up a dark, high-necked t-shirt or top
Hermès Scarf Ring Scout-Knot Method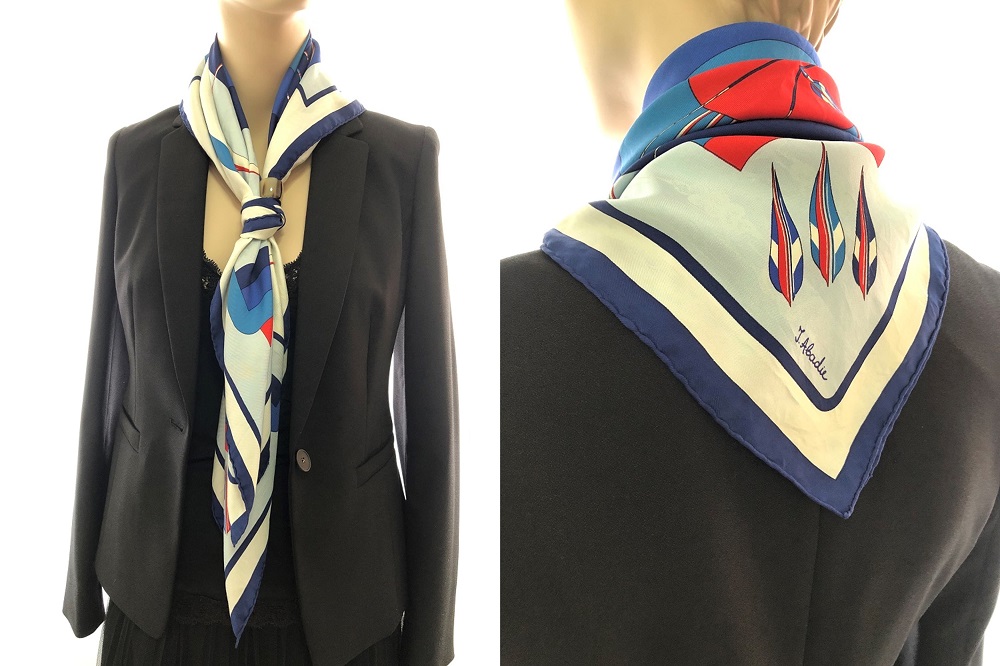 This style is similar to the way British Girl Scouts tie their uniform scarf. It looks great with a shirt that's left open to create a V-neck.
Fold your scarf over to make a triangle and then fold it in the same way again, to make a smaller triangle.
Tie a knot a few inches from the end of one of the longer pieces.
Place the scarf around your neck, so you have two loose ends at the front.
Tie the two loose ends together at the same place where you put in the first knot.
This creates a lovely V-neck inside the top of an open shirt or decorates a plain colored dress or a plain t-shirt.
Small Hermès Scarf Choker-Knot Tie Method
Fold the scarf over several times to make a thin strip
Place it around your neck.
Tie the ends into a knot, leaving three or four inches of loose ends.
And then spread out the loose ends into a bow style.
You can wear this style with the 'bow' at the front, or at the side of your neck.
Hermès Scarf Fluid Tie Style
This makes a bright and casual look with a plain white shirt or t-shirt and jeans/trousers.
Take the Hermès scarf and hold it by one corner, letting the scarf hang down loosely.
Place the scarf around your neck and tie a knot, so you have one tiny short section showing at neck level and one long section draped down to thigh level.
Hermès Scarf worn like a traditional tie
This style looks great when worn with a collared shirt, but it can also be worn with a dress or t-shirt, twisted to the side.
Fold a diagonally folded triangular shape Hermès scarf into a long flat section and drape it around the upturned collar of a shirt or dress.
Take one long loose section and tie it around the other straight section twice.
Then push it up between the neck and the scarf and thread it through the loop made by the scarf below.
You should end up with a tie knot and two loose ends of scarf hanging at the front.
Turn down your collar and see how smart this looks with a white shirt!
Hermès Scarf as a broad belt
This is such an original idea that you don't see very often and yet it's a stunning accessory to a white shirt and jeans or a plain top with a high-waist pencil skirt.
Place the scarf on a flat surface and fold two opposite sides to make a straight belt shape about 4" or 5" inches wide with a pointed shape at each end.
Drape the wide belt around your waist and tie the ends in a double knot.
Smooth out the belt around your waist and that's all there is to it.
Hermès scarf side-knotted skirt
This is a super casual look that you wear over thick tights or plain leggings.
Take your Hermès scarf square and drape it around your body like a skirt.
Then knot the top ends together to create a 'waistband'.
The split is worn down one side showing off your leg.
There are lots of ways to wear a Hermès scarf as a halter-neck top, or twist it around your handbag belt, to add beautiful color and texture to your outfits. And even more ways to use these gorgeous scarves as head-wraps and even cute handbags! So if you'd like just one simple way to jazz-up your wardrobe – get a Hermès scarf!