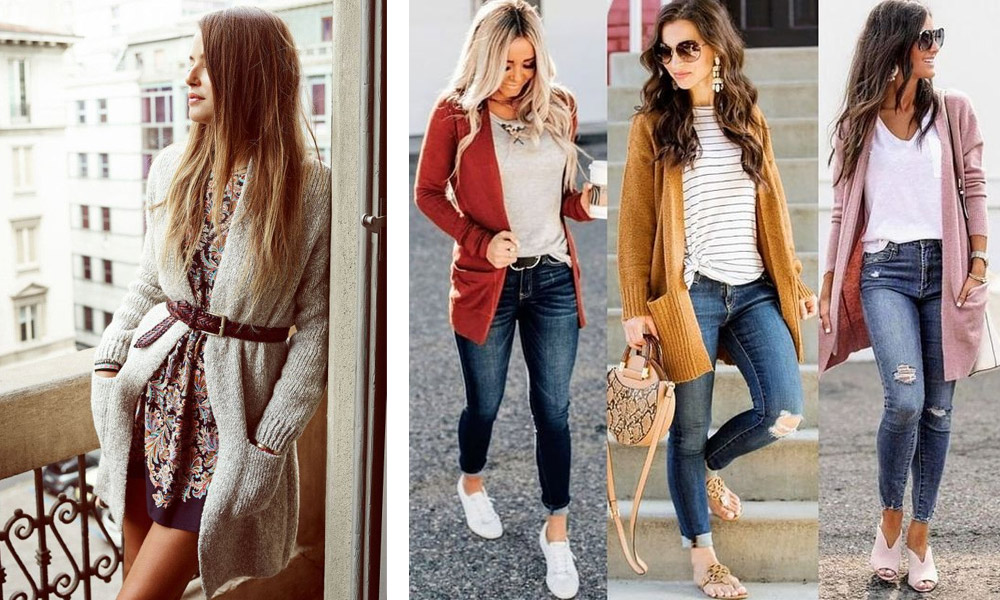 To anyone who thinks cardigans are just for mature women and little girls, I would say take another look. This year's cardigans are innovative and flattering, with some really unusual new looks! Recently designers have decided that it's time for a complete overhaul of lots of fashion staples and they've taken a fresh look at many of our everyday favorites and come up with some fantastic new styles!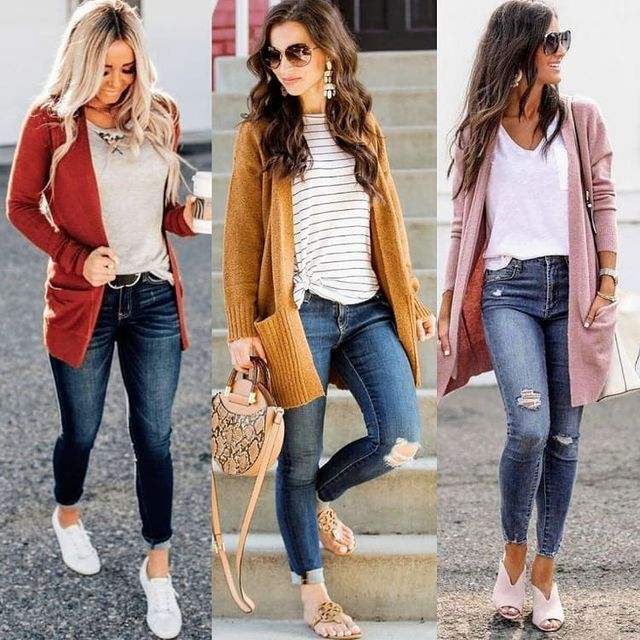 This year's winter colors are a lovely range of brown shades, from dark chocolate, to tan, light-brown khaki, sand, camel, caramel, and they look fabulous with burgundy and deep purple. And the spring/summer colors are pretty pastels featuring blue, pink, lavender, mint green, beige, cream and off-white.
So for those of you who have avoided cardigans thinking they weren't fashionable, it's time to wear the new cardi styles. And for the rest of us who've always had a few cardigans in our wardrobe to keep us warm and cozy in the cold weather, here are lots of new ways to style them!
Cropped cardigans look great with high-waist pants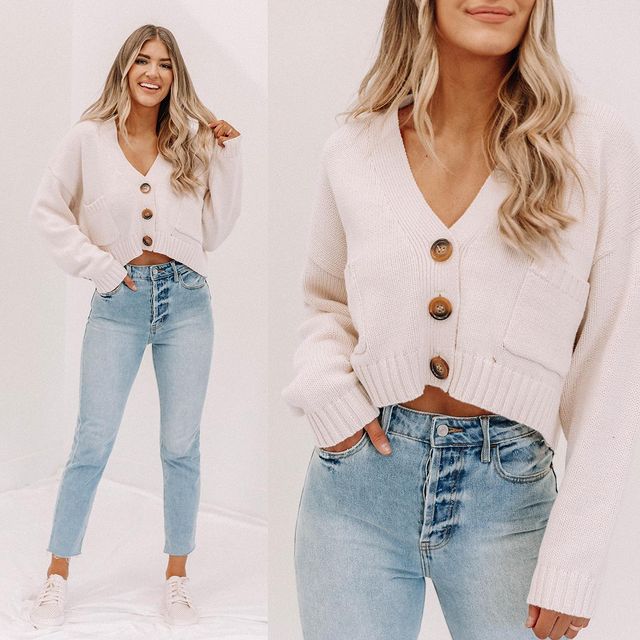 Cropped tops may not have suited you when you were wearing low-waisted jeans, but high-waisted pants are the strong, new trend. And that means a more flattering line and no bare flesh showing. Trendy cropped cardigans come down to the waistband of your trousers, in a much more balanced look. Cropped cardigans can be worn alone, like a sweater, or with a matching crop-top, or a different colored crop-top in a complementary color. It's an attractive, vintage-look especially if you wear cropped or turned-up bottom jeans.
How to wear belts with cardigans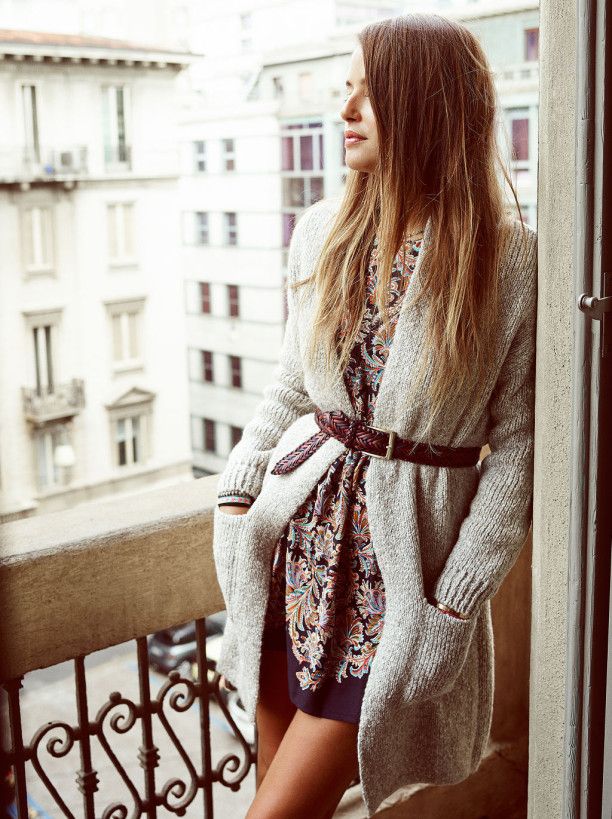 If you have a couple of longer cardigans in your wardrobe, re-style them by adding a belt. Try using one of your trouser belts, rather than a stretchy belt that came with the cardigan for a contemporary look. Narrow belts are more subtle, and a wider belt will accentuate your waist.
Cardigans over dresses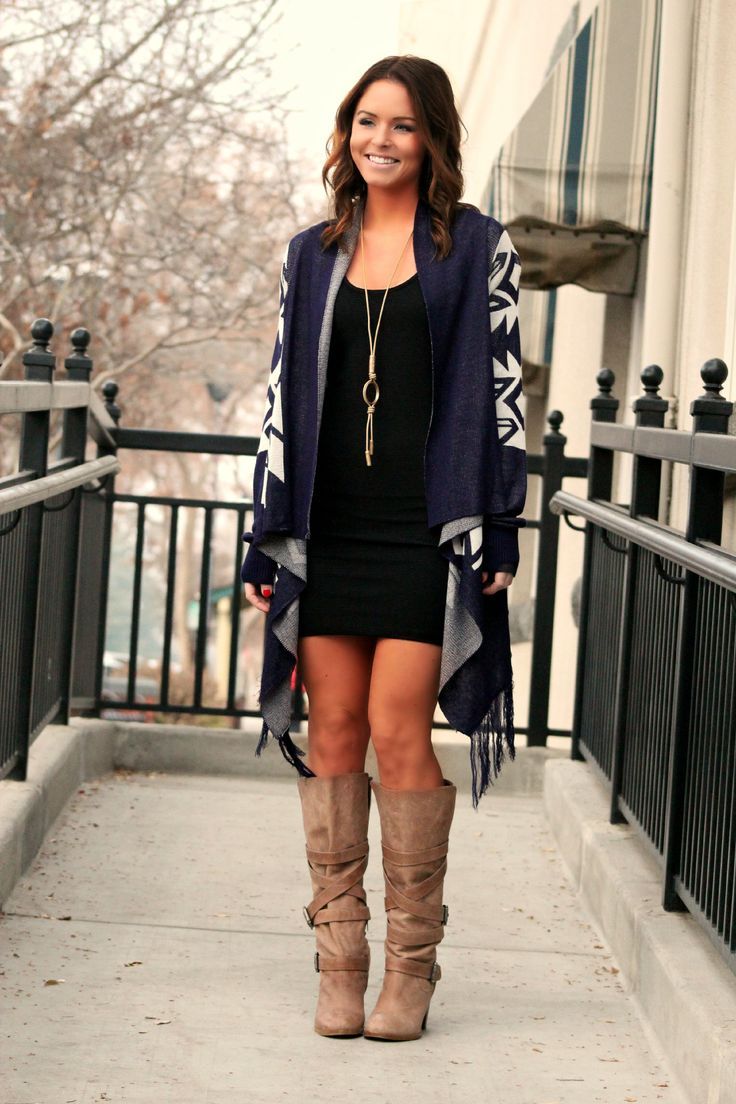 Winter dresses are expensive, but we don't all want to be bundled up in jeans and sweater all through the cold months. A lot of fashion fans are starting to find ways to wear their summer clothes during the rest of the year. And it is a great idea, especially if you live in a location that doesn't have a very long summer season.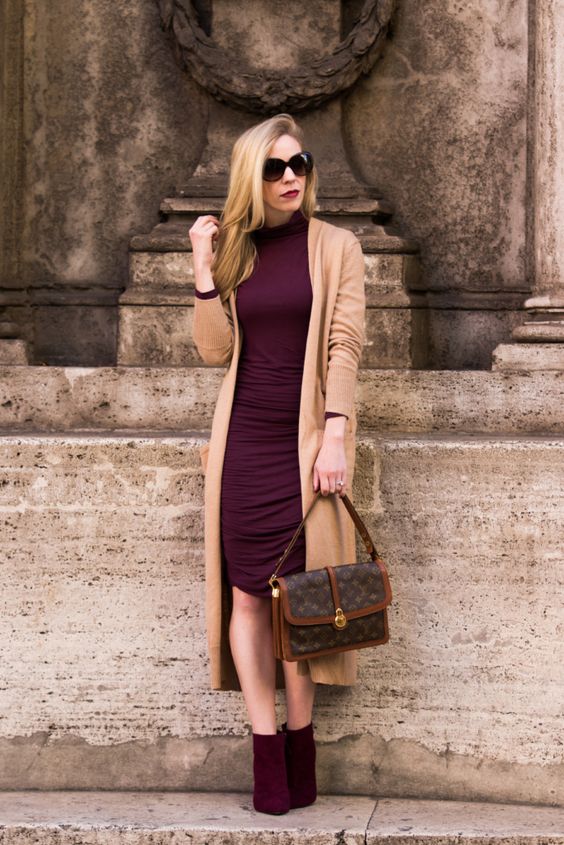 So if your favorite long sleeveless dress is just hanging about in your closet, you need to get a cardi that's a good color match and set the trend in your workplace and amongst your friends. Choose a long cardigan, and add some thick tights and high boots and you'll be warm and fashionable!
Cardigans & midi-dresses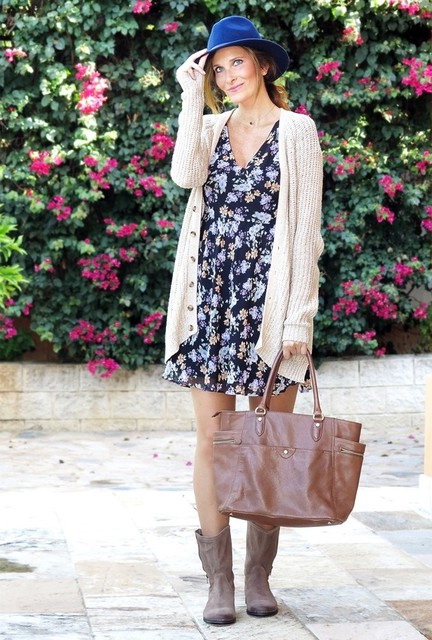 For a smarter look, wear a cardigan over a midi-dress and boots. Midi outfits aren't always easy to put together, because of the length being between the ankle and knees. But a flowing girly dress or a tight, body-con dress looks more elegant under a long modern cardigan in the right color match.
This is a popular, feminine look that you can wear for many occasions where you want to look a bit more polished than just turning up in jeans or leggings. And, this look is a trendy way to minimize a round tummy. You can leave a V-necked cardigan open and just button up the two buttons at your waist, to create a nice hourglass shape that accentuates your waist and draws attention away from your tummy. A plain black, stretchy midi dress looks a lot more flattering if you add a textured, nude-color cardigan and matching beige boots.
Cardigans & jeans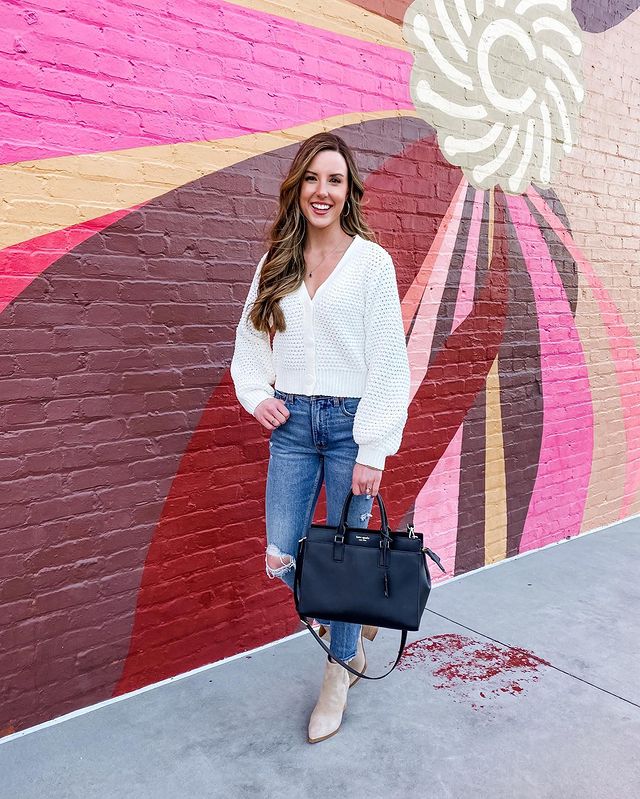 The latest shorter cardigans have lots of subtle decoration on them, from large lace collars, to cable-knit, little flower knots and many more new ideas. And this means they add a ton of style to your everyday jeans! This year, there are probably more cuts and styles of jeans than ever before in history, so everyone can wear well-fitting jeans no matter what size or body shape they have.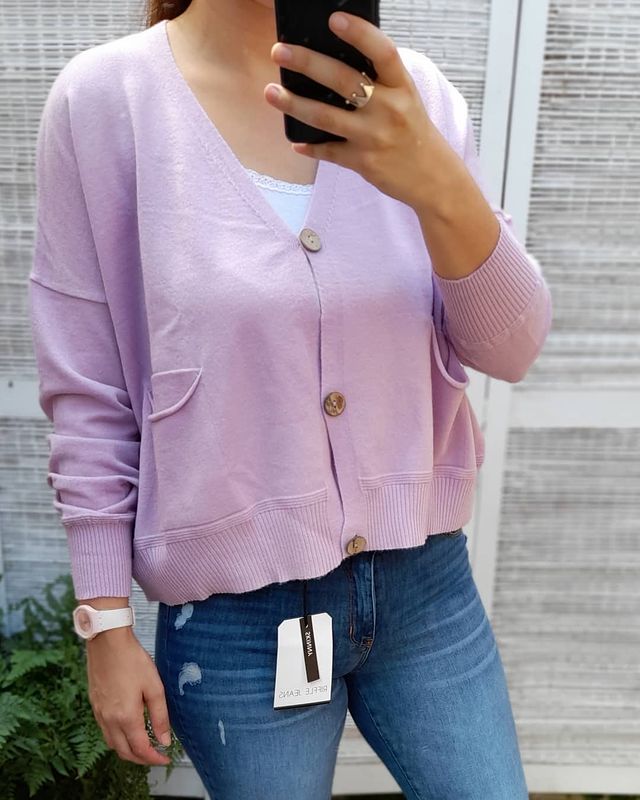 And cardigans suit all types of jeans, including flares, bell-bottoms, boot-cuts, wide legs and all cuts, so this look is for everyone. Wear your cardigan in trendy layers over a tee, a newly fashionable tank top or a shirt and this laid-back look allows you to wear your own favorite shoes.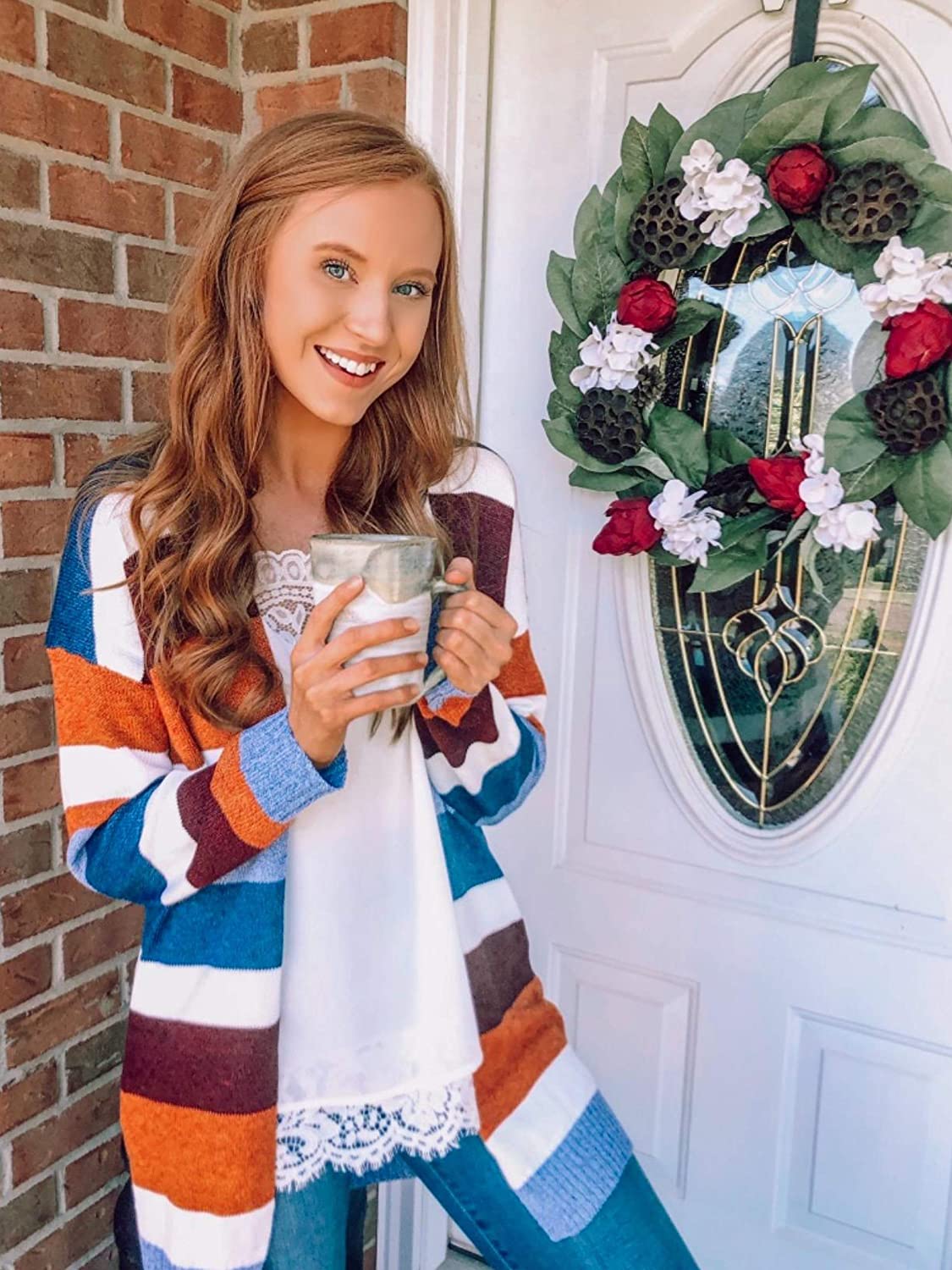 Cardigans & khaki pants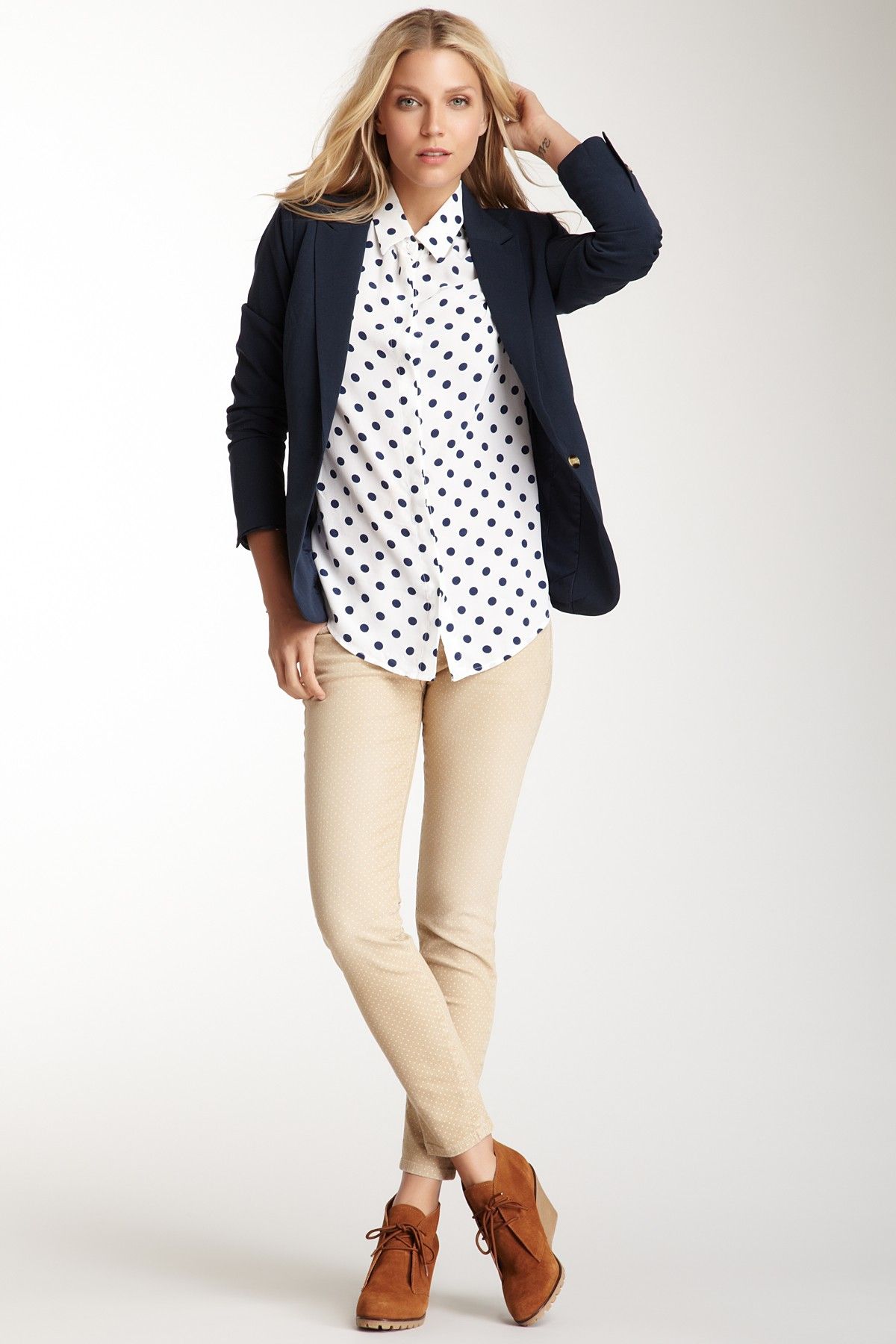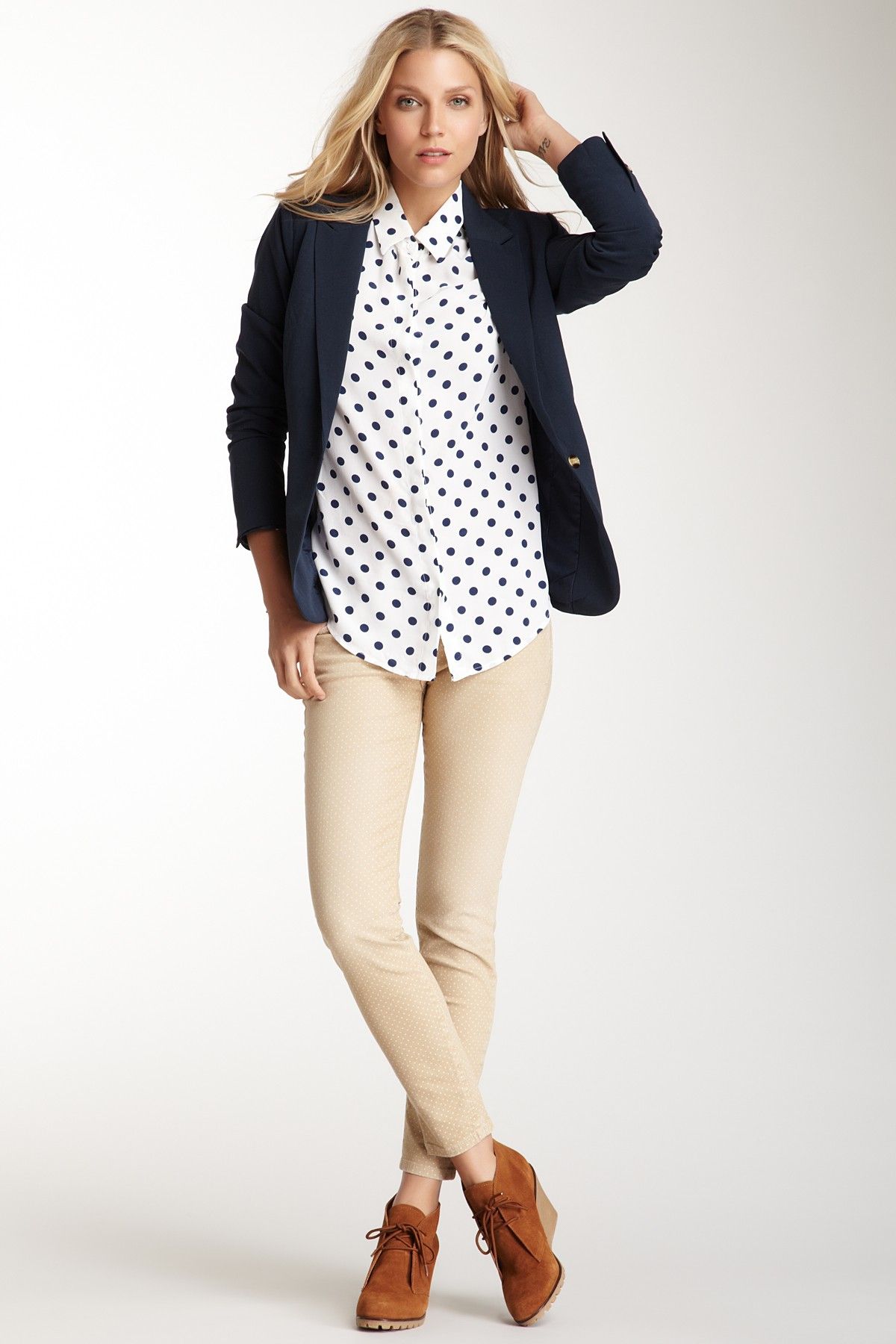 All shades of brown are a huge trend for this year and light-brown khaki pants are going to be one of the most popular alternatives to blue-jeans. Khaki trousers come on lots of new and different styles, and a basic pair of khakis matches virtually all colored tops and cardigans. Plus there's a suitable style for every size and shape of woman! We love our jeans, but khaki pants are a lot smarter and very popular with chic celebs, especially with a contemporary cardigan for a trendy look.
The current style is to tuck-in the top or tee-shirt you are wearing under your cardi and wear it open or buttoned at the waist. And whatever shoes you wear with this look, from trainers to strappy heels, you'll look as if you've made an effort to look elegant. And of course, khakis look great with one or two, leopard-skin, or animal-print accessory – for example, shoes, a shoulder bag, a belt or scarf.
Cardigans & skirts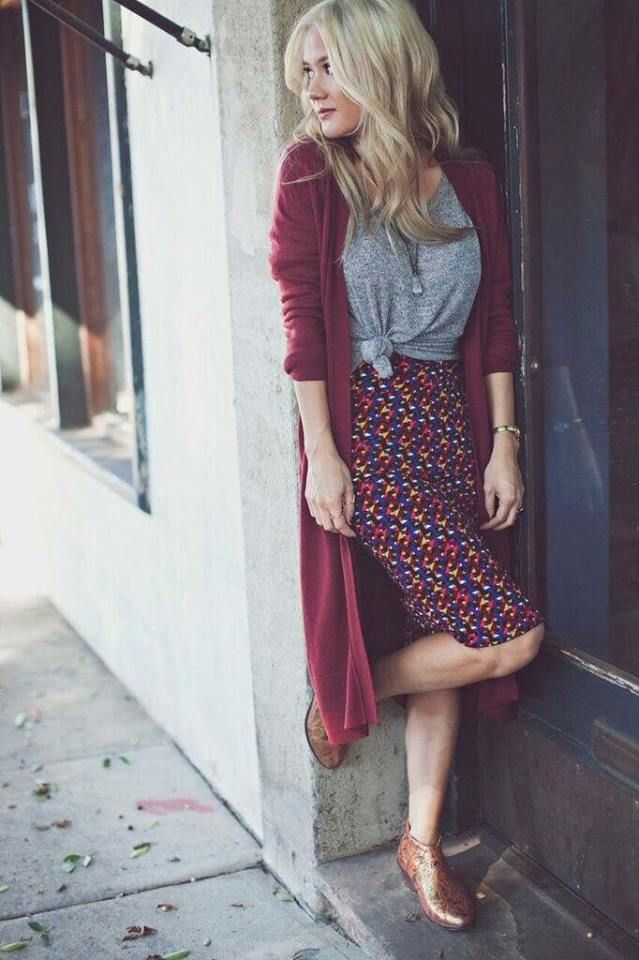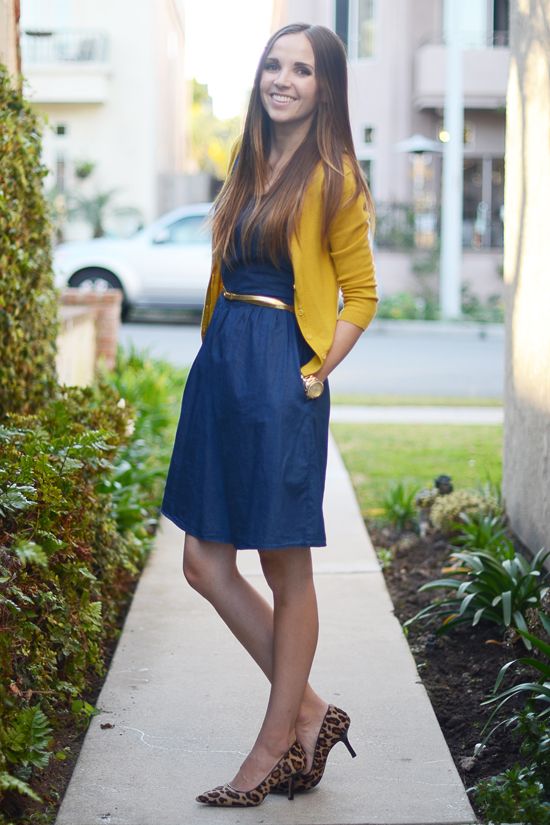 Denim skirts look great with the right style and color cardigan and make a useful everyday outfit for autumn and winter wear. These thick fabric skirts can be worn every day, if you change the cardigan color or style frequently. Choose from knee-length or midi for winter and mini in summer, but always choose the best length for your height and body shape. A white, V-necked cardigan can be tucked into a denim skirt and finished off with white sneakers for a new look. For evening wear, you can choose from fancier fabrics such as shiny Lurex, velvet, lace and faux-leather. And add a lace-color short cardigan or a bolero style in black to make a special outfit.
Cardigans & pencil skirts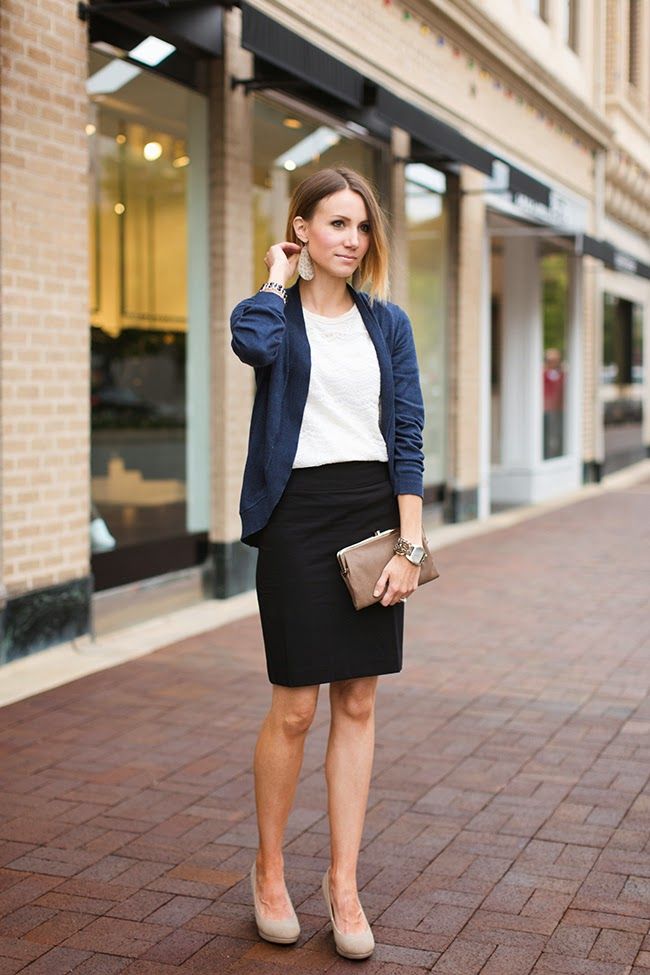 Pencil skirts and cardigans look really good together, as you get a flattering, feminine silhouette from a stretchy pencil skirt. And the stretchy cardigan will cling to your figure and add color and warmth to your outfit. And don't feel you can only wear a pencil skirt to the office, it's one of the most flattering garments for women and it looks fashionable with a fitted or loose cardi. So wear it on dates and show off your shape!
Pencil skirts look trendy with long or short cardigans, and you can leave it unbuttoned or buttoned up depending on your choice. And A-line skirts also look great with a cute cardigan.
Cardigans & Leggings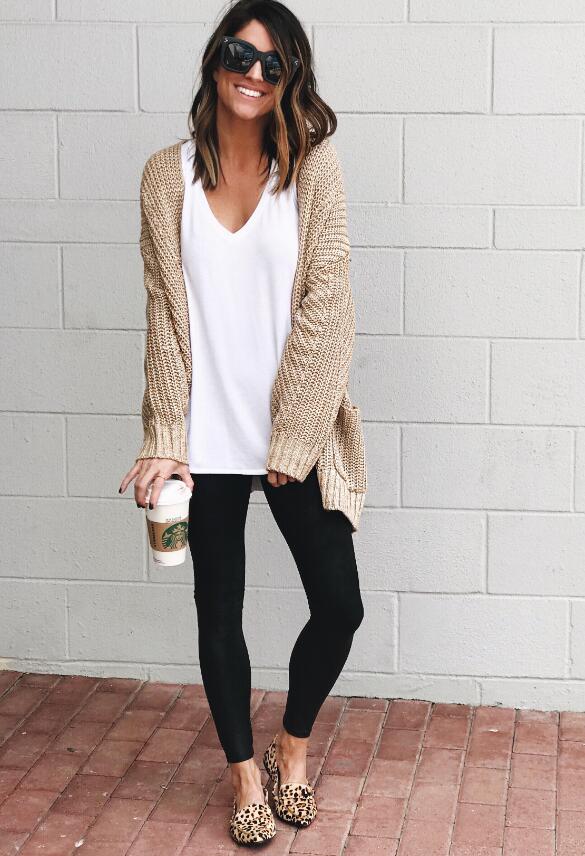 Cardigans with leggings is not a new look, as it's almost a uniform for some of us in autumn and spring. It's a very comfortable outfit that feels cozy and moves with your body owing to the stretchy fabrics. However, with the new and much fancier cardigans you can dress-up your leggings and wear them for more than supermarket shopping and lounging around at home. A long, modern-design cardigan will add tons of style to a good-quality pair of black leggings, especially if you've switched to high-waisted leggings.
You can tuck-in your top or leave it out, depending on your body shape. And if you want to look taller, wear black ankle boots to make your legs seem longer.
How to tuck-in cardigans without looking bulky?
There's also a new trend for tucked-in cardigans, which needs a bit of advice to ensure you don't end up looking tubby. To avoid a bulky bump just below your waist, you can take the ends of your cardigan and tie them in a single, loose knot at your waist. If you tie it just at the top edge of your skirt of trousers, this will accentuate your waistline in a flattering way.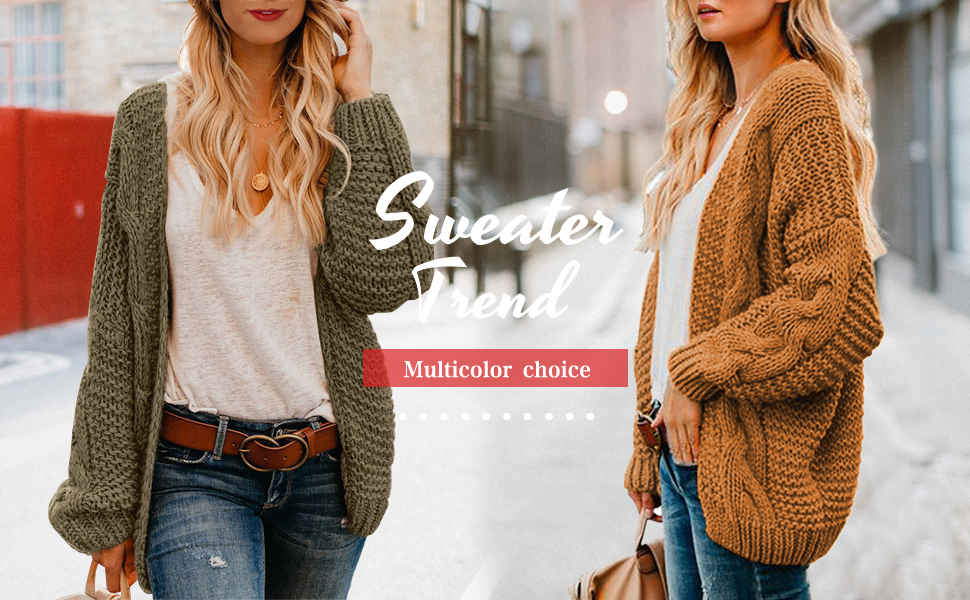 Take the loose ends and tuck them up under the hem of your cardigan. Or you can buy waist-length cardi styles from Amazon, Bobeau and Madewell. A trendy color combo would be a cream, round-neck top, under a beige cardigan worn with tobacco brown loose pants.
Bat-wing cardigans are back from their former incarnation in the 1980's for women over 40. But they are now in the fashion shops for young women to wear. And another way to convert your existing cardigans into a trend-setting style is the wrap the ends at the front on over the other. And then wrap the ends one more time, to make a fashionable twist feature instead of a knot. And then tuck the loose end up under as described above. This gives a looser fit, so you can make a roomier cardigan with trendy, casual fit.
Re-style your old cardigans
Thanks to the creativity of fashion fans, there are lots of groovy ways to get more use out of the cardigans you already own! One of my own favorite tips for changing boring clothes or covering little stains that spoil a garment is to sew buttons randomly or in lines on the garment (one that never needs ironing) or over the stain. And if you want to turn an old long cardi, into a modern cropped cardigan, get some sharp scissors and a ruler and cut-off a few inches.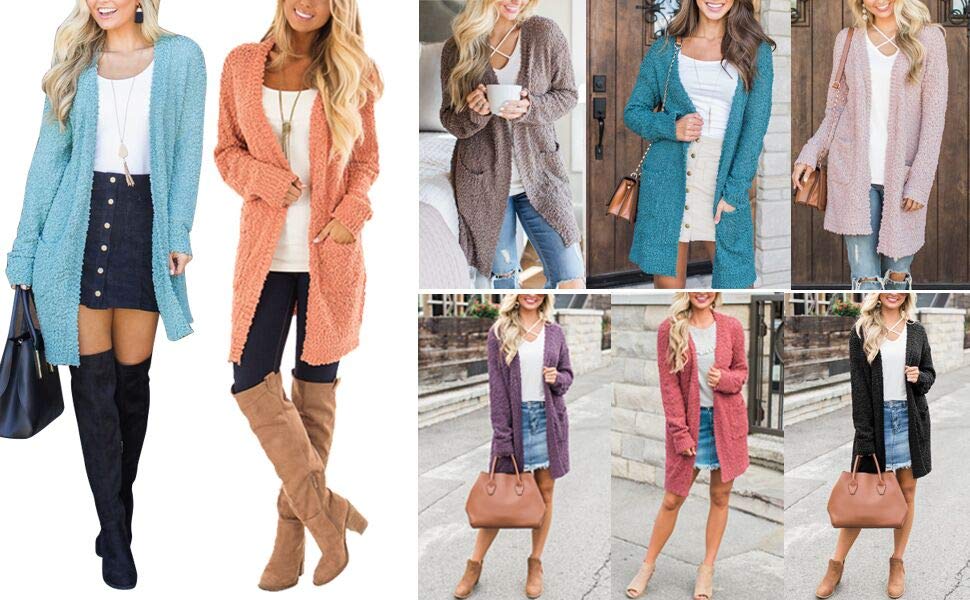 Then you can either sew a hem on fine-knit cardies or use iron-on hemming tape on the inside bottom edge, to stop it unravelling.
Crop your cardigans
And if you skirt or pants don't have a stretchy waist, so you can't tuck-in your cardigan, try this idea. Use a long shoelace, or some strong string, or a long piece of rounded, black elastic from a haberdashery/sewing shop. Then you tie the string around your waist and close it with a knot, over your long cardigan.
Next you gently pull-up your cardi above the string line to make a trendy blouson effect that hangs over the string to hide it and gives you the tucked-in look. Wear cool mint or lavender with trendy, gray checked skirts or trousers for a look that's great for fashionable office wear.
Wear it upside down!
This is a fun idea to try and you don't need to cut or sew anything! If you've got an old cardigan with a loose fit, (rather than a fine-knit, tight-fit style), wear it upside down. I know it sounds crazy, but it works really well with some cardigan styles.
So the back of the collar, where the brand-tag is, will be on your lower back and your arms will go through the sleeves as usual. Then pull the two cardigan ends up onto your shoulders and you should have a quirky, cropped cardi to wear!